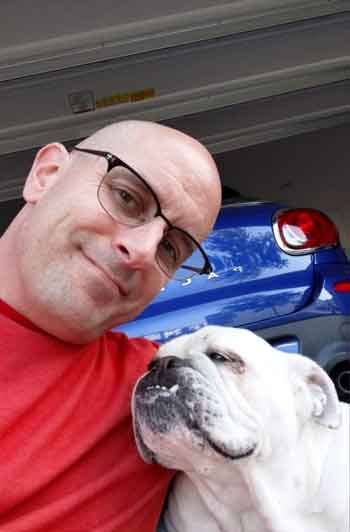 Hi everyone! My name is Tim and this is my trusty sidekick and helper Rose Tyler.
I'm not a handyman or a car detailer. I don't work on my cars in my garage. I don't do woodworking or other projects on the weekend.
Basically, I'm just your average homeowner.
But I do spend a fair amount of time in my garage and I bet you do too.
It bugs me when someone has a beautiful house that they obviously put a lot of work into and their garage that is filled with so much crap that they can't move.
Doesn't your car deserve a nice home too?
Your garage is more than just a place to store stuff
For me, the garage is just another room in the house. You wouldn't pile stuff up in your living room so you couldn't use it. So why would you do it to your garage?
I bought my house in 2016 and one of the things I wanted from the start was a garage I could enjoy and be proud of.
The trouble is that there's a lot of info out there but there's not a lot for the "average homeowner."
So I'm starting this blog to document my garage upgrades and share everything that I'm learning along the way.
And to be honest, I'm doing this to keep myself accountable. I have an idea of my garage transformation and you're going to help me make that idea a reality.
You can follow along in my garage transformation here.
Here's what it looked like when I started…
And here's that same section now.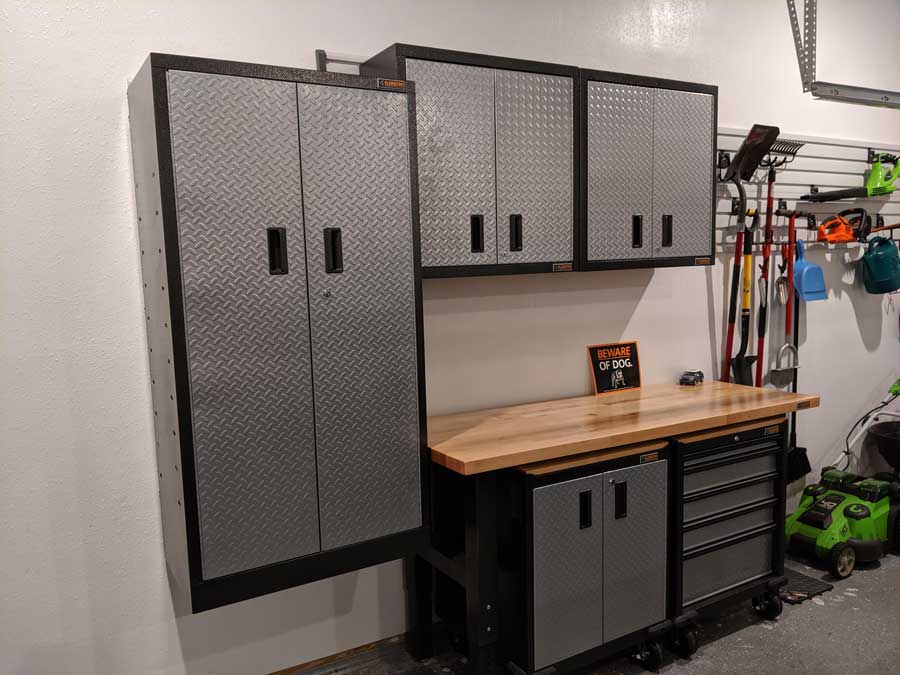 And that's really only the beginning. More to come!
What's the plan?
I have a couple of goals for my garage transformation:
Insulation & drywall
I love the look of a finished garage. You see high-end garages and they all have one thing in common: drywall.
For me, I live in Florida and this has the additional benefit of keeping some of that heat and humidity outside where it belongs. Especially since my garage faces the sun for most of the day.
One of my first projects was to frame, insulate and then drywall over the existing concrete block.
The plan is to do the opposite wall, but there's some plumbing and the water heater than needs to be relocated first. Soon though.
The goal is lower the temperatures inside by 10-15 degrees. Hopefully this will lower my energy bills as well, but that's an added bonus.
What good is having an awesome garage if you can't stand to spend any time in it?
Active cooling
The next step is to get a little air circulation. I've wall mounted a 24″ oscillating Air King fan which moves a ton of air.
One of my other planned enhancements is to swap out my low-efficiency electric water heater for a high-efficiency heat pump water heater. Not only will it use about one-fifth of the electricity, but it also pumps cooler air back into the room as a byproduct of heating the water.
Better Flooring
Currently I've got a cheap, painted epoxy floor. I'm actually really grateful for this because my builder threw it in for free. I guess he liked us…
But it's only a year old and it's already stained and starting to show some damage.
Yeah…I'm totally rationalizing this one. I've had my eye on RaceDeck and SwissTrax flooring for years. This is just an excuse to get it.
Better garage organization
I've already started this process actually, but there's a lot more work to do.
I love garages that are super-organized. It just looks better.
I've decided to go with Gladiator GarageWorks cabinets because I think they have a good balance of durability, features and cost. Then I added Gladiator GearTrack for tool storage, since this is still a functional garage and I need to be able to get stuff done.
Better Lighting
When I had our house built, I had them add four additional halo lights in the garage – and it's still not enough.
So next on the list is some super-bright LED lighting that will make it easy to work on my cars, garden equipment or any other projects.
What's to come
I'm not the kind of guy who makes an impulse purchase for something big. I do my research. I ask questions. Lot of them.
What this site is going to do is keep track of the questions I'm asking for my own garage transformation and answer them for you.
So if you're looking to upgrade your garage, whether you're doing more or less than I'm doing, this can be a shortcut for you.
Let's get started.
Follow along with all of the work I'm doing in my garage transformation here. Or, feel free to contact me with any questions or comments!