We all want a great looking garage. If you want to maximize your space and keep your garage organized, choosing the right garage cabinet manufacturer is essential.
I've created the comprehensive list of garage cabinet manufacturers with products available in the United States and Canada (and some ship worldwide).
Read on to find your perfect garage cabinets!
---
Gladiator Garage Cabinets
Gladiator Garage offers "big-box retail" availability with a higher-end look, combining durability with unique design elements to cater to different storage needs.
They're known for using steel frames and corrosion-resistant finishes with hardwood tops, ball-bearing slides, magnetic latches, and casters.
Depending on which garage cabinet series you choose, you get a fully assembled cabinet or a flat-packed box with detailed instructions and the necessary hardware for easy assembly.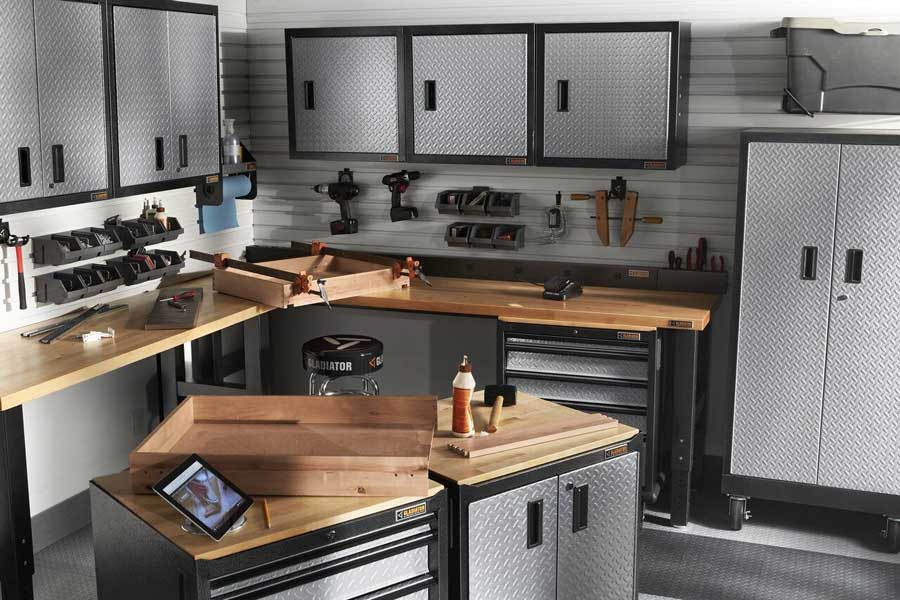 Premier Series: As the name implies, the Premier Series is Gladiator's top-end cabinet. These pre-assembled, welded cabinets are made from 18-gauge steel, guaranteeing a long lifespan. Designed with magnetic door latches, full-width shelves, and ball-bearing drawer slides, they're perfect for homeowners looking for high-end cabinets without the high-end price.
They're available in various colors, including Silver Tread, Hammered Granite, Gray Slate, and Red Tread.
Exclusive Items: This series includes the modular GearDrawer and GearBox – deep cabinets ideal for customizable storage systems.
Ready To Assemble (RTA) Series: The RTA Series offers affordability without compromising on quality. These easy-to-assemble cabinets are crafted from 24-gauge steel and finished with a hammered granite coat. They feature recessed door handles, adjustable shelves, and friction-catch drawer slides, ensuring looks and functionality.
Available colors are Silver Tread, Hammered Granite, and Gray Slate.
Exclusive Items: Unique to this line is the Foldaway Work Station. This space-saving wall-mounted cabinet doubles as a work surface.
Flex Series: The Flex Series is Gladiator's answer to versatility and customization. Their newest modular design uses 24-gauge steel and can be mounted on GearWall panels or GearTrack channels, allowing easy repositioning.
They have a modern, minimalist look with a smooth white finish, locking casters, full-extension drawer slides, and integrated handles.
Differences: The depth of the Flex cabinet system is 19 inches, contrasting with the other two series. Although offering fewer cabinet sizes, its adaptability and mobility stand out.
Price range:
Premier Series: Varies based on the cabinet. For reference: Premier 41-inch 9-drawer Mobile Tool Workbench with Solid Wood Top is priced at $1,099.99.
Ready To Assemble (RTA) Series: Prices vary. Example: Ready-to-Assemble Full-Door Wall GearBox for $159.99.
Flex Series: Prices fluctuate based on size and configuration.
Availability:
Premier Series: Available in a range of sizes and configurations.
Ready To Assemble (RTA) Series: Wide availability in various cabinet sizes.
Flex Series: Limited cabinet sizes but unparalleled in flexibility and mobility.
Warranty:
Premier Series: Limited lifetime warranty.
Ready To Assemble (RTA) Series: 10-year limited warranty.
Flex Series: 10-year limited warranty.
Where to Purchase:
Directly through the Gladiator website.
Authorized retailers including:

Lowe's
Costco
… and other selected outlets.
---
NewAge Cabinets
NewAge Cabinets, Gladiator's biggest competitor, stand out with its modern look and sleek design. They're made from heavy-duty steel, making them resistant to scratches, stains, and rust.
The frames are molded from 18-gauge steel, and the doors and drawers are from 24-gauge steel. Their industrial paint finish lends them a sleek, contemporary appeal fit for modern homes.
Pro Series: The Pro Series is NewAge Cabinets' commercial-grade cabinet series. These cabinets bring a showroom-quality look to any garage, exuding elegance through their heavy-duty welded steel frames, soft-close hardware, and a unique industrial paint finish. They offer spacious interiors with fully-lockable doors and drawers. Further, the series is equipped with integrated cable management and an under-mount light valance.
The Pro Series is designed with 18-gauge steel and are 24 inches deep, giving it a weight capacity of up to 1000 lbs. per cabinet and 300 lbs. per shelf. They're available in Charcoal Gray, Platinum, Red, White, and Black.
Exclusive Items: Pro Series features a Multi-Function Cabinet and Sink Cabinets, which are absent in the Bold Series.
Bold Series: For homeowners who want the look of the Pro series without breaking the bank, the Bold Series by NewAge Cabinets is a perfect fit. This series emphasizes compact storage solutions, underscored by its modular design and a range of utility features.
With lockable casters, height-adjustable leveling legs, and fully-lockable doors and drawers, the Bold Series promises both mobility and security. They offer a similar integrated cable management system and an under-mount light valance as the Pro series.
Exclusive to the Bold series is the Project Center Cabinet, offering a versatile workstation ideal for various projects. The Bold Series cabinets are constructed from 24-gauge steel and have a weight capacity of 800 lbs. for the cabinet and 200 lbs. for the shelves.
With a depth of 18 inches, these cabinets are slightly more compact than the Pro Series. The Bold Series is finished with powder-coated paint in colors like Charcoal Gray, Deep Red, and more.
Exclusive Items: Bold Series offers a unique Project Center Cabinet; Pro Series doesn't.
Differences between Pro and Bold Series:
The Pro Series is designed with 18-gauge steel. Bold cabinets utilize 24-gauge steel.
Weight capacity: Pro cabinets can hold up to 1000 lbs. and their shelves up to 300 lbs. Bold cabinets can bear 800 lbs. with brackets supporting up to 200 lbs.
Depth: Pro Series is 24 inches deep, while Bold Series is 18 inches deep.
Paint finishes differ: Bold has a powder-coated paint finish, whereas Pro uses an industrial finish.
Price range:
Prices fluctuate based on size, series, and configuration. For reference:

Single wall cabinet: $299.
14-piece set: $6,999.
Availability:
NewAge Cabinets ships orders within 24 hours, and delivery ranges from 3 to 10 business days based on location. They also offer free shipping on orders exceeding $999.
Warranty:
Lifetime limited warranty covering defects in material and workmanship for the duration of ownership.
Where to Purchase:
Directly through the NewAge official website.
Other online retailers:

Costco
… and selected other outlets.
---
Ulti-MATE Garage Cabinets
Ulti-MATE Garage cabinets have won consecutive Consumers Digest newsstand magazine "Best Buy" awards for their garage cabinets. In 2019, this garage cabinet manufacturer unveiled the 2.0 Series, simplifying their model lines to ensure a seamless customer experience.
Ulti-MATE Garage 2.0 Series: The new 2.0 Series is a blend of modern looks and super-functional architecture. It's crafted from 3/4″ MDF and particle board construction, making them sturdy while keeping the price down. They include 1″ thick shelves capable of holding up to 200 lbs and user-friendly features like soft-close, fully adjustable hinges and jumbo 3/4″ wide brushed chrome handles.
The Ulti-MATE Garage 2.0 are available in Starfire White Metallic over Peppercorn Grey, Graphite Grey Metallic over Black, or Red Metallic over Black.
Ulti-MATE Garage Pro Series (Discontinued): The Garage Pro Series celebrated the company's 100th anniversary. It featured a unique Starfire Pearl color with a Metallic Flake. It shares its core construction quality with the Ulti-MATE Garage, which we'll discuss next.
Ulti-MATE Garage Series (Discontinued): The previous model of Ulti-MATE Cabinets has enjoyed over a decade of popularity. This timeless design seamlessly combines graphite grey facing with a black cabinet box.
Made from 3/4″ MDF and particle board construction, it's wrapped in a textured PVC laminate. Heavy-duty 3/4″ thick shelves can support up to 100 lbs. It featured fully adjustable European-style hinges and oversized brushed chrome or black handles, depending on the color. Color options are Graphite Grey over Black or Starfire Pearl over Grey.
Differences Between the Series:
Design: While the 2.0 series boasts a sleek and modern look with a metallic facing, the original Garage series goes classic with a graphite grey facing.
Construction: All series are made of 3/4″ MDF and particle board construction, but the laminates and thickness of the shelves vary.
Handles & Hinges: The 2.0 series sports jumbo brushed chrome handles and soft-close hinges. In contrast, the original Garage series opts for oversized handles in brushed chrome or black and adjustable European-style hinges.
Feet: The 2.0 series stands on 6″ adjustable aluminum feet, while the original Garage series has 4″ adjustable ABS plastic or aluminum feet.
Price: The 2.0 series is priced between $299.99 and $2,919.99, while the original Garage series ranges from $199.99 to $1,999.99.
Colors: The 2.0 Series offers more contemporary color combinations, whereas the original Garage series stays classic with its color offerings.
Price Range:
Prices for the 2.0 series range from $299.99 to $2,919.99 per set, depending on the size and configuration you choose.
Availability:
This series is currently in production and is generally available in stock. However, the lead time might vary depending on stock status and shipping options. The cabinets are delivered unassembled and require assembly upon receipt.
Warranty:
The Ulti-MATE Garage 2.0 Series has a 10-year limited warranty.
Where to Purchase:
Visit the official Ulti-MATE website
Lowe's.
---
Seville Classics
Focusing on versatility and functionality at an entry-level price point, Seville Classics Cabinets are built from a powder-coated steel finish.
They offer various storage options for every garage, including adjustable shelves for personalized storage, locking mechanisms to secure valuable tools, and leveling feet or heavy-duty casters. Some models include hardwood tops, drawers, or pegboards for additional versatility.
The Seville Classics UltraHD cabinets offer an extensive range of options, from single-door cabinets to larger six-door cabinets, lockers, wall cabinets, and everything in between.
The UltraHD cabinet series comes in a broad spectrum of choices: granite, graphite, red, and white, catering to various aesthetic preferences.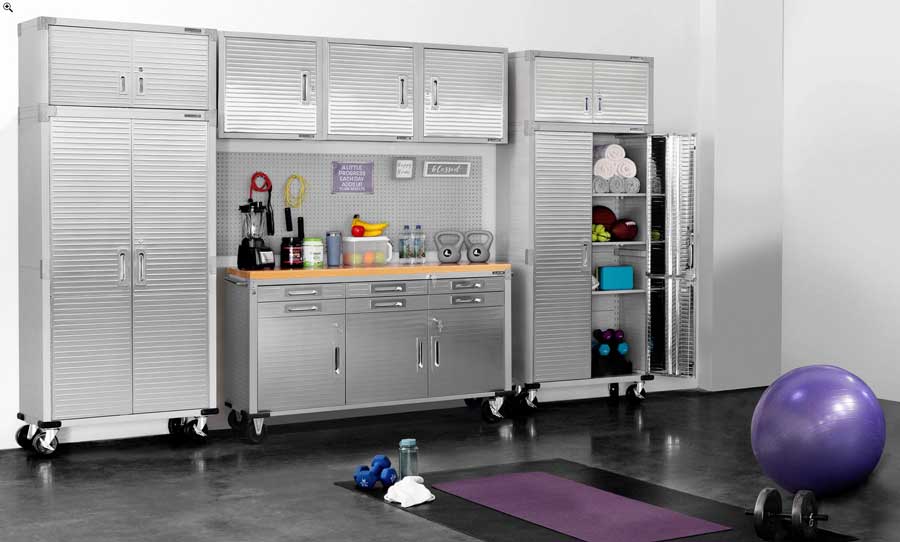 Price Range:
The spectrum of options is also mirrored in the price range. Depending on the model, size, and specific features, a Seville Classics Cabinet can set you back anywhere from $109.99 to $999.99.
Availability:
After ordering from the official Seville Classics website, you can expect a standard lead time of 3 to 5 business days for processing and shipping within the continental US. Cabinets arrive unassembled in flat-packed boxes, so they will require assembly.
Warranty:
Seville Classics offers a limited 1-year warranty covering any material or workmanship defects.
Where to Purchase:
Available on the official Seville Classics website
Sam's Club
---
Saber Cabinets
Saber Cabinets offer a similar look to NewAge cabinets but increase the build quality and durability. With a combination of commercial-grade strength and aesthetic beauty, they're perfect for both commercial and residential settings.
They're crafted of heavy-duty 18-gauge powder-coated steel and have premium powder coat finish colors ranging from bold black and sleek silver to vibrant red and cool blue.
Whether you're looking for storage lockers for individualized storage, wall cabinets for vertical storage solutions, base cabinets for foundational storage, tool cabinets for specialized tool organization, or worktops for functional workspace, Saber has what you need.
Saber offers pre-configured cabinet sets spanning from 7.5 ft to 12.5 ft in width.
The modular design of Saber Cabinets allows homeowners to configure solutions specifically to their unique storage needs. Cabinets come equipped with slotted rear panels, making wall-mounting easy or connecting multiple units together.
Price Range:
Starting at the low-end, stainless steel upper cabinets are priced at $399.95. This increases to a comprehensive 12-piece garage cabinet set, costing $8,099.95.
Availability:
Saber Cabinets ensures timely delivery from the Maryland/DC area. Many products are in stock, ready for immediate shipment. Depending on the model and color, others might have up to 8 weeks of lead time. Most orders enjoy free shipping.
Warranty:
Saber's warranty protects the cabinets against defects in both material and workmanship for their entire lifetime. This only extends to the original purchaser.
Where to Purchase:
Saber Cabinets' official website
---
Moduline Cabinets
Moduline Cabinets deliver that racetrack-ready feel with their top-tier custom aluminum cabinet systems.
They're the only garage cabinet manufacturer on this list that has specific cabinet series designed for unique environments such as garages, trailers, and vans.
Moduline Cabinets are available in a choice of eight standard colors, including red, yellow, black, gray, light gray, textured black, white, and their signature color: Moduline Blue. Custom colors are also available.
ProII Series: Moduline's ProII Series stands as the epitome of their craftsmanship, acting as the centerpiece of their collection. This flagship product line is meticulously fashioned from military-grade aluminum, ensuring a robust structure reminiscent of steel but with the feather-light touch of aluminum and unparalleled corrosion resistance. The cabinets in this series boast double-walled door construction, patented QuikDraw latch systems, and adjustable shelving, providing an amalgam of aesthetics and durability. Potential users are also presented with a suite of countertop choices, including stainless steel, solid aluminum, and the rustic charm of a butcher block.
ProII Mobile Series: Ensuring that efficacy isn't bound by space, the ProII Mobile Series adapts the prestige of the ProII line to the dynamic confines of mobile areas, such as vans, trucks, and trailers. Combining form and functionality, these cabinets ensure that professionals can transport their tools and equipment securely without compromising on style.
Sportsman II Series: Designed with mobility in mind, the Sportsman II Series emerges as a perfect companion for compact mobile environments like trailers and vans. Constructed from lightweight aluminum, these cabinets exude a minimalistic elegance. The most affordable Moduline cabinet series, this series offers a simplified yet sophisticated storage solution for those constantly on the go.
Van Upfit Series: The Van Upfit Series exemplifies Moduline's commitment to optimized utility. Tailor-made for medium to high-roof cargo vans, these cabinets promise not only style but also an unrivaled maximization of storage space. With the innate strength of lightweight aluminum and the added functionality of single-walled door construction, these cabinets redefine mobile workspace utility.
QuikDraw Rolling Toolboxes: The QuikDraw Rolling Toolboxes introduce mobility to the workshop. These are not just toolboxes but a statement in utility and style. Equipped with the patented QuikDraw latch system, these boxes ensure security without the cumbersome necessity of a key. These toolboxes vary in colors, countertop options, and drawer dimensions and cater to many professional needs.
Differences and Unique Features: While each product line under Moduline embodies a distinct identity, they are united by their shared heritage of excellence. The ProII Series, for instance, is differentiated by its unparalleled customizability, military-grade aluminum, and patented latch system. On the other hand, its mobile counterpart adapts these features to mobile challenges. While focusing on mobile solutions, the Sportsman II and Van Upfit series differ in their target spaces — one for smaller vehicles and the other for more spacious cargo vans. Lastly, the QuikDraw toolboxes offer unique portability combined with unmatched security.
Price Range:
Moduline's cabinets range in price from $534 for the smallest ProII base cabinet to $5,980 for a 40″ Big Drawer rolling toolbox. Prices can increase based on add-ons or additional accessories. Prospective buyers are encouraged to connect directly with the company or explore options via authorized dealers for a free consultation.
Availability:
Delivery timelines are contingent on the chosen product line and the level of customization. Moduline's FAQ, ProII cabinets are built-to-order, so there's typically a 3 to 4-week lead time for shipping. The Sportsman II series is generally available and should ship out within a week from order time.
Warranty:
Moduline extends a limited lifetime warranty to the original owner for all their products.
Where to Purchase:
Direct purchases can be made via Moduline's official website.
---
Beta-Tools Cabinets
Beta Cabinets are specialized tool storage solutions designed to organize and protect tools in commercial settings. They are products of Beta Tools, an Italian company known for its high-quality professional-grade tools and equipment.
Workshop Equipment RSC55 Series: The modular RSC55 Series allows users to mix and match to create a customized workshop. This range includes cabinets, tool panels, workbenches, and service modules, all known for their exceptional quality and modern design.
The RSC55 Series of garage cabinets are manufactured from sheet metal and feature an epoxy powder coat finish. The drawers operate on ball-bearing slides and come with aluminum handles.
Additionally, they offer perforated side or back panels for hanging tools and accessories. They're available in orange, grey, or black.
Workshop Equipment C45PRO Series: The C45PRO Series is an upgraded version of the Beta C45 workshop equipment. This series offers pre-configured combinations but also provides the flexibility to adapt based on individual requirements. These cabinets, known for their durability, provide significant storage space. Their drawers come with telescopic ball-bearing slides and are equipped with plastic handles.
Other features include reinforced doors with lockable handles, adjustable shelves, and a perforated back panel for tool hanging. The available colors for this series are orange and grey.
Comparison:
Differences:

The RSC55 Series allows for a more flexible combination of elements, whereas the C45PRO Series leans more towards pre-set combinations.
The RSC55 cabinets have drawers with ball-bearing slides and aluminum handles, while the C45PRO drawers feature telescopic ball-bearing slides with plastic handles.
The RSC55 has perforated side and back panels for hanging tools, while the C45PRO only offers the latter.
Color options for the RSC55 include orange, grey, and black, while the C45PRO is limited to orange and grey.

Similarities:

Both series are products of Beta Tools.
Both are constructed from sheet metal with an epoxy powder coat, offering a modern aesthetic.
Both series feature reinforced doors with lockable handles and height-adjustable shelves.
Both cabinets provide worktops made from ABS plastic or wood.
Pricing:
Prices for Beta Cabinets vary based on various factors, including model and configuration. The C33-Series Mobile Rolling Tool Cabinet is priced at around $1,500, while the C04TSS/7-Series 7-Drawer Stainless Steel Mobile Roller Cab can reach up to $6,700.
Availability:
The retailer's specific model, color, size, and stock status can affect Beta Cabinets' availability. Delivery factors such as location, method, and order time influence delivery timelines.
Warranty:
Beta Tools offers a 12-month warranty for professional use and 24 months for non-professional use on their cabinets. This warranty may be voided under circumstances such as product modifications or misuse.
Where to Purchase:
---
Sonic Cabinets
Sonic Cabinets are renowned for providing high-end storage solutions tailored to professional technicians and high-end garages.
As a tool manufacturer, they also offer the Sonic Foam System, which enables users to store their Sonic tools in pre-cut foam inserts that perfectly fit their cabinet drawers.
MSS Series: MSS, short for Modular Storage System, is crafted for environments with light-duty workloads. MSS Cabinets are constructed from 0.8mm thick steel and feature a premium electrostatic powder coating. They come with a depth measurement of 500mm, and each drawer can hold up to 88 lbs. These cabinets provide a standard lock and key mechanism and are available in two colors: black and red.
MSS+ Series: MSS+ is Sonic's premium cabinet series, with added features, resilience, and weight capacity, making it perfect for heavy-duty work contexts. These cabinets are made of 1.2mm thick steel and share the same premium electrostatic powder coating as the MSS series. They offer a depth of 650mm. Their regular drawers can support 270 lbs, while their high drawers can support up to 520 lbs. Sonic MSS+ cabinets also include a 4-digit dial lock and a master key. Color options remain consistent: black and red.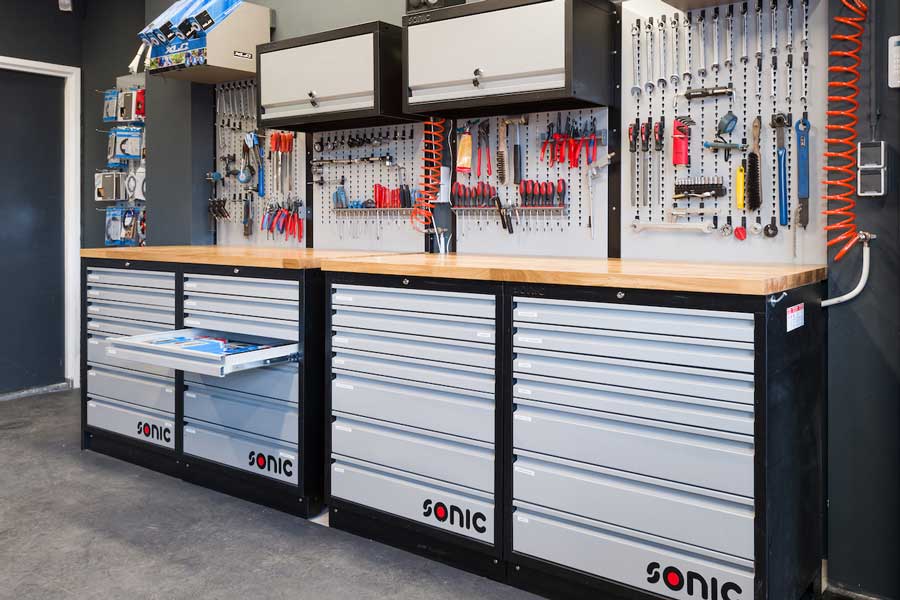 Price Range:
Sonic Cabinets range in price depending on the series and cabinet model. The least expensive model is the MSS Corner Cupboard, priced at $700. Conversely, the MSS+ 36″ Locker With 4 Shelves, tagged at $2,500, is the most expensive.
Availability:
The typical delivery timeframe for Sonic Cabinets is within 2-3 business days post-order. Shipping calculators are available on product pages or by contacting Sonic Tools USA.
Warranty:
Sonic offers an impressive lifetime warranty for their cabinets. Customers can file a warranty claim online.
Where to Purchase:
Direct from Sonic's official website
---
Cabinets by Hayley
Cabinets By Hayley is a family-owned garage cabinet manufacturer producer. Founded by Darrell Hayley, the legacy stems from the lineage of Noel Hayley, who established Hayley Industrial Electronics Ltd. They operate from a 72,000-square-foot manufacturing hub in Calgary, Alberta, Canada.
Their metal storage cabinets undergo a powder-coating process to enhance corrosion resistance and simplify the cleaning process.
Standard features across models include double-sided doors equipped with stainless piano hinges, shelves that can be adjusted for convenience, full extension ball-bearing drawer slides, and secure locking handles.
Cabinets By Hayley has several models of garage cabinets:
HC Series: These cabinets feature a smooth finish and are available in a palette of nine distinct colors ranging from classic black and white to vibrant orange crush and purple haze.
HD Series: The HD Series cabinets add a textured finish and reinforced shelves for homeowners who want additional durability. Color choices here are limited to four: black, white, red, and gunmetal grey.
Specialty Cabinets: These are purpose-built cabinets, each catering to a unique function or feature. Examples include cabinets with power reels designed to house garbage bins or even those meant to accommodate a TV. This series also includes workbenches, tool chests, and lockers.
Hayley Rack: For modular solutions, the Hayley Rack storage system is built from 16-gauge steel, mirroring the strength of the HC Series. This system is available in different width choices and modular sections, with optional accessories like tire racks and drawer dividers.
Price Range:
Pricing is determined by multiple factors: model, size, configuration, selected color, and any additional accessories.
A standard price list isn't available on the website. Buyers will receive a comprehensive quote after consultation.
Availability:
Lead time varies based on the complexity and size of the order.
Cabinets are constructed upon order, allowing customization in color and additional features.
The company maintains open communication from order placement until delivery completion, ensuring customers are always informed.
Warranty:
A lifetime warranty accompanies all products, extending coverage exclusively to the original purchaser.
The warranty covers any potential defects arising from materials or workmanship for the entirety of the product's lifespan with the customer.
It's essential to note that this warranty is only valid for residential applications within the U.S. and Canada and cannot be transferred to future owners.
Where to Purchase:
Cabinets can be procured through authorized dealers or directly from the company.
The company offers design consultations, tailoring solutions to the specific vision and requirements of the buyer.
Shipping is available across North America with accompanying installation instructions.
---
Pacific Panel
Based out of Irwindale, California, Pacific Panel custom garage cabinets combine durability and environmental consciousness. This company showcases its commitment to quality, opting for heavy-duty, A-grade composite panels exclusively sourced from American manufacturers.
The lineup encompasses various categories: base cabinets, wall-mounted options, towering tall cabinets, practical workbenches, and overhead racks.
Beyond the cabinet type, homeowners can personalize their new cabinets by selecting from finishes like melamine, high-pressure laminate, or the ever-durable powder coat.
Key attributes defining these cabinets include:
Robust Construction: Each cabinet is assembled using 3/4″ composite panels throughout its structure, underscored by a solid 3/4″ thick full back panel.
Premium Hardware: Doors and drawers sport full-length handles made from 6063-T5 grade aluminum extrusions, ensuring longevity and ease of use.
Enhanced Shelving: The adjustable shelves are reinforced with aluminum stiffeners, bolstering their load-bearing capacity. These shelves are secured in place using sturdy 5mm metal shelf pins.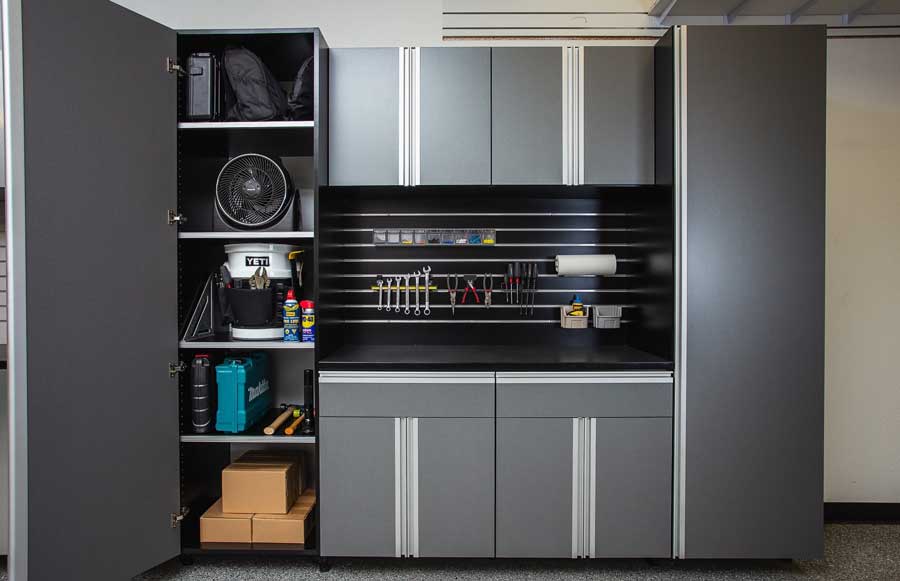 Price Range:
Pacific Panel cabinets vary due to dimensions, style, and finish.
Availability:
Availability fluctuates based on the existing order volume and delivery location.
Warranty:
Pacific Panel cabinets have a lifetime warranty.
Where to Purchase:
Customers can place orders directly through Pacific Panel.
---
Lista Cabinets
Lista Cabinets serves homeowners with a synthesis of functionality and quality in their storage solutions.
They are designed to provide high-density storage, durability, and functionality for manufacturing, motorsports, maintenance, laboratories, aviation, military, and medical applications. Lista garage cabinets are made in the USA with global materials and are backed by a lifetime guarantee.
Modular Cabinets: Lista modular cabinets are crafted from high-grade industrial steel for extreme durability. Their design emphasizes maximum space utilization, ensuring every inch counts. Colors range from standard to premium, with even bespoke color choices available for the discerning homeowner.
Mobile Cabinets: These mobile cabinets fit seamlessly in any setting and are easily maneuverable, ensuring flexibility in any workspace.
Workbenches: More than just a working surface, Lista's workbenches come with options for drawers, shelves, and power outlets, ensuring every need is met without compromise.
Price Range:
Modular Cabinets start at $1,299.00 for pre-configured options. Workbenches and custom designs can range up to $3,499.00 or more.
Availability:
Available directly from Lista's eStore or through authorized distributors.
Custom orders have specific lead times, which are determined upon order.
Design consultations and installation services to streamline the setup process for larger projects.
Warranty:
All Lista products come with a lifetime warranty. Items sourced from third-party manufacturers come with their respective warranties.
Where to Purchase:
Direct from the Lista eStore.
---
BaldHead Garage Cabinets
With a legacy spanning 35 years, BaldHead Garage Cabinets stands as a family-operated beacon in metal cabinet manufacturing. Their designs prioritize durability and aesthetics, ensuring that garages are transformed into functional art spaces.
BaldHead's custom-designed cabinets showcase their expertise in blending form and function. Unique to their offerings are tall storage lockers, television cabinets, and specialized cabinets like sink cabinets, mini-refrigerator cabinets, and trash bin cabinets. Each cabinet type, from drawer to glass door cabinets, is thoughtfully crafted to serve a distinct purpose.
When it comes to construction and quality, BaldHead's commitment to longevity is evident with its use of 18-gauge steel for its cabinets, crowned with a hammer-textured powder-coat finish. They guarantee rust-proof resilience. Additionally, European-style soft-close hinge doors, precision ball-bearing slide drawers with no-slip liners, and integrated toolboxes raise the bar of what one expects from garage storage.
BaldHead offers thirteen standard colors in their palette, with options for solid and two-tone combinations. For those with an eye for something distinct, the company provides custom color choices or even stainless steel fronts for an added cost.
With BaldHead Garage Cabinets, whether you're sprucing up a corner of your garage or its entirety, it's bound to be a masterpiece worth every penny.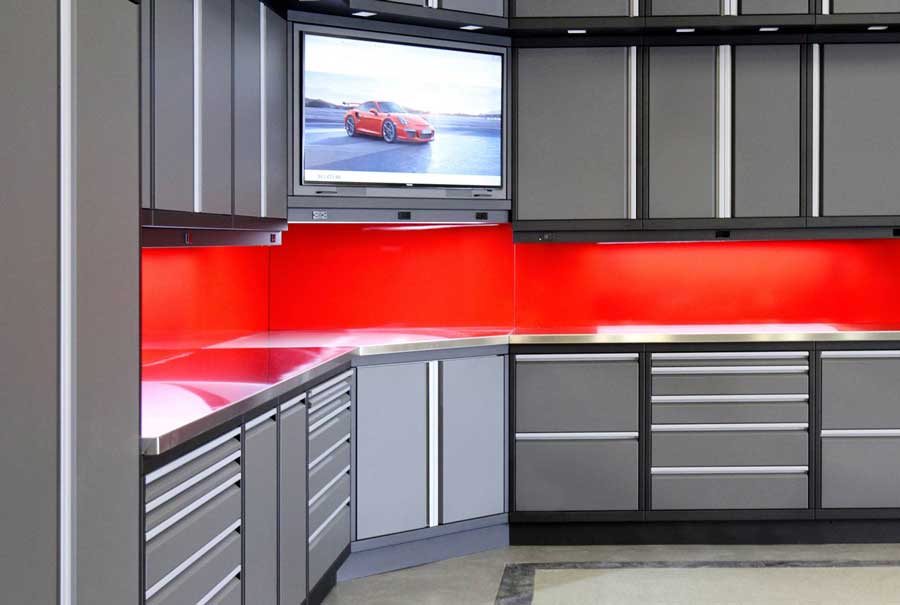 Price Range:
Specific prices aren't available because every BaldHead garage cabinet installation is custom-designed and built. Some sources indicate wall-mounted upper cabinets ranging between $1,300 and $2,400. Expect a BaldHead cabinet set's starting price hovers around $15,000, increasing with additional options.
Availability:
Delivered to anywhere in North America and select international locations.
Availability depends on product availability and delivery location. Shipping costs are based on weight, with each order individually assessed.
Where to Purchase:
Directly from BaldHead's shop in Bend, Oregon.
---
Montezuma Garage Cabinets
Another high-end garage cabinet manufacturer, Montezuma Storage, makes its mark in the industry by offering robust steel storage solutions. Their philosophy revolves around efficiently and securely organizing spaces.
Their Garage Cabinets Series showcases a variety of wall-mounted, freestanding, stackable, and drawer unit cabinets. Designed for versatility, they allow homeowners to craft a modular system that mirrors their unique storage requirements.
Heavy-duty steel is at the heart of their design, crowned with a powder-coated finish that effortlessly wards off scratches and corrosion. Construction ranges between 18 to 22 gauge steel based on the specific model. They include adjustable shelves, lockable doors, and ball-bearing drawer slides, ensuring smooth functionality.
Montezuma only offers a single-color palette: matte black with striking blue handles.
Montezuma also offers a Tool Chest Series for those who need dedicated space for their tools. Encompassing an array of products from top chests and roller cabinets to triangle boxes and portable toolboxes, it invites users to design a tailored workspace.
The difference between the Garage Cabinets and the Tool Chests & Cabinets is as follows:
Purpose: Garage Cabinets cater to general storage, be it gardening tools, household items, or sports equipment, whereas the Tool Chests & Cabinets are devoted to tools.
Depth: A standard depth of 18 inches is consistent with Garage Cabinets. At the same time, the Tool Chests & Cabinets are deeper, with 24 inches or more to accommodate bigger tools.
Storage Design: While adjustable shelves lend flexibility to the Garage Cabinets, the Tool Chests & Cabinets come with fixed drawers, categorized for easy tool sorting.
Access: Garage Cabinets feature lockable doors, while the Tool Chests & Cabinets spotlight lockable drawers for individual tool accessibility.
Price Range:
The cost varies, with an example spectrum being $255.99 for a lone wall-mounted cabinet to $623.99 for a sizable two-door freestanding piece. Seasonal promotions and discounts from select retailers might further sweeten the deal.
Availability:
Typically, a lead time of 1 to 3 business days post-order can be anticipated. Individual retailers may have extended delivery times.
Delivery methods oscillate between freight carriers and couriers, often employing a curbside delivery strategy.
Warranty:
Montezuma cabinets include a 5-year warranty against material or workmanship defects is provided. Warranty claims require proof of purchase. Montezuma might opt to repair or replace the component.
Where to Purchase:
Montezuma's official platform, Montezuma Storage.
Garage Giant
Garage Appeal
---
Vault Garage Cabinets
Our final entry, Vault Garage, is a higher-end garage cabinet manufacturer. The American-based company, operating out of its Indianapolis factory, offers handcrafted custom-made metal cabinets that epitomize elegance, strength, and functionality.
Vault Garage Cabinets are not just any cabinets. They've meticulously crafted masterpieces tailored for the most exquisite garages worldwide. Their cabinet range offers various colors, finishes, countertops, and accessories.
It includes three distinct series: Professional, Designer, and Forged.
The Professional Series emerges as Vault's flagship cabinet line. It resonates strength with its 11-gauge vertical and 16-gauge horizontal framing, ensuring durability is at the forefront. Its unique exposed exterior frames juxtaposed with stainless steel drawers and shelves catches the eye.
This is complemented by automotive-quality powder-coated surfaces in diverse hues, including black, white, red, and blue, with finish options like matte, gloss, and metallic. Functionalities include fully-adjustable hinges by Blum, full-extension hardware, and industrial-grade leg levelers.
The Designer Series is on the opposite end of the design spectrum, a testament to sheer luxury. These cabinets embody the spirit of modern elegance, flaunting a sleek design, concealed Blum hinges, and brushed stainless steel construction crowned with a furniture-grade powder-coated finish.
As with the Professional Series, customization is key; the Designer Series is built-to-order, ensuring every tiny detail, color, and configuration aligns perfectly with customer desires. This series is a nod to those inclined to luxury in their garage spaces.
The Forged Series strikes a balance between elegance and pragmatism. This modular system impresses with its galvanized steel interiors and double-wall construction. A monochromatic design palette ensures the series appeals to those wanting a sleek yet potent storage solution.
Features like heavy-duty ball-bearing drawer slides, adjustable hinges by Blum, and premium-grade galvanized zinc-coated steel construction are just the cherries on top.
Price Range:
Pricing depends on various factors, including the type of cabinet, size, configuration, and customizations.
Availability:
Lead time for construction can fluctuate based on current demand and your location.
Warranty:
Vault offers a limited lifetime warranty covering material or workmanship defects under everyday use.
Where to Purchase:
Vault's cabinets are custom-built and can only be purchased directly from their official website. The process begins with a free design consultation that ensures the final product meets the vision of your dream garage.
---
Wrapping It Up: Choosing the Right Garage Cabinet Manufacturer
Selecting the perfect garage cabinet manufacturers is an essential step in transforming your garage from a mere storage area to an organized, efficient workspace.
With so many options available from top-notch garage cabinet manufacturers, there's a solution tailored for every garage's size, style, and function. Remember to prioritize durability, design, and, most importantly, your unique needs.
Investing in the right cabinets means not only enhancing the aesthetic appeal of your garage but also maximizing its utility for years to come.