Your garage deserves better than an ugly concrete floor. But what type of garage floor coating is best for you?
Paint? Epoxy? Tiles?
It's common to see cracked concrete floors, but that doesn't make it any less annoying or worrying. If left unchecked, cracks begin to expand and widen. These cracks are often a symptom of foundational damage.
Your garage floor is prone to several different types of damage and this causes many homeowners to search for the best garage floor coating.
The most important factor to consider when choosing the best garage floor coating is the type or material. Some options include:
Acrylic paint/resin
Epoxy paint & epoxy cloatings
Latex paint
Floor tiles
Liquid rubber
Floor mats
The coating material is obviously not the only consideration. You'll also want to consider how large an area you need to cover, and your budget. Floor coatings vary wildly in price, from under a hundred dollars to over several thousand dollars.
That said, adding a coating to your bare concrete garage floor is a reasonably straightforward and uncomplicated process. Keep reading to figure out the best one for you.
---
Why Should You Finish Your Garage Floor?
Let's start with the basic question first: Why should you bother to finish your garage floor?
Studies have shown that a finished garage increases the overall value of your home. While there's certainly more to finishing your garage than just painting your floor, there's no disputing that it makes an impact.
The exact amount will vary from market to market and buyer to buyer. But even those who simply use their garage for storage could love having an exceptional garage space.
Protecting and re-finishing your garage floor not only attracts potential home buyers, but it also improves the entire space. Un-treated concrete gives off a lot of dust.
You may be aware of the dangers of accidentally inhaling dry concrete, but those same risks are there from inhaling concrete dust as well.
When a concrete structure or floor begins to lose its upper layer (usually due to excess moisture), it forms a chalky, dusty layer that is all too easy to breathe in. Prolonged exposure can result in skin irritation, and inhalation can lead to respiratory issues or aggravate a pre-existing respiratory condition, like asthma.
Concrete is porous, meaning that it absorbs moisture. Even a simply paint or sealant coating helps to repel fluids and keep the concrete structures stable and firm. A garage floor coating can extend the overall life of a garage floor, resulting in fewer repair costs.
Simply put, the question isn't why you should finish your garage floor, but why haven't you done so already?
---
How to Choose the Best Garage Floor Coating for Your Garage
There are a few things you want to consider before choosing on a deciding on coating for your garage floor.
The material used will make the biggest impact and will probably drive your decision.
It's going to determine many of the features and factors like:
Affordability
Durability
Preparation time
Is this DIY or do you need a pro?
Each type of finish or coating has specific pros and cons. It's important to explore them before making a final decision.
Types of Garage Floor Coatings
Before I start a project, I like to know what my options are. So let's take a brief look at each floor coating. That way you'll be able to quickly see what could work—and what won't work— in your garage.
Acrylic
Acrylic resins differ from acrylic garage floor paint, but both are viable finishing options. Garage floor paints are cheaper and easier to apply, but less durable than a resin coating.
Many acrylic resins are transparent, and they hold color well. They're popular with garage owners looking to craft a one-of-a-kind flooring look.
Resins add an extra layer to the floor's surface, and can be poured to any depth for increased durability. Because of this they take several days to fully harden.
Finally, because acrylic resin hardens to form a hard-plastic-like surface, it's prone to impact damage. If you're in a working garage where dropping heavy tools is a possibility, an acrylic resin might not be the best option.
Epoxy Coatings
A true epoxy coating is transparent and glossy like is very similar to acrylic resin in terms of transparency and gloss, but it's far more durable and resistant to scratches, chips, and general wear and tear.
While the most common form of epoxy floor coating is grey, clear epoxy coatings and colored coatings are also available.
The result is a huge variety of potential floor designs, each one just as gorgeous as the last. If you're looking for a little inspiration, you may want to explore images of how others have decided to customize their epoxy floors.
Like acrylic resins, epoxy coatings take some time to apply and fully harden before you can park your car or even walk on them.
They normally require multiple coats. The total time to apply an epoxy coating to a garage floor varies from about three days to a solid week, depending on the size of the floor.
Latex
Because acrylic and epoxy coatings take such a long time to set, many homeowners choose to simply paint their floor. Latex paint is a popular choice, and it dries incredibly quickly.
What latex paint lacks in durability, it makes up for by being easy to apply.
Tile
Plastic floor tiles are an excellent way to cover up unpleasant-looking concrete flooring without spending hours scrubbing, spraying, and sweeping. They offer durability and a custom look and can often be installed in as little as an hour.
Plastic tiles can be somewhat expensive, depending on the manufacturer and look you're going for. Covering a two-car garage in tiles will often cost one-to-two thousand dollars.
Rubber
Rubber coatings come in two main varieties: liquid rubber or rubber mats or panels.
Liquid rubber is a coating you add to your floor, much like an acrylic resin or epoxy. It's easier to apply and creates a strong, durable bond to your floor's surface.
Floor Mats
Although they're more of a garage floor covering rather than a floor coating, floor mats are the easiest solution.
They come in many different styles, sizes, and materials. Most are made of rubber or PVC vinyl.
Finding one that perfectly matches your garage's floor plan can be a challenge, which is why it's a great idea to choose a mat material that you can cut to fit.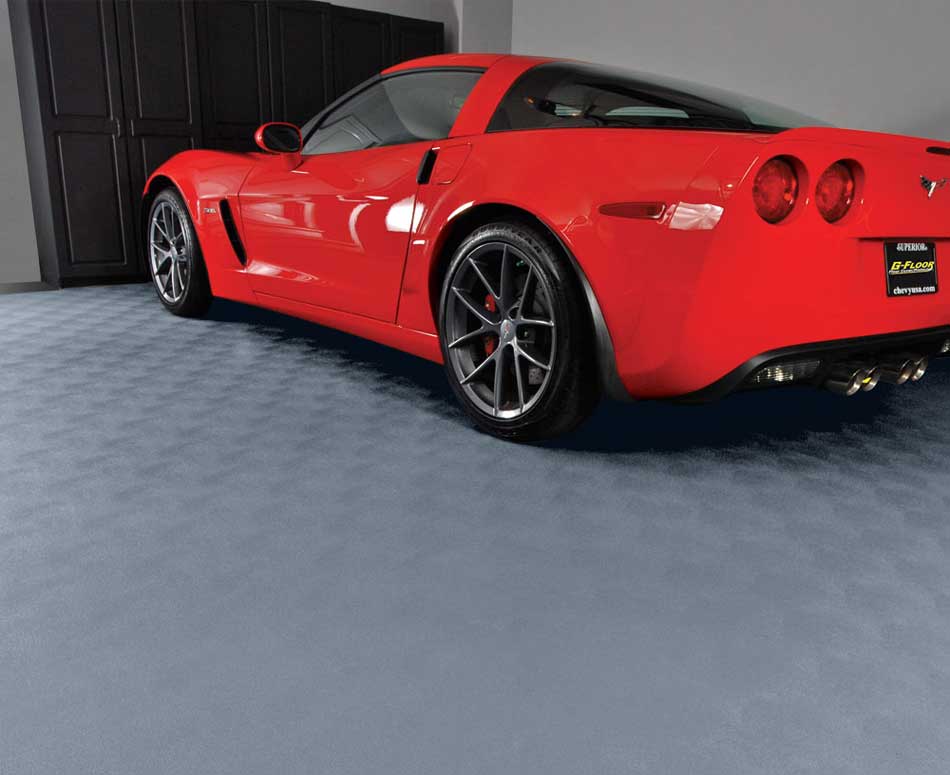 While floor mats aren't as rugged as poured rubber or epoxy coatings, they're far easier to clean, maintain, and replace. For more on garage floor mats, check out my buyer's guide to the best garage floor mats and see if it's the right solution for your garage.
Coverage Area
Now that you're familiar with the different types of coating materials, you can begin assessing just how much of any given material you'll need. Determining how much area you'll need to cover is as simple as taking a few measurements and inputting them into a square footage calculator.
Using this information, you'll know how much square footage you need to cover, and consequently, how much material you'll need to get the job done. Coverage isn't only important for gathering supplies, though. It can also help you choose an affordable material. After all, the more ground you have to cover, the more money you'll need to spend.
Affordability
Each material listed above has a specific price tag associated with it. When you have a good grasp of which material you'd like to use, and you know how much square footage you need to cover, you'll be able to calculate generalized estimates. Taking the time to compare prices is crucial, and doing so can ensure that you remain within your budget.
While you may assume that latex paint is the most affordable material, it can actually be the most expensive route. That's because a single gallon of latex paint can cost anywhere between $20 and $70 per gallon. A single gallon of paint is enough to cover the square footage of a standard-sized garage, though two-car garages or detached spaces may require a secondary gallon.
Poured rubber flooring is the second-most costly material, costing up to $20 per square foot. Floor tile costs can also quickly add up, with prices ranging between $7 and $15 per square foot. The most affordable, wallet-friendly coating materials also happen to be the most durable ones: epoxy and acrylic.
If you decide to install epoxy flooring without professional assistance, you can expect to spend between $2 and $5 per square foot of garage flooring. While acrylic flooring is far less expensive, it's also not as durable as epoxy or rubber. Part of the beauty of a high-quality floor coating is its ability to to keep your garage floor protected.
Durability
Most homeowners will choose to apply a floor coating for a combination of reasons, but durability should always be a high priority. The more durable the material you use to seal or protect your garage's concrete flooring, the longer the coating will last.
Instead of refinishing the same floor every year, you can rest easy, knowing that your current coating could last half a decade or longer.
Still, if durability is less important to you than style or customization, it may be better to choose a material that is easy to remove or paint over. Latex paints, acrylic resin options, and mats are the least durable options, but they're also fantastically easy to remove or replace.
Ease of Application
If you're not confident in your DIY skills, you may want to avoid labor-intensive coating projects that involve hazardous materials.
The following types of coatings often require several tools, plenty of supplies, and at least a moderate amount of flooring experience:
Acrylic resin
Epoxy
Floor tile
Liquid rubber
When using any of these floor coatings, be sure you don't get any on your hands during application.
Floor mats and latex paint are the easiest materials to apply and are excellent options for homeowners of all experience levels.
Still, if you need to hire professional help, you'll want to consider that additional cost before getting started.
---
Frequently Asked Questions
We've compiled a list of some of the most frequently asked questions about different garage floor coatings.
Remember, there's no such thing as a bad question, only bad answers. And this guide, there are zero bad answers.
What Is a Concrete Floor Sealer?
Concrete sealer is any oil or chemical that is applied to the concrete to make it less porous and more resistant to moisture. Sealers also help protect concrete from stains and impact damage.
A concrete sealer is the bare minimum floor coating you need for your garage. Even if you decide against everything else on this list, this is a necessity.
While most floor coatings sit on top of the concrete surface, a sealer penetrates into the concrete for a deeper level of protection.
However, because the finished surface still looks like concrete, many homeowners choose to invest in an epoxy floor coating rather than a sealer.
Paint vs. Epoxy for Garage Floors?
Choosing between garage floor paint and an epoxy-based coating can be a challenge. It comes down to a question of cost vs durability.
Acrylic and latex paints are usually the cheapest garage floor coating you'll find.
They can be any color and any design. However, paint is bound to chip and flake over time. You'll usually need to repaint every couple of years.
On the other hand, an epoxy coating is exceptionally durable. You can even pressure wash your epoxy floor, although it shouldn't be necessary. Most epoxy-covered floors are high-gloss finishes that can be slippery when wet. They're also considerably more expensive than paint.
As I mentioned, it's all about cost vs. durability. Epoxy will last longer, but be more expensive. Paint is much cheaper, but will only last a short time.
What Are the Disadvantages of Epoxy Flooring?
It's easy to see the advantages of epoxy flooring, but it does have some drawbacks that are worth mentioning.
Some of the most common complaints regarding epoxy-coated floors include:
True epoxy takes a long time to harden and set
Toxic fumes are given off during application
Epoxy is extremely slippery, especially when wet
Very difficult to remove or replace
Epoxy can be weakened by excessive sunlight or UV radiation
Take time to consider your personal preferences, budget, and how you plan on using your garage. Epoxy is a great option, but it might not be the best garage floor coating for you.
Can You Put Vinyl Plank Flooring in a Garage?
Yes, you can use vinyl plank flooring in a garage. However, while vinyl flooring is generally moisture-resistant and easy to install, it's also less durable than similar flooring materials.
Homeowners who don't use their garage very often may opt for faux wood vinyl flooring. However, it's not recommended for high-traffic garages. They'll likely need to repair it more often or even replace sections that get chipped, dented or warped.
Can You Epoxy Your Garage Floor Yourself?
The short answer to this question is yes, absolutely. However, it's important to note that the best-looking epoxy coatings require hours, if not days of preparation.
If you're planning on applying an epoxy coating to your garage floor, you'll need to follow a few crucial steps:
1. Take everything out of your garage
While it might seem evident that you'd need to remove everything that's consuming floor space, it's also wise to remove wall shelves or hangings when preparing to apply a floor coating. Doing so reduces the chances of bumping into unnecessary items while working.
2. Clean the floor
Sure, this step might seem like a breeze, however, cleaning the garage floor doesn't mean sweeping it once and moving on. You should use a brush with hard, short bristles to remove and set-in debris, and a concrete cleaner or degreaser to remove oil stains.
Once you've removed as much oil and grime as possible, it's time to rent or borrow a power washer and blast away any remaining surface-level gunk. After that, it's time to squeegee or clean-sweep all of the water out of the garage, and wait for the flooring to dry completely. Buffing is optional but recommended.
3. Apply multiple coats over multiple days
In most cases, it takes multiple coats to achieve the desired durability from an epoxy coating. This means applying a single layer of epoxy resin or epoxy-based paint, then waiting 24 hours before applying the second layer. And after the second layer is applied, you may need to wait a full two days before accessing your new, beautiful garage floor.
This is a very time-consuming process that requires quite a lot of preparation and cleaning. However it would take just as long for a professional service to achieve the same results. Consequently, coating your garage floor with epoxy is a fairly simple and totally doable home project.
---
Wrapping It Up
Though there are so many types of floor coatings to choose from and it can seem hard to pick the one that's right for your garage.
Now that you're familiar with choices and their differences, you're better prepared to choose the one that works best for you.
One final note: Consider how easy or expensive it is to apply your garage floor coating, and how long it's supposed to last. After all, you probably don't want to spend a week applying a coating that will dissipate in a few months.
Still, your personal preferences will play a large role in choosing a flooring. It's important to have an idea what you want your garage to look like and choose a floor coating that fits that vision.