If you're like me, you've made a few improvements to your garage, but now it's time to tackle one of the biggest. And you're wondering if garage floor tiles are any good, right?
Garage floor tiles are a durable flooring option that adds a certain style to your garage without breaking the bank.
They're durable enough to handle heavy use, spills, floor jacks or even welding. garage without compromising its ability to handle vehicles and other heavy equipment. They are easy to install and are also very durable, with good tiles lasting you many decades.
There are plenty of materials and brands to choose from. But before we look into each of them in detail, let us look at the benefits of garage floor tiles in general:
Why Garage Floor Tiles?
Garage floor tiles have some specific benefits compared to other garage flooring options. Let's take a look at a few of them:
They look amazing: After all, the first thing we think about our dream garage is that it needs an cool looking floor. A good design for your floor tiles can give your garage the look you've been dreaming of.
Durability: Garage floor tiles aren't just a pretty covering. They offer some protection for your highest traffic area as well. They are extremely durable and many will probably outlive your car.
Easy replacement: Because of that durability, it's highly unlikely that you'll need to replace your garage floor tiles. But, because of the way they're designed and installed, most floor tile installations will let you swap out an individual tile if it get's damaged.
Spill resistant: Garage floor tiles can resist pretty much all garage fluids, chemicals, road salts, dirt, etc.
Easy to clean: Maintenance and cleanup is simple. Most stains or dirt can be easily wiped off. You can even add a wax every now and then if you like a glossy look.
Infinite options: The best part about garage floor tiles is that there is an infinite number of options and configurations to choose from. You can literally create any design you can dream up.
Different Types of Garage Floor Tiles
We will look at five different types of garage floor tiles, each with their own unique set of features and use cases:
Interlocking Floor Tiles
Wood Composite Floor Tiles
Porcelain Floor Tiles
Vinyl Composite Floor Tiles
Peel & Stick Vinyl Floor Tiles
Let us look at each of these types in detail.
Peel & Stick Vinyl Floor Tiles
Peel & stick vinyl floor tiles (as the name might suggest) are one of the cheapest (and easiest) ways to add floor tiles to your garage. Prices normally start around $1 per square foot for general purpose tiles. Specialty manufacturers like G-Floor have tiles specifically designed for the garage that cost around $4 per square foot.
All you have to do is peel a sticker covering the adhesive underside of the tile and then install it in place. Apply a little pressure, and they will stick to the concrete floor.
Manufacturers claim that these tiles are much more stain/chemical resistant than typical vinyl composite tiles (VCT), and are also much easier to keep clean.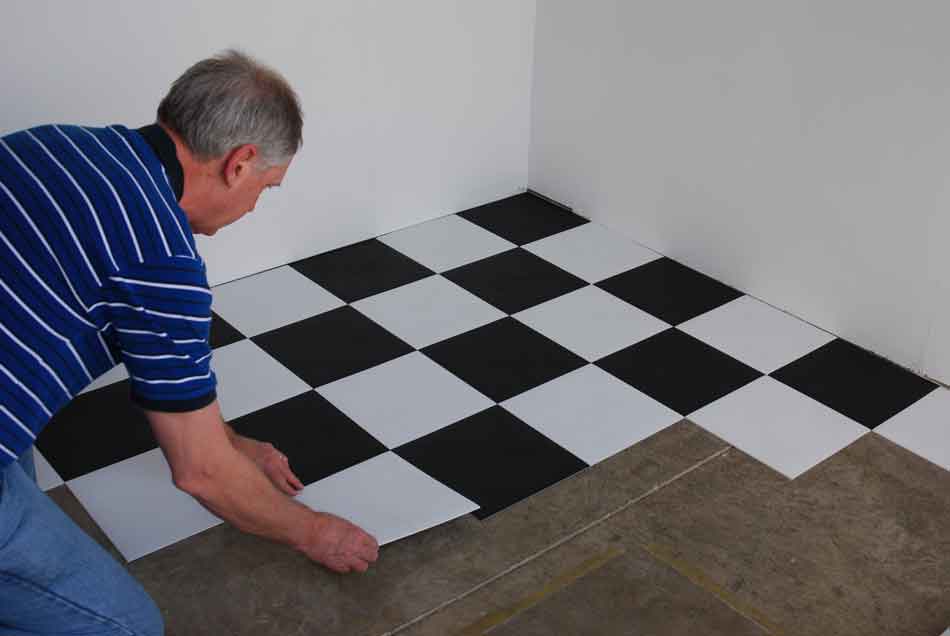 Despite being easy to apply, peel & stick tiles don't have the best reputation. Long-term durability is a concern, especially in a high-traffic area like your garage.
Unlike floating tiles that rest on the surface of your concrete floor, peel & stick tiles are individually stuck to the concrete itself. That means any shifting or cracking in the floor below will directly affect your tiles.
Peel & stick vinyl tiles aren't available in as many designs as other types of garage tiles. Usually only available in black, white and gray.
Interlocking Floor Tiles
Interlocking floor tiles are one of the most popular types of garage floor tiles because they're incredibly easy to install and come in a wide variety of colors and styles.
Most are made of polypropylene plastic (hard) or PVC (flexible). Either is very resistant to fluids or spills. They're also extremely damage resistant, depending on the thickness of the tile.
Several manufacturers like Swisstrax or RaceDeck allow you to custom design your own interlocking floor tiles. The tiles fit together like jigsaw puzzle and the result looks amazing.
Interlocking tiles are available in several designs and patterns including diamond, circle and even some custom textures like a Harley Davidson logo.
Depending on the manufacturer, these tiles are available in sizes ranging from a square foot to four square feet per tile. Costs range from as little as $1.90 per square foot to more than $5 per square foot depending on the material, design, and other factors.
Vinyl Composite Floor Tiles
Vinyl Composite Tiles (VCT) are commonly used in high-traffic retail and grocery stores or elementary schools but can easily be used in your garage.
However, vinyl composite floor tiles are typically available in one square foot pieces and usually cost under $1 per tile. That usually makes them the cheapest floor tiles you'll find.
However, installing VCT garage floor tiles can be a bit of a challenge as they have to be glued to the floor with some sort of adhesive. Installation can typically be completed in a weekend.
Once installed, you will have a beautiful looking sturdy floor that will last you for decades. They are incredibly easy to clean, and with a bit of an occasional waxing, they will maintain their characteristic glossy look.
Porcelain Floor Tiles
Yes…you can actually use porcelain floor tiles on your garage floor!
I was actually really surprised by this. Professionals have been using porcelain tiles in their garages for years, and they're extremely popular with homeowners.
Not only are they visually stunning, but they're incredibly strong and durable because of their dense construction. It's very difficult to crack or chip a porcelain tile that's been properly installed.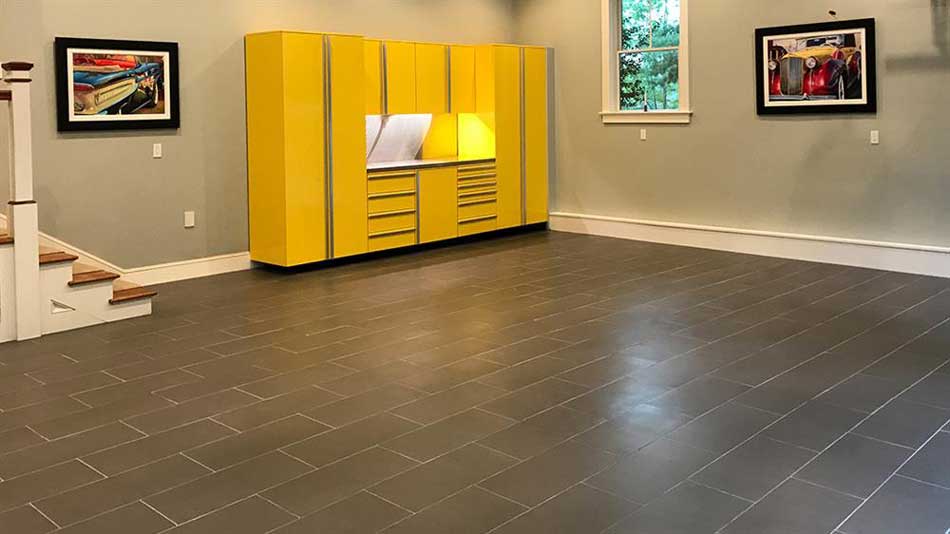 There's one trick to buying porcelain tiles for your garage. You want to make sure that the tile has a high coefficient of friction. Most interior tiles are only rated with a COF of around 0.42, which can be slippery when wet. According to the Global Floor Safety Network, a COF over 0.6 provides excellent slip-protection when wet.
Porcelain floor tiles are available in a wide range of colors and designs. They're naturally resistant to most types of chemicals, automobile fluids, dirt, stains, salt, or most other things you bring into your garage.
Many porcelain floor tiles are among the cheapest floor tiles you can get for your garage, with prices typically starting at around $1 per square foot. Higher COF tiles could run you considerably more, sometimes as much as $5 per square foot.
Still, because of the durability and longevity, porcelain tiles make an excellent choice for tiling your garage.
Choosing Garage Floor Tiles: What to Look For
Choosing garage floor tiles is a huge investment and you want to make the right decision. So it's useful to have some key talking points to consider before you start shopping:
Get samples: Unlike most of the other garage flooring options like floor mats or floor paints, you can actually get sample tiles in various colors and styles. This way you can see how they look and feel in your own garage.
Budget vs. Quality: Sure, you can skimp out an buy cheap tiles from a discount store, but you'll probably end up replacing them sooner than you want. Unlike floor mats that typically need replaced every 5-10 years, quality floor tiles should be a long term investment. So, while it's okay to be cost conscious, don't just choose a set of tiles because they're cheap. Be sure you're getting a quality product as well.
Buy American: In most cases, the most reputable floor tile manufacturers also happen to be American companies with a long history. Be sure to check their record of durability and reliability.
Get help with the installation: Installing floor tiles in your garage is easy, but that doesn't mean you have to do it on your own. If you can't or don't want to do it yourself, it doesn't hurt to hire a pro. It's probably less expensive than you think.
Garage Floor Tile FAQs
Are Garage Floor Tiles a Good Investment?
Garage floor tiles are extremely durable and there's a good chance they'll outlive your car. Besides durability, they're extremely easy to keep clean and can really make your garage stand out.
Are Garage Floor Tiles Easy to Install?
They can be, but it depends on what type of floor tile you get.
Peel & Stick Vinyl tiles and Interlocking Tiles are both extremely easy to install, and can be done in an afternoon. Porcelain floor tiles are the most complicated and involved to install and vinyl composite tiles are somewhere in between.
What Are Some Other Garage Flooring Alternatives?
So after all this, you've decided that floor tiles aren't the right solution for your garage floor. That's OK. There are several other popular alternatives, each with their own distinct advantages.
Garage floor mats, floor paints and epoxy paints are some popular choices, and we have detailed guides on each of them. I'll go into a brief description below and then link to the article elsewhere on this site that goes into a lot more detail.
Garage Floor Paint
Painting your garage floor is the cheapest garage flooring option, but it's also the least durable. Paint looks great when it's first installed, but you'll often find yourself re-doing it in 2-3 years.
Latex or acrylic garage floor paints come in many different colors. While they're a cheap and easy option, they're not very durable. They suffer from "hot tire pickup" which is where the paint sticks to your hot tires after you park.
They also aren't very resistant to the chemicals, road salts, and automobile fluids that you would typically want to protect your garage floor against.
For more information on whether floor paint is right for you, check out my article discussing whether you should paint your garage floor.
Garage Floor Mats
Garage floor mats are popular because they combine easy installation with some protection against spills and damage.
A typical garage floor mat lasts anywhere between 5 to 10 years and can easily be taken with you if you move.
Floor mats can be cut to fit almost any shape or size. It's common to find floor mats specifically for motorcycles or off-road vehicle. Or, you could cover your entire garage.
They're much easier and quicker to install compared to floor tiles. However, in the long run, they won't be able to handle garage chemicals, fluids, or road salts as well.
You can find our guide to finding the best garage floor mats here.
Epoxy Coatings
Most custom garages will have either an epoxy coating or garage floor tiles to complete their look.
Epoxy coatings are an improvement on the floor paints we discussed earlier. While they sound similar, and you can even get "epoxy paints" which are just more durable versions of latex or acrylic paint, a true epoxy coating is very different.
A true epoxy coating usually costs several hundred dollars to professionally install and will last much longer than floor paints would. They're much more durable, resisting pretty most chemical or automobile fluid spills.
Epoxy paints usually come in two parts, a primer and epoxy. These two elements have to be mixed together before being applied to your floor. It may take up to a week for the epoxy to fully settle on your garage floor, but once it does, it will last you decades.
For more on whether you should epoxy your garage floor, check out our detailed guide here.
Final Thoughts
Garage floor tiles offer a great combination of durability, easy installation and style. That makes them one of the best garage flooring options out there.
While it may take some research to find what brand of tiles to go with, it's worth spending a little time to get it right. Quality garage floor tiles are an investment that will last your garage for years, if not decades.
We are sorry that this post was not useful for you!
Let us improve this post!
Tell us how we can improve this post?