Your garage floor is a high-traffic area that takes a lot of abuse from cars, bikes, lawnmowers, and foot traffic. Even though interlocking floor tiles are a great investment, not everyone can afford to spend that much. Several companies make cheaper, peel-and-stick garage floor tiles.
But are they worth buying?
Peel and stick garage floor tiles are a budget-friendly option that keeps your garage floor protected and looking great. They are made from polyvinyl chloride, with an adhesive backing that makes them easy to install. Like other garage floor tiles, they are water and chip resistant and easy to maintain.
I started looking into them because a friend needed a budget-friendly flooring option for the garage in his new home.
He wanted something inexpensive to protect his floor while he decided between epoxy or another floor coating.
After doing some research, we found that peel and stick garage floor tiles will work well.
---
Why Peel And Stick Garage Floor Tiles?
Usually, one of the last products that come to mind when we imagine flooring for a garage is peel and stick or vinyl adhesive tiles.
While epoxy or plain concrete in your garage are among the best flooring materials for your garage floor, peel and stick tiles can offer good protection at a fraction of the cost.
We will look closer at what makes peel and stick garage floor tiles work and the benefits and drawbacks to better understand why using these tiles can work for you. 
---
What Are Peel And Stick Garage Floor Tiles Made Of?
Peel and stick tiles or vinyl adhesive tiles are made from polyvinyl chloride (PVC) and have a strong adhesive on the back of each tile that makes for an easy installation.
These tiles come in various styles, colors, and textures that are great for durability.
RaceDay self-stick vinyl garage floor tiles are textured peel and stick tiles designed for spaces like the garage or high-traffic areas. They have raised bumps in various shapes to ensure a non-slip surface. The RaceDay peel and stick garage floor tiles are also made from high-quality polyvinyl chloride.
---
Peel And Stick Garage Floor Tiles: Advantages
Below are some benefits of peel and stick/vinyl garage tiles.
Peel and stick garage floor tiles are easy to install and customize to fit the shape of your garage. They are easier to trim around corners, water heaters, shelving, or other areas in the garage than interlocking floor tiles.
They're incredibly versatile and can be used on the garage floor and in other spaces like a basement or kid's playroom.
Peel and stick tiles are not brittle and won't crack, chip, or deteriorate like other garage flooring options. Their durable gloss finish looks great and lasts for years.
These tiles hide cracks and stains on the subflooring and create a non-porous surface to protect the subfloor.
Vinyl floor tiles are resistant to water, oil, antifreeze, battery acid, salt, and alkali. That means most spills will be easy to clean, and you won't have severe stains if you act quickly.
The textures on peel and stick garage tiles give them more traction, so you get a non-slip surface that helps prevent accidental slips and injuries.
The vinyl is tough enough to withstand high levels of wear and tear but gentle enough to be comfortable for bare feet.
The sides and corners of the tiles lay down flat on the floor so you won't trip over them, and the adhesive is strong enough to cling to uneven parts of the floor so they won't bubble up.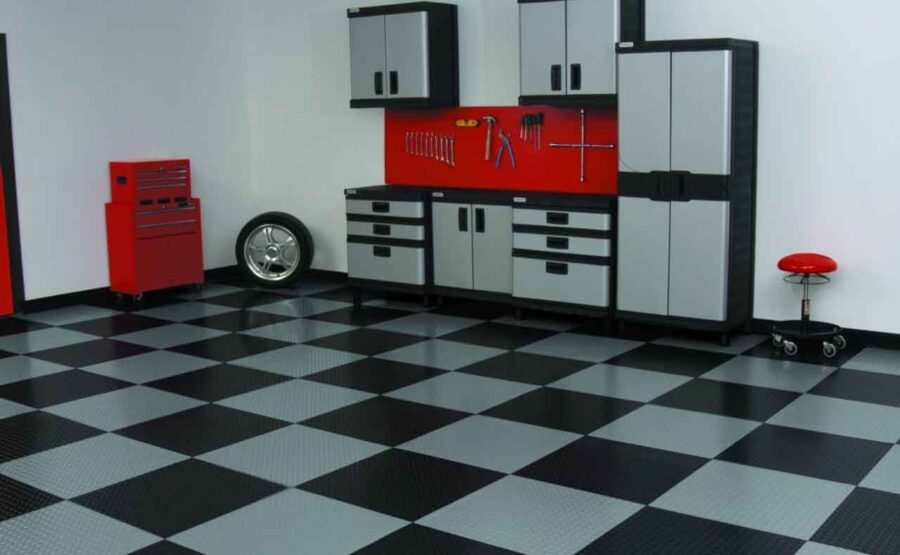 ---
Peel And Stick Garage Floor Tiles: Drawbacks
No product is without drawbacks, so it's important to be aware of them. Here are a few disadvantages of using peel and stick garage tiles.
While peel and stick vinyl tiles are resistant to stains from many harsh liquids, some chemicals and liquids can cause stains on the flooring.
As with concrete, it's hard to remove tire marks from peel-and-stick tiles. Hot tires can also (rarely) weaken the adhesive and pull the tiles from the floor.
If you don't properly prepare and clean your garage floor before you install the peel and stick garage floor tiles, they may not adhere correctly. Any dust and debris can attach to the adhesive backing on the sides and cause the tiles' sides or corners to loosen and lift up. 
Due to the manufacturing process, you might not get patterns that line up correctly. You may need to adjust the patterns or use more than one color to disguise them.
---
How To Install Peel And Stick Garage Tiles
If you choose to install the peel-and-stick vinyl tiles in your home but are unsure of how to install this flooring in your garage, you can follow the steps below to help you along.
The Supplies You Will Need
Here are the items you will need to install peel and stick tiles to your garage floor;
Your new peel and stick tiles (obviously)
Putty knife
Measuring tape
Clear ruler or straightedge
Pencil
Scrap wood
Utility knife
A primer
Hammer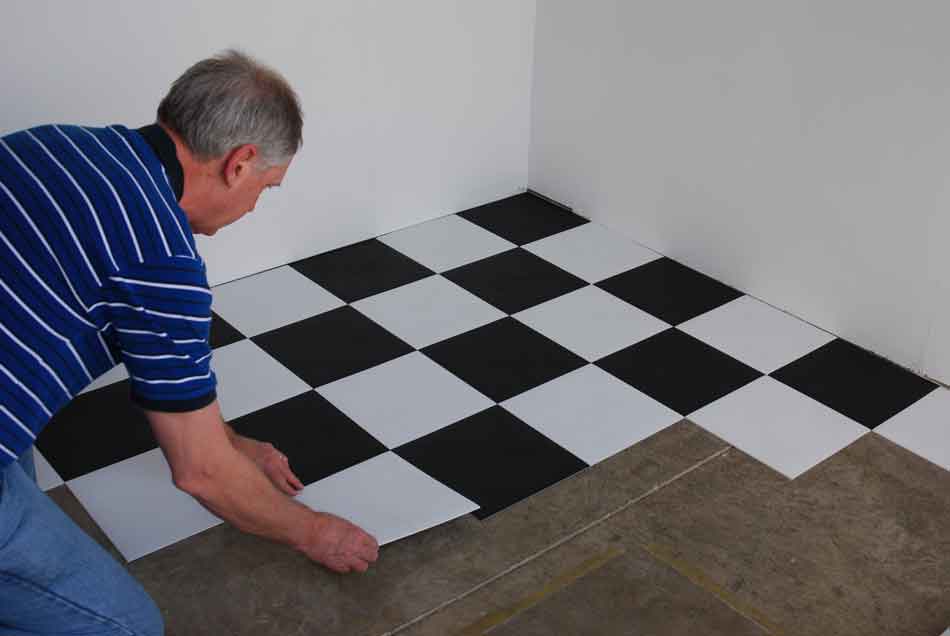 How to Install Peel And Stick Garage Tiles
Before you buy the peel and stick tiles, measure the garage area to ensure you buy the right amount. The extra 10% will be enough to fix mistakes or damaged tiles. Below are the steps you can follow to install the peel and stick tiles on your garage floor.
Be sure that your tiles are kept at room temperature for at least 48 hours before installing, and don't install the tiles if the temperatures are lower than 55°F.
Step 1 – Preparing The Garage Floor
Prepare the garage floor before adding the vinyl adhesive tiles as it helps them adhere better to the garage's concrete floor. Move everything not bolted down from the garage before you begin.
Next, sweep up or vacuum any debris on the floor's surface to ensure there is nothing to prevent the new tiles from sticking to the concrete floor.
After vacuuming the floor, fill in any holes or divots in the concrete floor with more concrete to ensure your tiles last longer. Let the filled-in areas dry completely.
Lastly, wash the concrete floor to eliminate any oil, wax, or chemicals that might interfere with the tiles adhering to the concrete floor. Certain chemicals may even deteriorate the adhesive on the back of the tiles.
Finally, vacuum the garage floor to remove any dust or sand you might have missed.
Step 2 – Prime The Floor
After the floor has been prepared and cleaned, prime the floor. Primer helps the adhesive on the back of the tile stick to the floor and keeps it from being absorbed into the concrete floor. Use two coats of primer, allowing the first coat to dry before adding the second coat.
Step 3 – Marking And Placement
When both primers are dry, you are almost ready to install the peel and stick garage floor tiles. Start in the center of the floor and lay out some of the unpeeled tiles on the floor to sort out placements and patterns. You can use a laser, chalk line, or measuring tape and pencil to mark your first row or map out the entire floor. 
Step 4 – Start Installing The Peel And Stick Tiles
You are ready to start installing the peel and stick tiles. Beginning in the middle of your first row, peel the backing off the first tile and attach it to the floor. Use a rolling motion like you are unrolling a carpet to ensure the entire tile sticks to the floor.
Step 5 – Cut The Borders
Continue installing the tiles until you reach the borders. Mark off how much you need to cut off using a measuring tape. Use the utility knife and scrap wood to cut the unpeeled tiles to the correct size and install them. Use the same method to cut around any corners or shelving.
Step 6 – Let It Dry Properly
Before moving your items back into the garage, ensure the adhesive is dry.
Allow around 48 hours for this process.
Ensure you maintain your tiles by washing the floor regularly and cleaning up any spills immediately to help prevent the tiles from staining.
---
Wrapping It Up
Peel and stick tiles are a cheap garage flooring option that can really transform the look of your garage floor.
They're easy to install yourself and will last for years if you repair and maintain them properly.