I laughed when I saw a tennis ball hanging from my mom's garage ceiling. Then I saw her try to park her car, and she actually hit the garage wall.
I stopped laughing.
If you, or someone you love, has ever hit your garage walls with your car, you probably understand.
These minor accidents will not only scratch or dent your car but also damage your drywall or concrete garage walls.
Fortunately, this list of the best garage parking aids will help you park your car safely, even if you have a narrow garage.
Table of Contents
---
Top 5 Best Garage Parking Aids
Everything on this list of the best garage parking aids is under $100, and most are under $50, so it won't break the bank.
Install a Hanging Tennis Ball
Let's start with my mom's garage parking aid: the tennis ball.
This is the easiest and cheapest parking aid you can use to stop hitting the garage wall. It only takes an old tennis ball, some string, and two eyehooks.
Take one of the eyehooks and screw it into the tennis ball.
Attach some string to the hook. Make sure you have enough to reach from your car's windshield to the ceiling, plus a little slack.
Mark the spot on the ceiling directly above where the tennis ball barely touches your windshield. Then, screw the second eyehook into that mark.
Tie the string through the ceiling eyehook and cut off the excess.
Alternatively, some mount the tennis ball to hit their hood instead of their windshield. Either way, once you hit the ball, you know it's time to stop driving.
If you don't have an extra tennis ball or don't want to bother making this on your own, here are some of the best garage parking aids that I've found. They may cost a bit more than a tennis ball, but they're more effective in the long run.
---
Laser Parking Assists
Laser parking assists and parking sensors are a more high-tech solution to the old tennis ball.
The simplest, like the Maxsa 37312, is activated by a motion sensor. That means it only turns on when it senses movement, such as your garage door opening.
This model has an AC adapter, so you never need to change the batteries. However, different versions run on batteries if you don't have an outlet handy.
There are two infrared head units, so you can aim them in different locations if you have a two-car garage.
Installation is simple.
All you have to do is drill it in place and aim the lasers so you can see it when your car hits the right parking position.
One potential drawback is that laser pointers can cause irritation if you have sensitive eyes. If that's the case, consider other possibilities.
Either way, never look directly at the laser beam – which is good advice for any situation, actually.
---
Parking Targets or Mats
If you're short on space and have to consistently hit the same parking spot, rubber blocks and mats will be your best option.
They come in two main designs. A parking block is like a smaller version of the concrete stops you see in most parking lots.
Simply pull forward until your tires touch the block, telling you to stop.
The Parking Target blocks come in both 18″ and 24″ lengths. Both attach to your garage floor with adhesive tape.
Parking mats, by contrast, take the idea of a parking block and add a rubber or plastic panel that sits under your tires. In my opinion, that makes them the best garage parking aid for the money.
One of the drawbacks to painting your garage floor with acrylic or latex paint is that hot tires can cause the paint to crack and peel off.
Because the mat sits underneath your tires, it absorbs the heat, not your floor.
Maxsa, the maker of one of the laser parking aids I listed above, also makes parking mats.
The Maxsa Park Right parking mat is one of the highest-rated, affordable parking mats. It is available in three colors (black, red, or yellow). It's easy to install with double-sided tape or adhesive.
---
Wall Bumpers
Wall bumpers aren't necessarily a garage parking aid but a way to cushion the blow when you make a mistake.
Especially if you have a narrow garage, it's easy to open your car door into the wall.
Wall bumpers act as a cushion to prevent damage to your car if you open your door into yo garage wall.
The Ampulla GWP01 wall bumpers are the best on the market. They're easy to line up and install on several different surfaces, even over curves and corners.
They're made from a 1/4″ cushioned material that's scratch resistant and eco-friendly. It can withstand over 300 pounds (136kg) of direct impact force from your car door.
I wouldn't recommend testing that limit, however. The Ampulla bumpers may be able to take it, but your door probably wouldn't.
---
Convex Mirrors
This is one of the lowest-tech parking aids you can get.
We commonly see convex mirrors on the road to help drivers go around blind corners.
However, placing a few mirrors in your garage's blind spots are a great idea if you've been wondering how to avoid hitting garage door frames or walls.
You can pick up convex (wide-angle) mirrors at most hardware stores.
One highly recommended mirror is by a company called Kiloxa. This 12″ mirror comes with a mount that lets you attach it to one of your garage walls.
A few of these in each corner of your garage will help you see everything on all sides of your vehicle.
By themselves, they're an adequate solution. However, they're best used with one of the other garage parking aids mentioned earlier.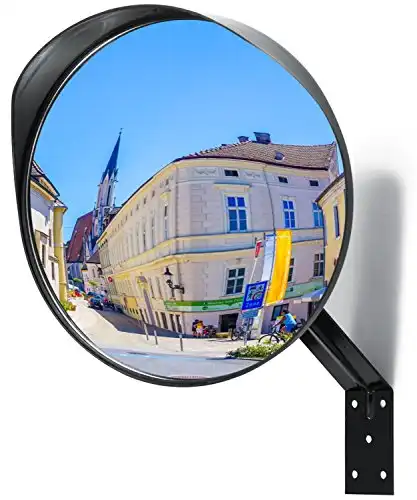 ---
How to Avoid Hitting Garage Door Frame & Park Safely
Even if you have a few of these parking aids in your garage, it won't guarantee that you'll stop hitting your garage walls. Accidents happen.
However, you can do a few things to make them less frequent.
Take It Slow and Steady
Perhaps the best advice is to slow down.
We recommend having some parking aid, particularly if you have a small, poorly organized garage. However, simply slowing down when you're pulling into your garage will go a long way to stopping accidents before they happen.
No matter how long you've been driving, focus on getting your car safely into your garage instead of speeding into it.
Clean Up Your Junk
The more junk on your garage floor, the more likely you will have an accident.
If you're training a new driver, clearing everything out of your garage might be easier, including tools, bicycles, lawnmowers, etc. Once they get the hang of the parking process, you can slowly start to move everything back inside.
When you don't have enough garage space to comfortably park your car, it's time to clean it out.
If you're like me, you probably hate cleaning out your garage.
I created a plan to declutter your garage in small chunks, so it's manageable. It also works as a weekly or monthly maintenance system, so once your garage is clean, it never gets out of control again.
If your garage is messier than you want, I recommend checking out that article.
Install Better Lights
If you can't see in your garage, you're much more likely to run into the walls or cabinets. In most garages, the light from our garage door openers isn't enough.
One of the best things I did was to upgrade my garage lighting with hardwired LED shop lights. I even added some motion-sensing lights that would turn on automatically whenever they detected movement.
It's easy to misjudge the positioning of your vehicle when it's dark in your garage. Even experienced drivers have difficulty figuring out where to park without a light source.
---
FAQ
How do you park perfectly in your garage?
Perfectly parking in your garage involves aligning your car in the proper position each time. One way to achieve this is by using parking aids. You can use laser guides, parking mats, or wall and bumper guards to help guide your car into the perfect spot. Also, use reference points in your car and garage, like aligning a specific part of your windshield with a particular spot on the garage wall.
How do I stop my car from hitting my garage walls?
Prevent your car from hitting garage walls by using parking aids. Parking mats are a good choice, as they give you a physical indicator of when your car is in the right spot. Wall guards can also be used to protect both your car and walls from accidental bumps. Laser guides can also provide a visual guide for when you've reached the correct parking depth.
How do I stop hitting the side of my garage?
To stop hitting the sides of your garage, consider installing bumper guards or clear acrylic safety strips along the walls. These will act as a buffer between your car and the garage wall. Alternatively, you can use parking sensors or mirrors to guide you as you park.
How do you make homemade garage parking assist?
One common homemade garage parking assist involves hanging a tennis ball from your garage ceiling. First, park your car in the perfect spot. Then, hang a tennis ball from the ceiling so it gently touches your windshield when your car is correctly positioned. When you pull into your garage, you know to stop when the tennis ball touches your windshield.
---
Wrapping It Up
Parking inside your garage can be tricky, especially if you've got a cluttered garage with poor lighting.
The best garage parking aids ranging from bumpers and mats to laser guides could help you stop hitting your garage walls. At the very least, you can go with the tried-and-true tennis ball on a string parking aid.
Any of these ideas will help you safely park your car in your garage, no matter what else is in the way.
We are sorry that this post was not useful for you!
Let us improve this post!
Tell us how we can improve this post?