Anytime you buy or design a house, there are a couple of significant features you look out for. One of these is the basement, which typically follows the house's foundation.
However, there are times when homeowners want to expand on that existing footprint. So, they start thinking about adding a basement under the garage.
So, can you have a basement under your garage? Is it a good idea?
In theory, it's possible to have a basement under an existing garage. Yet, there are many conditions and limitations tied to this project, including cost, convenience, and practicality.
That's why many people are still on the fence. Some think it's an ingenious way to add more space. In contrast, others see it as a safety hazard that's too costly and time-consuming.
In this article, we discuss all possible options. We'll also give you some insider tips to help you finally find a reliable answer to the question, 'Can you have a basement under your garage?'
Let's get started.
---
Can you Have a Basement Under Your Garage?
Yes, you can have a basement under the garage. Any time you can add functioning square footage to your home without adding to its footprint is always a good idea.
This is perfect for areas where you can't build up or outward, or it's more expensive to buy more land to expand on.
Before or After Construction?
All the contractors and engineers we spoke to agreed that adding the basement during initial construction is better.
So, what about houses that have already been built? While not ideal, adding an extra room below the garage is still doable.
Flooring Options
For the flooring, they recommend hollow flexicore floor slabs. These lightweight, durable slabs are laid in place of the solid concrete flooring we're used to seeing in typical car garages.
These prestressed floor slabs are precast and feature a hollow core and built-in beams. The hollow core reduces the weight of the floor, while the built-in beams reinforce the weight load.
As a result, you get a foundation that can efficiently support the weight of your vehicles while simultaneously boosting the durability and reliability of the flooring.
They're so reliable, in fact, that they've become the top choice for all types of wide, open spaces, which is what they were primarily designed for. This makes them ideal for residential garages as well as large commercial garages.
Another advantage of these prestressed floor slabs is that they don't need any support beams.
So, with this type of flooring, you get the best of both worlds. For flooring, you get maximum durability and safety for your vehicles. Then, in the space below the garage, you can make the most of your floor space without any pesky support beams getting in the way.
This flooring will cost significantly more than the standard stone floor with a concrete finish. It also requires meticulous planning to ensure the job gets done safely and efficiently.
Certified Professionals
Since this isn't a DIY job, you must seek a trustworthy, experienced contractor or engineer certified in building basement structures. They can help you smooth out rough patches during the planning phase.
Your contractor will also help you plan out all the details of wires and pipes because they must be installed before setting the flexicore flooring. Otherwise, once those hollow core slabs are installed, it'll be nearly impossible to drill any holes or openings to avoid structural damage.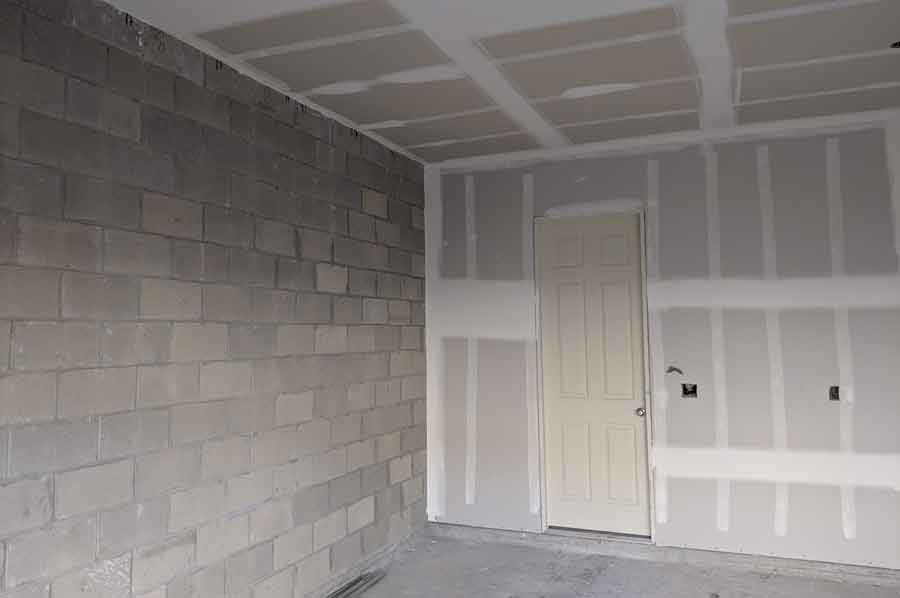 ---
Why You Might Want a Garage Basement
Getting some extra square footage in your home is always a treat. There are many exciting possibilities for using all that extra space.
Ideas for Using Your Garage Basement
For example, if your home lacks ample storage space, you can use the basement for storing clothes, equipment, and old keepsakes.
Also, since this is an underground structure, it's sure to have strong, solid walls protecting it from all sides. Thus, it makes for a terrific shelter where you and your family can ride out the storm, no matter how fast the wind speeds are.
Are you into woodworking, sculpting, or painting? Then, why not turn that extra space into a workshop?
Or maybe you'd like an indoor entertainment area for the whole family with a pool or ping-pong table? Another idea is if you have kids, you can bring in all the toys and create a fun and colorful playroom.
Other ideas include a home gym, a movie theater, or an extra living area.
Things to Consider
Having so many options can make it tempting to just build an empty space and then shape it as needed. However, experts advise against this because each type of space requires specific features and building conditions.
So, to help make the most of your space and avoid any setbacks or building delays, keep these pointers in mind:
The area must have proper ventilation with suitable drainage around the foundation
The garage floor should be properly sealed to keep out toxic fumes and moisture
A ramp makes moving heavy equipment and machinery in and out more accessible
If the space is wide enough, you can put up a sheet wall to create two separate areas
Set up plumbing so you can set up a small bathroom to complete the space
Make sure the access to the basement is easy and convenient
---
Pros & Cons
A basement below the garage can add valuable space to your home when planned and executed correctly. Also, if you design it to be functional like all the other rooms of your home, it can add to the value of your home.
On the other hand, if it's done wrong, it can be a disaster. In many cases, it can even be a safety hazard that will lower the value of your home.
Now, it's time to look at a few benefits and drawbacks of having a basement under your garage.
Pros
Act as a separate area from the main house
Leave more space for the outdoor area
Provides a fully functional area with plumbing and wiring
Can be customized in several ways, depending on your needs
Prestressed hollow concrete floor slabs give you access to an open space
Cons
Costly
Time-consuming
Needs trained and certified professionals to execute it flawlessly to avoid structural failure
---
How Much Does it Cost to Have a Basement Under a Garage?
You've taken your idea to a contractor or certified engineer. Then, after an hour of discussing all the pros and cons, you decide that having that extra space underneath the garage is the best thing for you.
The next step is to draw up the plans and get to work. But before you can do that, you must figure out your budget.
You need a complete list of everything you'll need to build a basement underneath the garage. This means accounting for all the materials, equipment, labor, and professional fees.
Also, remember that there will always be specific state building code requirements. Some states have more stringent codes and regulations, which means extra legal fees.
While prices constantly fluctuate, the average cost of installing a basement under your garage can range between $10,000 and $25,000.
Of course, this largely depends on the size of the area and what connections and fixtures you plan on installing. You'll also include the price of all the finishing touches you may consider adding to the space.
So, here's a list of most of the equipment and materials you need for this project:
1-inch thick steel reinforced foundation walls for all sides of the basement
4–5 pre-engineered prestressed concrete flexicore floor panels
A crane for raising and positioning the floor panels
Fire stops and other fireproofing material, depending on local safety codes
Waterproofing material
Smoke detector
Door and window(s)
Ramps or stairs
---
The Verdict
If done correctly, having a basement under your garage can be a pretty exciting addition to your home. You get all the advantages of having an extra room without extending the existing footprint of your house.
On the flip side, long hours and high expenses go into a high-demand job like this.
In addition, you risk scaring off potential buyers who may be wary of the idea. Some may consider it a safety hazard and decide that it's just not worth it.
So, weigh all the pros and cons first, then consider your needs and wants. Finally, tally in your budget.
Are you still convinced that this is a great idea? Then, it's time to go out there, find the best contractor in your area, and get to work!