There's more to home security than simply protecting your doors and windows. Most homeowners overlook their garage door openers, but, recently, they've evolved into sophisticated security systems.
But with a sea of features available, such as security cameras, remote access, smart home connectivity, and compatibility with services like Amazon's Key In-Garage Delivery, finding the best garage door opener for security can feel like trying to solve a puzzle.
That's where we come in!
This article focuses on different security features offered by the three leading brands: Genie, Chamberlain, and LiftMaster.
We'll help explain the technological jargon, evaluate the benefits and drawbacks, and help you identify the best garage door opener for security for your home.
We'll start by looking at your garage door opener's remote control.
Table of Contents
---
Garage Door Opener Remote Control Security
When you press the button on your garage door opener remote, it sends a radio signal to the receiver in your garage door unit. The remote tells the garage door opener to "open sesame" or "close now," and it complies.
Back in the day, garage door openers were only programmed with one code to identify which remote was paired with which garage door opener.
This was called fixed code technology.
The code remained static, repeating each time you used your remote. While simple, this method left the door wide open (pun intended) for savvy thieves to hack the signal and mimic the code.
Fixed code technology was simple, meaning it was very cheap to manufacture.
However, besides the security flaw of only having a single code, it was also prone to radio interference from other devices operating on the same frequency. This led to situations where your garage door opener wouldn't respond or (worse) open when you didn't want it to.
Thankfully, fixed-code garage door opener remotes have been phased out for rolling code models.
Intellicode and Rolling Code
Fast forward to today, where we have rolling code technology, also known as hopping code. Every time you press the remote button, this creates a new password, enhancing security and fending off unwanted garage intruders.
Here's how it works:
Initialization: An encryption algorithm is shared between the two devices when syncing a new remote with your garage door opener.
Code Generation: Every remote button press triggers the remote and receiver to create a new access code using the shared algorithm. Each code is unique and won't be used again.
Authentication: The receiver then checks the access code it received against the one it created. If the codes match, the operation proceeds.
Synchronization: Following each operation, the remote and receiver sync up to prepare the next unique code, ensuring each code differs from the last.
Rolling Code Technology, which includes Genie's Intellicode and LiftMaster's Security+ 2.0, allows for more secure garage door openers. Since it generates a new code for every operation, it significantly reduces the risk of thieves intercepting your code.
As of September 11, 2018, all garage door openers sold in the United States must use some form of rolling code technology.
Genie Intellicode & LiftMaster Security+ 2.0
Rolling code technology is implemented in different ways by different brands of garage door openers.
For example, Genie garage door openers use their proprietary Intellicode security technology. LiftMaster, on the other hand, uses Security+ 2.0 technology.
While similar in principle, both technologies change the access code every time you press a button on your remote. It ensures only remotes programmed to your specific garage door opener can issue commands.
Garage Door Opener Frequencies
Garage door openers use radio waves to communicate between the remote and the receiver. The remote's transmitter sends a signal to your garage door opener receiver on specific frequencies.
Typically, garage door openers use frequencies between 300 MHz and 390 MHz. The most common frequencies are 300 MHz, 310 MHz, 315 MHz, and 390 MHz.
Many garage door openers will automatically change to a lower-usage frequency whenever they detect interference. This helps keep things running smoothly and avoid jamming the airwaves.
---
Garage Door Sensors for Safety
Security and safety go hand in hand.
Modern openers don't just blindly open and close. They come with in-built safety features like threshold sensors designed to prevent accidents by detecting obstacles in the garage door's path.
Each of the three major brands highlights its sensor technology as a ground-breaking safety feature. In truth, they all perform the same function.
Infrared Sensors
Infrared sensors have a simple yet effective way of ensuring safety. They emit an invisible beam across the door opening. If anything like a child on a bicycle or your pet dog crosses the door's threshold, it breaks the beam.
If that happens while the door is moving, the sensor picks up the interruption and sends a signal to stop or reverse the door.
It's like having an invisible safety net that catches anything that accidentally gets in the way.
Chamberlain and LiftMaster call their version of this technology Photo Eye. Since most homeowners know how infrared garage door sensors work, Photo-Eye implies it uses a camera. However, it's a simple IR beam system, albeit with an upgraded sensor to make it more reliable.
Genie's Safe-T-Beam system also makes use of IR sensors. Like the Photo Eye, the Safe-T-Beam emits an infrared beam across the garage door opening. Any interruption in the beam prompts the door to reverse its motion.
Pros & Cons of IR Sensors
IR sensors are super effective at detecting objects or people in the door's path. They're low-maintenance and time-tested technology that is simple to troubleshoot. Chamberlain/LiftMaster and Genie models come with self-diagnostic features for easier troubleshooting.
However, they do have their limitations.
Infrared sensors can be overly sensitive to bright light sources, including sunlight. This can trick the sensors into mistaking these light sources for obstructions, causing the garage door to reverse when it doesn't need to.
Genie, however, has addressed this issue in their updated Safe-T-Beam system (Model GSTB-R), which includes a lens cover. This feature protects the sensors from interference from alternative light sources.
Dust, dirt, or any material blocking the path of the IR beam can disrupt its function, leading to sensor errors. Regular cleaning and maintenance are necessary to keep the sensor lenses clear and functioning at their best.
Finally, not all IR sensors are compatible with every garage door opener model. Typically, you're limited to purchasing the same sensor brand as your garage door opener.
---
Garage Door Openers: Advanced Security Features
These aren't the only security features garage door opener manufacturers have developed over the past few years.
In this section, we'll compare some advanced features that don't necessarily fit into a similar category.
GenieSense Monitoring and Chamberlain\LiftMaster Force Monitoring technologies automatically adjust the force required to open or close the garage door.
GenieSense technology, exclusive to Genie garage door openers, continuously monitors how your garage door moves along its track. It automatically adjusts the power needed, reducing noise and wear and tear while improving overall safety.
The Force Monitoring systems used by Chamberlain and LiftMaster do something similar, ensuring optimal performance under various environmental conditions.
An Automatic Garage Door Lock is another security feature that adds a deadbolt lock for enhanced protection.
It is a common misconception that garage door openers will lock your door when closed. What actually happens is the motor disengages. It's like putting your car in 'Park' but not engaging the parking brake.
Automatic garage door locks are available on select LiftMaster, Chamberlain, and Genie models. Wall-mounted garage door openers typically include an automatic lock as part of the package.
The lock engages automatically when the door is closed, preventing forced openings and unauthorized access.
Similar, yet different, LiftMaster's Posilock feature is an electronic locking mechanism that secures the garage door when it is down. It monitors against forced openings, automatically closing your garage door if it's forced open from the outside.
The Timer to Close feature, available in select LiftMaster garage door openers models, allows users to set a timer that automatically closes the garage door after a specific duration. This provides an added layer of security to ensure you don't leave your garage door open accidentally. It also offers the convenience of not having to manually close your garage door.
Finally, some garage door openers include Motion Detection. This incorporates a motion sensor to turn on your garage door opener's lights when movement is detected.
---
Garage Door Openers With Video Cameras
Video cameras are one of the hottest security features in today's garage door openers. Through their smartphone apps, they provide real-time video feeds, alerts, and quick monitoring of your garage.
Here is a comparison of the camera features used by Genie, Chamberlain, and LiftMaster brands.
Some Genie garage door openers include cameras with high-quality, 1080p resolution images and videos. One nice feature of Genie's cameras is their color night viewing capability. This allows for better visibility and enhanced security during the night, helping you identify and respond to any suspicious activities in your garage.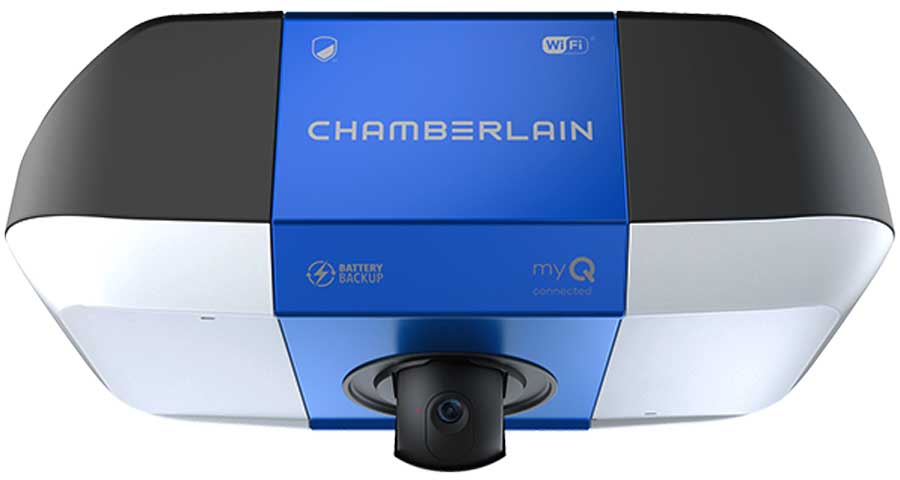 Chamberlain's built-in camera features also include 1080p resolution for high-quality imaging. However, the major advantage of Chamberlain's cameras is their 130-degree wide-angle viewing feature. This wide field of view provides broader coverage of your garage area, minimizing blind spots.
LiftMaster garage door openers also have built-in 1080p cameras but increase the viewing angle to an even broader 140 degrees.
---
Aladdin Connect vs. LiftMaster\Chamberlain myQ
These days, garage door openers have evolved beyond simple remote controls and keypads. Smart garage door openers use smartphone apps to provide remote control and access to the garage door. Connecting the opener to your home's Wi-Fi network lets you control your garage door from anywhere in the world using their smartphones or smart home devices.
Genie, LiftMaster, and Chamberlain all offer their versions of smart garage door openers. For Genie, it's the Aladdin Connect app. For Chamberlain and LiftMaster, it's the myQ app.
Aladdin Connect, designed to work with Genie garage door openers, offers several key features:
Remote control and monitoring of the garage door
Real-time notifications and access to a history log of door activities
Similarly, the myQ app, which is compatible with Chamberlain and LiftMaster garage door openers, provides features such as:
Remote control of the garage door
Alerts and activity notifications
Access management for multiple users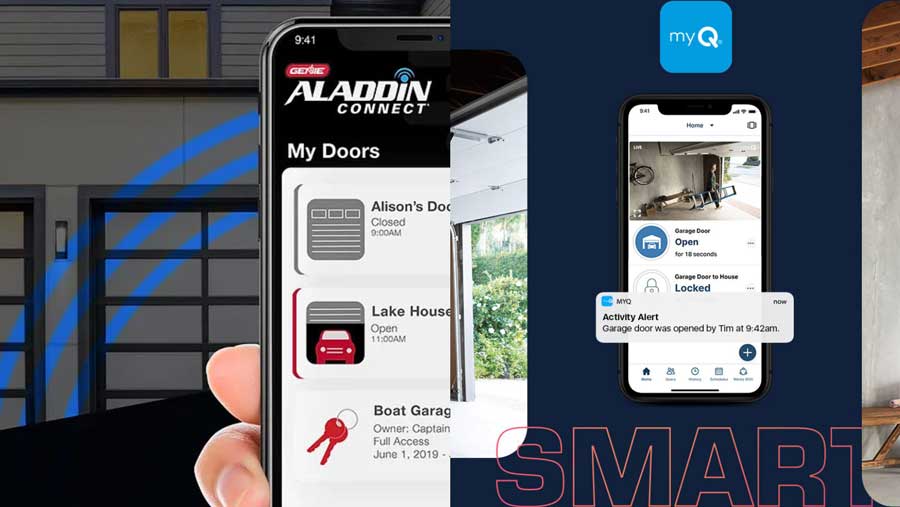 Both Aladdin Connect and myQ apps offer remote control, real-time notifications, access history, and the ability to create virtual keys for individual users.
They both allow users to set timers for opening and closing their garage doors. Both are compatible with popular voice assistants like Amazon Alexa and Google Assistant.
When it comes to unique capabilities, both Aladdin Connect and myQ systems offer the following:
Voice Control: Users can use voice commands to control their garage door through compatible voice assistants.
Geofencing: The apps can automatically detect your proximity to your home and initiate specific actions, such as opening or closing the garage door.
Scheduling: Users can set schedules to automatically open or close the garage door at specific times.
Alerts: Real-time alerts and notifications inform users of door activities, such as when the door is opened, closed, or left open.
The smart-home compatibility of Aladdin Connect and myQ systems differ slightly.
Both offer integration with popular smart-home devices and platforms, including Amazon Alexa, Google Assistant, and smart entry locks.
However, only myQ is compatible with Apple's Siri, while only Aladdin Connect syncs with Samsung SmartThings, Control 4, and other platforms.
---
Amazon Key In-Garage Delivery
It may not initially seem like a security feature, but Amazon Key In-Garage Delivery is something to consider.
This service offers a unique solution, allowing secure, contactless delivery of packages and groceries directly into your garage.
Available for Prime members, this service ensures that Amazon, Amazon Fresh, and Whole Foods Market deliveries are safely deposited inside your garage, providing additional protection for your packages.
How Amazon Key In-Garage Delivery Works
Amazon Key In-Garage Delivery involves several security measures and authentication processes to ensure your delivery and your property's safety.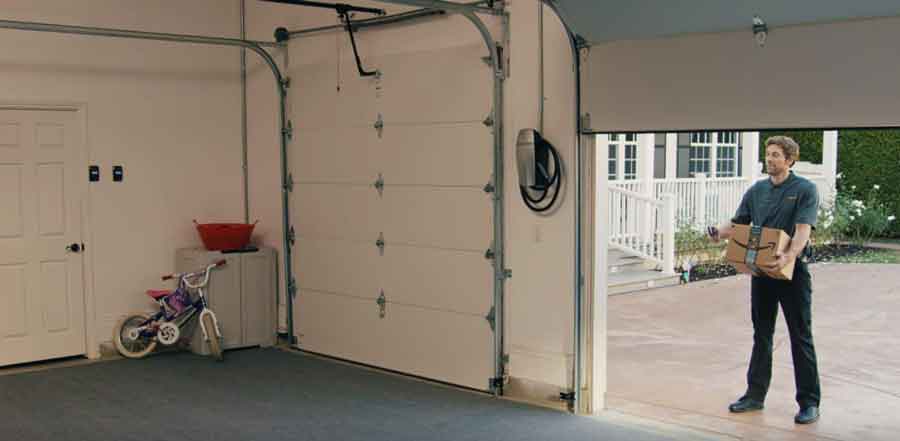 Let's delve into how it works:
Thorough Screening of Drivers: All Amazon Key drivers undergo comprehensive background checks before making their first delivery, maintaining a high security standard.
One-Time Access Privilege: Amazon's secure system provides delivery drivers with temporary, one-time access to your garage. This access is authorized without the need to share any access codes, passwords, or keys.
Rigorous Authentication Steps: Multiple levels of authentication are in place to confirm the delivery's validity. The driver, the package, and the package location are all cross-verified for secure and accurate delivery.
Restricted Access Limit: Drivers can only enter the garage up to five feet during delivery, ensuring your privacy.
Amazon Key In-Garage Delivery is exclusive to Chamberlain and LiftMaster garage door openers equipped with myQ technology.
Setting up In-Garage Delivery is a breeze through the myQ app. However, you will need a myQ-compatible smart garage door opener to use the service.
Live Monitoring
Amazon Key In-Garage Delivery provides an option service for real-time monitoring of the delivery process.
If your LiftMaster or Chamberlain garage door opener doesn't have an integrated video camera, you can connect select camera systems, such as the Ring Indoor Cam or Ring Stick Up Cam, to watch your deliveries in real-time.
This additional level of transparency further boosts the security of the delivery process, giving you the peace of mind you deserve.
---
Wrapping It Up: Who Makes the Best Garage Door Opener for Security?
We've covered the security features, smart capabilities, and unique offerings of three top brands: Genie, Chamberlain, and LiftMaster.
We've scrutinized the pros and cons of their smartphone apps, Aladdin Connect and myQ, and also ventured into the realm of Amazon's innovative Key In-Garage Delivery service.
So who makes the most secure garage door opener?

In my opinion, Chamberlain garage door openers have the best security features.
When you compare Genie and Chamberlain, Chamberlain wins hands-down. There are more models, including more with video cameras. They integrate well with the Siri voice assistant and offer Amazon Key in-garage delivery.
Since they're part of the same company, Chamberlain and LiftMaster typically have similar features. There are exceptions to that, of course, but none of those security features are what I'd consider game-changers.
Chamberlain offers these features at a more attractive price than LiftMaster.
Plus, they're more DIY-friendly, in case you don't want to have your new garage door opener professionally installed.
In my opinion, the best garage door opener for security is the Chamberlain B4643T belt-drive garage door opener.
Most Secure
Chamberlain Garage Door Opener with Security Camera
Built-in camera: 130⁰ wide angle camera lets you see and hear what's happening in your garage.
Control, secure and monitor the garage with the myQ app- anytime, from anywhere.
Integrated motion-activated, advanced LED lighting to brighten high traffic areas of your garage.
Works with Amazon Key to enables secure In-Garage Delivery.
Check the Latest Price
We earn a commission if you click this link and make a purchase at no additional cost to you.
It's similar to the B6753T, but less expensive since it doesn't include the battery backup. It has Chamberlain's 130-degree video camera that you can access on-the-go with the MyQ smartphone app.
Modern security features in garage door openers are designed to make your life easier, safer, and more convenient.
Hopefully, this guide has helped you understand these technologies better and will assist you in choosing the best garage door opener for your home.