Choosing the right garage shelving is a little more complicated than going to your local Costco store and buying whatever is on sale.
It might seem simple at first. But there are a lot of options.
No matter whether you're looking for industrial, heavy-duty shelves, simple plastic shelves or wire shelves to mount on your wall, you want to be sure to get the best shelving unit possible.
That's what this article will do.
I'm going to give you a brief overview of the different types of garage shelves, and then give you my recommendations for each.
---
What Types of Garage Shelving is Right For You?
High-quality garage shelving is hard to come by. From the materials to the shape and size, the shelves should be exactly as you've envisioned (or better). There are five primary types of shelving that almost all garage storage options stem from.
Standard Shelves & Racks
Standard shelves are incredibly common. Almost everyone with a garage has either seen or owned a standard shelf. They're a basic tiered system that has between 3 to 10+ shelves, allowing you to store anything you want on the flat surface. Most of these shelves are made out of metal or wood, but there are ABS options as well.
Standard shelving solutions for garages can be a bit bulky, which could be the only issue. That being said, they have so much room for storing your belongings that most owners find that it makes up for the size.
Overhead Garage Storage
One of the most common types of storage is the overhead rack. Overhead garage storage is the best choice if you have a cluttered garage floor. With a car, tool chests, and other items scattered all over the place, an overhead storage rack can be a breath of fresh air.
The only issue associated with these types of shelves is that they don't always offer the most storage. Since they're pressed against the ceiling, you don't want to bump your head. They often only have about one to two feet of overhead storage, which may or may not be enough for the supplies that you're storing.
Wall-Mounted Shelving
Another excellent choice to keep the shelves off of the ground is the wall-mounted shelf. This storage solution is fairly self-explanatory; You'll mount a shelf on the wall with screws to free up space on the floor. You can store books, tools, storage bins, and all sorts of other gear on a budget-friendly wall-mounted shelf.
Perhaps the most notable issue of this type of storage option is that it's limited by the weight capacity. Some high-end models can carry hundreds of pounds, which is great. However, if you try to cut corners and lower the price, you might only be able to set about 50 to 100 pounds before it starts to crack.
Bin Rack Shelving System
Bin racks are excellent if you want to optimize your organizational skills for a specific category of items. For example, you can use the bins to store different types of hand tools and power tools. You could also consider using this type of system for storing holiday lights, sports equipment, long-term food rations, and more.
There aren't too many cons associated with bin rack storage systems since they're so organized and condensed. However, you might have trouble fitting it in a small garage or one that's packed to the brim from edge to edge. Other than that, they're one of the best garage shelving options on the market.
BONUS: Hooks and Sports Racks
Although they're not shelves, hooks and sports racks shouldn't be overlooked. You can get bike racks or racks to store sports equipment in your garage.
There are hooks and racks designed explicitly for bicycles, snowboards, gym equipment, and many other items that would fit awkwardly on traditional garage shelves. There are plenty of sports racks that also offer shelves.
Hooks are a top choice for people who want to save space while storing a few items. Needless to say, you won't be able to fit countless items on your hooks. The great thing about using a storage hook in place of a shelf in your garage is that they can be installed on the wall or the ceiling.
These products represent the best in garage shelving kits. They cover a few different types of shelves, so you can find one that is suitable for your garage and the items you need to store.
---
Best Heavy-Duty Garage Shelf: Husky Heavy Duty Industrial Welded Steel Garage Shelving Unit
This Industrial Garage Shelving Unit from Husky is available in two colors, red or black. Whichever color you choose, you'll get a very sturdy set of shelves. They're built for handling seriously heavy loads, with a maximum weight of more than one ton per shelf.
Let's put that capacity into a real-world example. I use my garage to store gallons of water. I guess I'm a bit of a doomsday prepper so, I want to have plenty on hand. Around room temperature, a gallon of water weighs just over 8 pounds. If I could fit them, I could put about 300 separate gallon jugs of water on each shelf!
That's an extreme example, but it puts it into perspective just how much weight these shelves could conceivably support.
The shelves are also adjustable, and assembly doesn't require any tools. You won't need to deal with any bolts or screws, and working alone, you'll probably have it fully assembled in about 20 minutes. It will be even easier with a partner. And you can move the shelves around to accommodate all the different-sized stuff you need to store in the garage.
The shelves themselves are wire, so there are gaps in the storage space. If you're going to store small items, you may want to put a liner across the wire so they don't fall through and end up on the floor or lower shelves.
Where this product really jumps out is in its ability to hold heavy items securely. But, they don't lend themselves to adding rolling wheels. The design of this shelf system isn't conducive to that modification, and you may break them if you try to add casters. But, you might want to add leveling feet if your floor is uneven.
If there is a downside to these industrial shelves, it's that sometimes the plastic retaining pins that you need for assembly don't always easily fit into their holes, so you may need to put in just a little bit of extra effort.
Taken as a whole, this is a reasonably inexpensive product that provides an excellent storage option for heavy-duty items. In a garage, where there might be car parts, building materials, heavy equipment, and tools, these shelves are ideal.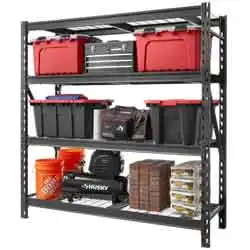 Husky Black 4-Tier Heavy Duty Industrial Garage Shelving Unit
Each shelf supports up to 2500 lbs. when the weight is evenly distributed
Heavy-duty steel construction with black, powder-coated finish for lasting durability
4 wire shelves adjust in 3 in. increments to fit any storage needs
Welded rack matches and coordinates with Husky's heavy-duty welded cabinet set for a complete garage storage solution
Backed by a Lifetime Warranty.
Check Latest Price
We earn a commission if you click this link and make a purchase at no additional cost to you.
---
Runner Up: DEWALT 4-Foot Tall, 3 Shelf Steel Wire Deck Industrial Storage Rack
The Dewalt Industrial Storage Rack is offered with either wire shelves or composite shelf decks.
The gaps between the wire on the wired version are pretty small, but things could still fall through. So, you might want to plan to add a mat or a liner.
You're going to need a few tools to assemble these shelves. Dewalt includes a 4mm Hex Key and a 4mm Hex bit so that you can use their key or the bit on one of your adjustable ratchets or drivers. You'll also probably need a rubber mallet and a flat heads screwdriver. You'll need to go into your own toolbox for those, as neither come with the shelves.
You should figure on spending about thirty or forty minutes assembling this set of shelves, and it would be easier to do with a helper than on your own. And, if you have your own Allen tools, they're probably superior to the ones included in this kit, which are kind of soft and easily bent.
If you have an uneven floor in your garage, you can also purchase a leveling kit. And, if you're interested, you can also purchase a kit to mount this set of shelves to the wall for added protection against tipping it over.
The shelves themselves are pretty thin at about ⅜ of an inch, but they are made even sturdier and resistant to bowing, flexing, and moving by a series of cross members. This way, your shelves and the stuff you put on them won't wobble.
The added safety of mounting this shelving kit to the wall may be of particular interest if you have little guys around who might be tempted to climb the shelves.
If you're a fan of Dewalt tools, you are probably very familiar with their distinctive yellow color.
This set of shelves comes powder-coated with the same bright yellow color. It's a little bit shorter than some other heavy-duty shelves, but they can be attached one set on top of another for added height. Or, you can link multiple sets together horizontally.
The shelves are pretty affordable for all their strength and sturdiness. But, they might be overkill if you're just looking to store some lightweight household items.
DEWALT 4-Foot Tall, 3-Shelf Steel Wire Deck Industrial Storage Rack
Massive capacity - the 3 industrial metal wire decks can each support 1,500 lb. for a total 4,500 lb. capacity
Durable - the industrial powder-coated steel uprights, support straps, and crossbeams won't fade or chip
Nylon foot pads - resilient, fiberglass-reinforced nylon feet prevent damaged flooring
Support straps - each shelf is braced by a total of 5 support straps to prevent twisting or spreading under heavy loads
Check Latest Price
We earn a commission if you click this link and make a purchase at no additional cost to you.
---
Best Metal Garage Shelving: Gladiator 5-Tier Steel Garage Shelf
This Gladiator Steel Shelving Unit is available in a few sizes, but this example is 3 feet wide, six feet tall, and eighteen inches deep. The shelves themselves are rated to carry 1000 pounds each, but it's likely that heavy loads will end up warping or bending them a bit.
The shelves attach to the frame with Gladiator's proprietary EZ Connect system, making assembly pretty quick and easy, even with just one person. You won't need tools at all to get this job done.
The shelves are free-standing, so you can't mount them to the wall for added anti-tipping protection, so make sure to put your heaviest items on the bottom shelf. Otherwise, you increase top-heaviness and increase the potential for the unit to tip. Be careful to ensure that no one climbs on them, or the risks of tipping increase dramatically.
The frame's construction is steel. But, the shelves are a laminate product, so while they look rugged and durable, and they're very easy to wipe off for cleaning, they might be susceptible to warping under heavy loads.
The shelves are available at a fair price point, but their quality is a bit inconsistent. The tolerances for the connecting system are tight, and some of the parts may come with an over-applied coating. You might need to sand off some of the coating to make things fit together right.
It's also probably a good idea to stand up the upright posts and make sure they're the same height before you start assembling the shelves. If they're not, all your hard work will still end up wobbly. Just return the shelves and get a replacement if there are major problems out of the box.
---
Runner Up: SafeRacks Garage Shelving
These SafeRacks Garage Shelving are fairly expensive. They cost about the same as the heavy-duty models from DeWalt and Husky, and they can't handle anywhere near the same weight.
They're available in either white or a color called "hammertone," which is dark grey. So you can choose one or the other to match your garage's decór.
These shelves aren't suitable for industrial applications, and their design is much lighter-duty in nature. They are really easy to assemble, as the shelves slide into keyhole-shaped holes in the frame that allow adjustability.
The warranty on these shelves is basically non-existent outside of the initial 30-day return window. So, it's essential that you make sure you received all the parts and that the shelves are defect-free. After a month, they're yours forever, so spend some time making sure you're happy with them and that they'll stand up to how you're using them long term.
If you're looking for a simple shelf system to get some lighter items up off the floor, this set of shelves might be quite appealing. But their lack of capacity and relatively high price means you should be pretty careful comparing them to other options before you spend your hard-earned money.
---
Best Plastic Garage Shelving: CX 4-Tier Shelving Unit
The CX Original Shelving Unit with four shelves features plastic construction. The manufacturer assures that within thirty days of your purchase, the sellers of these shelves will accept returns of their product for refund or replacement. Outside of those initial thirty days, you can try to reach their customer service team for spare parts. But there is no warranty.
During your assembly, be prepared to fit the vertical support posts between each shelf. The whole kit is plastic, so the materials are pretty light, and assembly is very straightforward, requiring no tools. If you're pretty handy with assembling things, you might complete done putting these shelves together in less than ten minutes.
Then it's time to start stacking things upon them.
While the manufacturer calls these shelves "heavy-duty" in their marketing materials and claims that the shelves can each hold up to 200 pounds, they might be overstating the strength a little bit. With 150 pounds on the bottom shelf, there will likely be some bowing. If you added that amount of weight to each shelf, the whole unit might suffer damage, and it may even become unstable.
But these shelves are very affordable, and CX also has an entire line of totes designed to fit on the shelves. You can also fit multiple shelving units together using the snap-in fasteners. Constructed from recycled plastics, these shelves have ample ventilation, are easy to clean, and each shelving kit comes with a wall-mount kit for optional added stability.
If you have an uneven floor, these shelves can handle it. They come with adjustable feet.
Overall these shelves are pretty nice, but they're probably not up to the demands of true heavy-duty use. For storing your garden tools, household goods, sports equipment, or seasonal decorations they're probably just right for your garage.
CX Black & Yellow Indoor/Outdoor 4-Tier Storage Shelving Unit
Wall mounting brackets included for added strength and safety.
Each shelf holds up to 200 lbs. when mounted.
Feet height can be adjusted for added stability on uneven surfaces
No tools required to assemble
Capable of holding 30% more weight than other plastic shelving units
Made in USA
Check Latest Price
We earn a commission if you click this link and make a purchase at no additional cost to you.
---
Runner Up: Oskar Heavy Duty 5-Tier Storage Shelf
The Oskar Storage Shelf features simple, snap-fit assembly and lightweight plastic construction. You won't need any tools, but you might want a partner to help. That's because once you have the first shelf layer in place and you try to add the next, things have a tendency to want to come apart.
Having a helper to hold things in place will make assembly much easier. And once these extremely affordable shelves are snapped into place, you can expect easy maintenance as the shelves are smooth and made from plastic resins. So you don't have to worry about rust or peeling.
You can also opt to attach multiple units together for expanded storage capabilities and a uniform look in your garage.
But, even at this price point, you may end up a little bit disappointed with these shelves. They're not very strong, so they really can't support that much weight. So if you're looking to store heavier items on them, you may have to get more expensive shelves. The assembly instructions are also pretty lacking, and it's not easy to get things just right.
If you are patient and pretty determined, you can snap everything together and end up with a fairly reliable storage setup. But, you still may experience some wobbling of the unit or sagging of the shelves, especially under heavy loads.
Koolatron Oskar Black Plastic 5-Shelf Unit
Proudly manufactured at the Koolatron facility in Brantford, Ontario
Five heavy-duty shelves hold up to 150 lbs each for total storage capacity of up to 750 lbs with nested leg design and anchor holes for added support and security
Lightweight unit features easy snap-fit assembly with no tools required and interlocking design that allows you to connect multiple units
Check Latest Price
We earn a commission if you click this link and make a purchase at no additional cost to you.
---
Best Wire Shelving: Seville Classics 5-Tier Wire Shelf
This set of Seville Classics Wire Shelving is finished in chrome for a modern look and features welded wire shelves that are easily adjustable in one-inch increments. The assembly requires no tools and is very straightforward.
Follow the manufacturer's instructions, and use the included slip-sleeves to set your desired shelf height by locking them into the notches on the support post. Make sure the sleeves are level on all four posts, and then slip on your shelf. Then it's just repeating the same process a few more times until the assembly of all the shelves is complete.
It's a good practice to count up the number of slip-sleeves before you start building the shelf. Typically there will be a few extras included, but if you happen to get unlucky and you're short, you won't be able to complete the installation.
Anytime I assemble shelves that have these kinds of slip-sleeves, I keep any extras that come in the box. That way, if I ever lose or break one, I have an extra without having to contact the manufacturer.
These shelves are also nice enough that you might buy a second set, so keeping extras is a good insurance policy against having a problem with a future order.
You can adjust the shelf height by bumping the shelf itself up off of their sleeves at all four corners and then repositioning the sleeves to set a new desired height. It's worth having some help to hold the shelf up while you change the sleeve heights.
These shelves also come with both leveling feet and caster wheels. Keep in mind that adding the four caster wheels (two of which lock to keep the unit in place) will significantly reduce the storage capacity of the unit. With the leveling feet, the manufacturer expects that this unit can handle loads of up to 300 pounds per shelf, for a total capacity of 1500 pounds.
Adding the wheels will reduce those numbers to 26 and 130 pounds, respectively. So, adding portability will significantly impact your storage abilities with these shelves. But, since these shelves are available at a very affordable price point, you can probably just get a second set!
You also have another option. The included caster wheels are threaded, so it is possible to find heavier-duty wheels that fit the same threads on the bottom of the frame. That upgrade might allow you to add more weight and still have portability.
Since the shelves are wire, you may want to add a liner to prevent small items from falling through. They're also manufactured in multiple sizes, so you customize the application to your garage space and storage needs. Keep in mind that these units aren't designed to attach to one another or the wall.
Seville Classics 5-Tier Chrome Steel Wire Shelving
30" x 14" Shelves - Steel construction for heavy-duty multipurpose storage.
1500 lbs. Capacity - Each shelf holds up to 300 lbs. in systems assembled leveling feet.
1. 5" Wheels + Leveling Feet
Chrome Plated Steel
Shelves are height adjustable by 1-inch increments; no tools required.
Check Latest Price
We earn a commission if you click this link and make a purchase at no additional cost to you.
---
Runner Up: Amazon Basics Heavy Duty Shelving Storage Unit
This Amazon Basics Shelving Storage Unit is available in either chrome or black, so you can choose which color better suits your garage. You won't need any tools for assembly. You can even find this same system in four or five shelf applications for all your storage needs.
Getting these shelves put together is very simple. The fastening system is nearly identical to that of the Seville Classics shelves. Stand the support posts upright, fit the sleeves to the posts, and add the shelves. They are adjustable in one-inch increments.
The manufacturer states that each shelf can hold up to 250 pounds. But, I would be very careful about adding that much weight, especially if you opt to use the lightweight casters included with these shelves. Even if you use the leveling feet, I will center my heavier loads on the bottom shelves, and I wouldn't add too much weight at all.
Suppose you do end up damaging the shelves by adding up to 250 pounds. In that case, you should contact their warranty support and customer service, using the information provided in the user manual that comes with the shelves. Their support team has a very good reputation for standing by the product and keeping customers happy.
This set from Amazon Basics is extremely affordable, so you don't have too much to risk. But, I suggest that if you're trying to store really heavy items that you go for heavier-duty shelves that cost a bit more money. If you're looking to save some bucks and you only have lightweight storage needs, these shelves will do the trick in your garage.
---
Best Garage Wall Shelving: SafeRacks Garage Shelf
The SafeRacks Garage Shelf is a bit different from the shelves we've already talked about. Instead of a unit with a frame, these shelves mount right to the wall in your garage. They're available in either white or a darker "hammertone" color to suit your decorating preferences.
Each shelf fastens to the wall using four tough lag bolts that hold the included brackets to the wall. Then, the shelves mount on top using clips. Once in place, the shelves are sturdy and stable.
Installing them isn't a huge deal, but you'll have to be handy with a power driver and maybe a drill. You'll also need to find the studs in your garage's wall to mount the bracket properly. If you just sink the lag bolts into drywall or plaster, they're going to eventually fall off the fall. So, having a good stud finder is a practical way to make sure you are getting a solid purchase into a wood stud, instead of just the wall's surface.
If you have a cinder block or concrete wall, you may want to use commercially available lag bolts designed to penetrate concrete. They should be pretty inexpensive, but it would be nice if both types of bolts were included.
But, at this very reasonable price point, you can't get everything. What you will get is a tough and sturdy set of two shelves that can each support up to 250 pounds. That's some pretty serious storage capability, especially when you consider that they won't take up any floor space, as they mount to the wall.
You can put them in a line next to each other at the same height, in a stack, or in any way you desire. Just make sure that they're level horizontally. You should also note that when assembled properly, these shelves are canted back to the wall just slightly, to help prevent items from rolling off.
If you park your car under these shelves, that extra design feature will probably help you feel safer knowing that things can't easily roll off the shelves and onto your car below.
SafeRacks 24" x 48" Wall Shelves (2 pack)
This SafeRacks 48 in. x 24 in. two-pack shelving system provides a total of 500 lbs. of capacity (250 lbs. per shelf).
Available in Black or White.
Check Latest Price
We earn a commission if you click this link and make a purchase at no additional cost to you.
---
Runner Up: FLEXIMOUNTS Garage Wall Shelves
These FLEXIMOUNTS Garage Wall Shelves come in a pair. They're similar to the SafeRacks shelf kit, but they're a bit more expensive.
There is another very similar model offered that comes with integrated hooks on the bottom of the shelves, making them perfect for hanging bicycles or other stuff that you want to get up off the ground that doesn't easily fit on a shelf.
Using the included hardware, you can mount these shelves either stacked on top of one another or next to each other. The hardware is suitable for mounting on either walls with wood studs or concrete construction. Keep in mind that your studs have to be either 18- or 24-inches apart when using the shelves side-by-side.
When choosing the side-by-side configuration, you have enough room for multiple totes, and you could easily have room to hang four bicycles from the underside. If you choose vertical alignment, you'll have more flexibility in terms of what wall studs will work with this system.
Also included with the shelves is a small bubble level to make sure things are plumb and level and a template to make it easier to mark your holes on the wall. It's a pretty straightforward installation that one person could tackle on their own, but you'll need some small power tools. An impact driver makes driving heavy gauge bolts much easier.
These shelves are not suitable for mounting on a metal wall. Make sure to follow the included installation directions carefully.
Once these shelves are up on the wall of your garage, they can each hold more than 200 pounds of gear, for a total of 440 pounds of capacity. The mounting brackets are very sturdy, and the wire shelves are powder-coated for durability.
They come with a limited warranty against parts or manufacturing defects. Be sure to keep your receipt and follow their return procedure carefully for best results.
Fleximounts 2' x 4' Wall Shelves (2-Pack)
The FLEXIMOUNTS 24 x 48-inch Wall Shelf is made of heavy gauge cold rolled steel and can safely hold up to 440 pounds. It comes with all the necessary hardware for installation.
Available in Black or White.
Find on Amazon
Buy Direct
We earn a commission if you click this link and make a purchase at no additional cost to you.
---
What to Look For
Before you dive in and buy the first shelf you come across, you should consider a handful of questions. After all, garage shelving is an investment that should last well over a decade. When you're ready to get your new setup, review the following five key considerations:
What are the materials? Is it made out of wood, metal, or plastic? Wood is tough and it looks great, but it can rot if your garage is too humid. There's also the possibility of splintering down the road if you're not watching the weight distribution. Metal is durable, but it's susceptible to rust. Plastic is lightweight and cheap, but it doesn't last as long.
Check for the weight capacity of the shelving. After you've chosen the material, you can consider the overall weight capacity of the shelves. In most cases, metal will offer the highest limit, but wood is a close second place. While plastic might not be the best, it can be more than enough if you don't have much to store.
How big is the whole setup? Make sure that there's enough space for your belongings. If your coats are hanging over the edge or the storage bins won't stay on the shelf, you could risk injury. Also, it shouldn't be too big to the point that it's cluttering the ceiling, floors, or walls of your garage.
Research customer reviews about the shelves. Even if you think you've hit the jackpot and found the best garage shelf on the internet (or in-store), it's essential that you check what other buyers have to say. You might notice a small quirk or issue that you don't like the sound of.
Are there any manufacturer warranties? While they're not required, a limited or life-long warranty can be a big decision-maker. If you're comparing two similar shelves and one of them has a warranty, you'll have better chances of making it last long. A company that offers a warranty has confidence in its product.
As you can see, there are plenty of features to keep an eye out for when you're about to purchase garage shelving. However, everyone's unique, so how are you supposed to know what to get?
If you're stuck on the fence or need a bit of guidance, proceed to the next section.
---
How to Choose the Best Garage Shelves
Since you'll be stuck with the same shelves for many years to come, it's important that you like what you get. Below, you'll find four helpful tips to guide you in finding the garage shelving solutions that will work best for your home.
Decide What You're Putting on the Shelving
Before you consider materials or anything else, you should focus your attention on the items that you'll store on the shelf. Knowing what goes on top or inside will point you in the right direction. For example, you shouldn't store liquids on wooden shelves since they're porous and susceptible to mold and mildew.
On the other hand, small, lightweight items usually do fairly well when placed on plastic shelves. Most people who end up getting storage bins or plastic shelves do so to save money. While it's not always the best choice, plastic has its pros and cons. If you're storing big items, make sure that the shelf is wide, long, and deep enough to accommodate.
Consider Your Family Members and Pets
Sharp edges and abrasive materials might not be the best choice if you have young children or curious pets roaming the garage. It's a recipe for disaster if you want to avoid harm, but you can use the Roving Cove Corner Guards if you want to protect the edges. They're made with an adhesive that sticks to almost any material, providing a rubberized barrier.
Another thing to think about if you have family members and pets is that you could consider guard rails. Whether you're using overhead, wall-mounted, or traditional storage shelves, guard rails prevent items from sliding off. Furthermore, they keep everything looking neat and tidy rather than cluttered or disorganized.
Choose Between Wall-Mounted and Overhead Storage
If you've decided that you don't want to go the traditional route with a storage shelf on the ground, then you'll have to choose between wall-mounted and overhead storage. Wall-mounted storage offers the convenience of decluttering the floor while keeping everything within reach. You'll also enjoy the easy installation process.
On the other hand, overhead storage allows you to move around your garage without bumping into anything. If you have a small garage, then overhead storage is quite possibly the best choice available.
Both of them are excellent choices, so it's up to you to decide what works best for your situation.
Measure and Outline Beforehand
Finally, measure and outline everything to know what you can fit in your garage. You can measure the size of your belongings, check the weight, and decide what can fit on the shelves when you get them.
You should also measure the space that you intend to install the shelving. Make sure it's big enough to fit the shelf with room to spare. As a rule of thumb, ensure that there are about six inches on all sides of the shelf, regardless of how or where it's mounted.
These simple suggestions will help you choose the best garage shelving setup for your home. Remember to start by measuring everything, checking the weight of your items, and considering the various types of materials. Not all shelves are created equally, so it's a good idea to know everything prior to getting one.
---
FAQs
Now that you've seen how you can choose the shelving for your garage and what to look out for, you're probably prepared to pick one out. However, there are a few common questions that many homeowners want to be answered before they make the final decision. After all, you don't want to rush the process and risk getting a low-end shelf.
Please take the time to review the following Q&A if you want further guidance on the subject.
How do you mount garage shelving? Depending on the type of shelving you choose, you'll have to either have to buy your own brackets or use the ones provided with the kit. Overhead and wall-mounted solutions have brackets that come with them. Floor shelving can be secured with cement screws.
How much weight can a garage storage system hold? Most wall-mounted shelves can hold up to 300 pounds. High-end overhead shelves can hold between 600 to 1,000 pounds, whereas traditional shelves usually hold between 100 to 250 pounds.
What type of shelving should you get? Overhead storage racks are good for decluttering, wall-mounted racks keep items off of the floor, and traditional shelving offers the most spaciousness out of the three options. For further details, refer to the intro of the guide to assist your decision-making process.
How do you maintain garage shelving? Different materials and styles of shelving call for different maintenance methods. For example, metal develops rust; therefore, it needs rust preventative spray or paint. Wood and plastic should be wiped down regularly to prevent moisture, mold, and mildew from forming.
How long does it take to install garage shelving? Traditional floor-style shelves can take seconds since you only have to put it together. However, it's highly recommended that you mount all types of garage shelving. It usually takes between 10 to 60 minutes for the average installation process.
Hopefully, all of your questions were answered. There are a few safety suggestions below, but you're all set to get your new shelving. Whether you're going with a large metal overhead rack or a small wooden mount-mountain shelf, you'll be happy with the results!
Additional Safety Tips
Always ask for help from a partner when you're installing wall-mounted or ceiling-mounted storage solutions. It's better to pay someone for a few minutes of their time rather than risk an injury. You'll also get a better angle, allowing for the neatest installation possible.
Never forget to protect the corners of your storage shelves. All of the materials can be painful if you bump into them. Get the aforementioned foam and rubber guards or find something around the house to keep yourself safe from harm. Consider painting the guards to make them look flush with the shelf.
Remember to use screw anchors if you're drilling into drywall. Some kits don't come with the anchors, but never cut corners. Failure to do so can and will cause the shelf to loosen, especially when you add the weight of all your belongings on top of it. You'll risk injury, break the shelf, and damage the wall of your garage.
Consider using rust-proof paint, such as POR-15 Rust Preventive Paint, to prevent corrosion on metal shelving. This particular product offers multiple colors to check out and it leaves a rubberized feeling on the surface. It wicks away moisture, preventing rust from forming. Rust can ruin the shelf and cause painful cuts if left untreated.
Inspect your shelving once every month. Although it might seem tedious, it's better to notice cracks or fractures around the screws before they become a big deal. You can often fix such issues with epoxy or by drilling new holes. On that note, always make pilot holes before mounting any brackets or shelves.
These safety suggestions should help prevent disaster and inconvenience. Ask a buddy to come out and help you while you use a leveler, paint the shelf with a rust inhibitor, and anchor it into the wall. You'll be glad that you took the extra steps later when you don't have to repair everything monthly!
---
Conclusion
Garage shelves offer an unparalleled way of decluttering your garage. If you don't have a shed or your garage is small, you can still take advantage of these methods to figure out what offers the most convenience.
Here's a quick recap of the post:
There are five different types of garage shelving that you can choose for your home.
Metal, wood, and plastic are the three most common materials to review.
Always use anchors and brackets to secure any type of garage shelving.
Keep an eye out for the dimensions and storage capacity of the shelf.
Use guard rails to prevent items from falling off the edge of the storage unit.