Depending on where you live, you may not have room for a garage, but you still want to protect your car.
Carports protect your vehicle from snow, rain, leaves, and other debris. They're also a great way to keep the sun's rays from beating down on it, damaging your car's paint.
However, carports can cost several thousand dollars, making people wonder if they should build a garage instead.
In this article, I'll discuss the various properties of carports and garages and compare them so you get a good idea of what to expect from each.
Table of Contents
---
Carport vs Garage: Comparison
A carport is an open-sided structure with a roof under which you can park your car. For this article, we'll include both temporary and permanent structures.
A standard carport comprises four steel frames holding up a roof made from aluminum sheets, fiberglass panels, or weather-resistant fabric.
Walls are optional for carports. In many areas, it's common for carports to only have a roof to provide shelter from the sun.
In areas with a lot of snow and rain, carports usually have between one to three walls to provide more protection from the elements. Walls are typically made of steel or aluminum siding.
Carports are typically separate from the main house, although attached carports, sometimes called lean-to's, exist as well.
Finally, portable carports, similar to tents for your car, can be temporarily erected wherever you need them.
In contrast, a garage is a completely enclosed, permanent structure with four walls, just like your house. They typically include electrical outlets, insulated walls, and concrete floors, but not always.
Garages can be attached to your house or freestanding structure (detached garage).
When attached to your home, garages must have a fire-rated door that allows you to go directly from the garage into the house, usually through the kitchen.
---
Carport vs Garage: Which is Better?
Now that you understand the basic differences between a carport and a garage let's talk about the pros and cons of each.
Here are some factors you should consider before settling on one.
Cost
Cost is usually one of the major deciding factors when choosing between a carport and a garage.
Costs for each vary, depending on the size, style, construction materials, labor, and more. For instance, portable carports start at around $250, but permanent structures begin at several thousand dollars. Once you factor in solid walls and a concrete slab, that raises the price quickly.
HomeAdvisor says carport costs range from $3,000 to $10,000, with an average of $6,500. In contrast, garages cost between $17,000 to $38,000 to build, and it's not unheard of for homeowners to spend upwards of $100k on a garage.
This makes carports a great way to add cheap car storage to your home.
Construction
Because of the differences in how carports and garages are constructed, it's typically easier to build a carport.
But that's not always the case.
Building a garage is always subject to local building and zoning codes because they're livable spaces.
Some pole garage kits will include the basics, but all the features that go into a garage, like insulation, doors, windows, and finished walls, make a DIY project too complicated for the average homeowner.
Before constructing a permanent carport, you still need to check with your local building code office. However, there are typically far fewer inspections and regulatory hoops with a carport than with a garage.
It's rare for temporary carports to require permits since they can be erected and dismantled as needed.
A simple, prefabricated carport can be a DIY project you can complete in an afternoon without expert help. Most still require either a concrete slab or packed earth as the carport floor.
If you're focused on helping protect the environment, both carports and garages can be equipped with solar panels. However, installing solar panels on a garage roof is typically less expensive because of easier access to the main house's electrical system.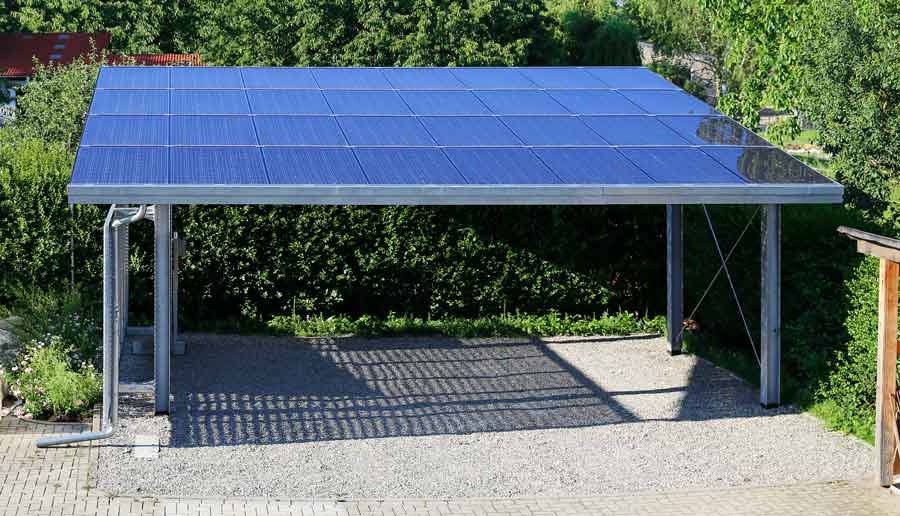 Property Value
A garage will almost always add value to your property, especially if you've made improvements.
Most homebuyers are looking for homes with garages, so having a garage makes it easier to sell your house in the future. When designing your garage, whether attached or freestanding, ensure its design complements the main house to elevate the curb appeal.
Basic improvements like a new garage door or lighting may make selling your home to prospective buyers easier.
Carports, however, can be hit-or-miss.
Some potential buyers will discount homes with a carport, while others may see it as more attractive than a home with no car shelter.
At a minimum, a carport needs to be in a good location and complement your home's appearance so it doesn't look out of place.
Durability & Maintenance
The durability of carports and garages depends on the materials used and structural design.
Attached garages are built with the same high standards as the rest of your home and should last as long. That's usually also true do detached garages, as long as they were built at the same time as the rest of your home.
Carports and aftermarket garages' durability depends entirely on their materials and construction. Materials such as concrete and steel will be more resistant to environmental hazards and should last for decades.
As you might expect, properly maintaining a garage requires more effort than maintaining a carport.
Garage doors require regular maintenance, such as lubricating on the pivot points, door hinges, or springs, at least once a year. Homeowners typically must wash their garage door several times a year, especially after bad weather.
If your carport or garage has a concrete floor, they'll need similar maintenance. Sealing the concrete is highly recommended for both, but especially for carports since they're exposed to the elements more than a garage.
Either way, you'll have to vacuum, dust, or mop the floor to keep the place clean.
---
Choose a Carport Over a Garage If…
A carport is a better option if upfront costs are the deciding factor. Carports can cost half as much, or even lower, than a garage but still protects your vehicle from harsh weather, pollen, bird droppings, tree sap, and sitting in the hot sun all day.
Carports are a great temporary or quick solution. They can be built much faster than a similar garage without hiring builders or pulling as many permits.
They're great as temporary structures, either because you intend to build a garage in the future or because you only need the shelter for a short time.
Carports can be a great place to hang out, especially during the summer. Many people use their carports to put a picnic table, kids' play area, or even an outdoor gym.
Finally, if you don't need the additional storage space of a permanent garage, carports will still help protect your vehicles.
---
Choose a Garage Over a Carport If…
The biggest reason to go with a garage is the increase in property value.
Statistics show that homes with garages sell for an average of $23,211 more than homes without. The more effort you put into your garage — electrical, flooring, or plumbing — the more money it'll fetch during a house sale.
If security is a big concern, a garage is the way to go.
Garages are fully enclosed with doors that can fit with burglar-proof locking systems. Cars locked up in your garage are less likely to attract thieves than ones out in the open under a carport.
Areas prone to extreme weather, like hurricanes or tornados, should skip carports entirely. While a garage isn't the safest place in a hurricane, most carports are not rated to withstand intense storms.
Because they're not fully enclosed structures, parking your car in a carport will still expose it to the elements at some point.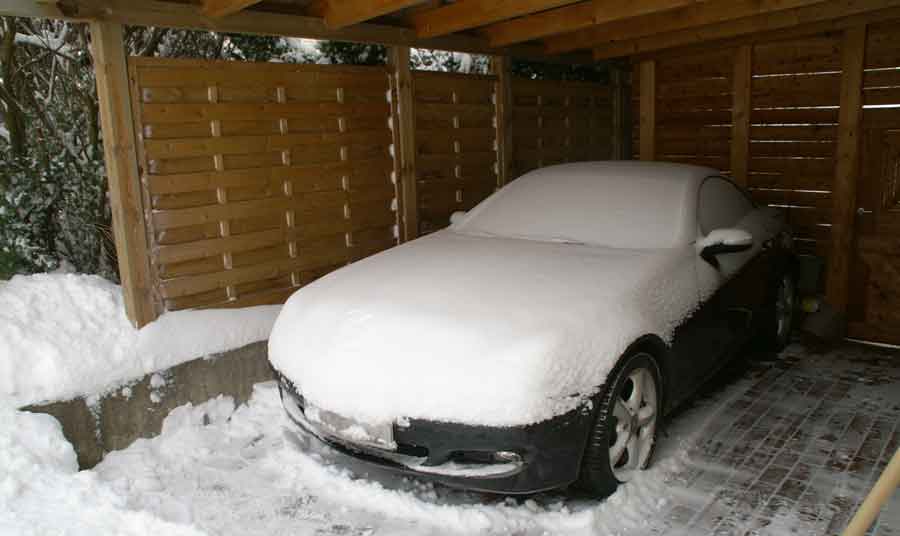 Finally, a garage offers substantial storage space, far beyond what you can store in a carport.
You can store practically anything that fits in your garage. It's a great place to stuff away anything you don't want in the house, from lawn equipment to cleaning supplies.
---
Potential Carport Problems
Depending on your situation, carports may sound better than garages.
However, they still can have some common issues:
Condensation: Moisture inside a building is never a good thing, and that's still true for your carport. Wooden carports can develop mold, while metal siding on carports can potentially rust. You'll want to make sure that there's enough air circulation to avoid condensation.
Leaks: Similarly, if the roof panels get damaged or aren't installed correctly, they can develop leaks. Often simple leaks could be warning signs for something more serious. Water getting somewhere it's not supposed to be could mean structural problems down the road.
Not enough space: Carports take up a large amount of space. Even if you have enough space to fit a carport, you may not like how it looks when it's installed. I strongly recommend marking the dimensions of your carport before you purchase it. That way, you'll be able to "live with it" for some time to ensure it will work for your home.
Building Code or HOAs: Check with your local building codes before starting any home improvement project – even building a carport. If applicable, you should also check with your Homeowner's Association (HOA). You may find that carports are prohibited in your community or municipality. Even if they're allowed, your neighbors may complain if it's blocking their view.
Removing a carport is difficult: Most carports are constructed on a concrete or gravel slab, and removing them is challenging. It often requires additional costs that you may not have anticipated.
We are sorry that this post was not useful for you!
Let us improve this post!
Tell us how we can improve this post?