I love Halloween. Most people decorate their houses for Christmas, but Halloween was always my favorite holiday. Around my neighborhood, people spend a lot of time decorating their front porch and their lawn, but almost no time decorating their garage door.
If you want to add some devilish charm to this Halloween, decorating your garage door could do the trick.
To decorate a garage door for Halloween, you need to decide on a theme. Once you've done that, get all the materials you need to bring your idea to life. Depending on the decoration ideas you have chosen to go with, you can buy the materials at your local store, or use everyday items in your house.
The rest of the article will cover garage door Halloween decoration in more detail. Watch out for some excellent decoration ideas you can implement in minutes.
Before you get started…
Before you start decorating your garage door for Halloween, you need to prepare the area. That includes both your garage door itself and the area around it.
This is a perfect opportunity to get rid of any clutter and ensure there's nothing that will detract from the masterpiece you're creating.
Once the area is clean, it is time to decide on a theme.
The best Halloween decorations all have some cohesive theme that ties them together. I'm sure you've seen houses that had a lot of great looking decorations, but because there wasn't a unifying theme, it felt disjointed.
We've listed a couple of potential themes below. Feel free to use one of those for inspiration.
Once you've decided on a theme, it's time to get the materials you'll need to bring them to life.
Most of the decorations can be found at your local party store or home improvement store. I try to shop around mid-October for the following year, so I can still get some amazing Halloween decorations at a discount.
Garage Door Covers
One of the cooler ideas I've seen over the past few years is having full-color banners for your garage door.
A company called My Door Decor makes covers made of weather-proof vinyl and attach to your garage door using steel clamps at the tops and bottom. There's nothing to screw into your door and none of the modifications are permanent.
I've recommended a couple of their designs below, so I wanted to include a short video showing how easy they are to install.
Halloween Garage Door Decoration Ideas (and what you need to create them)
If you'd like some inspiration for decorating your garage door for Halloween, here are some options you can consider. I've chunked these into various themes and provided some ideas for how you can accomplish them.
Kid Friendly Halloween Decorations
If you've got small children, or your neighborhood is mostly small children, you want to have some kid-friendly Halloween decorations.
You'll want to focus on cartoonish monsters, witches and vampires. Lean heavily on pumpkins with colorful designs, and inflatable skeletons or ghosts.
For the garage door itself, there are two really fun Halloween covers that will make your door stand out.
Ever since I was a kid, I loved Frankenstein, so the Frank & Friends garage door cover is one of my favorites.
Frankie takes center stage, but you've also got appearances from two "Slimer" ghosts, a couple of mummies and a witch mixing punch in her cauldron in the back.
This garage door cover would look great on lighter homes or on darker homes where you'd like a brighter contrast to your home.
You can find it at both Home Depot and Amazon, but I recommend picking it up at Home Depot. At the time of this writing, you could save about $50 between the price of the door cover and shipping.
Another fun option is the Witch Escape garage door cover. It has a fun, 'Hocus Pocus' vibe going with three cartoon witches getting ready for a Halloween party.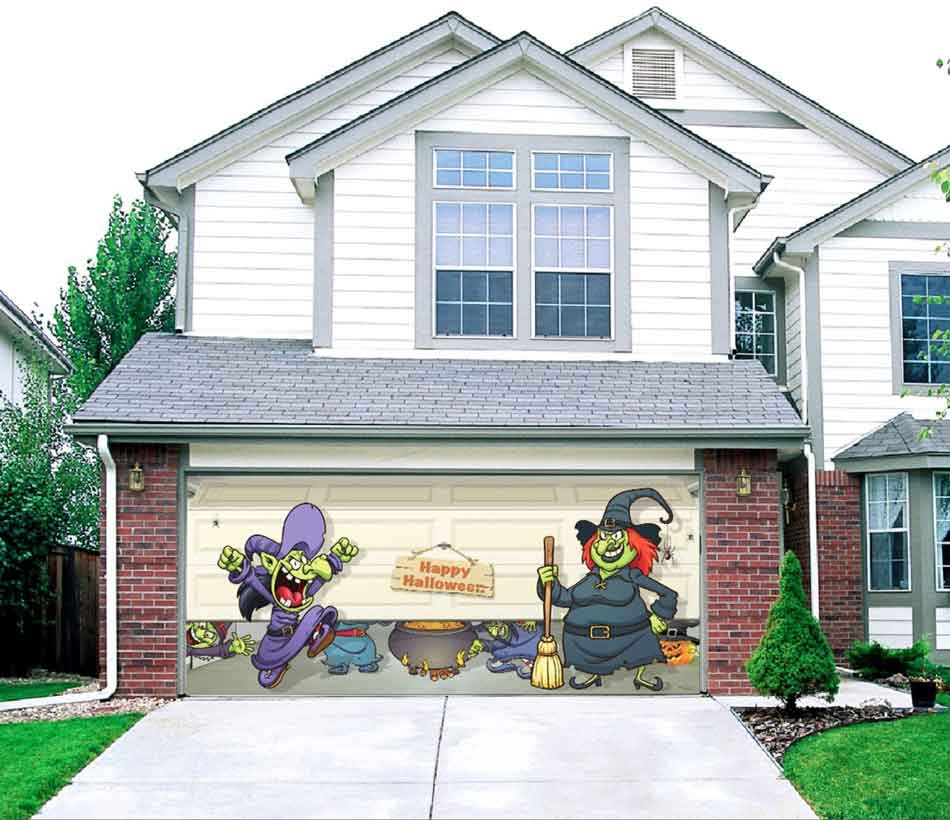 Similar to the Frank & Friend garage door cover, you can save about $50 by going through Home Depot instead of Amazon.
Halloween Spider Decorations
Fun fact about me: my first pet when I was 5 years old was a tarantula. I've loved spiders ever since.
There are a couple of ways that you can integrate spiders into your Halloween garage door decorations. If you're using a general spider theme throughout your house, then this can be the finishing touch that'll really make your house stand out.
One of the coolest ideas I've seen has been a large spider statue making a cocoon of a person with only a pair of old shoes left showing.
That particular statue is selling for over $500, so it's out of the price range for most of us. But you can get a similar look for far less money.
You can find smaller, less detailed spiders for a fraction of that cost and pair them with desiccated corpses in cocoons and hang them from your roof.
You can also make a spider's lair to complete the look by stretching some cheap, outdoor webbing and then hanging scary plastic spiders from the web.
If you want to continue the spider theme with a garage door cover, the My Door Decor has you covered. Available in sizes for a one-car and two-car garage, this design is all white with the black outlines of several spiders crawling on a web.
Crime Scene Decorations
A roll of police or caution tape across the garage door is a cheap but effective way to decorate it during Halloween. If you pair it with a fake dead body, you could have a realistic crime scene decoration that might get a lot of attention.
Recently, a homeowner in Tennessee tried this and actually had several people call the police because it was so realistic.
All you need for this is a "Do Not Enter" sign, caution tape and some fake blood. Put the sign on the garage door, and then pour some of the blood in front of the door. 
You can even leave the garage door slightly open to make it look like the blood is flowing out from the garage.
Add a Projector
In my neighborhood, small outdoor projectors have been incredibly popular over the last few years.
If you have a small projector that can take a USB or SD card as an input, there's a company called AtmosFX which makes a ton of great holiday animations.
Most projectors aren't water-resistant so I don't recommend leaving them outside unless you can keep them sheltered. Also, most projectors can cost upwards of $100, so I don't know how I'd feel about leaving them outside overnight.  
This will work best if your garage door is painted white or gray, and of course, the slideshow will only be seen properly at night even for a 1080p projector like the Total HomeFX 1500.
You can also play a horror movie, but remember to keep it family-friendly!
Additional Tips for Decorating a Garage Door for Halloween
Affordable ideas can still be amazing: You don't need to break the bank to decorate your garage door for Halloween. Consider going with ideas that you can mix and reuse in the future. Next year, mix up your rubber bats and talking heads with other new ideas for a scarier effect.
Avoid decorations that require costly cleaning: If you go all out with your Halloween decorations, just be sure that cleaning them up won't break the bank again. For example, getting some red paint on a white garage is an added expense that could have been avoided.
Be careful not to damage your garage door. Watch out for garage door decorations that require permanent modifications. Nailing some decoration or props to the door could permanently damage some of the door's panels. That may be a costly repair bill at the end of the season. Try to use clips, ropes or tape to hold up your decorations instead.
Conclusion
If you love Halloween as much as I do, you'll want to make sure that your garage door compliments the rest of your house.
Once you choose a theme, adding some simple decorations like spider webbing or pumpkins can go a long way to completing the look. If you really want to make your house stand out, add a garage door cover. They're extremely durable and can be used year after year.
To see all of the great Halloween garage door decorations from My Door Decor at Home Depot, click on this link!