Whether you're designing and building a new garage or installing a car lift, you may be wondering how high your garage ceiling needs to be.
In this article, we'll cover all the details you'll need to know, like building code requirements and recommendations from leading garage door manufacturers. We'll also look at the minimum ceiling height requirements for some of the most popular car lift manufacturers, including BendPak, Challenger Lifts, LaunchTech, MaxJax Lifts, Mohawk Lifts, and Titan Lifts.
So fasten your seatbelts, and let's dive in.
---
What is the Standard Height of a Garage Ceiling?
Like most homeowners, you may wonder, "How high is a typical garage ceiling?" Well, we've got your answer.
According to the international building codes, the minimum height of a garage ceiling is 8 feet. However, this can vary significantly depending on your garage's design and construction, ranging from 7 to 12 feet or even more.
A survey conducted by Houzz gives us a clearer picture of the distribution of garage ceiling heights among homeowners:
58% have a garage ceiling height of 8 feet.
28% have a height of 9 feet.
9% have a height of 10 feet.
The remaining 5% have a ceiling height that exceeds 10 feet.
But remember, these are just averages.
Your garage's ceiling height may vary based on its type, size, and style.
For instance, the ceiling height in an attached garage might differ from that of a detached garage due to structural constraints or design preferences. Similarly, a single garage's ceiling height might vary from a double or triple garage, often because larger garages sometimes accommodate oversized vehicles or require additional storage.
Finally, the style of your garage can play a role in its ceiling height. A traditional garage might stick with the standard 8 feet, while a modern or rustic style could feature higher ceilings for looks or to accommodate specific vehicles.
---
What is the Code Requirement for Garage Ceiling Height?
Garage upgrades often hinge on local building codes and regulations. These codes dictate not only the structure's safety but also its functionality and potential resale value. As for your garage's ceiling height, you need to know the minimum and maximum measurements your local building codes allow.
According to the International Residential Code (IRC), the minimum ceiling height for habitable spaces, including rooms, bathrooms, hallways, and laundry rooms, is 7 feet. However, this height can be reduced to 6 feet 8 inches for obstructions such as beams and ducts.
While this is the general rule, remember that local codes can vary significantly based on the state, county, or city where your garage is located. This means that before you pick up that sledgehammer or drill, make sure to check with your local building department for specific requirements.
Depending on how you plan to use your garage, these local codes might have various requirements and exceptions.
For example, suppose you're converting your garage into a living space, additional storage, or installing a car lift. In that case, your local codes might require a higher ceiling height.
Conversely, a lower garage ceiling height might be permissible if your garage is used strictly for parking or if you have an attached office or workshop. Some building codes even have different specifications for fire-rated ceilings, ventilation openings, or sprinkler systems.
Following your local building codes isn't just a matter of legality. It's about safety, functionality, and future value. Adhering to these standards ensures your garage is safe and usable for its occupants and vehicles.
Violating these codes can lead to fines, and if you ever decide to sell, it can complicate the process.
---
What is the Minimum Ceiling Height (Headroom) for Garage Doors?
When talking about your garage ceiling height, you may hear the term 'headroom.'
Headroom refers to the space between the top of the door and the nearest obstacle above it, like a ceiling, beam, or light. It helps ensure that the garage door has enough room to travel the length of the track without running into anything.
The amount of headroom you need varies depending on the type of garage door and opener you have. Typically, you'll need anywhere from 6 to 18 inches or more.
If your garage has less than the minimum headroom, you may require specific hardware or track systems to install the garage door properly.
Let's break it down by the typical garage door sizes.
For each size, we'll look at the recommendations from the three biggest garage door manufacturers in the United States: Clopay, Raynor, and Wayne Dalton:
7ft Garage Door
Clopay states that a 7-foot garage door has a minimum headroom requirement of 4.5 inches for extension spring systems and 9.5 inches for front-mount torsion spring systems.
For garages with low headroom, you could opt for rear-mount torsion spring systems, which only require 5 inches of headroom.
8ft Garage Door
An 8-foot garage door has similar minimum height requirements.
Raynor specifies a minimum headroom requirement of 4.5 inches for extension spring systems and 9.5 inches for front-mount torsion spring systems. You need only 5 inches of headroom with rear-mount torsion spring systems. 
10ft Garage Door
Unfortunately, you'll need more headroom for the larger 10-foot garage doors.
According to Wayne Dalton, you'd need between 6 to 15 inches of headroom for residential garage doors and 12 to 18 inches for commercial ones, depending on the type of spring and track system installed.
If you don't have enough vertical space, you can opt for a low-headroom conversion kit, which reduces the headroom requirement to as low as 6 inches.
Remember, the minimum headroom ensures your garage door functions properly. This means you will avoid common issues such as difficulty opening the door, unnecessary wear and tear, and potential damage to your vehicle.
---
Recommended Garage Ceiling Height for Car Lifts
When shopping for a car lift for your garage, your choice may be limited by the garage ceiling height.
In this section, I'll outline several popular car lift manufacturers' minimum ceiling height requirements:.
Advantage Lifts
Based on information from the official Advantage Lifts website, the minimum garage ceiling height requirement ranges between 9′ and 12′, depending on the lift model you choose.
Additional space is recommended for safety and operational convenience. The Advantage Lifts website offers a guide on measuring your ceiling height and choosing the best location for your 2-post lift.
The DX-9000-HD and SS-11000-WD models have a minimum ceiling height of 9′ (108″).
The DX-9000-XLT has a typical garage height of 10.5′-12′, but this varies depending on what vehicle you're putting on the lift.
The Backyard Buddy Work Force model has a maximum lifting height of 82 inches with corner posts that stand at 104″ tall. Advantage recommends at least a ceiling height of 10′, but this depends on the size of your vehicle.
The ML-2000 motorcycle single-post lift is 9′ 4″ tall, with a maximum lifting height of 72″.
The Advantage AL-SC10 2-post lift is one of the tallest garage lifts they make, standing at 11′ 10″ tall, with a minimum ceiling requirement of 12′.
BendPak
According to the official BendPak website, their 2-post lifts require a minimum ceiling height of 12 feet due to their maximum lifting height of 69 inches. You'll need at least 73 inches of clearance plus additional space for safety and convenience. The BendPak website provides a guide on measuring your ceiling height and selecting the best location for your 2-post lift.
For 4-post vehicle lifts, the BendPak website does not list a general garage ceiling height requirement but does detail the following models:
Bendpack 2-post lifts have an overhead support beam that ranges in height between 145″ (12′ 1″) for the 10AP model to 181″ (15′ 1″) for the 10APX-181. Your garage ceiling must be slightly higher than the beam height to allow for installation.
4-post lifts have column heights that range from 89″ (7′ 5″) for the GP-9F and HD-9 models to 110.25″ (9′ 2.25″) for the HD-7W. The maximum rise ranges between 70″ and 82″.
The HD-7PXW model is a super-tall four-post lift that stands at a whopping 158″ (13′ 2″) high. It can lift a 7,000lb vehicle as high as 140″ (11′ 6″).
Bendpack Parking Lifts range between 118.5″ (9′ 10″) high for the PL-12000DP tandem parking lift and 173″ (14′ 5″) high for the HD-973PX tri-level parking lift. The maximum rise ranges from 70.2″ to 151.5″.
Extra space is always recommended for safety and convenience when operating these lifts.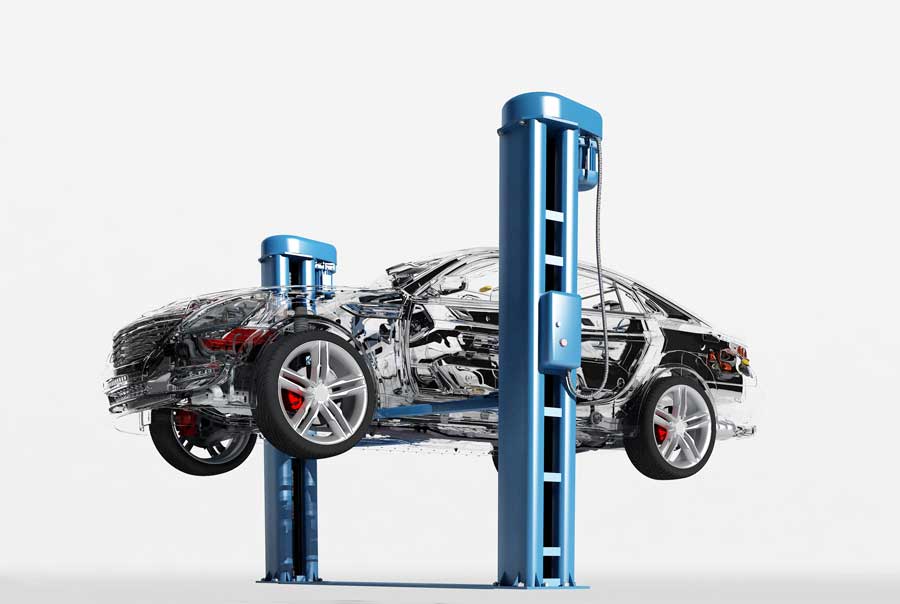 Challenger Lifts
Challenger Lifts divides its products into two distinct lines.
The Standard series is designed for residential or light-duty applications, while the Pro series adds additional weight capacity to handle electric vehicles. Since the Pro series typically have beefier requirements, we'll only focus on the Standard line in this section.
Minimum garage ceiling height requirements range from 10′ 2″ for 2-post lifts to 8′ for 4-post lifts.
Here are the requirements for several models:
VLE10 and SA10 Standard 2-post lifts require a minimum ceiling height of 12′. Challenger makes an open-top two-post lift, the CLFP9, that only requires a 10′ 2″ ceiling.
The 4P14EFX Standard four-post lift has columns that are 90.5″ (7′ 6.5″) high and a maximum lift of 78″ (6′ 6″).
There are two storage lifts in the Standard line: CL4P7 and CL4P9W. The CL4P7 has vertical columns that are 79.5″ (6′ 7.5″) tall and a maximum lift height of 68.5″ (5′ 6.5″). The larger CL4P9W has 96.5″ (8′ 0.5″) columns and a maximum lift of 85.5″ (7′ 1.5″).
Launch Automotive Equipment
Launch makes several models of two-post car lifts rated for light to medium passenger vehicles. As with most two-post lifts, the overhead beam height determines the minimum ceiling height.
Here are their requirements according to their US distributor, Tuxedo Auto Equipment:
TLT240SC-R is the standard two-post lift with a column height of 151″ (12′ 7″).
The TLT240SB-R is a 2-post baseplate lift with no overhead beam. That gives it a lower ceiling requirement than their other two-post lifts. The vertical columns stand 113″ (9′ 5″) tall, and it has a maximum lift height of 73″ ( 6′ 1″).
TLT210-XT is an ALI-certified model with a 10,000 lb capacity. The overhead beam stands at 149″ (12′ 5″) tall.
MaxJax Lifts
MaxJax Lifts manufactures a portable two-post car lift that lifts up to 7,000 lbs without taking over your garage.
Its unique design allows it to fit in low-ceiling garages. According to the product specifications, the height of the columns is 89″ (7′ 5″) with a maximum lift height (rise height) of 48 inches (4′).
Mohawk Lifts
Mohawk Lifts is a leading manufacturer of automotive lifts and garage equipment in the USA. Based in Amsterdam, NY, the company offers a range of products, such as two-post lifts, four-post runway lifts, mobile column lifts, parallelogram lifts, alignment lifts, service lifts, and accessories.
Although their products are aimed primarily at large commercial vehicles, they make smaller lifts for residential garages and automotive mechanics.
Their website doesn't specify a minimum ceiling height requirement, but it does provide information about several models:
The A-7 two-post car lift has vertical columns of 144″ (12′) high and a maximum lift height of 6′ (72″).
Their two-post truck lift, the LC-12, has vertical columns of 8′ 7″ (103″) with a maximum lift height (with adapters) of 7′ 3″ (87″).
Complete specifications can be found in the brochure available on the website.
Titan Lifts
Our final entry is Titan Lifts, based out of Greenwood, Indiana. They offer a range of products, such as two-post lifts, four-post lifts, scissor lifts, motorcycle lifts, motorcycle chocks, and lift accessories.
While they don't provide minimum ceiling height requirements, they do offer the following information about several models:
Titan makes two 2-post lifts with floorplates instead of overhead beams. The Premier Series HD2P-9KFP has a vertical column height of 111.25″ (9′ 3.25″) but adds an additional 11″ when fully extended. The HD2P-12000F has an overall height of 122″ (10′ 2″).
The SDPL-8000 4-Post Lift has a total height of just under 87″ (7′ 3″) and a lifting height of 74.75″ (6′ 2.75″).
More detailed information can be found here.
---
Wrapping It Up
Whether you're building a new garage, renovating an old one, or planning to install a car lift, understanding how high your garage ceiling should be is absolutely crucial.
We've covered everything from standard garage ceiling heights, building code requirements, the concept of headroom for garage doors, and even dove into the specifics of ceiling height requirements for popular car lift manufacturers like BendPak, Challenger Lifts, LaunchTech, MaxJax Lifts, Mohawk Lifts, and Titan Lifts.
Armed with this knowledge, you can now plan your garage space effectively, ensuring it's not just a parking spot but a functional and valuable addition to your home that adheres to safety standards.
But don't stop here.
Continue to research, reach out to experts, and always be sure to check your local building codes. Remember, every garage project is unique, and the more informed you are, the better you can tailor your garage ceiling height to fit your needs perfectly.