The joys of an automatic garage door will only last for as long as there is power, that's unless you have a battery backup installed. However, power outages are rare, so do you really need a battery backup after all?
You need a battery backup for your garage door opener, as it allows you to exit and enter your home when there is a power failure, this is especially useful in emergencies. Additionally, in states like California, garage door openers must be fitted with battery backups.
This article discusses battery backups in detail. It covers the legal requirements, the types and prices, and how the battery backups work. The article also explains how to test and confirm that the battery backup functions correctly.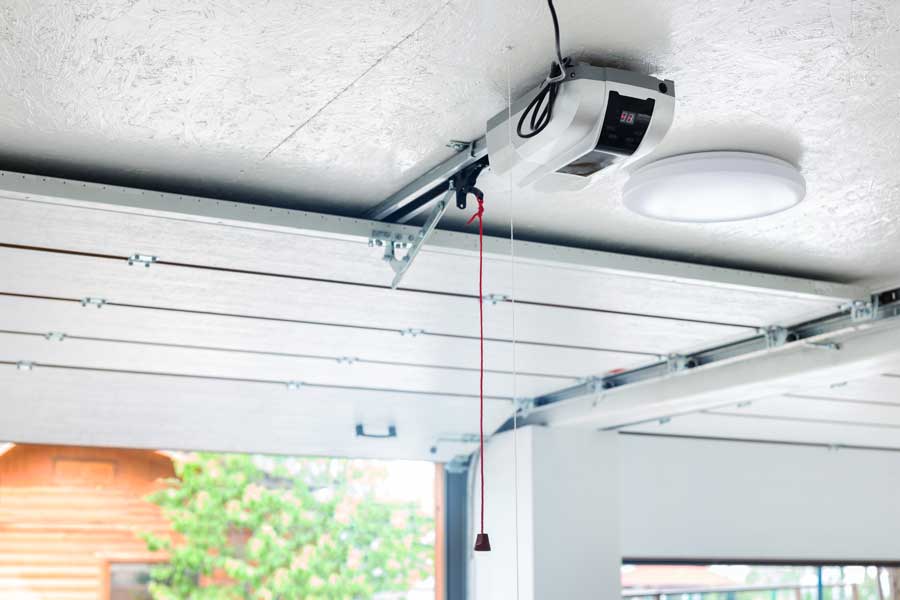 ---
Legal Requirements?
In September of 2018, California Governor Jerry Brown signed into law SB 969, which requires that from July 1, 2019, all garage door openers sold in the state of California must have battery backups.
This law was enacted in response to the Wildfire season of 2017 in which not less than five people died from fire-related causes when their garage doors would not open as a result of the power outage. The victims who were mostly elderly could not open the garage doors manually or did not know how to disengage the opener.
Prior to SB 969, existing law required that garage door openers be fitted with emergency release cords that would free the door of the opener in the event of a power outage, thus allowing the manual operation of the door.
The new law requires that garage door openers be fitted with battery backups in addition to the release future. Doing so will allow the doors to be electronically operated from within or outside the garage in the event of a power failure, as elderly individuals might be unable to lift heavy garage doors, even after using the release cord.
Although SB 969 does not require existing garage door openers to be retrofitted with battery backups, it is advised that owners of such garage door openers upgrade their units to work with backup batteries.
---
What Is a Battery Backup?
Battery backups are 12-volt battery units that supply power to the garage door opener when the power goes out. The batteries can be distinct units connected to the motor that drives the door opener or placed alongside the motor inside its housing. Either option works satisfactorily and meets the requirements of the state of California's law regarding garage door openers and backup batteries.
Backup batteries are generally small, but the size varies depending on the way it powers the opener. Units that are incorporated into the motor housing are smaller, measuring approximately 3.5 × 7.9 × 2.8 inches (9 × 20 × 7 cm), while separate batteries that are connected to the motor measure 12.2 × 8.3 × 5.5 inches (31×21 × 14 cm).
Notwithstanding the size, battery backups will only work with garage openers made by the same company.
How Do Battery Backups Work?
In the event of a power outage, the battery backup will automatically supply the garage door opener with enough power for 20 open and close cycles. It takes 4.5 hours to charge the battery on electricity from your home.
Because of the limited power in the battery, some features like the garage door opener light will not work. The energy is reserved for the more important task of opening and closing the garage door in emergencies. Furthermore, some openers will take longer than usual to open and close the garage door.
---
Why You Should Get a Battery Backup for Your Garage Door?
Unless you reside in California, you are under no obligation to get a battery backup for your garage door opener. When the power goes out, you can open and close your garage door manually.
However, the most important reason you should get a battery backup for your garage opener is emergencies. At least five deaths in the 2017 wildfire season could have been avoided if the garage door openers were equipped with battery backups.
Nonetheless, emergencies are not the only times that battery backups can come in handy. Power outages are sometimes localized, affecting just a single street or few houses on the street. In such cases, you do not need to open and close the garage door manually, as battery backups automatically kick in to do the heavy lifting on your behalf.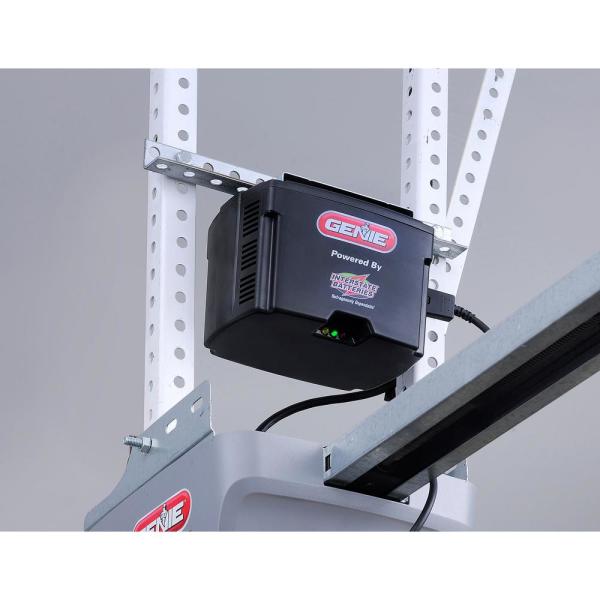 Can You Add a Battery Backup Later?
It is possible to install batteries at a later date, as since the early 2000s, garage door openers have been made with provision for backup batteries. As such, our local garage door specialist can retrofit an existing door with a backup battery.
However, if you live in the state of California, it is mandatory that you install a battery backup to any new garage door openers you buy. Otherwise, you and the manufacturer/seller will have to civil penalties.
---
How Much Do Garage Door Battery Backups Cost?
Battery backups are relatively cheap; the cost varies depending on the brand of garage door opener you have.
Bear in mind that it is less expensive to add a battery to a door opener than to buy a new opener with an enclosed battery. 
The cost of batteries incorporated into the motor housing is around $200 to $300, while those for existing door openers cost $100 to $200. You can get either type of battery online, from garage door specialists, and at most home improvement retailers.
While buying online may be less expensive, there is an advantage of using specialists, as they know garage doors and openers better than any other person and will advise you on the brand and model that will serve best in your garage.
Testing the Battery Backup
The primary aim of a backup battery is to supply power to the garage door opener in the event of a power failure. Consequently, you need to perform regular checks to ensure that the battery works as intended.
These tests should be carried out every six months and according to the following procedure:
First, open and close the door, as usual, using electricity from your home.
Unplug the power cord of the garage door opener from the outlet.
Use the remote to operate the opener as you would typically do.
Ensure that the garage door opens and closes on battery power alone.
Replacement Batteries
If the backup battery fails to lift the door during a routine test or you observe a recurring beep and a red or yellow flashing light, then the battery may not have been connected properly, or has internal issues and needs replacement. In either case, it is best to call on a garage door specialist when the battery does not work.
Generally, a battery backup for a garage door opener is recyclable and will last for up to two years, depending on how often you use it.
---
Conclusion
In some parts of the country, laws require that garage door opener should have battery backups. Even without these laws in place, battery backups are necessary as they can help avert disasters in emergencies.
Battery backups will last for one to two years, and in that time will automatically supply the door opener with enough power for 20 open and close cycles, when there is no power. Some garage door openers have backup batteries enclosed with the motor, but an existing garage door opener can also be retrofitted with a backup battery.