Your electric garage door opener will only work as long you have power. But what if there's an emergency and you need to get out of your house?
A garage door opener battery backup will let you open and close your garage door in case of a power failure.
In some states, like California, all garage door openers must be installed with a battery backup system for safety purposes.
This article will overview battery backups, how they work, and explain the legal requirements, types, and whether you can add one to an existing garage door opener. Then, we'll explain how to test and confirm that the battery backup functions correctly.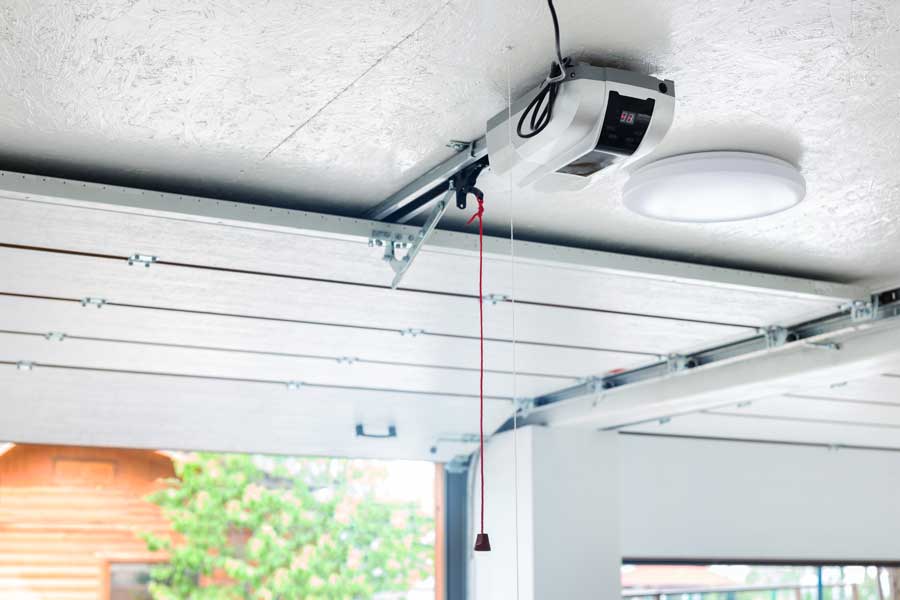 ---
Are Battery Backups for Garage Door Openers Required?
In September 2018, California Governor Jerry Brown signed SB 969 into law. This requires all garage door openers sold in California after July 1, 2019, must have battery backups.
This law was enacted in response to the Wildfire season of 2017 when at least five people died from fire-related causes when their garage doors would not open due to a power outage. The victims were primarily elderly, could not open the garage doors manually, or did not know how to disengage the opener.
Before SB 969, existing laws only required garage door openers to have emergency release cords to allow the door to be manually opened in the event of a power outage.
The new law required that garage door openers be fitted with battery backups in addition to the release feature. This would allow the garage door opener to still function normally, even with no power to the house.
Although SB 969 does not require existing garage door openers to be retrofitted with battery backups, the government recommended that owners of older garage door openers replace their units or add a supplemental battery backup.
---
Battery Backups for Garage Door Openers: Overview
A battery backup is a 12-volt battery unit that supplies power to the garage door opener when the power goes out.
The batteries can be separate units but are often enclosed in the same housing as the garage door opener's motor. Either option will satisfy legal requirements for California residents.
Backup batteries are generally small. Units designed to fit into the garage door opener's main body typically measure approximately 3.5 × 7.9 × 2.8 inches (9 × 20 × 7 cm). External battery backups typically measure 12.2 × 8.3 × 5.5 inches (31×21 × 14 cm).
Depending on the brand of garage door opener, it's possible to add battery backup systems to an existing opener.
Since the early 2000s, most garage door openers have been made with provision for backup batteries.
Most local garage door specialists can retrofit a backup battery to previously installed garage door openers. However, battery backups will only work with garage openers made by the same company.
In the event of a power outage, the battery backup will automatically supply the garage door opener with enough power for 20 open and close cycles. It takes 4.5 hours to charge the battery on electricity from your home.
Because the battery only has enough power for a limited number of uses, some features, like the garage door opener light, will not work.
The energy is reserved for the more important task of opening and closing the garage door in emergencies. Additionally, some openers will take longer than usual to open and close the garage door.
---
Why You Should Get a Battery Backup for Your Garage Door?
You're only required to have a battery backup for your garage door openers if you live in California or another state with similar laws.
However, that doesn't mean you shouldn't have one.
After all, you can still manually open and close your garage door when the power goes out.
The most important reason you should get a battery backup for your garage opener is for emergencies. As I mentioned earlier, at least five deaths in the 2017 wildfire season could have been avoided if the garage door openers had been equipped with battery backups.
Here in Florida, we get frequent power outages. Occasionally they're localized, affecting just a single street or a few houses on the street.
In the after-effects of a hurricane or severe weather, large sections of the state are without power for an extended period.
No matter the reason, it's nice to have a battery backup to do the heavy lifting instead of manually opening and closing your overhead door.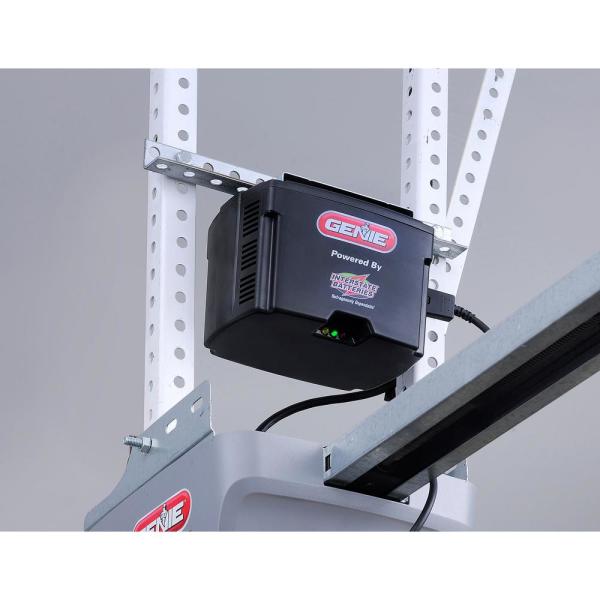 ---
How Much Do Garage Door Battery Backups Cost?
Battery backups are relatively cheap, but the cost varies depending on the brand of garage door opener you have.
It's typically less expensive to add a battery to a door opener than to buy a new opener with an enclosed battery. Chamberlain and LiftMaster make a replacement battery backup for around $50. Genie battery backups are slightly more expensive, ranging between $50 and $100, depending on the model.
However, when you're already shopping for a new garage door opener, adding a battery backup feature is more cost-effective. In fact, it is typically only $20-$30 more than the price of other garage door openers.
---
Testing the Battery Backup
Like any part of your emergency preparedness plan, you'll want to regularly test your garage door opener's battery backup to ensure it's working correctly.
These tests should be carried out every six months and according to the following procedure:
First, open and close the door, as usual, using electricity from your home.
Unplug the power cord of the garage door opener from the outlet.
Use the remote to operate the opener as you would typically do.
Ensure that the garage door opens and closes on battery power alone.
Replacement Batteries
Battery backups are recyclable and should last several years, depending on how often you use them.
The battery backup can fail in several ways:
It can fail to lift the door.
The garage door opener beeps repeatedly.
The battery status LED flashes yellow or red (depending on the manufacturer).
Should this happen, the battery may not have been connected properly, or it needs to be replaced. If you're uncomfortable troubleshooting it yourself, your local garage door repair company can often replace it.
---
Wrapping It Up
In some parts of the country, laws require that garage door openers should have battery backups. Even if it's not legally required, a battery backup is an important safety feature that can help avert disasters in emergencies.
Battery backups automatically supply the door opener with enough power for 20 open and close cycles. Some garage door openers have backup batteries enclosed with the motor. However, many older garage door openers can be retrofitted with a backup battery.
We are sorry that this post was not useful for you!
Let us improve this post!
Tell us how we can improve this post?