From scorching summer days to projects that produce immense heat, the right garage fan is more than just a luxury. It's a necessity.
But with so many options available, how do you choose the right fit for your space?
Whether you're looking for a garage ceiling fan, pedestal fan, portable blower fan, or a powerful drum fan to move the most air possible, this list helps guide you through the best garage fans this year has to offer.
Let's dive in and breeze through your options.
| Product Image | Product Name / Primary Rating | Primary Button |
| --- | --- | --- |
| | | |
| | | |
| | | |
| | | |
| | | |
Table of Contents
---
Best Garage Fans
Best Value Garage Fan: Lasko 2264QM Floor Fan with Wall Mount
After using the Lasko High Velocity Floor Fan for a considerable period, I can offer my insights into its performance, design, and utility.
Performance and Noise Level: The power of the fan is amazing. It's 3-speed motor delivers maximum air movement in any space. On its lowest setting, the fan is capable of cooling a mid-sized room comfortably.
However, I did experience a periodic high-pitched whining sound, especially on the lowest setting. Initially, this was only a minor inconvenience. But, after prolonged use, I had to either switch the fan to a higher speed or adjust other ambient noise levels, like my garage television, to drown it out.
That said, if you're looking for white noise to drown out external disturbances, this fan really excels. On low speed, it efficiently drowns out background noises, offering a consistent sound backdrop.
Design and Build: The all-metal fan cage, blades, and the stand make it sturdy and suitable for rigorous use. I especially liked the rubber pads on the fan stand, which reduce vibration and protect surfaces.
The stand flips between wall-mount and floor-standing configurations easily.
However, there's a slight hiccup in the design – the power cord. It's bulky and not as flexible as one would hope, making cord management a bit cumbersome.
I also noticed that the aluminum fan prop seems quite thin, raising concerns about durability and long-term use.
Additional Features: The Lasko 2264QM garage fan pivots nicely, allowing you to direct the airflow up, down, or anywhere in between. The easily removable front cover for cleaning is a thoughtful addition, enhancing the overall user experience.
Overall: The Lasko High-Velocity Fan is the best value garage fan I could find. It doesn't have the raw power of some of the other fans on this list, but it doesn't have their price tag, either. 
Lasko 2264QM 20" High Velocity Floor Fan with Wall-Mount Option
QuickMount for easy conversion from floor to wall mount
Durable tubular steel construction with rubber pads to protect surfaces
Pivoting fan head to direct airflow
3 Powerful speeds
3 metal fan blades provide superior air movement around your space
Simple no-tools assembly
Check the Latest Price
We earn a commission if you click this link and make a purchase at no additional cost to you.
Best Wall-Mounted Garage Fan: Air King 30″ Industrial Fan
Having used an Air King wall-mount fan in my garage for several years, it was only natural to include one on this list.
Performance and Noise Level: For an industrial-grade fan, the Air King 9075 definitely exceeded expectations. It delivers powerful airflow at up to 8750 CFM to quickly drop the temperatures in even the largest garages and workshops.
That said, there's a trade-off. With that much power, the noise level is quite high. Homeowners with smaller garages might want to keep the fan on the lowest speed setting.
Design and Build: The Air King fan's construction, from the blade to the guards and mounting bracket, boasts of powder-coated steel that promises years of durable operation. It screams durability, ensuring that it's built to last.
However, the installation process can be a tad challenging. The instructions provided might leave some users scratching their heads, mainly due to its side-view illustrations. You can check out my Air King installation and review in this article.
Additional Features: The Air King 9075 can be set to oscillate or be fixed in one direction. There's no remote control, unfortunately. Everything is controlled by a pull chain system, which is a bit cumbersome.
I don't understand why a fan in this price range doesn't come with a remote-controlled outlet plug or even an extended pull cord. That would significantly improve accessibility.
Overall: Given its incredible performance and exceptional build quality, the Air King 9075 is easily the best garage fan if you want excellent air movement in large spaces.
While it does come with its set of quirks, they aren't deal-breakers by any means. Its few shortcomings, like the noise level and installation instructions, are overshadowed by its strengths, making it a worthy investment.
Air King 30-Inch Industrial Grade Oscillating Wall Fan
Air King's industrial-grade wall mount fans offer powerful air movement, durability, and versatile options for various industrial spaces. With their low maintenance requirements and safety features, they are designed to provide reliable and efficient airflow.
Three Speed (HiMedLow):
8780 cfm (High) @ 72 db
7480 cfm (Med) @ 70 db
5570 cfm (Low) @ 64 db
Pros:
Air King's industrial-grade wall-mount fans deliver high-volume airflow, ensuring effective air circulation in industrial spaces with limited floor space.

Made with powder-coated steel blades, guards, and mounts. The motors are permanently lubricated and require little to no maintenance.

Available in multiple sizes and with or without oscillation.
Cons:
Limited control options with the rear-mounted pull cord switch
Check Latest Price
We earn a commission if you click this link and make a purchase at no additional cost to you.
Best Ceiling Fan: Minka-Aire Xtreme H20 Ceiling Fan
Performance and Noise Level: In my experience, the Minka Aire Xtreme H2O ceiling fan is a performance powerhouse. It has an 8-blade design that seamlessly moves air throughout the entire garage.
When I first got it, the fan was incredibly quiet. I was particularly impressed with its efficacy on higher settings.
However, I did begin to notice an occasional grinding noise, primarily around levels 3 and 4.
Eventually, this caused the fan to slow down significantly and required a factory reset.
Design and Build: The Xtreme H2O's design is a visual treat. It's available in several finishes like coal, oil-rubber bronze, smoked iron, and flat white. The coal finish and contemporary look are definite head-turners. It adds a touch of finesse to any area.
However, I have some questions about the installation process.
Aligning the motor assembly with the fan housing was more of a challenge than I anticipated. Some parts seemed inadequately formed, leading to misalignments.
Given the price point, I expected more precision in its construction.
Additional Features: Two features I really liked are the included remote control and the voice-activated functionality. There are several optional downrods that allow flexibility to install this fan on different garage ceiling heights.
However, a significant drawback was the wiring for those who prefer wall switches over remotes. The fan's wiring wasn't designed for wall switch use. However, though with some tweaks, I found a way around it.
Overall: The Minka Aire Xtreme H2O is a perfect blend of style and functionality. When it works, it's a game-changer, but it's not without its quirks.
From its impressive aesthetic to its sporadic performance issues, it's a mixed bag. It has significant potential, but there are areas that require fine-tuning. 
Minka-Aire Xtreme H20 Ceiling Fan
The MinkaAire Xtreme H2O 65" Ceiling Fan combines style, functionality, and durability, making it an excellent choice for both indoor and outdoor spaces. Its sleek design, multiple finish options, and reversible blades ensure a versatile and attractive addition to your home. With a powerful and efficient motor, this fan provides optimal air movement and comfort.
Pros:
High CFM (cubic feet per minute): Ranging from 3800 on low to 9092 on high, it's ideal for large spaces like garages and basements.

Quiet Operation: You'll hardly notice it is on.

Easy Installation: You may even be able to install it by yourself!
Cons:
Energy efficiency goes down dramatically as speeds increase.
Check Latest Price
We earn a commission if you click this link and make a purchase at no additional cost to you.
Best Industrial Garage Fan: Tornado 24″ Drum Fan
Performance and Noise Level: I'd never really thought about a drum garage fan until I saw my next-door neighbor use one. His bright yellow 24″ Tornado garage fan caught my attention.
Drum fans are great for warehouses and other large areas. They're designed to move large volumes of air.
The Tornado is rated at an impressive 8540 CFM on high setting. However, this high CFM didn't quite match up with the actual air movement I felt.
Close to the fan, the power was undeniable, even blowing posters off the wall! When I stood about 15 feet away, the breeze was hardly noticeable.
The three-speed settings felt almost too close in range. "High" felt like 80%, "Higher" at 90%, and "Highest" nearing 100%.
While Tornado claims it's among the quietest metal garage fans, it did produce a noticeable hum.
Design and Build: The Tornado fan has a unique industrial look with its yellow metal frame constructed from durable aluminum and rust-resistant steel. The build quality seems excellent.
There's a handy tilt feature, allowing adjustments up to 360 degrees.
Although its size makes it ideal for larger spaces such as warehouses or commercial establishments, I did see a warning label suggesting it's best suited for household use.
Additional Features: The fan was surprisingly user-friendly, right from the packaging to the assembly. The setup was a breeze (pun intended).
The 8 FT power cord was long enough for ideal placement, though there's a clear warning against using an extension cord. It includes two handles and solid rubber castors, making it relatively easy to move around.
Overall: The Tornado 24-inch fan is an interesting blend of industrial power and household suitability. It's the best garage fan for people who might not want to wall-mount their fans but still need to move a lot of air. 
Best Pedistal Fan: Tornado 24″ Outdoor Rated Oscillating Pedestal Fan
If a drum fan isn't quite what you're looking for, Tornado also makes an excellent pedestal fan that's worth a look.
Performance and Noise Level: The moment you turn on the Tornado 24″ pedestal fan, you notice how much air it moves.
Unlike the drum fan, the pedestal fan only has two speed settings. While Tornado claims it is one of the quietest metal fans on the market, my experience was slightly different. It's not bad when used as a garage fan, but it might be an issue, especially on its higher setting if you're considering it for a serene patio setup.
Design and Build: Tornado makes their pedestal garage fans in 20″, 24″, and 30″ sizes. The 24″ and 30″ sizes have standard and IPX4 water-resistant versions.
The fan's construction feels durable, featuring aluminum and powder-coated steel. This gives confidence in its longevity, especially given its IPX4 water-resistant rating, making it suitable for outdoor use.
However, the fan's height adjustment left a bit to be desired.
While it claims a maximum height of 72 inches, I could only achieve 64 inches.
Additional Features: The Tornado fan doesn't have much in the way of additional features. It has a basic oscillation feature but requires a screwdriver to switch between stationary and oscillating modes.
This felt tedious, especially when even more basic fans offered a simple button mechanism.
The assembly process, while advertised as "frustration-free," was anything but. The instructions were more of a vague diagram than a step-by-step guide, making the setup process unnecessarily challenging.
Overall: The Tornado 24″ Outdoor Rated Pedestal Fan delivers a high maximum airflow, making it great for larger garages. Its robust build quality promises durability.
However, if you're seeking a quiet garage fan, this might not be the ideal choice.
Best Portable Blower Fan: Lasko X-Blower
Performance and Noise Level: The first time I powered on the Lasko X-Blower fan, it was evident that this fan meant business. On its lowest setting, the airflow was impressive, surpassing even some tower fans I've used.
The noise level was a mixed bag, however. On the lowest setting, it was tolerable. But as I ramped it up, the noise became more noticeable, like the distant hum of a vacuum cleaner.
This could be disruptive for some people if you're using it indoors, watching TV, or having a conversation.
Design and Build: The Lasko X-Blower fan's multi-position design is both a strength and a weakness.
The first time I used it, I completely missed three of its positions and found the directional control limiting. It wasn't until I discovered its full six-position range that it became more versatile.
It's worth noting that it doesn't simply pivot. You have to adjust its legs, which isn't the most intuitive choice. The material is a shiny plastic, which raised some durability concerns.
Additional Features: The fan has some interesting additional features like two USB ports that you won't find on most other garage fans. Being able to charge mobile devices while the fan is running is a nice touch that I appreciate.
Overall: While the Lasko X-Blower fan is powerful, it has its downsides. The noise level on higher settings can be excessive, and the design could be more user-friendly.
Still, if you're looking for raw power and multi-functionality, this might be the fan for you, especially for more industrial settings like garages or workshops.
---
Types of Garage Fans
All fans serve the same purpose. They can keep a consistent airflow through your garage while reducing humidity and heat buildup.
A solid garage fan can keep your garage from getting moldy and overheated while also helping to eliminate any lingering odors and fumes associated with your work.

However, there are plenty of different types of fans that you can add to your garage to experience these effects.
Let's go over the benefits of each kind and when it would make the most sense to use each.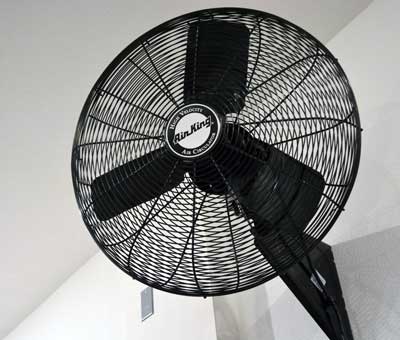 Wall-Mounted Fans
Wall-mounted fans are installed on one of the walls in your garage to remain stationary while circulating air.
Perhaps the best quality of wall-mounted fans is that they're kept at a distance from the floor, meaning they're less likely to accumulate a buildup of dust and dirt.
Since they're on the wall, there's no chance of you accidentally tripping over the cord.
Blower Fans
Blower fans, or centrifugal blowers, are heavy-duty fans that can produce an incredible amount of air circulation.
These are the best options if you're struggling to keep the temperature of your garage cool or if your garage work involves toxic fumes of some sort.
Blower fans tend to be high-powered, so they're perfect for large garages.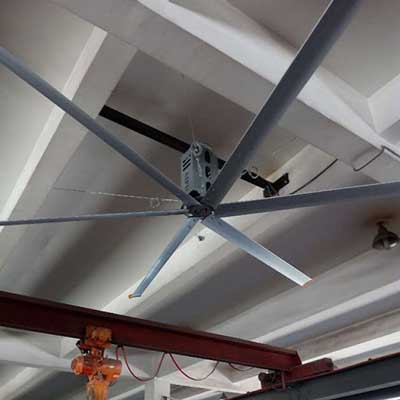 Ceiling Fans
Ceiling fans are a common design feature inside homes and can significantly cut energy costs when installed in your garage.
What's ideal about ceiling fans is that you can reverse the direction of the blades, meaning your garage ceiling fan can keep your garage warm during the cool winter months.
Some even have light systems to keep your garage illuminated.
---
Garage Fan Buyer's Guide
Putting a high-quality fan in your garage can help reduce moisture, limit mold buildup, and keep your garage at a decent temperature year-round.
However, there's a lot that you need to think about before making your final purchase decision.
The last thing you want to do is order a heavy-duty garage fan only to realize that it doesn't exactly fit into your garage's open space. That's why you must consider where to put the fan in your garage.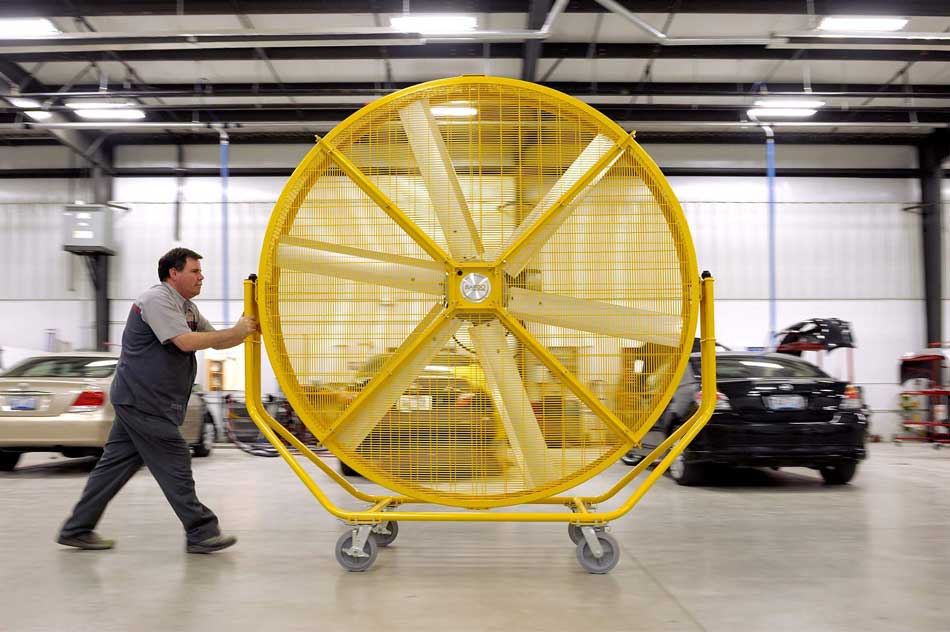 If you have a ton of open space and truly need unmatched air circulation and low temperature, your best bet might be a hardcore blower fan.
If you plan to use your garage fan on a workbench or in a secluded area of your garage, you don't need anything hefty or large. A lightweight or even portable fan would be more than enough.
Here are some factors you need to consider when buying a garage fan.
Physical size
CFM rating (cubic feet per minute)
Types (wall-mounted, blower, ceiling)
Motors (dual ball bearing, sleeve bearing)
Tilt features
Noise level (based on sones)
Location in your garage
Timer settings
Speed settings
Materials used
Cleaning methods
A garage fan with solid user reviews is great. Still, somebody else having a good experience with a fan doesn't mean that the fan would be a good fit in your garage or for your needs.
So, we'll discuss everything you need to know about garage fans to help you through the purchase decision.
What Size Garage Fan Do You Need?
The actual size of your garage fan will determine just how well air circulates in your garage. You'll need a more powerful fan to keep a large garage cool and dry.
For the most part, a solid garage fan will be at least 18 inches in diameter, though you might opt for a larger version if you have a decent-sized garage.
On the other hand, a 12-inch fan might be more appropriate if you're only looking to keep a small area of your garage cool (i.e., Your workspace).
Remember that the size isn't as important as the CFM of your garage fan.
What Does CFM Mean? (And Why You Should Care)
CFM, or cubic feet per minute, describes how much air a fan can circulate in a specific room every minute. The CFM rating of a garage fan is calculated when the fan is on its highest speed setting.
Several factors impact a fan's CFM, particularly the number of rotations per minute (RPM), the actual physical size of the fan's blades, and the angle of the blades.
The size of your garage will determine the CFM rating that best fits your needs. Consider the size of your garage and refer your data to the list below.
200 sq. ft. or less: 2,000-3,000
200-300 sq. ft.: 3,000-4,000
300-450 sq. ft.: 4,000-6,000
450 sq. ft. or more: 5,000+
The average two-car garage is about 400 sq. ft., so your ideal garage fan would have a CFM of between 4,000 to 6,000. A one-car garage is about 240 sq. ft., meaning a CFM of 3,000 to 4,000 should be more than enough.
Garage Fan Motor Types
You're probably just looking for a garage fan to easily switch on to keep your garage cool and dry.
However, understanding how the motor works and the different types of motors standard in garage fans will allow you to choose a product that best fits your needs.
The motor of your garage fan will keep the blades spinning and, if heavy-duty, will last for years on end without any issue.
But, just how you plan to use your new garage fan will determine the type of motor that's best for you.
Dual Ball Bearing Motors: A dual ball-bearing motor is what you need if you appreciate using your garage fan at different speed settings.
In addition to functioning optimally at all speeds, the dual ball-bearing motor can perform well in just about any temperature range. That means you can expect this motor to thrive in the frigid winter temperatures and overwhelming summer heat.
Remember that these motors aren't easy to find in regular garage fans.
Sleeve Bearing Motors: A sleeve-bearing motor powers household fans, including everyday garage fans.
These fans use an oil system that keeps the fan lubricated and functioning smoothly.
The downside is that the need for a lubrication system makes this fan less than ideal if you don't plan to use your garage fan for extended periods or prefer a lower speed setting.
Why Different Speed Settings Matter
The speed of a fan will determine just how well air circulates in your garage and the temperature reduction that ultimately occurs.
Though a one-speed fan helps with these things, it can only do so much.
That's why most fans nowadays actually have multiple speed settings. 
With such a feature, you can personalize your garage's temperature and air circulation. For example, you can lower the speed if your garage is too chilly or windy. You can also boost the speed when your garage gets too hot in the morning.
Most multi-speed garage fans have three-speed settings, giving you as much control as you need.
However, don't go into a purchase assuming you have complete control of temperature and speed.
Note: Boosting a fan's speed setting will produce a much louder sound. If you go to the home improvement store to pick out a fan, test it at the highest speed setting to figure out how loud it might be.
Steel or Plastic: Does the Material Make a Difference?
A fan with plastic blades might be suitable for your living room or bedroom, but it might be less than ideal when used in your garage.
That's not to say plastic fans aren't useful, but they're just not as good as metal fans.
There are several reasons for that, most of which have to do with durability.
Metal fans are ideal because they can better withstand environmental conditions and even blunt force trauma that might accidentally occur when sitting in your garage.
With a metal fan, you don't have to worry about accidentally knocking into and breaking it into pieces. What's even better is that metal fans tend to circulate air much more efficiently.
Do You Need a Quiet Garage Fan?
Noise level may or may not be a factor you're considering when buying your garage fan. If you're using your garage as a workspace for power tools or construction jobs, the sound your fan produces is probably the least of your concerns.
The noise level fans produce is usually calculated into Sones, which compares the fan's sound to a specific decibel level. The higher the speed setting, the more noise a fan makes.
Here's a better comparison of specific sones levels:
<1.0: Normal breathing or leaves rustling
1.0-2.0: Office conversations
3.0-4.0: Television or radio
5.0+: Traffic and vehicles
If you prefer your garage to be relatively quiet to help you focus or plan to work late into the night, you would probably want a Sones rating of 4.0 or less. Otherwise, any sones level could suit your needs if noise isn't a factor.
Tilt & Oscillation Features
Depending on the area of your garage where you intend to use your fan, you might appreciate the ability to tilt or even rotate your fan.
A tilt feature will allow you to readjust the angle at which the fan is blowing and target specific areas of your garage.
For example, you might have a garage fan on the floor near your workspace that you like to angle somewhat up to keep you cool when you're working. You might also want to mount a fan on your wall and angle it toward your workspace.
In terms of the tilt angle of garage fans, it all depends on the model you're looking at.
Some fans can tilt up to 180°, allowing full customization of your air circulation.
Most garage fans are stationary, meaning they'll only blow air in the direction that they're facing.
However, many wall-mounted garage fans can also oscillate, meaning the fan can rotate and blow air equally around your garage.
Oscillating fans are great for maintaining consistent airflow and temperature throughout your garage.
Timer Settings
When you typically use your garage or workspace at a specific time every day, having a garage fan with a timer setting might make your whole life a little bit easier.
There are a few models out there that actually sport this unique feature.
Depending on the model you choose, you can set the fan to automatically turn and off at specific times of the day or even run for a set period (i.e., two hours).
Though this is not a feature you need in your garage fan, it can be pretty convenient.
This is the best-case scenario if you follow a consistent work schedule in your garage.
---
Wrapping It Up
Before you invest in a garage fan, there are a lot of things that you need to think about in your decision.
That means you need to know which features you're looking for in a fan, how much space you have in your garage, and how durable a fan you need.
Once you perform this research, you can look online for the best products to find one that checks all your boxes.
As much as your brand-new fan will help with circulation and reduce moisture and humidity, it can only do so much if you live in a naturally hot and humid environment.
Excess humidity can ruin workspace supplies or cause mildew or mold to build up.
If the humidity seems excessive, investing in a garage dehumidifier might be a good idea.
Though these tools are rather pricey, they'll pick up wherever your fan leaves off. This is a must-have if sensitive supplies and materials are stored in your garage.
There's more to cooling your garage than just buying a fan and turning it on. For more, check out my article on How to Cool a Garage with a Fan the Right Way.