If you've been struggling to find more storage space in your garage, don't forget to look up.
In this article, we'll explore 15 clever garage overhead storage ideas that can literally create space out of thin air. Whether you need to store bikes, bins, tools, or seasonal items, we have a solution.
Let's dive in!
Table of Contents
---
15 Garage Overhead Storage Ideas to Inspire You
In the following sections, we will explore these storage ideas in greater detail. We'll discuss their key features and highlight their pros and cons.
That way, you'll be well-equipped to decide which options align best with your garage space and storage needs.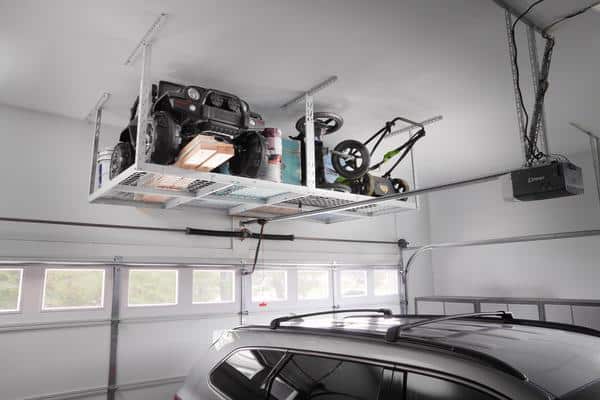 Overhead Storage Racks & Shelves
Ceiling-mounted overhead storage racks and shelves are an incredible way to maximize the vertical space in your garage. Often constructed from heavy-duty steel, they're a great place to store items that aren't regularly used, keeping them off your garage floor.
Whether it's seasonal decorations, camping gear, or gardening tools, these racks provide the flexibility to store a variety of items safely and securely.
Most overhead storage racks have adjustable height, allowing bulky items to be stored with no problem. Plus, their open design lets you quickly find and reach the items you want, so you don't have to rummage around to find what you're looking for.
Pros:
Maximizes vertical space, freeing up the garage floor.
Durable and reliable, able to hold substantial weight.
Height can be adjusted to suit storage needs.
Cons:
It might require professional help for installation.
Retrieving heavy items may be difficult for some.
Ceiling Tote Storage Racks
Ceiling tote storage racks are an innovative solution for garage organization. These storage racks are mounted to the garage ceiling and are specially designed to accommodate plastic totes or bins. Totes slide in and out effortlessly, which makes accessing your items a breeze.
They work exceptionally well for storing seasonal items like holiday decorations, winter clothing, or camping gear you don't need year-round.
Pros:
Keeps items organized and easy to locate.
Elevates items, protecting them from water or pest damage.
Offers easy access to stored items.
Cons:
The additional cost of totes may be required.
Specific tote sizes may be needed for a good fit.
Platform Lifts
Platform lifts are mechanized lifts that literally bring storage to a whole new level.
They work by lowering a sturdy platform to the floor, enabling you to load or unload your items. Once loaded, the platform can be hoisted back up to the ceiling level.
This is particularly useful for storing heavier items like bicycles, lawnmowers, or snow blowers that are difficult to lift manually. Items can be retrieved or stored away with the press of a button, making the process seamless and efficient.
Pros:
Ideal for storing heavy items with minimal effort.
Easy operation with the press of a button.
Reduces risk of injury from lifting heavy objects.
Cons:
It can be expensive compared to other storage options.
Professional installation is often required.
Lumber Racks
If you're a woodworking enthusiast or a DIYer, lumber racks are an ideal storage solution. These racks are designed to securely store long items like lumber, PVC pipes, or even long tools like fishing rods. 
Although there are off-the-shelf solutions available, many homeowners build their own lumber storage racks.
By installing them overhead, you can keep these items off the floor, making your garage safer and more organized. The racks' design ensures that the stored items are easy to see and retrieve.
So, whether you're a professional carpenter or a hobbyist, a lumber rack can keep your workshop neat and organized.
Pros:
Perfect for those who work with wood or long items.
Frees up floor space for other uses.
Easy visibility and access to stored items.
Cons:
Extra reinforcement might be needed for heavy items.
Limited use if you don't handle lumber or similar things.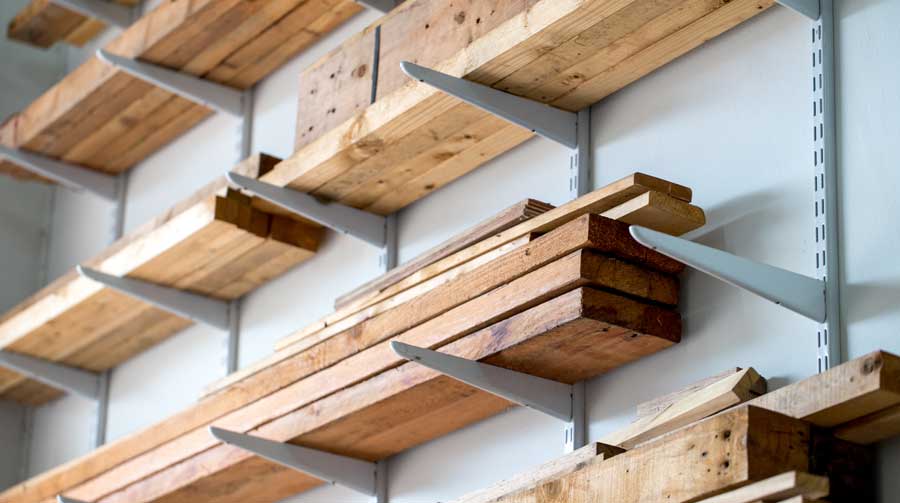 Ceiling-Mounted Retractable Extension Cord
A ceiling-mounted retractable extension cord provides a practical and convenient solution for power in your garage. It can be pulled down when you need to plug in a power tool or other equipment, then quickly retracted back up, keeping the cord out of your way when not in use.
This eliminates the need for long, trailing wires that can pose trip hazards and clutter your workspace. It's handy if you often use power tools in your garage or if your garage lacks sufficient power outlets.
Pros:
Provides convenient access to power.
Eliminates clutter and potential trip hazards.
Easy to retract and store when not in use.
Cons:
It may not be necessary if your garage has enough outlets.
Cord length might be limiting depending on the model.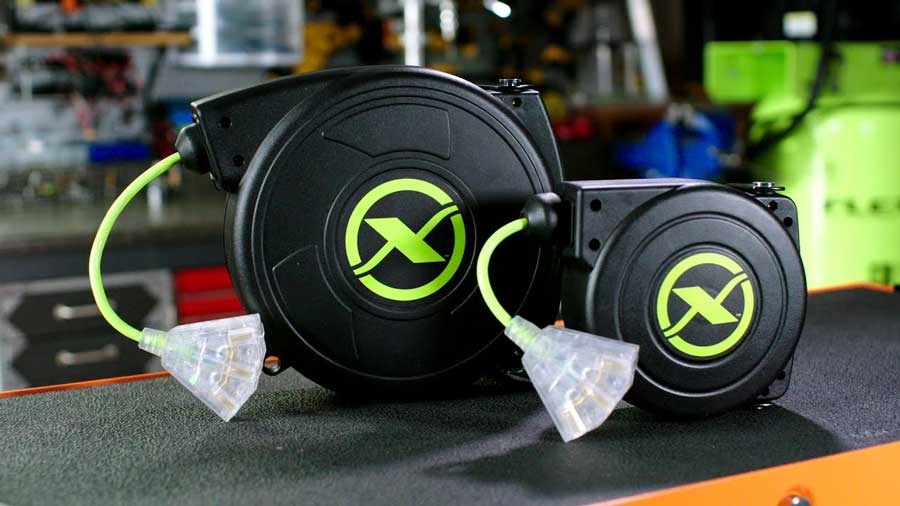 Wall Cabinets
Wall cabinets offer a sleek and aesthetically pleasing solution to garage storage problems. They utilize the vertical space on your garage walls, keeping your items neatly organized and easily accessible while freeing up floor space.
Wall cabinets can store various items, from tools and equipment to cleaning supplies and gardening gear. They can be locked for added security.
They can be custom-built or purchased in different sizes and materials to match the garage interior.
Pros:
Neatly organizes items, creating a clutter-free environment.
Provides added security with lockable doors.
Variety in sizes and materials allows for customization.
Cons:
Installation may require professional help.
It might be more expensive than other storage options.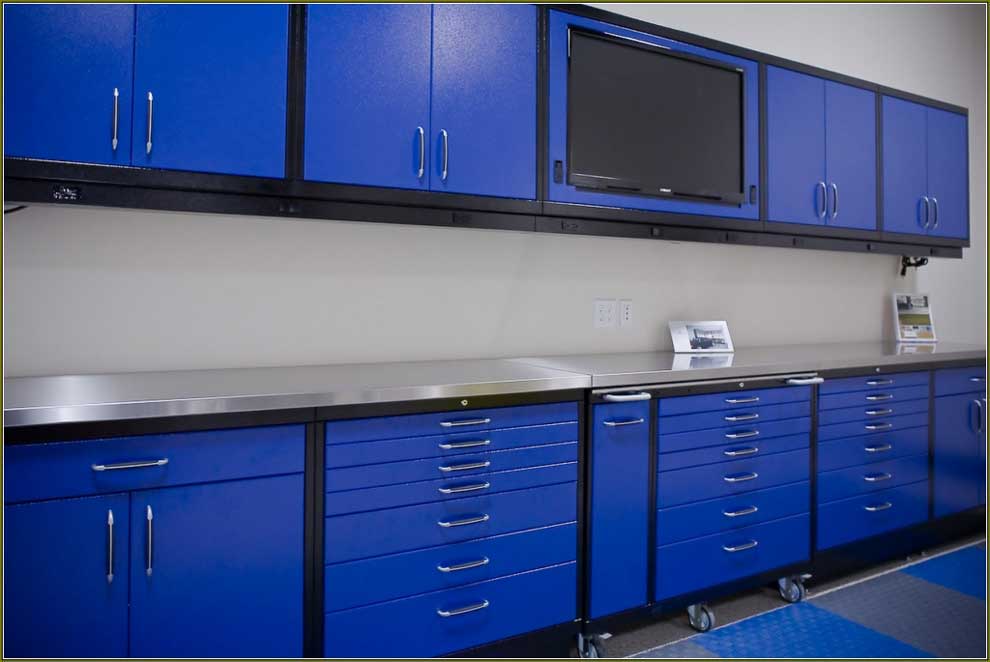 Rope & Pulley System
A rope and pulley system is a classic but effective way to create garage overhead storage. This system lets you hoist and store heavier items like bicycles, canoes, or ladders near the ceiling.
Pulling on the rope allows you to lower these items when you need them and hoist them back up when you're done.
This storage solution is affordable, and although it requires a bit of manual labor, it can significantly free up your garage floor.
Pros:
Great for storing bulky and heavy items.
Affordable and relatively easy to install.
Maximizes the use of vertical space.
Cons:
Retrieving and storing items require manual effort.
Not ideal for storing small items.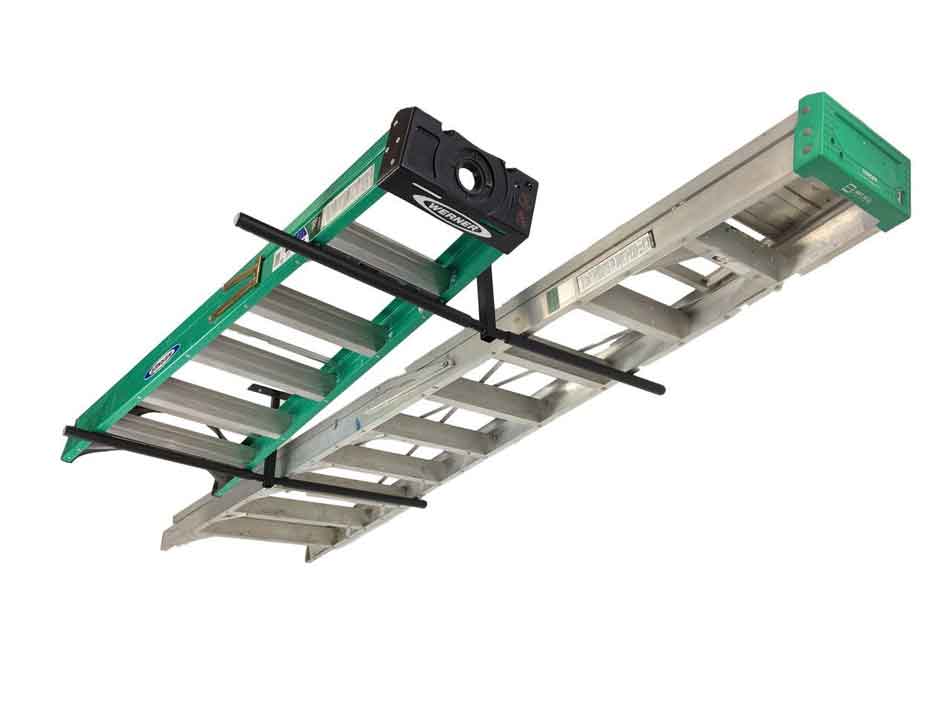 Ceiling Ski or Snowboard Racks
For winter sports enthusiasts, ceiling ski or snowboard racks can be an excellent addition to your garage. These racks are designed to securely hold your winter gear overhead, ensuring they're safely stored and out of the way when not used.
They're typically padded to prevent scratches or damage to your equipment. Most models can hold multiple sets of skis or snowboards, ensuring all your gear is in one place and ready for the next winter season.
Pros:
Safely stores and organizes winter gear.
Padded holders prevent scratches or damage.
Free up floor space and reduces clutter.
Cons:
Limited use for those who don't partake in winter sports.
Requires a fair amount of ceiling space.
Hanging Storage Bags
Hanging storage bags are a great option if you have many small items or soft goods to store.
These bags can be hung from the ceiling or wall brackets and are perfect for storing things like sports equipment, clothing, or kids' toys. Most have a clear panel, so you can easily see what's inside without opening them.
Pros:
Ideal for storing small items or soft goods.
Clear panels allow for easy viewing of contents.
Economical and easy to install.
Cons:
Not suitable for heavy items.
It may require multiple bags to accommodate all items.
Overhead Folding Workbench
An overhead folding workbench is a clever storage solution that doubles as a workspace.
When not in use, the workbench folds against the wall, providing more room in your garage. When you need a workspace, it simply folds down.
This is an excellent solution for garages with limited space but where a workbench is occasionally needed for projects or repairs. Most also have added features like pegboards or shelves for tool storage.
Pros:
Space-saving design is ideal for small garages.
Provides a sturdy workspace when needed.
Additional features can further enhance storage.
Cons:
It can be more complex to install.
It might not provide as much workspace as a fixed bench.
Wall-Mounted Racks for Tires
Wall-mounted racks for tires are a simple yet effective solution for storing seasonal or spare tires.
These heavy-duty racks keep tires off the floor, preventing them from taking up valuable space, but allow for easy access when changing them.
These racks are often adjustable, allowing for different tire sizes, and are typically easy to install.
Pros:
Frees up floor space and provides easy access to tires.
The heavy-duty design ensures safety and durability.
Adjustable to fit different tire sizes.
Cons:
Not suitable for garages with limited wall space.
Requires sturdy wall installation to bear weight.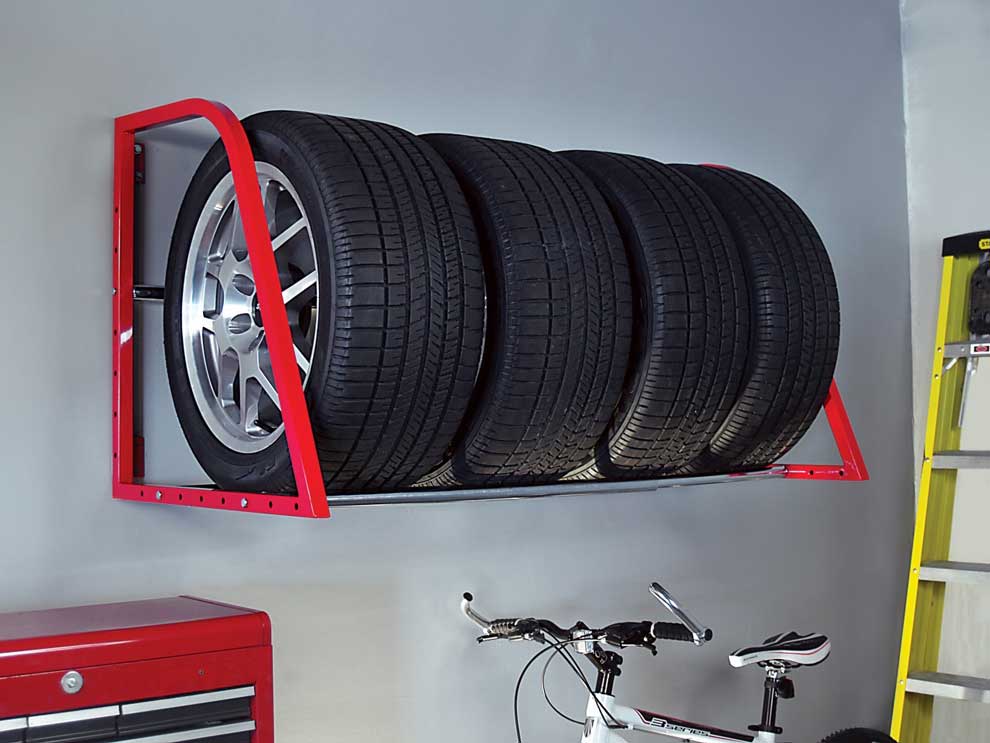 Ceiling-Mounted Fishing Rod Holders
Ceiling-mounted fishing rod holders are an ideal storage solution for the avid fisherman. By securing rods overhead, these holders protect them from damage while keeping them out of the way.
They are usually padded to prevent scratches and are designed to hold multiple rods while making your garage more organized.
Pros:
Protects fishing rods from damage.
Saves space and gives an organized look to your garage.
Usually holds multiple rods.
Cons:
Only useful for individuals with fishing gear.
It may not fit very long or unusually shaped rods.
Ceiling-Mounted Hooks
Ceiling-mounted hooks are a versatile storage solution that can hang various items, including bicycles, ladders, tools, or gardening equipment.
These hooks are typically easy to install and can be moved around to adapt to your changing storage needs. Depending on the item's size and weight, they can be used individually or in pairs.
Pros:
Versatile and adaptable to changing storage needs.
Easy to install and can be moved as needed.
It can hold a variety of items, reducing clutter.
Cons:
Not suitable for very heavy items.
Items hung may swing or move, potentially causing damage.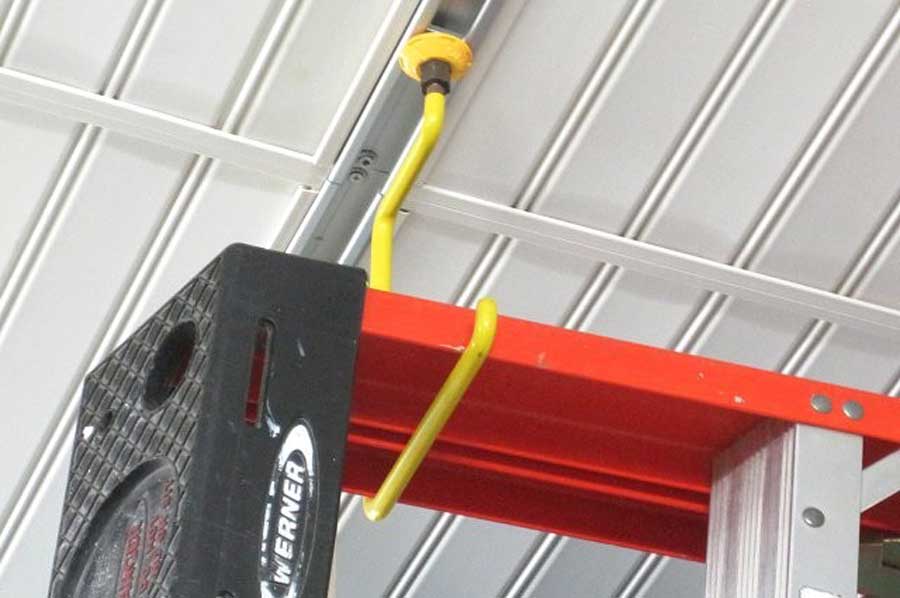 Wire Baskets
Wire baskets are a great overhead storage solution for small items that can get lost in large garages.
You can hang wire baskets from the ceiling or mount them on the wall to see what's inside at a glance. They are perfect for storing sports equipment, gardening supplies, or tools and can be used with other storage solutions.
Pros:
Ideal for storing small items.
Allows for easy viewing of contents.
It can be used with other storage solutions.
Cons:
Not suitable for large or heavy items.
It can accumulate dust if not regularly cleaned.
Ceiling-Mounted Bike Hoists
Ceiling-mounted bike hoists use a pulley system to lift and store bikes overhead, freeing up valuable floor space.
They are perfect for households with multiple bikes or for those who want to protect their bikes from potential damage on the garage floor. These hoists are easy to use and can lift heavy bikes with minimal effort.
Pros:
Saves valuable floor space and protects bikes from damage.
Can lift heavy bikes with minimal effort.
Easy to use.
Cons:
Requires sufficient ceiling height.
It can be challenging to install.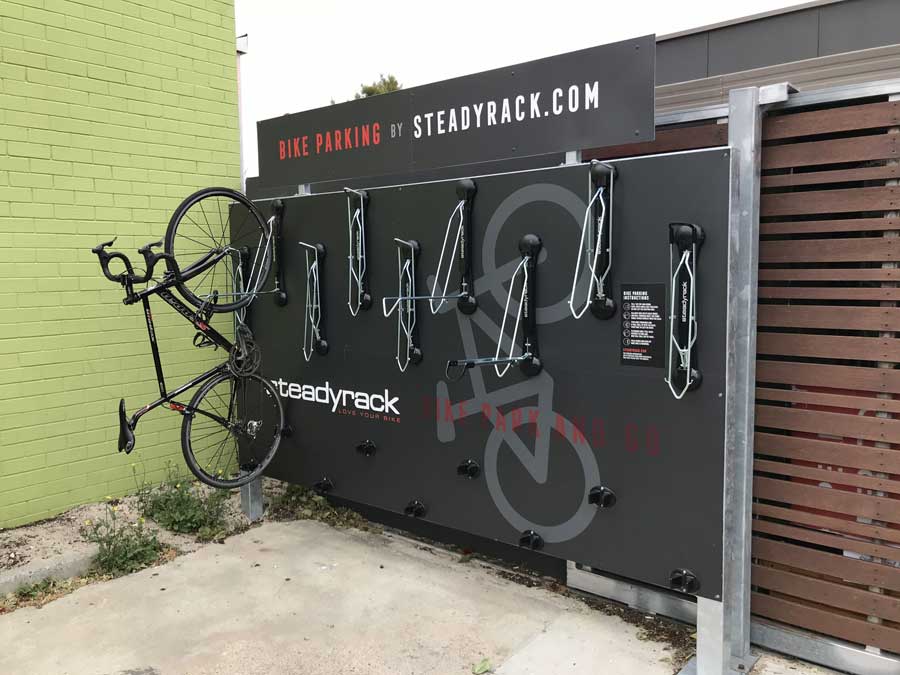 ---
Wrapping It Up
We've discussed various garage overhead storage ideas and solutions, each with unique ways to help you optimize your garage space.
From overhead storage racks, platform lifts, and tire racks to ceiling-mounted hooks and bike hoists, there are numerous possibilities to fit your garage.
We hope these ideas have ignited your imagination, showing you that even the most cluttered garage can be transformed into an organized, functional space.
Don't be afraid to experiment with different solutions until you find the perfect fit for your garage. Remember, the goal is to create an organized garage that works for you.