Most of us prefer to entertain our guests outside on those hot summer evenings, often complemented by a welcome breeze. However, if you lack the space to entertain, you might wonder if you can add a rooftop deck to your garage.
Building a rooftop deck on your garage is possible if the structure meets stringent requirements. Many garages were not designed to support the additional weight of a rooftop deck. Check with your local planning office for local requirements before you begin.
Rooftop decks have become incredibly desirable for many Americans. Building a rooftop deck will require a significant upfront financial injection.
Despite the inflated costs involved, a rooftop deck is a worthy investment. It increases your home's property value while bringing hours of entertainment for your family.
---
Should I Build A Rooftop Deck On My Garage?
If you require additional outdoor entertaining space, then a rooftop deck is an ideal investment.
Most garages with rooftop decks erected on top of them were obtained by people craving additional space. Some want to use the rooftop deck's extra backyard space to entertain their friends and family, especially on perfectly calm, warm summer evenings.
Others claim that their rooftop deck allows them to relax and have a barbecue and a glass of wine while enjoying the view above their garage. It is undisputed that rooftop decks are a fantastic addition to any home. However, the erection process is costly, complex, and time intensive.
Sitting and relaxing on your rooftop deck is appealing because the view is enhanced at height. In addition, a new addition to your house is an excellent topic of conversation among close friends and family. At the same time, rooftop decks are renowned for forcing everyone to socialize outside together.
Most garages with a rooftop deck require the homeowner to hire a specialized contractor. This can be enormously expensive for the average person. In addition, the project undoubtedly will face various complications and time constraints, which will further increase the financial burden. Despite the challenges of building a rooftop deck in your garage, the outcome remains worth it.
If the tedious construction process doesn't outweigh any benefits, then building a rooftop deck on their garage isn't the right option for you.
---
What's Needed Before Construction?
While it is legal for American homeowners to build onto their properties, the appropriate permission must be attained before construction.
Before building your rooftop deck, you must obtain legal permission from the HOA and get a permit from local building authorities.
Since this will raise the height of the house, local authorities and HOA must sign off on the plans. This ensures the structure is not dangerous, malicious, or too intrusive to your neighbors.
The minimum requirements in the International Building Code should be met before construction can start. The IBC is exclusively focused on rooftop structures and assemblies. The IBC covers construction challenges such as weather protection, drainage, insulation, and fire classification.
In addition to gaining appropriate legal permission, the garage, where the rooftop deck will be erected, must be completely flat.
If your garage roof isn't completely flat, the rooftop deck won't meet modern safety standards. This may lead to problems down the road.
If your garage roof isn't flat, it must be leveled out before construction can safely commence.
Moreover, an engineer should inspect the roof's structural integrity before the rooftop deck can be built.
While some garage roofs are strong enough to a rooftop deck, most were not built to support such a large amount of extra weight.
Additionally, areas exposed to occasional or frequent snowfall may not be appropriate for a rooftop deck. The additional weight of significant snowfalls can cause the entire roof to collapse, leading to a huge repair bill.
Before erecting your rooftop deck, the final requirement is to ensure that the wooden structure has safe and easy access points.
There is no use if the rooftop deck is structurally and legally sound but cannot be safely accessed.
---
What Materials Should I Use For My Rooftop Deck?
The materials required to erect a rooftop deck on a garage vary depending on the person, the location, or any other unforeseen obstacles.
Building industry experts agree that the basic materials necessary for building a rooftop deck on your garage are similar to those required for a basic backyard deck.
However, issues such as the deck framing and the load per square foot, become far more concerning when the structure is erected at height.
Choosing the right materials for the garage with a rooftop deck is critical as the structure is high above ground level. Because of the height and complexity, construction industry experts recommend selecting the lightest possible material. Be aware this may cost extra, but every pound of weight savings is vital.
Most of the complexity in constructing a rooftop deck on a garage relates to the deck framing process. A garage roof is not suitable for people to stand on, meaning that the rooftop deck's structural integrity must be correctly attached to a substructure known as a sleeper system.
A sleeper frame system is frequently utilized within ground floor erections. Usually, a rooftop deck sleeper system comprises two six-foot-long wooden studs, which are generally placed 17 inches apart. In addition, you should ensure that the wooden studs were put through the appropriate pressure treatments to permanently maintain their structural integrity.
Recent advancements in wood-plastic composites and extruded aluminum have drastically decreased the total weight and costs of the rooftop deck structure. Modern materials have many beneficial properties, such as rust resistance, mold resistance, pest resistance, fire resistance, and decreased weight.
Traditionally, wood was the material most frequently utilized in garages with rooftop decks. While wood was previously sufficient, modern plastic, wood, and PVC composites are the current desirable choice among people attempting to erect a rooftop deck on their garage.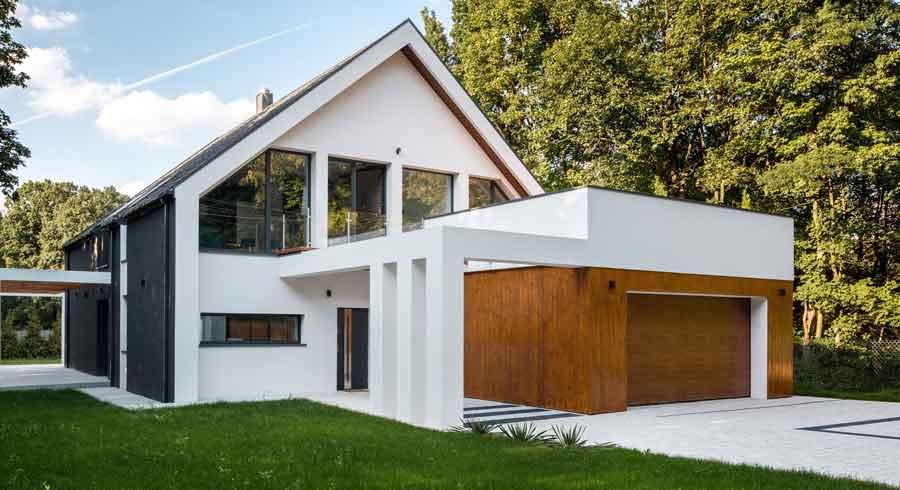 ---
Can I Build A Rooftop Deck If It Snows In Winter?
Yes, you can, although erecting such a costly and complex structure is not recommended for people living in climates frequently exposed to heavy snowfall.
While people living in freezing climates can still utilize their rooftop deck in the summer months, many days, weeks, and months of enjoyment will be lost each year.
If your budget is high enough, this won't be an issue.
However, for most people, the inability to use their rooftop deck for months at a time renders the initial investment not worth it.
Moreover, many people are unaware that snowfall build-up on the rooftop deck structure may lead to severe injuries, costs, and even death. It is known that 50 inches of tightly packed snow can weigh up to 50 pounds per square foot.
While 50 additional pounds is no cause for concern, the rooftop deck may receive 30.000 pounds of snow over a few days if the structure is larger than 450 square feet. Rooftop decks usually found on top of American homeowners' garages are designed to support a specific live load. Generally, the accepted live load limit is a minute, 40 pounds per square foot.
The weight from heavy snowfall combined with furniture or people may result in the structure failing under pressure.
If a garage with a rooftop deck fails due to too much weight pressure, the consequences could be costly, if not fatal.
As snow continues to fall over a few days and its weight increases, the rooftop deck may collapse. Building a costly and complicated rooftop deck is not worth it in snowy climates, as the probable downsides far outweigh any known benefits.
---
How Can I Access A Garage With A Rooftop Deck?
Appropriate rooftop deck access options are dependent on the layout of the house and garage that it will be erected on.
American homeowners with attached or builtin garages have a few options concerning rooftop deck access points. Many choose to install a window or sliding door directly from the living room to the rooftop deck. Most rooftop deck owners prefer this option as it allows for quick access, an easy erection, and decreased costs.
However, while this makes for easy access, it forces your guests to walk through your house before entering the deck.
Garages not directly attached to the house will increase the complexity and costs of the project.
To access a freestanding garage with a rooftop deck, erect an entire staircase from scratch. Building a staircase increases the project's costs. It will have to be placed inside the garage, along the garage's wall, or outside the garage.
Despite the swollen costs of a freestanding staircase, the rooftop deck's access point is a crucial part of the structure. It must be accounted for within the original building and cost plans.
---
Conclusion
Over the last decade, the popularity of garages with rooftop decks has exploded. Anyone can legally build a stunning rooftop deck on top of their garage. Rooftop decks increase the space of your house, especially if the backyard is a small size. People utilize rooftop decks for relaxation and entertainment, which are perfect for those warm breezy summer nights.
Regrettably, a garage with a rooftop deck requires a significant upfront financial investment. The investment is worth it for people frequently using the elevated entertainment space.