Unfortunately, Hyperikon appears to be out of business as of late 2020. Their official website is offline and there has been no activity on their company Facebook page since advertizing a clearance sale on 10/5/2020.

Use caution when purchasing Hyperikon lights. There will be no customer support from the company.

Check out some of the best LED Shop Lights instead!
Original Review As Follows
When I'm trying to decide between two products, I love seeing a head-to-head comparison between the two. I'm always trying to see how one product stacks up against the other because, in the end, I want to get the most for my money.
I'm starting to tackle upgrading the lighting in my garage, so I wanted to test out a few of the most popular LED shop lights.
In all the reviews I found online, I kept hearing one name over and over again: Hyperikon.
So I had to check them out.
Hyperikon is a US company that started back in 2010 by two brothers selling LED lights door-to-door. They joined Amazon a few years later and have been making a big splash ever since.
There are a few notable YouTube influencers that swear by their LED tube lights, so I did some research on their stuff. I have to say, they're pretty impressive.
For my needs, I wanted to look at two of their most popular LED shop lights to see which was better.
I'm going to go over each briefly, then talk about what they have in common, what some of the differences are. Finally, I'm going to put one of each up in my garage and see how they look.
Sound like a plan?
---
Hyperikon HyperFixture 4C-50S
I really liked the Hyperikon LED HyperFixture 4C-50S (sku 921141051) as soon as I pulled it out of the box.
I'm a huge fan of clean, minimalist designs that have a classic look and this light fixture absolutely nails it!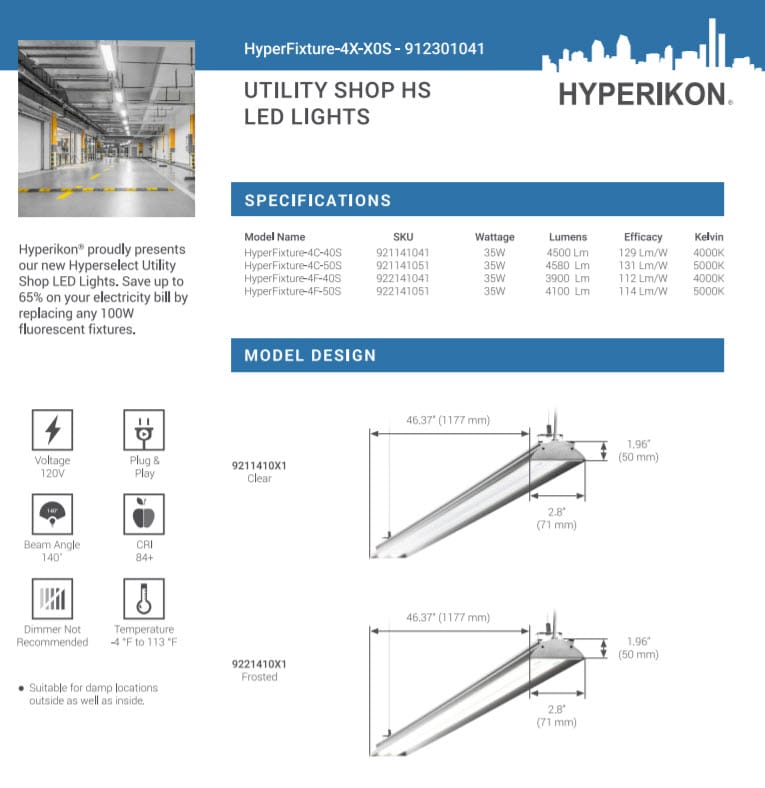 The Fixture
The housing is a slim 2.8 inches wide and a hair under 2″ high, but still manages to hold two LED strip lights that produce a whopping 4580 lumens. It's a touch shorter than a normal 4′ fixture, measuring at 46.4 inches long.
The housing is made of 18-gauge metal with a brushed satin finish. In a world full of white painted metal fixtures, this one really stands out.
I know it's just a light fixture, and nobody but me will ever notice, but it's a simple thing that makes the light look a lot more expensive than it is.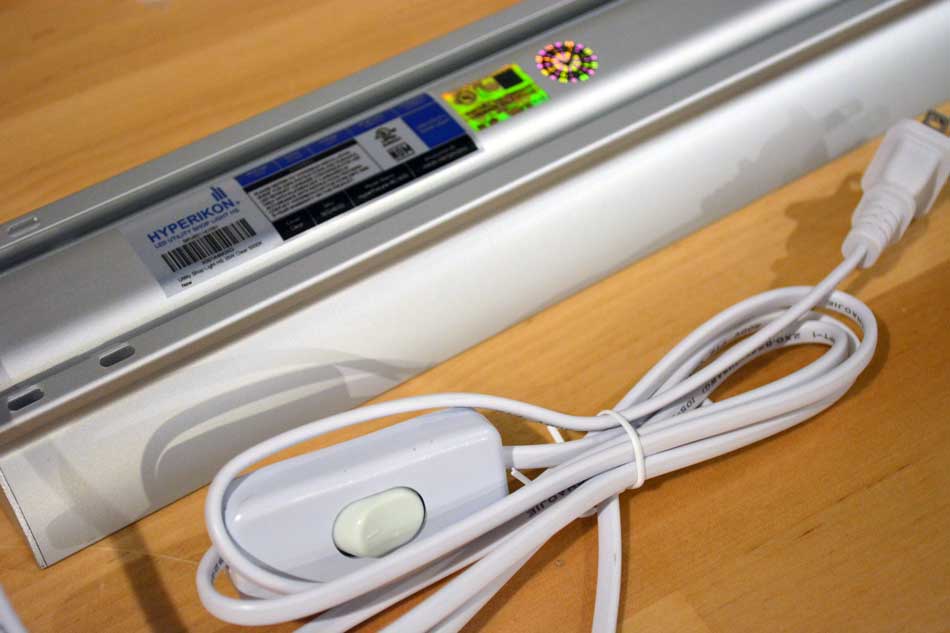 Bulb Options
There are four different versions of the same fixture:
4C-40S: Clear bulbs and a 4000 Kelvin color temperature
4C-50S: Clear bulbs and a 5000 Kelvin color temperature
4F-40S: Frosted bulbs and a 4000 Kelvin color temperature
4F-50S: Frosted bulbs and a 5000 Kelvin color temperature
I opted for the 4C-50S, so I got the full daylight, 5000 degree Kelvin color temperature light flowing through clear bulbs. For more on the best color temperature for your garage, check out my article here.
There's a short delay of about two seconds for the lights to turn on, but they don't need to warm up. As soon as they're on, they're on at full brightness.
Installation Options
The lights can be mounted either directly to the ceiling or hung from wires (both included). I chose to mount it directly to the ceiling to see just how much difference it would make versus hanging them from the steel cables.
The same brackets are used in both cases. The support cables are adjustable so you can set the height anywhere up to 46″ from the ceiling.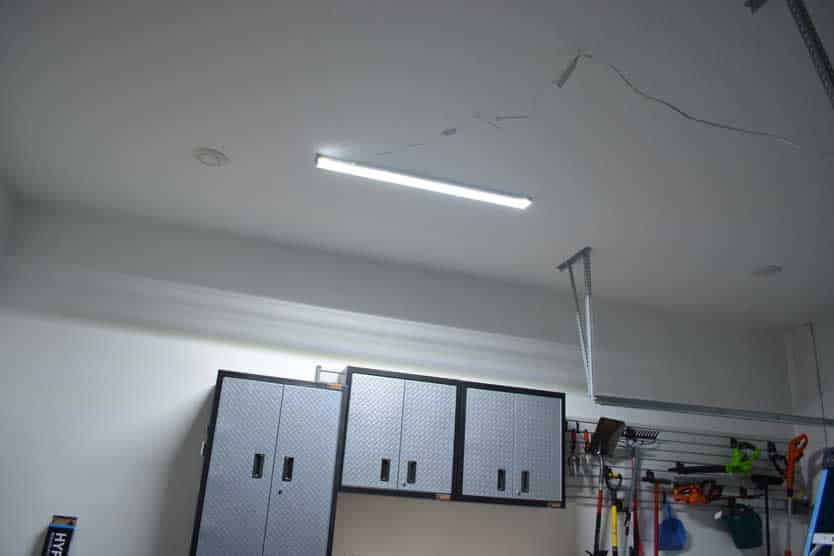 Things I'd change
There are a couple of things that I'd change if I had my way though.
First, the lights aren't linkable to each other. Each fixture has to be wired up individually. You can't hardwire them without some extensive modifications.
The cord has a power switch midway through which is a great feature if you're using this as a workbench light. If you're wiring them all to the ceiling like I am, the switch is going to be an eyesore.
---
Hyperikon HyperFixture 4F-50T2
By contrast, the Hyperikon LED HyperFixture 4F-50T2 (sku 922301051) is exactly what you'd expect from a LED shop light.
I think the best word to describe it is 'vanilla.'
Not that there's anything wrong with vanilla, mind you. Personally, I think you can tell a lot about a company by the attention to detail they put into something that's designed to be basic.
The Fixture
Let's start with the fixture itself. The housing is a heavier gauge steel, painted in a flat white finish. When I measured, it was slightly thicker than 16 gauge metal, so noticeably thicker than the other Hyperikon LED light that I tested.
It's also longer and wider than the other fixture too. The 4F-50T2 is 47.2″ long (almost an inch longer) and 5.2 inches wide (double the width) of the 4C-50S!
Bulb Options
There are only two bulb options for this fixture, and they both deal with what color temperature you want.
The HyperFixture 4F-40T2 has frosted bulbs with a 4000 Kelvin color temperature. I picked up the HyperFixture 4F-50T2 which has frosted bulbs and a 5000 K color temperature.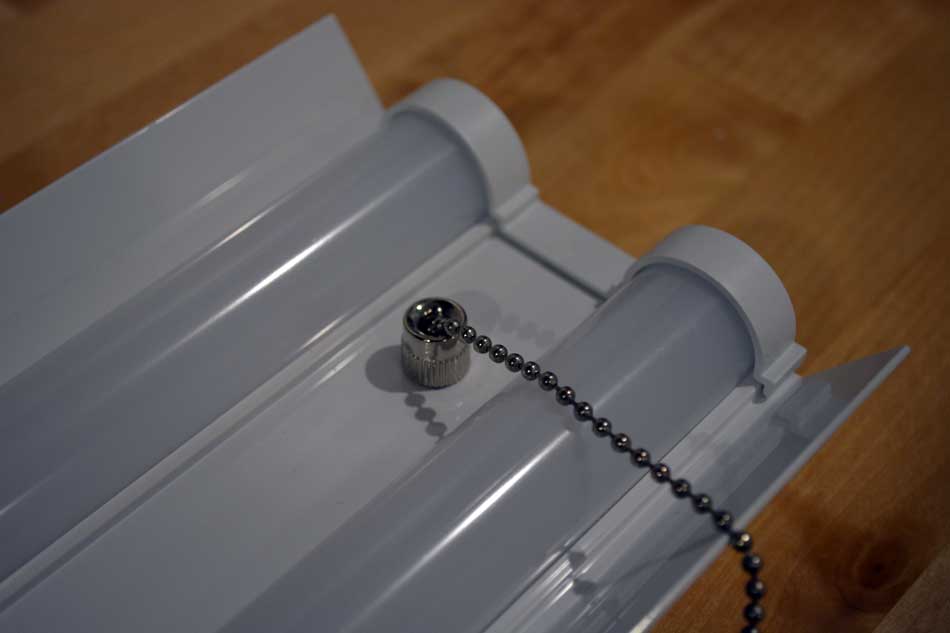 One thing I did like with this fixture is that there is almost no delay from the time that you turn them on to when the bulbs are at their full brightness.
Installation Options
As with the other Hyperikon LED fixtures, you can install these via both steel cables or directly into the ceiling. The difference with this fixture is the top of the fixtures have dual-purpose holes that can take both the wires and screws.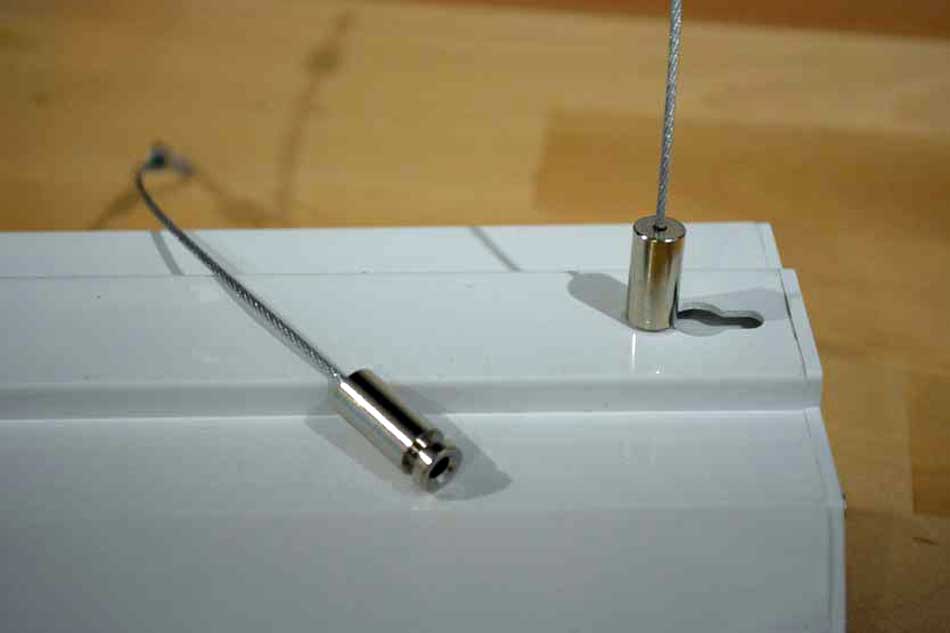 Using the steel cables was incredibly easy.
Seriously, if I'd known adding lights was this easy, I probably would have done it already.
They include a couple of hooks, screws and drywall anchors. Ideally, you'd always mount the LED fixtures into your ceiling joists, but it's nice that they include an option so you can mount the lights wherever you need them.
Things I'd Change
The Hyperikon 4F-50T2 is a really solid choice for an LED shop light, so there's really not much that I'd change.
I'd like there to be an option to hardwire the lights without resorting to splicing wires. If you're going to upgrade your garage lighting to LED fixtures, you want to have the option to wire them to existing fixtures.
It's big selling point is that it's an extremely well-made fixture that does the job with no muss and no fuss. The high-grade steel feels solid and it puts out a ton of light.
I'd say that's pretty good for a 'vanilla' light fixture, wouldn't you?
---
Hyperikon LED Fixtures: Comparing The Two
Now that we've gotten an idea of each Hyperikon LED fixture individually, lets take a look how that compare to each other.
As I mentioned before, there's a huge size difference between two fixtures themselves.
Take a look at these two pictures.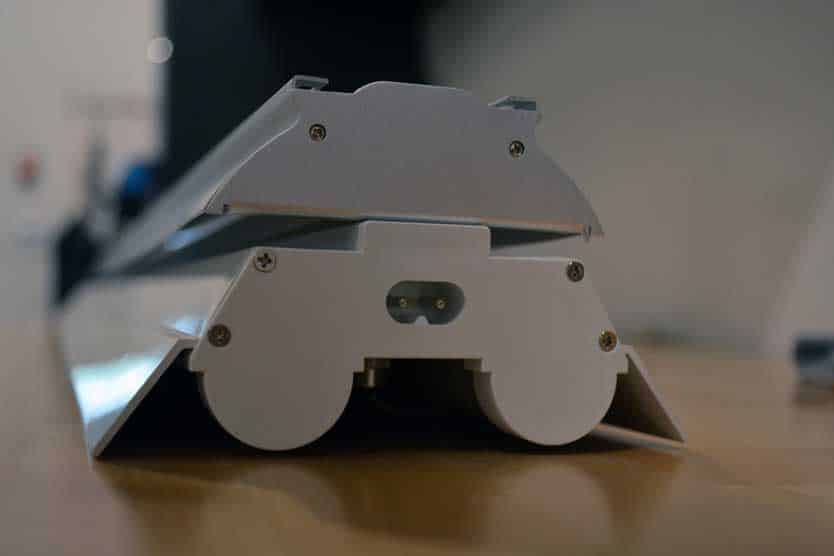 As you can see, the HyperFixture 4C-50S (top) is absolutely dwarfed by the HyperFixture 4F-50T2 (bottom).
On the flip side, the bulbs both have a color temperature of 5000 Kelvin, at least in the configurations I bought them. However, the 4F-50T2 has frosted bulbs only, whereas the 4C-50S comes with either frosted or clear bulbs.
Both produce a ton of light, with the clear bulbs being ever-so-slightly higher output.
You can see them below side-by-side, with the HyperFixture 4C-50S on the left and the HyperFixture 4F-50T2 on the right.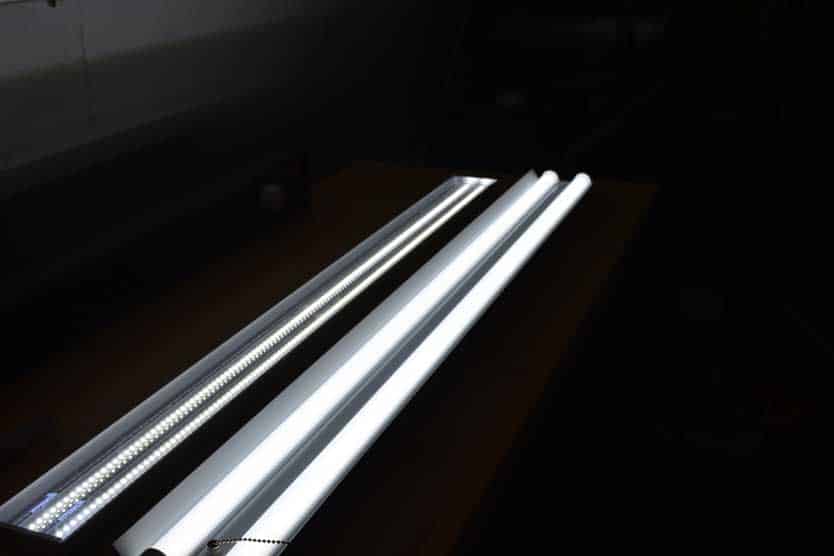 I'll admit, it's very difficult to get a good idea of how much light an LED fixture puts out based on photos alone.
What I will say is that both lights really do a great job of lighting up the room. The frosted bulbs of the 4F-50T2 cast a softer shadow than the clear bulbs of the 4C-50S.
But that's a factor of the bulbs themselves. Remember, frosted bulbs are available in both LED lights, but the clear bulbs are only available in the 4C-50S.
One major difference is that only the 4F-50T2 is able to be linked to another light. So if you're looking to string multiple light fixtures together, that may be the route you want to go.
Finally, the price tag. Both fixtures are sitting right at the $30 price point and only a few dollars separate the two. I won't often say that price shouldn't be a factor in a purchase, but that's true in this case.
---
Final thoughts
Alright, I threw a lot at you, so let me break it down for you.
Buy the HyperFixture 4F-50T2 if:
You want to link multiple light fixtures together
You don't need clear LED bulbs
You're willing to give up a little light output
Buy the HyperFixture 4C-50S if:
You want as bright a light as possible
You need clear LED bulbs
You want as low-profile and compact a light fixture as possible
Both are great options and they're absolutely the best lights I've tested so far. You can't go wrong with either of the Hyperikon LED shop lights, but for my garage, I'm going with the Hyperfixture 4C-50S.
Wondering what garage lighting to buy? I tested some of the highest rated shop lights against each other to find the best LED shop lights. Check out my super-detailed guide to garage lighting for more tips!