What has eight legs and scares the crap out of most people?
Spiders.
One of their favorite places to live is dark areas filled with lots of stuff, like your garage.
I actually don't mind spiders usually. They eat a lot of insects that would otherwise bug me (pun intended).
But here in Florida we're home to four species of widow spiders: Two different species of black widows, as well as red widows and brown widows.
After I saw the first black widow in my house, I was done. That's where I draw the line.
But even if you don't live in a state that is home to Black Widow spiders, pretty much everywhere in North America has venomous spiders that we need to watch out for.
So how do you keep spiders out of your garage without resorting to this…
There's an easier way.
Here's how you can keep spiders out of your garage:
Take away their hiding spots
Clean out their webs and nests
Eliminate their food supply
Block their way in
Use a spider repellent
I'll go into each of these steps in more detail below, but the entire process shouldn't take very long. Here are five tips to keep spiders out of your garage for good!
1. Take away their hiding spots
There's two things most garages have in common: clutter and dark corners.
In other words, a perfect home for spiders.
My garage used to be home to dozens of cardboard boxes where I was storing…well…junk.
So I threw out what I could and relocated the rest to plastic tubs that you can find at Target, Wal-Mart or your local office supply store.
One of the other nasty places that spiders and other bugs hid were inside our golf club bags (which shows you how often we used them).
If you want more info, I wrote a great article that details my process to get rid of some of the clutter in my garage in small, manageable chunks so you don't waste en entire day doing it.
2. Clean out cobwebs and nests
Once your garage is clean enough to see everything, its time to get out the vacuum. Personally, I do this at least once a year while I'm cleaning and lubricating my garage door. In between, I quickly look at the trouble areas once a week when I'm doing yard work. If I find any new cobwebs, I'll usually blow them out with a leaf blower.
Not only will you need to suck up any cobwebs that you find, but this is a good time to "clean" any live spiders that you find as well. Spiders don't have a very strong exoskeleton and can't withstand the pressure of a vacuum cleaner.
Be sure to look in the corners of the walls, underneath any furniture, behind workbenches and on the garage door hardware.
3. Eliminate their food supply
If you're focusing on how to keep spiders out of your garage, you might want to think about the other bugs first.
Spiders eat other bugs, so they're going to make their homes where they have food. Eliminate a spider's food supply and it will quickly find another home (or die).
You just cleaned out the clutter in your garage, so now you have to keep it that way. Make sure there's no food or leftovers lying around. It may seem small to you, but it's a feast to an insect.
After that, you're going to have to get aggressive with your other garage pests. That means using a fogger or bug bomb to reset your insect population. If harsh chemicals aren't your thing, there are natural alternatives, but they will usually take longer to see results.
4. Block their way in
Spiders and other insects can fit into incredibly small openings like cracks in your foundation or doors and windows that aren't properly sealed.
In my case, it was a slightly larger opening (ahem) that I had to fix.
Not only was this letting bugs and spiders in my garage, but it was sucking all of the cooler air out into the hot, Florida sun.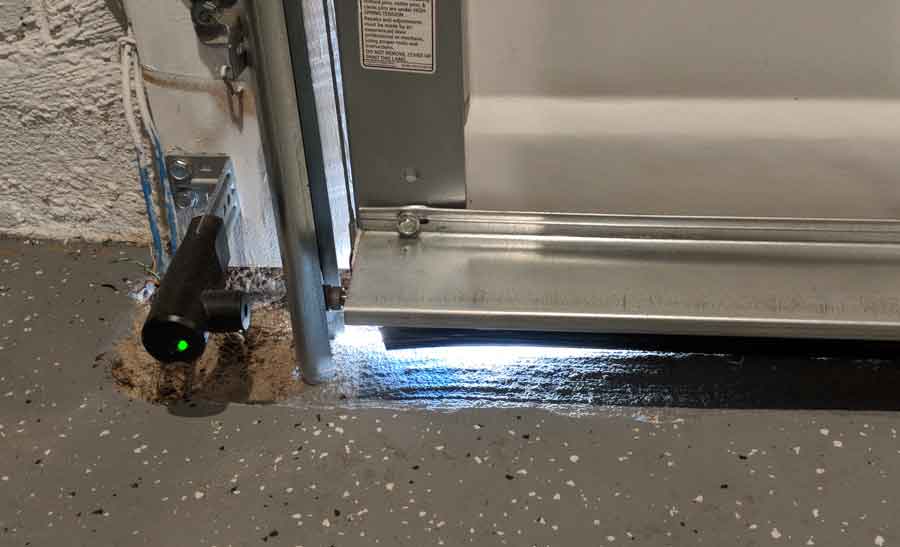 If you can, patch up any cracks in your walls and make sure there's a water tight sealant on your walls. Then use a fitted screen or other type of bug netting over any openings that you can't seal up.
5. Use a spider repellent
I mentioned using a fogger or a bug bomb to take out the spider's food supply earlier. Now it's time to deal with the little beasties themselves.
Personally, I've had great luck with both Zap-A-Roach boric acid powder and Terro Spider Killer (links to Amazon).
Boric acid is a common insecticide that kills bugs when they ingest it. It's absorbed poorly through the skin, but it can be harmful to pets (and humans) if they try to eat it.
The Terro Spider Killer is an aerosol that can be used to both directly kill spiders or spray in cracks and crevices and use it as a deterrent.
Whether you want to go with a high-powered commercial solution or take the natural route and make your own organic concoction, there are several different spider repellents to choose from.
If you want to go the natural route, grab a spray bottle with either vinegar, common dish soap or peppermint oil.
In either case, spray the mixtures around the edges of the walls, corners, and anywhere that you found spiders or other insects when you cleaned out your garage earlier.
Got a tip for getting rid of spiders in your garage? Let us know in the comments below.