Small garages or big garages…it doesn't matter. Everybody wants to know how to maximize the space in their garage.
It's been a couple of years since I bought my first house, and it feels like I've accumulated a ton of stuff.
Since starting this site, I've been looking at ways to maximize garage storage space to keep everything organized.
Here are some garage storage ideas and tips I've found along the way.
---
Maximize Your Garage Wall Space
Every garage has wall space available.
Even if you're scared of installing overhead storage, it's really easy to use your wall space to organize your garage.
Oh…more on the overhead storage a bit later.
That said, there are a few tricks to turn your garage walls into extra storage space.
Wall Storage Systems and Hooks
The first thing I did to help organize and get some extra space in my garage was to add the Gladiator GearTrack wall storage system.
You can see why I love it in my review (link above). But the short version is it's the best way I know to keep my garage organized!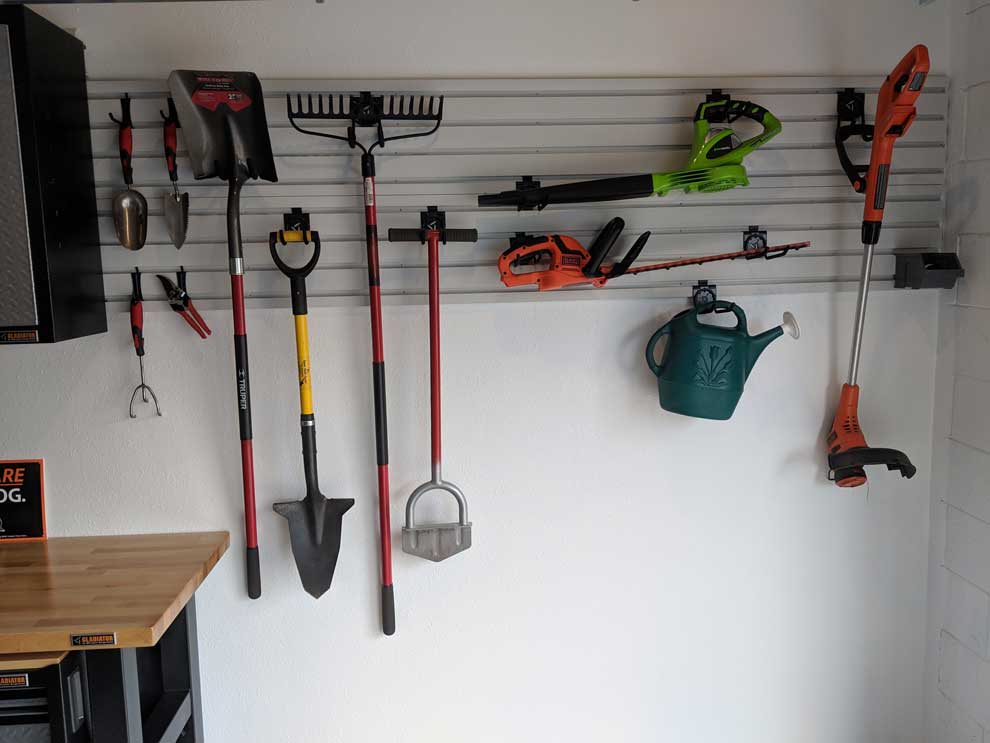 I also use the Rubbermaid FastTrack system in our laundry room because it's got a slimmer, more streamlined look.
The Gladiator garage storage system is more industrial and heavy-duty, which goes perfectly in the garage. I use it right above my lawn mower to hang my long handled tools and gardening supplies.
If you need to get organized quickly, a wall or track garage storage system is a great practical solution to keep everything neatly organized!
Most garage organization systems also have various storage options like cabinets, shelves, and baskets. They snap easily onto the system and can be customized to suit your needs. There are some hook styles common to all brands, but each system has unique accessories that no one else has.
You can find wall organizers in all shapes, sizes, and styles. All you have to do is see which wall storage system has the accessories you like best.
Purpose-built hose racks and ladder hangers are among the simplest garage storage solutions to install if you don't want to go for a complete wall storage system.
Pegboards for Tool Storage
If you love to show off your tools, pegboards are a natural fit for your garage.
Even if you don't want to display your entire tool collection, pegboard is perfect for those small items that don't have an obvious storage location.
Pegboards can be made from PVC plastic or metal and come in various colors. They're versatile enough to hang keys, nails, nuts & bolts, adhesive tape, or even paper towel holders and screwdriver holders.
Garage pegboard systems are a great way to display your tools on any unused garage wall.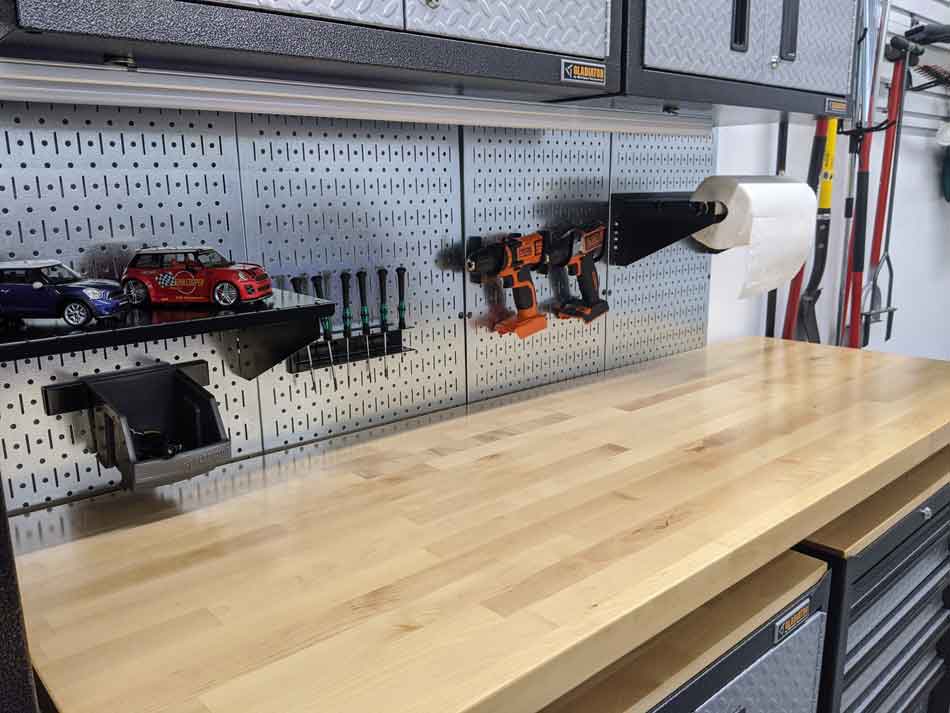 Tool Holders and Racks
If you're short on garage storage space and like the idea of a pegboard, then tool holders and racks may be the way to go. They're perfect for starter homes or apartments where you don't have a lot of tools but still need someplace to store them.
Most tool holders and racks are small, no more than 24″ in length, and can mount to the wall or attach to a tool drawer with strong magnets.
I'm not a big fan of displaying my hand tools out in the open. So I'm not a fan of either pegboard or tool racks.
But, if you have various tools you want nearby for easy access, this might be just what you're looking for.
---
Add Garage Shelving For Larger Items & Storage Bins
Garage shelving is the easiest way to make more space in your garage. Whether you're looking for freestanding, open shelving units or adding some open shelves to your walls.
Since you can mount them just about anywhere, shelves can help you store away all sorts of stuff, no matter how you use your garage.
Garage shelving is available in dozens of different styles and sizes, from small plastic shelves to large industrial-strength metal shelving units that run the length of your entire wall.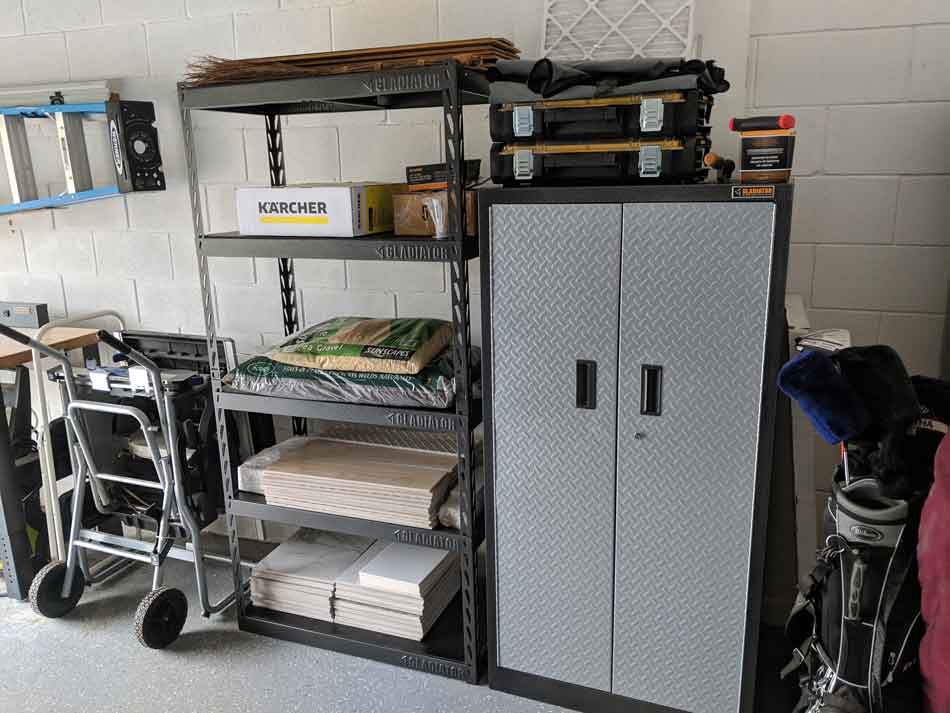 If you can't find the perfect shelves for your garage, then build them. There are plenty of cheap, DIY options as well.
You can build the ideal storage area yourself, but don't forget that bare corners also hide loads of garage storage possibilities.
Overhead Garage Ceiling Storage
To make more space in your garage, just look up.
Seriously…your garage ceiling is the easiest area to overlook when you're trying to find ways to add more storage space.
There are even hanging racks designed to mount above your garage door, so you can keep bulky items off the garage floor.
Hanging racks are a great way to utilize your overhead space to safely store seasonal clothing you're not wearing, holiday decorations, or books. Pair them with moisture-proof plastic storage containers, and you've got a great storage solution that keeps your extra stuff out of the way but still easy to access when you need it.
---
A Good Workbench is a Great Investment
A good workbench is a must if you plan to do any sort of project in your garage, but they take up a ton of space.
I've got two Gladiator workbenches – a 6′ and an 8′.
They're sturdy and well-built, but I sometimes wish I had something that could be there when I needed it but out of the way when I don't.
Folding Workbenches
Foldable workbenches are lighter and mobile and work great in small conjunction with well-organized wall storage. They are ideal for seasonal or occasional work you prefer to do yourself instead of taking your car or bike to the mechanic.
There are some good, cheap options available, but this is one project where it makes more sense to build one yourself. You can create a custom foldable workbench that exactly fits your space.
If you plan to store it after every use, ensure you have enough alternative storage space for all of your tools.
A foldable bench that hangs on the walls opens up a lot of space, but you'll still need somewhere to store your stuff.
Mobile Workbenches
Mobile workbenches are smaller workbenches on casters that you can wheel around anywhere you need.
If you're like me, and you have multiple projects running simultaneously. A portable workbench allows you to pick up from where you left off last time without packing up all your equipment at the end of each day.
Since it's on wheels, you can re-position the workbench any time and reach everything you need. I use one of my Gladiator tool drawers as a mobile workbench while working on my car or lawn mower in my garage.
Adjustable and sliding shelves
Adjustable shelves are ideal if you use your garage for seasonal jobs when you only need to store away your tools for part of the year.
Because they're so flexible, you can add them above your foldable or movable workbench to store any extra tools.
If you prefer a more minimalist approach, you can fit the walls of your workspace with sliding shelves to keep your equipment out of sight.
Out of sight…out of mind.
---
More Garage Storage Ideas
Small garages are hard to keep organized.
However, it's just as important to have a safe, clean garage. We can all relate to how quickly a well-organized garage can slip back into messy chaos.
If you're struggling with how to clean out your garage quickly, here are a couple of garage storage ideas that can help!
Stack Your Bins & Totes
This applies to both rubber trash cans and plastic storage totes.
Smelly garbage cans in your garage can be a safety hazard and even attract pests. If you're trying to free up space in your garage, disorganized bins will create the opposite effect!
Stack your bins and totes on specific shelves or overhead storage racks. A great idea is to label them so anyone can quickly tell what's stored in them.
Store away power tools
Don't get me wrong, it's great to keep a cordless drill or screwdriver at arm's length,
But unless you are constantly working on projects or fixing cars, your power tools aren't used all that often.
Power tools and chargers can take up a fair amount of space that you may not have in a small garage. I store mine in a cabinet, allowing me to forget about them until the next time I need them.
Wire and Nail\Screw Organizers
Even before I had a house with a garage, I had something to organize my nails and screws.
I'm currently using a few DeWalt small parts organizers that I keep locked away in a cabinet. If you've got a bigger collection than I have, they also make a wall-mountable rack with 64 storage bins.
I wasn't as good with loose wires and cables, however. Many times, I tripped over a power cable and almost landed flat on my face.
No matter what, it's important to think ahead and safely store items such as wires, nails, and screws.
---
Customize Your Garage Space to Fit Your Needs
While all of these suggestions fit any garage, this is your workspace, and you need to make it your own.
Here are some other useful ideas to help maximize garage storage space:
Freeing up space in your garage is easy. But a little garage organization goes a long way. Try to think about what will make your garage more functional and comfortable.
By organizing your garage space to fit how you work in it, you'll probably find that you freed up a lot of valuable floor space while keeping all the stuff you need easily accessible.