If you're planning out your dream garage, or building a new house, you might be wondering about how big a "standard" garage size is.
I've personally had to measure my own garage several times since I started my garage transformation. I figured I couldn't be the only one with bad short-term memory, so I created this 'cheat-sheet' with many of the common garage sizes.
Even if you're not doing major projects like adding drywall or new flooring, knowing roughly the dimensions and square footage of your garage can be really helpful when you're at your local home improvement store.
In this article, we're going to cover the standard garage sizes for homes in the US and Canada. We'll also cover some differences between attached and detached garages, and give you a rough estimate of how big different types of cars are.
That way you'll know just how much extra space you have available for those new cabinets you want to buy.
Ready?
Let's get started.
---
Standard Garage Sizes
I don't like burying the lead, so let's answer the question right away.
A standard one-car garage is between 12′ and 16′ wide, and between 20′ and 24′ long, for a total of between 240 sq ft and 384 sq ft, on average. A standard two car garage is between 22′ and 26′ wide, but still between 20′ and 24′ long. That gives it an average are of between 440 sq ft and 624 sq ft.
We'll get into 3-car and 4-car garages in more detail below.
To keep things simple,. the "width" of a garage is the measurement from the left to the right when you're facing the garage door. The "depth" or "length" is measure from the threshold of the garage door all the way to the back wall.
You'll notice that the standard depth doesn't change from one size of garage to the next. Standard garages are designed for cars to pull in parallel, next to each other.
Unless you have an extended garage for long vehicles, one size usually fits all, when it comes to garage depth.
In all cases, the garage door height is a standard 7 or 8 feet, and the ceilings are usually between 8′ and 10′ off your garage floor.
Why Are Garages So Much Wider Than Cars?
Before getting to the dimensions, I'll address a quick question.
Garages are a lot wider than your car is.
At the high end, you might have a 16-foot wide spot for a 5.5-foot wide car. Surely the average person isn't that bad at parking, although there are a LOT of home garage parking aids out there.
Cars have gotten larger over the years, and home builders are designing in a little extra cushion, so you can get in and out of your vehicle comfortably.
Don't forget, your doors have to open, and you need enough space to get out! The doors are around 5 or 6 feet long. The garage needs to be wide enough so you can swing open your door and get out of your car comfortably.
---
1-Car Garage Dimensions
A one-car garage is pretty straight-forward. It's usually just large enough to fit a single car, possibly with a little extra room for a tool chest or some garage shelves.
The standard width is between 12 feet and 16 feet, with a standard depth of between 20 feet and 24 feet. This leaves enough room for a garage door between 8 feet and 10 feet wide, and between 7 feet and 8 feet tall.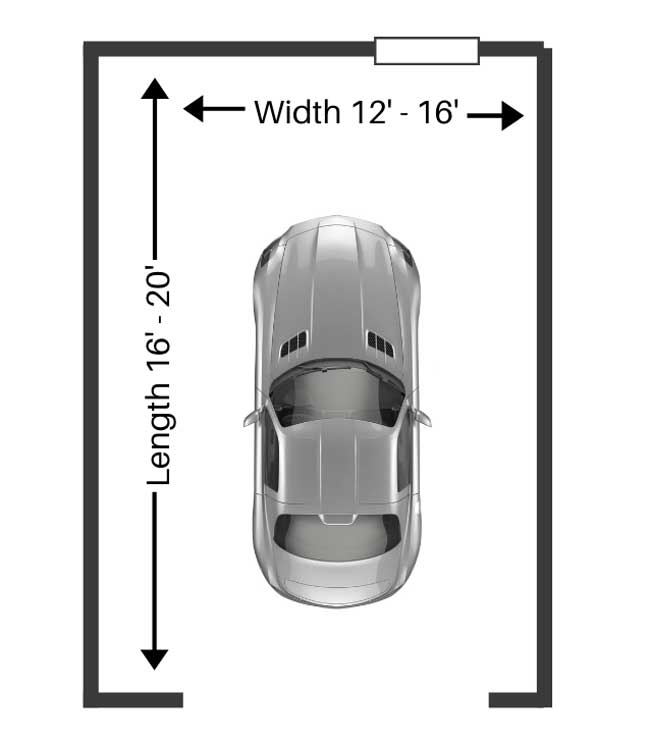 ---
2-Car Garage Dimensions
These days, most homes in the United States are being built with two-car garages. They're a little less than double the width of a single-car garage, between 22 feet and 26 feet wide. The depth stays at 20 to 24 feet.
Here, we start seeing a little more variability in the size of the garage door.
You can either have two independent, single garage doors, between 8 to 10 feet wide. Or, you can have a single, double-wide door that's 12 feet to 16 feet wide. Either option is the typical 7 to 8 feet tall.
Three and four-car garages also have this variability with their garage doors.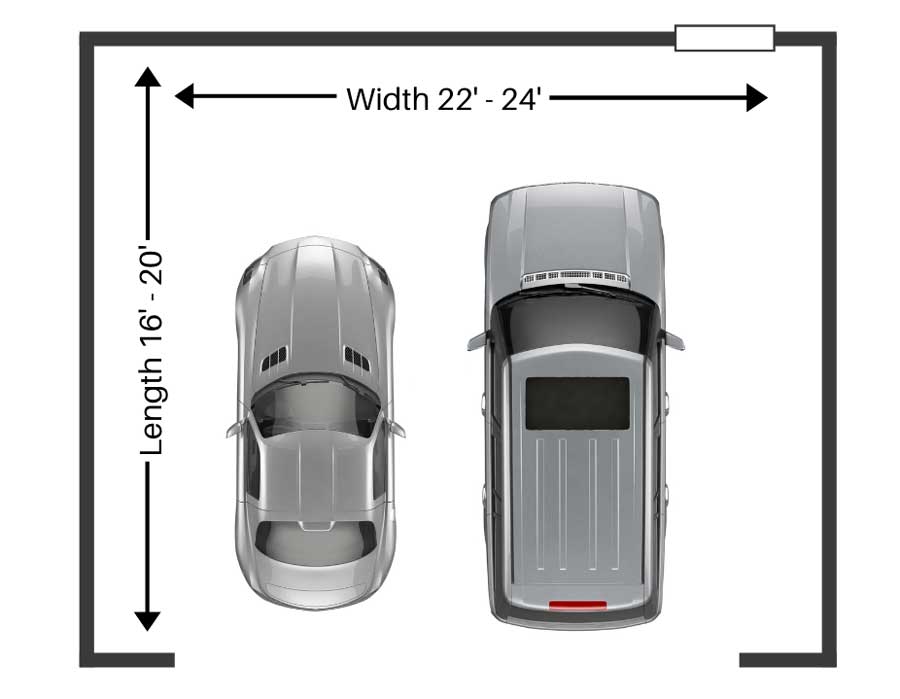 ---
3-Car Garage Dimensions
More cars mean a wider garage.
The standard three-car garage ranges between 31 feet and 34 feet wide, on average. Similar to two-car garages, the depth remains between 20 feet and 24 feet. That gives it an area of between 620 sq ft and 816 sq ft.
It can also feature a combination of single, and double-wide garage doors ranging from 8 feet to 16 feet wide.
---
4-Car Garage Dimensions
Although still rare, we're starting to see four-car garages on more new homes.
4-car garages are usually between 40 feet and 44 feet wide, but still between 20 feet and 24 feet deep. Their doors can range from 8 to 16 feet wide and come in a variety of single-wide and double-wide options. That gives it an area of between 800 sq ft and 1056 sq ft.
---
Garage Dimensions at a Glance
| | | | | |
| --- | --- | --- | --- | --- |
| SIZE | WIDTH (ft.) | DEPTH (ft.) | DOOR WIDTH (ft.) | AREA |
| 1 car garage | 12′ – 16′ | 20′ – 24′ | 8′ – 10′ | 240 – 384 sq. ft. |
| 2 car garage | 22′ – 26′ | 20′ – 24′ | 8′ – 16′ | 440 – 624 sq. ft. |
| 3 car garage | 31′ – 34′ | 20′ – 24′ | 8′ – 16′ | 620 – 816 sq. ft. |
| 4 car garage | 40′ – 44′ | 20′ – 24′ | 8′ – 16′ | 800 – 1056 sq. ft. |
---
Standard Car Sizes
It's important to understand the standard dimensions of different vehicles on the market.
This will help you know if your vehicle will fit in your garage before you write a big check to the repair shop.
Motorcycles
A lot of people don't have to worry about squeezing a motorcycle into their garage. For reference, they are around 6 feet long, 4 feet high, and 2.5 feet wide.
Cars
For compact, mid-size, and full-size cars, you can expect a certain range of dimensions. The average length is between 14 feet and 17 feet. The width ranges between 5.5 feet and 6.5 feet. The height won't be a problem, and they can stand as tall as 6 foot 2 inches.
Trucks
Trucks are obviously bigger than cars.
They can be 17 to 20 feet long, and 6 to 7 feet wide. Their height varies a bit more due to how common lift kits are, but they usually stand around 6.5 feet tall.
SUV and Minivans
SUVs and Minivans have a little more variation when it comes to their measurements. On average, their length ranges from 16 feet to 18 feet and their width is between 6 and 7 feet. Their height can be as low as 5.5 feet and as high as 7 feet.
---
Types of Garages
The best place to start is with some definitions. Let's take a look at some of the different types of garages that might interest you.
Detached Garages
As the name suggests, a detached garage is not connected to the rest of your home. Detached garages will have a garage entry door so you can go in and out without opening the main garage door.
Pros:
Isolated area to make noise without disturbing the rest of the home
Can be built after a home is constructed
Perfect option if there isn't enough space on your home for as large of a garage as you'd like
The garage can be prefabbed to save time and money on construction
Can be designed in non-standard sizes
Cons:
Walking to your car in rain/snow
Won't look the same aesthetically as your home
Attached Garages
For most people, there's the attached garage. You pull in through the garage door and have immediate access to the rest of your home through a door.
Pros:
Easy access to your car
Safer option
Matches the rest of the home aesthetically
Cons:
Might be limited to a certain size
Needs to be built at the same time the house is
Garage w/ Loft
This option can either be attached or detached, but either way it has a living area built-in above the garage. It provides a great use of space and a unique opportunity to house guests.
Pros:
Great use of vertical space
Private quarters for guests
Cons:
More expensive option
Takes more planning and professional design
Carports
Finally, there are carports. These options are just garages with no walls. You'll see structural beams and a roof at the top. This option can be attached or detached, and it can be as large as you'd like.
Pros:
Inexpensive option
Can be built relatively easily
Can be placed anywhere and be as large as you wish
Cons:
Cars are not protected from theft or vandalism
No opportunity to add additional amenities
Cars are still exposed to outside temperatures
---
Other Considerations for Garages
There are some key points to keep in mind as you're finishing the design of your garage. All of these considerations are easier to incorporate when you think about them before construction starts.
The Size
Keep in mind, your vehicle sizes might change in the future but your garage is a fixed size. A lot of people like to design some wiggle room in their garage and give themselves a chance to grow a little.
Designing a garage around a Mini Cooper makes it real tough to park a lifted pick-up truck in the future.
Our pro tip: never design your garage around your current car.
Extra Amenities
Do you want to have a living section in your garage? Maybe you want a hangout area. The different uses that you'll have for a garage should be factored in while you're designing. This means that you'll be throwing some extra amenities in your space.
Designing for an air conditioning system, cable hookups, and power for a fridge might turn your garage into the perfect spot to relax.
Putting workbenches along the wall and extra lighting will give you the ability to get your hands dirty on some projects.
Heated Flooring
If you want to keep your garage and car warm, you can treat yourself to heated flooring in the garage. This is especially useful for people who get on their backs to work on their cars from time to time. These floors have to go in before the concrete is poured for your garage.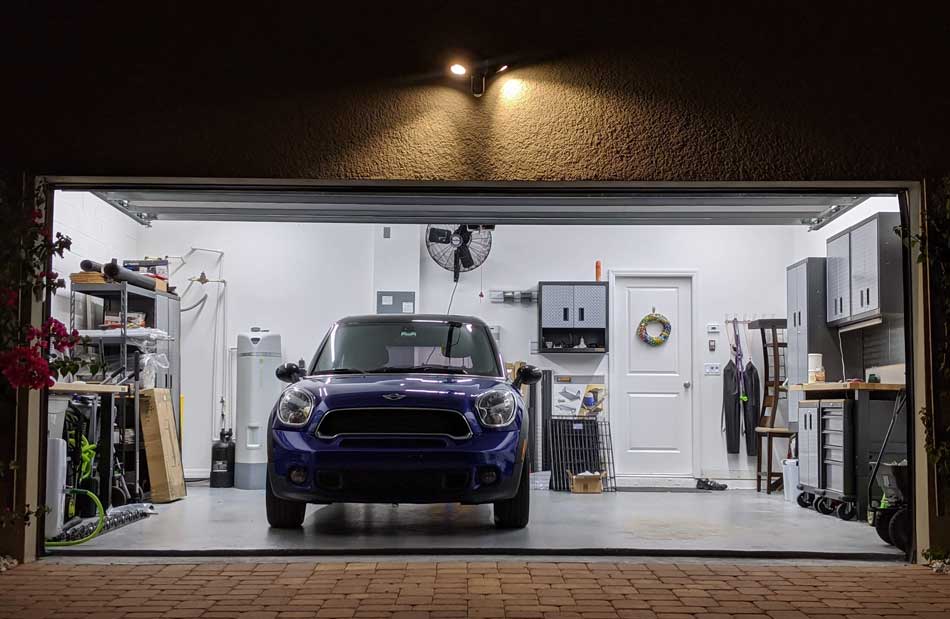 ---
The Right Size Garage Depends On How You Use It
A garage isn't just for storing a car. People across the world have unique uses for their garages. In a lot of cases, there's more room in a garage than what is required for parking cars. Let's take a look at some of the more popular uses.
Relaxation
Throw a big screen on the wall and some couches and you have a little relaxation corner. If you don't have a designated Man Cave, the garage might be the perfect space for it.
Living Space
Whether or not you have a loft in your garage, you can still put together an additional room and create some living space. Using part of a garage for living space is usually a lot cheaper than building another room in your home.
Workshop
A garage is the perfect place for a workshop for many people. Some large tables and overhead lighting along the back wall of a garage will give you more than enough space.
Work on DIY projects and have a designated space for your tools where you can get dirty.
Storage
Perhaps the most common use for a garage is storage. People pile up miscellaneous items that they gather over the years. If you have decorations or games that are only used a few times a year, it wouldn't make sense to carve out a section of your living space. That's why so many people use the garage for storage.
People with two-car garages might use half of the garage for storage and the other half for their car.
Car Repairs
Your car is already going to be parked in your garage, why not get some tools and a jack to create a space for car repairs? You can change your oil in your garage and won't have to worry about picking a nice sunny day to do the oil change outside.
Store Other Vehicles
A garage can also shelter the other toys you have. 4-wheelers, electric scooters, and motorcycles can easily call the garage their home between uses.
---
Are Garages Worth it?
This answer is going to vary based on who you ask. For a lot of people, a car is the most expensive item they own apart from their home. You want to keep it secure and away from the elements, so a garage is a perfect solution.
As you can tell by now, there are a ton of different uses for a garage. As long as you have the space for a garage, it's a no-brainer! They are definitely worth the investment since they will keep your car in good shape for longer and give you space to do whatever you want.
Families with two cars might opt for a three-car garage. The extra slot in their garage can be used for any one of the uses mentioned earlier. There's nothing forcing you to park three cars in a three-car garage!
Alternatively, you can plan for picking up more cars in the future when you build a larger garage. Families with a young child might get a three-car garage with the expectation that one day their kid will have a car of their own that they need to store.
Detached garages have a little more wiggle room when it comes to expansion, but you need to be sure of the size when you're putting together an attached garage.
---
Picking the Perfect Garage Size
This is a lot of information to sift through, but hopefully this helps you plan out your garage transformation.
Even if your home's garage is an odd size, knowing the standard garage sizes can help save time planning for your garage upgrades.
In my mind, the bigger garage you can afford, the better. Even if you don't have enough cars to fill it just yet, you'll have enough space to convert one of the bays into a workshop, or just extra storage for tools and seasonal items.
There's nothing wrong with getting a larger garage than you need. I guarantee you'll find a use for the extra space.