In this article, we'll compare two popular garage floor coatings: RockSolid vs EpoxyShield. I'm often asked what the difference is between them since Rust-Oleum makes both garage floor coatings, and they're both aimed at the average homeowner. 
We'll explore their key features, pros and cons, and costs, and even tackle the debate between installing them yourself or getting professional installation.
By the end, you'll have all the information you need to compare RockSolid and EpoxyShield to choose the best one to create the garage floor of your dreams.
So, let's roll up our sleeves and dive right into the first section, where we'll get to know RockSolid and EpoxyShield better.
Table of Contents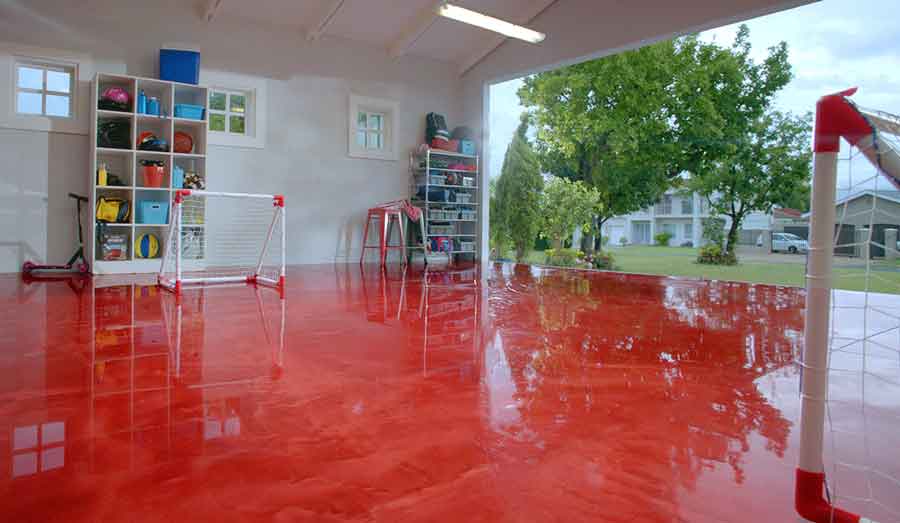 ---
RockSolid Overview
If you're looking for a durable and attractive garage floor solution, the RockSolid Garage Floor Coating Kit is an excellent choice.
Specifically designed to provide superior hardness, adhesion, and durability on properly prepared concrete floors, it's a solution that can truly stand up to the demands of a busy garage.
The real strength of RockSolid lies in its proprietary Polycuramine formula, a resin coating developed by Rust-Oleum for use in its RockSolid line of floor coating products.
Polycuramine is used in residential garage floors, basements, and other concrete surfaces that require a durable finish. Rust-Oleum claims that Polycuramine is 20 times stronger than traditional epoxy, creating an almost indestructible surface.
Unlike conventional epoxy coatings, which may become brittle and prone to cracking over time, polycuramine remains somewhat flexibile. This flexibility makes the coating resilient to temperature changes and helps prevent cracking or peeling.
When considering the environmental and health aspects, polycuramine is also noteworthy. Its low-odor and low-VOC (Volatile Organic Compounds) make it a safer choice for use in enclosed spaces than other coatings.
RockSolid features patented Easy Mix Burst Pouch Technology, ensuring that mixing the components is convenient and accurate.
With a 96% solids formulation, it offers excellent coverage and a longer pot life than other 100% solids epoxies. That gives you more time to work with the product.
It also has a 7-day recoat window, making the application process easier and helping you complete the project faster.
To top it all off, RockSolid offers a variety of color options.
It's available in standard colors like Gray, Tan, Mocha, Dark Gray, Black, or Modern Greige. There's also a RockSolid Metallic with pearlescent and iridescent accents in Silver Bullet, Copper Pot, Earth Brown, Cherry Bomb, Amaretto, Gunmetal, and Brilliant Blue.
With RockSolid, you can transform your garage floor into a showpiece that is as strong as it is beautiful.
Quick Facts: Rust-Oleum RockSolid
Let's take a closer look at the official RockSolid Technical Data Sheet (TDS). Here's what you need to know:
Durability and Resistance: RockSolid offers excellent hardness, adhesion, and durability on properly prepared concrete floors. It resists salt, oil, gasoline, and other harsh chemicals, making it a top choice for garage floors.
Low Odor and Indoor Application: Worried about unpleasant smells during application? With RockSolid, you don't have to. Its low odor allows for indoor application, meaning you can transform your garage without discomfort or disruption.
Easy Application and Self-Leveling: The Easy Mix Burst Pouch Technology makes mixing a breeze. Plus, RockSolid has self-leveling properties for a smooth and even finish.
Pot Life and Recoat Window: With it's 96% solids formulation, RockSolid gives you more time to apply the product. If you need to recoat, you have a 7-day window without sanding.
Coverage and Dry Time: Each Polycuramine pouch covers up to 200-250 square feet, depending on your concrete's condition and porosity. Foot traffic can resume in just 8-10 hours, while vehicles can be back on after 24-36 hours.
Surface Preparation: Proper preparation is critical. The TDS guides you through moisture testing, checking for sealers, and adhesion assessment. If necessary, it recommends using Rust-Oleum Concrete & Garage Recoat Primer.
Application Tips: The TDS also provides detailed instructions on mixing and applying the product. It advises the best temperature range, avoiding direct sunlight or extremely damp conditions. Also, they recommend using the supplied foam roller and a synthetic brush for trimming edges.
Coverage Rate and Limitations: Each pouch covers 200-250 square feet, though this can vary. Avoid applying in direct sunlight or if the substrate and ambient temperatures are below 40°F (4°C).
RockSolid's durability, customization options, and user-friendly application make it a strong contender for your garage floor upgrade.
---
EpoxyShield Overview
The EpoxyShield Garage Floor Coating by Rustoleum is a traditional water-based 2-part epoxy garage floor coating specially designed for concrete garage floors. At 52% solids by volume, it's a more cost-effective option than RockSolid.
It delivers good adhesion, durability, and chemical resistance when applied to a properly prepared surface.
EpoxyShield is an excellent option for your concrete floors, provided they are in sound condition and free of curing agents and sealers. Do not apply EpoxyShield to poorly adhered previous coatings or floors with moisture problems.
The end result of using EpoxyShield is a solid base color with a color-fleck finish that exudes a glossy appearance when dried. It comes in Car Kit and 2.5 Car Kit options with different color variations available, including Gray, Tan, and Dark Gray, allowing you to pick the one that best suits your taste and the overall aesthetics of your garage.
Each kit includes a two-part Burst Pouch Technology for convenient and accurate mixing, decorative chips for an enhanced appearance, a concrete etch, and an easy-to-follow instruction sheet.
Remember, surface preparation is crucial for optimal performance. So, you should conduct moisture testing, check for the presence of sealers, and address any poorly bonded paint or damaged concrete before applying the EpoxyShield coating.
The application process is straightforward: prepare the surface, mix the components, and apply the coating in 4×4 foot sections with a roller.
For an even more enhanced appearance, consider adding the provided decorative chips.
Much like RockSolid, EpoxyShield uses burst pouch technology and is applied with a roller. EpoxyShield will provide your garage with a sleek, durable, and chemically-resistant surface when applied correctly.
Quick Facts: Rust-Oleum EpoxyShield
Here are some specifics from the official EpoxyShield TDS:
For Sound Concrete Floors: EpoxyShield is designed for concrete garage floors in good condition, free of curing agents and sealers. However, it's unsuitable for floors with previous coatings or moisture problems.
Gloss Finish with Color Fleck: This coating dries to a glossy finish with a solid base color and a color fleck finish.
Surface Preparation: As with RockSolid, proper surface preparation is crucial. The TDS offers guidelines for checking for sealed concrete, poorly bonded paint, moisture in the concrete, and handling loose or damaged concrete. It emphasizes a clean, dry surface, removing sealers and loose paint, and repairing damaged areas.
Mixing and Application: The TDS outlines the mixing process for the coating's two components. It recommends using a brush or edger for cutting in the perimeter before applying the rest with a roller. You can apply Rust-Oleum Anti-Skid Additive and decorative chips for a better-looking, slip-resistant surface.
Coverage and Dry Time: Light foot traffic can resume in 12-16 hours and regular foot traffic in 24-48 hours, at 70°F and 50% relative humidity.
Painting Conditions and Limitations: The TDS gives detailed information on painting conditions and limitations. For instance, it advises not applying the product in direct sunlight or temperatures below 60°F or above 85°F.
EpoxyShield is a cost-effective, easy-to-apply solution for those looking to spruce up their garage floors without breaking the bank.
---
RockSolid vs EpoxyShield: Durability & Lifespan
This section will help you understand how RockSolid and EpoxyShield stack up in terms of durability and longevity:
RockSolid garage floor coatings are known for impressive durability. Its unique polycuramine formula results in a rugged, long-lasting floor coating. It's durable, impact-resistant, and can withstand the pressure of vehicles, tools, and heavy equipment without cracking or chipping.
Furthermore, RockSolid is built to withstand most of the harsh chemicals found in a garage like salt, oil, and gasoline. It's designed to resist hot tire pickup. If you apply and maintain it properly, RockSolid will provide a garage floor coating that can handle the daily abuse.
Now, let's discuss EpoxyShield. This water-based epoxy garage floor coating is also pretty durable. It gives you a protective layer with a glossy finish and a solid base color, adding a decorative touch to your garage.
Although it might not match RockSolid's durability, EpoxyShield still provides resistance against impacts and abrasions.
EpoxyShield also resists chemicals typically found in garages, such as oil and gasoline. It might not have the same level of chemical resistance as RockSolid, but it certainly holds its own. Like RockSolid, EpoxyShield is also designed to resist hot tire marks.
Both RockSolid and EpoxyShield can last several years when correctly applied and maintained. RockSolid, thanks to its polycuramine formulation, might have a slight edge and could be your go-to for long-term floor protection.
EpoxyShield, while durable, might have a slightly shorter lifespan than RockSolid because of its different formulations. However, it still does a commendable job.
Regular maintenance, including cleaning and promptly dealing with spills, is essential for both coatings.
They may need touch-ups or reapplication in high-traffic areas to keep looking and performing their best. But with the proper care, both can serve you well for a significant period.
---
RockSolid vs EpoxyShield: Application Process
Let's dive into how RockSolid and EpoxyShield compare when it comes to the application process:
RockSolid Garage Floor Coating Kit
Surface Preparation: The key to successfully applying RockSolid is surface preparation. This involves thoroughly scrubbing heavily soiled areas with RockSolid Heavy Duty Degreaser or Rust-Oleum Cleaner & Degreaser. RockSolid also includes a concrete etch, ensuring optimal surface condition and maximum adhesion.
Mixing and Application: The RockSolid kit comes with a polycuramine burst pouch, simplifying the mixing process. You mix it by shaking the pouch, and once blended, pour it directly onto the floor. For application, you use a RockSolid foam roller cover on a 9″ roller frame, evenly coating 4′ x 4′ sections at a time. You can sprinkle decorative paint chips onto the wet coating for extra flair.
Curing Time: The drying time for RockSolid is temperature and humidity dependent. Typically, you should be able to walk on the surface after 8-10 hours, and it should be ready for vehicle traffic in 24-36 hours, considering optimal conditions.
EpoxyShield Water-based Epoxy Garage Floor Coating
Surface Preparation: Like RockSolid, EpoxyShield also needs a well-prepared surface. The concrete must be clean, dry, and free of oil spots.
Mixing and Application: EpoxyShield is a two-component water-based epoxy coating. You'll mix Part A (Activator) and Part B (Base) as per the provided instructions. Once thoroughly mixed, pour the material into a roller tray. Using a synthetic ½" nap roller cover on a 9″ roller frame, you'll apply an even coat of EpoxyShield on the surface. You can scatter decorative chips on the wet paint and follow it up with a topcoat for added protection.
Curing Time: EpoxyShield's curing time also depends on temperature and humidity. Usually, you can allow light foot traffic after 12-16 hours. Heavy items can be moved back into your garage after 24-48 hours.
To summarize, the application process is similar for both EpoxyShield and RockSolid.
The primary differences lie in the mixing methods and potential curing times. Both RockSolid and EpoxyShield require thorough surface preparation for good adhesion.
Proper tools, such as foam roller covers and synthetic brushes, are necessary to apply both products.
---
RockSolid vs EpoxyShield: Colors & Finishes
When it comes to enhancing your garage's aesthetic appeal, RockSolid and EpoxyShield offer a range of colors and finishes.
RockSolid: RockSolid offers a diverse selection of finishes and colors, catering to various tastes and preferences. Available finishes include metallic, marble, stone, and solid colors in gloss or matte variants.
The metallic finish provides a stunning shimmering effect reflecting light, adding depth and richness to the floor.
The marble finish replicates the sophisticated look of natural stone, complete with intricate veins and swirls.
The stone finish creates a textured surface resembling granite or slate, providing a rugged yet elegant aesthetic.
The solid color finish offers a uniform and classic look, perfect for those preferring simplicity and elegance.
EpoxyShield: While EpoxyShield might not offer as many finishes as RockSolid, it's still a great way to spruce up your garage floor. It comes in Gray, Dark Gray, Tan, and Clear colors, all in glossy finishes.
The gloss finish gives a smooth and shiny surface that reflects light and gives the floor a clean, sleek look.
EpoxyShield also includes decorative chips in Blue-gray, Tan, Black-white-gray, and Brick Red colors. These can be sprinkled over the coating to add contrast and texture to the floor.
EpoxyShield has a more "standard garage" look, with fewer options, although there are additional tints that can be applied during application.
While RockSolid offers more choices and customization, EpoxyShield still offers some attractive options. Ultimately, the choice depends on what you want your garage to look like.
---
RockSolid vs EpoxyShield: Limitations
Both RockSolid and EpoxyShield are robust flooring solutions. However, they each have specific considerations and limitations relating to application conditions, coating thickness, and maintenance that users should be aware of.
RockSolid Garage Floor Coating Kit:
Temperature and Humidity: RockSolid should be applied when air and floor temperatures are within 40-90°F (4-32°C). Cold temperatures could potentially slow down the curing process.
Direct sunlight exposure is not recommended during application, as it can affect application and drying times. High humidity levels could also influence curing, leading to extended drying times.
Thickness: Following the recommended thickness guidelines in the RockSolid TDS is critical for best performance. Applying the coating either too thinly or too thickly could impact its durability and lifespan.
Maintenance: Regular maintenance is vital to maintain the longevity of the coating. This includes routine cleaning using appropriate cleaners, avoiding harsh chemicals, and refraining from abrasive cleaning products.
Take caution to prevent heavy impacts, dragging sharp objects, or using abrasive materials, which could potentially damage the coating.
EpoxyShield Water-based Epoxy Garage Floor Coating:
Temperature and Humidity: For EpoxyShield, the ideal air, material, and surface temperatures for application are between 60-85°F (15-29°C). The surface temperature should be at least 5°F (3°C) above the dew point.
As with RockSolid, extremely cold temperatures and high humidity levels can affect the curing process, possibly resulting in extended drying times.
Thickness: The coating should be applied per the recommended coverage rates detailed in the EpoxyShield TDS. Not adhering to these guidelines could affect the coating's performance and durability.
Maintenance: Regular maintenance practices are also essential to prolong EpoxyShield's longevity. Regular cleaning of the surface, avoiding abrasive cleaners or materials, and promptly addressing any spills or stains will help maintain the integrity of the coating.
General Considerations:
Thoroughly reading and following the instructions provided with each product is critical to ensure proper application and adherence to safety guidelines.
Both RockSolid and EpoxyShield should be applied to properly prepared concrete floors, devoid of any curing agents, sealers, or other coatings that may interfere with adhesion.
It's important to adhere to the recommended curing times to allow the coating to fully cure for optimal hardness and durability.
Therefore, patience during the application process can contribute significantly to the success and longevity of these garage floor coatings.
---
RockSolid vs EpoxyShield: Cost & Value
In this section, we'll evaluate the costs and value of each product. That means considering the initial price, cost per square foot, additional necessary materials, and a value-for-money assessment.
Cost Breakdown:
RockSolid Garage Floor Coating Kit: The RockSolid 317284 – 2.5 Car Kit is a powerful polycuramine formula 20 times stronger than epoxy and resistant to common garage pollutants like salt, oil, and gas.
It is perfect for high-traffic areas such as garages and workshops and provides a high-gloss finish that delivers a showroom-quality floor.
The kit covers up to 500 sq. ft. depending on surface porosity, and retails for around $370. The price per square foot (considering a $370 kit that covers 500 sq. ft.) would be approximately $0.74.
You may also need to purchase additional tools such as a 9″ roller frame, extension pole, paintbrush, and broom or scrub brush, which can vary in price.
EpoxyShield Water-based Epoxy Garage Floor Coating: According to web search results, the EpoxyShield 261845 – 2.5 Car Kit is a durable, 2-part epoxy formula ideal for interior concrete surfaces in garages, workshops, basements, and more.
It provides a professional glossy finish that is easy to clean and offers long-lasting protection that is 5X harder than 1-part epoxy floor paint.
It also covers up to 500 sq. ft. depending on surface porosity and costs between $196-$235. The price per square foot (considering a $235 kit that covers 500 sq. ft.) would be approximately $0.47.
As with RockSolid, you may need to purchase additional tools, which will add to the overall cost.
Value for Money:
RockSolid: With an MSRP difference of approximately $135-$174, RockSolid is more expensive than EpoxyShield.
However, its unique polycuramine formulation, higher solids content, and self-leveling properties result in superior durability and performance. Moreover, RockSolid kits include decorative chips that enhance the aesthetic appeal of the final result.
Given the value they add, these factors may justify the higher cost for some users.
EpoxyShield: Despite being cheaper, EpoxyShield still offers a solid solution for garage floor finishing. Its water-based formulation, ease of application, and low odor make it a cost-effective choice for those looking for a practical and efficient solution.
However, it's important to remember that while the upfront costs are lower, EpoxyShield may not provide the same level of durability or customization as RockSolid.
Assessing Value: Comparing the benefits and costs of RockSolid and EpoxyShield requires a consideration of various factors, including project requirements, desired durability, performance, aesthetics, and budget.
It's also crucial to evaluate the long-term value, factoring in the lifespan and maintenance costs of the coating, to determine if the benefits of one product outweigh the price difference.
---
RockSolid vs EpoxyShield: DIY or Professional Installation?
Both the RockSolid and EpoxyShield garage floor coatings are designed to be installed by homeowners, provided they have some DIY skills.
For those with experience with similar painting and coating projects, RockSolid's application process should be manageable.
It is, however, essential to follow the instructions detailed in the RockSolid Technical Data Sheet (TDS). This resource provides crucial step-by-step guidance and highlights any considerations or precautions to be aware of during the application.
EpoxyShield, on the other hand, is designed to be particularly user-friendly.
It's water-based formulation and straightforward application process make it a good fit for a wide range of homeowners, even those with basic DIY skills.
As with RockSolid, following the instructions in the EpoxyShield TDS is crucial to ensure a successful application and desired result.
While applying both RockSolid and EpoxyShield, there are challenges and risks that homeowners need to consider.
A vital aspect of the application of both coatings is thorough surface preparation.
This includes cleaning, etching, and potentially repairing the concrete substrate. These steps are critical to ensure the proper adhesion and longevity of the coating.
In addition, maintaining consistent application thickness and correctly mixing the components can present challenges. Take appropriate safety precautions, like wearing gloves and goggles when handling chemicals during the preparation or mixing.
Despite the user-friendly nature of RockSolid and EpoxyShield, homeowners without much experience in DIY projects or who feel uncomfortable with the risks involved may want to consider hiring professionals.
Professionals bring knowledge and specialized equipment to ensure a high quality and efficient application.
They ensure the coating is applied correctly, adhering to industry standards and maximizing the finish's longevity and durability.
---
Wrapping It Up
Choosing the right coating for your garage floor can make a big difference in the functionality and appearance of your space.
By understanding the key features, benefits, limitations, and costs of both RockSolid vs. EpoxyShield, you know enough to make an informed decision that suits your needs best.
Throughout our comparison, we've seen that both RockSolid and EpoxyShield have their strengths and attributes.
They both offer long-lasting protection and transform your garage into a beautiful, easy-to-maintain area. The choice ultimately comes down to your specific requirements, budget, and personal preference.
Who Should Choose EpoxyShield vs RockSolid
EpoxyShield might be the right choice if you're on a tighter budget, prefer a water-based solution, or are relatively new to DIY projects and need a more user-friendly application process. It's a cost-effective, reliable option that still delivers solid protection and a professional-looking finish. Just remember to follow the instructions carefully for the best result!
Who Should Choose RockSolid vs EpoxyShield
On the other hand, if you're looking for a premium product that offers exceptional durability and you don't mind investing a little more for a high-performance finish, then RockSolid may be the better choice. Its Polycuramine formula provides superior resistance to chemicals and wear. If you enjoy a hands-on project and have some experience with DIY work, you'll find RockSolid's application process manageable.
Ultimately, whether you opt for RockSolid or EpoxyShield, you're taking a significant step toward improving your garage space.
Remember, preparation is vital for either product, and if you're ever in doubt, professional installation is always an option to ensure the best possible result.
Enjoy the process, and look forward to a transformed garage that will serve you well for years to come.