If you're like me, you've probably got a stubborn stain on your concrete floor that you just can't get rid of.
I've seen several different reviews of "the best concrete cleaners", but it's pretty obvious that the writers didn't actually test them out.
So, I wanted to see for myself which ones would get rid of that stain on my garage floor.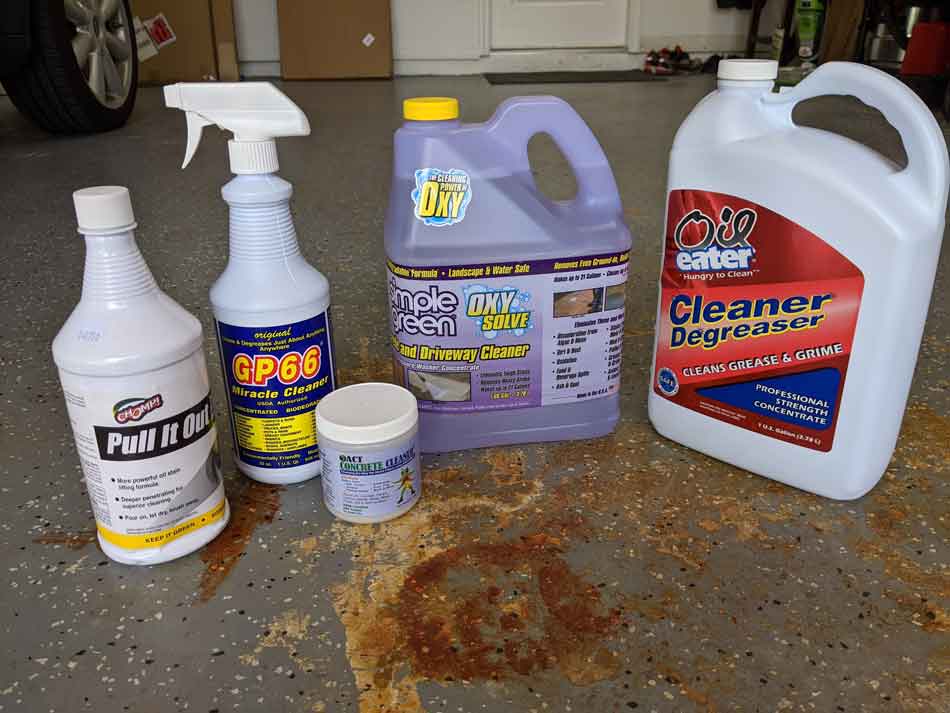 But first, a little bit about my floor and the stain itself.
My garage floor is an epoxy paint that my builder put on when the house was new about four years ago. It's an epoxy paint, not a true epoxy, so it doesn't have the same durability.
The stains are overspill from staining my wood front porch chairs on two separate occasions. The first was shortly after we moved in. The darker stains are re-staining those same chairs a few weeks ago.
So we've got a nice mix of old and new stains to clean off my concrete garage floor.
Simply cleaning my garage floor didn't help the stains at all, so I needed something stronger.
How I Tested the Best Concrete Cleaners
I'd tried to clean up the stains a few years ago with no luck. I'd basically given up and was planning on upgrading my garage floor because this looks terrible.
At this point, I don't expect any of them to work, given how long the stains have been here.
Spoiler alert…a couple of these concrete cleaners ate right through even the caked on stains. I was really impressed.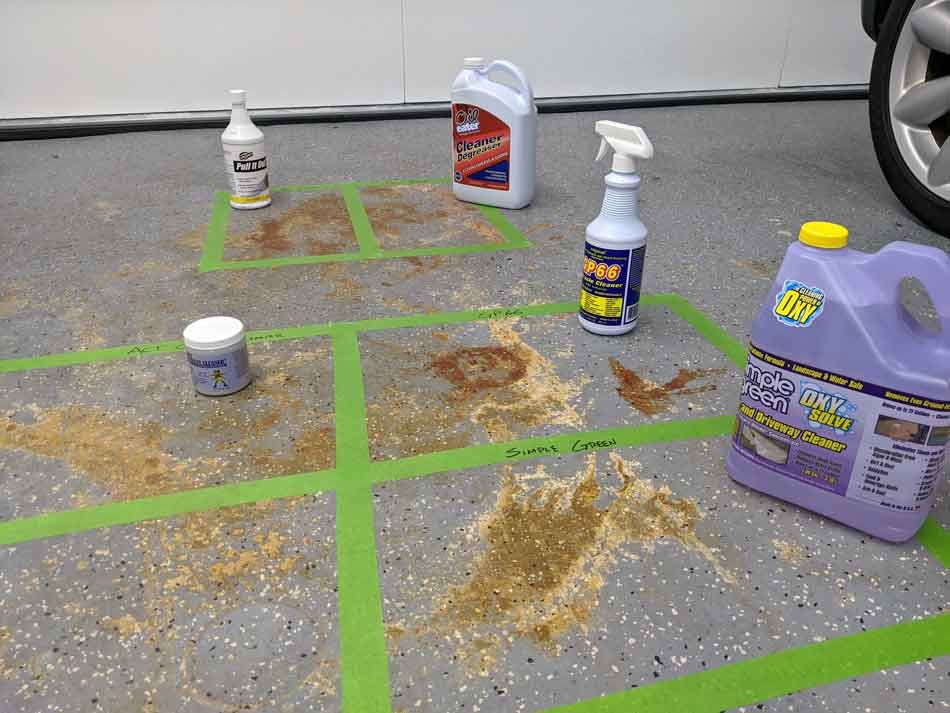 Because the stains covered a fairly big area of my garage floor, I used painters tape to section off a similar sized area to test each cleaner.
Three of the cleaners (Oil Eater, GP66 and Simple Green OxySolve) were really quick to test. After applying the liquid cleaner to the stained area, you simply wait a few minutes and scrub them off.
The other two cleaners, Pull It Out and ACT Concrete Cleaner, work differently. They need to actually dry completely and then you can spray down the (hopefully) clean section of concrete.
No matter which one you use, there's going to be some elbow grease involved. If you were hoping that you could avoid scrubbing, let me shatter that illusion right now.
I picked up the Libman Scrub Kit, which has three different sized brushes with hard plastic bristles. I like this one because it's got really comfortable handles and the three-pack was only a little over $10. You can use any scrub brush, as long as the bristles are hard enough to break apart caked on stains.
Libman Three Scrub Kit
Buy Now
We earn a commission if you click this link and make a purchase at no additional cost to you.
10/01/2022 02:39 pm GMT
---
Best Concrete Cleaners
I'll go into the specifics for each concrete cleaner, but for now, here's how each product finished:
Oil Eater Cleaner & Degreaser (winner-tie)
GP66 Miracle Cleaner (winner-tie)
Pull It Out
ACT Concrete Cleaner
Simple Green OxySolve
So lets get into the results.
Oil Eater Cleaner & Degreaser
Oil Eater performed MUCH better than I was expecting it to, especially since it's one of the least expensive cleaners on this list.
You can start to see the Oil Eater working almost immediately. After a little scrubbing, it was able to get rid of almost all of the stains.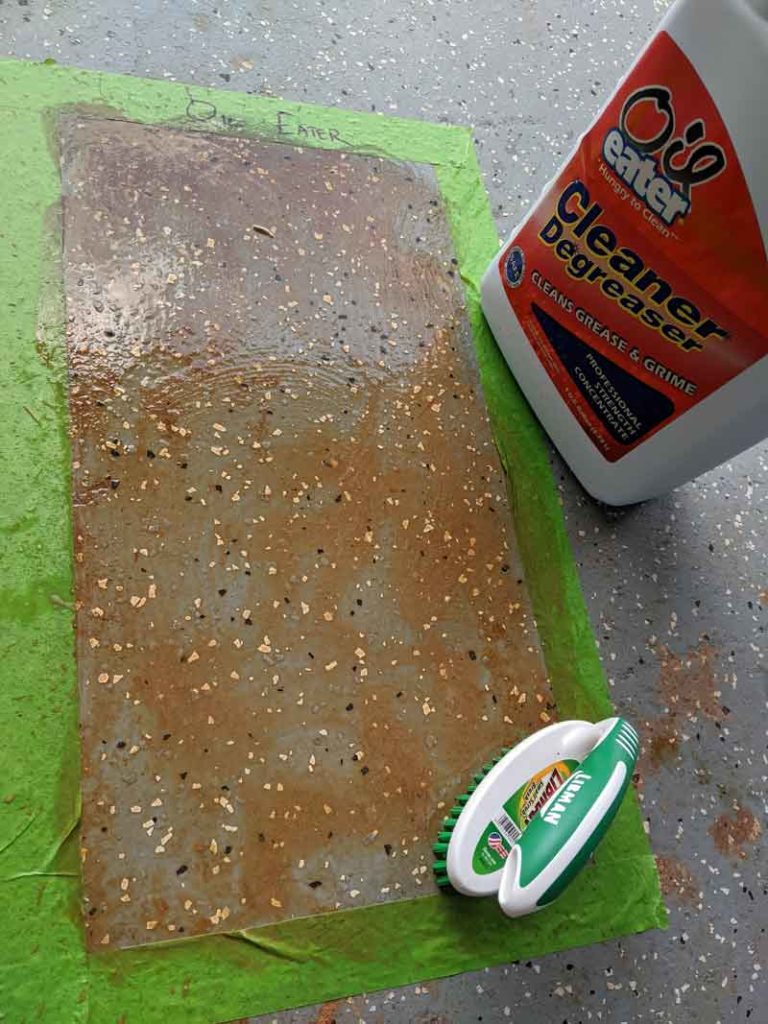 It's a little difficult to get the stains out of any imperfections in the concrete. My floor has plenty of little nicks and divots where the floor isn't smooth. You'll probably need to go over those with a smaller hard-bristle brush or toothbrush.
Other that, almost all of the other stains pulled up extremely well.
Not only did the newer stains lift up, but almost all of the older, caked on stains did as well.
The picture here doesn't show it as well as it could, but the color of the epoxy paint is much brighter than the surrounding area.
It's almost like the floor got a new lease on life!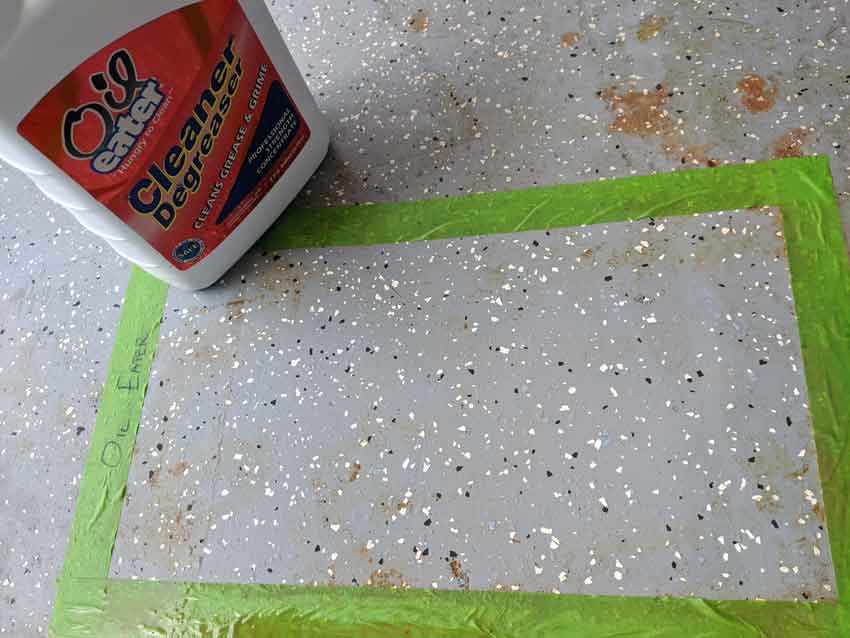 You'll probably need a second application for specific areas, but overall I'm thrilled with the results of Oil Eater. You can find it on Amazon for around $10 for a one gallon container.
Top Pick
---
GP66 Miracle Cleaner
The first thing you'll notice about the GP66 Miracle Cleaner is the smell. I have very little sense of smell, but this has a strong chemical smell as soon as you start using it. Be sure to have good ventilation when you're using this cleaner.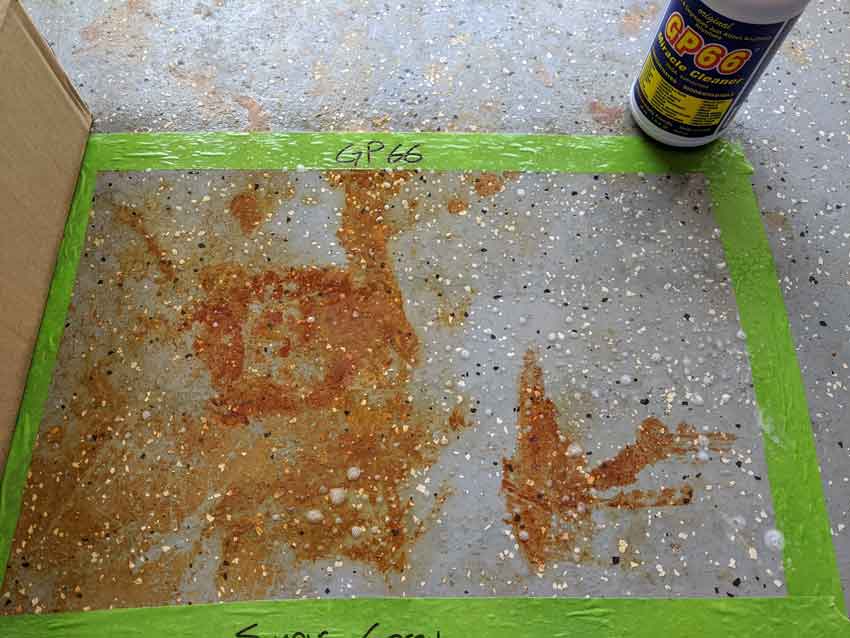 After the Oil Eater, I was a little disappointed with the cleanup of the GP66 Miracle Cleaner. I don't want to take anything away from this product, because it still FAR EXCEEDED my expectations.
The GP66 seemed to struggle a bit with the caked on, older stains, but it performed spectacularly with the newer stains.
I think if you catch the stains quickly, the GP66 is going to clean it up with no problem whatsoever. But it's going to struggle a bit with existing stains.
In a way, that makes sense if you look at how GP66 and Oil Eater are packaged. The GP66 is a spray bottle whereas the Oil Eater is a concentrated cleaner. You really should have different expectations for these two products.
A second application and some more elbow grease picked up a lot of the remainder of the stain. There's still some areas where it looked like the stain permanently discolored the concrete, but there's not much you can do about that.
Some of these stains have been on my concrete floor for several years.
GP66 comes in two sizes: a 32 oz spray bottle and a 1-gallon jug. The spray bottle runs for around $20 and the gallon jug for around $45.
Runner--Up
---
ACT Concrete Cleaner
The ACT Concrete Cleaner is both similar to Pull It Out and completely different than any other concrete cleaners on this list.
It's different because it's a powder instead of a liquid. It's marketed as an eco-friendly cleaner that uses micro-organisms to remove the stains rather than harsh chemicals or degreasers.
It works by spreading the powder evenly over the affected area and then spray it with a bottle of water so that the powder activates.
The instructions left a bit to be desired, because that's about as specific as they were.
There's no mention of how much powder to apply or how much water to spray on after. I wasn't sure if I'd over watered or under-watered it, so I just needed to wait until the process was done.
That's frustrating for most products, but considering this was the smallest and most expensive package of concrete cleaners I tested, I expected more.
It's also not very specific on how long to leave the product on the stain. Since I had to wait a few hours for the Pull It Out to dry, I gave the ACT Concrete Cleaner the same length of time. In total, it was about three hours from application to removal.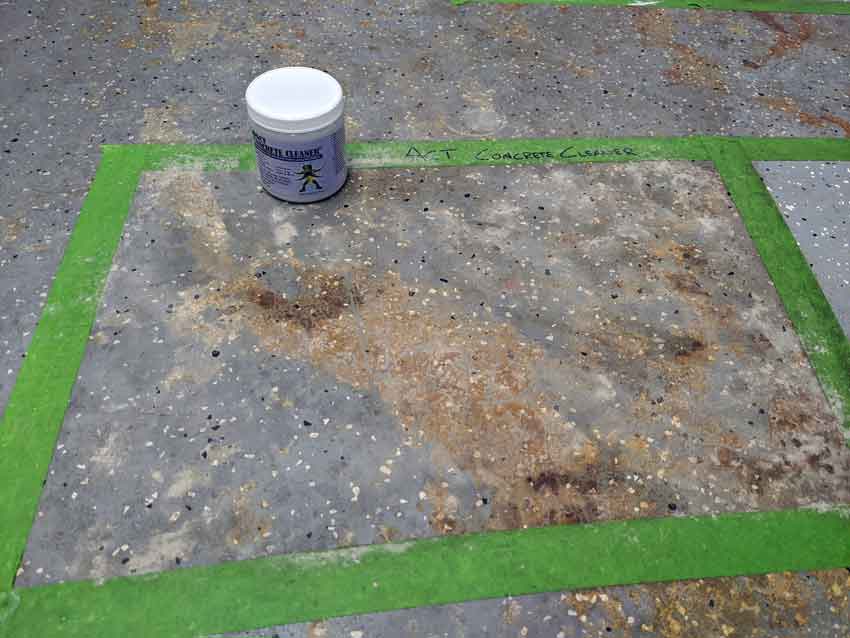 The results weren't as good as I was hoping for, given the price. The stains were definitely better than they were, but still very noticeable.
The ACT Concrete Cleaner comes in an 8 oz package for around $25 or a 2.5 lb container for around $40.
---
Pull It Out Oil\Stain Remover
The application is a bit different with Pull It Out than with some of the other concrete cleaners on this list. Instead of applying and scrubbing off, you pour it on and wait for it to do it's thing.
Pull It Out Oil\Stain Remover goes on with a color and consistency like whole milk. You're supposed to let it dry until it becomes white and flaky.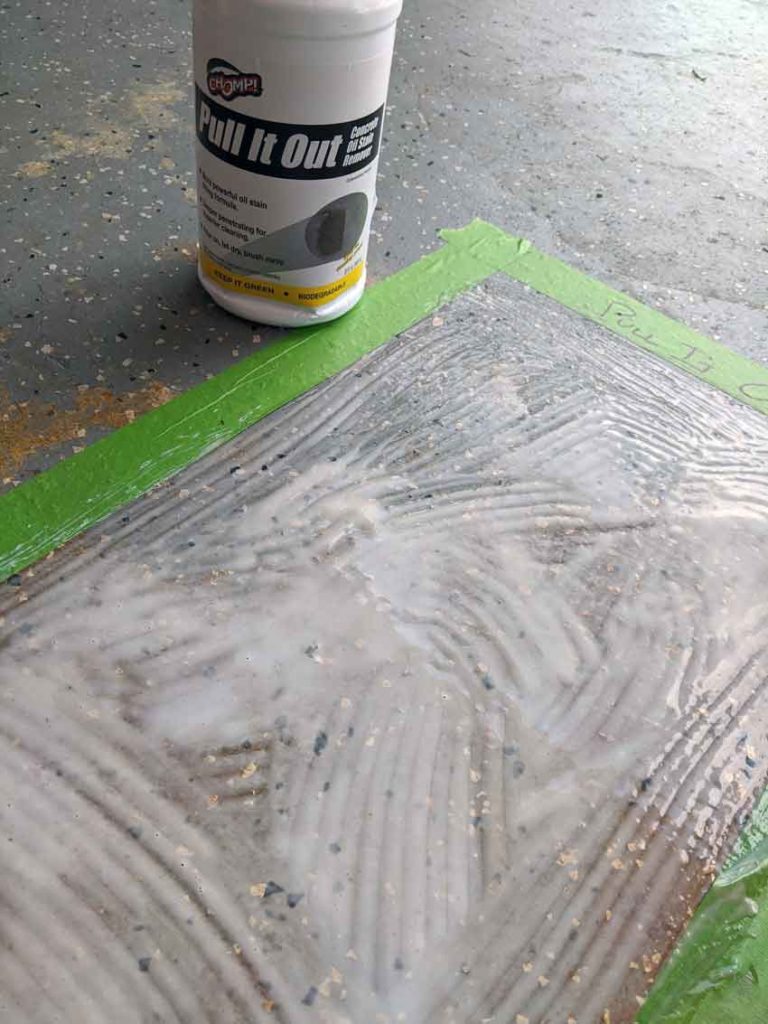 Depending on the temperature and humidity in your garage, that process could take a few hours. In my case, it was mostly dry after about two hours in 85 degree heat and my Air King garage fan circulating the air.
It's strange to watch in the drying process. You can see areas where the milky liquid is drying and thickening.
Once it's dry, it looks like you've covered the area with white paint.
Evidently what Pull It Out does is it coats your concrete floor and "pulls out" the contaminant particles and bonds with them to make them easier to clean up. It's similar to what commercial surficants do to oil spills in the ocean.
After a few hours, the liquid was completely dry and ready to come off. According to the instructions, you're supposed to agitate the hardened coating so it breaks up and takes the stain with it. So I broke out one of the Libman scrub brushes and got to work.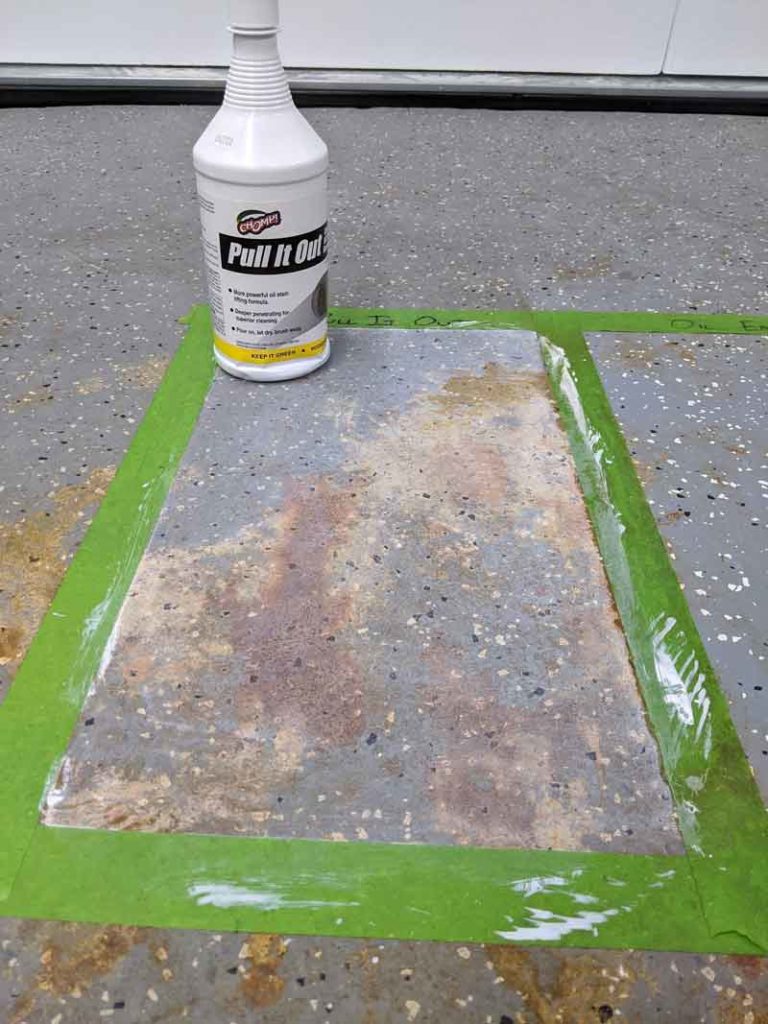 Even after waiting a few hours so I was sure it was dry, the Pull It Out cleaner wasn't nearly as effective as some of the others I tested.
The stains were definitely lighter in color, but they were still there – a sharp contrast to the Oil Eater section right next to it.
Even after spraying the residue with water, the pasty white color came back after it dried again.
Overall, I wasn't impressed with Pull It Out. It may work better on fresh oil stains than on older, caked on stains. Pull It Out comes in a 32 oz bottle for around $15 or a 1-gallon jug for around $25.
---
Simple Green
I didn't have very high expectations for Simple Green OxySolve. I tried to use the Simple Green Industrial Cleaner and Degreaser on these stains a few years ago and did not have good results.
The Simple Green OxySolve was decent at getting some of the surface dirt and stains off, but it failed miserably at getting any of the older, deeper stains off.
Don't get me wrong, I love using Simple Green as a general maintenance product. In fact, I use it in my pressure washer all the time.
However, for getting stains off your concrete floor, I can't recommend either the Industrial Cleaner & Degreaser or the OxySolve versions of Simple Green.
For general use, the Simple Green OxySolve Concrete and Driveway Cleaner runs about $20 for a 1-gallon jug.
---
Conclusion
I was pretty surprised at the results of this test. I was expecting to see fairly similar results across the board, but that's not what happened.
The product that most disappointed me was the ACT Concrete Cleaner because I was really hoping for an eco-friendly cleaner that could still get the job done. To be fair, these were tough stains that had time to set into the concrete. However, other products were able to get them out.
Speaking of those other products, we have two winners in this contest. Both the GP66 Miracle Cleaner and Oil Eater Cleaner & Degreaser did an amazing job cleaning up my concrete floor.
Here's the way that I look at the results of this test.
For cleaning up small spills and stains, I like the GP66 Miracle Cleaner because it's more convenient to use. However, for larger areas, the Oil Eater simply can't be beat.
If you liked this article, share it on Pinterest!