If you're like me, you only think about a surge protector for your garage door opener if something bad happens, like power outages or a catastrophic surge.
When my house was built, they added a single receptacle outlet, so my garage door opener is on a dedicated circuit.
Here in Florida, we get a lot of lightning strikes, so I wanted to protect my garage door opener from harmful power surges.
So, I found a few models specifically designed to work with garage door openers.
Since my roundup of the best garage surge protectors was so popular, I ran the same sort of test with a few of the most popular garage door opener surge protectors.
Here's what I found out.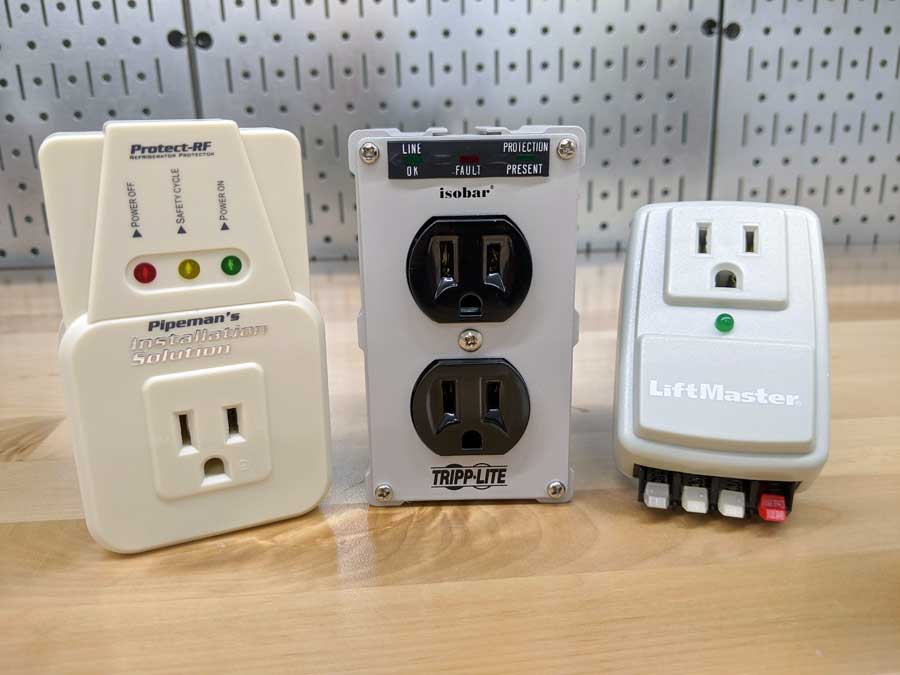 ---
Best Surge Protector for Garage Door Opener
While researching, I found three single-outlet surge protectors to test that were highly rated by Amazon customers and garage door opener installers.
Only the LiftMaster\Chamberlain unit is specifically designed for your garage door opener. However, each one of these would be something I'd consider.
Best Overall: Tripp-Lite ISOBLOK2 Surge Protector
My favorite overall, and the surge protector connected to my garage door opener right now, is the Tripp-Lite ISOBLOK2.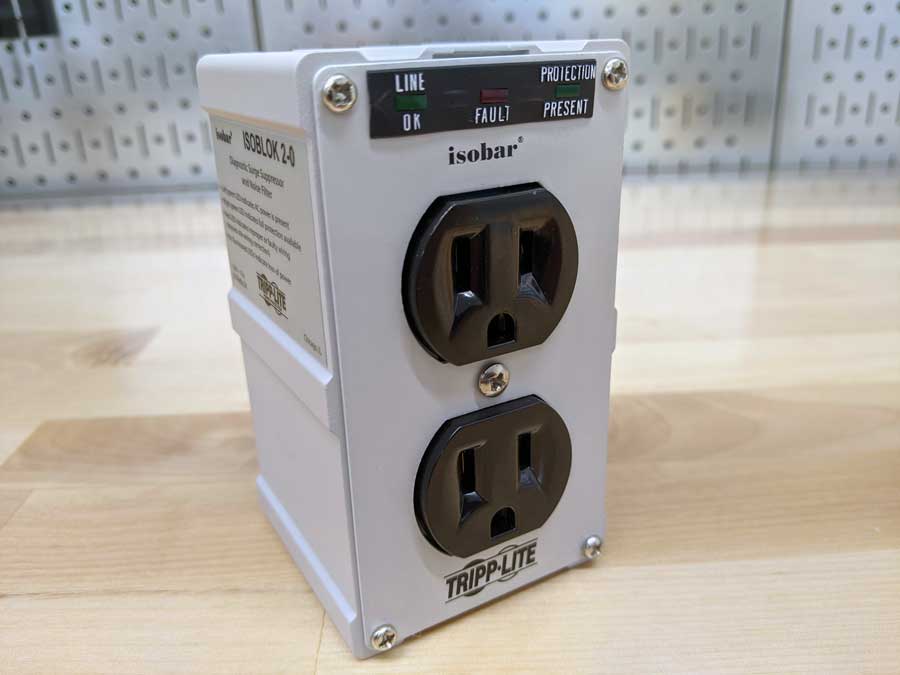 I've been a fan of Tripp-Lite surge protectors for a long time. In fact, they were one of the winners of my garage surge protector roundup. They've always had some outstanding technology in their products.
The ISOBLOK2 is made from a metal housing which makes it extremely durable. It's also the only two-receptacle surge protector on this list.
Unfortunately, it also increases the weight considerably.
In fact, Tripp-Lite includes an additional bracket to secure the surge protector to your outlet.
Tripp-Lite makes similar-looking two-receptacle surge protectors: the ISOBLOK2, which I purchased, and the ULTRABLOK. The slightly more expensive ULTRABLOK adds an integrated 15 amp circuit breaker and a black metal housing.
Both surge protectors have an incredibly high 1410 joule rating and a low 140-volt clamping voltage.
Both are easily the best by far in this comparison.
The ISOBLOK has three warning lights that quickly give you a status update. Two of these will always be lit up, assuming everything is working correctly.
These are a "Line OK" light and a "Protection Present" light. The 'Line OK' light will go out if the power is cut. When the surge protector needs to be replaced, the green "Protection Present" light will turn off, and a red "Fault" light will illuminate.
This makes it easy to see the surge protector's status, even at a distance.
The Tripp-Lite ISOBLOK2 is priced similarly to the LiftMaster 990LM, my runner-up. With its durability and performance, this one is a no-brainer.
Tripp-Lite ISOBLOK2-0 Two Outlet Surge Protector
Shield your valuable computer and audio/visual equipment from power surges with the ISOBLOK2 Surge Protector. Boasting a surge protection rating of 1410 joules, this compact device defends against even the strongest surges and spikes.
Pros:
Powerful Surge Protection: 1410 joules surge protection rating.

Helps prevent distortion, data errors, and system crashes caused by disruptive line noise.

Diagnostic LEDs instantly confirm power, protection, and ground status.
Cons:
Heavy. It may need to be secured to your outlet so it doesn't fall out.
Check Latest Price
We earn a commission if you click this link and make a purchase at no additional cost to you.
---
Runner-Up: Chamberlain CLSS1 / LiftMaster 990LM Surge Protector
The LiftMaster 990LM and Chamberlain CLSS1 are identical devices, just explicitly branded for each company.
LiftMaster and Chamberlain are owned by the same parent company and share almost everything between the two brands.
The LiftMaster 990LM is unique because it allows you to plug the wires for your garage door sensors into the surge protector to protect them.
Although I appreciate wanting to protect every part of the garage door opener's circuit, adding new wiring for all of my sensors was more effort than I wanted, so I skipped that part.
So we'll only look at the single receptacle part of this surge protector.
The LiftMaster 990LM is only rated to protect against a surge of 761 joules, which is around half of the Tripp-Lite's capacity. What's worse, they don't list their clamping voltage anywhere that I can see.
There's a single green LED to show the status.
Assuming everything is functioning normally, the green LED will be lit up. Although the light is easy to see in the dark, I found it can get lost in a well-lit garage.
The casing is made of plastic but still feels durable. I like that it's a low-profile surge protector, only about an inch higher than the outlet itself.
The LiftMaster 990LM doesn't absorb as much excess energy and isn't as durable as the Tripp-Lite. That lost some points in this comparison.
However, if you want the smallest surge protector possible or want to protect your garage door opener's sensors, this is a good option.
---
Skip this one: Nippon Protect-RF Surge Protector
The least expensive option that I found was the Nippon Protect-RF, and it's the only one that I can't recommend.
To be fair, it's a single receptacle surge protector designed for your appliances, not your garage door opener.
With only 175 joules of protection, it's not much better than the internal surge protection in your garage door opener.
It does have some decent protection against voltage fluctuations. It'll automatically shut off if it senses higher than 140 volts or lower than 90 volts, which is nice.
When you first plug in the Protect-RF, it goes through a four-minute cycle to get a baseline of your AC power. During that time, you won't be able to use it.
Of course, because I didn't read the product manual, that led to a few minutes of me wondering if I did something wrong.
Once the safety cycle is complete, the yellow "Safety Cycle" light goes out, and the green "Power On" button lights up.
The Nippon Protect-RF was the cheapest surge protector that I tested, and it showed.
It didn't offer the same level of protection as the other units. You're better off spending more and getting one of the other two surge protectors on this list.
---
Garage Door Opener Surge Protection Basics
To better understand the comparison, getting a basic understanding of surge protectors is important.
Don't worry. I'll make this as painless as possible. :)
The two most important things to look for when buying a surge protector are the joule rating and the clamping voltage.
Joule Rating
The joule rating is how much excess energy the surge protector can take without it melting. How big a joule rating you need depends on what you're plugging into it.
A floor lamp would be fine on a surge protector with 600 joules of protection, but a corded power drill would need around 1800 joules.
A garage door opener has an electric motor driving a belt or chain. Whatever surge protector you buy should fall somewhere in between 600-1800 joules of protection.
Clamping Voltage
The joule rating is what's heavily advertised on the packaging. However, the clamping voltage is just as important.
It's common for people to think the power we get from the wall is a constant voltage. But in reality, there is a certain amount of volatility in the current. Most electronics have surge protection built in to protect from these minor fluctuations.
However, larger, harmful power surges easily overwhelm this protection and can damage electronics.
Clamping voltage is how quickly the surge protector cuts power after it recognizes a surge has happened.
The clamping voltage needs to be as close to 110 volts in the U.S. and Canada or as close to 230 volts in the U.K. as possible.
The more it varies from our regular power supply, the more likely a surge will slip through and damage whatever is plugged into it.
Outlet vs. Receptacle
There's one other distinction we need to make: garage outlet vs. receptacle.
A receptacle is an individual plug that you plug something into. An outlet will usually have two receptacles in it.
Look at one of the wall outlets in the room you're in right now. You would plug your light into one receptacle and your phone charger into the other.
Both receptacles together are called the outlet.
When shopping for a surge protector for your garage door opener, you're looking for a single-receptacle surge protector.
Can You Plug a Garage Door Opener Into a Surge Protector?
Most garage door openers have at least some level of built-in surge protection. That leads to the obvious question of whether you can (or should) plug a garage door opener into a surge protector.
The short answer is that the built-in surge protection is minimal. The electronics inside most garage door openers are only rated to handle the typical daily fluctuations. Any more damaging surges would be too much for it to take, causing damage to the circuit boards.
LiftMaster\Chamberlain makes a surge protector specifically for garage door openers. Several companies make single-receptacle surge protectors.
---
Wrapping It Up
Most single receptacle surge protectors will work great for your garage door opener. At a price between $15 and $35, they're an inexpensive way to keep it protected.
If you liked this article, check out my roundup article, where I compare five popular garage surge protectors to find the best one.