Surge protectors are all the same, right? Why do you need a special one for your garage?
I mean…you could use the same kind that you plug your computer into right?
But think of how you use your garage. You park your car in there after it rains or snows. Leaves and dust blow in from the outside. You might cut wood with your table saw, blowing sawdust everywhere.
Your garage is a hostile environment for electronics.
So when I needed to replace my surge protector, I thought it would be a great opportunity to run some head-to-head tests and see what the best garage surge protector was so I could share it with you.
First I'm going to go over some basics about surge protectors and what to look for when buying one. After that, I've listed my thoughts on each of the contenders and their important specs.
Finally, I've listed my recommendation at the very end of the article, so if you want to skip straight to the end I won't blame you.
Let's get started.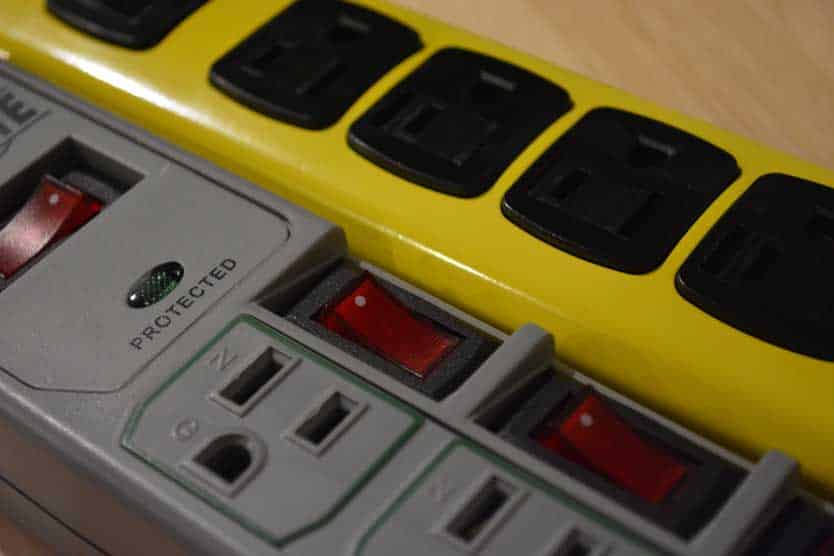 ---
Surge Protector vs. Power Strip
First, let's get some terminology out of the way.
We may use the terms 'power strip' and 'surge protector' interchangeably, but there's actually a difference between the two. That difference can mean a lot when it comes to what you're plugging into them.
A power strip (like the one on the left) is simply additional outlets that are usually attached to a switch where you can turn all of the outlets on or off at once.
A surge protector (like the one on the right), as its name suggests, adds a circuit to help protect against electrical surges. In theory, any surge will trip the circuit and blow out your surge protector instead of whatever is plugged into it.
Each has their uses, so it's not necessary to ONLY buy surge protectors, although many people choose to.
As I said, it all depends on what you're plugging into them.
---
7 Things to Consider When Buying A Garage Surge Protector
1. Surge Rating (Joules)
Every surge protector will list how big a surge it can withstand. This is always written in joules (1080 joules, 2800 joules, etc.). The bigger the number, the bigger a surge it can withstand.
Sensitive electronics like TV's or stereos should be connected to surge protectors with much higher joule ratings than inexpensive components like lamps.
2. Load Rating (Watts & Amps)
The second big thing to look for is the load rating of the surge protector. This is listed in total wattage and total amperage.
We'll get into more detail down below in the section on safety. For now, make sure that your garage surge protector can handle all of the devices that you're going to plug into it.
3. UL or ETL Certification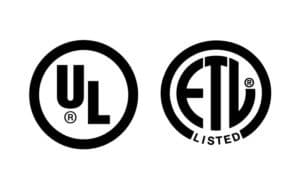 Look for either the Underwriters Laboratories (UL) or Electrical Testing Laboratory (ETL) logos on any surge protector you buy.
Both are independent labs that make sure the product meets minimum safety standards (link to pdf whitepaper). Make sure your garage surge protector passed one of these standards.
4. Outlet Spacing
There's nothing more frustrating than trying to plug something in to your surge protector and the plug won't fit. Many devices have extra-large power bricks or AC adapters that get in the way of the outlets next to them.
Try to think of what you're plugging in to the surge protector before you buy the wrong style.
5. Cord Length
Here's another logistics piece that we don't often think about. Most garages have only one or two outlets in them, and they're usually not in the most convenient places.
For safety reasons. manufacturers do not recommend plugging a surge protector into an extension cord. Make sure you buy a surge protector that has a long enough cord to get to where you need it.
6. Does It Have Insurance?
Many surge protectors have an insurance policy in case a surge somehow gets through and damages your stuff.
It's more common to find in surge protectors designed for your electronics or computer gear than with heavy-duty garage surge protectors. Still, it could be the tie-breaker if you're trying to decide between two similar products.
7. Surge Protectors Don't Last Forever
While there's no hard-and-fast rule to say how long a surge protector is supposed to last, most experts agree that the average lifespan is around two to three years. That could be much less if you live somewhere that gets a lot of lightning.
A surge protector works by diverting the excess electricity (the surge) to try to eliminate the excess current and divert the rest to the ground wire. (source)
The trouble is that those components degrade over time, lessening your surge protection with each use until they finally (and catastrophically) fail.
---
The Best Garage & Workshop Surge Protectors
If there's no clear-cut "best product" for whatever I'm shopping for, I like to buy a couple of the top contenders and have my own head-to-head comparison.
That's what I've done here.
I looked at all of the heavy-duty surge protectors that I could find on Amazon, picked what I considered the top four candidates and then bought them all so I could see what the best garage surge protector was.
Here's are the four finalists, along with some important specs and images. At the end, I've listed my favorite as well as a back up choice.
---
Best Overall Surge Protector: Yellow Jacket 5138
I won't bury the lead on this one. The Yellow Jacket 5138 is easily my favorite garage surge protector for the price.
It's a heavy duty steel casing with a plastic backing panel that really feels like it could take a beating in a garage and not miss a beat.
The six outlets all have dust\and debris shields that you can easily close with your fingertips when the outlet isn't in use. The outlets are set at 90-degree angles to the surge protector and arranged in a 4+2 pattern with two outlets near the bottom for your larger AC adapters.
There's a green "Protected" light showing that the surge suppression is working correctly and a lighted power switch that has a good, solid feel when you flip it off and on.
The cable is an extra long 15 feet long
| | |
| --- | --- |
| Joule Rating | 1440 Joules |
| Maximum Line Current | 15 Amp/1800 Watts |
| # of Outlets | 6 (4 + 2) |
| Cord Length | 15′ |
| Weight | 2 lbs, 4 oz |
| Material | Steel\Plastic |
| Certification | UL |
| Insurance | No |
I really can't say enough good things about the Yellow Jacket 5138. It's solid enough so I never worry about accidentally hitting it or dropping something heavy on it accidentally. It's got a high enough joule rating so it can take most surges that come its way.
It's a great surge protector at a good price, so this is easily my favorite general use garage surge protector.
---
Best Value Surge Protector: BESTTEN Workshop Surge Protector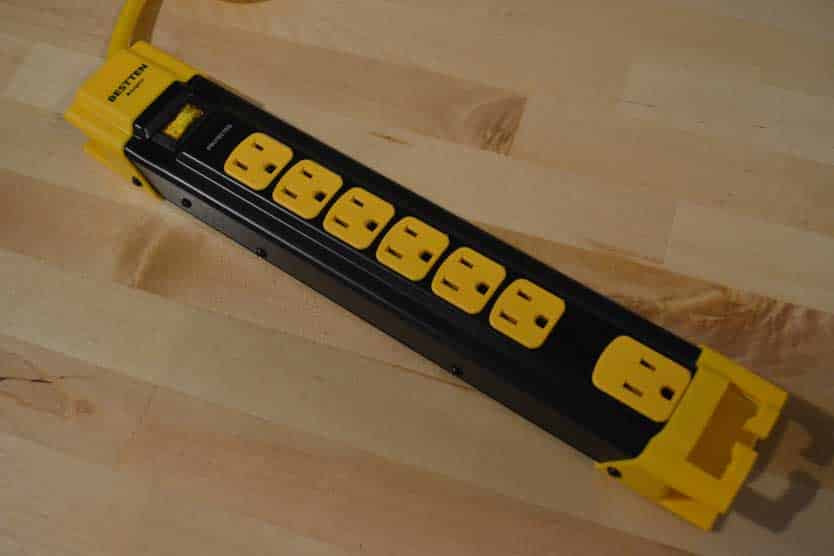 Pound for pound, the Yellow Jacket 5138 is better than the BESTTEN Workshop Surge Protector.
The BESTTEN only protects up to 600 joules. It's got a metal case with plastic caps, but it's obviously a lower gauge metal than the Yellow Jacket. The cord is shorter too (9 ft compared to 15 ft).
So why is it on this list?
What I like about the BESTTEN is that it feels like it's designed to be portable. It's only 1 lb, 11 ounces so it's less than half the weight of the Yellow Jacket.
The plastic caps are notched so you can wrap the 9′ cord around the entire length of the unit. The only drawback is that the plug itself doesn't have a clip on the back so it can easily snap on to the cord. That seems to be an obvious miss in their design.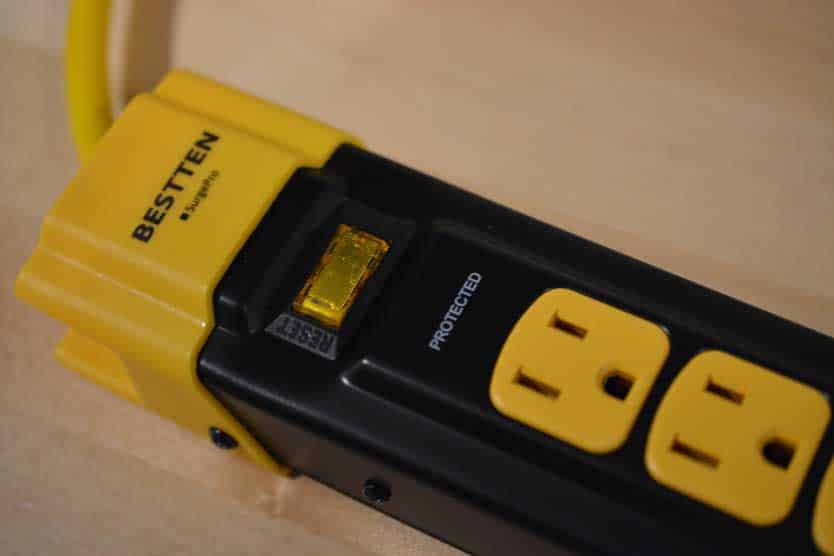 The seven outlets are laid out in a six-plus-one design that allows for large power adapters to use the last outlet and not interfere with any of the other plugs. The plugs do not have any sort of dust or moisture shields however.
The metal housing wraps around three of the four sides, with the back side still being plastic. There are four small screw mounting holes on the back as well.
| | |
| --- | --- |
| Joule Rating | 600 Joules |
| Maximum Line Current | 15 Amp/ 1875 Watts |
| # of Outlets | 7 (6 + 1) |
| Cord Length | 9′ |
| Weight | 1 lb, 11 oz |
| Material | Metal\Plastic |
| Certification | ETL |
| Insurance | No |
Overall, the BESTTEN Workshop Surge Protector is decent enough quality, but it pales in comparison to the similarly priced Yellow Jacket. The BESTTEN is a good option if you want to spend as little as possible, or you need something that is designed for portability.
Otherwise, go with the Yellow Jacket 5138.
---
Best Upgrade Surge Protector: Tripp-Lite TLP76MSG
The Tripp-Lite TLP76MSG isn't really designed for garages, but it's got some really cool features which earn it a spot on this list.
Let's talk about the switches first. There are a total of seven (7!!!!) of them on this thing. There's one master switch at the top, right above the surge protection warning light. That's nothing unusual.
As part of the Eco-Surge lineup of surge protectors, six of the seven outlets are ALSO individually switched! Tripp-Lite estimates this would save approximately $75 in energy costs over the three year lifespan of this surge protector.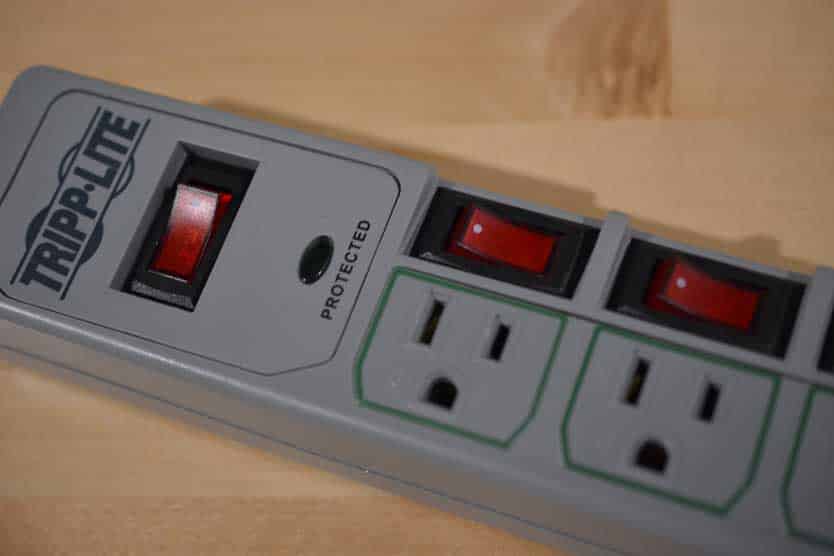 That's a really cool feature so you you don't have "energy vampires" increasing your electric bill unnecessarily.
| | |
| --- | --- |
| Joule Rating | 1080 Joules |
| Maximum Line Current | 15 Amp/1800 Watts |
| # of Outlets | 6 (5 + 1) |
| Cord Length | 6′ |
| Weight | 1 lb, 9 oz |
| Material | Plastic |
| Certification | UL |
| Insurance | $25,000 |
My one and only complaint with this surge protector is that it's only a plastic casing instead of a metal one. Otherwise, I am a huge fan of Tripp-Lite's products.
In my experience, they've always had really high build quality and were worth every penny.
Tripp Lite 7 Outlet (6 Individually Controlled) Surge Protector
6 Outlets With Individual On/Off Switches to Cut Power to Devices Not Being Used.
1 Additional Outlet That Stays Powered On For All Essential Devices
High Joule-Rating Conforms to UL 1449 Safety Standards
6 foot AC Power Cord with NEMA 5 15P Plug
Keyhole Slots on Bottom Panel Provides Convenient Wall or Desk Mounting Option
Buy on Amazon
We earn a commission if you click this link and make a purchase at no additional cost to you.
05/20/2022 06:27 am GMT
---
Best Heavy-Duty Surge Protector: CRST LTS-10TS
The biggest garage surge protector on this list is the CRST LTS-10TS. Weighing in at three-and-a-half pounds, this thing is a beast.
The casing is completely made of metal except for the black plastic caps. Like the BESTTEN surge protector, the caps serve as a built-in way to wrap the cord without it getting in the way.
The ten outlets are arranged in a 90 degree pattern, five on each side of the rectangular casing. I like that the casing is angled slightly away from the center so that the plugs on one side don't get in the way of the plugs on the other.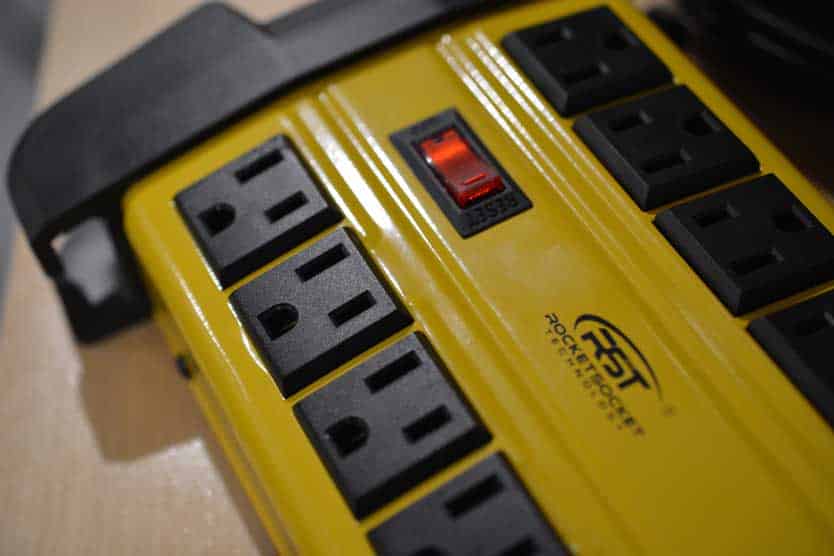 One drawback is that there are no wide-spaced outlet slots, so if you have a large AC adapter, you won't be able to use the outlets next to it. Similar to most of the surge protectors on this list, there are no debris shields on the outlets themselves.
| | |
| --- | --- |
| Joule Rating | 2800 |
| Maximum Line Current | 15 Amp/1875 Watts |
| # of Outlets | 10 |
| Cord Length | 15′ |
| Weight | 3 lbs, 4 oz. |
| Material | Metal |
| Certification | ETL |
| Insurance | No |
For my needs, I can't justify the extra cost because I try to only have a few things plugged in to an outlet at one time.
If you have a ton of regular-sized plugs that you need to have all connected at the same time then the CRST LTS-10TS is a great heavy-duty surge protector. The moment you need to plug in large AC adapters, it starts to lose some of it's luster.
---
Surge Protector Safety
The US Consumer Product Safety Commission found that about 4,000 injuries are treated in US hospital emergency rooms due to electric extension cords and surge protectors. (source)
Some devices, like garage heaters, microwaves, or soldering irons should never be plugged into a surge protector.
Just because your surge protector has six outlets doesn't mean that you can plug six devices into it!
Additionally, each surge protector, power strip and extension cord will have maximum wattage and amperage ratings that you need to stay below. It's critical that you pay attention to both.
Let's run through an example: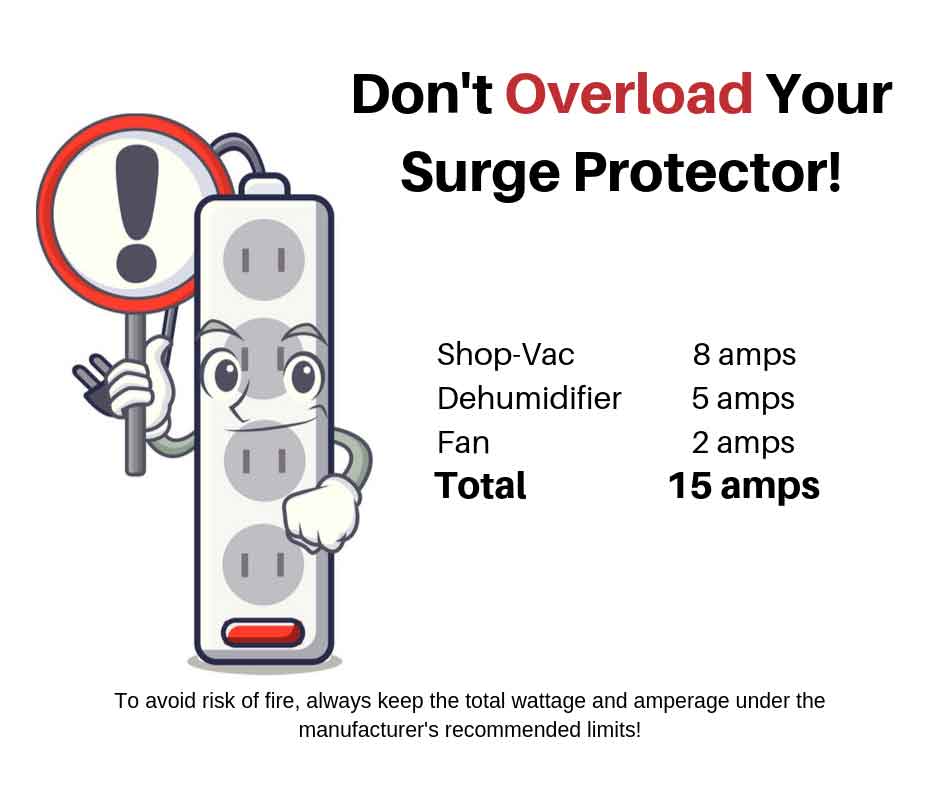 In my garage, three of my most commonly used devices could overload a small garage surge protector by themselves.
My Air King fan has a draw of 2.2 amps at high speed. My garage dehumidifier has a draw of just under 5 amps when it's running. If I vacuum out my car while both of these are running, I could easily overload my garage surge protector.
---
The Verdict
Of all the garage surge protectors that I tested, my favorite is the Yellow Jacket 5138, which also happens to be one of the cheapest.
It doesn't often work out that way, but it's really cool when it does.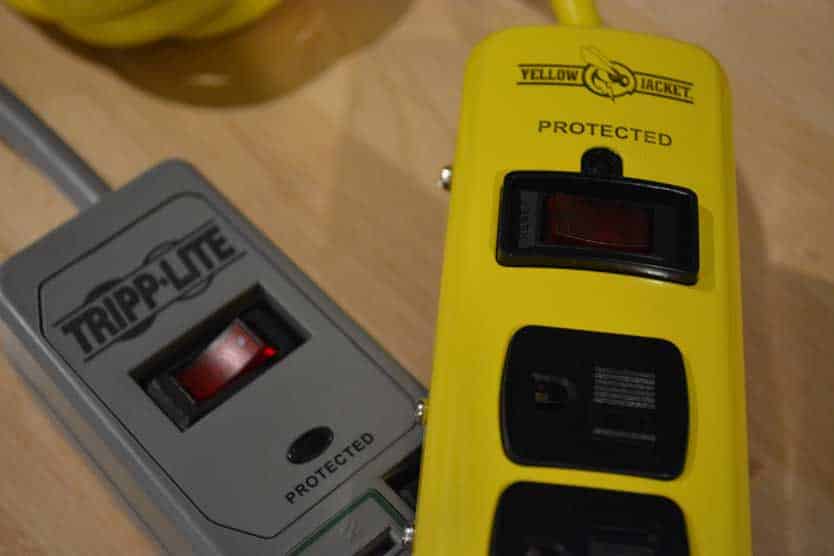 The Yellow Jacket has a lot going for it: steel case, debris shields on each outlet and the longest length cord of all four models I tested. You can't really go wrong with this one.
My second choice would be the Tripp-Lite because of the individually switched outlets.
Sure, it's the only plastic surge protector on this list, so it's not as durable as any of the others. But I love to try to save money on my electric bill whenever I can. Having a surge protector that helps me do that is a big win.
You can find the Yellow Jacket 5138 on Amazon for just over $20, while the Tripp-Lite TLP76MSG is around $30.
If you're looking for a surge protector specifically for your garage door opener, don't worry. I've got you covered. You can check out my review and buyer's guide here.