Detailing your car requires the right mix of lighting to make sure you're getting the best finish you can for your paint.
Even if you're only a weekend warrior, minor changes to your garage lighting can help you get significantly better results the next time you detail your car.
The best lighting for detailing your car is a combination of the following:
Bright overhead lighting to eliminate shadows
Handheld or tripod lighting for brighter lighting in the general work area
Headlamps to illuminate the body panel you're currently polishing
Swirl Finder lights to detect hard-to-find paint imperfections
To be completely transparent, most people don't need everything on the list. You'll naturally need specialized lighting as you get more serious about detailing your car.
We recommend starting with super-bright overhead garage lighting and then adding different pieces as you need to.
The rest of the article will look at my recommendations for each. In many cases, I'll link to a detailed review of my favorite light for each situation.
Let's get started with some amazing overhead lights.
---
Best Overhead Lights for Detailing: Hykolity LED Shop Lights
Last year when I was upgrading the lighting in my garage, I did a lot of research and testing.
I knew I would be doing amateur car detailing in my garage, so I wanted to go overboard with my overhead lights.
Basically, I wanted my garage to glow in the dark.
A typical two-car garage needs about 20,000 lumens to have adequate lighting. To eliminate shadows so I could properly work on my car, I tripled that to 62,000 lumens for my entire garage.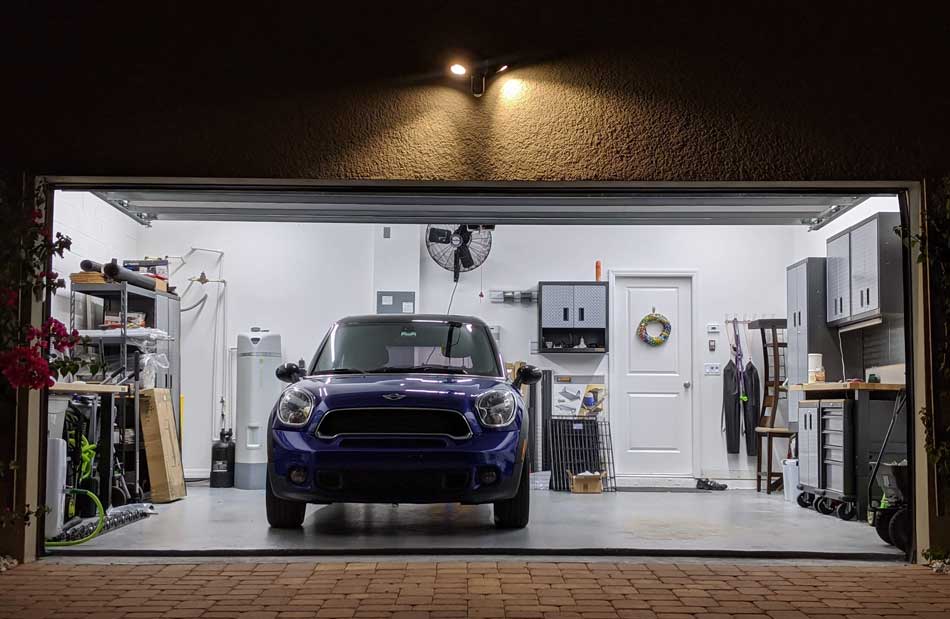 When testing, I looked at six different LED shop lights to see which ones performed best before using a combination of 4′ and 8′ Hykolity LED light fixtures.
For me, they were the perfect option.
Their performance was impressive! They had the highest output of lumens per watt (efficiency) and lumens per dollar (cost) of anything I tested. I could also hardwire them into my existing wiring and control them from the light switch.
At 5000 Kelvin, they provide a cool-white light that brings out the detail in what I'm looking at without being 'too crisp' and making my eyes strain more than they need to.
Quick note: When buying overhead lighting, it's important to choose low-bay rather than high-bay lighting. High-bay lighting is designed for super-high warehouse ceilings and won't work effectively in home garages.
---
Best Handheld Car Detailing Lights: Scangrip MultiMatch R
Once you've got your overhead garage lighting dialed in, it's time to move on to smaller lights to illuminate the sides of your car.
You can do that in a few different ways, but my favorite is the Scangrip MultiMatch R.
This handheld light puts out 1200 lumens at five different color temperatures ranging from 2500 Kelvin to 6500 Kelvin. That's a ton of light from a small package!
Scangrip figured out that warmer color temperatures work better for finding swirls and scratches on lighter-colored cars. Darker-colored cars need a cooler light with a higher color temperature.
This allows you to switch between 4500K for lighter-colored cars and 6500K for darker colors.
The MultiMatch R has five power settings ranging from 10% output all the way up to a blinding 100%.
Don't look directly at the bulb when you turn it on at 100%. I may or may not be speaking from experience there…
The built-in rechargeable battery lasts up to ten hours, depending on the power setting. There's also an LED readout to let you know how much juice is left.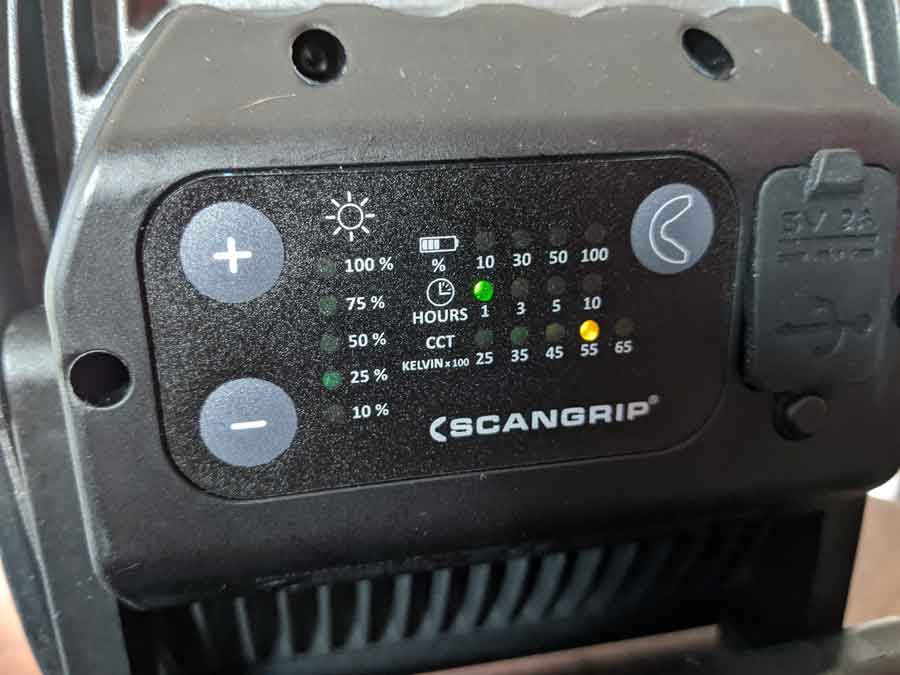 Although there is a hole to let you use Scangrip's tripods (either rolling or fixed-leg), I prefer the magnetic base.
It's powerful enough to attach to any magnetic surface. I put it on my Gladiator GearDrawer and just wheel it around whenever I need to move.
All in all, the Scangrip MultiMatch R puts out a ton of light at all of the popular color temperatures for car detailing. It's a little expensive, especially compared to the budget lights you get from Harbor Freight.
However, it's a high-quality, heavy-duty light that should last a long time.
---
Color Match Headlamp Lights: Scangrip I-Match 2
I'm not a fan of headlamps. I'd rather use a penlight or a handheld light rather than have anything on my head. However, a professional detailer that I spoke to swears by this type of lighting.
When shopping for a headlamp, it's worth asking HOW you need to use it.
Any old light will do if you're looking for something for interior detailing. You want something that puts out enough light, but color accuracy isn't a big deal.
But if you're looking for a headlamp for exterior work, you want one with a very high CRI (Color Rendering Index). That ensures the color of the paint looks the same under your light as it will outside in direct sunlight.
If you need a high-CRI headlamp for paintwork, then the Scangrip I-Match 2 is tough to beat.
The Scangrip I-Match 2 is a color-matching headlamp with an internal rechargeable battery that should last about five hours.
What I like about the I-Match 2 is that it has two color temperatures, 4500K and 6500K and only weighs about a third of a pound.
Another cool feature is the hands-free, gesture-based power switch. To turn it on and off, wave your hand in front of the light twice, and it'll switch on and off.
Scangrip puts the same quality lighting in their headlamp as they do their larger MultiMatch R above. So again, I don't think you need both of these products. Just pick the one that works for you.
---
Swirl Finder Penlights: Scangrip Matchpen R
If you're serious about car detailing, you need a penlight to find swirls and imperfections you wouldn't see using any other light.
Unlike a handheld light, the point of a penlight isn't to directly illuminate your work area. Instead, you hold it at an angle so it illuminates scratches and imperfections that you missed on the paint's surface.
As Matt from Obsessed Garage says, they "will humble you when you're polishing. When you're checking your work after polishing, this will really tell you how you're doing."
My new favorite color-matching penlight is the Scangrip Matchpen R.
Like their other products on this list, the Scangrip Matchpen R has two color temperature options. At the touch of a button, you can switch between 4500K and 6500K.
While it only outputs 100 lumens, it can focus the beam of light anywhere between 10° and 45°. It also has an internal rechargeable battery that can be recharged from any USB port.
The longtime favorite penlight, the Rupes LL150, is similarly priced but only has one color temperature option and runs on AA batteries instead of a rechargeable battery.
That means the Scangrip Matchpen R offers more versatility and better features at the same price point, giving it the win in my book.
---
Why High CRI Lighting Is Critical
Did you know that not all CRI lights are the same?
I've already given him a shout-out earlier, but I have to credit Matt at Obsessed Garage for this. In one of his videos, he mentioned that most lights use the average of the first eight color values to get their overall color rendering index (CRI) score.
The problem is that there are actually FIFTEEN different color values, not eight!
Even though the typical high-CRI light does really well at rendering the first eight values, they might not be as good on the remaining seven.
If having a color-accurate light is essential for how you plan to use it, then you'll want to ensure that your light is accurate over all fifteen rendering points.
We are sorry that this post was not useful for you!
Let us improve this post!
Tell us how we can improve this post?