We don't usually think of having a sink in the garage. Still, if you're here, you are obviously considering making this helpful improvement. Let's learn about the three best utility sinks for your garage.
After that, we'll discuss what you should know about choosing a utility sink and other frequently asked questions.
---
Best Garage Utility Sink Overall: Trinity THA-0307
The Trinity THA-0307 Basics Stainless Steel Utility Sink comes with a chrome-plated faucet and all the features to make it an excellent all-around utility sink for the garage. It has a large sink bowl at 18″ in width, 13″ high, and 16″ deep.
There's a 6″ backsplash, and the sink is kept stable with its adjustable plastic feet. This comes with a hardware kit that stops the sink from tipping. One of the best features of this sink is that it's made from high-quality, commercial-grade 18-gauge 304 stainless steel, so it will take all the wear and tear you can throw at it.
The faucet's swiveling ability means you have flexibility with washing. And the sink has an impressive total weight capacity of 300 pounds. This sink is the best overall because it includes all the essential features for a garage utility sink. 
It combines top-notch durability with an accessible price. The Trinity THA-0307 has all the hardware you need to install this garage sink.
With rugged stainless steel construction, you don't have to worry about this utility sink getting damaged. It's a reliable addition to any garage. 
This is perfect if you have a smaller garage but want lots of capacity in your utility sink. It has all the depth you need but a narrower width than other sinks. When it comes to installation, you should bring in a plumber. Don't worry too much about cost, as this is a super quick job for experts.
Pros
Top-quality stainless steel tub
Wall-mount installation
Chrome-plated handle faucet included
6" backsplash
Stabilized plastic feet
Cons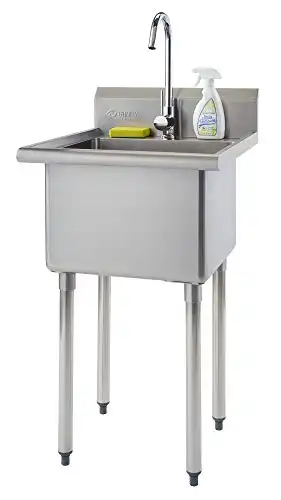 Trinity Stainless Steel w/Faucet Utility Sink
NSF certified

Sink is made of 18GA 304 SS / Large 18"W x 16"D x 13"H sink bowl

Chrome single handle faucet w/ hoses included

SS strainer / Tall 6" backsplash / Adjustable plastic feet stabilizers to keep the sink level

Raised ribs area to hold accessories next to the faucet / Mounting hardware included / 300 lb total weight capacity

(4) 18GA 201SS legs with full plastic levelers pre-installed;(1) Simple drain without inner basket;(1) T1.2mm 304 SS bracket;6" Tall backsplash with TRINITY Basics logo;Includes anti-tipping hardware kit

Stainless Steel
Check Latest Price
This site contains product affiliate links. We may receive a commission if you make a purchase after clicking on one of these links.
---
Runner-Up Garage Sink: Glacier Bay QL037
This Glacier Bay sink has a stainless steel sink with a 12-gallon capacity. It has an attractive laminated cabinet with two doors for storing items beneath your garage utility sink.
The utility kit includes a flex-neck faucet made of brushed nickel, a garden hose adapter, a dual-spray head, and a metal strainer. One of the best features of the faucet is its high-arc shape. It means you fit plenty beneath it and have superior flexibility with the size of items you put in the sink. All the hardware you need is included.
Some customers find this Glacier Bay QL037 easy to install themselves. But if you prefer, you can call in a plumber. The installation will be a simple process for them and won't take long. The superior look of this sink is one of its greatest selling points. The cabinet storage space is also great for storing detergent and other items.
Another feature that made us include this sink on our list is its high-arc faucet. Nothing is more annoying than being unable to easily fit something in a sink because of a low-set faucet.
Pros
Storage space in a scratch-resistant cabinet
Anti-tipping features
Fashionable look
High-arc faucet
Easy water temperature adjustment
Cons
More expensive
Cabinet unnecessary for many garages
Glacier Bay Stainless Steel Laundry Sink
Stainless steel sink apron

High-gloss PVC laminated cabinet

Easy to use single lever handle makes adjusting water temperature more convenient

Extra deep 9.5 in. stainless steel 12 gallon sink is perfect for washing large items

Soft close doors

Metallic door handles

Laminated, high gloss scratch resistant finish

Metallic basket strainer
Check Latest Price
This site contains product affiliate links. We may receive a commission if you make a purchase after clicking on one of these links.
---
Value: JS Jackson JS6503BLKSS
This JS Jackson sink is a great choice if you're looking for a dependable garage utility sink at a more affordable price. It has a black thermoplastic tub with an enormous 19-gallon capacity. The tub always stays stable because of the metal legs. 
The kit comes with foot levelers that you can adjust to bring your sink to the height you want. These ensure stability. Also included are all the hardware items you need to put in your new garage sink.
There is also drainage equipment, supply lines, and thread tape, so you won't have leaks in the connection. 
Don't worry if you don't have much experience with installation, as this comes with simple illustrated instructions showing each step of the process.
One of the biggest worries about plastic tubs, even the strongest ones, is stability. That is one reason why this tub has metal legs. These strong metal legs won't bend or warp, even if you completely fill the basin with liquid.
The pull-down sprayer that comes with the kit is weighted, so it's easier to control the direction of the water. The plastic tub itself has the necessary durability to resist warping, as well. Even though this value pick doesn't have a stainless steel basin, this is the next best thing.
Pros
Weighted pull-down sprayer
19-gallon sink
Metal base for faucet
Stainless steel faucet
Economical
Cons
The tub isn't stainless steel
---
How to Shop for a Utility Sink for your Garage
There are certain essential factors to consider when shopping for a utility sink for the garage.
Durability
A garage utility sink has got to be tough. It should be scratch and stain-resistant, and you should never worry about damaging it. Look at the materials used in making the sink, especially the basin, and faucet. If there is cabinetry attached too, ensure this is scratch-resistant.
Stainless steel is the best material for the tub or basin and the tap or faucet. This metal is damage-resistant and will last for many years without trouble. If plastic components are in your utility sink, make sure it is top-notch quality and has a sturdy construction.
If you're serious about durability, find a commercial-grade sink like our pick for Best Overall, the Trinity THA-0307.
Faucet Type
Think about how you use your garage utility sink when considering the faucet type. For example, if you think you might wash your dog in the sink, you will need a hand sprayer. A lot of clearance under a high-arc faucet is also necessary. 
If you plan to put large items in your sink, ensure the faucet is high-set and arched. A low-set faucet is always trouble unless hand washing is the only thing you will ever need to do. Know what kind of faucet you have so you will be ready for any repairs in the future.
Basin Size
Again, consider what you will use the sink for when deciding on a basin size. If you buy a basin size that is too small, it will end up being a waste of space. If you only wash your hands in the sink, you don't need anything large.
All three sinks featured in this article have impressive basin sizes and are precisely what you need if you want to wash large things and use your garage utility sink heavily. 
Stability
Stability becomes especially important if you may ever fill the basin with water. The legs should be solid and stainless steel, with no risk of warping or buckling. The last thing you need is your sink and its foundation getting damaged by the weight of the water in the basin.
Our garage utility sink picks are all known to have stable construction that will stand up to the way you want to use them in the garage. 
Installation
If you're like many homeowners and don't have enough plumbing know-how to install one of these sinks without help, hire a plumber.
This is a simple and easy job for someone who knows how, so the professional fees should be manageable. Still, consider this when making a budget and deciding which garage sink you want. 
---
Frequently Asked Questions
Why Have a Sink in the Garage?
Having a sink in your garage may make life more convenient. For example, you can wash your hands after working on your vehicle, and you don't need to go into the kitchen or bathroom.
Of course, we should clean our garage floors sometimes. But this is a huge job when we have to lug a bucket in and out of the house to retrieve and pour out the water. You won't have to worry about this if you have a utility sink in the garage.
Many homeowners enjoy having a mudroom set up in their garages. This is especially useful if your garage door entrance is the one you usually use.
When adding a garage sink, you can wash your hands and anything else you need before entering your house. This is a great way of preventing dirt from coming into your home.  
A large and sturdy utility sink in the garage is convenient if you have a dog. Just imagine being able to wash your dog and his paws before you bring him inside your house, saving a lot of mess and headaches. If you have a garage sink with attached cabinet storage space, you can keep pet shampoo in there. 
How Much Does it Cost to Install a Utility Sink in a Garage?
The highest cost is that of purchasing the sink. If you hire a plumber, their expertise will make installation a short job, so the fees should be manageable.
Many homeowners with basic plumbing knowledge install their utility sinks DIY. If this applies to you, you can expect cost savings. Just make sure you fully understand and plan out the project before starting.
Can You Install a Garage Utility Sink Without Plumbing?
You will need plumbing in your garage to install one of the sinks we talked about earlier. So if you want to have one of these sinks, you will have to install plumbing. If you don't want to do that, you can buy a portable sink instead.
Of course, a portable sink has limitations. It will never be as sturdy or reliable as a plumbed-in sink. It is a good option if you ever need to wash your hands in the sink.
Can You Drain a Sink Into the Ground?
Depending on where you live, you may drain the water from a sink into a drain in the ground. Find out the regulations in your area regarding draining sink water into floor drains. If you have such a drain in your garage, you may drain the water from your sink into it.
Get advice from a plumber to ensure the drain will be large enough. You don't want to end up with flooding or cracks in your garage floor.
Is It OK to Put a Utility Sink in the Garage?
There is nothing wrong with putting a utility sink in the garage. If you have plumbing in the garage or are willing to put plumbing in your garage, you can install one of the great sinks we discussed earlier. If you correctly install your sink, you won't create any problems in your garage.
If you don't have plumbing in the garage and don't want to put in the plumbing, you will have to stick with a portable sink.
Where Should You Put the Utility Sink?
You will have to put your utility sink near the pipes, both cold water and hot water, in your garage. You'll also have to position it so that it is close to a drain pipe large enough to deal with the water.
Generally speaking, you may want your garage sink in a corner or hidden, so it's not taking up more space than necessary in the garage.
Of course, this will limit the number of places that may be appropriate for a utility sink in your garage. Get help from a plumber and ask for advice on where these spots are. If you want to put the sink anywhere else, the plumber may be able to create new connections.
We are sorry that this post was not useful for you!
Let us improve this post!
Tell us how we can improve this post?