Think of your garage door as a giant frying pan, heating the air inside your garage during the day.
In the winter, what little heat you have in your garage is sucked outside the same way.
Your garage door is the single biggest non-insulated surface in your home. One of the simplest (and cheapest) ways to fix that problem is to add some insulation panels to your door.
After a lot of research, I bought the Matador Garage Door Insulation Kit (link to Amazon) which you can pick up for under $100.
In this review, I'm going to tell you why I decided to go with the Matador insulation kit and show you how to install it.
---
Why I Chose the Matador Garage Door Insulation Kit
The Matador Garage Door Installation Kit includes eight polystyrene foam insulation panels and adds about 10 lbs. to the weight of your door. They come in either 8′ or 9′ door versions.
Each insulation panel in the 8′ door kit is 20.25″ x 54″. The 9′ door kit increases the height of each panel to 23.25″. In both cases the panels are 1.25″ thick. Each panel in the Matador Garage Door Insulation Kit has an R-Value of 4.8.
If you're adding insulation to your garage door, rigid foam is much better than the cheaper, radiant barrier insulation kits.
You see, radiant barriers are great at reflecting heat out, but they need an air gap to work. Putting a radiant barrier directly against your garage door is all but useless.
Foam insulation can be placed right up against the garage door, so it's really effective at keeping the summer heat out.
It's not perfect but it's a big help – especially if your garage isn't actively cooled.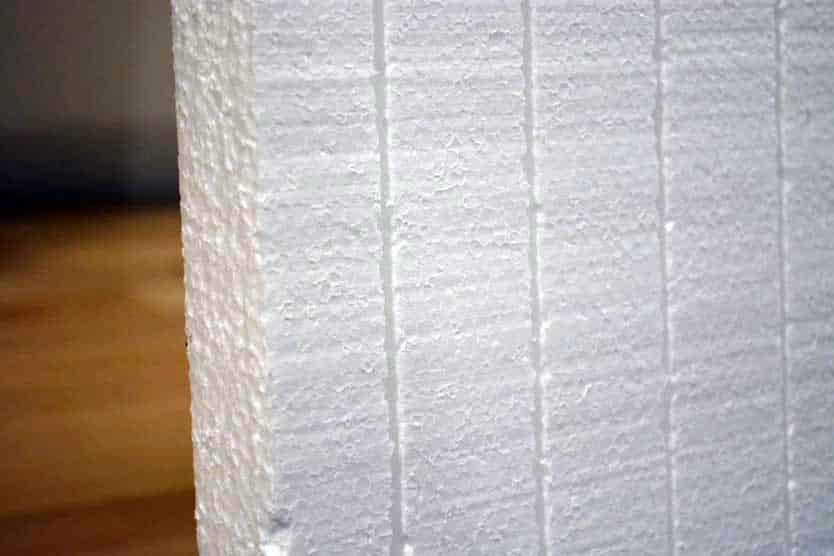 That's not bad for the price.
It's not as good as a new insulated garage door, but it's a fraction of the cost.
What I liked
The Matador kit has thick insulation panels – about 1 1/4 inches each. This not only blocks out the heat and cold from the outside, but it helps reduce vibrations in the door as well.
Insulated and quieter. Works for me.
I also like the finished look of the Matador kit more than other garage door insulation kits. The white foam panels slip in nicely to many garage doors so it's hard to tell that this is an aftermarket product.
What I didn't
I said it fits nicely on many garage doors.
Not all garage doors – including mine.
None of the reviews or articles I read before purchasing mentioned that I needed to have a specific type of garage door. I was expecting a much simpler installation for the Matador kit than I actually had.
---
Will It Work On Your Garage Door?
Matador designs their kit to fit on pan style garage doors. We'll get into what that means in a minute. I had to cut my pieces to fit and use foam board adhesive to secure them.
This is a bit of a sidetrack, but it's important if you're considering the Matador garage door insulation kit. Aaron Overhead Doors has a summary of the differences between a pan style door and a "sandwich" garage door. I recommend checking it out if you want more details.
A pan style garage door is simply a thin layer of steel between you and the outside world.
If you've ever seen dented garage doors, or doors that have been snapped in half because something ran into it, chances are it was a cheap, pan-style garage door.
A pan style door looks like an "L" shape from the side. At the bottom is where your garage door seal is attached. The foam panels of the Matador kit snap neatly into place, resting on the bottom metal lip.
I don't have a pan style garage door so I needed to use some foam board adhesive to make it work (link to Amazon). It wasn't a big deal, but is did add some extra time to the process.
---
How to Install the Matador Garage Door Insulation Kit
As I mentioned, the Matador insulation kit comes in pre-cut foam sections to easily fit your individual door size.
The first step is to measure out the height of your garage door sections so you know where to cut.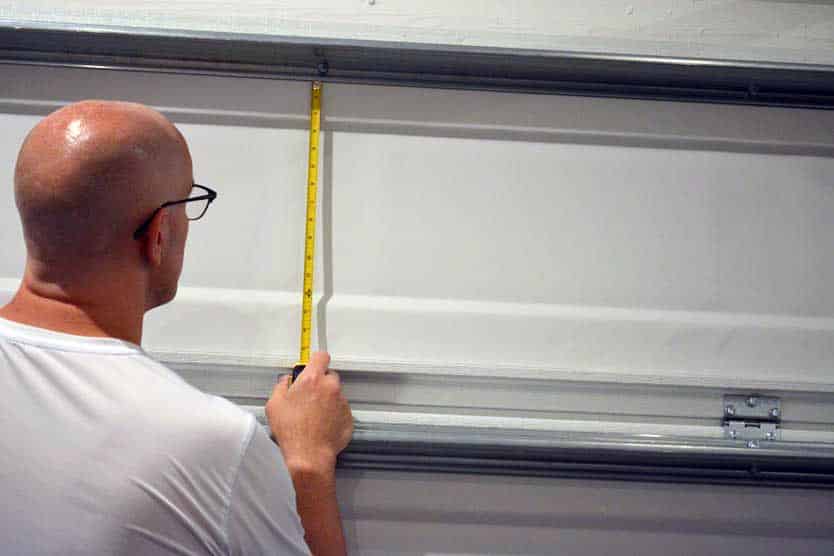 In this picture, you can see that my garage door has a flat metal lip on the bottom of each panel, next to my right hand.
From there, I measured to the bottom edge of the bare metal piece at the top of the panel.
Be sure to leave enough room for the door to move freely. Test fit each piece as the garage door opens and closes – especially if you're using adhesive.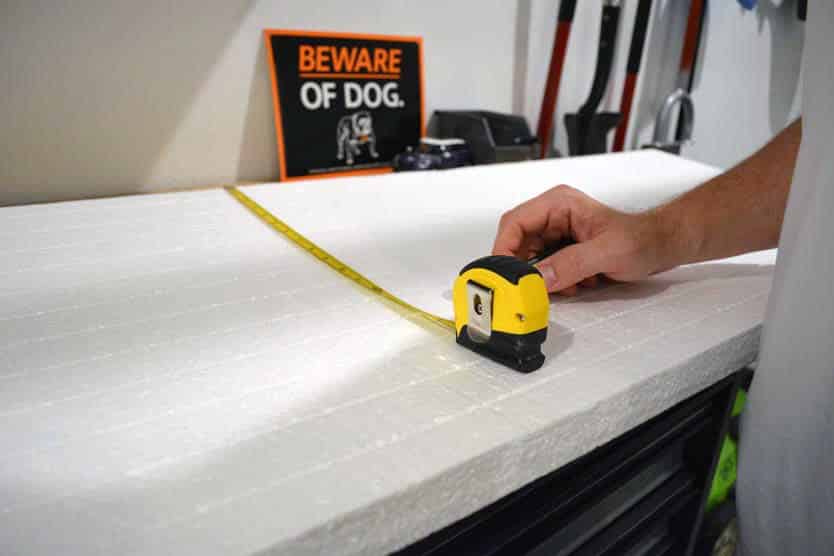 Once you're sure about the clearance and you've got everything measured, it's time to start cutting.
You'll want a good extending blade knife, which costs between $3 and $5 at any hardware store. I used the same knife that I used to cut my Kaizen foam for my tool drawers.
Just be sure that the blade is sharp enough so you'll get good clean cuts. If you've got a hot wire cutter for whatever reason, now's a really good time to use it.
Whether you use a knife or a hot wire, be sure to go all the way through the foam on the first cut if possible.
That gives you a much smoother cut.
The cuts won't ever be exactly straight, but you can get them pretty close with a little practice.
Another good tip is to use a drywall T-square to help you get perfect 90 degree cuts.
If you've got a pan style garage door, you can just bend the foam panel slightly and snap it into place. You'll be able to blow through adding insulation in about 30 minutes or so for the entire door.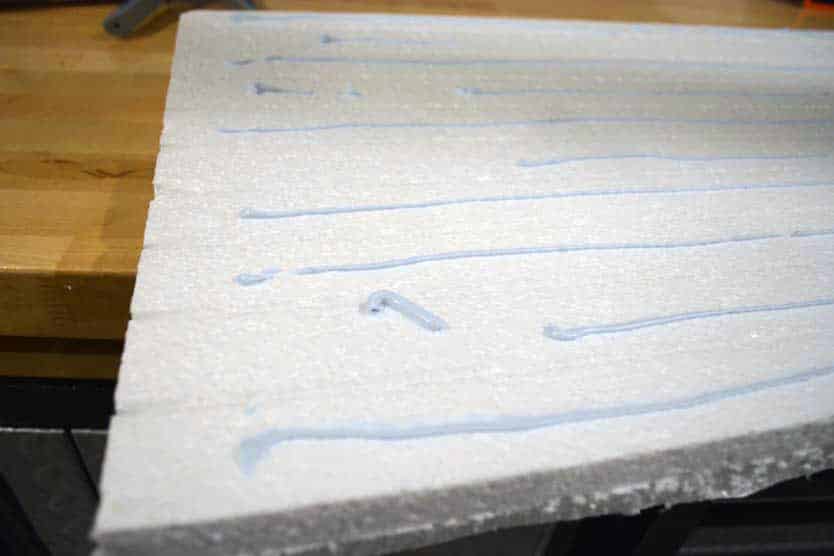 I needed to use foam board adhesive so I applied it liberally on each of the sections of the foam. But…I soon realized that very few of those sections would actually make contact with the garage door.
The lesson is pay attention to where your foam panel is going to make contact with your garage door so you don't waste adhesive.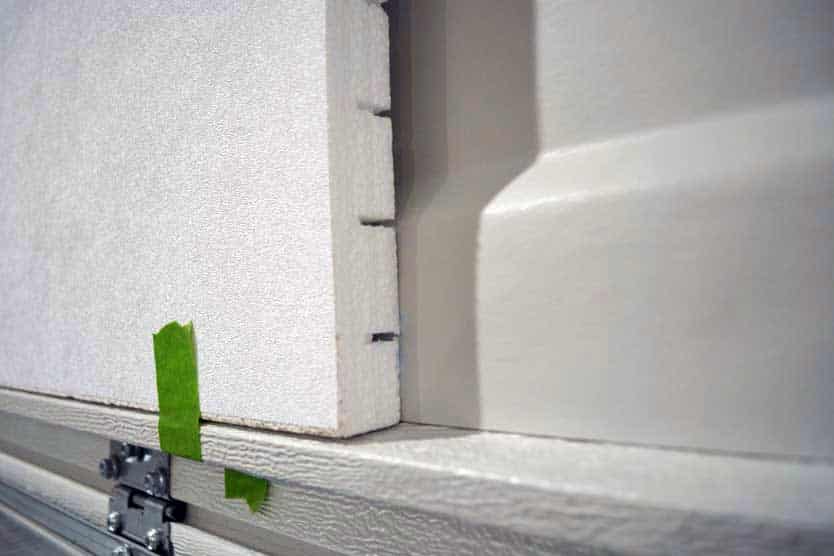 Only the bottom two sections of the panel made contact, so they were the only places I actually needed to put adhesive. After the panel was in place, I added some painter's tape to help keep it secure while drying.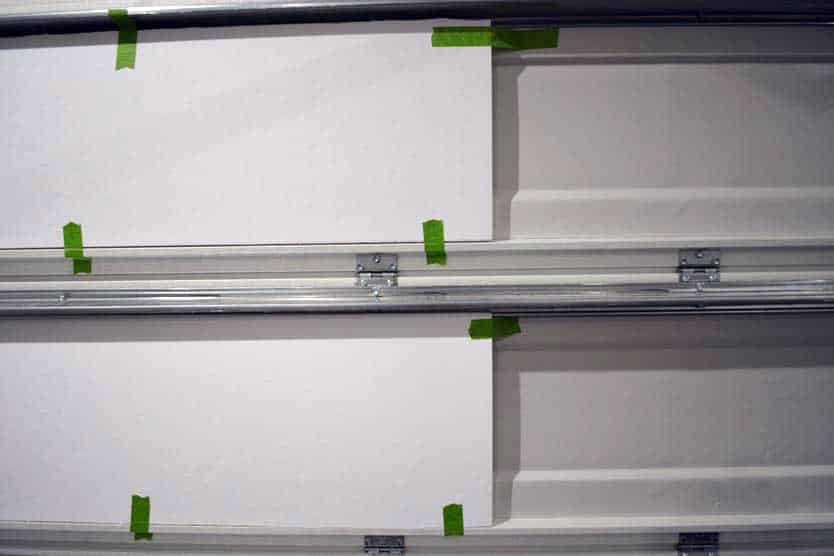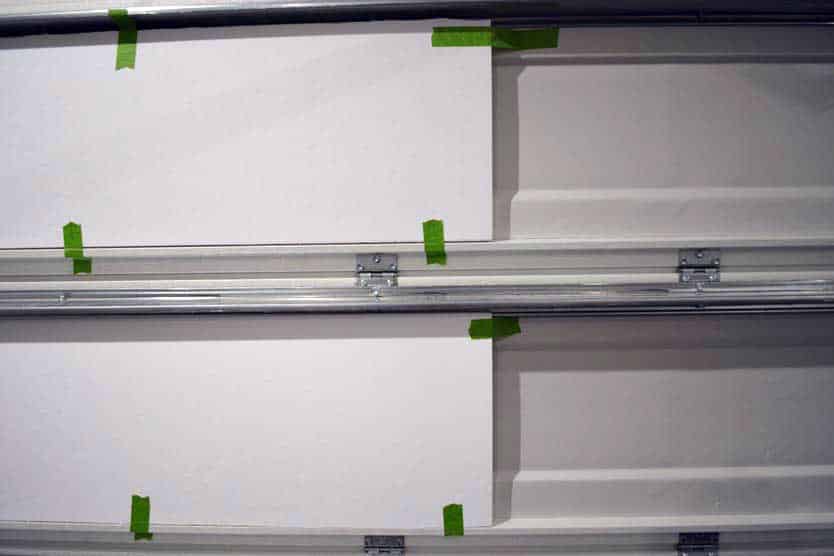 Once the first pieces are installed, I waited overnight while the adhesive dried completely. The installation took longer, but it allowed me to use the painters tape to make sure the pieces stayed in place.
Eventually, all the pieces were in place and my door was finished.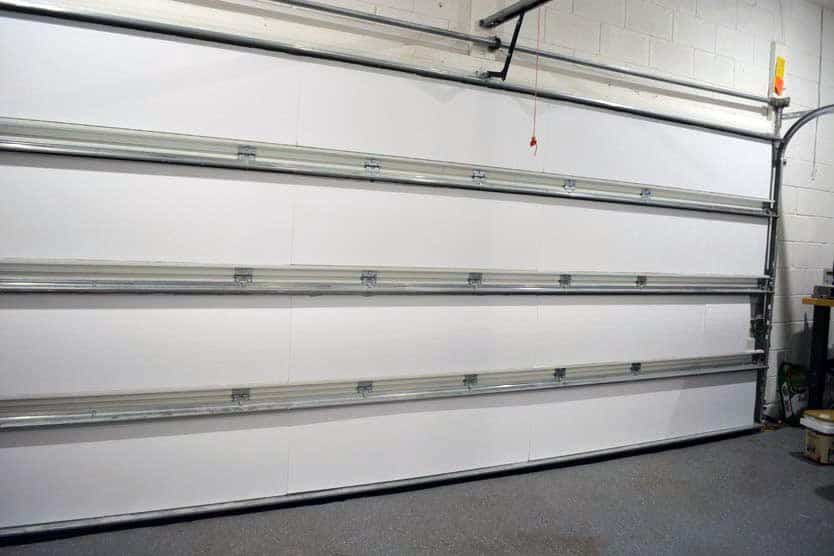 ---
Final Thoughts
Overall, I like the way the Matador Garage Door Insulation Kit looks. At a quick glance, it's hard to see the seams in the panels so it looks very cohesive.
I've got an eight foot tall, two car garage door which means I needed two of the Matador kits. I used all but three panels in both kits.
The kit added almost twenty pounds of extra weight to the door. The final cost was under $200, counting the two tubes of construction adhesive.
I don't know how much cooler this will make my garage in the summer, but I'm optimistic.
It's all about making small changes. Eventually those changes will add up and make your garage a lot more comfortable to work in.
For my recommendations on the best garage door insulation kits, check out my article here!