One sure-fire way to make your home stand out, is to swap out your garage door. Which usually means buying a new roll-up garage door.
But did you know that you can get garage doors with hinges on the sides of the door?
That will definitely give your home a totally different look. Best of all, there are some significant advantages to side hinged garage doors.
In this article, we'll look at what side hinged garage doors are, and why they make sense for some households.
---
Side Hinged vs. Roll-up
Roll-up garage doors are currently the most popular option on the market. They're reasonably affordable and convenient for many people, but they still have their flaws.
Roll-up garage doors take up a lot of interior room, especially on your garage ceiling. The belt or chain-drive garage openers they use are very noisy. Because they're so complex, they're are multiple points of failure among the rollers, track, springs and chains.
Side hinged garage doors offer several advantages over their cousins.
Since the hinges are on the inside of the garage, that protects them from thieves. The bottom of the door can be flush with the ground to add security and stop people from prying them up.
They're also nearly silent when opening.
Every garage door has to open somewhere, and that's what really sets these options apart from each other.
Traditional roll-up doors move towards a garage's ceiling, effectively stopping you from hanging anything there or using that space.
Side hinged garage doors open outward into a driveway, so you can use all of the space inside your garage.
This means that side hinged doors are a better option for people who have long driveways or don't want to use the space outside.
Roll-up doors are better for people who need as much driveway space as possible and won't have room to open their doors.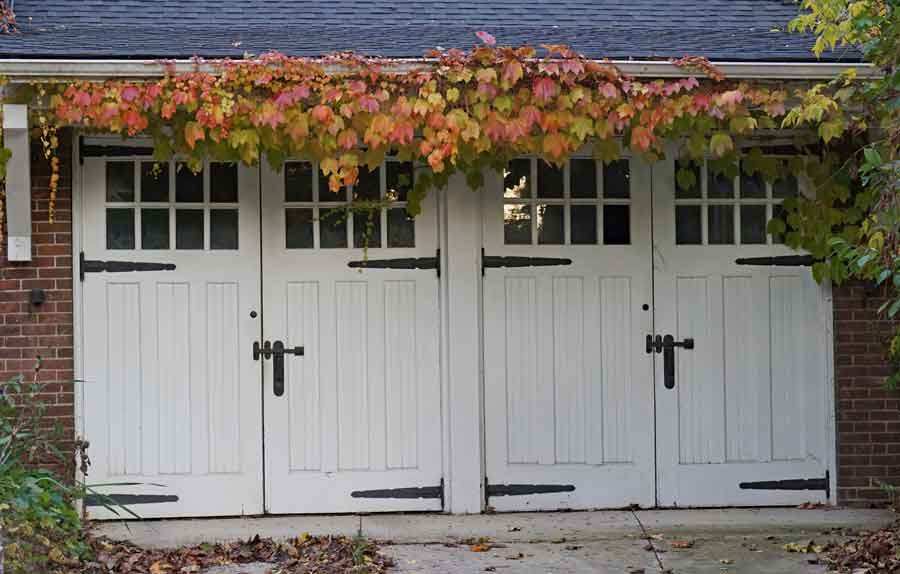 ---
Side Hinged Garage Door Materials
Most side hinged garage doors are made of either wood or steel.
Wood is the most common option, and garage door manufacturers often use several layers of hardwoods like cedar to ensure overall durability and resistance to rot.
Wooden garage doors usually have additional weatherproofing layers on the outside, possibly including paint, but many people prefer a transparent coat that helps bring out the natural appearance of the wood.
Wooden doors usually last 15 to 30 years, depending on the exact materials used and how much exposure they get. Garage doors that avoid sunlight and direct weather will last much longer than fully exposed doors.
Steel doors are the other common choice for side hinged garage doors. These usually have two layers of galvanized steel, with an extra coat of paint on the outside to protect them. Steel is usually less expensive than wood but also more robust and secure.
Steel garage doors usually last between 20 and 30 years, depending on how well you maintain them. They are slightly vulnerable to rust, so protecting them from rain can significantly increase their lifespan. Steel doors are available in insulated variants for homeowners who want to better regulate their garage's temperature.
For more information on the differences between steel, wood and aluminum garage doors, check out our guide comparing steel vs. aluminum garage doors.
Other garage door materials are available, including aluminum, fiberglass, and vinyl. However, these are relatively rare for side hinged garage doors because they don't offer quite as many benefits.
Weight is generally irrelevant. A properly-installed side door on a garage puts all of its weight on the hinges, so even children can open them with little difficulty. If a side hinged garage door feels heavy or hard to open, it means the installer didn't correctly install it.
---
Side Hinged Garage Door Costs
The costs for side hinged garage doors depend on several factors. These include material costs, size of your garage door, installation time, and any additional labor requirements like removing your old garage door.
Realistically, most people pay between $500 and $1000 for a new side hinged door.
Prices don't go much lower, no matter what. However, they can go higher, depending on the options you choose.
High-end doors are often customizable, so there can be a short delay before your team can install them.
Many, but not all, big box stores like Lowe's that install garage doors will also install side-hinged garage doors. Be sure to check before committing to one particular vendor.
---
Side Hinged Garage Door Sizes
Most side hinged garage door panels are seven to eight feet tall and up to eight feet wide, varying slightly to fit different garage styles.
They're especially common for single-car entryways, but some people use them for two-car garages as well.
Larger side hinged doors often have additional hinges and sections to transform them into folding doors. This feature provides several significant benefits, including less space required when opening them and structural support for panels.
Garages larger than a standard two-car garage may require special adjustments to use a side hinge garage door. In these cases, it's better to talk to your installers about your options.
---
Installation Differences
The main difference in installation for side doors is the location of the hardware. Side hinged doors typically have at least two hinges, and sometimes three, on each side of the garage.
Whatever your garage door hinges attach to must have the capacity to hold the total weight of the doors. While it isn't a problem for most buildings, it's still something for installers to check.
Side hinged garage doors also require some space outside the doors for the garage to move.
This isn't an issue for most driveways. However, a steep downward sloped into your garage may stop the doors from opening all the way.
Especially steep slopes may stop a side hinged door from being practical at all.
Switching from a single panel door into a folding door will reduce the amount of space it needs to open. That could be enough to avoid any obstacles.
Conventional garage doors can work anywhere because all of their hardware is on the inside. That means factors like slopes and other obstacles are fundamentally irrelevant to them.
This issue is somewhat more common in cities, where many garages are built partially underground, with a steep driveway. However, it can also crop up in suburban and even rural areas with a lot of hills.
Ultimately, only a professional examination of each site can determine which style makes sense for the area.
Most garage door types work for most homes, but you will see the occasional outlier that needs special consideration.