I've wanted interlocking floor tiles in my garage for years. I'd narrowed it down to either Swisstrax vs RaceDeck, but I didn't know which to choose. 
Why them and not tiles from some seller on Amazon?
Swisstrax and RaceDeck are both top-tier manufacturers with a long history and plenty of glowing reviews and endorsements from actual garages.
Still, I couldn't find anyone who tested them head-to-head in the same garage.
So that's what I did.
I purchased several RaceDeck Diamond, RaceDeck FreeFlow tiles, Swisstrax Ribtrax Pro, and Swisstrax Ribtrax Smooth tiles to test in my garage.
Then, I used them for several weeks, taking notes of what I liked and disliked, how they felt, and what it was like cleaning them.
In this article, I'll go over what I found.
TLDR Version: Swisstrax tiles are thicker overall but about 20% more expensive than RaceDeck tiles. Both companies allow you to mix and match different styles of interlocking floor tiles. Swisstrax tiles are available in a few more colors than RaceDeck, but some will be at a higher price. However, Swisstrax makes different size tiles that are NOT compatible with each other. 
Overall, Swisstrax is the top-of-the-line interlocking floor tile, but RaceDeck offers similar quality at a substantial discount.
Keep reading for all the details.
---
Swisstrax Overview: Ribtrax Pro & Ribtrax Smooth
As you might imagine, Swisstrax began in Switzerland, and it was only in 1998 that Swisstrax sold its first tiles in the USA. Its founder, Randy Nelson, trademarked the Swisstrax brands for USA and Canada in 2004 and opened its first office in Cathedral City, California. The company has grown and moved to its new headquarters in Dalton, Georgia, in 2020.
The Ribtrax Pro modular tile is the most popular Swisstrax tile and one of the oldest. It is a 15.75″ square vented-tile design with a channel system, so water, dirt, and small debris drop fall through the vents to the floor below.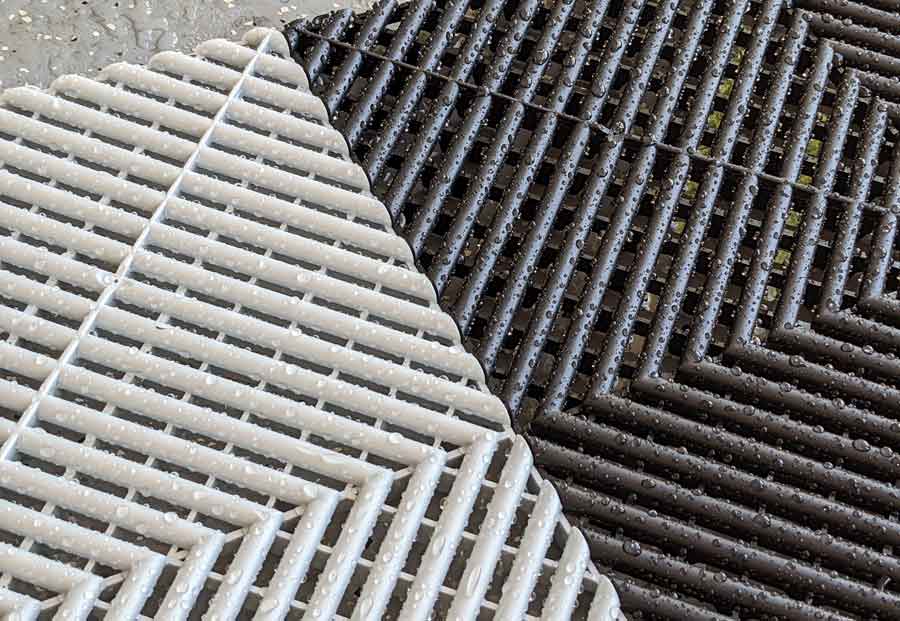 The Vinyltrax Pro and Ribtrax Smooth Pro are also compatible with the Ribtrax Pro, allowing you to mix and match them into your custom garage tile floor. I'll mention them where applicable throughout this article, but the main focus will be on the Ribtrax Pro tile.
There are two variants of the Free-Flow that I'll mention from time to time in this article. However, I won't focus on them for this comparison.
---
RaceDeck Overview: Free-Flow
RaceDeck is a division of SnapLock Industries and got its start in 1995. Most people consider Racedeck to be the originator of interlocking garage floor tiles. They're a proudly American company with operations based in Salt Lake City, Utah.
RaceDeck's entry in this competition is the Free-Flow. It has a similar vented-tile design but is only 12″ square.
Unlike Swisstrax, RaceDeck has several variations on their popular tiles, including diamond plate, bubble, wood-look, and even a Harley Davidson logo in their trademark orange color. All RaceDeck tiles are compatible with each other, no matter what size they come in.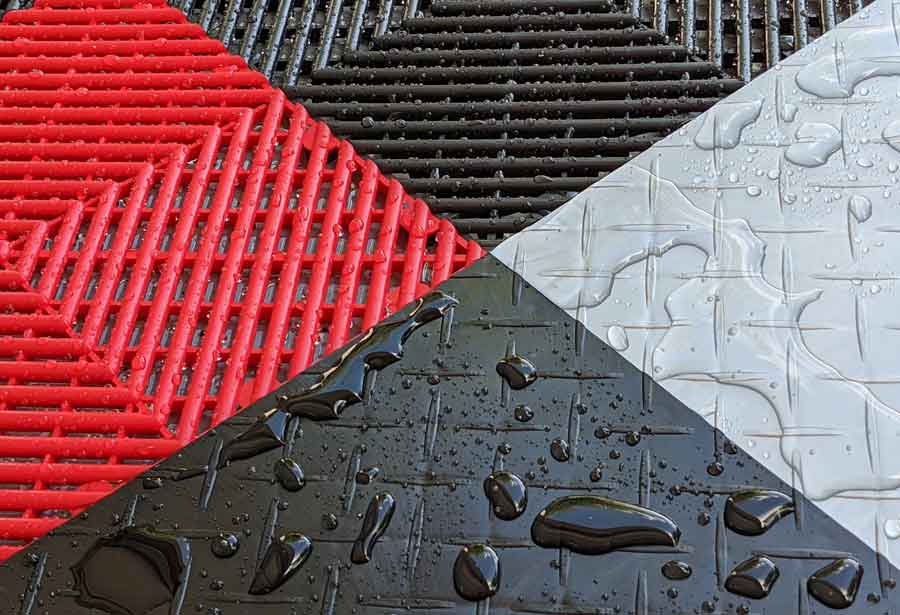 Let me address a common question right off the bat.
RaceDeck also offers the Free-Flow XLC tile, marketed as a "commercial grade" flooring option. It is considerably larger and closer in price to the Swisstrax Ribtrax Pro.
Many people think that makes it a better comparison.
However, other than the size difference, it doesn't offer any additional weight capacity. I think this muddies the waters and eliminates RaceDeck's price advantage.
That's why I chose to compare the most popular tiles from each company: the Free-Flow and the Ribtrax Pro.
---
RaceDeck vs Swisstrax Garage Floor Tiles: Construction
These two interlocking garage floor tiles are very similar but have a few significant differences.
In fact, from the top, both tiles look almost identical.
Both use polypropylene plastic, which is exceptionally durable and lightweight. Each tile is divided into four equal, smaller squares, so when the light hits them, it gives each tile a distinctive checkerboard pattern.
Both the RaceDeck FreeFlow and the Swisstrax Ribtrax are waterproof and resistant to many common chemicals.
Each tile's construction method varies, depending on which style of interlocking tile you choose. However, the most crucial aspects to look for are the tile's size, width, thickness, tile size, and tread pattern.
Both Swisstrax and RaceDeck interlocking tiles are made in the USA.
Size & Width
We've already covered the difference in each tile's size. The Swisstrax Ribtrax Pro tiles come in 15.75 x 15.75 inches and weigh 23.5 oz. The Ribtrax Smooth Pro comes in 15.75 x 15.75 and weighs 20.8 oz.
In contrast, the RaceDeck Diamond and FreeFlow style tiles are 12 x 12 inches, weighing 15 and 10 oz, respectively. Both come in a larger RaceDeck XL or XLC variant of 18 x 18 inches, weighing 30 oz.
Each Swisstrax tile is noticeably thicker than the RaceDeck tiles: 3/4 inch compared to 1/2 inch thick.
| | | | | | | |
| --- | --- | --- | --- | --- | --- | --- |
| Brand | Tile | Length | Width | Thickness | Colors | Price/Sq. Ft |
| Swisstrax | Ribtrax Pro | 15.75 in. | 15.75 in. | 0.75 in. | 11 | $4.99 |
| Swisstrax | Ribtrax Pro (Specialty Colors) | 15.75 in. | 15.75 in. | 0.75 in. | 7 | $5.75 |
| Swisstrax | Ribtrax Smooth Pro | 15.75 in. | 15.75 in. | 0.75 in. | 10 | $4.99 |
| RaceDeck | FreeFlow | 12 in. | 12 in. | 0.5 in. | 13 | $3.99 |
| RaceDeck | FreeFlow XLC | 18 in. | 18 in. | 0.5 in. | 14 | $4.88 |
But there's more to that story, however.
When you examine each tile from the side, you'll notice the Swisstrax tile is not only thicker, but it sits higher off the ground than the RaceDeck tile.
This has to do with the way each tile channels liquids away from the area.
Channeling System
Flipping each tile over, we can see what, in my opinion, is the biggest difference between the two.
Each tile has a channeling system to allow water and dirt to flow through the tile and (hopefully) out of your garage. They do this by raising the main supports off the ground by a small amount.
For the RaceDeck tiles, each support is 1/16th of an inch high. That's good enough to channel any liquids and dirt, but larger particles may get stuck.
By contrast, the Swisstrax tiles are raised 1/4 inch off the ground. This enables them to channel leaves and even small stones more effectively than the RaceDeck tiles.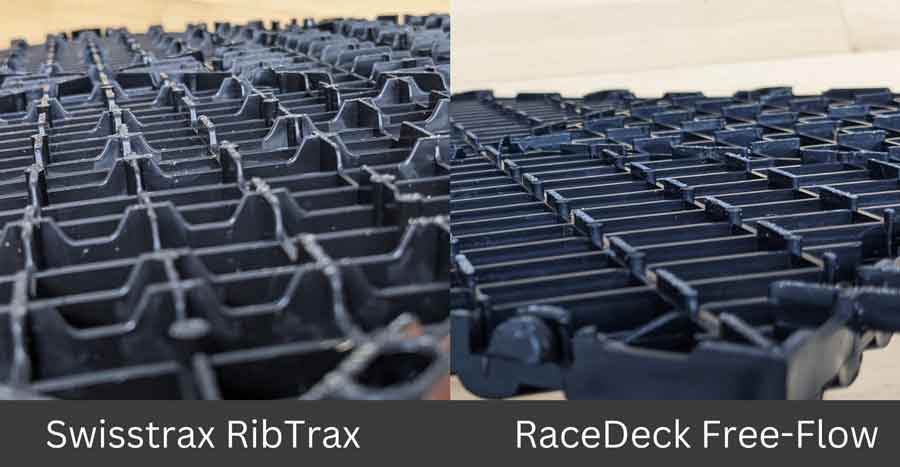 Weight Limit
That increased channel height comes at a cost, however.
Because they're lower to the ground, the RaceDeck FreeFlow tiles can support a rolling weight of up to 80,000 lbs.
The Swisstrax Ribtrax Pro and Ribtrax Pro Smooth can only support a rolling weight of 60,000 lbs even though they're thicker tiles.
To give you a frame of reference, a Ford F-150 Lightning only weighs 6,015 lbs., so either floor tile is more than enough for residential garages.
---
How They Connect
Both RaceDeck and Swisstrax tiles use an interlocking male-female system.
That allows you to remove and replace individual tiles if they're damaged or easily remove all of them for a deep clean. 
The Swisstrax hooks are flush with the side of the tile. This lets you put the male side of a tile right up against your garage wall.
The RaceDeck tiles would either need an additional edge piece or trim off the hooks. 
However, I found the RaceDeck system slightly easier to use, especially when removing a tile. The loops are wider, making popping the hooks in and out a little easier.
Your mileage may vary, however.
---
Swisstrax vs. RaceDeck Garage Floor Tiles: Warranty
Both companies have 30-day money-back guarantee return policies and long warranty periods. However, I have to give the edge to Swisstrax.
The Swisstrax Ribtrax Pro and Ribtrax Smooth Pro tiles have a limited lifetime warranty. Swisstrax will repair or replace defective tiles for the original purchaser if properly maintained.
The Diamondtrax Home and Ribtrax Smooth Home tiles have a 20-year limited warranty.
By contrast, RaceDeck only offers a 15-year manufacturer warranty.
While this is longer than the warranties for other interlocking garage tiles from GarageDeck (12 years), IncStores (10 years), and VersaTex (one year), it's considerably less than Swisstrax's warranty.
---
Swisstrax vs RaceDeck Garage Floor Tiles: Cost
Let's be honest. Most of us shop for things according to price.
Companies often price themselves out of the market by over-engineering a product and making it super-expensive.
Even though both companies target the upper end of the market, Swisstrax might just be too high-end.
Most interlocking floor tiles sold on Amazon or Garage-Organization.com will be between $2.50 and $3.50 per square foot.
The 12″ RaceDeck Free-Flow currently costs $3.99 a square foot. They're slightly more expensive, but it's easy to justify the extra cost because you get a massive increase in quality.
However, Swisstrax is priced 25% higher than RaceDeck. At the time of writing, the Swisstrax Ribtrax Pro lists for $4.99 a square foot. Since the tiles are larger (15.75″ vs. 12″), you will have fewer tiles to put down.
Using standard garage sizes, the approximate costs to install RaceDeck vs Swisstrax interlocking tiles are as follows: 
| | | |
| --- | --- | --- |
| Garage Size | RaceDeck | Swisstrax |
| 1 car garage | $950-$1500 | $1200-$1900 |
| 2 car garage | $1700-$2500 | $2200-$3100 |
| 3 car garage | $2500-$3200 | $3100-$4100 |
| 4 car garage | $3200-$4200 | $4000-$5200 |
This doesn't include edging or accessories, which increases the cost.
For every size garage, Swisstrax tiles will cost considerably more to install than RaceDeck.
Are Swisstrax tiles better quality? Absolutely.
Are they 25% better? That's debatable.
---
Swisstrax vs. RaceDeck Garage Floor Tiles: Where To Buy
Both Swisstrax and RaceDeck garage floor tiles are made in the USA and available online or at many local hardware stores or wholesalers.
You can purchase Swisstrax tiles through the Garage Organization superstore or by visiting the Swisstrax Online Store.
RaceDeck sells its tiles on Amazon or directly through the RaceDeck Online Store.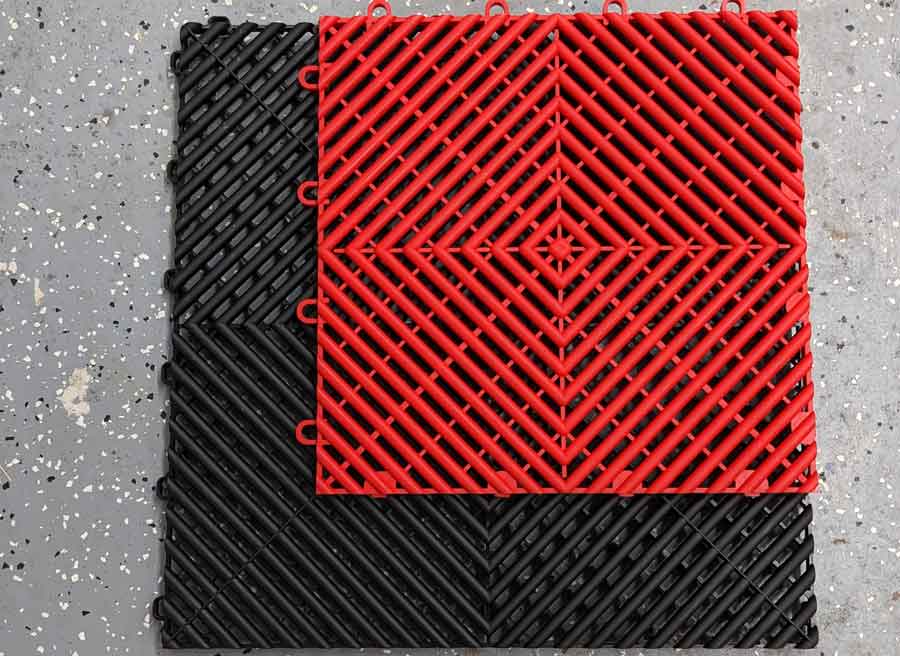 ---
The Verdict
Swisstrax and RaceDeck are two of the best manufacturers that provide durable tiles in various styles and designs for different purposes. They will both help your garage flooring stand out from the crowd.
For me, I preferred the additional height of the Swisstrax tiles. I found water and debris flowing out of my garage much easier than the RaceDeck tiles.
I also found walking on the Swisstrax tiles more comfortable than the RaceDeck tiles.
Swisstrax Ribtrax Pro Garage Tile (6-Pack)
Swisstrax offers premium quality, durability, and a self-draining design, making it the best choice for high-end garage floor tiles. Although they are more expensive, Swisstrax tiles deliver exceptional value and are backed by a limited lifetime warranty.
Pros:
Available in come in 18 awesome colors, allowing you to combine different color options, mix with different PRO tile styles, or add a custom logo.

All Pro tiles (Ribtrax Pro, Vinyltrax Pro, & Ribtrax Smooth Pro) are compatible with each other.

Advanced channeling system underneath, allowing you to easily remove dirt and debris with a high-pressure hose or a shop vac.

Swisstrax flooring is crafted with top-notch materials, ensuring exceptional quality and long-lasting durability.
Cons:
Swisstrax tiles are the most expensive consumer-grade interlocking floor tiles on the market.
Check Latest Price
We earn a commission if you click this link and make a purchase at no additional cost to you.
Here in Florida, I spend most of my time walking around barefoot, so having a more comfortable garage floor tile is essential.
I like having the option to put Ribtrax Smooth tiles in front of my workbench and other high-traffic areas and Ribtrax tiles throughout the rest of my garage.  
Depending on where you live, that may be less important to you, however.
The bottom line is that Swisstrax tiles are more expensive, but they still offer great value for the price. RaceDeck is a lower-cost option that still offers impressive quality.
While I'll be installing Swisstrax tiles in my garage, I would definitely choose RaceDeck over any of the other lower-priced garage floor tiles.
Swisstrax
$4.99 sq. ft.
Self-draining design
Slip-resistant and waterproof
All Pro tiles (Ribtrax Pro, Vinyltrax Pro, & Ribtrax Smooth Pro) are compatible with each other
Not compatible with 12″ tile models
Rolling load weight varies between styles (40,000 to 70,000 lbs.)
Limited lifetime warranty
RaceDeck
$3.99 sq. ft
Self-draining design
Stain resistant from grease or oil spills
All styles are compatible to mix-and-match different designs
Supports rolling loads of 80,000 lbs
15-Year warranty
RaceDeck Free-Flow Garage Floor Tile (12 Pack)
RaceDeck flooring combines affordability, style, and functionality, making it an excellent choice for transforming your garage. Backed by a 15-year warranty and proudly made in the USA, RaceDeck flooring offers outstanding value.
Pros:
Compatible with all RaceDeck garage flooring. Mix and match styles for a truly original, custom garage floor.

Available in 14 different colors

Compatible with RaceDeck metallic diamond tread Jack Plates or AccuPark Parking Guide
Cons:
RaceDeck's shorter, 1/16th inch support height may trap larger particles, requiring additional cleaning.
Check Latest Price
We earn a commission if you click this link and make a purchase at no additional cost to you.