Slatwall has come a long way.
If you still think of garage slatwall as the old, battered, flat-gray slat wall you see in old retail stores like Sears, let's get you up to date.
Slat wall is now becoming more and more common in garages and stores. Because homeowners want a little more style, you can get slatwall in various colors, materials, and even custom designs.
There are even companies that make entire garage slatwall systems in black, white, aluminum, and carbon-fiber finishes.
One thing to note: In some parts of the country, it's more common to refer to this as slot wall (with an 'o'). This is just a different way of referring to the same thing. Since I've always heard it called 'slat wall,' that's what I will call it in this article.
---
Best Slatwall System For Your Garage
Best PVC Garage Slatwall: Proslat PVC Slatwall
I expected it would be hard to choose which slatwall system would be the best for my garage. But in the end, there was really only one obvious choice.
Proslat makes what is easily the best PVC slatwall on the market. They also make an upgraded brushed aluminum slatwall and carbon-fiber slatwall that deserves their own section. I'll talk about that later.
Proslat PVC slatwall is made from thick plastic, which makes it easy to clean and resistant to mold, mildew, or water damage. It also makes it extremely durable.
They tested that durability in one of the most incredible videos I've seen. They call it the 'hammer test.'
Each PVC slatwall panel can hold up to 75 lbs per square foot.
For all their slatwall systems, Proslat uses a modular design, unlike the large wooden slatwall panels you may be used to.
That makes it much easier to install. You can even install it by yourself.
One thing that surprised me was the cost of the system. The cheapest slatwall I looked at was $4.31 per square foot. The Proslat was not that much more expensive at $6.21 per square foot.
That's not bad, considering all the value you get for that additional cost.
Proslat's PVC slatwall comes in four colors: white, light grey, sandstone, and charcoal, and comes with a lifetime warranty for the original purchaser.
Proslat Heavy-Duty PVC Garage Slatwall: 8' by 4'
Made in Canada from 90% recycled materials, Proslat's patented PVC Slatwall is one of the greenest storage solutions on the market. Individual panels may be installed as a track, in a section, or over an entire wall. Installation is simple, and the unique hidden screw design gives a professional finished look.
Available in Charcoal, White, Light Gray, or Sandstone.
Check Latest Price
We earn a commission if you click this link and make a purchase at no additional cost to you.
---
Best Upgraded Garage Slatwall: Proslat Aluminum Slatwall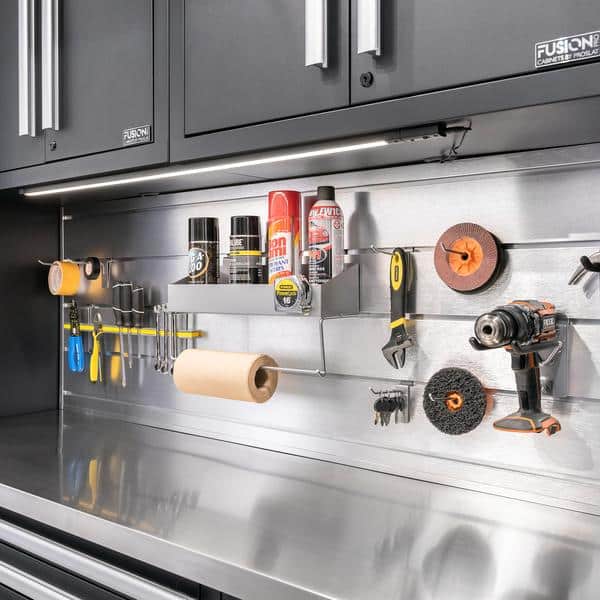 I've always loved the look of brushed aluminum. It's elegant while being functional. It's durable while being extremely lightweight.
If you like the design of Proslat's PVC slatwall design but want a higher-end look, you'll want to check this out.
Proslat's aluminum slatwall is a thing of beauty.
Seriously.
Upgrading from PVC to aluminum increases the weight capacity of the garage slatwall panels to 100 lbs per square foot. It also makes it about 25 times more impact-resistant than drywall, so it's still as durable.
The brushed aluminum finish is easy to clean, resistant to mold and water damage, and adds fire resistance. If you work with flammable materials in your garage, upgrading to aluminum slatwall may be the way to go.
Upgrading to aluminum slatwall panels comes at a price, however.
At around $13 per square foot, it's about three times more expensive than Proslat's PVC slatwall.
Proslat aluminum slatwall panels aren't for everyone, but I think they're worth it.
Proslat Aluminum Slatwall 8' x 4' (88900)
100% aluminum Slatwall provides the same rugged, durable functionality as Proslat PVC Slatwall, and the hand-machined finish delivers in the style department. Aluminum Slatwall is fireproof, with an interlocking design for the ultimate modular storage design. All hardware and trims necessary for installation are in the box.
Check Latest Price
We earn a commission if you click this link and make a purchase at no additional cost to you.
---
Slatwall Buyer's Guide
Slatwall is among the most popular ways to organize your tools and equipment in a garage.
These panels with horizontal grooves can help you drastically save space and improve the overall organization of your garage. They aren't that difficult to install, and once you do it, you will see how much easier these things can make your life.
Slatwall is great for storing anything from your garments or sporting equipment to your garage workshop's tools and machines. They are practical in so many ways and are also known to be very durable. 
Reasons to Get a Slatwall System
There are several great reasons to invest in a slatwall system for your garage, which makes sense, given its popularity.
Here are some of the reasons you need to install one in your garage:
Versatility
I come from a retail background, so I've been using slat boards for decades in some fashion. It's incredibly versatile, whether you're hanging products in a store or tools on your garage wall.
Most other storage solutions have a fixed layout, which means you're locked into one configuration. If you add a new tool, you've got to make it fit in the existing layout.
But with slatwall, you've got a much larger area to work with and an infinite number of ways you can do it.
I have a small section of Gladiator GearWall in my garage for my lawn tools. Trust me, once you have slatwall installed, you'll wonder how you ever organized anything before.
More free space
Another great reason to get a garage slatwall system is that it will help you save a lot of space.
Things are much more accessible and organized when they're up on a slatwall instead of just lying around, but this will also help you save precious garage floor space.
This is also beneficial for your car.
With more space around it, it is less prone to getting scratches. If you park your vehicle outside because your garage is too cluttered, this might actually let you take your car indoors.
It Looks Great
Admittedly, this comes down to personal preference. You'll find most people solidly prefer either slatwall or pegboard.
However, there's no denying that both look much better than any DIY wall storage system.
Many high-end garages will cover an entire wall in slatwall so there's a cohesive look while still giving the maximum flexibility for storage.
You can get slatwall in several different colors and styles, including brushed aluminum, to give your garage an upscale look.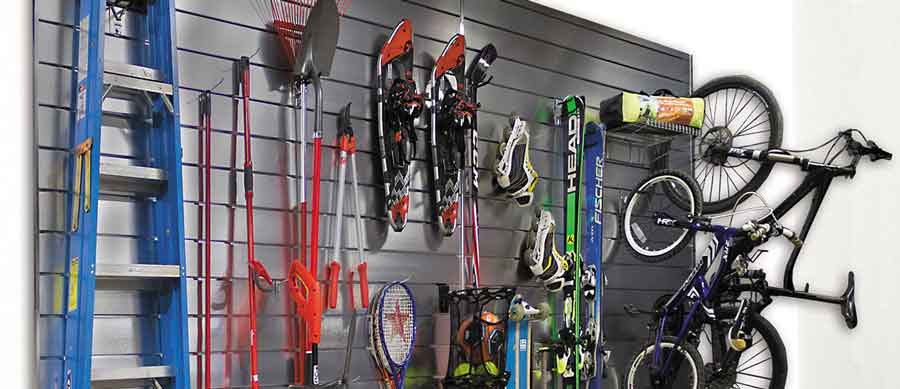 Durability
Slatwall is designed to take a beating, which makes sense given its background in retail stores.

Most garage slat walls are made of either Polyvinyl Chloride (PVC), steel-reinforced wood, or aluminum. They will last a very long time and have a very high weight capacity compared to other garage storage solutions.
How much can a garage slatwall system hold? The major residential slatwall manufacturers (Flow Wall, Proslat, and Suncast) each say their slatwall systems can hold up to 100 lbs. per square foot.
For a 4′ x 8′ section, that's up to 2400 lbs. of storage capacity, which is insane!
---
Slat Walls vs. Pegboards: Which to Choose?
Most people are quick to jump in on one side of the other in this discussion. However, both slatwall and pegboard have their place in your garage.
In fact, my garage uses both a slatwall-type system and a pegboard.
Generally, a garage slatwall system will have a higher weight capacity than a pegboard. You can hang oversized tools and heavy-duty shelves from slatwall that would rip the pegboard off the wall.
Slatwall also looks more "finished" than pegboard does. Many people's perception of pegboard is the old, brown MDF boards our dads had in their garages.
It's come a long way since then, but that first impression stuck with us.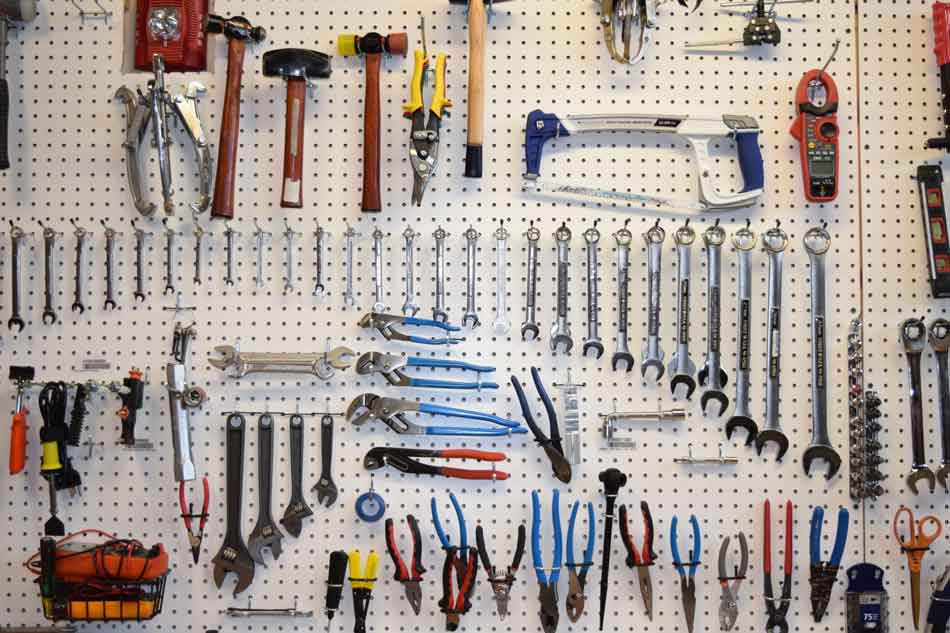 Pegboard is terrific for storing smaller tools on a single panel that won't take up that much space.
If you want to keep your wrenches and screwdrivers while displaying them for everyone to see, then pegboard is the obvious choice.
As I mentioned, I have both pegboard and slatwall in my garage.
I use pegboard above my garage workbench while letting the slatwall do the heavy lifting and organizing my lawn tools.
It all comes down to how you want to organize your tools.
---
How Is Slatwall Different Than a Track System?
While we're making comparisons, I want to say a few quick words about wall storage systems like Gladiator GearTrack or Rubbermaid FastTrack.
Those systems are a great, inexpensive way to store your tools as you would with slatwall, but they're not the same thing.
A proper garage slatwall system uses universal hooks and shelves. That means it doesn't matter what company makes the slatwall itself. Every accessory will work on it.
You can't say the same for the wall storage systems. Even though they use a similar concept, standard slatwall hooks are not compatible with them.
That's not to say that these systems aren't great solutions. I use both the Gladiator GearTrack / GearWall and the Rubbermaid FastTrack in my home. If you want to find out what I think of them, click either link for my detailed review.
---
Are All Slat Walls The Same? (Things to Look For)
Just because slat wall is universal doesn't mean it's all built the same.
Many companies make slatwall systems, each with its own manufacturing process. The overwhelming majority of those companies are making slatwalls for retail stores, so you may have to search to find a slat wall that's right for your garage.
So, what should you look for in a good garage slatwall system?
Metal Inserts = Higher Weight Capacity
One of the big reasons to invest in a garage slatwall system is the higher weight capacity.
But without metal inserts in your slatwall, you won't be able to hang as much as you might think.
Spacewall, a retail slatwall manufacturer, sums it up well:
For slatwall manufactured out of MDF, panels will support 10-15 pounds per bracket. Reinforced slatwall with metal inserts supports 50-60 pounds per bracket.
That's a massive difference in overall weight capacity!
If you're going to invest in a wall system to organize your tools and equipment, you need to make sure that it can hold all that weight.
Better Materials = Better Durability
If you've ever gone to an older retail store, you've probably seen some older slat wall panels have taken a lot of abuse.
Your garage probably won't beat them up to that extent, but you still want to make sure that your slatwall will last.
Modern slat wall is available in several different materials. These range from Medium Density Fibreboard (MDF), which is the cheapest, all the way up to brushed aluminum. Some other common materials are wood and PVC plastic.
Although it's tempting to go straight to the brushed aluminum (because it looks fantastic!), just be aware that they're considerably more expensive than wood or plastic slat wall panels.
Appearance Matters
Speaking of looking amazing, you can get a slat wall system in many different colors, styles, and finishes, and even one that's an American Flag.
This is probably the last thing that should factor into your decision.
However, if you're looking for a way to add style or color to your garage, you might want to consider it.
Accessory Support
The beauty of garage slatwall is that if you find a hook or accessory you like, it will almost always work on your slatwall, no matter who made it.
That's the massive advantage of slatwall over garage track systems like Gladiator or Rubbermaid. Hooks for both systems are proprietary, so you're locked into their system.
If you see that a slat wall manufacturer has a "proprietary accessory design" (or something similar), that should be a huge red flag.
With hundreds of different accessories to choose from, it's easy to find something that will work for your garage.
Easy to Install?
Most garage slatwall systems will screw into wall studs or concrete. A few will come with features that make it easier to install.
If you get a system that's easy to install, you will not have to pay a professional to help set up the system for you.
We will look at the general installation process of a garage slatwall in the next section.
Price
One last thing worth considering before investing in a garage slatwall system is that they are more expensive than other wall systems like pegboards or wooden walls.
That said, you're getting a better product in terms of looks, versatility, and durability.
To put it briefly, slat walls are an excellent long-term investment.
---
How to Install a Garage Slatwall
At this point, it's worth looking briefly at how to install garage slatwall at home.
Most people will hire a pro for this because slatwall installation is a long, involved process. Also, let's face it: slatwall is heavy.
But if you're the DIY type, this is definitely a doable project for your next free weekend. Just follow the steps below:
The first step is to determine the lowest point of your garage ceiling. Choose a point in the room and draw a level line that passes through it. Now, measure the height from this line to the ceiling at each end. After this, locate and mark the point where the height is the smallest.
Once you have located the lowest point of the ceiling, draw a line about a foot below this point. This will be the top of your slatwall installation.
Find and mark the wall studs. Wall studs are the inner vertical frames supporting your garage's structure. If you install your slatwall by attaching it to the studs, it will have more support later.
Install J-Tracks at the end of each slatwall panel. Then, place one of the panels horizontally to the line you drew about a foot below the lowest point of the ceiling. Now drill a screw at each point along the stud line.
Take the second panel and align it to the bottom of the first panel. The panels have a tongue-and-groove system that attaches each panel to the one above it. Once connected, drill a screw at each point along the stud line.
Repeat step 5 for all the panels. You will soon have a fully installed slatwall.
Be sure to use screws that are long enough to penetrate deep (at least an inch) into the stud.
This secures the slat wall to the stud so it doesn't come loose when you hang something heavy on it.
---
Must-Have Garage Slatwall Accessories
One of the most significant advantages of a versatile slatwall system is the thousands of available accessories.
Let's take a look at some of those now:
Peghooks
Ahh…peghooks. This really takes me back to my retail days.
Peghooks are available in many different types, lengths, and shapes. They're the accessory you will use most on your garage slatwall.
Single hooks are the most common of all slatwall accessories.
They're a simple hook on a backing piece that can move around as needed. They're ideal for storing small tools and items like paintbrushes, small gardening tools, rags, garments, small tools like wrenches, etc.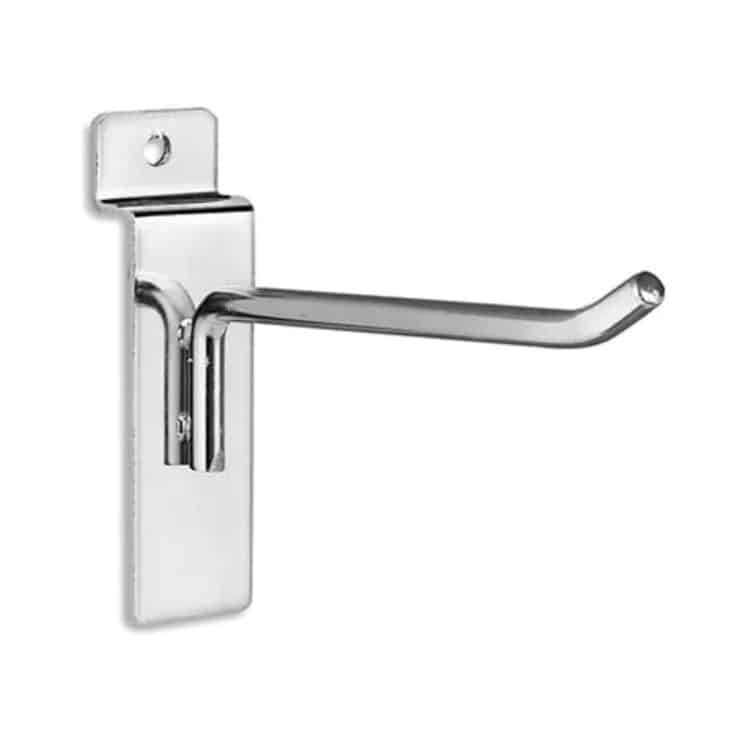 Double peghooks are simply two single peghooks into joined together.
They're considerably stronger when compared to single hooks and can support heavier tools and equipment like shovels, rakes, baseball bats, etc.
Next, deep utility hooks are the strongest of the three types. They can store anything from hoses and small ladders to folding chairs. For most garages, this should suffice.
Amazon has an assorted pack of peghooks in various shapes and sizes.
Specialty Slat Wall Hooks
Specialty hooks are designed to store heavy equipment such as kayaks, vehicle tires, giant ladders, sports equipment, lumber, etc.
These hooks are usually over 25 inches (63.5cm) and can be really helpful in saving up a lot of storage space in your garage.
Garment Hooks
Most slatwall is designed for retail stores, so a garment slatwall hook holds one piece of clothing on a coat hanger for display.
The ends of the hooks have a large cap on them designed to keep the hanger in place. You can use them to hang anything from your jackets to your raincoats.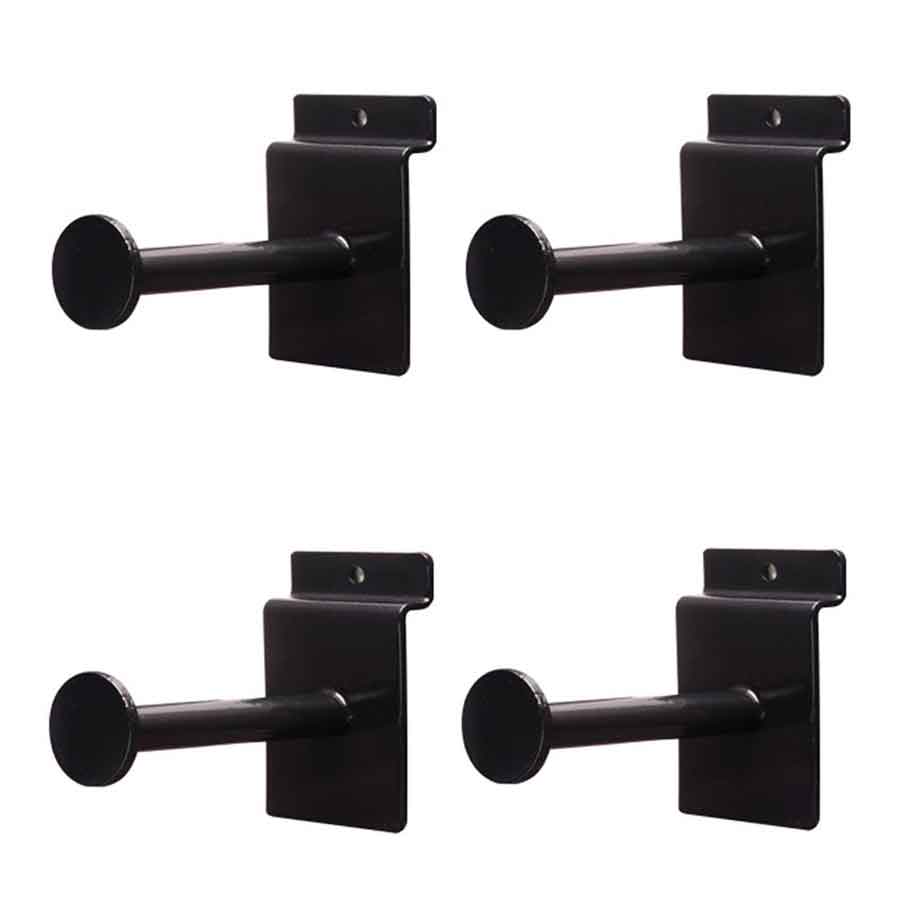 Most people use them to store their motorcycle helmets and gloves as well. You can find these in various sizes and lengths on Amazon.
Baskets
Baskets are one of the most versatile accessories you could install in your garage slatwall. They are baskets with a bracket that lets them hook onto your slatwall.
You can use them to store anything from garments, sporting equipment, aerosol cans, helmets, shoes, etc.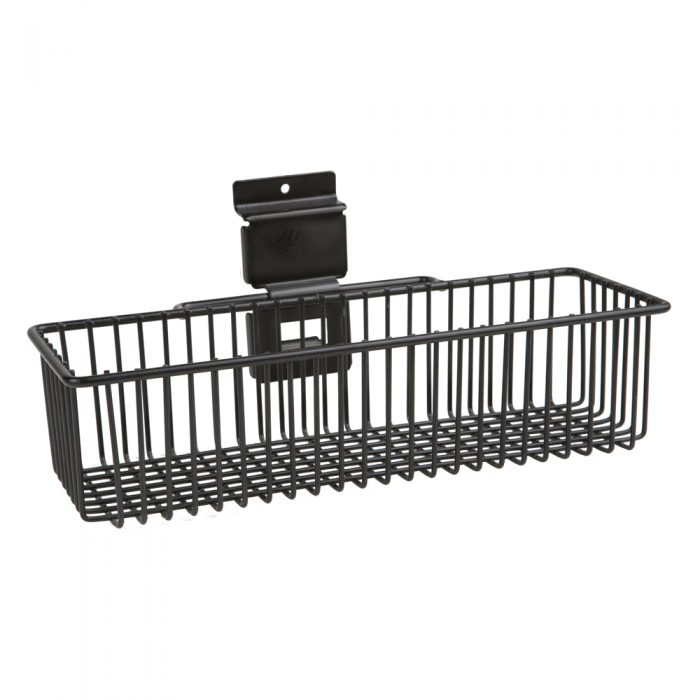 Viper tool storage makes a great slatwall basket in several different sizes.
Toolbars or Holders
Depending on where you install your slatwall, you might want easy access to your more essential tools. Toolbars can help you keep your tools organized and available for easy access.
Magnetic toolbars are special versions that use magnets to hold small tools in place.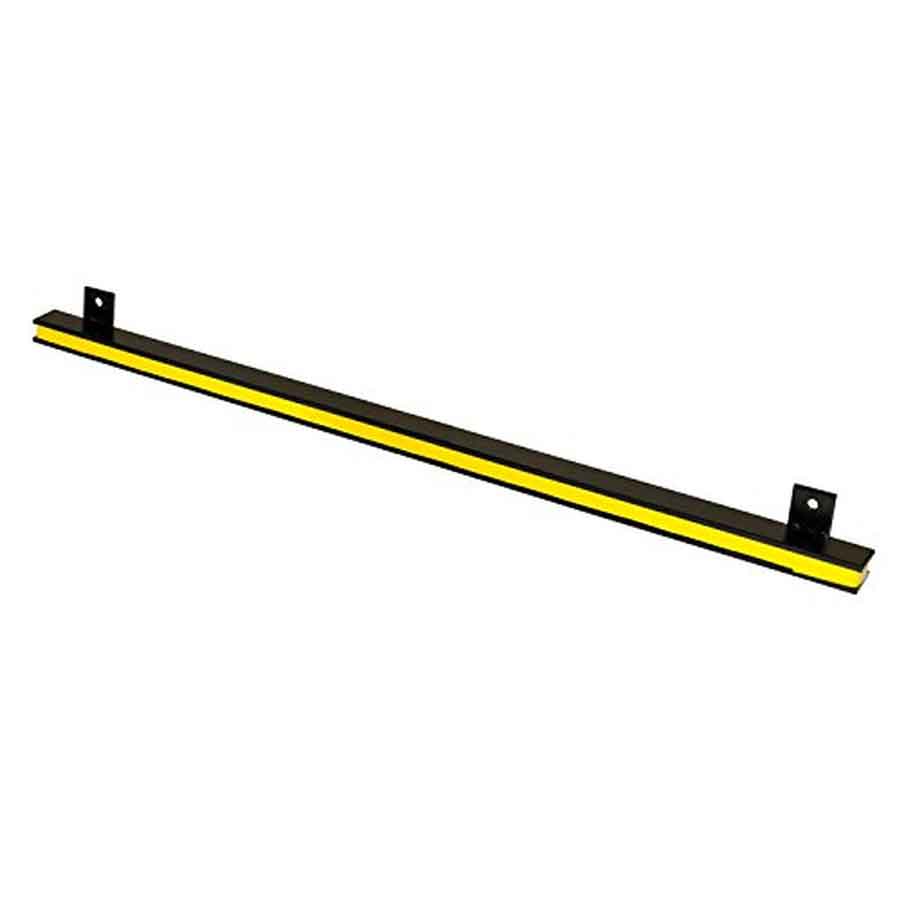 A screwdriver holder is my favorite accessory to add to your slatwall. It's a simple magnetic panel that holds all the screwdrivers.
They're very inexpensive on Amazon and are well worth the price.
Bike Hooks
I'm not an avid biker by any means, but it's trendy in my neighborhood. The thing about bikers is that they all need somewhere to store their bikes.
Bike hooks fit that need. They let you hang your bike up on the slatwall, leaving more space in your garage.
Vertical bike hooks keep bicycles perpendicular to the wall, with the tires pointing toward the ceiling. On the other hand, horizontal bike hooks keep them parallel to the wall.
Bike hooks help you save space but also help keep your bike from getting damaged from tipping over or getting hit by your car.
Shelves
Unfortunately, not every item in your garage can be stored in hooks or baskets. That's where shelves come in.
Shelves are a must-have accessory for any garage slatwall. If you detail your car, they're the perfect solution for storing your cleaning supplies that can't be hung on a hook or thrown into a basket.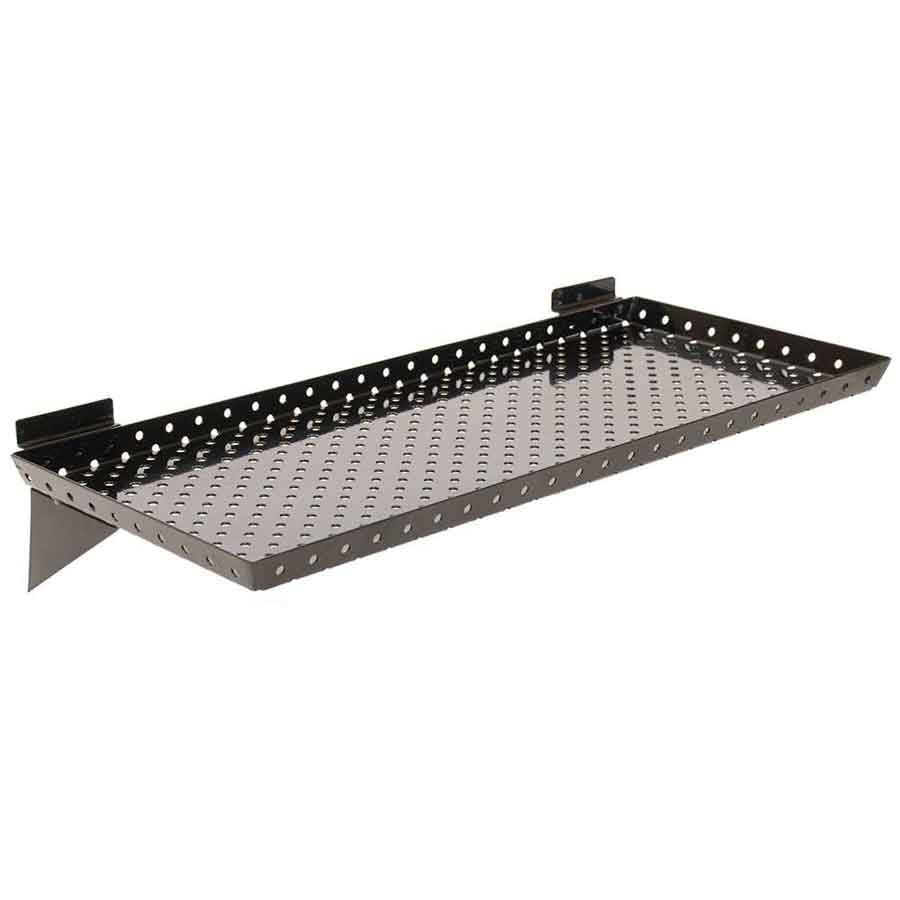 There are plenty of shelves designed for garage walls. Some are specifically designed with slots for cans and bottles. Others are perforated ideal for storing your boots and shoes.
Tilt-Out Storage Bins
A tilt-out storage bin is another excellent garage/workshop slatwall accessory.
These units are perfect for storing small items such as bolts, screws, or other pieces of metals and plastic you may expect to find in a garage.
---
Are Slatwall Accessories Interchangeable?
For the most part, slatwall accessories are all interchangeable.
There are a couple of notable exceptions, however. Gladiator GearWall accessories are proprietary and won't work with any other system.
In most cases, if manufacturers advertise something as a 'slat wall accessory,' it'll work no matter who made your slatwall panels.
Avoid Wood Slatwall Fixtures
While there are several slatwall manufacturers, most are wooden slatwall designed for retail applications, not for your garage.
Why does that make a difference?
The environment inside a retail store is climate-controlled. That means there's virtually no chance for the wood to warp due to moisture. It also means it's less likely to expand and contract with temperature differences.
By contrast, your garage is a much harsher environment. Most garage slatwall systems are made from PVC plastic or aluminum.
That gives them greater durability and a longer life.
---
Wrapping It Up
Slat walls are one of the most popular garage wall systems. They make storage and organization much easier for you while improving the look of your garage.
If you have a cluttered garage you want to organize, consider investing in a good garage slatwall system. They are versatile and durable wall organizational systems and can make your life much easier.