One day your garage is the envy of everyone on your block, and the next thing you know, you've got clutter everywhere. It doesn't take long for the crap you accumulate to start taking over.
That's what happened in my garage, so I started looking at a customized garage storage system before things got really out of hand.
I picked up a 6-piece FastTrack rail tool hanging starter kit with two 32″ rail sections, installation hardware and four different types of hooks.
I wanted to see how Rubbermaid compared to everything else on the market, and today I'm going to share my thoughts.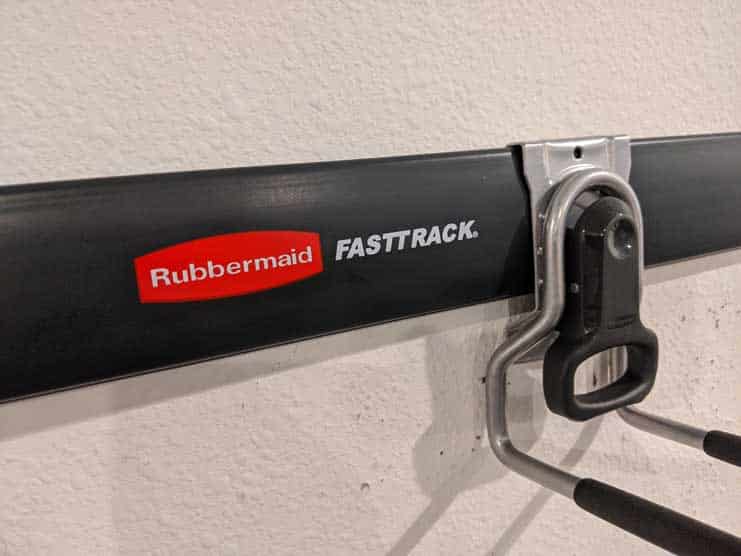 ---
The Rubbermaid FastTrack Garage System
Rubbermaid came out with the FastTrack wall storage system over a decade ago.
However, there's a catch. There are two FastTrack systems: FastTrack Garage and FastTrack Closet.
I totally understand trying to capitalize on name recognition. If something is doing well, you want to capitalize on it.
I think they dropped the ball because the two systems aren't compatible.
Both are good products in their own right. Still, it could confuse customers to have a FastTrack Closet accessory that won't work on your FastTrack Garage rail.
Thankfully they're usually in two different sections of the store, so people aren't likely to stumble on the wrong one by mistake.
So for this article, we'll discuss the Rubbermaid FastTrack garage storage system.
Here are a couple of design elements that jumped out at me:
The Rubbermaid FastTrack Rail
One of the things I really like about the Rubbermaid FastTrack system is the black plastic cover that slides over the metal rail.
While everyone uses heavy plastic on their track storage system, Rubbermaid went in a different direction.
The only plastic you'll find is the cover on top.
The rail is molded from heavy steel into a 'W' shape. The two channels have screw holes every inch apart down the rail.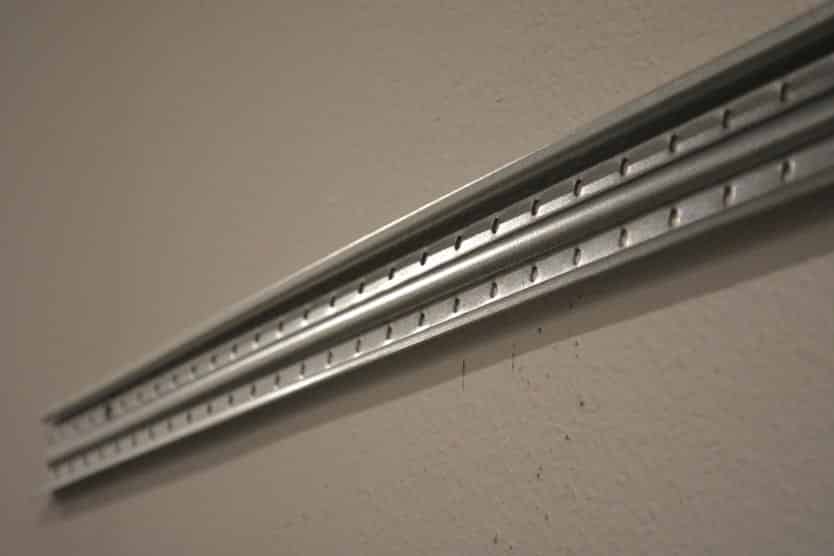 Because it has a heavy steel construction, the rail is thinner and sleeker than anything else on the market. It also gives it a super high weight capacity, but we'll get to that in the next section.
The total width is only 2″, with an additional quarter of an inch once you add the plastic cover.
Bare steel doesn't look good, so Rubbermaid added a molded plastic sleeve over the rail.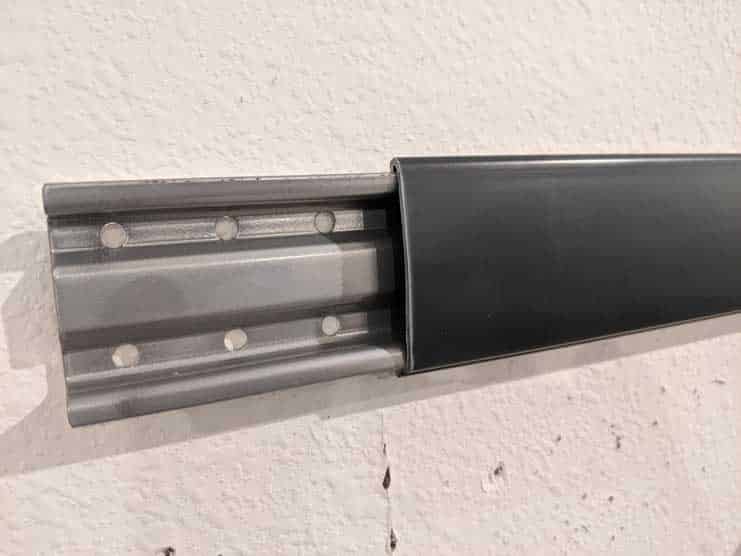 I like the black plastic sleeve idea, but I wish it didn't include the Rubbermaid logo.
On a simple 4′ or 8′ track, it's not bad. However, that logo could appear dozens of times on a wall full of FastTrack rails. It's not a sticker, so, unfortunately, you can't peel it off.
Additionally, you can't buy the rail covers separately, and if you damage one, you'll need to purchase a new rail. Even worse, the hooks won't attach correctly without the rail cover.
The FastTrack Hooks
The FastTrack hooks have a C-shape that's common to most other garage storage systems. The larger hooks also have a locking latch that clamps down on the rail to secure them.
The smaller hooks, like this Cooler Hook, don't have a locking clamp, so they're held in place by the two notches on the bottom of the hook.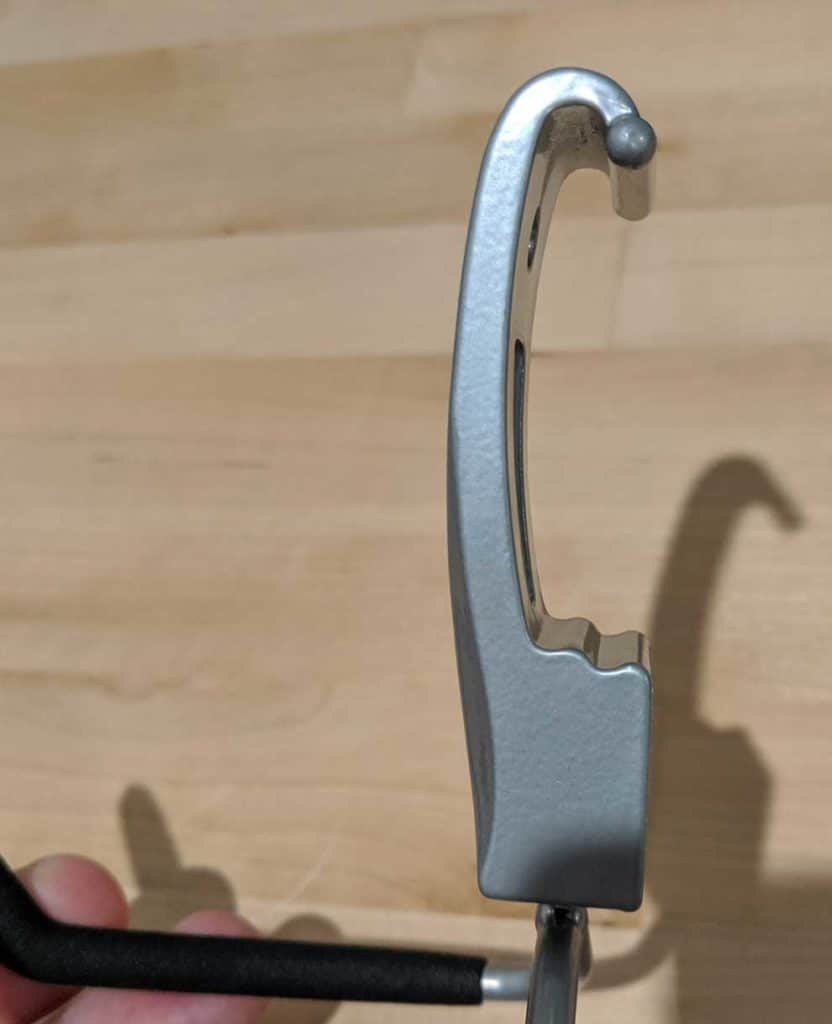 The good (and bad thing) about this design is that this hook isn't going to move once it's locked into place.
If you want to re-position a Rubbermaid hook, you'll need to lift the hook off the rail and re-attach it in the new location.
It makes minor adjustments a little more challenging, but I really like knowing that the stuff I hang on my garage wall isn't going to move once I put it there.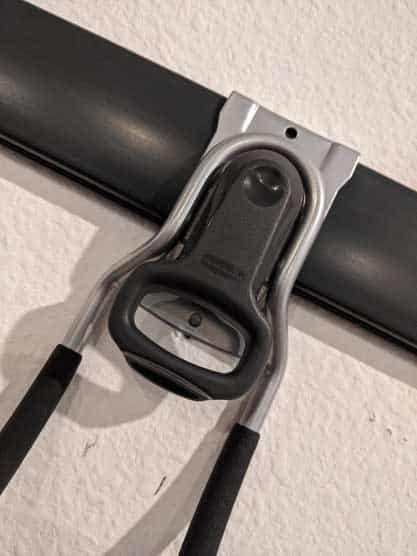 The heavy-duty hooks also included an additional screw hole on the bottom for extra support. It'll let you lock them in place and make your setup more secure.
The hooks are covered in a foamy-looking material that appears softer than it really is. They call it their "soft-grip" handles, but apparently, we have different definitions of what "soft" really is.
In all honesty, it's there to provide a little traction when you hang stuff on it, and it'll save any delicate surfaces from getting scratched up.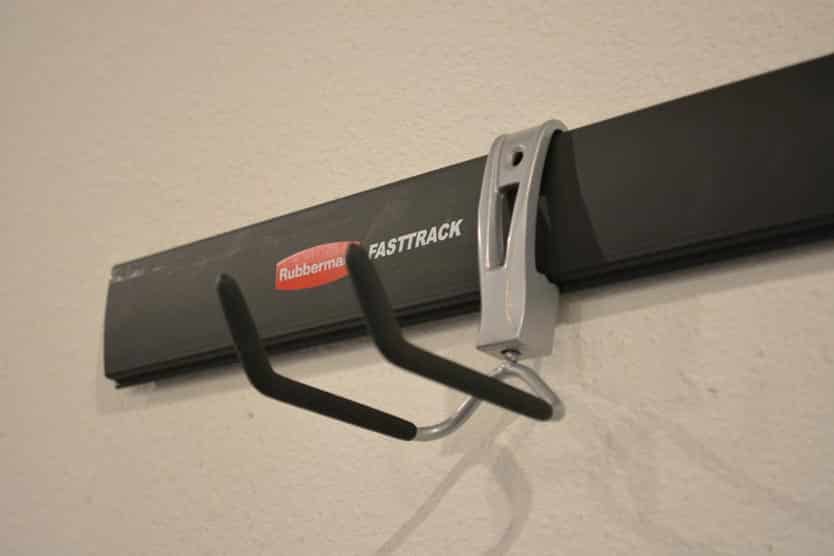 ---
How Much Weight Can Rubbermaid FastTrack Hold?
I see one question pop up on forums and reviews any time the FastTrack system is mentioned:
Rubbermaid FastTrack rails can hold a lot of weight. A 4′ Rubbermaid FastTrack rail has a weight capacity of up to 1,750 lbs per rail.
That's over 400 lbs per foot!
---
Unboxing the Rubbermaid FastTrack Starter Kit
I don't usually do unboxing posts, but since this is a starter kit, I might as well.
As I mentioned, you can buy the rails and hooks separately, or pick up one of Rubbermaid's starter kits to make it easy to get started.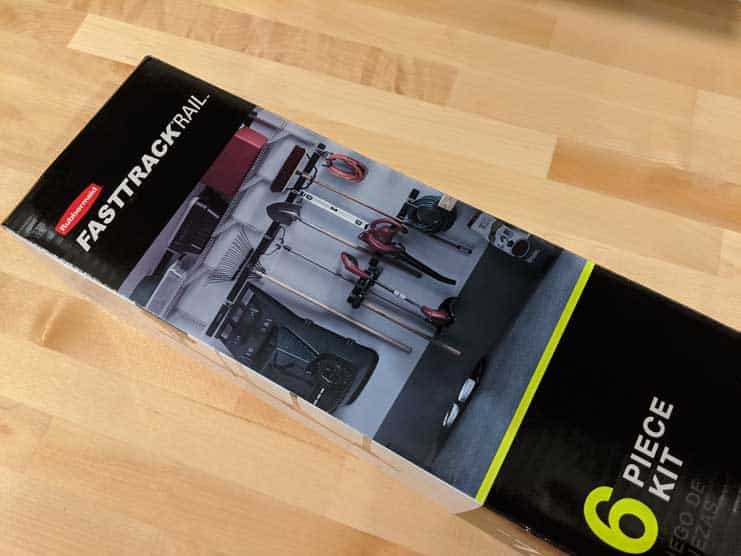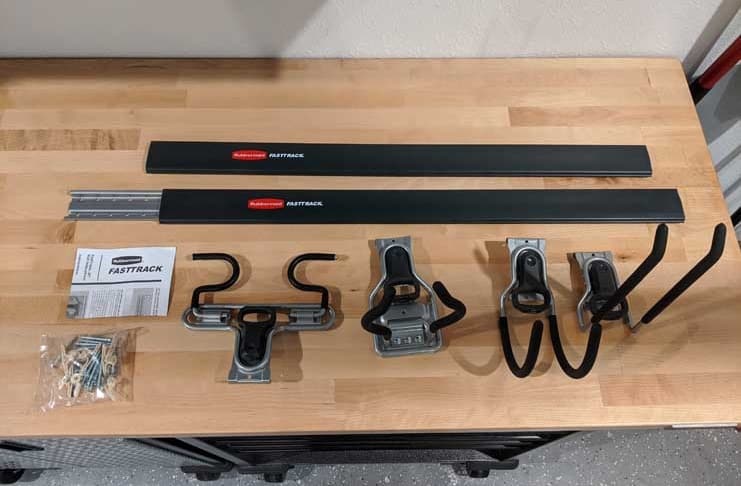 Here's what you get:
Two 32″ FastTrack rails
Installation hardware
One Multi-Purpose Hook
One Power Tool Hook
One Utility Hook
One II-Handle Hook
Let's look at the hooks in a little more detail. Ultimately that's what makes or breaks a wall storage system.
Power Tool Hook
The Power Tool Hook is easily my favorite of the four hooks. Personally, I have all of my drills either in a drawer or in a cabinet, but this would let me hang them up for quick access. I can see how it would save a lot of time for stuff I use daily.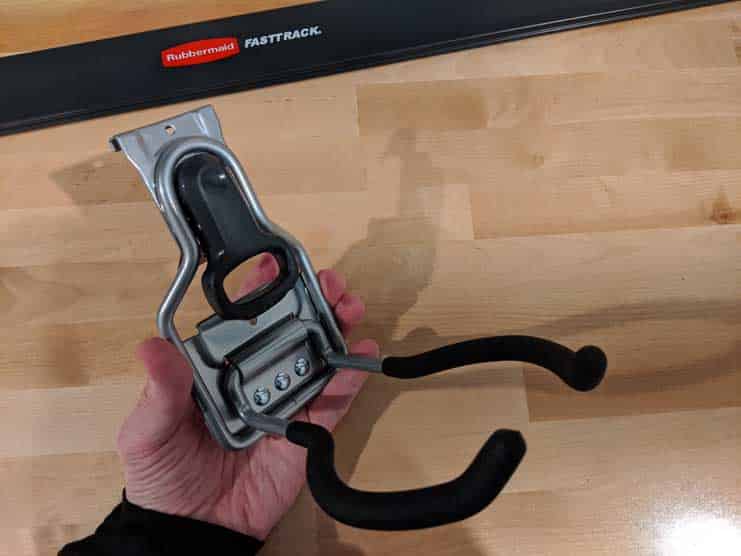 The gap between the hook arms is a little wide for my light-duty stuff, but it should easily be able to accommodate heavy drills and battery packs.
The total weight capacity for this hook is 50 lbs.
Multi-Purpose Hook
I think everybody has something like the Multi-Purpose hook in their lineup. In my garage, I've got almost every tool I own hanging from hooks like these.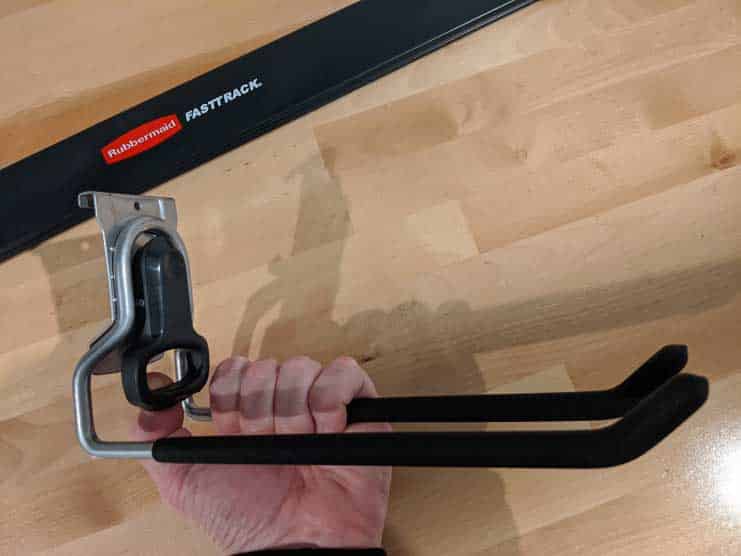 What I like about this hook is just how long it is. Remember that the FastTrack has an incredibly high weight limit, so you can pile 50 pounds on each multi-purpose hook.
That's about the weight of nine shovels, by the way.
Utility Hook
The Utility Hook is a deeply scooped version of the Multi-Purpose Hook. It's the perfect depth for hoses and extension cords, so you can hang them up without needing another gadget to keep them from getting tangled.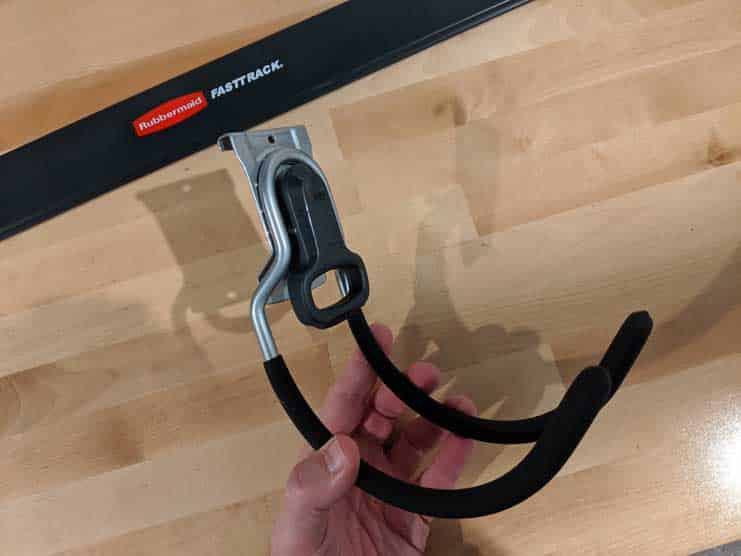 At first, I thought this was another niche product. It's very similar to the Hose Hook (which has less of a scoop), so I'm not sure why they have both designs.
Personally, I'd use this instead of the Hose Hook for both my hoses and extension cords. But that's about the only place I could see using this hook. For most other stuff, I'd use the Compact Hook instead (not part of this starter kit).
The total weight capacity for this hook is 50 lbs.
II-Handle Hook
The II-Handle Hook is my least favorite design of them all. I don't think the friction is enough between the grippy part of the hook and the handle of the broom or whatever I'm trying to hang up.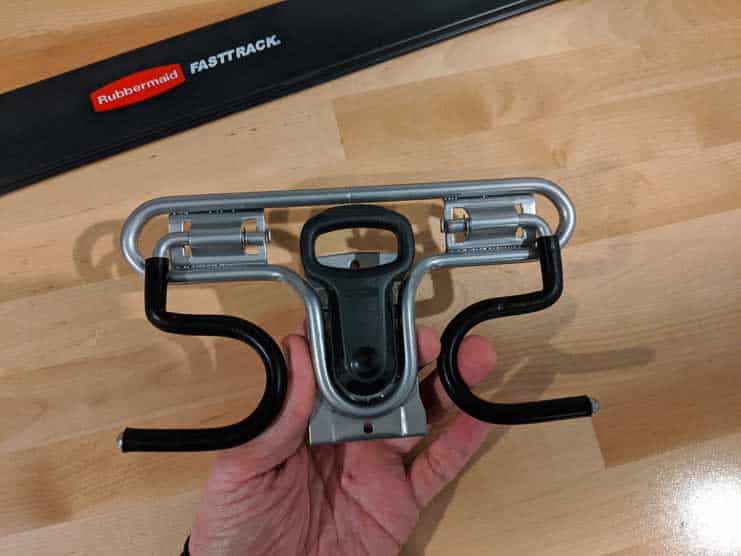 I like that you can hang two tools up on one hook, but I just hate how it looks.
The total weight capacity for this hook is 50 lbs.
---
What Accessories Work With Rubbermaid FastTrack?
I wanted to know which accessories would work with FastTrack rails, so I devised a simple test.
I bought a hook and track piece from Rubbermaid FastTrack, Gladiator GearTrack, Craftsman VersaTrack, and the Kobalt storage rail system found at Lowe's.
I mounted each on my wall and tested each brand's hook to see if it fit and if it could actually hang anything reliably.
I hate when I'm shopping and unsure if what I was looking at would work the way I wanted it to when I got home. This experiment cost me about $100, but it helped me decide on the best track storage system for my garage.
I hope you like what I discovered.
Does Rubbermaid work with Gladiator GearTrack?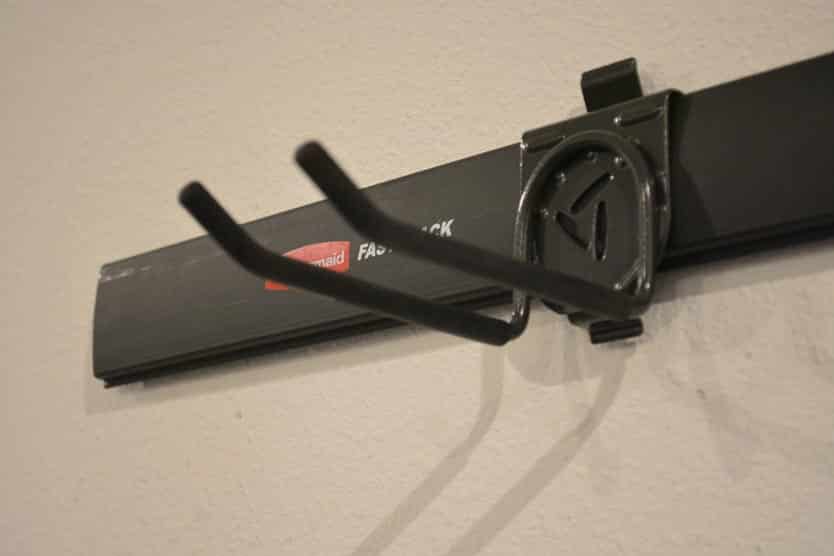 Gladiator hooks secure to a GearTrack or GearWall system in two ways. First, there's the typical C-channel on the back to hook over the track itself.
The second way is the locking tab at the top of the hook, as seen in these pictures.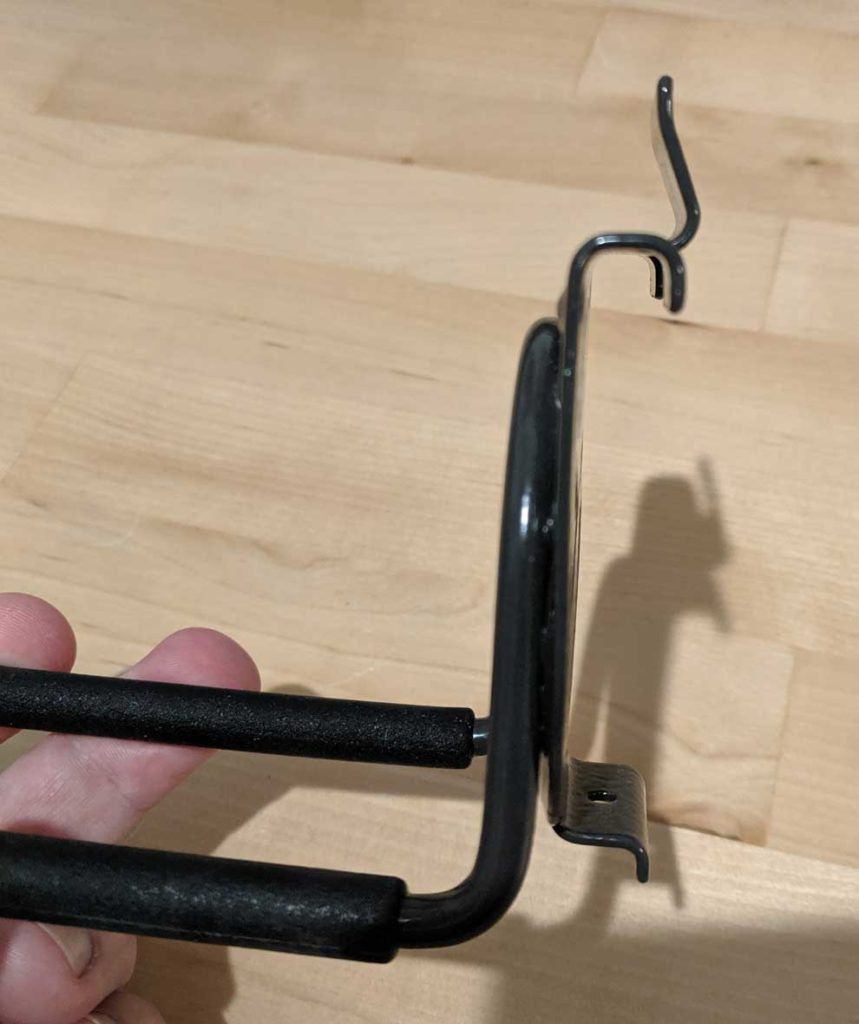 Obviously, those hooks have nothing to hook into on the Rubbermaid system. From an aesthetic perspective, it's small, so you won't notice it unless you're looking for it.
Without that hook locking it in place, the Gladiator hook slides freely along the FastTrack channel. It also wobbles from side to side and doesn't feel very secure.
It's secure enough to hang items from, but you want to be very careful when taking anything off the hook. It's easy to pull the entire hook off the track while grabbing whatever was on it.
Compatible with Rubbermaid FastTrack? Yes, but not secure
---
Does Rubbermaid Work With Craftsman VersaTrack?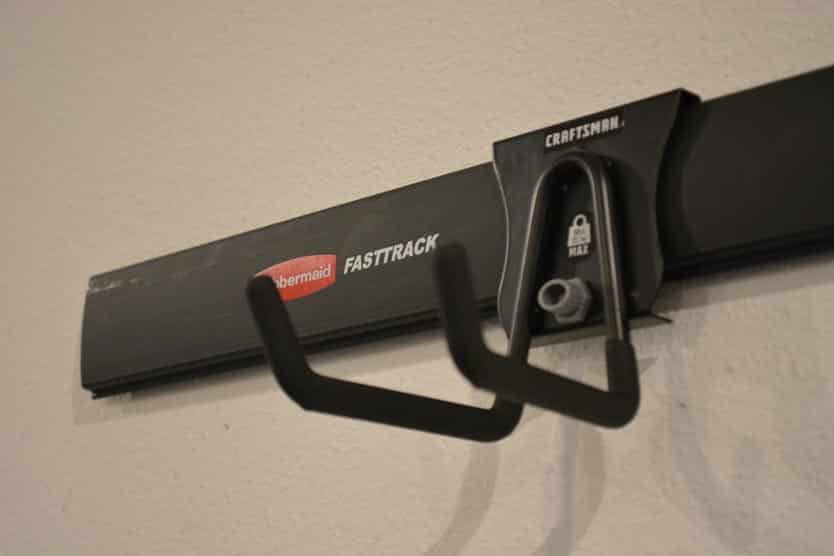 I'm beginning to think that Craftsman's biggest strength is its versatility. Once again, the Craftsman hooks worked much better on a different manufacturer's garage track system than I expected.
The C-channel on the Craftsman hook fits neatly over the FastTrack channel, and the only challenge is the locking hook on the bottom.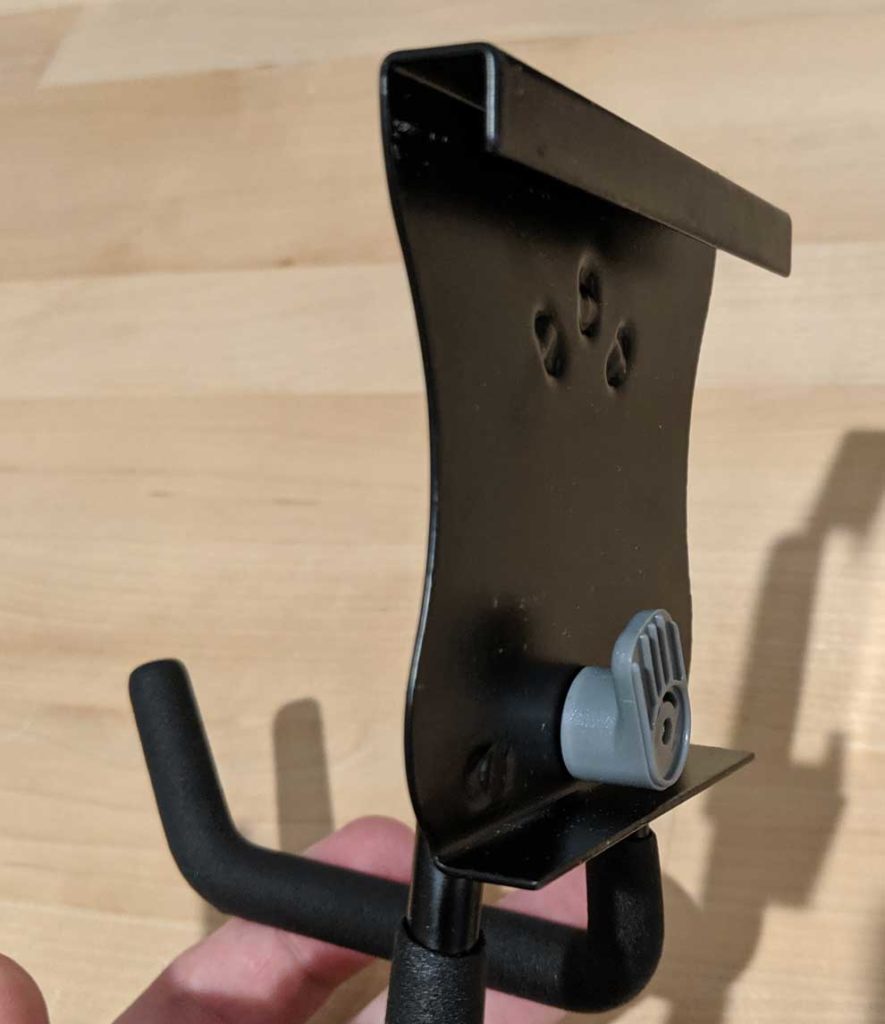 On the Craftsman hook, there's a tiny grey knob on the front that you turn to lock the hook in place.
When it's set to the 'unlocked' position, the Rubbermaid FastTrack channel barely fits underneath.
It's a snug fit but not entirely locked in place.
I suggest taking a small file or heavy-grit sandpaper and sanding down the inside of the hook about a millimeter. Then the lock can engage and secure the hook.
Not to say it's perfect, but I think it's an honestly workable solution.
Compatible with Rubbermaid FastTrack? Yes! (with slight modification)
---
Will Kobalt Garage Hooks Work With Rubbermaid FastTrack?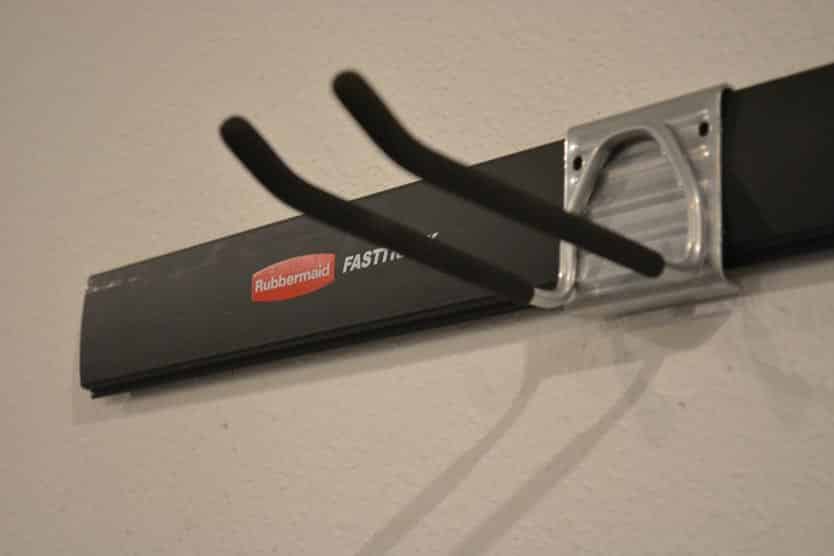 I'm beginning to think that the only thing the Kobalt hooks are going to work with is their own track system.
The Kobalt track is made of rubberized plastic. Accessories stay in place primarily due to the friction between the track and the hook. Other manufacturers use another locking mechanism to keep the accessory on the track.
The hooks have a slight bend to the top part of their C-channel and a flat portion on the bottom.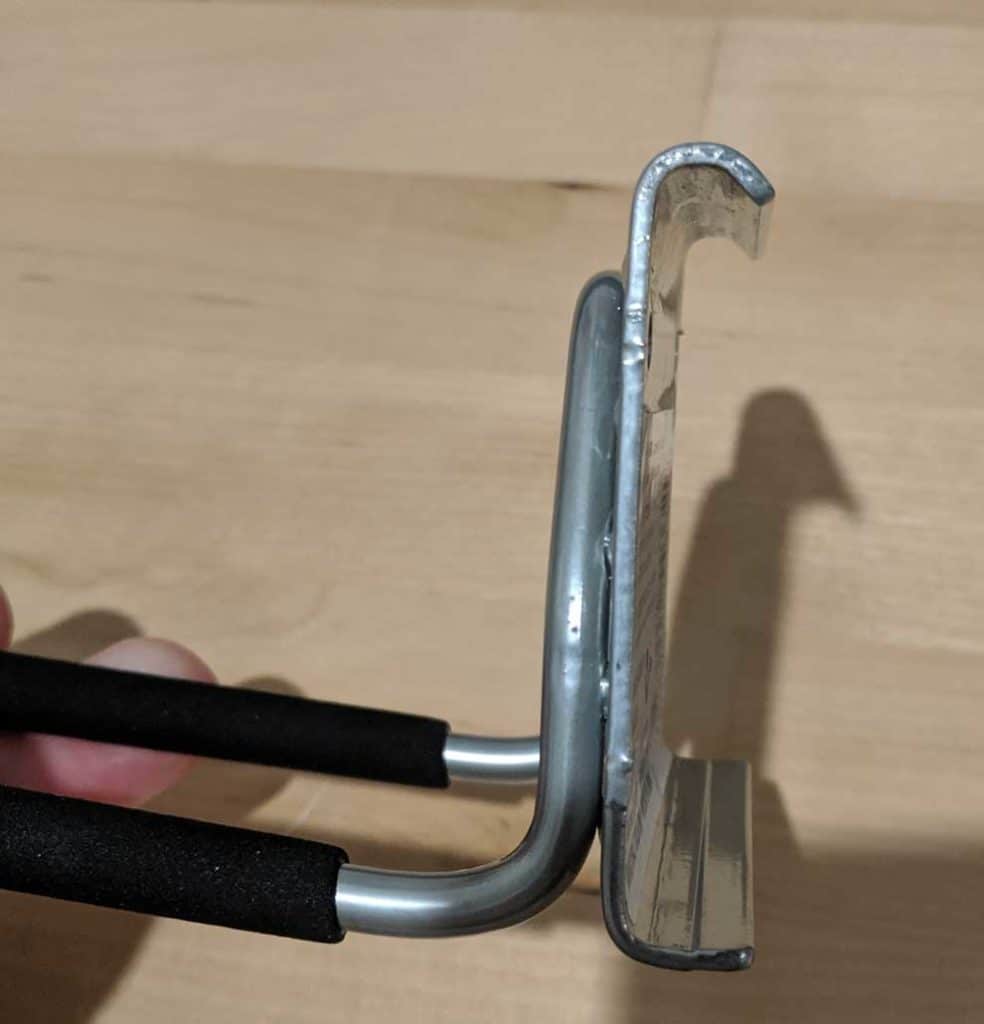 ou can imagine what happens when you try to put a smooth hook on a smooth track.
It falls to the floor.
Compatible with Rubbermaid FastTrack? Definitely not!
---
How to Install Rubbermaid FastTrack Rails
The Rubbermaid FastTrack rails have a quick and easy installation, but there's more to it than you might think.
They must be secured better than the other systems to get that incredibly high weight capacity.
Like other systems, installation starts by lining up the FastTrack rail with the center of your wall studs. Assuming your studs are 16″ on center, you should be able to secure each 32″ to three studs and each 48″ rail to four studs.
Place drywall anchors in between each rail for added support. These are included in the installation kit.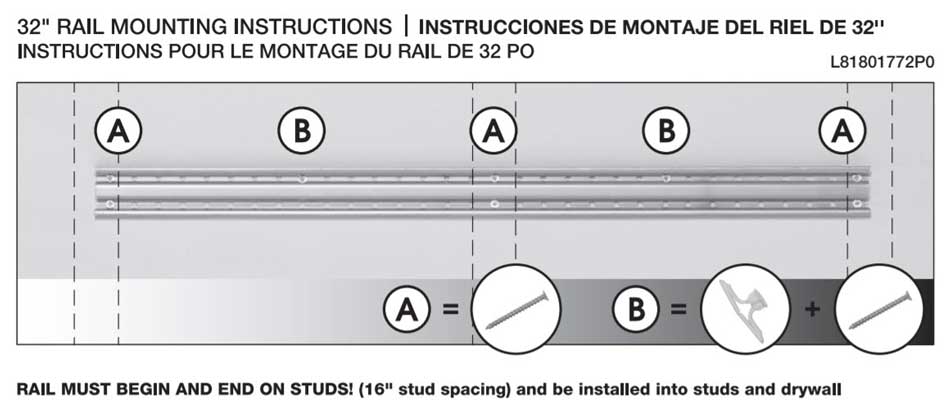 In the image above, you can see the five points to secure this 32″ rail.
Points marked with an 'A' are where you'll attach the rail with screws into the wall studs, and points marked as 'B' will need the drywall anchors.
If installing the FastTrack rail into a concrete block, just use five Tapcon concrete anchors.
I had trouble getting the plastic cover to snap onto the steel rail., which is one of the more frequent comments I've read in reviews.
The trick is to fully snap in the top before working on the bottom. Once you figure that out, it goes much quicker, but I can see how that might be a challenge in tight spaces.
The installation was a breeze overall. However, I wish that Rubbermaid included an endcap to make it look cleaner.
---
Installation FAQ's
Can FastTrack rails be cut? Yes. Rubbermaid recommends not cutting them smaller than 32″, which will still let them attach to three wall studs. Shorter distances will have significantly reduced overall weight capacity.
Will the FastTrack rails attach to Rubbermaid's Roughneck shed? No, and Rubbermaid definitely does not recommend this. The Roughneck shed's walls can't support the weight.
Is the installation hardware included? Yes. Mounting hardware is included if you buy one of the FastTrack kits. If you purchase the rails on their own, you'll need to buy them separately.
---
Rubbermaid FastTrack in my Garage
I installed the Rubbermaid FastTrack rail in a small section of my garage wall next to the door to my kitchen.
This wall section is my test-bed for new products that I'm not sure will make the final cut in my garage.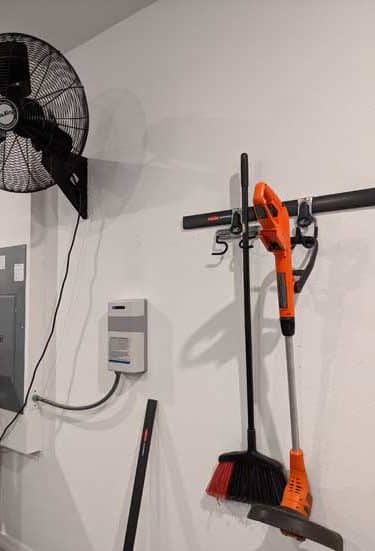 In my garage, this would be an excellent area to put some of the stuff I would grab on the way to the car, like keys, a hat, or an extra pair of sunglasses.
Personally, it doesn't really work to hang tools there, but it's OK for demonstration purposes.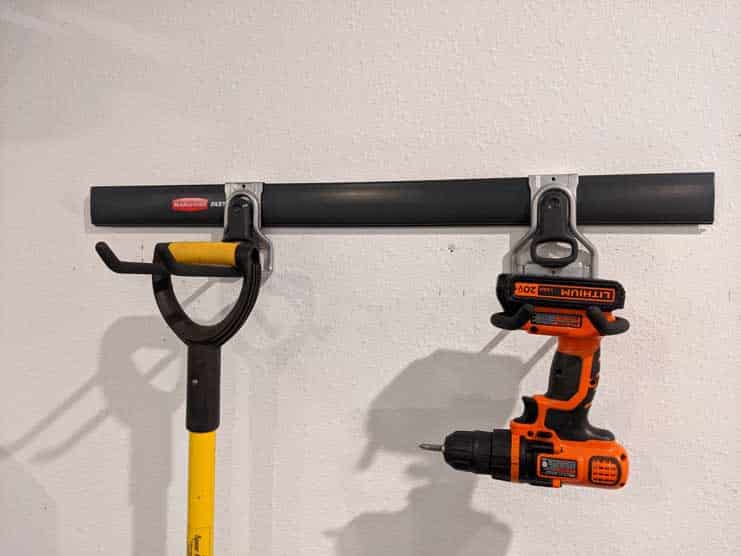 ---
Update: I Moved My Rubbermaid FastTrack to My Laundry Room
One of the things I really liked about the FastTrack wall storage system is that it looks a bit more upscale and refined than the Gladiator or Craftsman systems.
It's not what I was looking for in my garage, but it's great for a more visible area in the home.
Like my laundry room.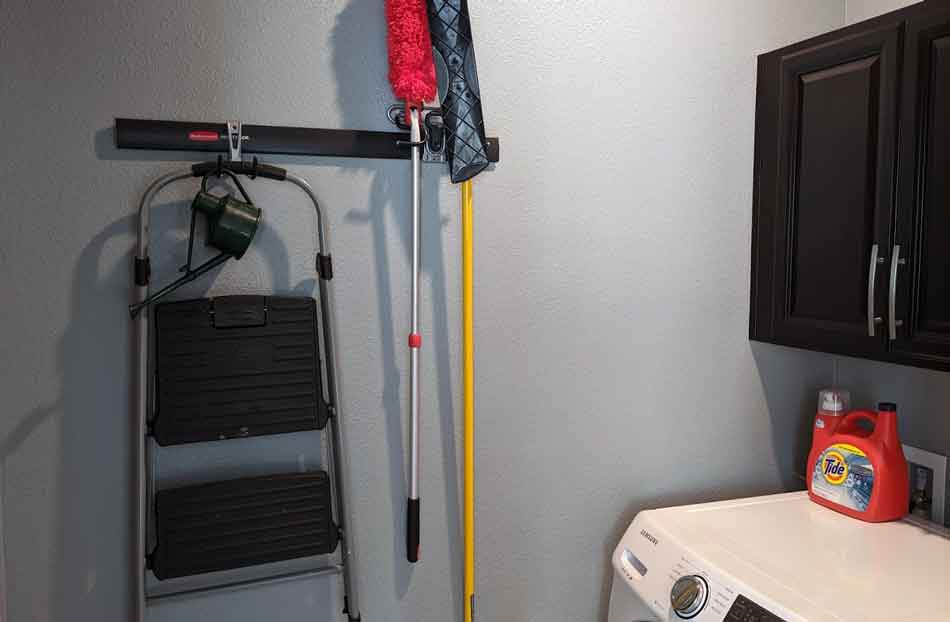 The hooks that come with the Rubbermaid starter kit are a great option for hanging mops, dusters, and even a step ladder.
For more information on the Rubbermaid FastTrack Ladder Hook, check out my article on storing a ladder in your garage the right way.
---
Rubbermaid FastTrack Starter Kits
Rubbermaid has four starter kits you can find anywhere. However, other versions will pop up at specific stores or around the holidays.
The kits range from a 5-piece kit to a 15-piece kit, and each includes mounting hardware.
If you need a shorter rail length, then one of the Rubbermaid FastTrack starter kits might be just what you're looking for. While you can cut one of the steel rails, a few starter kits come with shorter rails by default.
5-Piece FastTrack Starter Kit
The 5-piece and 6-piece starter kits are almost identical except for a slight change in which hooks are included.
The 5-piece kit includes the Multi-Purpose hook, which is great for holding stepladders or multiple shovels or rakes on the same hook.
6-Piece FastTrack Starter Kit
By contrast, the 6-piece starter kit swaps out the Multi-Purpose hook for the Utility Hook and an additional One Handle Hook. The Utility Hook is great for holding larger tools like lawn edgers or hedge trimmers.
15-Piece FastTrack Starter Kit
The 15-Piece Starter Kit is unique because it has three four-foot FastTrack rails instead of the shorter rails you'll see in other starter kits.
If you've already got a FastTrack set up in your home, this is probably a great fit. It comes with three types of hooks: the Multi-Purpose, Utility, and Cooler Hooks.
Tool Hanging Kit
I wish I'd seen the Tool Hanging Kit before buying my FastTrack starter kit.
It's my favorite because it has four hooks I'd use most in my garage. It's the only one to come with a Power Tool Hook and also includes two 32″ rails.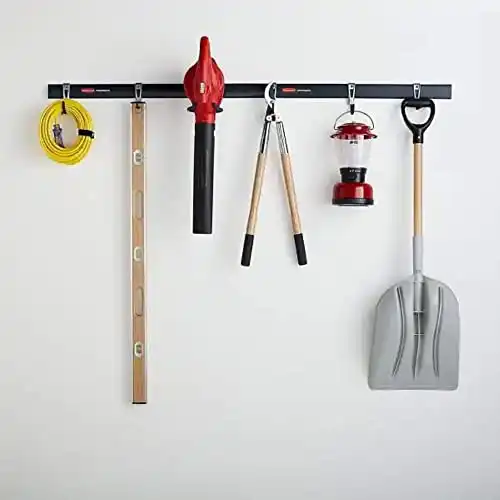 ---
Conclusion
Overall, I like the Rubbermaid FastTrack system, even though it isn't what I went with in my garage.
Don';t get me wrong, it's a great storage solution, but I think it's better suited for inside your home. For garages, I prefer Gladiator GearTrack or a slatwall system like ProSlat.
The rails are solid and have the best weight capacity of any track storage system. The design is sleek and clean, for the most part, and it leaves a lot of white space on the wall.
But there were a couple of things I wasn't crazy about that ultimately made me go in a different direction.
The steel rails aren't as easily cut to odd lengths as other manufacturers. I'm comfortable using a table saw to cut wood or plastic, but cutting metal just seems different.
There isn't a wide variety of accessories you'll find in other manufacturers either. Don't get me wrong, the FastTrack hooks are top-notch, and I love the design, but I wish there were more to choose from.
That said, if those minor flaws aren't a big deal to you, I recommend checking out one of the Rubbermaid FastTrack Starter Kits. They come in a variety of different rail lengths and hook selections.
For more on which wall storage system I use in my garage, check out my Gladiator GearTrack and GearWall review. I've been using the system for several years, so there are a lot of detailed user experiences in there that you won't find anyplace else.