Winter is a cold, dark time…especially in your garage.
When I lived up north, it felt like my garage was hovering right around freezing for half the year. If you use your garage as a workshop, or even if you just use it to park your car, keeping your garage at the right temperature in winter can make all the difference.
The cheapest and easiest way to make your garage warmer is to use a garage heater. Shocking, right?
But there are literally hundreds of models and many different types to choose from.
Which garage heater is right for you?
In this article, I will explain the different types of garage heaters and discuss whether electric or propane heaters are right for you. Then I'll talk about the myth of high-efficiency heaters and explain how to figure out what size heater you should choose.
Let's get started.
---
Types of Garage Heaters
There are three main types of heaters: forced air, convection, and radiant. The distinction is what gets heated and how quickly that heat gets out into your room.
You could go old-school and use a wood-burning stove in your garage, but I've covered that in a different article.
Let me explain.
Convection garage heaters: This is a basic heater with an enclosed flame or heating element that warms the air within the heater. That air then naturally rises and heats the air around it. Convection garage heaters are usually the cheapest option, but they'll take the longest to heat your room.
Forced-air garage heaters: What happens when you take a convection heater and add a fan to it? It becomes a forced-air heater. Instead of letting the air rise naturally, a forced-air heater pushes the air out to heat the room more quickly.
Radiant garage heaters: Both convection and forced-air heaters work by heating the air around them. Radiant garage heaters use low-level radiation to heat the objects in front of them. This, in turn, heats the air around them.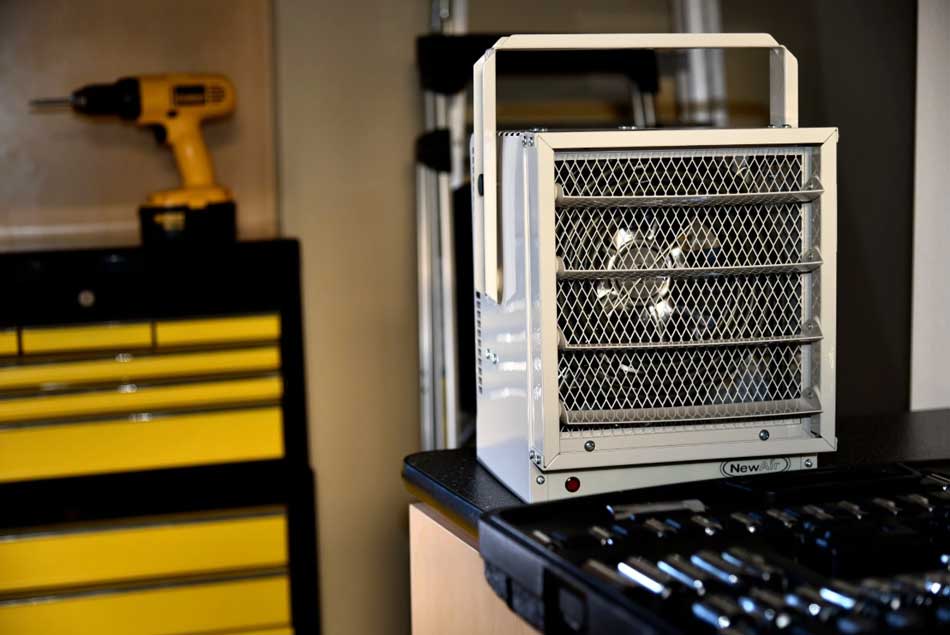 ---
Which Is Better Gas or Electric Garage Heaters?
Lots of people claim to have THE correct answer to that question. The choice between gas or electric garage heaters depends on where you live.
More importantly, it depends on what the electricity costs are where you live.
When I was researching this article, I found a lot of websites that were obviously biased one way or the other. I don't trust a natural gas company to give me unbiased advice, do you?
The US Energy Information Administration (EIA) records data showing the average cost of electricity in each state – and that cost varies wildly!
For example, if you live in Pennsylvania, you're paying around 10 cents per kilowatt hour of electricity. That's right around the national average.
But if you live in Connecticut, you're paying almost double that – 17 cents per kilowatt hour.
Here's the bottom line:
The more electricity costs per kilowatt hour (kWh), the more money you would save by heating your garage with propane instead.
I recommend checking out the EIA's website (link above) to see what the costs are in your state. It should also be listed on your last utility bill.
That may be a quick way to sway your decision one way or the other.
---
Marketing BS: "High-Efficiency" Electric Heaters
Here's an example of pure marketing-BS.
Technically speaking, 'efficiency' is how much energy is lost to heat rather than powering the device for whatever purpose it's made for.
For example, your cordless hair dryer heats up as you use it, and that heat is wasted energy.
On the other hand, space heaters are designed to heat the room. Even "lost" energy is still doing what it's supposed to do.
Every electric space heater is technically a "high-efficiency electric heater."
Here's a YouTube video that goes into a lot more detail. It's a great watch and pretty entertaining as well.
---
Heat and Wattage
One other note about electricity and wattage:
Every heater with the same power rating (i.e., 1500 watts) will heat the room the same, as long as they have similar features.
That's really where the differences come in.
For example, imagine you have two 1500-watt heaters, one has a fan connected to it, and the other does not. The one with the fan will spread the heat throughout the room more quickly, but the heating elements between the two will be the same.
The question that we should be asking is which heater costs the less money to run. And that goes back to the cost of energy in your state.
Keep that in mind when you're shopping.
One important note for safety: never plug your electric heater into a garage surge protector. These heaters draw a lot of power – more than most surge protectors are rated for.
---
What Size Garage Heater Do I Need?
Maybe I watched too many episodes of Home Improvement, but I'm a fan of "bigger is better."
A garage heater that's too powerful for the space it's in is perfectly fine, except for costing more to purchase. However, a heater that's too small will struggle to heat the room appropriately.
That's why it's important to buy the right size heater for your garage in the first place.
But how big of a heater do you need?
How to read the power label
There are two primary specifications to look for when shopping for space heaters: Watts and BTUs.
Watts are a measure of the power that the device will use. This only applies to electric garage heaters since propane heaters obviously don't use any electricity.
BTUs, or British Thermal Units, are a measure of heat energy. They're usually measured in BTUs per hour of operation. One BTU is the amount of energy needed to increase one pound of water by one degree Fahrenheit.
You'll almost always see both watts and BTUs listed in the thousands.
How Many BTUs for a Garage Heater?
When I was doing research for this article, I came across a few sites that had really fancy BTU calculators.
Most of them were on manufacturer websites that have an interest in having you spend the most you can on your garage heater.
So I went to one of the unbiased sources that I trust the most: EnergyStar.gov.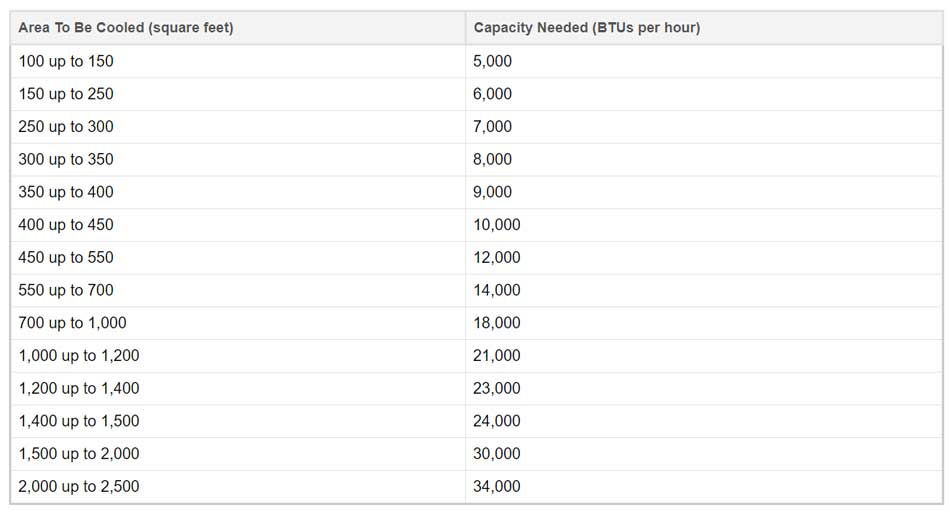 There they had an easy reference chart for air-conditioners and space heaters. It lists a range of room square footage and how many BTUs you'd need to heat or cool a room effectively.
The general rule is that you need a garage heater with a heating capacity in BTUs between 25 and 30 times the square footage of your room.
Let's run through an example:
My two-car garage is 20′ long and 24′ wide, making it 480 sq. ft. total.
That means I'd need a garage heater between 12,000 BTU and 16,800 BTU for my two-car garage.
One caveat: Those numbers could change depending on where you live and how well your garage is insulated.
If you have an uninsulated garage in Alaska, you might want to go higher than 16,800 BTUs. On the flip side, a well-insulated garage in South Carolina may be OK with a 10,000 BTU garage heater.
But a good place to start is between 25-35 times the square footage of your garage.
---
Best Garage Heaters
Unsurprisingly, there's no 'one size fits all' for garage heaters. The best garage heater for me is probably different from the one that's best for you.
I've divided my favorite heaters into different categories so you can see which one works best for you.
I'm going to start with the electric heater that I'd choose but move on to some propane and portable heaters.
---
Best Plug-In 120v Electric Heater: Heat Storm 1500 Phoenix
Heat Storm may have a corny name, but they make some great electric heaters in various sizes and styles.
Specifically, I recommend their 1500-watt wall heater: The HS-1500 Phoenix.
What I really like about the HS-1500 is that it comes in two different configurations – a base model and a WiFi enabled model for about $30 more.
Speaking of WiFi, if you have bad WiFi in your garage, check out my article for some tips and tricks to get better WiFi in your garage.
Heat Storm HS-1500 Specs
| | |
| --- | --- |
| Type | Wall-Mountable or Freestanding |
| Manufacturer | Heat Storm |
| Item model number | HS-1500-PHX |
| Product Dimensions | 18.8 x 4.5 x 12.8 inches |
| Item Weight | 9 pounds |
| Shipping Weight | 10.7 pounds |
| Power | Requires a 15 AMP, 120 Volt, 60 Hz circuit with a properly grounded outlet |
| Heating | 5200 BTU |
| Price: | $110 (Base model) – $140 (WiFi Enabled) |
Wi-Fi Enabled
Personally, I think the whole smart home craze has gotten a little out of hand. Still, the WiFi-enabled HS-1500 has one really cool feature: you can turn it on and off with an app.
Think of it like a remote starter for your electric garage heater.
Other than letting you control the heater directly from an app, Amazon Alexa or Google Assistant, you get no extra performance for the $30 price difference. So if that's not a big deal to you, opt for the non-WiFi enabled HS-1500 instead and save some money. Either way, it comes with a remote control for easy operation.
Still… it's pretty cool to say, "OK, Google…turn on my garage heater," or schedule it to turn on at certain times.
Design
I love that you can plug this heater into any standard 120v electric outlet and don't need a dedicated, high-current circuit. You can either mount it directly to the wall or free-standing on its plastic feet.
I also like the wall-mounting option because it won't take up any extra space in your crowded garage!
The design of the Heat Storm HS-1500 is clean and straightforward. No matter how you finish your garage walls, this heater isn't going to look out of place.
Operation
According to the manufacturer, "the Heat Storm HS-1500 was designed to provide supplemental heat to between a 750-1000 square foot room. The square footage estimate will vary based on how well insulated your room is and what type of floors you have (for example, concrete absorbs the heat)."
The HS-1500 has an integrated thermostat, so it can keep the temperature anywhere between 40 degrees and 99 degrees Fahrenheit. There's also an Eco function that will switch to half-power mode if you're within two degrees of your desired temperature.
Safety Features
As with most garage heaters, the HS-1500 has an auto-shut-off feature if the heater tips over. A Child-Lock feature also locks the control panel, so little hands can't get into trouble.
Top Pick
Heat Storm Infrared Wall-Mounted Heater
Space saving wall mount design means you don't lose floor space. Perfect for bedrooms, kitchens, offices and garages
Wi-Fi enabled makes it possible for you to control the temperature from your phone!
Safe to the touch grill. 1500 watts of power
When installed over the outlet, you can hide the cord inside the heater. This unit stays cool to the touch and the wall stays cool.
Voltage: 110 Volts
Check Latest Price
We earn a commission if you click this link and make a purchase at no additional cost to you.
Pros:
Plug it into any standard 120V power outlet
No exhaust fan is needed
The thermostat can be set anywhere from 40-99 degrees Fahrenheit.
Cons:
Plastic housing
Designed as a supplemental heater: Only 5200 BTU
---
Best Hardwired Electric Heater: NewAir G73
Plug-in electric heaters are nice, but sometimes you need a bit more heating power, and 120 volts just isn't going to cut it.
That's where you step up to a hardwired electric heater, and I can't think of one better than the NewAir G73.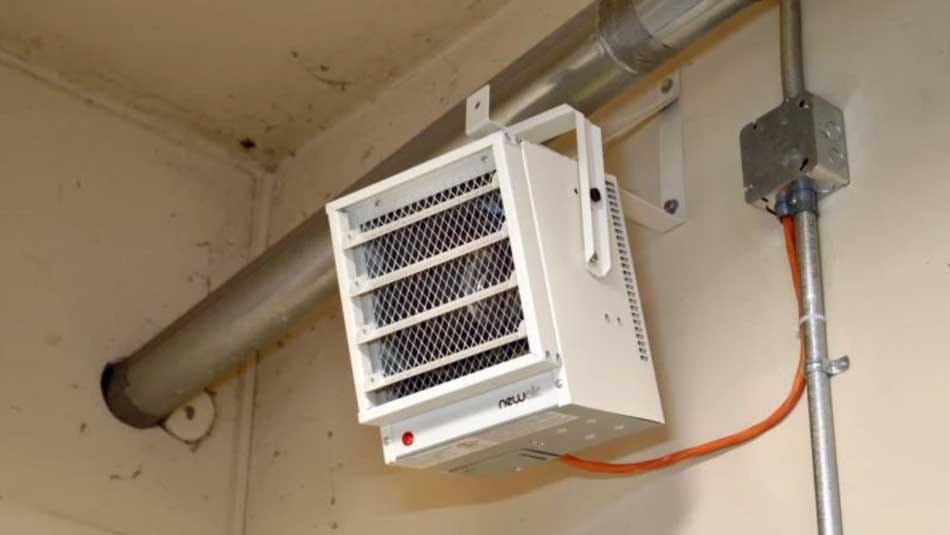 NewAir G73 Specs
| | |
| --- | --- |
| Type | Wall-mountable hardwired electric heater |
| Manufacturer | NewAir |
| Model Number | G73 |
| Product Dimensions | 8.90″D x 9.10″W x 11.25″H |
| Item Weight | 15 pounds |
| Power | 20.8 amp, 240 Volt, 5000 Watts |
| Heating | 17,060 BTU |
| Price | $190 |
Hardwired
So why do you need a hardwired electric heater instead of a free-standing, plug-in heater?
As Tim Allen would say…more power!
But seriously, electric garage heaters draw so much power that they'll often overload the circuit – especially if you plug anything else into that same circuit.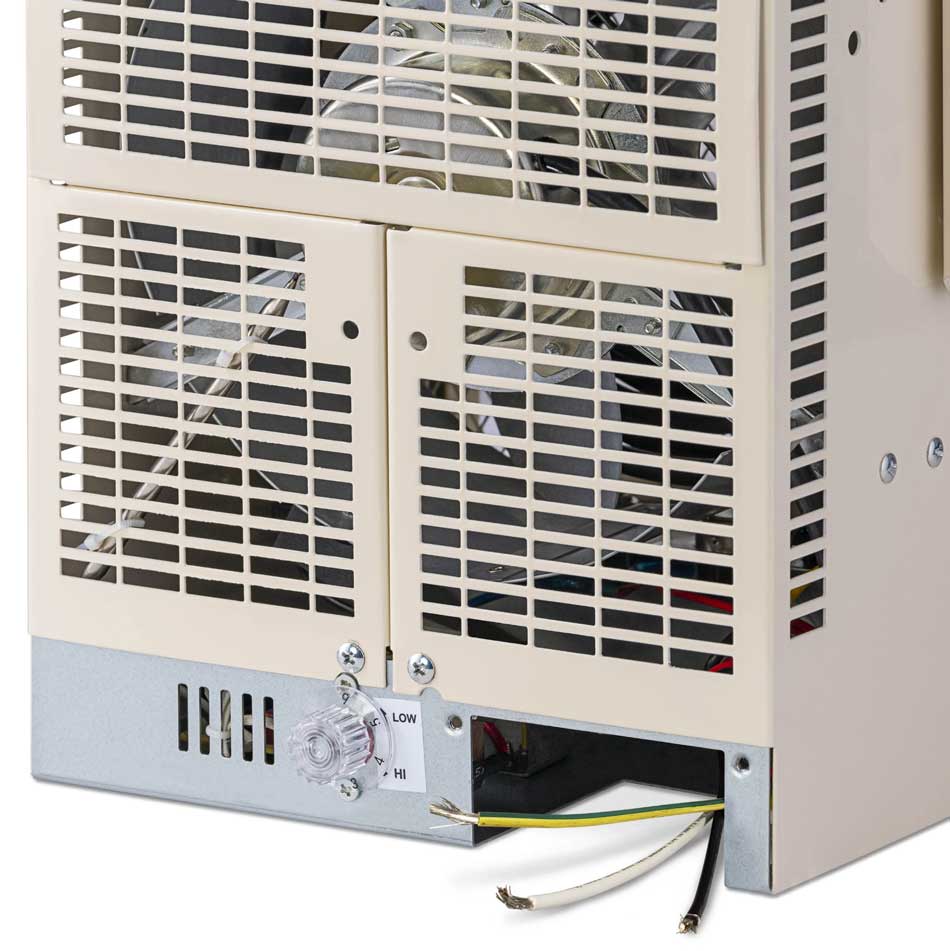 Suppose you need more heating power than a 120-volt heater like the Heat Storm 1500. The next step up is to hardwire a 240-volt heater like the NewAir G73 into a dedicated circuit.
It's a little more work to install, but you triple the heating power!
You'd need more than three Heat Storm heaters to match the power from one NewAir G73.
Comparisons with the Dayton G73
There are some obvious comparisons between the NewAir G73 and the Dayton G73. If you look on some review sites, the Dayton gets really high marks, and it's understandable.
But for me, it comes down to price.
The Dayton G73 is manufactured by Grainger. If you're unfamiliar with Grainger, they're one of THE premier industrial supply companies in the United States.
They're consistently one of the most durable and highest quality manufacturers today.
One thing that nobody has ever accused them of being, however, is inexpensive.
Spec for spec, the Grainger Dayton G73, and the NewAir G73 are almost identical. Same wattage and the same BTU output, and nearly identical dimensions.
The only difference is that the Dayton G73 costs almost twice as much as the NewAir G73.
Design
The NewAir G73 is deceptively small, only around nine inches wide and deep and only eleven inches high.
That's small enough to overlook in most garages and definitely small enough, so it will look good in higher-end garages as well.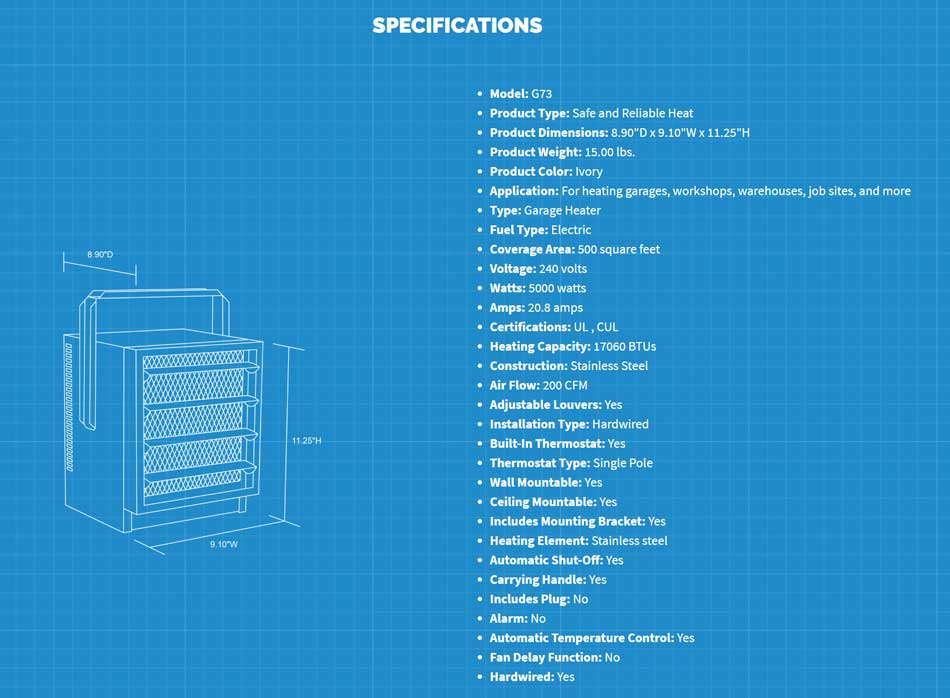 Pictures don't really do it justice.
The front of the unit has adjustable louvers to direct the heat up or down.
Operation
The NewAir G73 is rated for 500 sq ft of space, although that can increase to 750 sq ft if you have some good insulation in your garage. At a minimum, that's the size of a standard two-car garage.
On the back of the unit, there's a basic analog-style temperature dial to control the built-in thermostat. The unit will automatically shut off once it hits the desired temperature.
You can't directly set a temperature to 60 degrees, for example. However, it's a good way to control the temperature once it reaches a certain point.
Unfortunately, there needs to be a remote control and a way to easily add a remote thermostat.
Safety Features
The NewAir G73 is only wall-mountable, so it won't have many of the same safety features as some floor-standing electric heaters.
For example, there's no need for an automatic shutoff if the unit tips over. You won't find any child-safety locks either. Hopefully, you'll install this hardwired heater high enough so the children can't reach it.
It does have a warning light on the front to let you know if the unit starts to overheat.
Finally, it's certified by the Underwriting Laboratories (UL Certified) in the United States.
Pros
17,060 BTU, which is enough to heat a two-car garage by itself
UL Certified
Heavy gauge steel design
Cons
Must be hardwired
No remote
For other ways to keep your garage warmer in the winter, check out my article here!