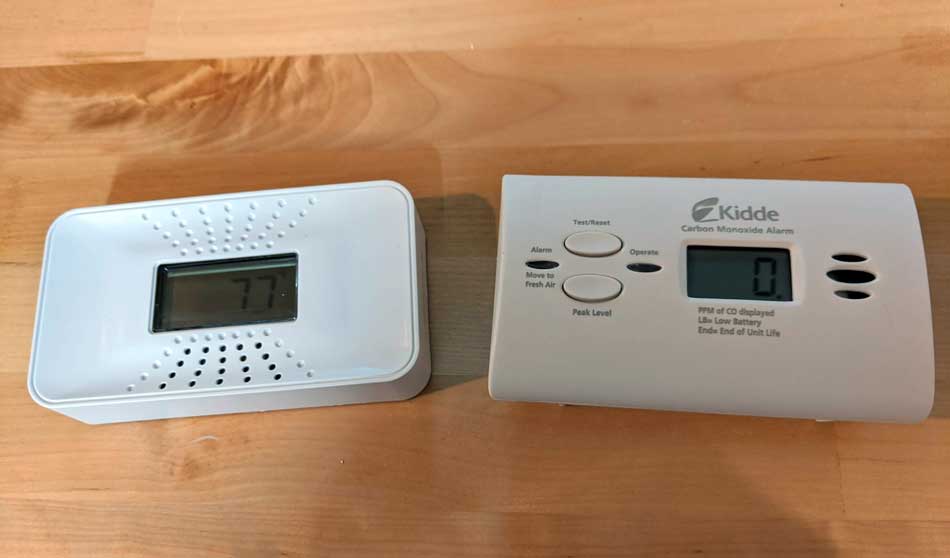 I read something today that really made me stop and think.
Nearly 400 Americans die every year because of carbon monoxide poisoning, and it's usually in their garage. (source)
We've all been guilty of running the car in the garage, but we don't stop to think how dangerous it can be.
Even if the garage door is open, carbon monoxide gas can linger for up to ten hours after the car is removed from the garage.
That's why I've got carbon dioxide detectors in the critical areas of my house. And one of those critical areas is my garage.
Can you put a carbon monoxide detector in the garage? Definitely! Your car is one of the biggest sources of carbon monoxide in the home. Combine that with poor ventilation in most garages and it increases the risk for carbon monoxide poisoning – especially during winter when we run gas heaters or warming up our cars inside the garage.
I did some research, as I often do, and wanted to share some of what I found.
For the science geeks like me, I'll cover a bit of what carbon monoxide gas does and why it's so dangerous. Then I'll talk about where to place a carbon monoxide detector in your garage. Finally, I'll talk about the three carbon monoxide detectors I've tried and which one I recommend.
What is Carbon Monoxide?
Carbon monoxide (CO) is a gas produced any time that a fossil fuel burns. That means every time you turn on your car, gas generator, air compressor or heater, it creates carbon monoxide. (source)
It can't be tasted, smelled or seen, but it can kill you.
Even if it doesn't kill, it can have devastating impacts on you and your family if there's a leak or build-up in your garage. Because there's usually little air-flow or ventilation in your enclosed garage, it can even seep into the house when you go from room to room, endangering everyone in the house.  
This is why your car should NEVER be left running in an enclosed garage – even if the garage door is open!
Humans can't detect a carbon monoxide leak until it reaches poisonous levels, and at that point, it's often too late. It becomes hard for people to understand what is going on due to mental confusion caused by the gas. 
Why is Carbon Monoxide Dangerous? 
I'll warn you in advance, that this is going to get a little 'science-y' so I won't be upset if you skip ahead.
Carbon monoxide gas is dangerous for several reasons: 
Carbon monoxide is poisonous to humans and other animals: When the human body absorbs carbon monoxide, it prevents the blood cells from being able to absorb or transmit oxygen. This quickly leads to confusion, coughing, change of skin color, shortness of breath, unconsciousness, and eventually death.
Carbon monoxide is undetectable: Because it is odorless, tasteless, and invisible, it can't be detected by people without carbon monoxide detectors.
Without oxygen getting to the brain, confusion sets in: Unfortunately, by the time people notice that they're being affected by a carbon monoxide leak, they've already sustained a significant dose of carbon monoxide poisoning. Confusion sets in and it makes getting to a safe space more difficult. At this point, it only takes a few more seconds to lose consciousness. 
Carbon monoxide poisonings are dangerous, but they are 100% preventable with the right equipment.
Having a carbon monoxide detector can often mean the difference between life or death in the event of a gas leak.  
What Are Carbon Monoxide Detectors? 
OK, so what are carbon monoxide detectors?
Carbon monoxide detectors like the ones installed in garages are designed to detect trace amounts of carbon monoxide build-up in the ambient atmosphere before they reach dangerous levels. 
They look like smoke detectors, and some smoke detectors also double as carbon monoxide detectors.
Most carbon monoxide detectors are battery operated, but it's possible to get them hardwired as well.
In general, the recommendation is to have a carbon monoxide detector on each floor of your home and outside each bedroom. The EPA also recommends having carbon monoxide detectors near any devices that emit carbon monoxide gas. (source)
Carbon monoxide detectors are critical to have in your garage. It's an enclosed space with at least one big thing that creates carbon monoxide gas – your car.
If the gas is coming from one specific source, a carbon monoxide detector allows you to immediately shut it off. Once it's safe, you can inspect it for malfunction or damage that would cause the carbon monoxide leak.
More importantly, it also gives you a chance to open the garage door and air the space out with your garage fans. 
High or Low: Where Should Carbon Monoxide Detectors Be Installed?   
The EPA recommends carbon monoxide detectors be at least 5′ off the ground, although installing one on the ceiling is OK too.
However, it's important that carbon monoxide detectors be placed at least 15 feet from any fuel-burning appliance. Any closer and you may get false alarms, even if you're properly ventilating your garage.
To avoid these false alarms, avoid placing your carbon monoxide detector in the following areas: 
Within fifteen feet of a CO-producing appliance
In direct sunlight
Close to a restroom
In a direct current of air such as in front of an air vent
If you have an attached garage, place an additional carbon monoxide detectors near the entry door to your home. A CO leak in the garage can spread to the rest of the house and poison everyone else, even though they aren't even in the garage. 
It doesn't matter whether you place the carbon monoxide detector on the upper wall or on the ceiling. The most important thing is to have one in your garage.
Unless you install one, you'll never know if there's a leak.
What Causes Carbon Monoxide in the Garage?
As I mentioned, the biggest cause of carbon monoxide poisonings in the garage is running your car's engine in the garage.
It's even worse if the engine isn't tuned properly. This causes them to put off stronger fumes than a car that is operating efficiently.
NEVER run your car's engine inside the garage – even with the door open! 
It is not even safe to warm up a car in the garage for just a few minutes. Iowa scientists determined that running a car engine in an enclosed garage for only two minutes can raise the CO in the space to dangerous levels.  
Another common cause of carbon monoxide poisoning is using gas powered space heaters in the garage. A gas or wood-burning space heater emits can generate a dangerous amount of carbon dioxide in an enclosed space. This is why we recommend using an electric space heater in your garage unless you have excellent ventilation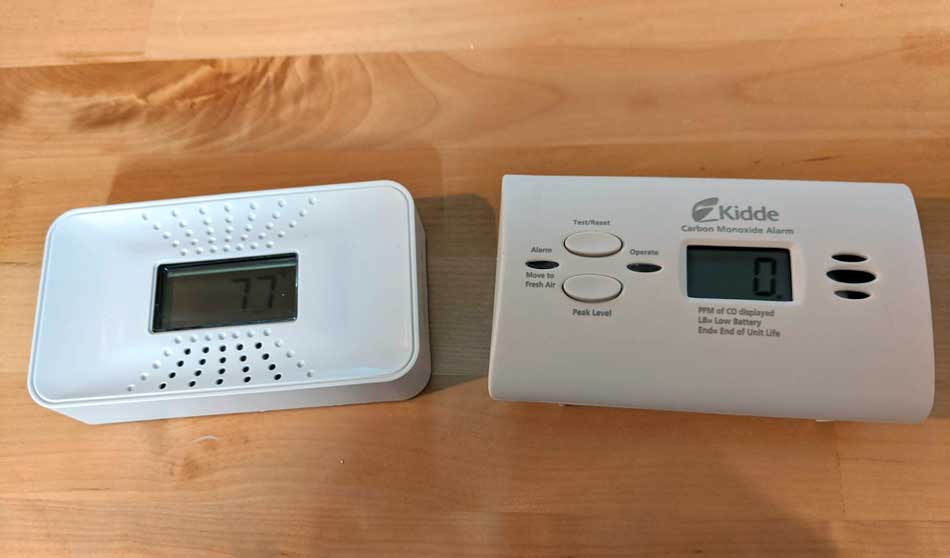 Best Carbon Monoxide Detectors
I actually found a need for a couple new carbon monoxide detectors, so I wanted to see which one was best. Amazon reviews only get you so far, but they're a pretty good starting point.
The two top-rated units on Amazon are the First Alert CO710 and the Kidde C3010D carbon monoxide alarms. Both are inexpensive, simple devices that seem to be very good quality.
I'll also include the Nest Protect smoke alarm and carbon monoxide detector. It's not really a fair comparison because this is primarily a smoke detector that also happens to have CO detection as well. But, I've got two of these in my home and love them, so I thought I'd include them as a high-end option.
Kidde C3010D Carbon Monoxide Alarm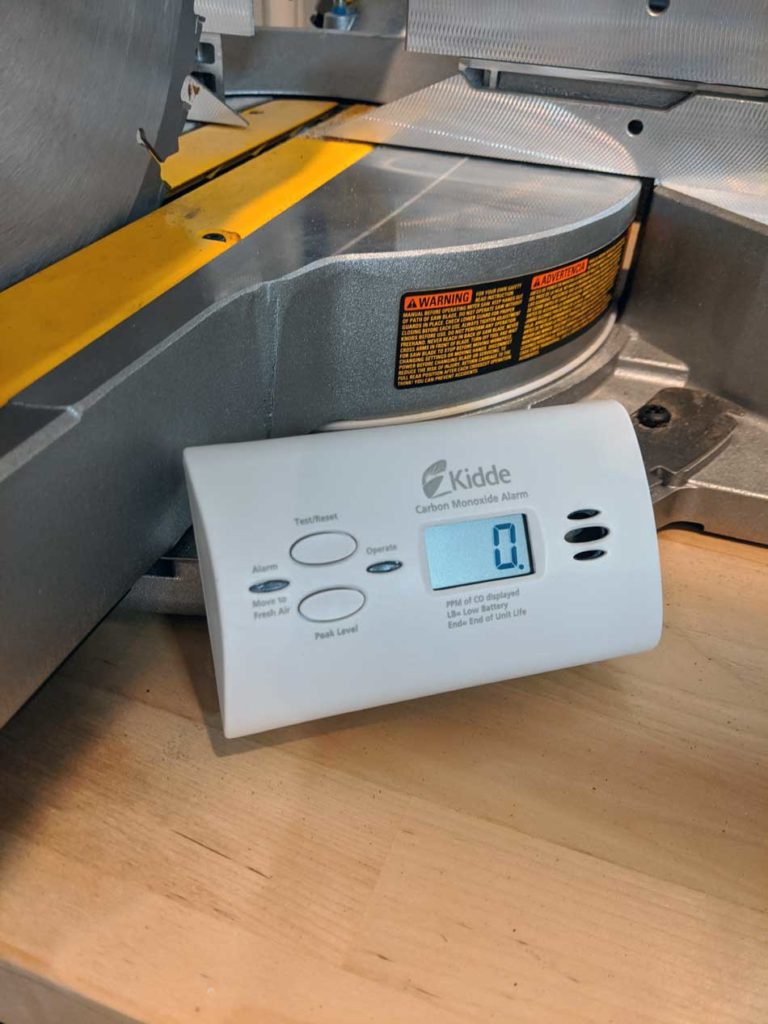 The Kidde is a basic carbon monoxide alarm that retails for around $20 on Amazon. I like that it actually gives a numeric value for how much carbon monoxide it's detecting. I'm a numbers guy, so that makes me feel that it's actually more accurate than something that's just giving a 'low-medium-high' kind of answer.
The alarm is VERY loud at 85 decibels. It's definitely going to get your attention, but you're probably going to jump out of your skin when you put the batteries in.
I'm using this at the front of my garage, opposite the entry door to my house. You can see in this picture it propped up against my DeWalt circular saw. Once I finish drywalling that garage wall, I'll mount it. For now, I like being able to move it as I need to.
First Alert CO710 Carbon Monoxide Alarm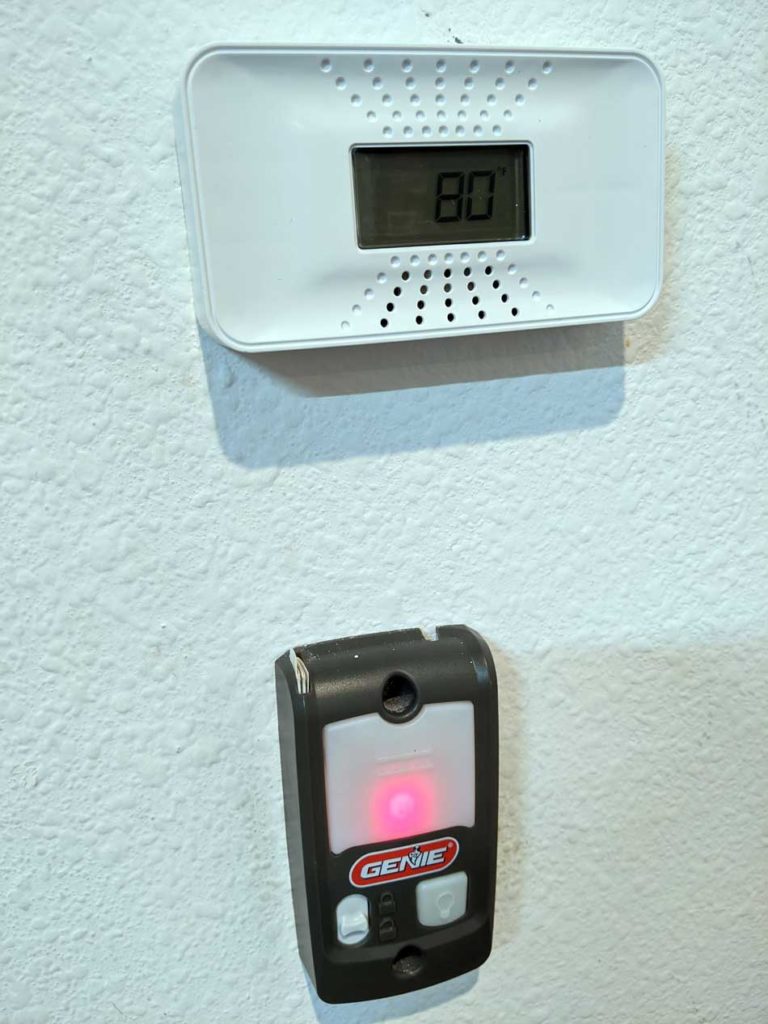 The First Alert steps up the game a bit and drops the ball in another.
I love that it also has a built in thermometer and backlit LCD screen. If you don't already have a thermometer in your garage, this could be a great way to kill two birds with one stone.
Another improvement is the sealed enclosure with a built-in, 10-year battery. I hate having to replace batteries and it always seems like there's never enough AA batteries, so this is a welcome addition.
Where it drops the ball a bit is that it only records the amount of carbon monoxide in a bar graph. While this might appeal to most people, personally I'd like a little more detail.
I've installed this unit next to my entry door into my kitchen, right above my garage door opener. Installation was simple, mounting on two included screws.
The First Alert CO710 is a little more expensive. It goes for around $30 on Amazon.
Nest Protect Smoke and CO Detector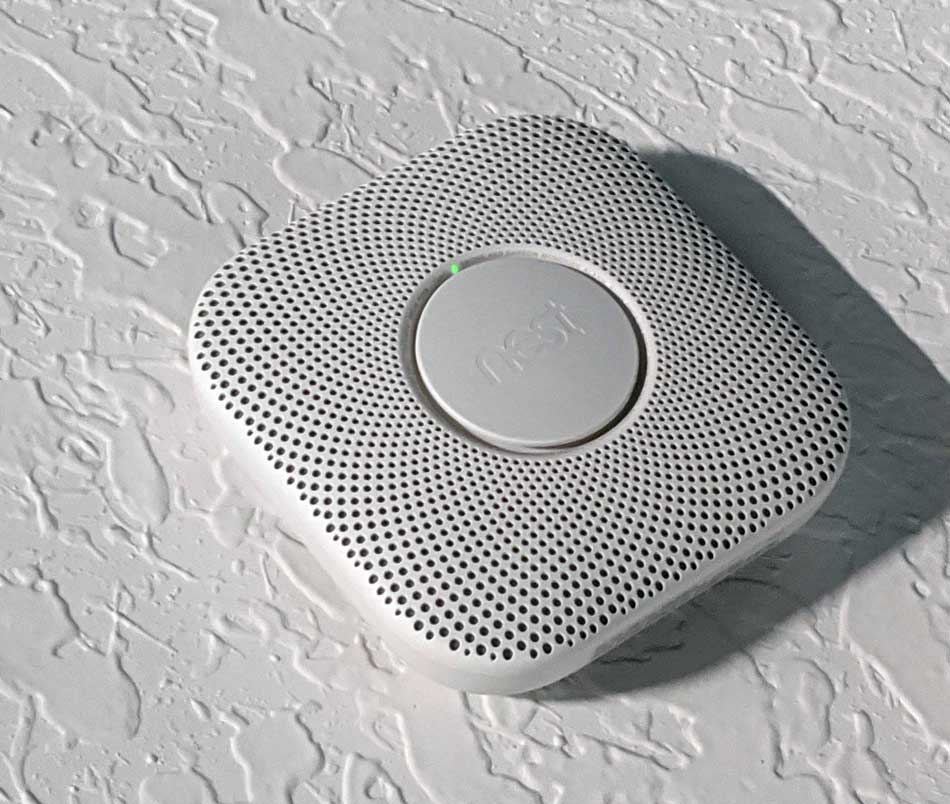 On the high-end is Nest's Protect smoke and CO detector. If you're in the Google\Nest ecosystem, I highly recommend at least one of these in your home.
What I love about the Nest Protect is that it's a truly smart solution. I originally bought these to give myself a little peace of mind. With my wife out of town a lot and me not able to work from home, I wanted to make sure my dog was safe at home.
With whole host of smart features available through the Nest app, this helped me monitor my house from anywhere in the world.
Is it overkill for a carbon monoxide detector? Absolutely! Is it expensive? Without a doubt. You are getting two devices for the price, but I doubt anyone's going to buy one of these just because they need a CO detector.
The Nest Protect thermostat retails for around $120 for the hardwired version and around $100 for the battery operated model.