When I was designing my garage, I Googled "garage paint ideas" and found dozens and dozens of pictures of garages with red and yellow walls, black and green walls, Harley orange and grey walls.
It might look cool at first, but when you have to live with it for years or even weeks, you're going to get sick of it.
So what color should a garage be? Keep it simple! I recommend white, but if you want something a bit different then paint your garage a light shade of gray, beige or blue because lighter shades make a room seem bigger than it actually is. The color of your walls also needs to compliment your cabinets and floor so the entire garage looks cohesive.
That's the short answer, but there's a whole lot more that goes into it.
Want to know why? We'll get to that in a sec, but first thing's first:
Garage Paint Designs: Good or Bad?
I hate to break it to you, but you probably don't have a huge garage with unlimited space.
So please stop trying to squeeze everything you see in those "50 best mancave garage ideas" articles into your 20′ x 20′ garage.
It's going to look like crap.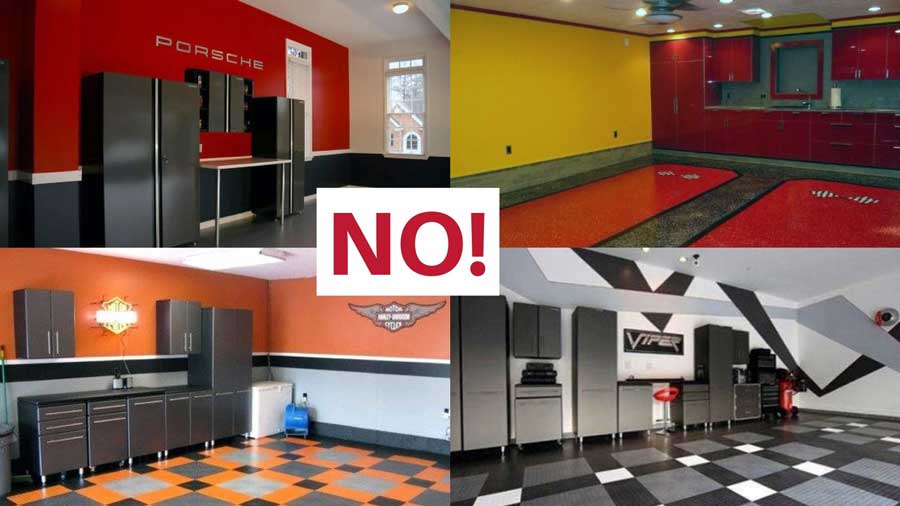 Let me tell you about the mistakes I almost made with my garage.
I wanted bright red walls in my garage with black trim, because they looked really cool on a picture I found online. But when I thought about how that would look with my steel grey cabinets and the black and grey tile floor I wanted, I didn't like the overall look.
I've changed my entire design scheme for my garage because of it.
Making the most out of whatever size garage you have is all about following a few simple design rules and making the most of some optical illusions.
Here's what I mean.
Garage Paint Ideas: Solid Colors Only!
First, all of your walls should be one solid color if at all possible.
Don't split the wall in half and paint the bottom one color and the top another. The edge where the two colors meet will trick your eyes into thinking that the room is smaller than it is.
Stay away from from horizontal stripes or designs, and no matter what, DO NOT do anything like this: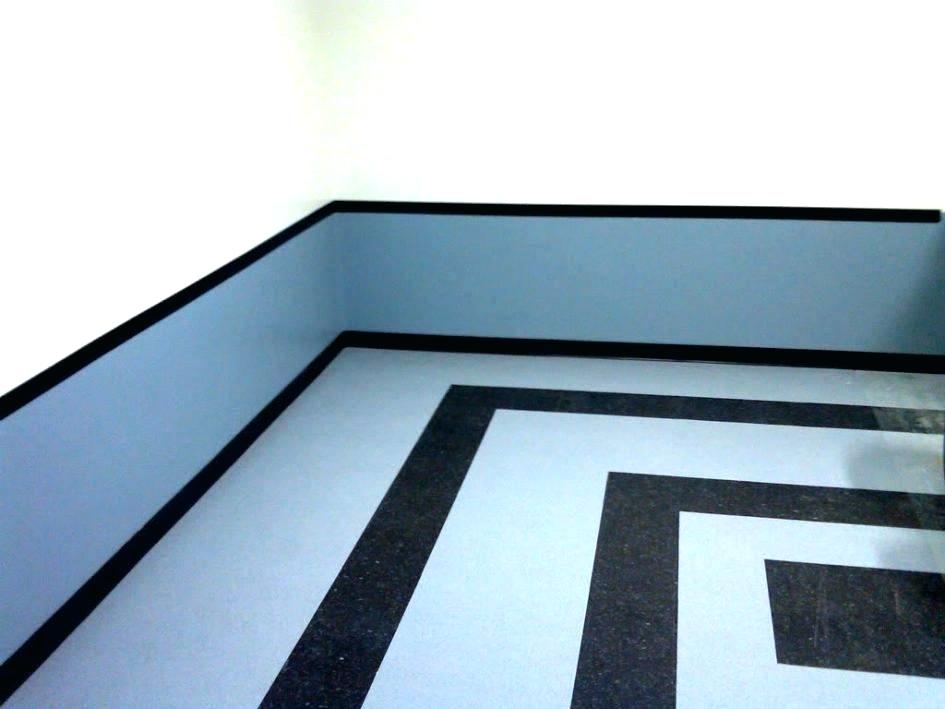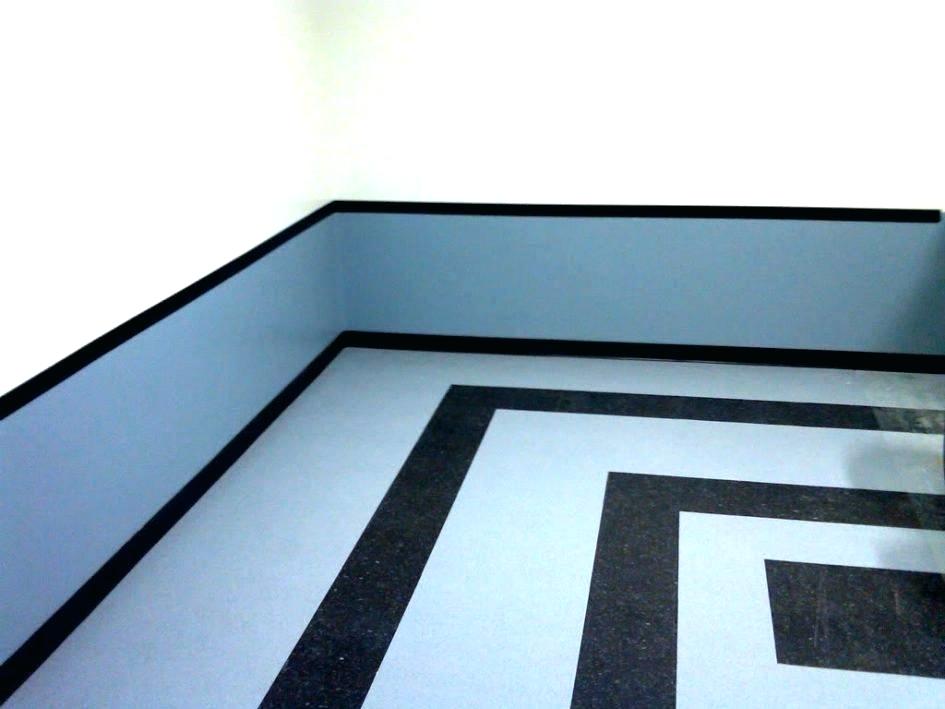 Our eyes have better vision in the focus area than on the peripheral edges. Vertical stripes will make the rooms seem bigger while horizontal stripes will just get lost. If you have a paint design that blends into the floor design, your eyes can't tell where the floor ends and the wall begins, making the room seem that much smaller.
You're going to put stuff against the wall anyway which will break up the nice straight line that took you so long to paint.
Choose White or Light Gray Garage Walls
Have you ever walked through a newly built house and looked in the garage? The freshly painted white walls and clean concrete floor. It looks huge, right?
Interior designers love light colors. That's why you see a lot of white on white on white type rooms in those interior design magazines.
Light colors make small rooms seem bigger than they actually are.
We can use the same techniques for our garage.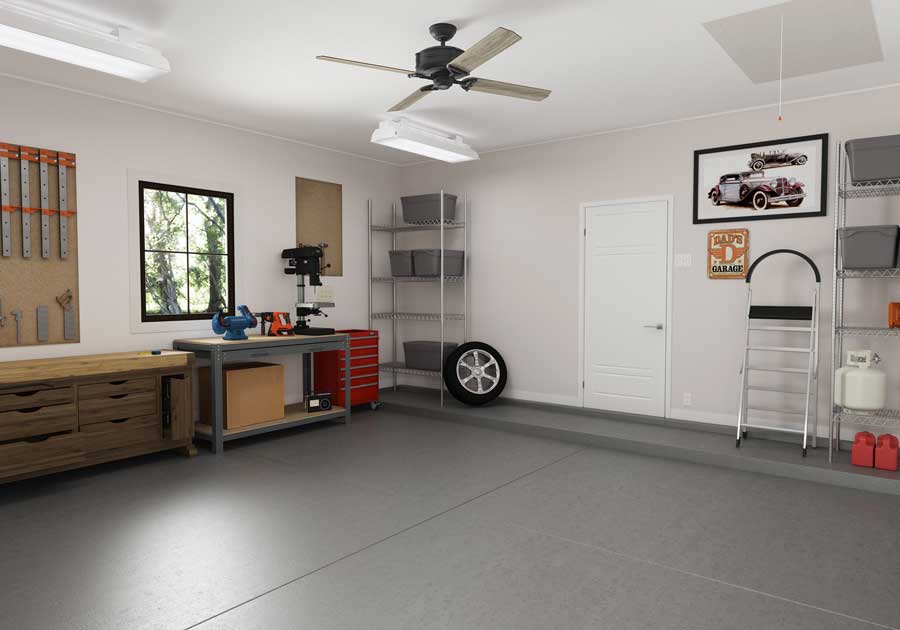 If possible, choose a pure satin white for your garage walls, or even a gloss white if you're absolutely positive that your walls are perfectly smooth and flat (they never are btw). For more on why I recommend a satin finish, check out my article on what kind of paint you should use for a garage.
If you want something other than pure white, go with a very light grey, light beige, or powder blue. Evidently there's also a color called 'greige' which is a mix of grey and beige which would work as well.
You can get away with other colors but make sure they are as light as you can possibly get them.
Remember, the lighter color your walls are, the bigger your garage will look.
What Color to Paint Garage Ceiling?
Another optical illusion that we can use is to paint the ceiling pure white.
Lighter ceiling colors will naturally trick your eyes into thinking the room is taller than it is. Conversely, dark colors will make large rooms seem more cozy and intimate.
I'm guessing you don't want your garage to seem smaller, right?
Unless you've got a massive warehouse or barn for a garage, just slap some white paint on your ceiling and call it a day.
Quick Tip: I normally advise against using a gloss paint finish in your garage because it shows any imperfections in the wall. You can use gloss white on the ceiling and it'll help reflect the light from your light fixtures and make the entire room seem a bit brighter.
Make Sure Your Garage Paint Colors Work Together
If you want to have an accent color, please, for the love of all that's good in the world, just choose one accent color!
That said, if you really have your heart set on more than one, stay tuned. I've got some suggestions shortly.
Your accent color can be the trim details on your door, the kick plate edging on the wall, or any other SMALL feature. Remember…it's an accent color. Don't go crazy with it.
It should be a bolder shade than your wall. If your base color is something other than white, try using white for your accent. This works especially nicely with powder blue walls.
In rare cases, you can use multiple accent colors. When I say 'rare cases', it really is rare.
Multiple colors usually just look lost and disjointed together.
Your garage will already have a lot of other stuff to detract from the overall design already, so you really want to keep it simple here.
How to Choose the Right Garage Color Scheme
Speaking of all that stuff, you want to make sure that everything in your garage works together as one cohesive design.
That means the colors you paint your garage walls should go with your garage cabinets, workbench, and flooring. The lighting in the room should be bright enough to make the whole garage seem more spacious.
Don't overdose on one color unless it's white.
A great tool to get color suggestions is the Adobe Color Wheel. It's a free tool from Adobe that lets you upload a color from an image (or choose one manually) and find any number of combinations that would work well together.
I like using the triad and complimentary settings. From your main color, they'll give you four other color suggestions that will look great.
In this example, my primary color is the red in the center and the tool suggested four other colors that will work perfectly with it.
Most color paint samples include a hex color code so you can get exactly the color you're looking for.
Simple Works Best
If you forget everything you just read, remember this:
Keep it simple!
A simple design is timeless. You won't find yourself getting sick of it as quickly and there's a better change that the people you live with won't absolutely hate it either.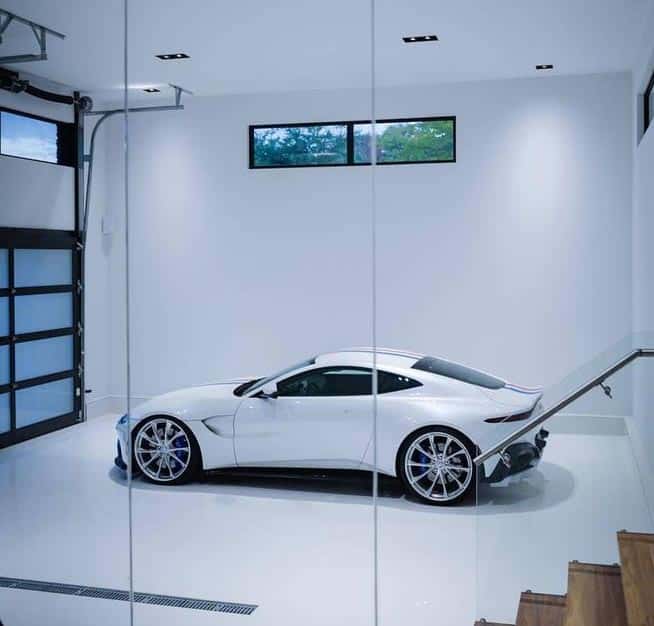 The more stuff you're going to put in your garage, the simpler your design needs to be. You're already putting a sixteen-foot long vehicle in something the size of your living room.
Your eyes will naturally want to scan the room. Anything that gets in their way will make the room seem smaller.
Ideally, you want the focus should be on your car. Your garage paint scheme should compliment it, not detract from it.
So do your eyes a favor and keep it simple whenever possible.
Conclusion
Not everyone can afford to hire an interior designer, but choosing the right paint colors doesn't have to be hard. Hopefully these six garage paint ideas helped get your creative juices flowing.
Just follow these six easy tips and you'll have a great looking garage in no time!
If you're looking for color ideas for your garage floor, then check out my new article where I show paint color charts and ideas for all of the major garage floor paint and epoxy brands. It's an epic list that you won't want to miss!
Share this pin on Pinterest!