The best way to start getting your garage organized and looking good is to get stuff off the ground whenever possible.
My garage renovation began with a garage track system so I'd have a place to put my garden tools, ladders, and other stuff that was just taking up space.
After researching more than a dozen different garage storage solutions, I decided to go with Gladiator GearTrack and GearWall (link to check the price on Amazon). They had all the accessory hooks and storage bins that I could ask for at a price that made it easy to start out and add pieces as I needed. I've been super happy with them so far and plan on adding more parts as my garage transformation continues.
A lot went into the decision to go with Gladiator over some of the other garage track systems like the Rubbermaid FastTrack. I'll try to break down the decision process below.
If you want to see my full, detailed review of the Gladiator GearTrack and GearWall system, check it out here!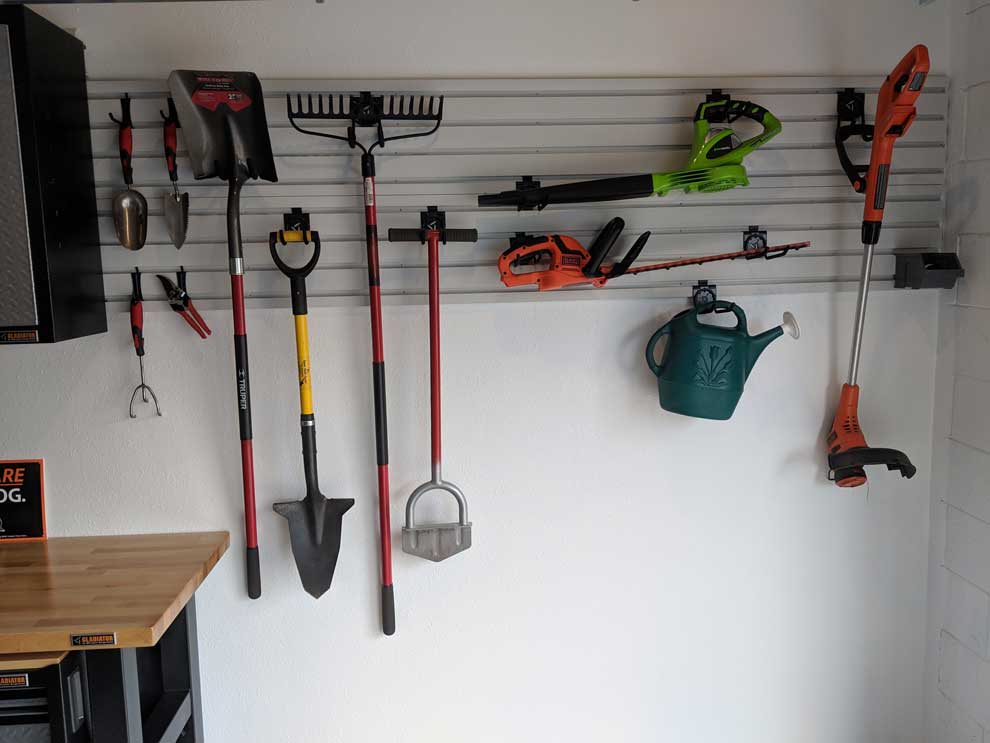 ---
Why Gladiator GearTrack & GearWall is the Best Wall System
It comes in both track system and slatwall: Depending on how you want to use it, you can have a single GearTrack rail or multiple GearWall sections to create a slatwall system.
In my garage, I have an 8′ section of GearWall with several rows of garden tools. I have a single GearTrack rail holding storage bins of small nuts and bolts in another section.
The best part is that I can use the same hooks and bins in either section.
Tons of different accessories: Gladiator makes a ton of varying accessory hooks in every shape and style imaginable (seriously).
They also make hard plastic and soft fabric bins for tools or sports equipment. Then there are the random accessories like cleanup trays (for paper towels and cleaning supplies), a golf caddy for your clubs, and different hooks for your bicycles.
Finally, you can add shelves or cabinets with lockable doors in a variety of colors and sizes.
You can buy them just about anywhere: I worry that a garage storage system will be canceled soon after buying it. Gladiator's products are sold everywhere, like your local Lowe's, Home Depot, Sears, Amazon, or even Best Buy.
Low cost to start: You can get started for as little as $15 (not on sale) for a 4′ section of GearTrack and an accessory hook. Then you can build as your needs (and budget) increase.
They even have several different starter packs with a GearTrack and accessory hooks.
For more information on installation, check out my guide, where I documented how I installed my Gladiator track system on drywall and cinder block.
---
Features to Look For in a Garage Track System
It's not hard to make an 8′ display in a home improvement store look good, but how will it look when you put it up on your garage walls?
Here are a couple of the big things that I thought were critical when deciding on my track system.
Accessories: A place for everything and everything in its place
Ideally, the garage storage system will have a specific hook, shelf, or bin for everything you want to store on it.
Some popular examples are a claw for your bicycles, different size hooks for your garden tools, or even a hook that will cradle your cordless drill.
I list of my favorite hooks and accessories at the end of this article.
Unfortunately, some companies only offer a couple of different sizes of J-hooks and call it a day. Before buying any kind of garage storage system (not just wall storage), take stock of what you have and how you want to store it.
Sure, your garage has to look good, but we want it to be functional first.
I almost decided to hang some tools on the wall as a kind of display, but I realized that wasn't the right solution for my garage.
This idea came from a YouTube video from ChaseOnTwoWheels. He set up his GearTrack to hang popular tools and other items for quick access while working on a motorcycle a few feet away.
Skip ahead to 9:36 in this video to see what I mean.
Flexibility: Can it be cut to length?
Not every garage can be divided into neat little 4-foot sections, which is ultimately why I went with Gladiator instead of the Rubbermaid FastTrack.
The two main walls of my garage are concrete or drywall, which was easy enough.
However, the back wall connecting my garage to my kitchen has a raised section for the fuse box and the control panel for my solar panels. That meant anything on that wall needed to be a custom length.
Back to the Rubbermaid FastTrack…the metal channels can hold more weight than the Gladiator, but you can't shorten them without cutting through metal. That's where I draw the line.
The PVC plastic GearTrack and GearWall channels can be cut to length as long as you don't go below 24″ long overall.
Obviously, the storage capacity decreases since they're not secured to as many studs. Still, it's an option if you only want to hang one thing in a small area.
In my case, it was perfect for hanging the two sets of golf clubs that my wife won't let me get rid of. (I know…that's backward, right?)
Options: More than just hooks
This leads me to my next point.
The more options the garage track system has, the more ways you'll find to use it.
I mentioned the golf club caddy, which is better than storing your golf bag on a hook on the wall.
ProSlat has a ball organizer that hangs vertically with different sections so basketballs can go in one area and a football can go in another. Most track systems can add on shelves, depending on the design and weight capacity you need.
The critical part is to look at the different options before deciding on a system. The hooks, bins, and cabinets from one track system don't usually work with another brand.
Design: Looks are important too
I bought a garage wall organizer to store my tools, but I want it to look good. Even though I'm renovating my garage on a budget, it's still expensive.
Every piece has to fit the overall style.
What looks good to you (and more importantly to the people you live with) is a personal choice. You'll want to pick something that adds to the overall look of your garage.
---
Garage Wall Organizers: Pegboard vs. Slatwall vs. Track Systems
The primary types of garage storage systems will be pegboards, slatwall, or track systems. Each has its benefits and drawbacks.
Pegboard
I quickly ruled out pegboard for my garage storage.
When I was a kid, my dad used to store his tools on a ratty pegboard wall that was falling apart. He never kept it organized, so it didn't make finding tools any easier.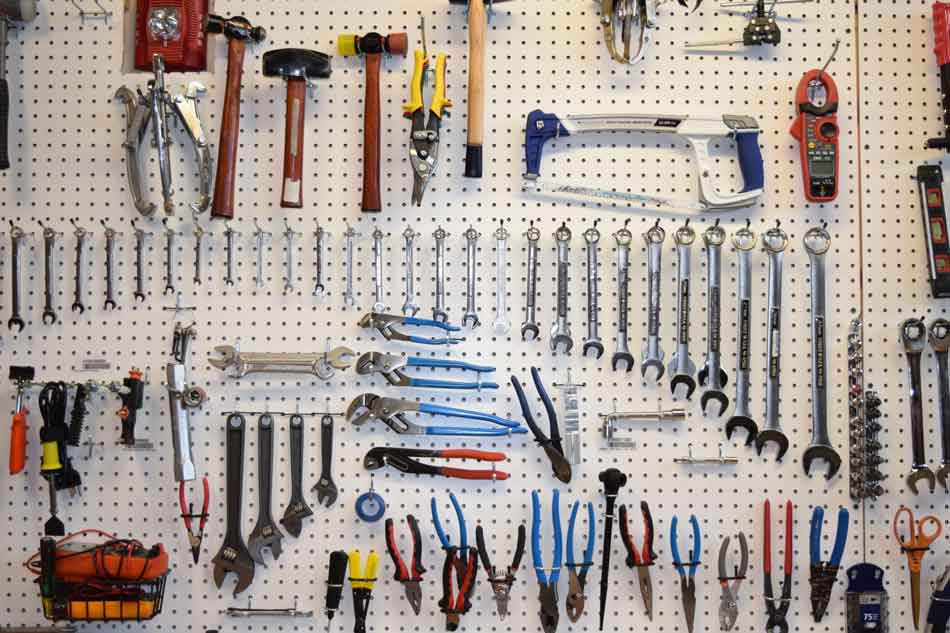 However, pegboard will usually be your cheapest option.
Depending on the material, you can pick up a pegboard for as little as $20 at Lowe's or Home Depot and go from there.
There are many different options for hook and storage bin organization, but you might have to look at a few companies to find what you want.
I did find a metal pegboard on Amazon that looks pretty cool. I use it for storage above my garage workbench, but it's not practical for a large wall. GearWall panel is a better value for the money.
For more information, check out my buyer's guide for garage pegboards.
Slatwall
For many people, slatwall is the way to go, especially if you don't want to go through the effort and expense of framing and drywalling your garage walls.
Large sections of slatwall will hide anything underneath, so it may be cheaper overall, depending on the quality of your walls.
It also gives you the most volume of space to hang stuff and almost as many options and accessories as a track system.
The trade-off is the cost and flexibility, however.
Slatwall is more expensive per square foot than a garage track system and can't be cut to length as easily.
You need empty walls that you're going to completely cover with the slatwall. Otherwise, it'll look stuck on and unfinished.
If you do use slatwall as a wall covering, keep in mind how much traffic and abuse the walls take in your garage.
When a pegboard or track system gets damaged, it's cheap and easy to replace the damaged section. With slatwall, you're replacing an entire 4′ or 8′ area at sometimes several hundred dollars.
I also have a buyer's guide for garage slatwall. I think that slatwall has come a long way, and I'm excited to use some of it in my garage.
---
Other Garage Track Systems I looked at:
Rubbermaid Fast Track
The Rubbermaid Fast Track was the number one competition to the GearTrack system.
I have a head-to-head comparison of Rubbermaid FastTrack vs. Gladiator GearTrack, but I'll hit the highlights here.
Rubbermaid matches Gladiator in options, versatility, and build quality, but two things tipped the scale against them.
First, their shelving components didn't look as good when installed since they needed a vertical rail in addition to the track.
Secondly, while the black plastic covers are a massive improvement to the bare-metal rails, Rubbermaid doesn't make any endcaps, so the entire thing looks unfinished.
I did end up using Rubbermaid FastTrack in my laundry room, however. For more details on my installation and a detailed review, click here!
Monkey Bar Garage Storage
I really like their stuff, but it ultimately didn't fit the look I was going for. Monkey Bar is a shelf system with a hanging bar underneath that looks a lot like a playground jungle gym.
Shelves come in 16″, 24″, and 32″ depths. They're great if you have a lot of totes that you want to get off the ground while still having a place to store your garden tools and sporting equipment.
In the high-traffic part of my garage, I want to keep everything as close to the wall as possible so the garage wouldn't feel claustrophobic. I may get one of their shelving units for a less busy part of the garage.
ProSlat
ProSlat would have been a top contender.
They've got a ton of hooks, baskets, bins, and even magnetic tool holders. You can even get the slatwall in brushed aluminum, which is super-expensive and super-cool.
Craftsman VersaTrack Trackwall system
Craftsman was once a hallmark of Sears, but they were sold to Stanley Black & Decker in 2017.
VersaTrack looks very similar to the Gladiator GearTrack and has many different options for hooks, but they're missing any sort of bins, baskets, or any miscellaneous storage that Gladiator has.
There is also no solution like GearWall that can create a slatwall feel for more storage in a small space.
Flow Wall
This is a slat-wall solution rather than a rail system.
The biggest knock is that you have to buy them in either 24 or 48 sq. ft. sizes, but you can break them up into smaller sections like the GearTrack channels.
However, you're still paying a minimum of $200 (about 25% above Gladiator's prices). The variety of hooks is nice.
I would have ranked them higher if they made it possible to buy in smaller sizes.
Arrow Storage Products
Arrow is known for its standalone sheds and small garages, so a rail storage system is an accessory for them.
You get two steel rails and six tool holders (five large and one small).
The unit is designed well with a bare-metal, industrial feel. Still, it didn't have anywhere near the versatility of some of the other systems on the list.
Knape & Vogt
Another shelving system. It has a very DIY look, almost like something you could piece together from stuff you find in the shelving aisle in Home Depot.
Not the look I'm going for in my garage. They do have a nice-looking tire storage rack, though.
Kobalt K-rail storage system
Even though Kobalt is Lowe's higher-end tool division, I'm including their track storage system here because it was one of the first ones I considered.
Their design is similar to Gladiator's and the price was hard to beat. However, Gladiator had more options for custom storage with their system.
---
My Favorite Gladiator Hooks & Accessories
There are over twenty different hooks, baskets, and other accessories that you can buy for the Gladiator GearTrack and GearWall systems.
Special note: It's not always necessary to buy genuine Gladiator accessories (MOST of the time, but not always). I wrote another article where I tested the accessories from different track storage system manufacturers and whether those accessories were compatible with Gladiator's GearTrack. Check it out!
So it's easy to get overwhelmed picking the right ones, especially when you're staring at eight feet of empty track.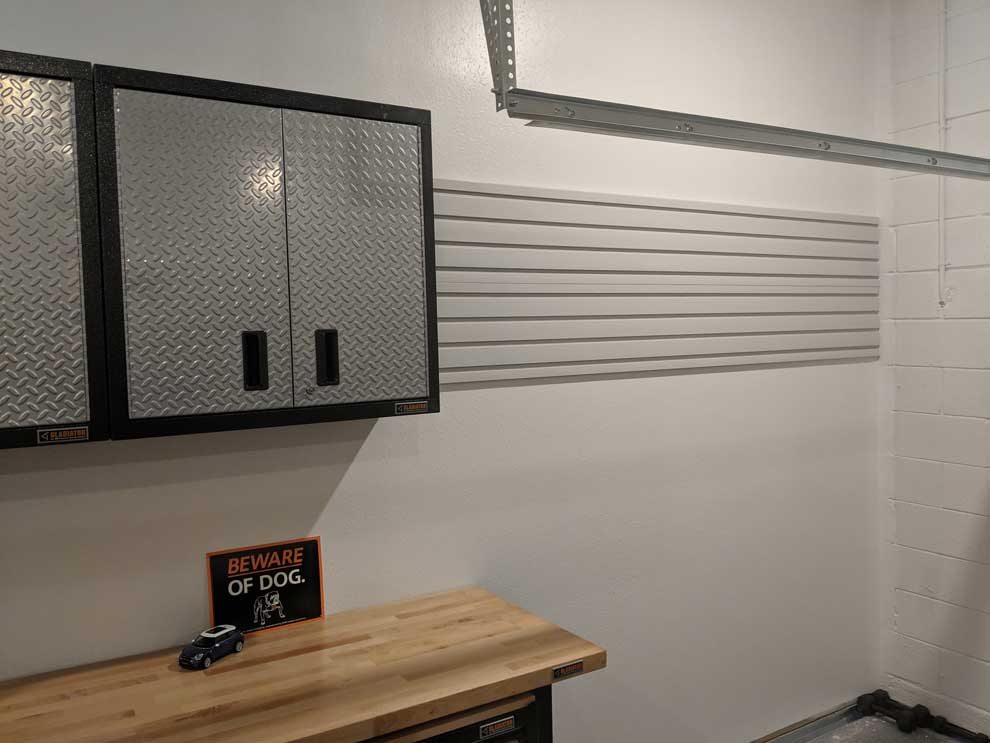 I had this vague idea of what I wanted my tools to look like on the wall. Neat. Clean. Organized.
The trouble was picking what hooks to use for the tools I wanted to put there.
I found myself coming back to a couple of hooks again and again. You'll probably end up doing that too. Gladiator has a couple of starter packs available that you can use to get an idea of what you like. We'll talk about those a little later on, though.
I had mine up on the other side of the garage for over a year, so I had a pretty good idea of what I wanted.
Gladiator Twin Hook and Big Hook
The Twin Hook (pictured) and Big Hook are the workhorses here. They're easily the most versatile hooks in the entire lineup, so you will be using a bunch of them.
If you look back up at the top where I've got the picture of my wall, you'll see TEN Twin Hooks and Big Hooks in this setup.
These hooks are excellent for large and unwieldy tools like shovels, rakes, and edgers.
You can also use them for leaf-blowers and hedge-trimmers if you double them up, and I also have my watering can hanging from one.
Alternately, you can go for the Gladiator Tool Hook. It's essentially a double-hook version of the Twin Hook that's a bit longer. I wasn't crazy about the design, and it kept the tools a bit farther out from the wall than I wanted.
L-hook and J-hook combo
For anything small, I put them on L-hooks. This is great for small hand tools like my gardening shovels and shears. Unfortunately, the super-useful L-Hooks only come in a combo pack with the mostly-useless J-Hooks.
They're not entirely useless. I'm using one J-hook to hold a broom and dustpan, but that's about the only thing I can think of that would work well on a shallow hook.
It would have been nice to have different packs with either all L-hooks or all J-hooks. These are the ones to go with for anything small that you want to hang and not throw in a basket or on a shelf.
---
Gladiator GearTrack Starter Kits
Gladiator has no fewer than nine starter kits, which means there's a starter kit for whatever you want to store.
Let's talk about each here.
GearTrack Pack
The basic GearTrack Pack is the most common one you'll see in Lowe's or Home Depot. It has a great mix of some of the most useful hooks and two 4′ GearTrack channels.
Rack GearTrack Pack
If you're looking for the shortest section of GearTrack, then the Rack GearTrack Pack is what you're looking for. The shorted track is just long enough to attach to the side of most garage shelving units.

Entryway GearTrack Pack
If you need a slightly longer length of GearTrack, the Entryway GearTrack Pack is one of my favorites. It's got a 3′ pre-cut length of GearTrack rail.
I use mine to mount a Gladiator RTA Cabinet. Still, it's great for hanging brooms, dustpans, or anything you want to quickly grab before heading out.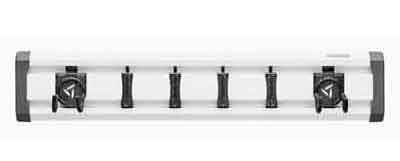 Sports GearTrack Pack
The Sports GearTrack Pack and the Sports Caddy GearTrack Pack below are very similar. The major difference is the size of the mesh basket.
The Sports GearTrack Pack has a smaller, 24″ mesh basket and three different hooks. Go with this one if you want to store small sports equipment (baseball or tennis ball size).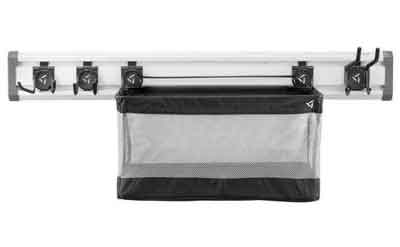 Sports Caddy GearTrack Pack
By contrast, the Sports Caddy GearTrack Pack includes a larger Ball Caddy, perfect for storing large sporting equipment like basketballs, soccer balls and footballs.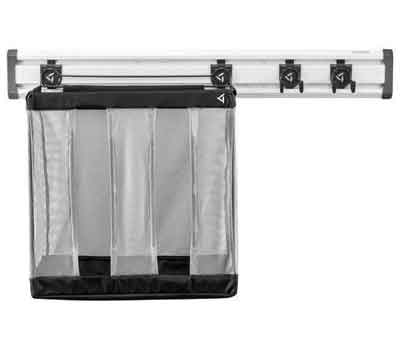 Gardening GearTrack Pack
The Gardening GearTrack Pack includes a shorter, 32″ GearTrack channel and a multi-pocket removable bag for gardening that's exclusive to this starter kit. It's a great way to store smaller garden tools.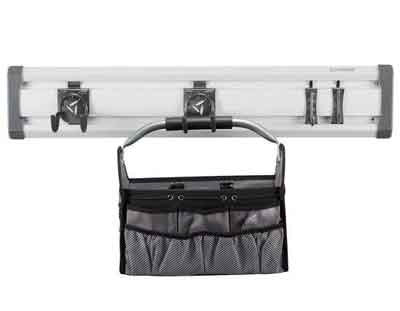 Lawn Care GearTrack Pack
Even if you're not planning on storing your garden tools on it, the Lawn Care GearTrack Pack might be worth a look.
It's the only starter kit that offers the Big Hook and Deep Hooks, great for storing extension cords, hoses, and other bulky items.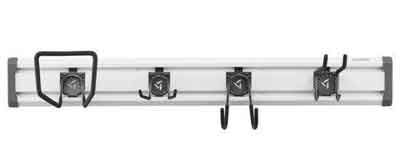 Bike GearTrack Pack
The Bike GearTrack Pack has two different Gladiator bike hooks that let you store two bicycles vertically on the wall. There are also two J-hooks for storing helmets or other gear.