Now that my garage is framed and drywalled, I'm starting to look at the fun stuff: What colors to paint the walls and what is the best paint for garage walls?
I'm really glad I started thinking about this before I got to the hardware store.
As I was doing my research, I found out that there are garage wall paint options that sound like a great idea at first, but they can actually be costly mistakes that you'll need to deal with later. Some even pose a safety threat to your family.
What is the best paint for garage walls? You're going to want an enamel interior wall paint with either a satin or eggshell sheen. It's important to also use primer on your walls before you paint, whether you're painting over drywall or exposed concrete block.
That's the simple answer, but there's a lot to digest in there. Let's take a look at each part individually so you can make the right paint choice for your garage walls.
If you're looking for color ideas for your garage floor, then check out my new article where I show paint color charts and ideas for all of the major garage floor paint and epoxy brands. It's an epic list that you won't want to miss!
The 5 Best Garage Wall Paints
---
Behr Ultra Paint: Smart White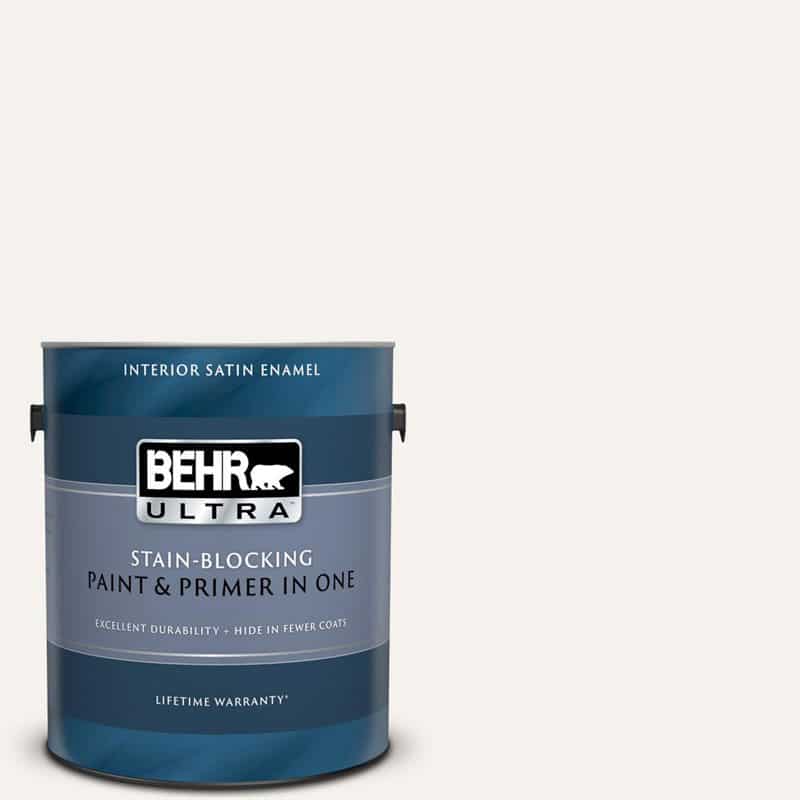 The Behr Ultra lineup of paints is their middle-range paint, fitting in between the Premium Plus on the low end and the Marquee line on the premium end.
Behr Ultra paints are extremely popular because they're both stain resistant and washable, which makes cleanup easy. They're also antimicrobial-mildew resistant, which helps stop mildew from growing under your new paint.
Although the Behr Ultra is a combination enamel paint and primer, I still recommend a dedicated primer coat. This is especially true if you're painting over new drywall like I did.
I recommend Smart White, which is a warmer white that brightens up your garage without making the light look harsh. It's available exclusively at Home Depot (link below) for around $35 a gallon.
---
The Spruce Best Home Paint: First Frost
The Spruce has partnered with KILZ to come up with their own line of interior paints that's exclusive to Amazon. Although the Spruce may be very new to the paint scene, KILZ has been making paints since 1957.
This interior paint & primer combination is a low-odor acrylic paint that is mildew-resistant when it dries. To keep things simple, The Spruce limits the color palette for this line of paint to only 32 colors.
I recommend First Frost, which is a cool white with a slight grey-ish tint. Its available exclusively on Amazon.
---
Montage Signature Paint: Snow White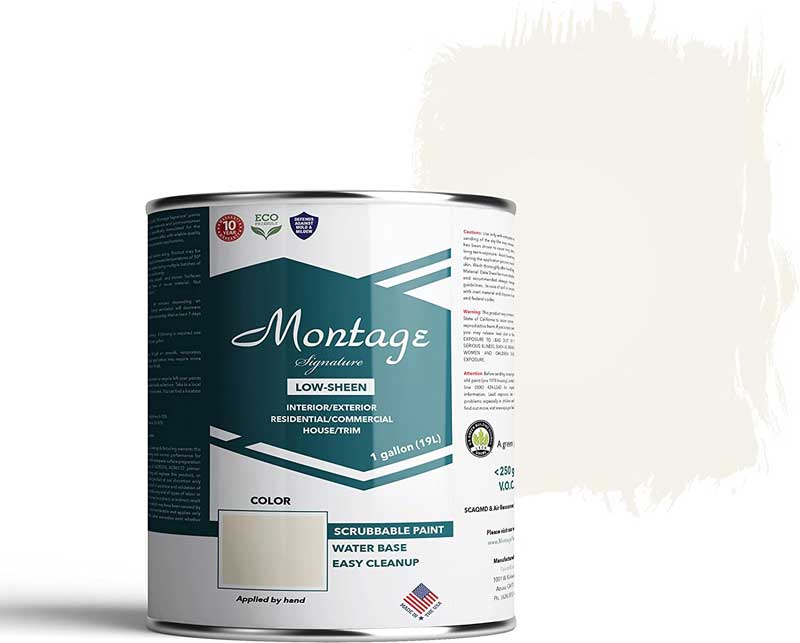 Montage paints are all about creating a more environmentally way of producing paint. They create a recycled paint produced from raw and post consumer latex paints,. They call this process "upcycling."
Keeping with the environmentally friendly theme, all paints are eligible for points toward Built Green and LEED certifications. They're also covered by a 10-year warranty, so you can be sure they'll last.
I recommend Snow White in a low-sheen finish. It's a warm white that will brighten up your garage and still be easy on your eyes. It's available on Amazon and some smaller paint stores.
---
Glidden Premium Interior Paint: Commercial White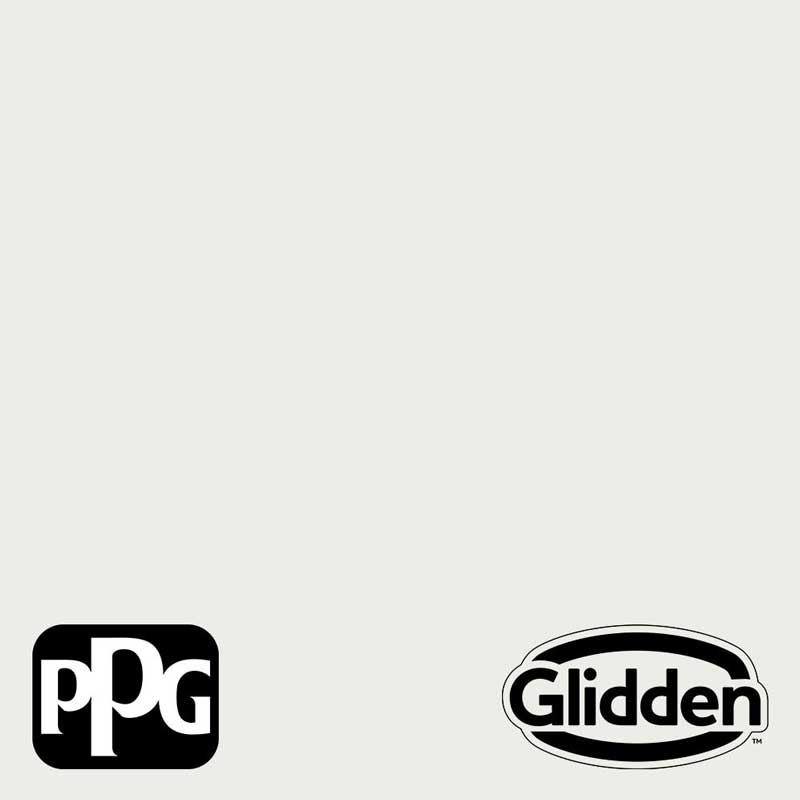 After living in Pittsburgh for several years, I'm a big fan of PPG. Pittsburgh Plate Glass company is one of the oldest paint manufacturers in the United States, getting their start in 1883.
Glidden Premium Interior paints are a low-odor, combination paint & primer. It's a washable, durable paint, designed for high-traffic rooms in your home.
Available at Home Depot and Walmart, I recommend Commercial White. It's a cool, grey-ish white that reflects natural light.
---
Prestige Paints: Satin White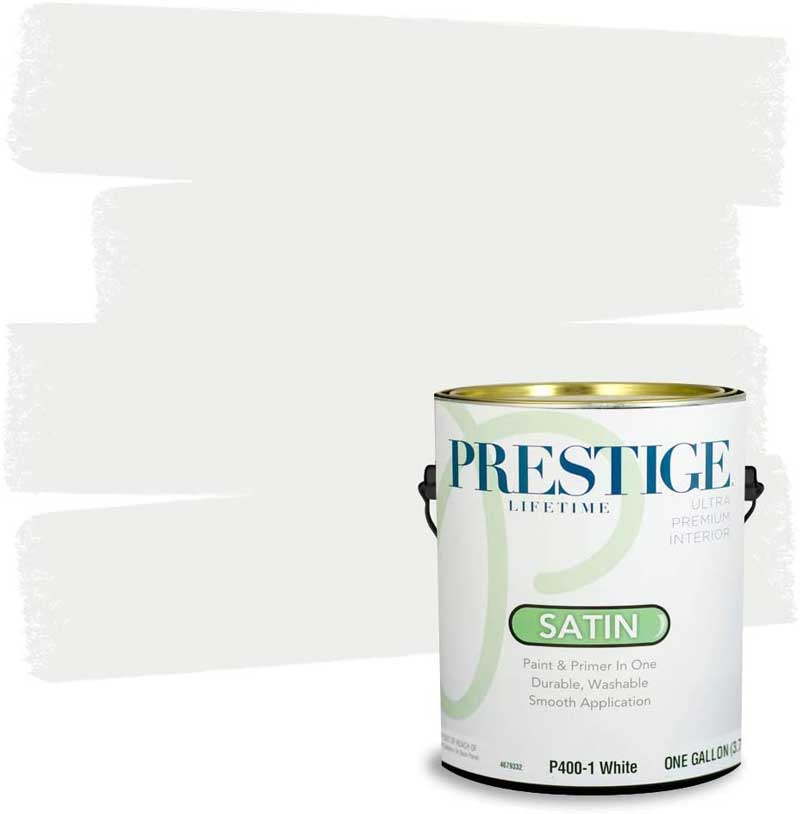 We've been buying paint the same way for decades, but that might be about to change. Prestige Paints are marketed as the world's first online-only paint company.
Sold exclusively through Amazon or their ColorPic app, this is an acrylic latex that's built for high-traffic areas and allows for easy cleanup.
I recommend Satin White. It's a slightly warmer shade of white that goes with any decor.
---
Should I use interior or exterior paint for garage walls?
There's a lot of misinformation out there in forums and other blogs, so we're going to address this first. Even if you don't listen to anything else I say, it's important to  get this one right because this is a safety risk to you and your family.
Never use exterior paint inside your home – even in your garage.
That's coming straight from the Environmental Protection Agency (EPA) guidelines and from cases reported to the Center for Disease Control (CDC). Not to mention it's the same information that the paint companies will tell you on their websites.
Exterior paints can contain higher concentrations of toxic chemicals, like fungicides. Outside, the fumes from the paint will dissipate more rapidly so they're not as harmful to humans and pets. Indoors, where the air is recirculated over and over, there's nowhere for the toxic fumes to go…except your lungs.
Most people think about using exterior paint on their garage walls because it is more resistant to scuffs, stains, scratches and mold. But there are many interior paints that have similar characteristics without posing a health risk to your family.
For more information on why you should never use exterior paint inside your garage, check out this article where we cover the dangers it can cause.
What type of paint do you use in the garage?
Paint comes in two major types: latex (water-based) or oil based paints.
Which is right for your garage? This is somewhat based on your personal preference, but I'm going to explain why I recommend a latex paint instead of oil.
Similar to the interior\exterior paint question above, latex paints will emit lower levels of chemical vapors and less toxic chemicals overall, so they're safer to use. If you've got small children, there's less of a health risk if one of your little ones accidentally swallows some of your garage wall paint.
Before you start with the angry comments down below…I said "less of a risk." There's still going to be vomiting, headaches and general nausea, but the vapors in oil based paints can actually cause pneumonia.
Throw in that latex paints can be cleaned up with soap and water, and is less irritating to your skin  if  when you get some on you, latex paint becomes the clear choice.
Do I need to use drywall primer?
If you've followed along with my garage renovation plan, you've also got drywall that's been mudded, sanded and cleaned that is ready for paint.
Not so fast…you NEED at least one coat of dedicated primer – not a paint-and-primer-in-one.
Many companies will sell a combination paint and primer. That may be fine for your other walls, but not for your garage.
If you're repainting your living room wall, for example, you've already got at least one cost of paint that you're covering up. Underneath that, there's a layer of primer that helps make a consistent surface for the paint to adhere to.
That's a lot of layers underneath the paint you're adding. Each one of those layers is doing a little bit to help smooth out the paint surface.
Without them, the drywall would just soak up the paint much differently than the drywall mud. Primer will seal the drywall paper and allows the top-coat to bind to the surface.
Let me illustrate: Take your fingertips and run them over your new drywall and over some of the seams that you've smoothed out with drywall mud. Feel the difference in texture? The garage wall paint is going to adhere to the bare drywall differently than it will to the mud.
If you really want to see this in action, take a small section of your wall (no more than one square foot) and paint it without a base coat of primer. You'll still be able to see the difference between the drywall and the mud.
Trust me. Take the little extra time to add a dedicated primer coat. You'll save a lot of time and money in the end. 
I went with a Valspar drywall primer that I picked up at Lowe's (link here) but you can also find similar products on Amazon (link here) if you'd rather have it delivered cheaply. 
The primer was slightly-off white when it dried. That makes it easy to tell where I'd already painted and what still needed to be done.
How about painting unfinished garage walls?
"Unfinished" can mean something different depending on who you ask. I wrote an article, Does a finished garage increase home value?, which goes into a definition of what a "finished garage" is and isn't. The short answer in this case is anything with properly installed drywall can be considered a "finished garage."
So an unfinished garage then would be either bare concrete block or plywood.
Plywood walls: If you've got plywood walls over bare studs, then I wouldn't not recommend painting the bare plywood.
No matter how many coats of paint you apply, it's not going to look professional. It's going to look like painted plywood.
Spend and afternoon and a little bit of money and add some batt insulation and drywall. It'll look better and be more comfortable in the long run.
Concrete walls: If you've got concrete block garage walls and you're happy with that, this is going to be really easy for you. I wrote a tutorial on how you can use Drylok to waterproof your garage walls. Drylok goes on thicker than normal latex paint, and it's more expensive as well. But, you can tint Drylok so that it acts as both a waterproofer and a paint.
It only requires one step.
What kind of finish do you use for garage wall paint?
This is where we talk about satin vs eggshell vs semi-gloss, which is you're a brand new homeowner shopping for paints for the first time, it can be pretty intimidating.
You're going to hear terms like gloss and sheen thrown around and wonder what the difference is. They both measure the amount of light reflected off the paint. If you really want to get into the weeds on the difference, Sherwin-Williams has a great article that goes into all the details. For our discussion, we can use them almost interchangeably.
There are two important things to remember when you're choosing a finish for your garage wall paint:
How stain resistant do you need the walls to be?
How many imperfections are on the walls?
Garages are extremely high-traffic areas. I mean…it's the only place in your house where you will have actual traffic (your car). If you use your garage as a workshop, that just increases the level of abuse that your walls will suffer. Think about it: your car's exhaust, road dust, wood shavings from a table saw, lawn clippings from your lawnmower or trimmer…the list goes on.
A higher gloss paint has a tougher and more stain-resistant finish. That's why most kitchens and bathrooms are painted with semi-gloss paint.
But hold on…
A higher gloss paint will also reflect more light back at you…which shows off every little imperfection on the surface of the wall. Unless you've been smoothing and sanding your drywall mud until it's the consistency of butter, you probably want to stick with a lower gloss paint.
One other thing to consider is how much light you have in your garage. If you have good garage lighting, you can get by with a lower sheen paint. But if you have a fairly dark garage, opt for a higher-gloss paint and maybe look at additional garage lighting.
Originally when I wrote this article, I recommended a semi-gloss paint. After seeing how it looked on my walls, I now recommend a Satin finish for your garage walls. 
You don't have to choose the same brand of paint as your primer. However, most people end up buying them at the same store, so if works out that way. 
I was no exception. After my test section of semi-gloss paint didn't work out, I went with Valspar satin white interior\exterior paint. You can find this at your local hardware store (see it at Lowe's) or on Amazon (link here).
If you're looking for some garage paint ideas, I wrote an article with six great tips to help you nail the design of your garage! Check it out!
Share this article on Pinterest if your liked it!