In the not too distant past, someone got the incredible idea of putting an old refrigerator in his garage. I'm pretty sure he won the Nobel Prize that year. He should have anyway…
All over the world people tried to do the same thing with their old refrigerators.
There's only one problem. Depending on how hot or cold your garage gets, those old fridges probably broke pretty quickly.
Most refrigerators are designed to work in a pretty narrow temperature band. Your house never really gets hotter than 80 degrees or colder than 60 degrees Fahrenheit.
On the other hand, your garage can go from below freezing to above 100 degrees. We needed a fridge that could work in those extreme temperatures.
Thus…garage ready refrigerators were born.
What is a garage ready refrigerator? Here's the bottom line: a garage ready refrigerator is just a fridge that has more than one temperature sensor, a wider range of acceptable operating temperatures, or some other feature that will make it popular with garage enthusiasts.
That's it.
There's no special sauce here.
Knowing that one simple fact can save you hundreds of dollars when you're shopping for a new fridge.
In a hurry?
If you don't have much time, use the links below to quickly find the Best Garage Refrigerator and Freezer.
-Best Overall: GE 21.9 cu. ft. Top Freezer Refrigerator
-Best Splurge: Gladiator 17.8 cu. ft. Rolling Garage Refrigerator
-Best Chest Freezer: Frigidaire 14.8 cu. ft. Chest Freezer
-Best Beverage Fridge: NewAir 126 Can Freestanding Beverage Fridge
-Upgraded Beverage Fridge: NewAir Freestanding 125 Can Beverage Fridge with Turbo Mode
Do Refrigerators Work in the Garage?
Another way of asking this is "Do I need to buy a special type of fridge to work in the garage?"
Well..it depends.
Each of the four major brands (Samsung, LG, KitchenAid and Whirlpool) recommend a normal operating temperature of between 55F (13C) and 110F (43C).
I didn't check every major refrigerator brand, but literally every manual I checked had the exact same requirements.
Why is that?
Inside your house, the outside air is normally a cool 70 degrees or so. But in a non-insulated garage, the temperatures can fluctuate wildly, depending on the season. If you live up north, it can easily get cold enough where the compressor never turns on.
You'll normally fall in one of two camps:
My garage gets really hot in the summer
I feel your pain. That's what started me on this crazy journey of transforming my garage.
If your garage is consistently hot, your refrigerator is going to work a lot harder than it normally would. This means parts are going to wear out faster and you're going to be using a ton of electricity.
Before you add a garage ready refrigerator to your plans, you should take a look at how to keep your garage cool in the heat. Nothing is worse than warm beer…except maybe hundreds of dollars in repair bills because your fridge died.
My garage gets really cold in the winter
A fridge usually has one temperature sensor that controls both the freezer section and the refrigerator section. It senses the temperature inside the freezer and adjusts it if it rises above a certain threshold. There's a small vent which then pumps some of the freezer air to the fridge section to keep it cool.
So what? If it's cold then no problem, right?
Well, not exactly.
If the outside temperature is cold enough that the fridge isn't cooling, but it's above freezing, then anything you have in your freezer is going to spoil.
On the flip side, if the temperature falls below freezing and stays there long enough, the food inside your fridge will eventually freeze.
Either way you've going to have spoiled food.
What Options Are There for a Garage Refrigerator?
Now we know that most combination refrigerator\freezer units only have one temperature sensor to control both sections. So when the outside temperature is too low, the compressor won't turn on. So it sounds like you need a refrigerator designed for varying temperatures.
There are a couple of different ways to solve your problem.
Skip the fridge section…
I grew up in Pennsylvania, near Pittsburgh. Almost all of my friends who had homes had an extra freezer in their garage to store extra food. Occasionally they used the freezer to store meat from their last hunting trip. Often, they stored extra frozen entrees or the Thanksgiving turkey instead.
It seemed everyone had their extended family close by. Having an extra freezer meant that they'd always have enough food in the house to prep for the next family gathering.
Hot or Cold?: If the temperature in your garage gets below freezing in the winter, you can still have a standalone freezer. The manufacturers I talked to all said that temperatures colder than 32 degrees (0 C) won't affect the unit's operation and extra heating elements aren't necessary. But, if your garage gets above 110 degrees F (43 C) in the summer, you'll be overworking the compressor and your unit will wear out faster.
Price: You can find standalone freezers at most of the big-box stores and online, but you won't have as many options as combo-units. Prices range from $300 for small 7 cubic foot freezers to around $800 for the larger 20 cubic foot varieties. To give you a frame of reference, if you've got a side-by-side fridge\freezer in your kitchen, the freezer section is likely around 6 cubic feet in total storage.
Bottom line: If you're even considering a standalone freezer for extra space, I'd recommend the 20 cubic foot freezers. You can still find some bargains that aren't that much more expensive than the smaller size models.
Or skip the freezer section…
Beer and power tools: All you really need for a fun weekend!
Seriously though…who doesn't want to grab a cold drink when you're working in a hot garage? After I cut the grass in the hot Florida sun, the first thing I reach for is a cold bottle of water.
Then I reach for the beer.
Hot or Cold?: The outside temperatures are going to play a big role in how your garage refrigerator works.
If they drop to around 20 degrees, the temperature inside your garage is going to be cold enough that the fridge may start to freeze over. To be fair, a combination unit will have these exact same issues.
Alternately, if the temperature gets too hot in the summer then the compressor will be overworked. Then you'll rack up high electricity bills and higher maintenance costs.
The best option is to build a small, insulated area for your fridge. This will hopefully regulate the temperatures to a more normal operating level.
Price: Standalone refrigerators for outbuildings and garages range anywhere from $500 to $2,000, depending on their overall size.
Don't get too hung up on features or finish. Remember, this is going in your garage, not your kitchen.
Bottom Line: Do a little comparison shopping when buying a standalone garage refrigerator. Some models will include features that make great sense for your kitchen, but are a waste of money for the garage.
…or do little more digging if you need a combo unit
If either a standalone freezer or fridge won't work in your garage, you'll want a refrigerator what has more than one temperature sensor. That may take a little more digging to find.
I searched through the big-box appliance store (Sears, Lowe's, Home Depot and Best Buy) and none of them had an easy way to search for refrigerators with more than one temperature sensor.
If it was listed, it was usually buried deep in the specifications section of the product detail page. Sometimes they ignored it completely.
I've found a shortcut to find refrigerators with more than temperature sensor.
Just look for a "garage ready refrigerator."
What is a Garage Kit for a Refrigerator?
I gotta admit, this is a cool concept.
If you remember from earlier, the problem with refrigerator\freezer combo units with only one temperature sensor is that when the outside air gets between freezing and around 40 degrees, the freezer will start to thaw out because the compressor isn't turning on.
The garage kit is a small heating element that wraps around the temperature sensor in the fridge and tricks it into thinking the air is warmer than it really is.
Thankfully both Frigidaire and Whirlpool sell heating kits for their standalone refrigerators. If you have a Samsung or LG, unfortunately you're out of luck.
You could probably rig the garage kit to work with other models, but that's more MacGyver than I'm willing to be.
Is GFCI Required for Refrigerators in the Garage?
If you're not familiar with GFI or GFCI, they stand for Ground Fault Interrupter (GFI) and Ground Fault Circuit Interrupter (GFCI). In layman's terms, both mean exactly the same thing. They are the special outlets you see in your bathrooms and kitchens that will trip if it senses a sudden increase in load. This basically makes it impossible to electrocute yourself by dropping the toaster in the bathtub like you see in the movies.
Here in the United States, the National Electrical Code (NEC) has mandated that all commercial kitchen outlets have GFCI protection. But for residential dwellings it gets a little trickier. GFCI protection is required for outlets along the kitchen countertop, but not for major appliences like your dishwasher or refrigerator.
However, once we move to the garage things change considerably. Every outlet in your garage must have GFCI protection to meet code. For those of you following along at home, this is outlined in section 210.8A of the 2017 National Electrical Code, bullet #2.
Best Garage Refrigerators
---
Best Full-Size Refrigerator for Your Garage: GE GTS22KYNRFS
If all you need is a basic refrigerator and freezer, then you can't do much better than the GE GTS22KYNRFS.
My favorite is the stainless steel version, but it also comes in white, black and slate gray. If you don't care about the color, choose the white or the black versions. It'll save you about $100 off the price.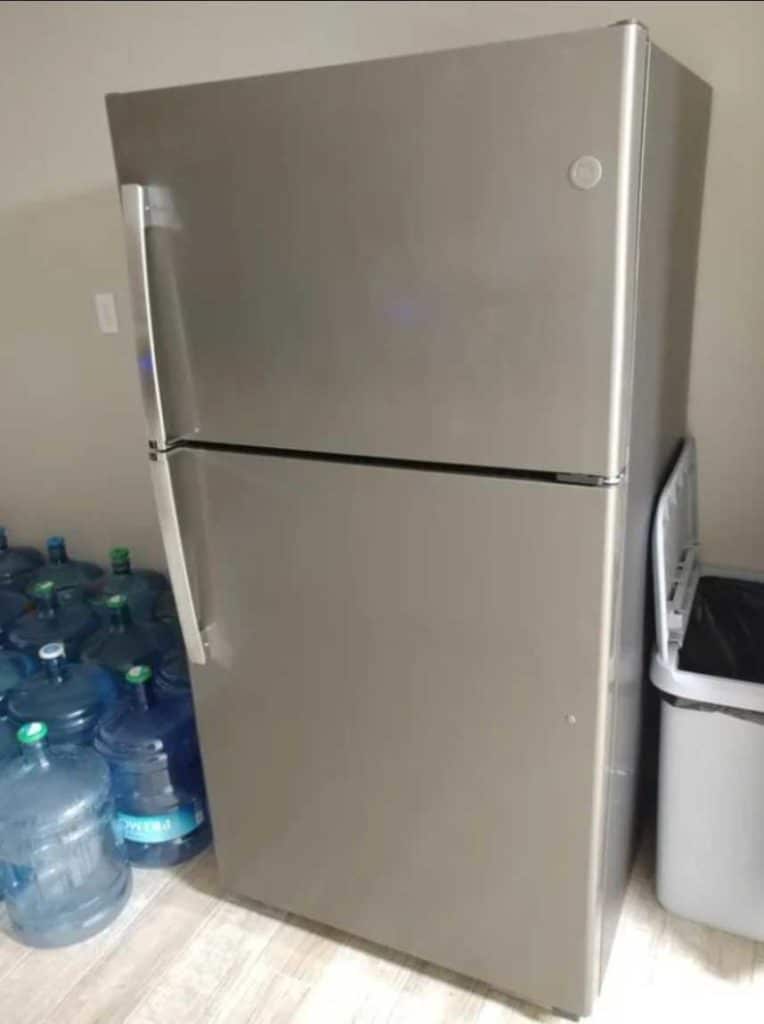 Overall, this unit gives you 21.9 cubic feet of storage split between the refrigerator (15.25 cubic feet) and the freezer (6.68 cubic feet).
It doesn't have an ice maker included, which is good for a garage refrigerator. You won't need a separate water line to install it.
It's rated for temperatures between 38° F and 110° F. Like most refrigerators for garages, it's going to have some issues when the temperature drops below freezing.
Although I liked the look of the stainless steel finish, it's not smudge resistant, which may be an issue in the garage.
Overall, this is an amazing, no-frills fridge. It's not going to have many of the luxury features that you need in your main refrigerator. However, it's only going to cost about half as much as the average refrigerator as well.
---
Best Upgraded Garage Refrigerator: Whirlpool Gladiator GARF30FDGB
If you want something a bit more than your basic refrigerator to go in your dream garage, then may I suggest the Gladiator GARF30FDGB Refrigerator.
Now, I know what you're thinking. Gladiator makes some pretty good garage cabinets and shelves, but what do they know about making a refrigerator?
That's where Whirlpool comes in. They're Gladiator's parent company and this refrigerator is very similar to Whirlpool's WRR56X18FW model.
I'm not going to bury the lead here. The Gladiator refrigerator is not cheap. It retails for around $1200 which makes it one of the most expensive refrigerators for it's size.
For that price, you get a 17.8 cubic foot refrigerator with no freezer section. Gladiator makes a full-size freezer model as well, however I think there are better options for garage freezers (see below).
Because it lacks a freezer section, it has as much refrigerator space as a 22 cubic foot top-freezer refrigerator while only taking up the space of a 17 cubic foot fridge.
This fridge comes in a hammered granite finish that will match perfectly with any Gladiator cabinets, shelves or workbenches you have in your garage.
One of the coolers features is how you open it.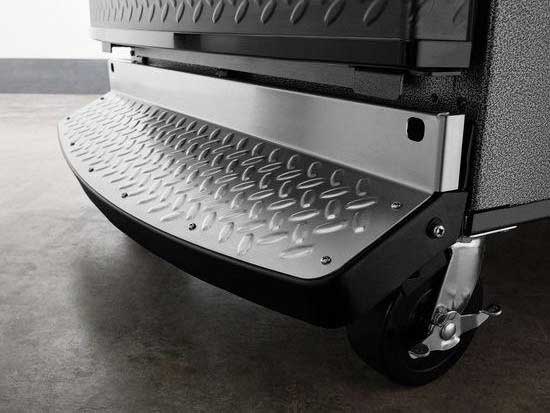 The Gladiator refrigerator opens via a unique stainless steel foot pedal on the front of the unit. So if your hands are full with a party platter or packs of beer, you won't need to perform a balancing act to open the door.
You can use the refrigerator without the kick panel, or the rolling casters if you want to save space.
Like most of the other garage refrigerators we've seen, it's rated for temperatures between 38° F and 110° F.
The Gladiator refrigerator is expensive, no doubt about it. No doubt part of that is because it's made in the USA (Ohio) and designed to take the abuse of being in your garage.
That's why I called this my 'splurge' garage refrigerator. After all, splurges are supposed to be something special, right?
---
Best Garage Chest Freezer: Frigidaire FFCL1542AW
This was a close contest between the popular GE FCM11PHWW, but I have to give the win to the Frigidaire FFCL1542AW chest freezer.
Both are excellent freezers at a similar price point: around $550. Both have an external temperature control, interior light and sliding interior storage bins for smaller items. You can't really go wrong with either.
However, if you're specifically looking at a freezer for your garage, there are a couple of features that put the Frigidaire over the top.
The Frigidaire boasts almost 50% more storage space than the GE (14.8 cubic feet vs 10.6 cubic feet). In fact, the Frigidaire can store over 500 lbs of meat, assuming 35 lbs per cubic foot (source).
It also has rolling casters for easy movement. The casters are optional, so you don't have to install them if you don't want to. But I thought this was a nice touch and would go well with some of my other rolling garage cabinets.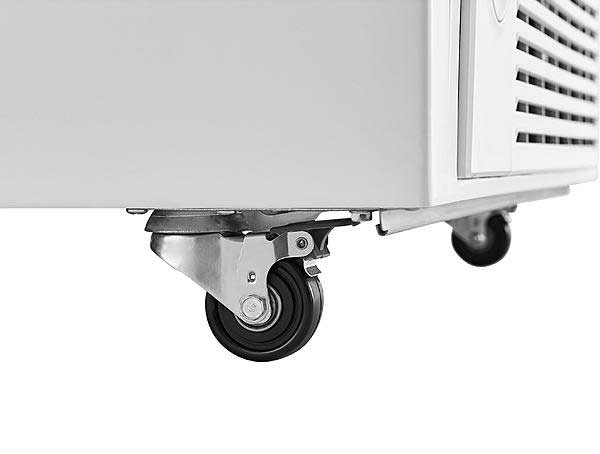 If your family buys a lot of frozen food, then a chest freezer is the way to go. However, you need to buy a freezer that's designed for the garage. Both the GE FCM11PHWW and Frigidaire FFFC15M4TW are great products, but you get a lot more for your money with the Frigidaire.
---
Best Mini Fridge: NewAir AB-1200B
This is another close contest between the NewAir AB-1200B and the HomeLabs HME030065N. Both are similarly sized mini-fridges for around the same price-point ($300). Even though the HomeLabs is more popular, I think the NewAir is a better product.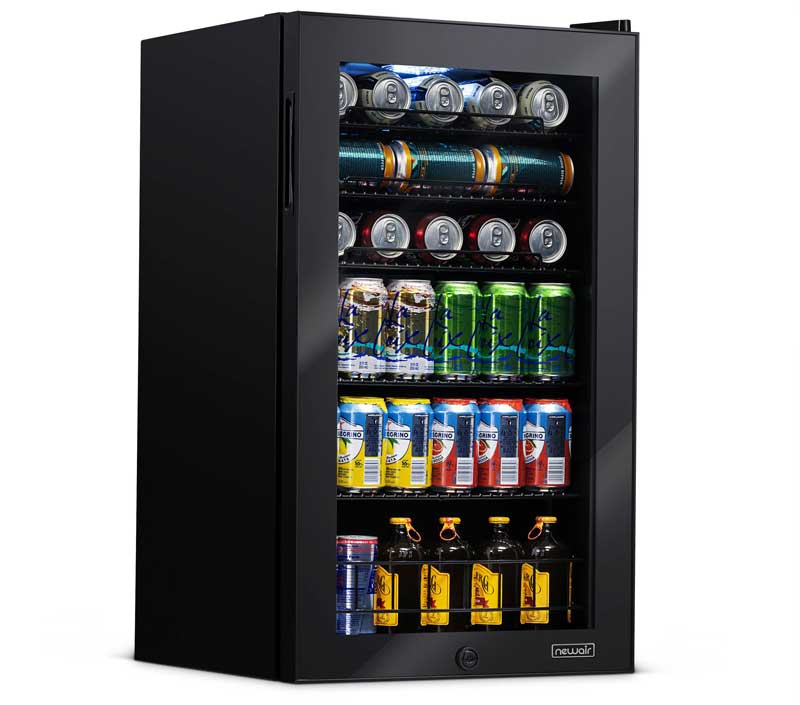 The NewAir AB-1200B has a slightly higher capacity, holding 126 full-size cans compared to HomeLab's 120 cans. It also has a built-in lock so you can keep kids (or your friends) away from your craft beers, which the HomeLabs does not.
It cools to between 37° F and 64° F, and has seven different pre-set modes depending on what types of drinks you're putting in it.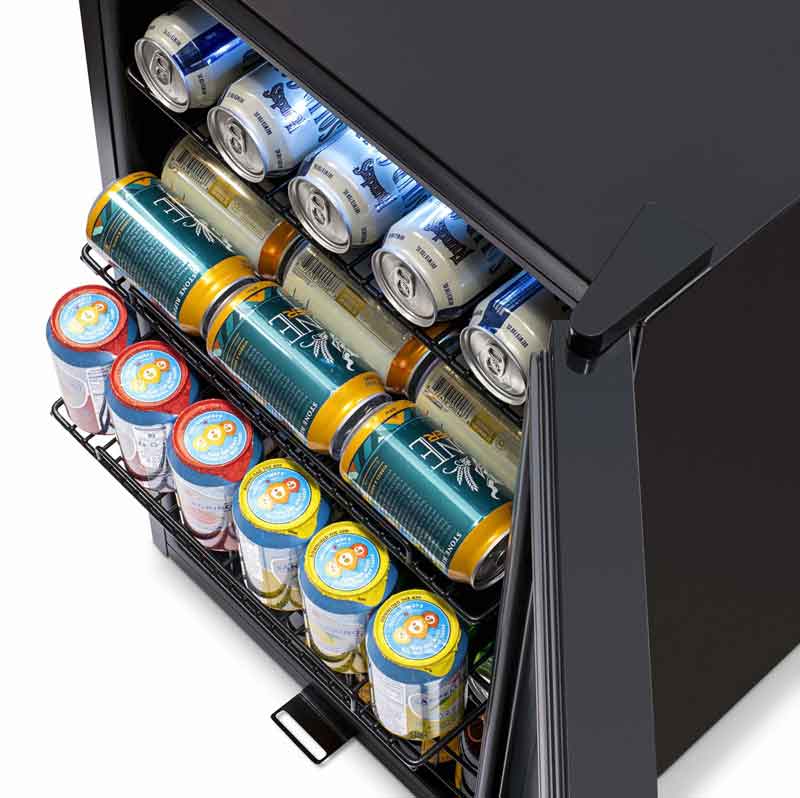 As a company, NewAir has been around for over 15 years and has a great customer service record. I think it's safe to say that NewAir is going to be around for a while.
It's easy to find a mini-fridge that's in the $150-$200 price range. For that price you're going to be sacrificing a lot of storage space. You probably won't get a unit that's built as well either.
For me, the NewAir 1200B is the obvious choice for a mini-fridge\beverage cooler that's in the 'under $300' price range.
---
Best Beer Fridge (when you forgot to buy the beer): NewAir NBF125BK00
If you've ever thrown a party and forgot to get the drinks, or had to make a mid-party beer run, then the NewAir NBF125BK00 was made for you.
Building on the success of the AB-1200B, the NBF125BK00 adds two modes: Turbo mode and Party mode.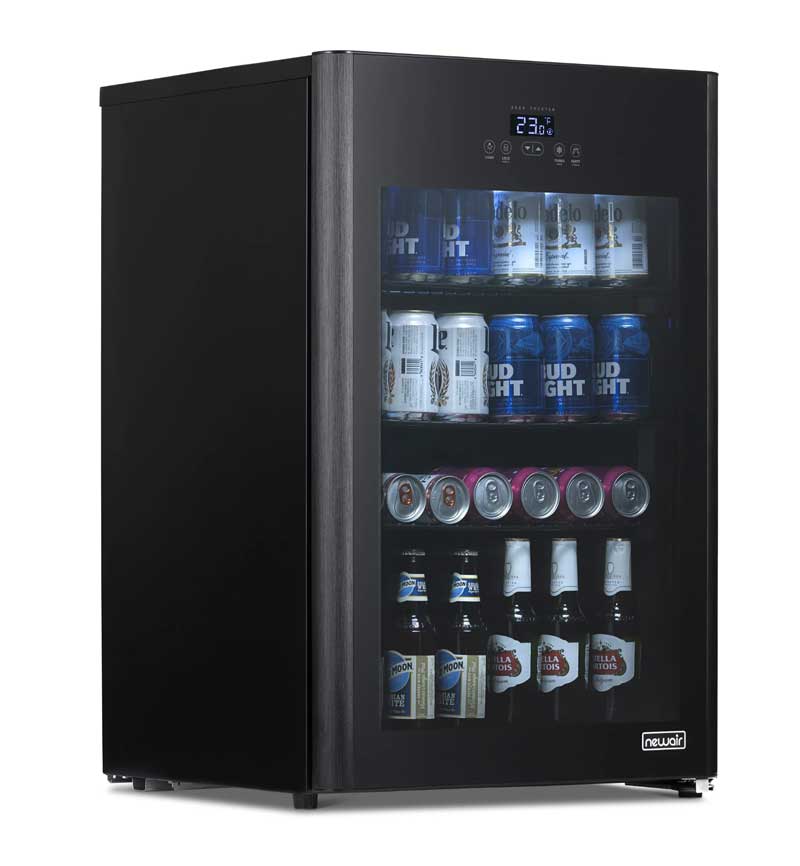 Turbo mode drops the temperature down to 23° F, well below-freezing, to chill your drinks as fast as possible. Party mode keeps the compressor running for a full six hours, so your drinks stay cold, no matter how many times the door is opened and closed.
Speaking of the door, the double-pane glass door is heated on the outside so the door never frosts over.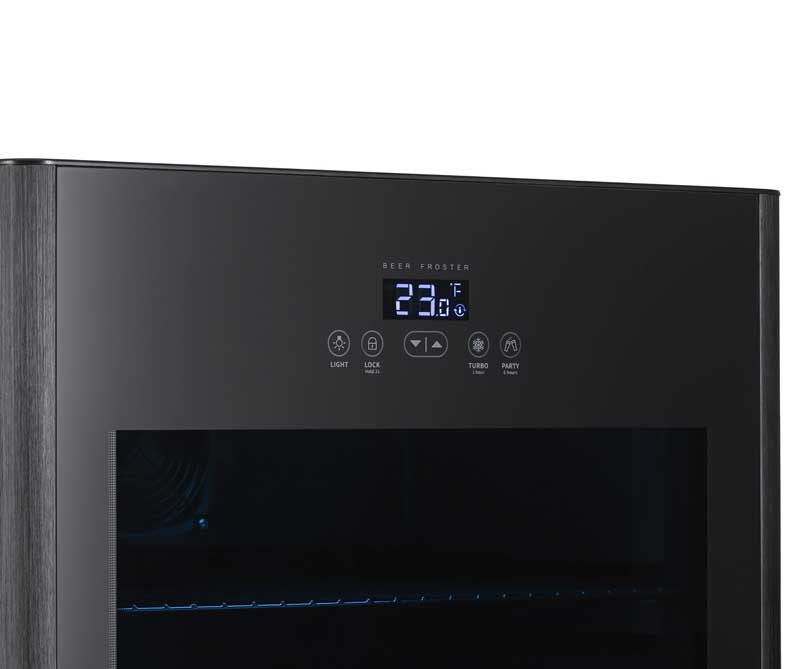 Looking at other higher-end beer fridges, most of the other manufacturers only cool down to between 34° F and 37° F. It's rare to find one that will go below the freezing point until you get to a much higher price-point.
The NewAir NBF125BK00 isn't cheap, by any means. It costs about as much as the full-size GE garage refrigerator that we recommended above. But for that price, you're getting a really nice beer fridge, with some amazing high-end features.
---