Gladiator Garage cabinets are an excellent low-cost option to add more storage space to your garage. However, trying to tell the difference between the Premiere vs. RTA (Ready to Assemble) cabinet models can get confusing.
I purchased a few Gladiator garage cabinets from the Premier and Ready to Assemble (RTA) lines, so this review will cover both.
To make it easy, I'll mention which specific model or product line I'm discussing each time.
Here's what I've got:
Two Premier 30″ wall cabinets (GAWG302DRG)
One RTA 28″ wall cabinet (GAWG28KDYG)
One Premier 65″ tall GearBox (GATB302DRG)
One RTA 72″ tall GearBox (GALG36KDYG)
I also picked up a few things I'll cover in a different review. You may see them in photos, but I won't specifically cover them here.
6′ adjustable hardwood workstation (GAWB06HWEG) (Click for my review)
Premier series modular GearBox (GAGB272DRG)
Premier series modular GearDrawer (GAGD275DRG)
So let's dive in.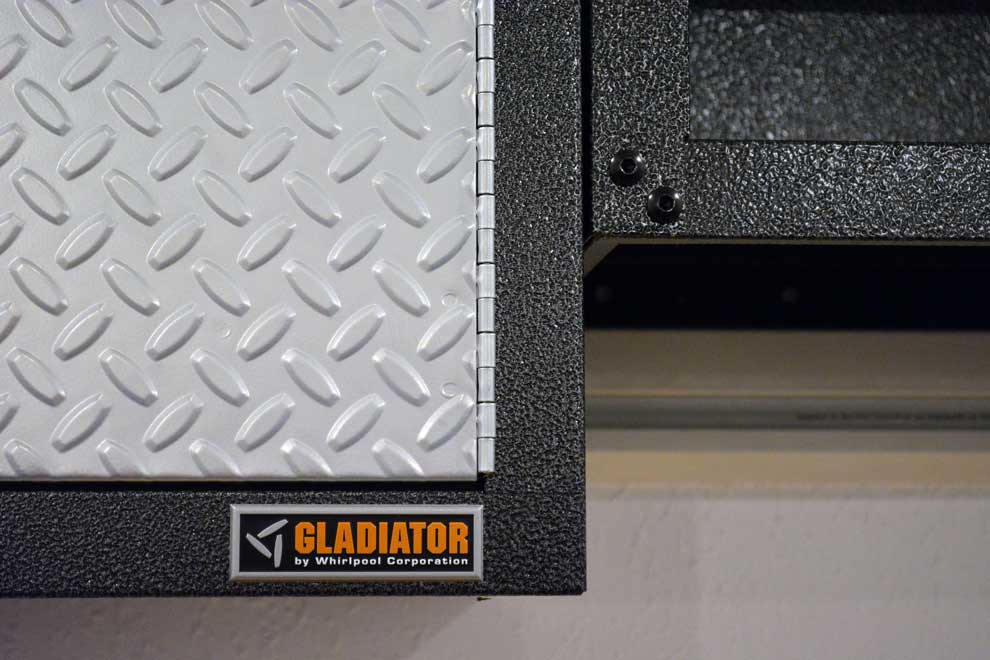 Table of Contents
---
Why Gladiator Garage Cabinets?
Let me be clear about one thing right off the bat:
Gladiator is not a top-of-the-line garage cabinet, but they are an excellent storage cabinet for the money.
If you're looking for top-of-the-line and are prepared to shell out a lot of money to get it, I recommend something like Vault Garage or BaldHead Cabinets.
Once I make millions, a garage full of Vault cabinets is high on my wish list. For now, I have better things to spend my money on.
I wanted durable, great-looking garage storage cabinets, but I can't justify spending thousands of dollars. That's a big reason why I went with Gladiator GarageWorks.
Gladiator costs about a third as much as Vault or BaldHead.
Even compared to Craftsman, Kobalt, or some other cabinets at Lowe's or Home Depot, the Gladiator garage cabinets come out on top.
What I like best about Gladiator garage storage is that they have various cabinet options to choose from.
Do You want a tool drawer that matches your cabinets and workbench? They've got that.
How about a modular system where you can reposition the cabinets on your wall whenever you want? They can do that, too.
You can create a cohesive look for your entire garage instead of buying this cabinet from Company A and this other cabinet from Company B.
Overall, it's a good, all-around lineup that'll look good without costing a fortune.
Still with me?
Good.
---
My Gladiator Garage Cabinets
Before I get into the review, here are some specifics on my Premier and Ready To Assemble (RTA) Gladiator garage cabinets.
I have two large cabinets. So, I'll compare my Gladiator Ready-to-Assemble Large Gearbox (GALG36KDYG) to my Gladiator Premier Tall Gearbox (GATB302DRG).
This is a straightforward comparison because both cabinets fill the same slot in each lineup.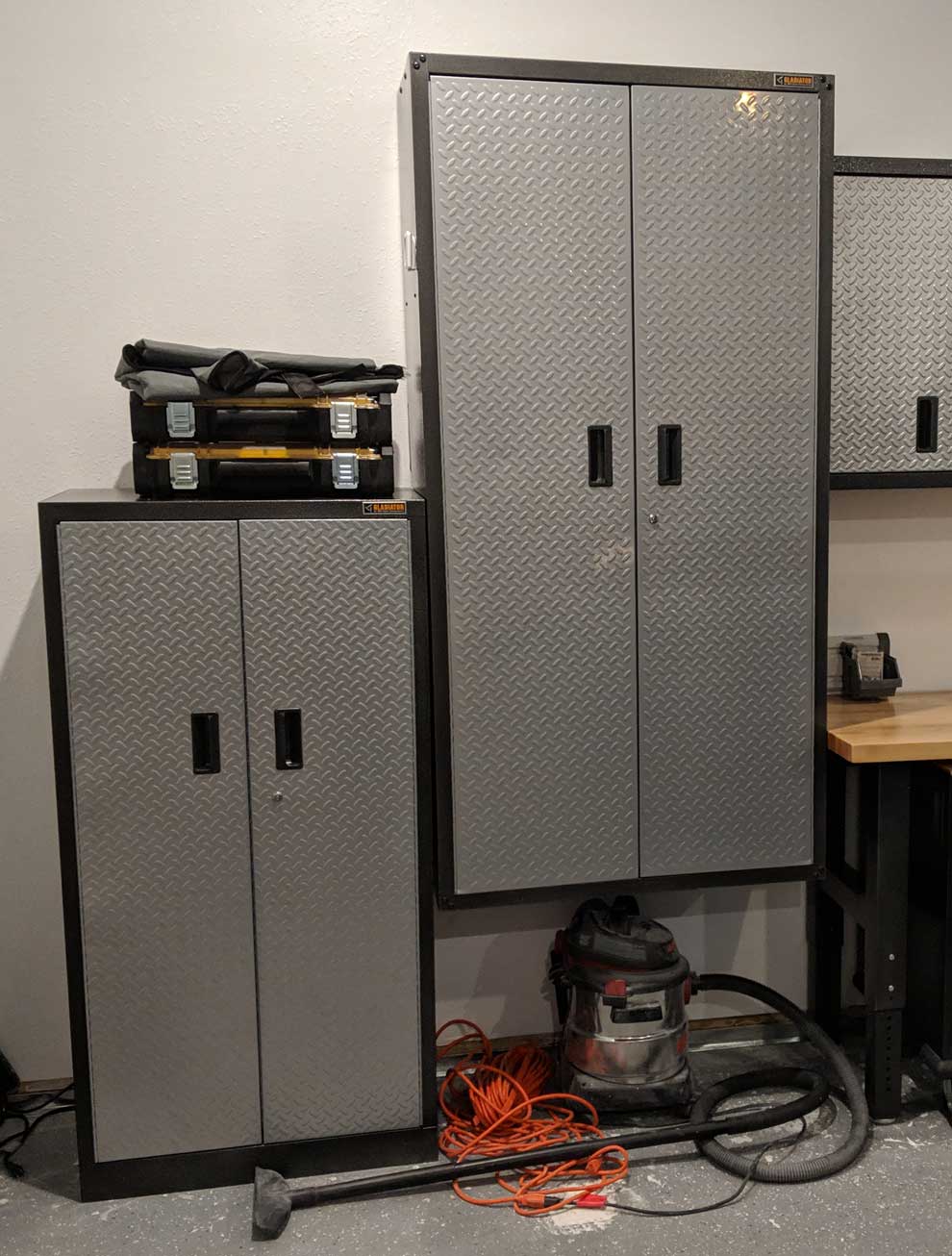 s you can see, the RTA Large GearBox on the right is noticeably bigger.
It's 72″ tall by 36″ wide, whereas the Premier Tall GearBox is shorter and narrower (65″ tall by 30″ wide). Both cabinets are 18″ deep.
My smaller Gladiator cabinets aren't as simple of a comparison.
I have one 28″ Gladiator Ready-to-Assemble 3/4 Wall GearBox cabinet (GAWG28KDYG) and two Gladiator Premier 30″ Wall GearBox cabinets (GAWG302DRG).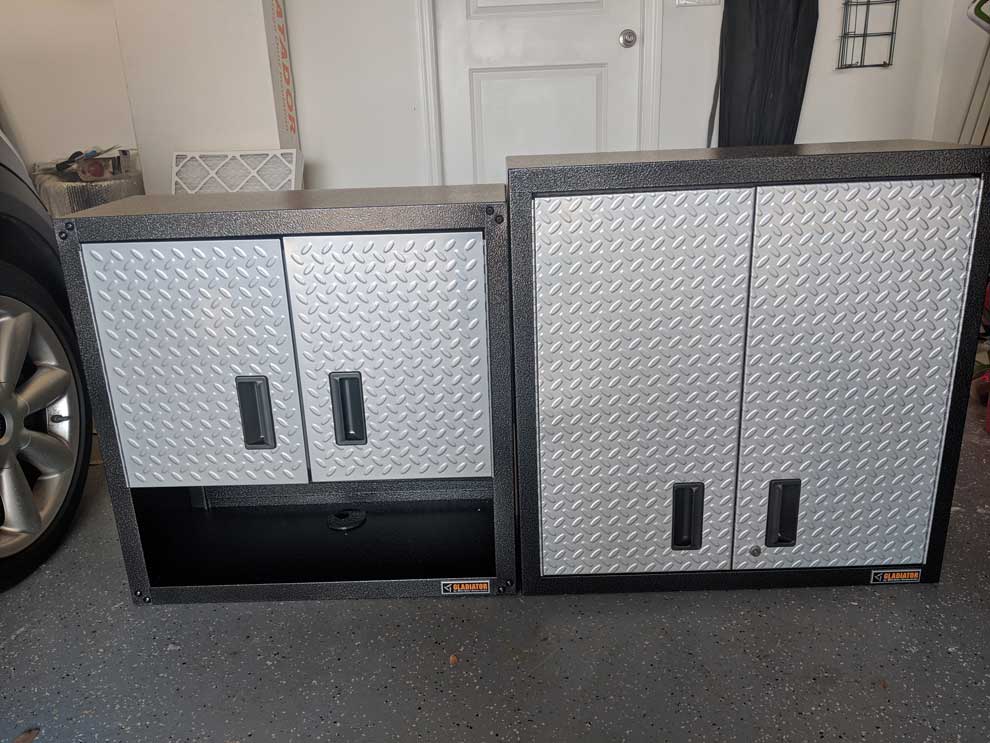 The Premier GearBox has a door that runs the full height of the cabinet. By contrast, the door on the RTA 3/4 GearBox only covers the top three-quarters of the cabinet – hence the name.
What I liked about the 3/4 RTA GearBox is the exposed shelf that's perfect for smaller items. It even has a built-in grommet for an electrical cord.
---
How Much Do Gladiator Garage Cabinets Cost?
The Gladiator Premier cabinets cost between $30 and $100 more than the closest equivalent Ready-To-Assemble cabinet.
The great thing about Gladiator RTA garage cabinets is that you can usually find them on sale at Amazon or most big-box stores if you're patient.
I wrote a detailed article comparing 30 different models, including a comparison between Gladiator and some other leading brands, showing how much garage cabinets should cost.
---
Gladiator Premier Pre-Assembled 30" Wall GearBox
Pre-assembled, welded Garage cabinet; wall bracket kit included
200 lb. Total capacity, 50 lb. Per shelf
Easily re-position on GearTrack or GearWall
2 adjustable shelves for versatile storage of items of various sizes
Extremely durable magnetic catch powerfully holds the cabinet door when closed
Built-in lock offers additional security.
Available in Silver Tread (GAWG302DRG), Red Tread (GAWG302DDR), or Grey Slate (GAWG302DZW)
Check Latest Price
We earn a commission if you click this link and make a purchase at no additional cost to you.
What Gauge are Gladiator Garage Cabinets?
Gladiator is up-front in telling us that the Premier line is made with thicker grade steel than the Ready To Assemble (RTA) lineup.
However, they don't tell you how much thicker it is.
To find out, I bought a digital micrometer and measured them. I compared my results to US Code Title 15, Section 206 – the Standard Gauge for sheet, plate iron, and steel (link here).
To get a rough idea of what gauge steel they use, I'm only going to the hundredth of a millimeter as a margin of error.
First up was my Gladiator Premier Wall GearBox. This cabinet was 0.94 mm thick, which puts it right about 20 gauge steel.
Next was my Gladiator Ready-To-Assemble 3/4 Wall GearBox. At 0.76 mm thick, that's between 22 gauge and 23 gauge steel.
Since I rounded up slightly for the Premier cabinet, let's call the RTA 22 gauge steel.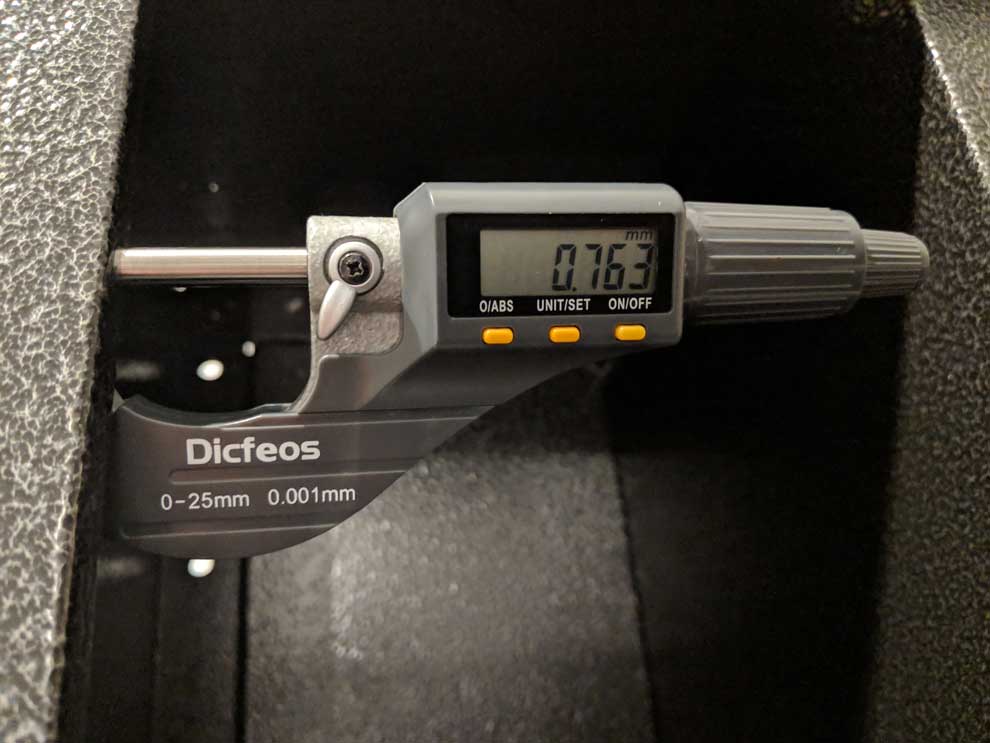 The thicker gauge steel of the Premier cabinet increases the amount of weight it can take.
The Premier is rated for 200 lbs total weight and up to 50 lbs per shelf. The RTA cabinet is only rated to hold a total of 150 pounds (40 pounds per shelf.)
---
Some Assembly Required – Even for Premiere Cabinets
No matter which Gladiator garage cabinet you choose, there's going to be some assembly required.
Even for the Premiere cabinets.
I've seen some comments from disgruntled customers who were upset that they had to install the casters on their Premier cabinets.
Which makes sense once you think about it.
The freestanding Gladiator Premier cabinets don't ship with the casters installed because you can mount them on the wall.
Additionally, if you want to mount a tall GearBox on a wall, you must purchase a separate bracket. The wall GearBoxes only mount on the wall, so the bracket is already built-in.
The Ready to Assemble (RTA) cabinets come as a giant Lego set.
It took me about an hour to assemble my tall RTA GearBox, including the time to re-do a couple steps because I was assembling it upside down.
The smaller wall-mount GearBox went much smoother and only took about 15 minutes to assemble.
Feet & Casters
It comes with either leveling feet or wheeled casters, depending on the cabinet model.
If your cabinet shipped with adjustable feet, but you want casters, that's OK. Gladiator makes a caster kit you can buy separately.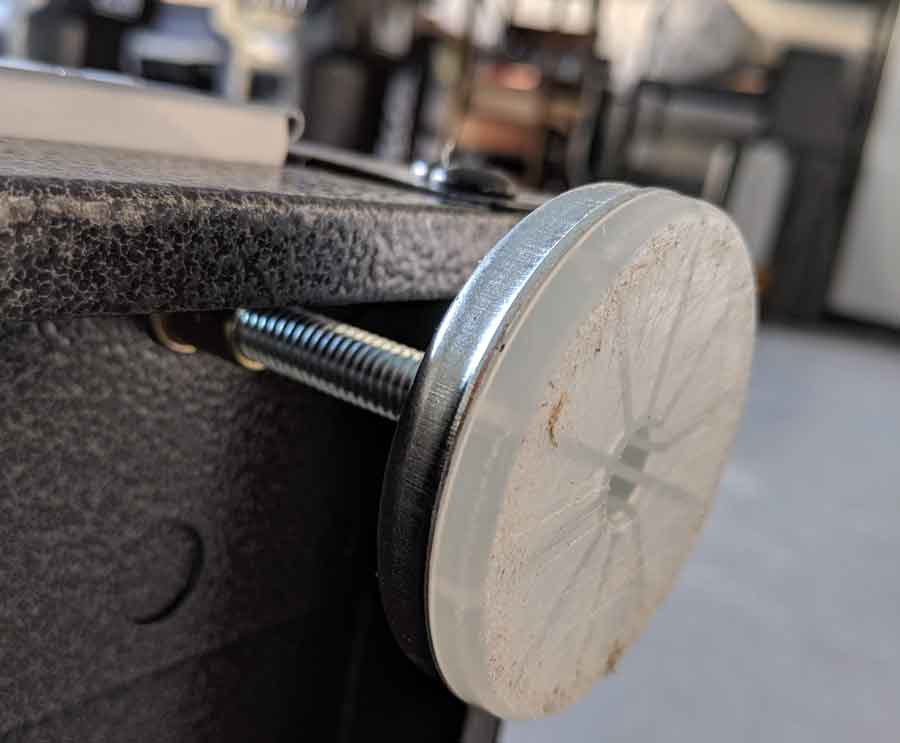 The leveling feet are pretty basic.
There's a hard plastic base on the bottom of a single screw. The screws are long enough to adjust the cabinet to be level, even if your garage floor isn't.
The 5″ casters that came with my Gladiator Premier storage cabinet are massive! I've got big hands, and you can see just how massive the casters are in this image.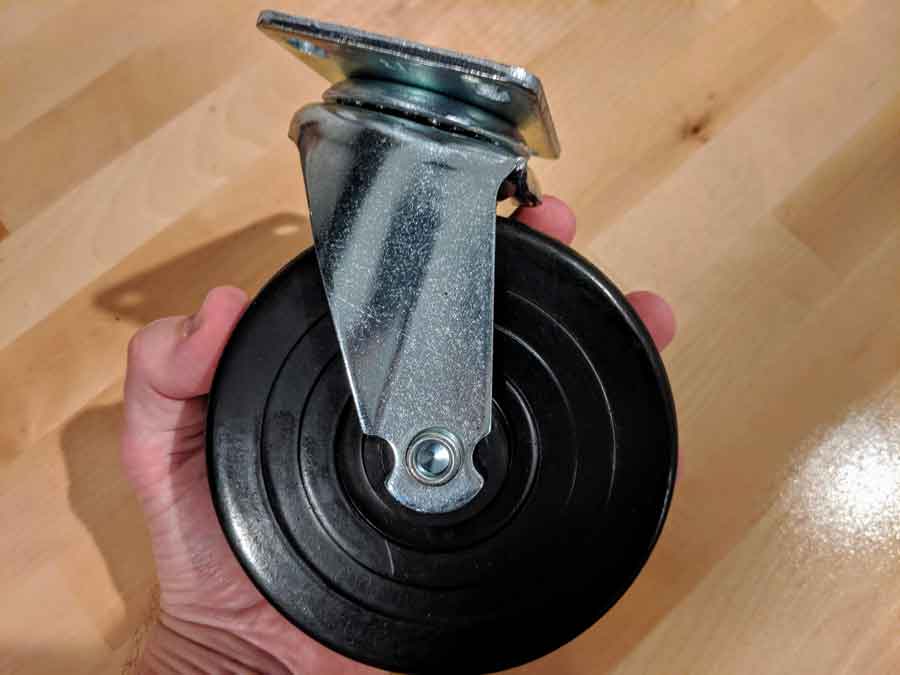 The casters are made of heavy rubberized plastic that attaches with four bolts each. The front two casters swivel while the back two are fixed.
If you've got the option of wall mounting your cabinets, I highly recommend it.
I love having that little extra bit of space underneath my garage cabinets. It makes it a lot easier to clean and puts more of your cabinet space near eye level.
Gladiator Ready-to-Assemble 3/4 Door Wall GearBox [GAWG28KD]
28 in W x 28 in H x 12 in D
Electrical access area on the open lower shelf
Full-width adjustable shelf and open bottom shelf for storage versatility
Available in Silver Tread (GAWG28KDYG), Hammered Granite (GAWG28KDESG), and Gray Slate (GAWG28KVEW)
Check Latest Price
We earn a commission if you click this link and make a purchase at no additional cost to you.
---
Gladiator Premiere Vs. RTA
Construction
The Gladiator RTA cabinets obviously aren't going to fit together like a Premier cabinet that's professionally welded from the factory.
Each panel on the Gladiator RTA garage cabinets is attached independently of the others.
That means there's always the potential for small gaps in places where you don't want them.
I had about a 1 mm gap along the side panels. It's not apparent from more than a few inches away, but it's big enough that water can leak inside.
I wouldn't recommend using RTA cabinets outside. You'll also need to be careful when cleaning them.
The Gladiator RTA cabinets have black powder-coated 5/16″ hex bolts and flange nuts, which stand out against the hammered-steel finish. Each side is connected by eight screws, with no additional connections on the side panel.
By contrast, the Gladiator Premier cabinet is welded together. It's not a seamless weld, but it's much harder to see where the bottom piece meets the side panel unless you're looking for it.
There's no gap where the side panels meet either the top or the bottom panels. Everything is sealed along the edge except for a small opening right at the corner.
In my opinion, both look good.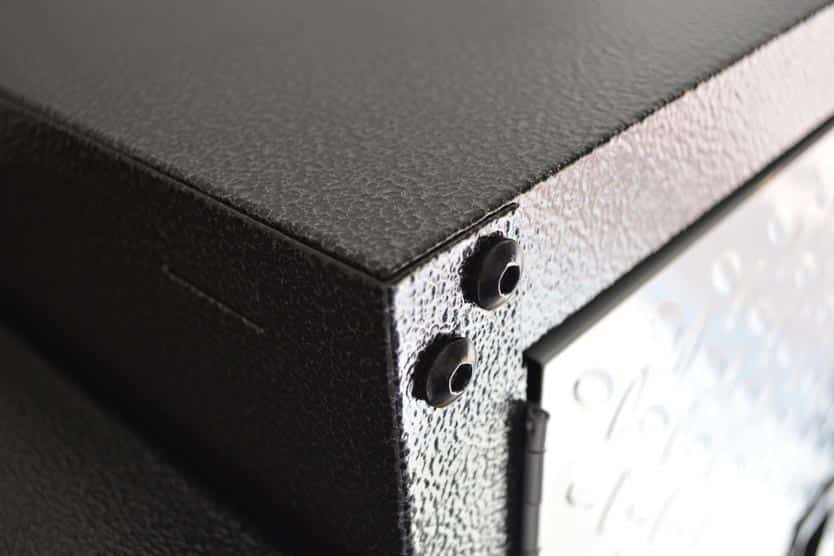 The bolts make it look more industrial and heavy-duty, while the Premier's corners are clean and simple.
It all depends on what style you're going for in your garage.
Fit & Finish
If I had to pick one challenge spot, it was the back panel on the tall GearBox.
The side panels are two long pieces of steel. However, the back panels are comprised of five smaller pieces stacked on top of each other.
Here's a look at how the panels stack together and the wall-mount brackets for the RTA cabinet.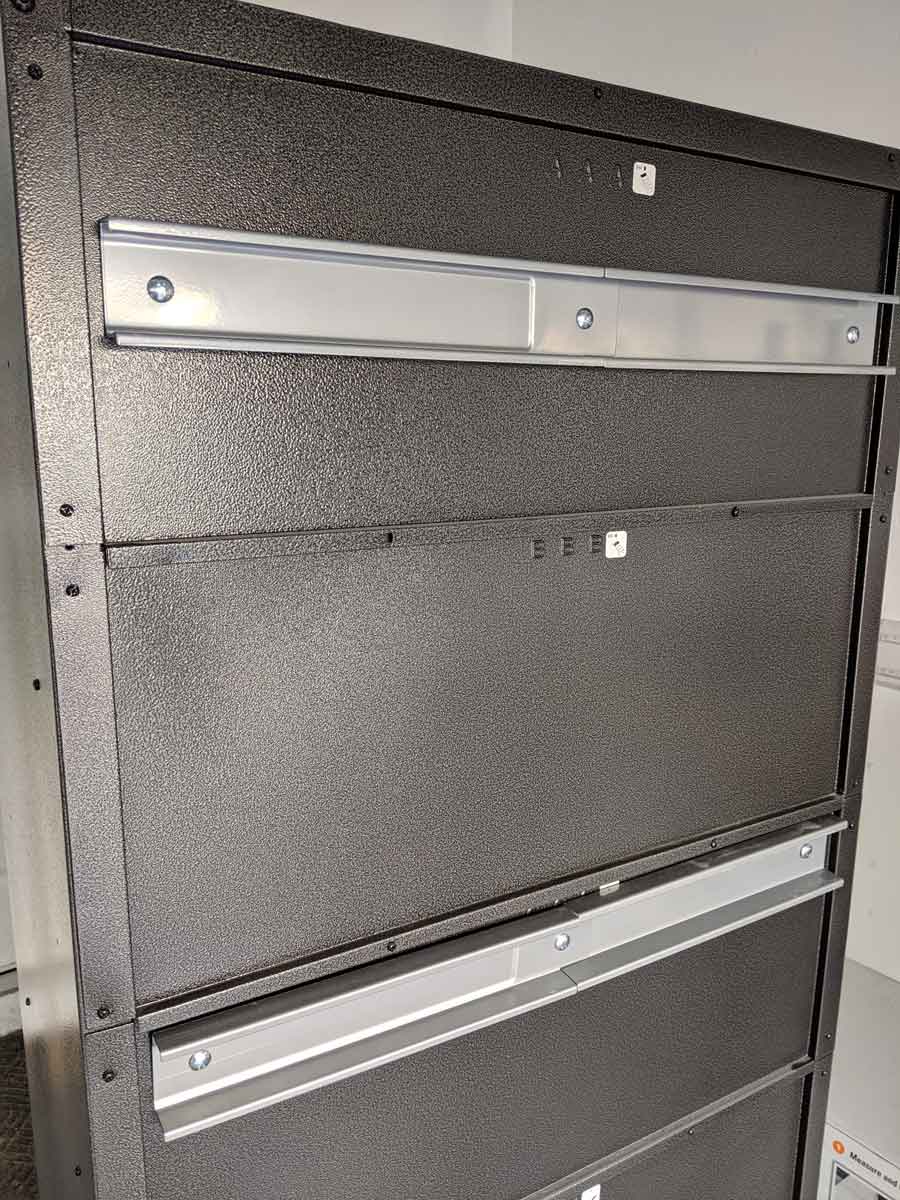 As you can see, there are some small gaps where everything fits together.
If you have something that spills on one of the shelves inside, it will leak down the back and onto your wall and floor.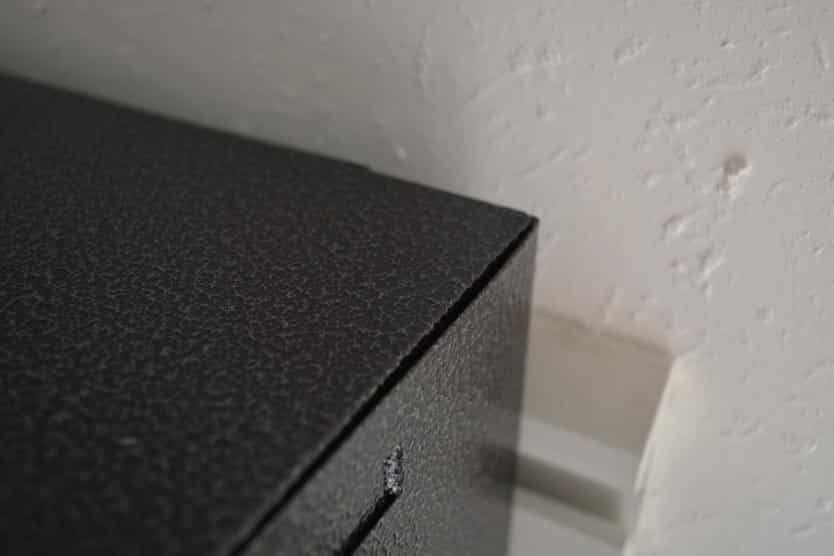 I don't want to give the impression that the welded Premier cabinet is watertight.
It's not.
However, it will give you more protection than the RTA cabinet.
---
Cool Features of Gladiator Garage Cabinets
There are some great features on some of the cabinets.
Be aware that not all of these features are available in every cabinet.
If you see something that's a deal-breaker, be sure to double-check before you buy it.
Locks
Every double-door Premier cabinet, from the smallest Wall GearBox to the freestanding Tall GearBox, comes with a circular key lock and two keys.
The single-door 24″ Premiere cabinet doesn't have a lock.
Many of the Ready-to-Assemble cabinets have locks, but some cheaper ones, like my 3/4-door GearBox, do not.
They won't keep out a determined thief, but they will keep children away from things that might hurt them.
Wire Grommets
I love this feature, but of all the cabinets I purchased, only my 28″ RTA cabinet has this.
The lower shelf is the perfect spot to hold a small Bluetooth speaker.
Full-Length Door Magnets
This is only on the Premier line of Gladiator garage cabinets. You can definitely feel the difference it makes when you open the door.
The door magnets in the Gladiator Premier line run along the top and bottom of the door.
The entire length of the metal is one big connection point, so when the door closes, it stays closed.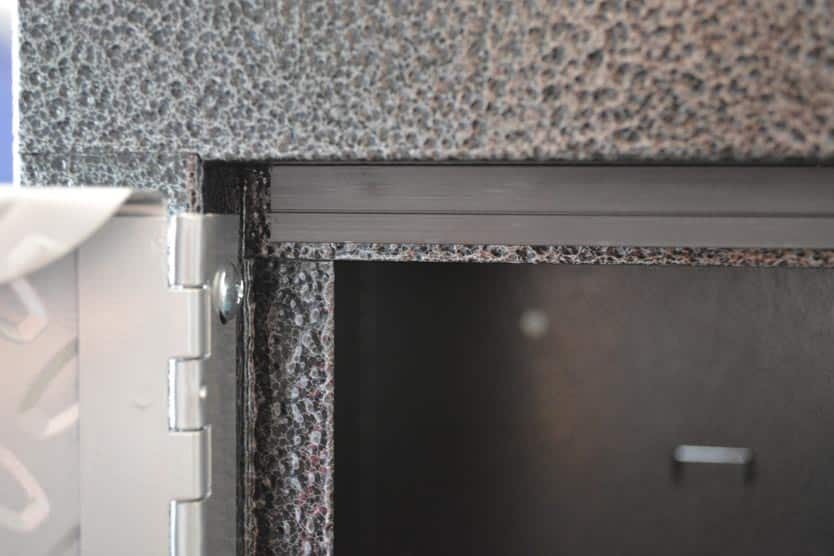 The magnet contact points running the entire door's length feel much more solid than a small magnet in the center.
The RTA cabinets only have a small magnet in the middle of one shelf, so it doesn't feel as solid when opening or closing the door.
Peghook Holes
Some of the cabinets have peghook slots on the inside of the doors to give you additional places to stick things.
I don't use them personally because I'm not a fan of peghooks, but I'm sure someone will appreciate them.
If you're into peghooks, the Premier cabinet's doors have built-in slots to add peghooks or ring hooks for extra storage.
---
Gladiator Premier Freestanding Pre-Assembled Cabinet
GATB302DRG
Ready-to-Assemble
1 fixed and 2 adjustable shelves
Heavy-Duty Steel Construction and Hammered Granite Powdercoat Finish
Locking Tread Plate doors with large recessed handles
Rated load 250-Pound per cabinet, 50-Pound for each shelf
65.25-Inch height x 30-Inch wide x 18-Inch deep
Check Latest Price
We earn a commission if you click this link and make a purchase at no additional cost to you.
Initial Thoughts
I like the look of the Gladiator cabinets overall, but there are some minor annoyances.
During assembly, one of the inner shelves on my RTA cabinet got bent. It was my fault, but I was surprised by how easy it was to do.
The thinner gauge of steel in the RTA cabinet is easy to bend back into shape. But I'm OCD enough to notice that it will never be perfectly smooth.
The cabinet colors are a mixed bag.
Both have a dark grey hammered finish, similar to their workbench, which I reviewed here and GearLoft overhead storage.
It hides most small imperfections but shows every little bit of dust. If you've ever owned a black car, you understand what I'm talking about.
The interior shelves are adjustable, but only to a point.
The cabinet's side panels have tabs spaced out on each side. Unfortunately, you can see the tabs outside the cabinet, making the finish look like some other cheap garage cabinets.
It might be minor, but I want the entire cabinet edge to be smooth.
On the flip side, I was very impressed with the fit and finish of the doors.
If you're like me, doors never seem to fit as straight as I want them to.
The RTA cabinets allow you to make minor adjustments to help each door line up correctly.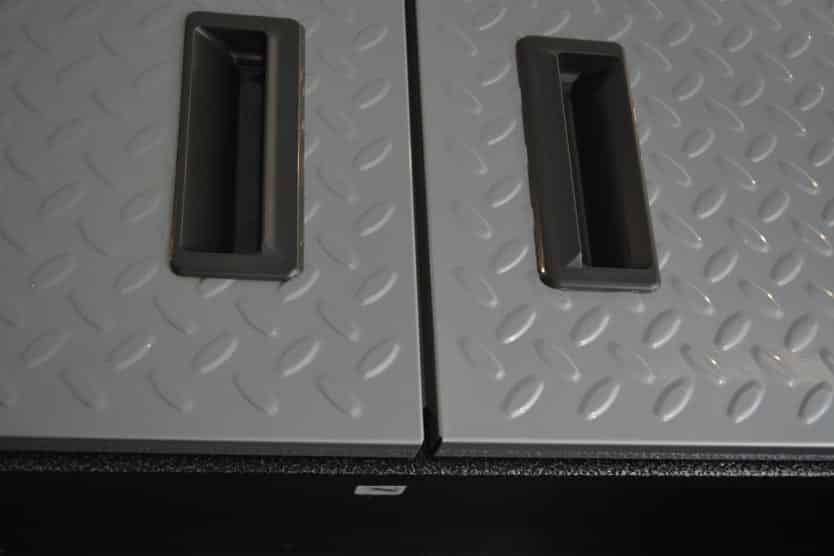 The doors have a shiny diamond-plate look. It looks terrific and feels solid to the touch.
I've heard a few complaints that the finish can show some imperfections, especially if you spill grease on it.
However, this hasn't happened to me after several years of owning my Gladiator garage cabinets.
---
Mounting Gladiator Cabinets on the Wall
Mounting the Gladiator cabinets on the wall is super easy.
Getting them to look nice and clean is super annoying.
Let me explain.
The Gladiator cabinets are designed to be mounted on their GearTrack or GearWall system. All of the 28″ and 30″ wall cabinets have built-in mounting brackets on the back, which slide into the channels.
The tall GearBoxes you see below have additional hardware kits that you purchase separately to do the same job.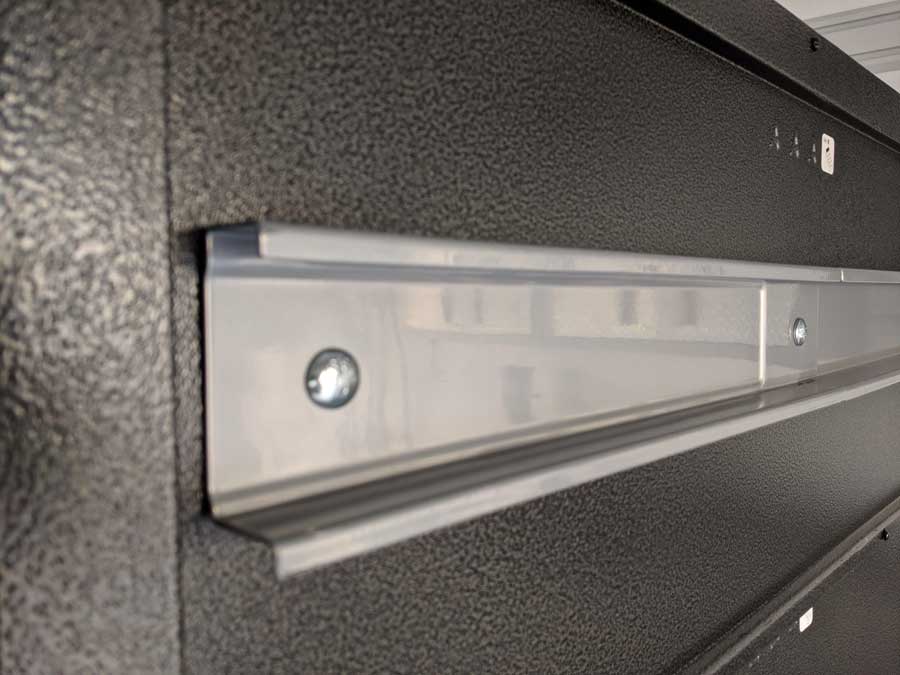 The tall GearBoxes will have three support brackets, while the smaller cabinets will only have two.
Start by securely fastening the top bracket only.
During installation, you don't tighten the bolts on the others because you want them to be free to move about and slide into the track channel.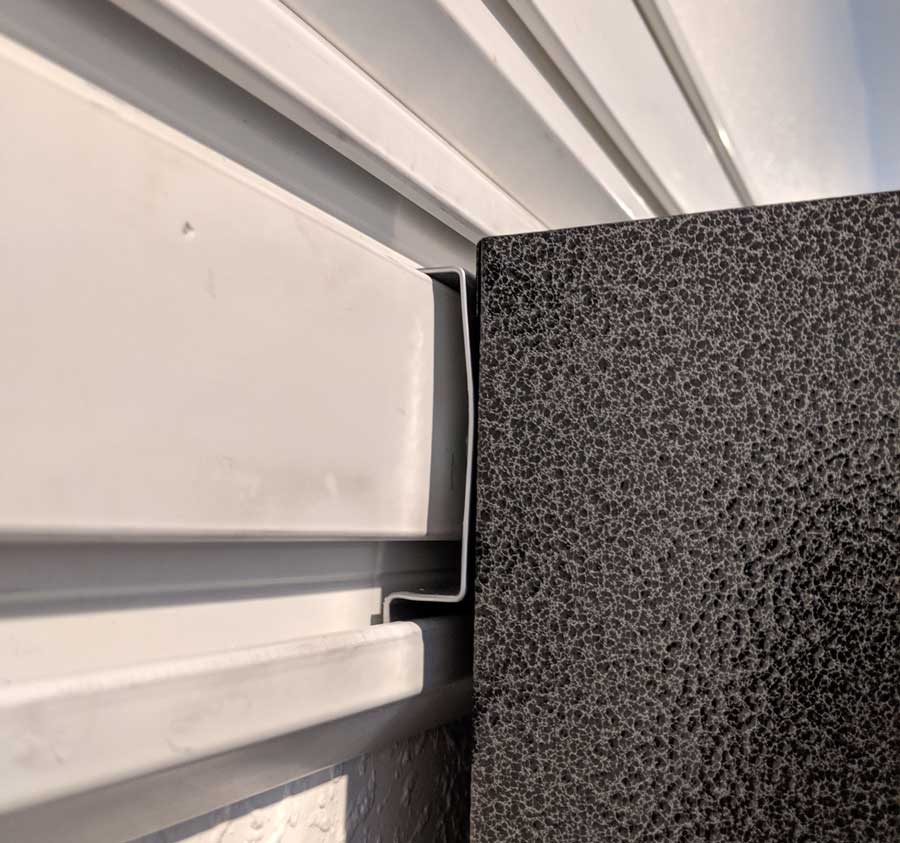 It's tough installing them yourself because the cabinets can get heavy and awkward while trying to line them up just right.
This is why you don't tighten the lower brackets. It makes it much easier when you only have to worry about getting one bracket in at a time.
Unless you get really lucky, you'll have to adjust the lower brackets to get them to fall into place.
As you can see on this tall GearBox, one bracket was about an inch below where it should have been. It may require some back-and-forth to ensure everything lines up correctly.
One trick I found helpful was using a long ruler or broom handle to lift the bracket into place.
Alternatively, you could get help from another person, as the instructions tell you.
Once everything is aligned correctly, the brackets fall into place with a satisfying thud.
You have to tighten up the bolts inside, and you're all set.
Now for the annoying part.
Premiere & RTA Cabinets Don't Line Up
There's one thing that annoys the crap out of me, and it seriously makes me question what the hell Gladiator was thinking when they designed it.
Everything should line up perfectly.
The tops of the cabinets should all align.
The door handles should all align.
But for some crazy reason, Gladiator didn't make that easy on us.
Let me show you: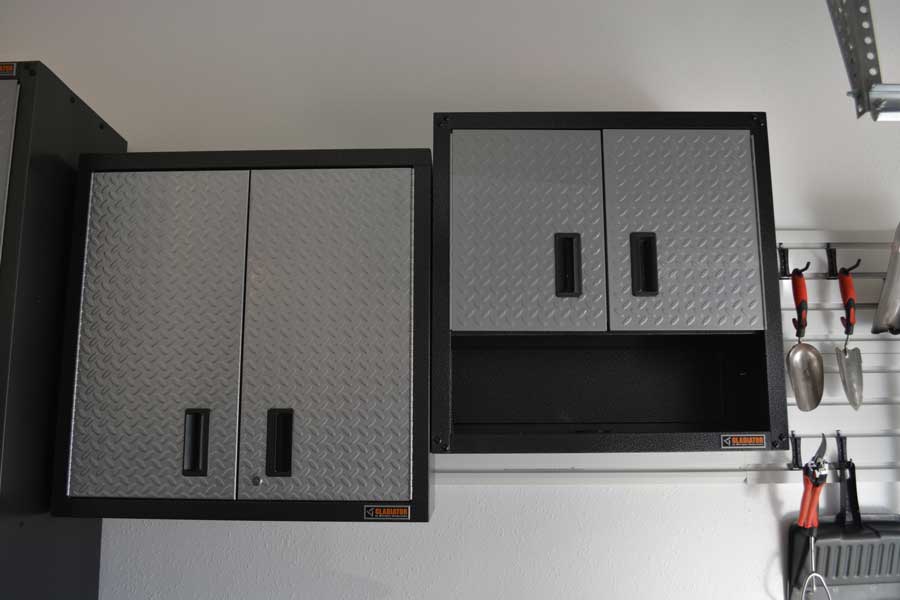 These three cabinets, the 30″ Premier GearBox, the 28″ RTA GearBox, and the 72″ RTA Tall GearBox on the left edge of the photo, ARE ALL ON THE SAME TOP TRACK!
Seriously?
How difficult would it be to have the distance from the top of your cabinet to the top of the bracket, no matter what cabinet line you have?
Obviously, this setup is just for illustration.
I actually have my 28″ GearBox on a different wall. However, my original plan was to have a combination of RTA and Premier wall cabinets because I liked the extra functionality of each piece.
That's impossible without A LOT of hassle of mounting different pieces of GearTrack at different heights to get everything lined up correctly.
Of course, you can skip the GearTrack\GearWall mounting setup entirely and attach the cabinets with lag bolts, but one of the main selling points is how easy they are to mount on the wall.
Gladiator GarageWorks RTA Cabinet (36 in. W x 72 in. H x 18 in. D)
GALG36KDYG
Ready-to-Assemble
1 fixed and 2 adjustable shelves
Heavy-Duty Steel Construction and Hammered Granite Powdercoat Finish
Locking Tread Plate doors with large recessed handles
Rated load 225-Pound per cabinet, 45-Pound for each shelf
72-Inch height x 36-Inch wide x 18-Inch deep


Check Latest Price
We earn a commission if you click this link and make a purchase at no additional cost to you.
---
Gladiator Cabinets vs. NewAge, Saber & Craftsman
When shopping for garage cabinets, my shortlist came down to Saber, NewAge, Craftsman, and Gladiator.
Each has its pros and cons, and it helps to list them out to better understand which cabinets work for you.
It ultimately made this a pretty easy decision for me.
Saber Cabinets
I'll probably go with Saber cabinets in my next garage. They're incredibly high-quality stuff, but you're definitely paying a premium for it once shipping is factored in (comparatively speaking).
Pros: Great looking. Very well made. Reasonable price for 20 gauge welded steel cabinets.
Cons: Expensive shipping. For me, in Florida, their estimated shipping charge was around 25% of the cabinet's price. If you're on the West Coast, shipping is only 10-15%, but that's still pricey.
NewAge Cabinets
NewAge has two main lines that you can mix and match. The Pro series is welded 18 gauge steel, while the Bold series is the thinner 24 gauge steel.
Pros: Cost and color options. The Bold series is cheaper than the Gladiator RTA cabinets, especially if you can find them on sale from Costco or Home Depot. The paint colors are the same between both lines, so you can mix and match.
Cons: 24 gauge steel on the Bold series feels flimsy when you open the doors and drawers.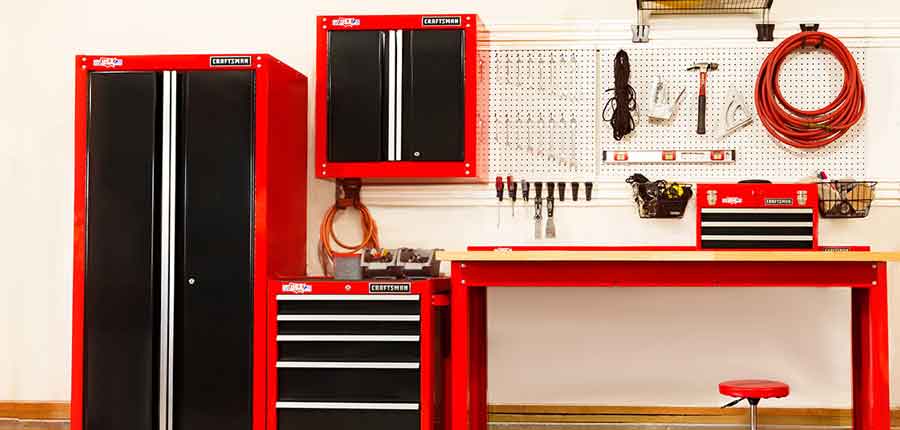 Craftsman Cabinets
I'd seriously look at Craftsman cabinets if you're on a tight budget and don't mind red and black. In my case, I wanted something more heavy-duty and not as flashy.
Pros: Least expensive cabinets. Works with their VersaTrack system for an integrated look and flexibility to move them around later.
Cons: Thinnest gauge steel. Ready to assemble only. There are no welded options. Only one color option.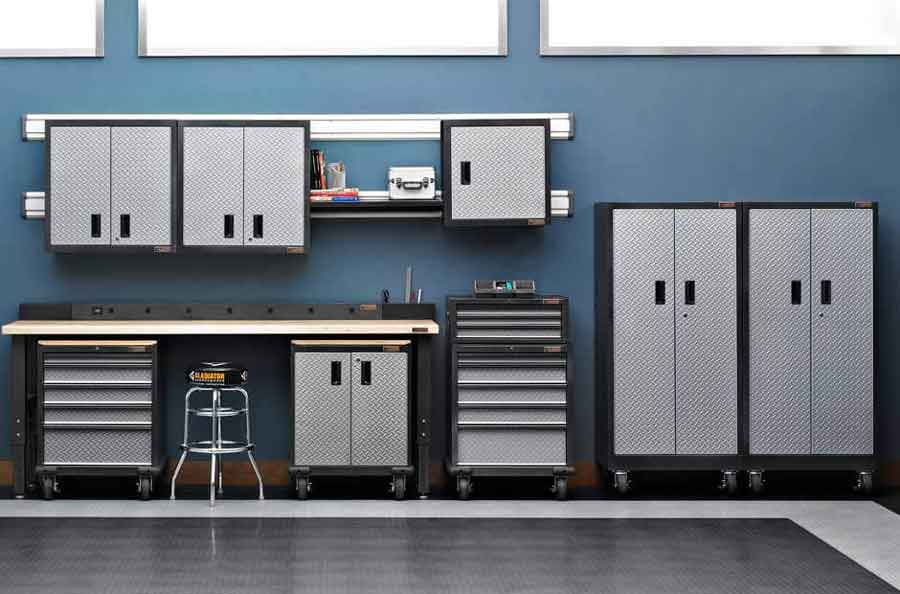 Gladiator GarageWorks Cabinets
Gladiator has two model lines: Ready To Assemble (RTA) and Premier.
You'll find the cheaper Ready To Assemble (RTA) line in most local big-box hardware stores. The heavier-duty Premier line of welded steel cabinets is usually a special-order-only item.
It can be challenging to tell them apart unless you have both RTA cabinets and Premier cabinets in front of you.
Pros: Integrates well with their GearTrack and GearWall track system, so you can move the cabinets around later. Easy to find locally.
Cons: Basic design, especially if you're not a big fan of the door's diamond-plate look.
---
Wrapping It Up
The extra cost for the wall cabinets is fair, considering you get a heavier-duty cabinet that doesn't require assembly. I'll gladly buy more of them if I need more space.
I'm not sure I'd go with the Premier Tall GearBox again because it's a smaller unit. Heavy-duty shelves can hold more weight, but the heavy stuff can just as easily be put on steel racks instead.
Instead, I'd opt for another RTA Large GearBox with more storage space inside.
All things being equal, I'd prefer all my cabinets be in the Premier line. The build quality is excellent for the cost, and I love not having to assemble them myself.
But all things aren't equal, and some cabinets are only available in the RTA line. The important thing for me was to pick and choose what I would put in them before deciding which cabinet to buy.
Gladiator Premier and RTA cabinets aren't perfect. Still, they're a great, low-cost option to add a little style to your garage organization.