Of all the Gladiator stuff in my garage, the things I love most are my two workbenches.
I realize that you can build your own workbench pretty cheaply, but I wanted something that was really heavy-duty, and looked amazing.
Even if you don't have other Gladiator products like GearTrack or GearWall for wall storage, a few Premier and RTA cabinets for storage, or their GearLoft overhead storage, their workbenches will still look great in your garage.
Even though my garage is full of Gladiator stuff, they haven't sponsored me in any way.
Every thing I've reviewed and put on this site is something that I've researched and decided to purchase on my own, with my hard-earned money. There are no paid promotions on this site, and never will be.
Here's a spoiler for this review: I liked my first Gladiator workbench so much, that I bought a second one.
So with that disclaimer our of the way, let's dig in to my reviews of the 6′ and 8′ Gladiator hardwood workbenches.
---
Gladiator Workbench Specs
The Gladiator workbenches come in three different lengths: 4 foot, 6 foot and 8 foot. All have wood tops that are 1.75 inches thick and can each withstand a maximum weight of 3,000 pounds.
4′ Workbench
Model: GAWB04HWEG
48″ wide x 27.5″–40.8″ high x 25″ deep
Weight: 127 lbs
6′ Workbench
Model: GAWB06HWEG
72″ wide x 27.5″–40.8″ high x 25″ deep
Weight: 149 lbs
8′ Workbench
Model: GAWB08HWEG
96″ wide x 27.5″–40.8″ high x 25″ deep
Weight: 166 lbs
Gladiator 6' Adjustable Workbench
72" wide x 27.5"-40.8" high x 25" deep
1-3/4" thick solid hardwood top
3,000-lb max distributed weight capacity
Buy Now
We earn a commission if you click this link and make a purchase at no additional cost to you.
06/26/2022 04:15 am GMT
---
Gladiator Wood Tops: Bamboo vs Maple vs Hardwood
First, let's talk about the woods.
The original Gladiator workbench came in your choice of two woods: maple or bamboo.
You'll still find a lot of information out there discussing the merits of maple vs. bamboo or vice versa when looking at this workbench.
That's all outdated now.
Gladiator did away with both options around the beginning of 2017. The only wood available at the moment is described as "hardwood."
Digging a little deeper, I found out that the hardwood workbench is specifically made out of Birch wood, according to representatives at Gladiator.
Maple costs more and is more scratch resistant than Birch. However Birch will hide scratches better because of it's more complicated patterns. (source)
One of the big gripes about the original Gladiator workbenches was the cost.
Changing from Maple and Bamboo to a Birch 'hardwood' allowed them to lower the price overall by almost $100.
The bottom line for us as consumers is that this is a cost savings measure, without losing much in terms of quality.
That's not a bad thing. Everything is a trade-off, and I can't really fault Gladiator for going in this direction.
---
---
Shipping & Customer Service Experience
I bought both of my Gladiator workbenches through Best Buy, oddly enough. One 6′ (Model GAWB06HWEG) and one 8′ (Model GAWB08HWEG) about six months later.
My shipping experience was a bit of a mixed bag, to be honest. In my experience, when ordering from a third party, you never really know what you're going to get.
To give you a little background, one of my first jobs was working for the company that eventually became FedEx Ground. It opened my eyes to what happens between the time it leaves the manufacturer's warehouse and when it gets to your front door.
Basically…stuff happens and you can't necessarily blame the manufacturer for it.
With that vague explanation in mind, when my 8′ Gladiator workbench arrived without any hardware or instructions, I didn't really freak out. It was annoying, sure. But like I said, stuff happens.
This gave me the opportunity to test out Gladiator's customer service department and I have to say, they're pretty top notch. They quickly took down my information and FedEx'd replacement hardware to me – no questions asked.
I've had the need to reach out to Gladiator on a few occasions and have always been really impressed. Questions were answered quickly. Replacement parts were sent out as fast as possible, so I could get up and running.
They didn't HAVE to take care of me. They could have sent me back to Best Buy since they were the ones at fault. But they didn't. Gladiator took care of me quickly.
You really can't ask for more than that.
Packaging
The packaging is sturdy enough overall, but it's not going to protect the contents from everything.
There are hard plastic caps on each of the corners to keep them safe. However, there isn't any kind of foam padding between the wood top and the steel legs. Only a thin layer of cardboard. At least the steel legs were held fast by a ridiculous amount of Styrofoam, so they couldn't shuffle around at all.
I read a fair number of reviews from people complaining that their workbench was damaged during shipping. Thankfully, except for the missing hardware on my 8′ workbench, both of my units arrived in perfect condition.
Assembly
It only takes a few minutes to assemble either the 6′ or the 8′ Gladiator workbench, but I highly recommend getting a second pair of hands.
In both cases, my workbenches had be delivered by two guys who were built like linebackers, and they were struggling.
Imagine trying to flip it over by yourself.
There are only four major components that you need to assemble, so I'll describe the process briefly.
Lay the table face down on the floor – hopefully on something soft so you don't accidentally scratch it. Attach the two adjustable leg assemblies and then attach the back panel to the legs.
That's it.
The legs adjust to an overall height anywhere between 27.5″ and 40.8″, so they'll fit the height of most garage workbench stools.
Because of the weight of the table, it's a really good idea to measure and adjust the legs BEFORE you flip the table over.
For minor adjustments, there are leveling feet on each leg. For those of you looking for a wheeled option, the Gladiator casters unfortunately do not fit on these workbenches.
---
Build Quality
I'm really impressed with the overall build quality of both of my Gladiator workbenches.
These things are beasts!
The legs are made of a very heavy gauge steel and feel rock-solid. I guess it need to be to be able to withstand 1.5 tons sitting on it, right?
The workbench top is a light colored hardwood (birch) that has a really nice feel to it. I use it for the backgrounds in almost all of my close-up photos on this site, so there are plenty of places to see the intricate details.
The surface is covered in a coating that gives it some protection against spills from whatever chemical you happen to be using. That also makes cleanup a breeze using either a multipurpose cleaner or even a quick spray of Pledge.
It also polishes it up nicely, which looks great if you have good lighting in your garage.
---
Gladiator Power Strip
Gladiator makes one and only one accessory for their hardwood workbenches: a six foot long, nine outlet power strip. (Model GAAC68PSDG)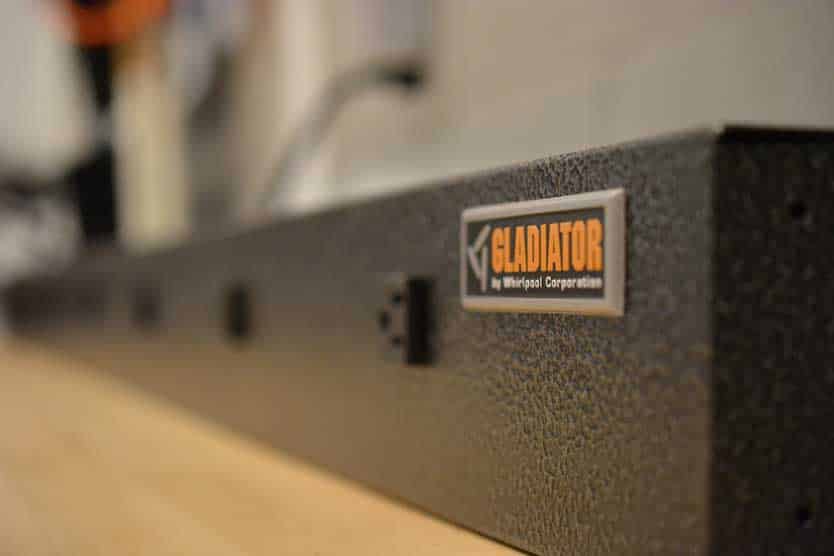 I have to keep it real here. The list price for this power strip is $189 which is insane! I got is on sale (again at Best Buy) for $109 and it was still expensive.
I was only marginally OK with it because it integrates perfectly with both the 6′ and 8′ workbenches.
Aside from the build quality, there's nothing overly special about the Gladiator power strip. It's well made and does the job. It has a master On\Off switch to control all outlets at the same time.
It does not have any sort of surge protection, however. It's just a power strip.
All-in-all, I recommend getting the power strip in only two cases:
If you can find it on a VERY GOOD SALE. It's just not worth almost $200 for a power strip. That's just crazy.
If you want a high-quality, integrated solution to your Gladiator workbench and are willing to pay a premium for it.
I don't want to come across that the Gladiator power strip is a bad accessory. I'm perfectly happy with mine, but I knew what I was getting when I clicked the Buy button.
---
How Much Do They Cost?
The Gladiator workbenches have come down in price since they switched from Maple and Bamboo to the Birch hardwood.
Still, they will never be called 'cheap.'
The MSRP for the 4′ table starts at $349. Add another $50 to move up to the 6′ table ($399). The 8′ workbench tops out at $499.
That puts them at the same list price as the Seville Classics adjustable workbenches (link to Amazon), which was their main competition. The Gladiator has three times the weight capacity and a slightly thicker wood top. However, Sam's Club regularly has the Seville Classics on sale and that may just tip the scales for you.
One of the things I really likes about the entire Gladiator lineup is that you can buy them almost anywhere.
I've purchased some of my Gladiator cabinets through Amazon, many of my accessories at Lowe's and both of my workbenches from Best Buy, when they were still selling garage stuff.
---
Conclusion: Is it worth it?
Do I think the Gladiator workbenches are worth the money?
I mean…
I liked my 6′ workbench so much that I bought an 8′ workbench for the opposite wall. So….yeah.
I'm not going to sit here and spout off a bunch of cliches like "you get what you pay for."
What I WILL say is that Gladiator makes a rock-solid workbench that I firmly believe will stand up to any punishment I dish out.
It's supported my weight while I've stood on top of it to mount cabinets on the wall. I've soldered electrical components on it (while making the more-than-occasional mistake), or doing small repairs on my lawn's sprinkler systems.
After all that, I've brushed off the dust and used it as a background for the photos on this website.
The Gladiator workbenches take a beating and still look amazing.
But if the Gladiator Workbench isn't the right one for you, I recommend checking out my detailed guide to buying a garage workbench. I spent hours researching the article to learn what to look for and what questions to ask. Check it out!
Gladiator 6' Adjustable Workbench
72" wide x 27.5"-40.8" high x 25" deep
1-3/4" thick solid hardwood top
3,000-lb max distributed weight capacity
Buy Now
We earn a commission if you click this link and make a purchase at no additional cost to you.
06/26/2022 04:15 am GMT