You know that a custom garage will cost a decent amount of money. However, some simple upgrades like adding heating, OSB panels over the studs, or even a fresh coat of paint can have a bigger impact than you might expect.
How much value does a finished garage add when selling your home?
You've probably spent hours looking at pictures on Pinterest of custom garages. After the initial glow has worn off, you're finally ready to think about money.
A finished garage won't increase the value of your home's appraisal. However, it may add a "wow" effect to potential buyers and shorten the time that your house is on the market.
I did a lot of research at the beginning of my garage transformation project, and there's a lot to consider.
Let's dive into some of the details.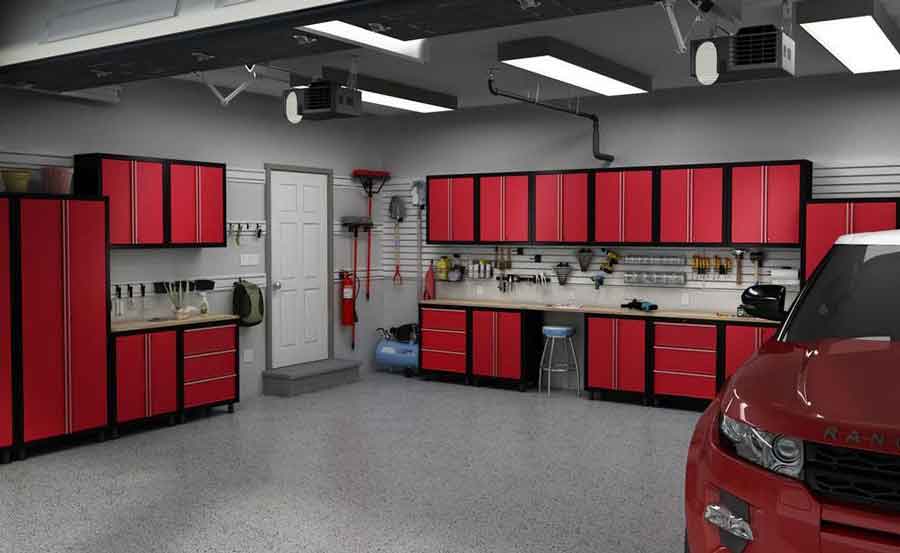 ---
What is a Finished Garage?
"Finishing" a garage can mean something different, depending on the style of your home. We will be using a pretty generic definition that will work for most recently built houses.
A finished garage should have the same basic characteristics as the other rooms in the house.
You shouldn't see any exposed ductwork, electrical components, structural beams, or studs. If you've got drywall throughout the rest of your house, that needs to continue in the garage.
A new garage door is often the easiest way to add value, and you'll often recoup most of the cost of the door when you sell your home.
Depending on where you live, you may need to add insulation, heating, or air conditioning to the garage.
The floor can be tile, epoxy, or even exposed concrete. The important thing is to seal your garage floor to protect it against leaks and spills.
Lighting and air circulation are also critical. A brightly lit room and a well-placed fan can go a long way to making the room feel more comfortable and inviting.
If your house is a rustic cabin or has an industrial theme, the beams and ductwork are part of the vibe. If you make your garage feel as comfortable as the rest of the house, you can say your garage is "finished."
---
What Does a Finished Garage Do To Your Home's Appraisal?
Here's where the rubber meets the road.
I spoke to a couple of home appraisers in some of the biggest real estate markets in the country. I asked if they took a finished garage into their home valuations and if it made an impact.
It does make a slight difference, but not nearly as much as you'd like.
A typical garage renovation can cost several thousand dollars when you account for drywall, paint, flooring, and garage storage.
A nice set of garage cabinets can easily cost over $1000, but they won't help in the appraisal.
A real estate appraisal only looks at things that are permanently part of the house. Most garage storage solutions won't qualify because you can take them when you move.
That leaves the drywall and the flooring, and they usually add less than 50% of what you paid for it to the house's value. In general, you're talking about an extra grand or so to your home's value.
---
Beyond The Numbers: Adding "Curb Appeal"
A finished garage has little to no impact on your home's appraisal. However, you may be able to add to your home's curb appeal, which may be just as good.
What is curb appeal?
Curb appeal is anything that makes your home stand out when you compare it to other homes with similar features in your area. Examples include great landscaping, exterior lighting, or aluminum capping around your garage door.
Those comparison homes are called 'comps.'
When I grew up, my mom was a real estate agent in Pennsylvania. I heard a lot about staging houses for potential buyers.
She would spend countless hours walking her sellers through all the little details to give home buyers the best first impression.
If a house had a great first impression, more people would be interested. The house sold quicker and for more money.
What does that have to do with your garage?
People expect a messy, unfinished garage.
If you don't believe me, take a drive through your neighborhood on a Saturday afternoon. Most people have to park their cars in the driveway because their garages are full of junk.
A clean, organized, finished garage helps make your home look more expensive. It goes a long way to making your home stand out.
---
7 Upgrades that Add Curb Appeal to Your Garage
It's easy to spend a fortune upgrading your garage. But how do you know which garage upgrades will increase your home's value and which ones are just throwing your money away?
Here are seven alternative garage projects to add some curb appeal before you sell, and at least one of them will increase your home's value.
Upgrade Your Old Garage Door
Replacing your garage door may be the most expensive upgrade on this list, but it will give you the biggest bang for your buck.
Remodeling Magazine publishes a study each year on what major home improvement projects do to your home's resale value.
They've consistently found garage door replacements at the top of the list, adding an average of 93.3% of the retail cost of the door straight into resale value.
According to the study, installing a new garage door new garage doors cost an average of $4,041 in 2022, but you were able to recoup an average of $3,769 when reselling your home.
No other project that gets you that much of a return on your investment.
Upgrading Your Garage Lighting
Upgrading your garage lighting is one of the most cost-effective improvements you can make. For between $25 and $50 per LED light, you can brighten up your entire garage for around $250.
It doesn't add any resale value to your garage when you sell your house. However, any visitors you get (including potential buyers) will instantly notice that your garage is brighter than what they were expecting.
Not only that, but it'll make the time you spend in your finished garage so much more enjoyable and productive.
A Shiny New (or Resurfaced) Garage Floor
An epoxy floor coating is a system of resin and hardener that creates a rigid plastic-like surface. Epoxy coatings come in different colors and finishes that resist oil stains and won't peel like paint.
Unfortunately, it's easy to overspend when upgrading your uncomfortable concrete flooring. Prices start at $100 for DIY coatings, but it's common to have professional epoxy flooring for a residential garage costing upwards of $3000.
DIY epoxy coatings are a very low-cost option that looks great as soon as it has been applied. Professional applications can give you a custom look, but that can increase the costs substantially.
If you're interested in seeing whether you should epoxy your garage floor, check out my article, where I go into a lot more detail on the pros and cons.
Garage Cabinets
As I said earlier, garage cabinets or metal garage shelves don't directly increase your home's value. However, I know a couple of people who used them as negotiating tools to get the offer they wanted.
Garage cabinets increase your home's overall storage space, a significant factor for potential buyers.
Keep in mind this usually happens only with 'showroom style' cabinets which can cost several thousand dollars to purchase and install.
Plastic garage cabinets will add additional storage. However, don't expect these low-cost cabinets to add any value to your home.
Adding Insulation or Heating
This is one of the bigger projects I've done in my own garage, and I'm thrilled with the results!
Whether you plan to upgrade your garage yourself or get a contractor to do this for you, consider insulating your garage walls and garage door.
It will it make your garage more comfortable and energy-efficient. Plus, it will allow you to add other upgrades like heating or air conditioning later.
I wrote an article listing how much it cost me to insulate and drywall my garage, which will give you an idea of the project's total cost.
Garage Organization Systems
A place for everything and everything in its place.
Everyone loves a clean, organized workspace. This is true whether you're talking about wall-mounted storage for bikes, skis, golf clubs, lawn & garden tools, or even just properly storing your ladder in your garage.
Wall-mounted garage organization systems increase your floor space and ensure that all your stuff is easy to access when you need it.
Another pro-tip is to 'zone' your storage for different purposes.
I have a four-foot section of Gladiator GearWall for lawn & garden tools, separate from my hand and power tools. If I'm doing a project, everything I need is usually within arm's reach.
Overhead Storage
Let's be honest: You've got too much stuff, and you need a place to put it.
We don't have a lot of closet space in my house, and it would be fantastic if we could put things we rarely use into storage. But I didn't want to have stacks of rubber bins in the corner of my garage.
Then I looked up.
Your garage probably has a lot of wasted usable space under the ceiling and above the garage door. Adding some overhead storage racks will add ample storage space. Then you can get your stuff out of the way but keep it accessible if you need it.
It's a super-easy way to increase your closet space and floor space.
---
What About Converting Your Garage to a Gym or Additional Bedroom?
If you want to convert your garage into something other than a home for your car, there's more involved.
According to TheNest.com, a one-car garage can add up to $5000 to the value of your home. A two-car garage is even more valuable.
You'd lose at least that amount of money if you decide to renovate your garage into another room.
Many home buyers (myself included) won't even consider buying a home without a garage.
Any time you're converting your existing unfinished garage into a living space, you'll need permits from your local city government. They want to make sure that the work is done safely and professionally.
They have to think about your family's safety, as well as the next owner's when you decide to sell the house. If your converted garage doesn't meet building codes, you could lose a lot of value in your home.
If you decide to convert your attached garage into a gym or workshop, I recommend converting it so that you can change it back when you're ready to sell the house.
For more permanent renovations (like turning it into an extra bedroom), I recommend leaving this type of garage renovation to the pros.
If you're looking for more ideas on sprucing up your garage, I recommend checking out my article with ideas how to finish garage walls.