I've never really been happy with my garage lighting but I've always put off upgrading it for sometime down the road.
Well, that time has come.
I've just finished installing my Hykolity LED garage lights and I wanted to take you through the process.
When we built our house, I asked our builder to wire up four recessed LED lights, one in each corner. I knew the one light bulb on the garage door opener wouldn't be enough.
It also gave me the option of hardwiring LED lights sometime in the future.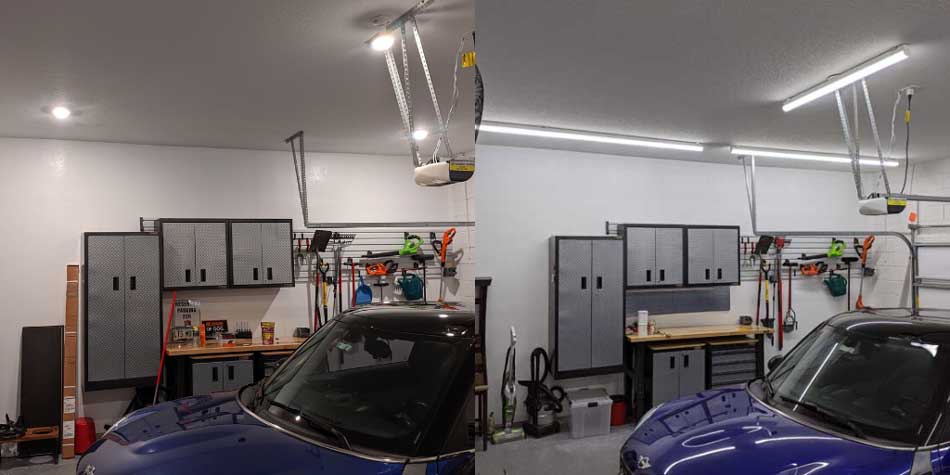 Hykolity SL4FT40W5K and SL8FT110W5K
If you've read any of my LED shop light reviews, you'll know that I ended up choosing the Hykolity 4′ and 8′ lights.
The 8′ lights come in two different versions. One is 9750 lumens and uses 75 watts of power. The second version puts out an amazing 14,300 lumens while using 110 watts of power (SL8FT110W5K).
There's a simple calculation that helps you figure out how many lumens you need to light your garage. In my case, I needed a little over 62,000 lumens for my two-car garage.
A little spreadsheet math helped my figure out that the cheapest way for me to do that was to use four 8′ fixtures and one 4′ fixture. Since I already had the 4′ fixture from my comparison review (SL4FT40W5K), that meant the only thing I needed to but were the 8′ fixtures.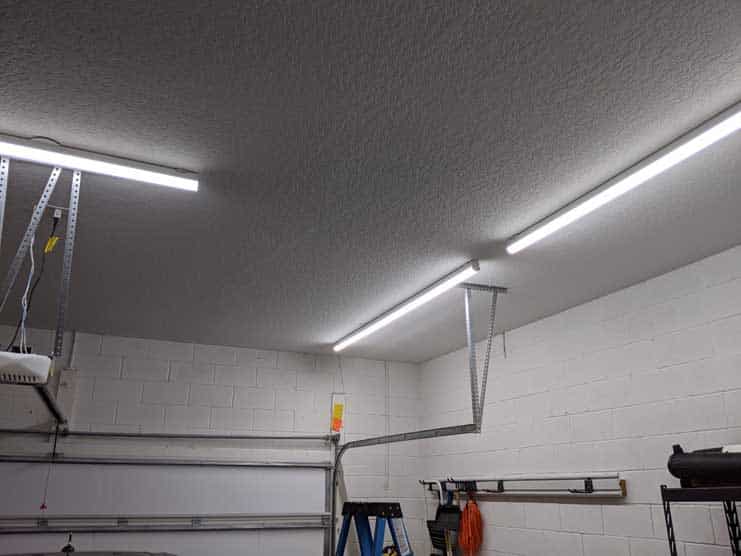 Hykolity sells these in packs of two through Amazon Prime.
My Pick
Hykolity 8FT LED Shop Lights 14300 lumens - 2 Pack
Stunning pure-white light and 14,000 lumens per 8' bulb, these lights turn even the darkest garage into a detailer's paradise. This is what I put in my own garage and the results are amazing!
Buy on Amazon
We earn a commission if you click this link and make a purchase at no additional cost to you.
09/27/2021 05:41 pm GMT
Planning the Lighting Layout
The idea for garage lighting is to give a nice, even spread of light across the entire garage. You want to limit the amount of shadowy areas as much as possible.
Then if you need more focused light in a specific area, like over a workbench, you add task hyper-bright lighting there.
My existing recessed LED lights were spaced out about four feet from the side walls and about three feet from the front and back walls. I didn't want any exposed wiring running along my ceiling, so my goal was to use as much of the existing wiring as possible.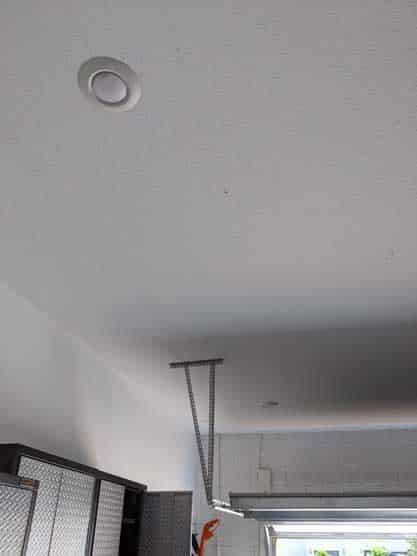 That limited my options, but I found a lighting layout that works.
I wanted to replace each of the recessed LED lights with one 8′ Hykolity LED fixture running the length of my garage. That's enough to light the entire length of the garage walls above each Gladiator workbench, where I spend most of my time.
Eventually I want to be able to detail my car inside my garage. So my plan was to install the 4′ light directly over where my front hood would be. It could use the old use the old screw-in light socket next to the garage door opener.
How to Hardwire the Hykolity LED Garage Shop Lights
Once I decided how I was going to space out my LED lights, it was time to install them. While I was waiting for the lights to be delivered, I removed one of my recessed LED lights so I could get an idea what was involved with the installation
Remove Old Recessed Lights
First things first. Anytime you're working with electricity always turn off the power at the breaker.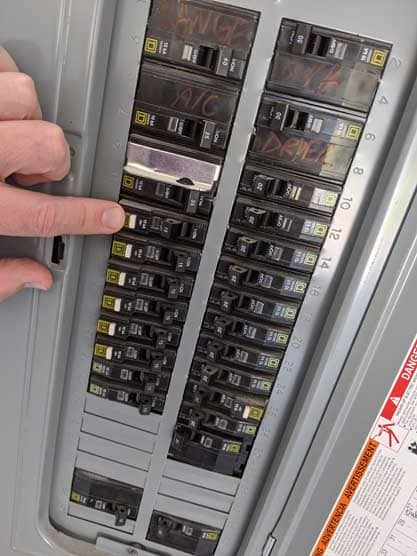 With the power turned off, removing the old recessed lights was as easy as removing two screws and disconnecting the wiring itself.
If you're not familiar with home electric wiring, most fixtures will have three separate wires connected to them: black, white and either green or bare copper. The black wire is usually the positive (live) wire. The white is the negative wire and the copper or green wire is the ground.
You'll need to connect all three to have the light turn on properly.
Hykolity lights include a small metal plate that you can attach to the fixture to cover up the hole left by your old lights. Unfortunately the cover was too small to completely cover the hole in my ceiling, so I opted to get some white outlet concealers. I drilled a small hole in the center to let me pass the wires through.
Once all the lights are installed, I plan on going over the cover with some flat white paint to match it to the rest of the ceiling.
The sharp eyed among you may have noticed that pencil line on the right side of the picture. Let's talk about that next.
Measure twice…
You know the saying: Measure twice, cut once. It applies here as well.
But first, let's talk about getting your lights lined up properly. I'm OCD enough that I can't stand a crooked picture frame. So I needed the lights to be as straight and even as possible.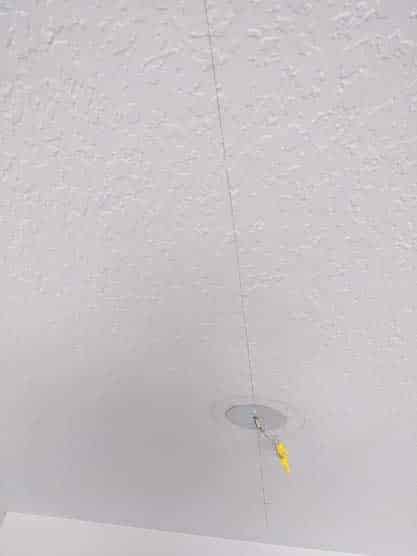 If you have a chalk line or laser line, this is the time to break it out. Be careful though, you may find that your existing light fixtures weren't as straight as you thought they were. But more on that at the end.
What we're doing in this step is getting the line marked so we can install the ceiling brackets with a minimum of error.
The wiring hole for the 8′ Hykolity garage light fixture isn't in the center like I expected. It's actually about a third of the way from one of the edges which worked out really well.
The ceiling brackets slide into slots on the fixture itself. So a best practice is to measure from those slots to the wiring hole.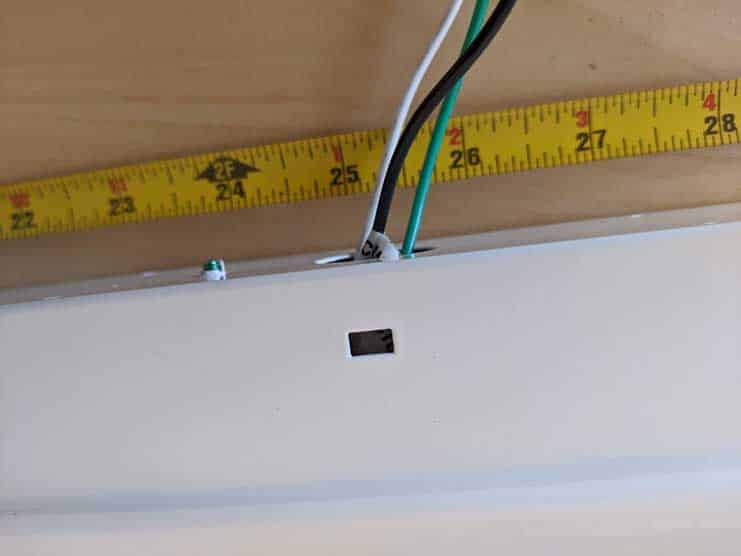 I measured out 25 1/4 " to the shorter side and 65 1/2″ to the longer side.
Installing the Ceiling Brackets
With those numbers, installing the ceiling brackets is very easy.
Each light weighs around ten pounds, so it's recommended that you screw into your ceiling trusses or joists. If that's not an option, definitely use some wall anchors to make things a little safer.
Each of the brackets has a few different options where you can screw into them.
Since I drew the lines, I was pretty confident that I wouldn't need to shift the bracket side-to-side, but I figured I'd need to make slight adjustments forward and back.
Hykolity does include some small screws and wall anchors with the light, but I recommend tossing those and using something a little heavier duty. I went for some star-bit exterior wood screws that I've used on several projects before.
Hardwiring the LED Lights
This part of the installation process is much easier if you've got a second pair of hands, but it's possible if you're doing this solo. Just be prepared to have something to rest the light on while you're wiring it up.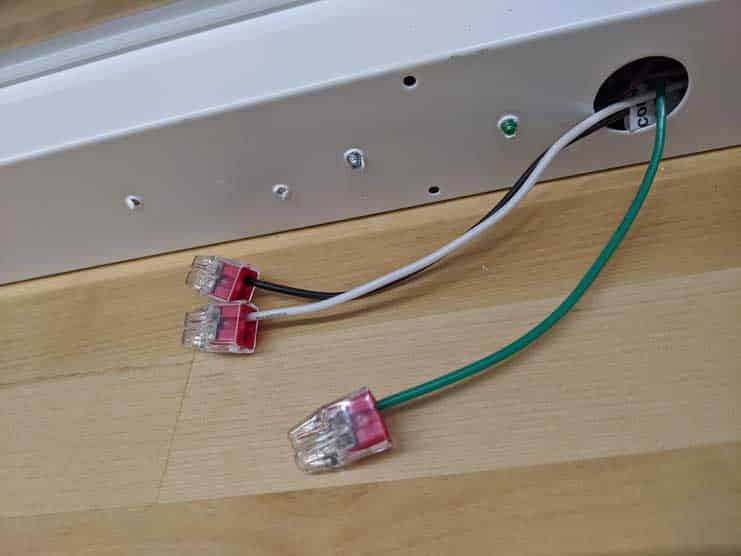 Manufacturers don't normally include wire couplers with their lights and Hykolity is no exception.
Here you can see that I added some quick-connect wire couplers that I love. They're low profile, which helps squeeze them into that small hole in the fixture to keep them out of sight.
Hardwiring the light itself is super easy. Just match up the color wire to the wires in your ceiling. Black to black. White to white. Green or copper to green.
Once the lights are wired up it's a good idea to flip the breaker and test them out before you button things up. Just remember to flip the breaker off again before you get back up on the ladder.
How Do They Look?
The Hykolity garage lights look great!
They put out a ton more light than my old recessed lights did, as you can see in this picture below.
Because these lights are a cooler color temperature than my old lights, everything looks crisper and clearer than before.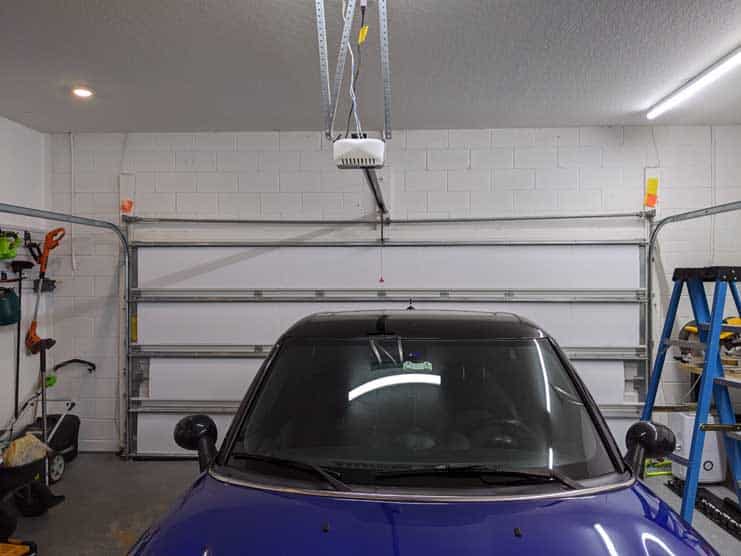 I'll admit, it's not a fair comparison because the four old recessed LED's really weren't strong enough to light the entire garage. I mean, that's the same numbers of lights that are in our master bathroom and it's a fraction of the size.
But, the point of upgrading your garage lighting is to get better lights, right?
That's where the Hykolity garage lights really shine (pun intended).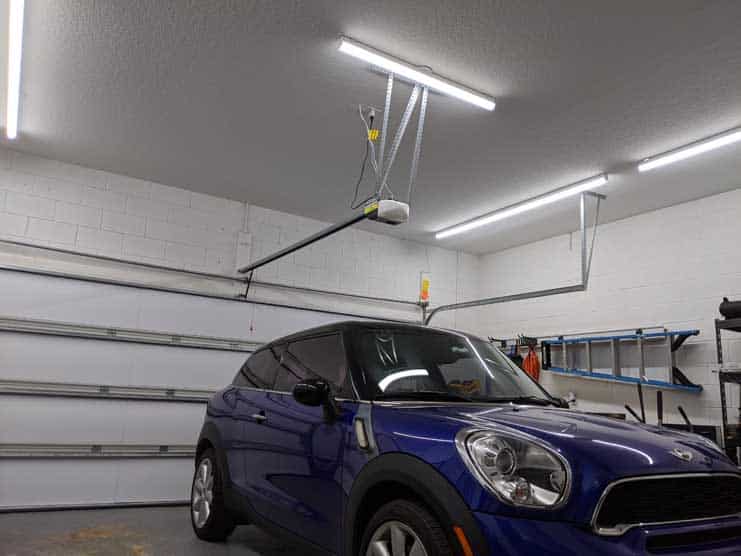 Overall, I'm really happy with these lights. This is the kind of project that makes everything else in your garage look better.
That said, it also exposed some of the flaws in my garage too.
For example, I've got a stain on my epoxy floor where I was careless staining our wooden patio chairs. That stain was easier to ignore when the garage was darker, but now it's so obvious that I need to fix it quickly.
The Final Word
As I said, I couldn't be happier with these lights. This is really a project that I should have done a long time ago.
I used to pull my car outside to do any cleaning or detailing. It's not a good idea to wax your car in direct sunlight. It's an even worse idea to spend too long in a car with a black interior that's sitting in the hot Florida sun.
So I'm already doing a lot more work on my car inside the garage, which is easier to see and a lot more comfortable.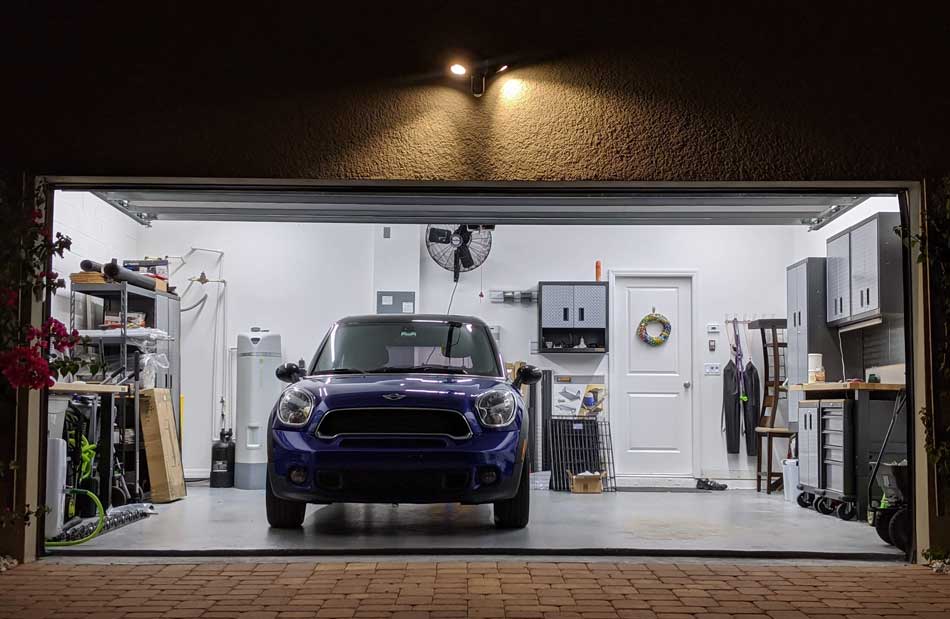 I highly recommend the Hykolity LED garage lights. They're an inexpensive, high-quality light that puts out a ton of light and really makes a huge difference!
For more on the Hykolity LED lights, check out my review here. Or, if you're ready to make a huge improvement to your garage, check out my super-detailed guide to finding the best LED garage lights here!