If you haven't been following along, I'm doing research for my own garage lighting project. I decided to get hands-on experience with as many of the major products and brands as I could.
When I found Hykolity LED shop lights, they seemed to check all the boxes I wanted:
They're a US-based company
They've got excellent reviews
They make their own stuff (at least for the most part, as far as I can tell)
On paper, they are one of the better options out there, so they warrant a closer look. (Spoiler: One of these lights actually ended up winning!)
I don't know about you, but I can't tell if product A is so much better than product B until I have my hands on both of them.
Two Hykolity LED shop lights really interested me, so I decided to do a head-to-head competition to see which one was better.
It's worth noting that both of these are Hykolitys low-bay LED lights. They also offer high-bay fixtures, but they're designed for a different application. For more on the difference between high-bay and low-bay lights, check out my article here.
First, let's meet our two competitors.
---
Hykolity LED Shop Light (HY-SP4F-4)
There was some confusion with my first set of Hykolity LED lights.
The fixture I ordered from Amazon was model number HY-SP4F-4. I've listed the specs below, straight from Amazon's website.
| | |
| --- | --- |
| Brand | Hykolity |
| Part Number | HY-SP4F-4 |
| Item Weight | 3.7 pounds |
| Product Dimensions | 47.4 x 6.3 x 2.9 inches |
| Item model number | HY-SP4F-4 |
| Assembled Height | 2.9 inches |
| Assembled Length | 47.4 inches |
| Assembled Width | 6.3 inches |
| Style | Hanging |
| Color | 5000K Daylight 1 Pack |
| Shape | Tube |
| Material | Steel |
| Finish | Aluminum |
| Voltage | 120 volts |
| Specific Uses | Indoor use only |
| Fixture Features | Instant On, Shatter resistant, Easy to Install |
| Light Direction | Downlight |
| Power Source | Corded-Electric |
| Batteries Included? | No |
| Batteries Required? | No |
| Certification | (unset) |
| Type of Bulb | LED |
| Luminous Flux | 4200 lm |
| Wattage | 42 watts |
| Wattage | 40 watts |
| Color Temperature | 5000 Kelvin |
| Bulb Length | 4 Feet |
The issue was that the model number they shipped me was HK-SL4FT42W5K8-1, as you can see in this image.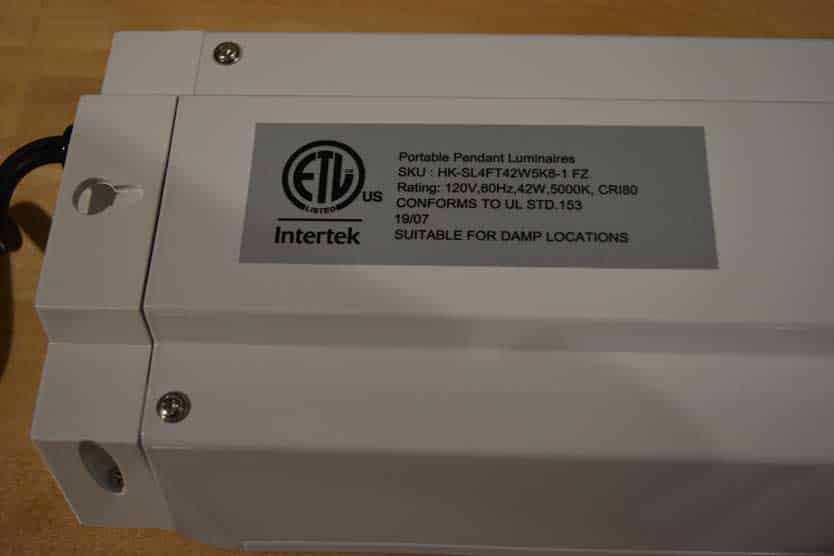 I reached out to Hykolity support because that kind of discrepancy always raises some flags. They verified that it was a genuine Hykolity LED shop light, even though the model numbers weren't the same.
Evidently, Amazon has some stock at the fulfillment center that doesn't match what's available on Hykolity.com. For the rest of this article, I'll list the model number as HY-SP4F-4 to match the specs above.
The Fixture
The HY-SP4F-4 fixture looks similar to many other LED fixtures in this price range. It's a thin metal housing painted satin white and houses two frosted tube LED lights.
I measured the metal to be 0.509 mm thick, which puts it right between 25 gauge and 26 gauge metal.
That makes it slightly thicker than the FrenchMay LED fixture I tested earlier. However, there is noticeably less flex in the Hykolity fixture than with the FrenchMay.
That's a win, but don't expect anything in this price range and design to be rock-solid in terms of rigidity.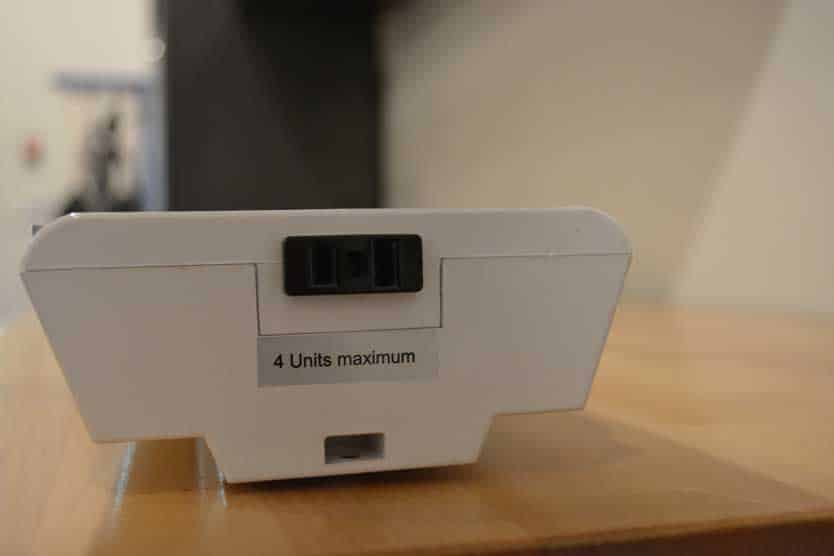 There's a two-pronged outlet on the opposite end as the (black!) power cable.
It's important to note that this power plug is NOT controlled by the pull chain. Once anything is plugged into this outlet, it's live.
While you can link up to four LED lights together, if you want to turn them on and off simultaneously you'll need to find a different solution.
As I mentioned, the power cord is black and not white, and I'm not sure why companies make a white fixture with a black cord coming out of it.
There's no way to hide the fixtures because the cord stands out like a sore thumb.
Bulb Options
That actually transitions perfectly into the bulbs themselves.
Amazon offers a different model with a white cord, the HY-SL36-4. However, that model doesn't output as much light as the HY-SP4F-4. It also appears to be an older version because it's not listed on Hykolity's website.
The HY-SP4F-4 puts out 4200 lumens while using 40 watts of power. That's 105 lumens per watt of power. Other lights are more efficient, but this is respectable.
By comparison, the HY-SL36-4 mentioned earlier only outputs 3600 lumens while using 36 watts of power.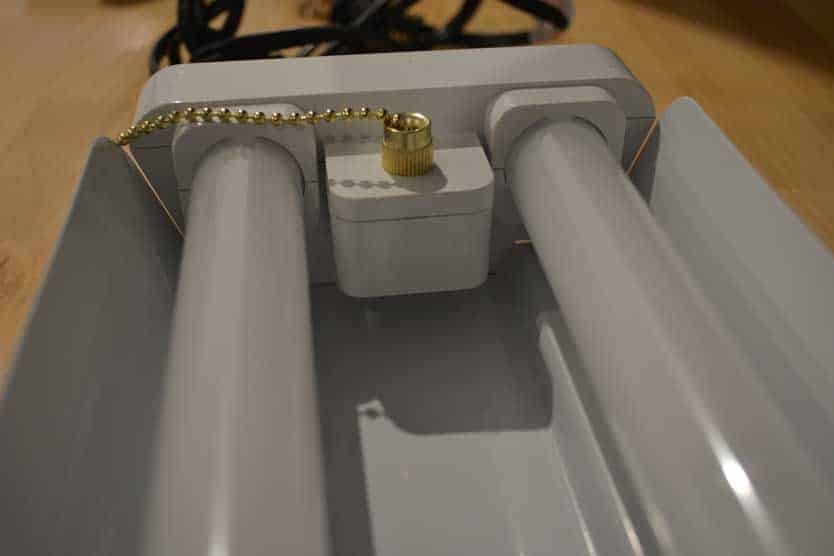 The bulbs are two frosted LED tubes that cannot be removed from the fixtures. Unfortunately, there aren't any color temperature options, and you can't get these lights in clear bulbs either.
Installation
The fixtures can be hung from the included chains or directly mounted to the ceiling using screws – although it's MUCH easier to hang the lights from the chains.
I decided to mount mine directly to the ceiling, which was a little challenging.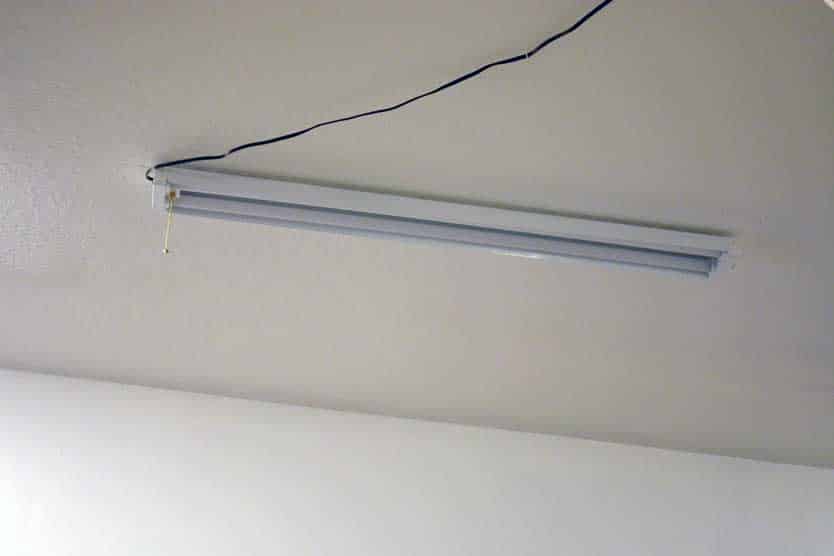 The screws need to be drilled in at 46.67 inches apart. There's almost no margin for error based on how you mount the fixture to the screws.
When standing on a ladder and drilling a pilot hole in the ceiling, it's easy to be off by a fraction of an inch, which makes all the difference in this case.
Once I got the light mounted correctly, it was incredibly stable. There's very little movement when I pull the cord to turn it on and off.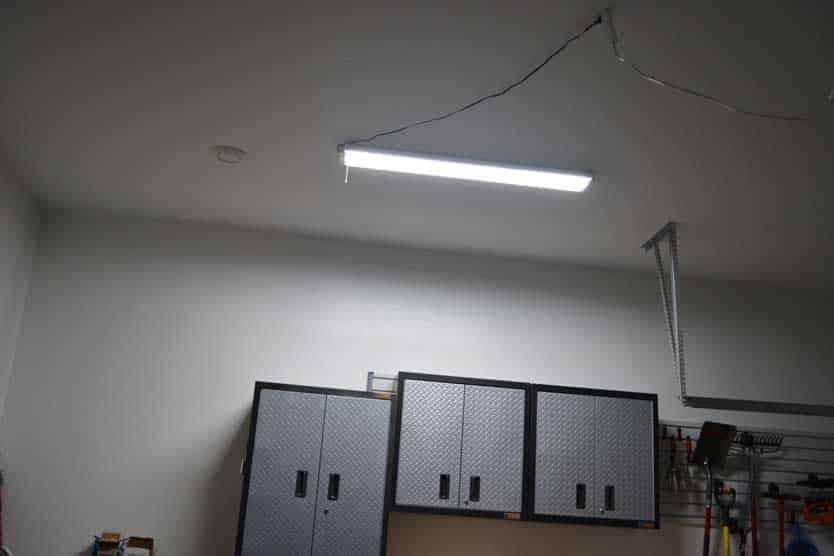 Once the power is turned on, these Hykolity LED fixtures put out a good amount of light.
The frosted bulbs cast softer shadows on anything that gets in the way. You can see some of those shadows in the corners where the wall meets the ceiling and also coming off my Gladiator garage cabinets.
Things I'd Change
There are only a few things I'm not happy with about these fixtures. Unfortunately, for me personally, one of them is a deal-breaker.
That's the black power cord.
I don't know about you, but I am instantly drawn to that black cord when I see these lights. If I went with these lights, I'd need to cover them with a white wire management cover, and that's just an extra step that I'm not willing to take.
The other issue is that I'd like different bulb options for color temperature and clear bulbs. I'm leaning heavily toward clear bulbs in my garage.
All things being equal, I would need to pick another LED shop light.
---
Hykolity LED Shop Light (SL4FT40W5K)
I was surprised when I pulled the Hykolity SL4FT40W5K LED out of the box.
There's no plug.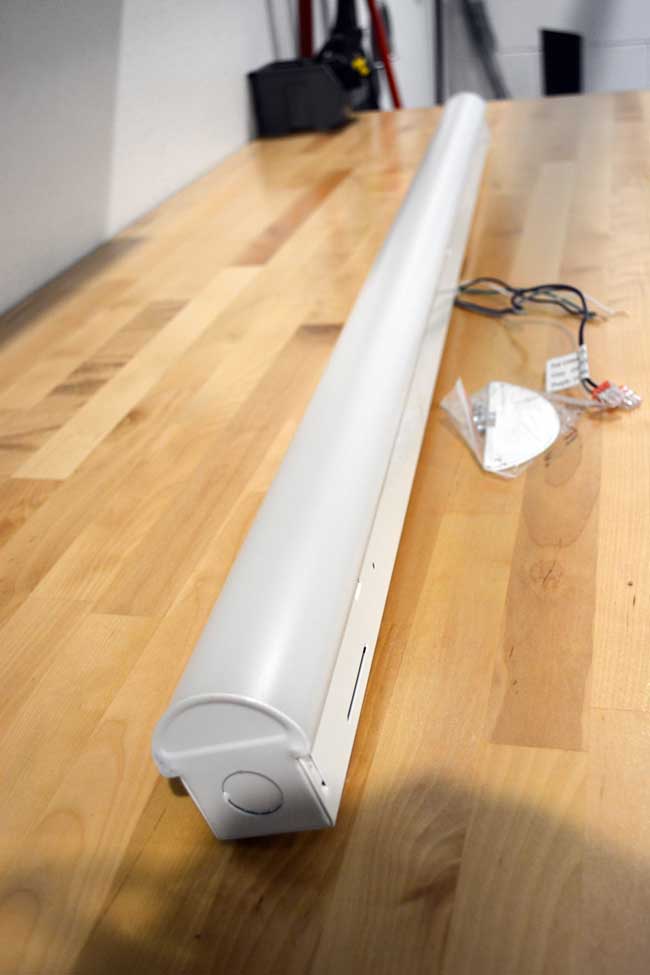 This is a hardwired fixture, which actually works out better for me in the end.
I have four recessed LED lights in my garage in addition to the standard center light socket next to my garage door opener.
I should have seen that from the photos on Amazon, but I must have missed it when I bought it.
| | |
| --- | --- |
| Brand | Hykolity |
| Part Number | SL4FT40W5K-S-HTV1-1-H |
| Portfolio | LED Low Bay |
| Input Voltage | 100-277V |
| Wattage | 40W |
| Lumen (±10%) | 5200lm |
| Lamp's Lumen | 130lm/W |
| CCT | 5000K Daylight |
| CRI | 80+ |
| HID Equal | N/A |
| Fluo T5 Fixture Equal | 2-Lamp F28T5 |
| Fluo T8 Fixture Equal | 2-Lamp F32T8 |
| Beam Angle | 110° |
| Dimmable & Contorl | 0-10V Dim |
| Safety Certification | UL |
| DLC Complied | Yes |
| Housing Materials | Aluminum + Plastic |
| Diffuser Material | PC |
| Lens Type | Frosty |
| Installation Method | Suspended, Surface Mount |
| Finish Color | WH |
| Motion Sensor Included | No |
| Operating Temperature | – 4°F – 104°F |
| Environment | Dry Location |
| Rated Lifespan | 50000 hrs |
| Warranty | 5 yrs |
| Cut-out Size | N/A |
| Product Length | 47.3 in |
| Product Width | 2.8 in |
| Product Height | 2.4 in |
| Package Length | 52.00 in |
| Package Width | 3.4.00 in |
| Package Height | 3.00 in |
| Qty/ Package | 1 |
It's harder than you might think to find a good quality hardwired LED fixture, so I'd all-but given up.
My plan was to pick the best shop light I could find and then cut off the end of the power plug, so I could hardwire it.
Finding a really good fixture that happens to also be hardwired is a bonus.
The Fixture
I really like the design of the Hykolity SL4FT40W5K fixture.
At under three inches in both width and height, it's exactly as big as it needs to be. You won't find any wasted space here.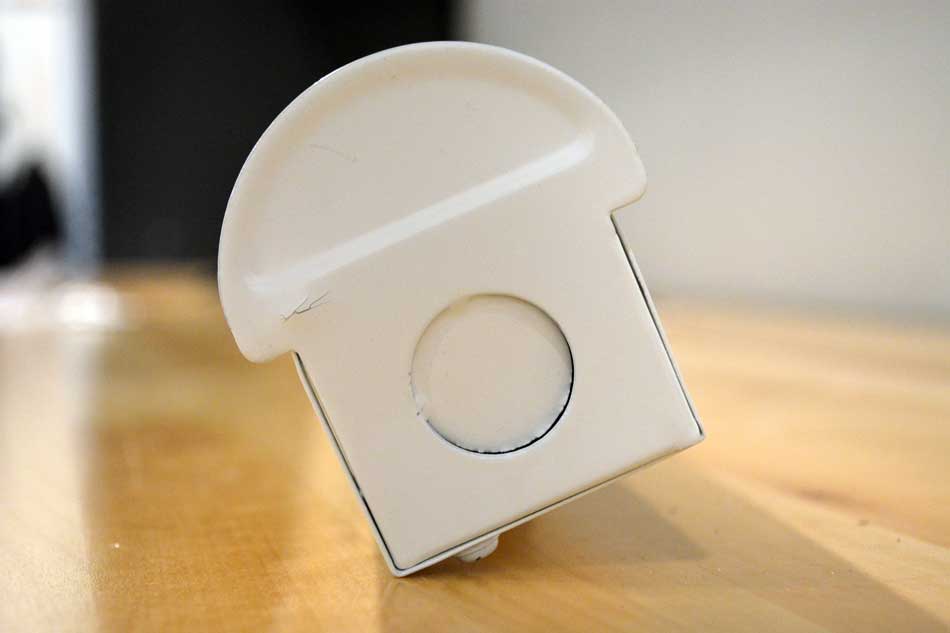 The endcaps have two tabs to secure them to the rest of the housing and are secured by a screw on the bottom. The only reason you'd need to remove them is if you wanted to remove the frosted plastic housing over the bulbs.
A small cutout for the wiring is on the bottom of the fixture, right in the center. This is common in hardwired LED fixtures, so you can mount the light lush to the ceiling.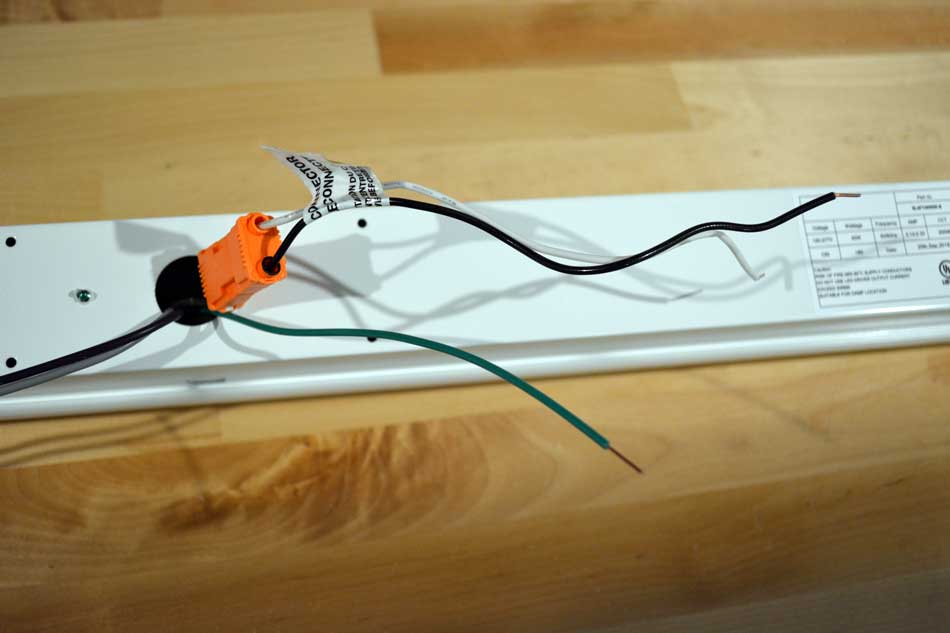 There are the standard, white, black, and ground wires, but there's also a second set of wires to use with a dimmer.
Bulb Options
Unfortunately, there aren't any bulb options for this Hykolity LED fixture either.
The lights are only offered with a color temperature of 5000 Kelvin and only come with a frosted plastic cover.
However, they offer the fixtures in both 4′ and 8′ lengths.
The 4′ light puts out 5200 lumens using 40 watts
One 8′ fixture puts out 9750 lumens but only uses 75 watts
The high-powered 8′ fixture puts out 14,300 lumens while using 110 watts.
I like that there are multiple options if you need longer-length fixtures.
You can decide if you want to be slightly more energy efficient or as bright as possible.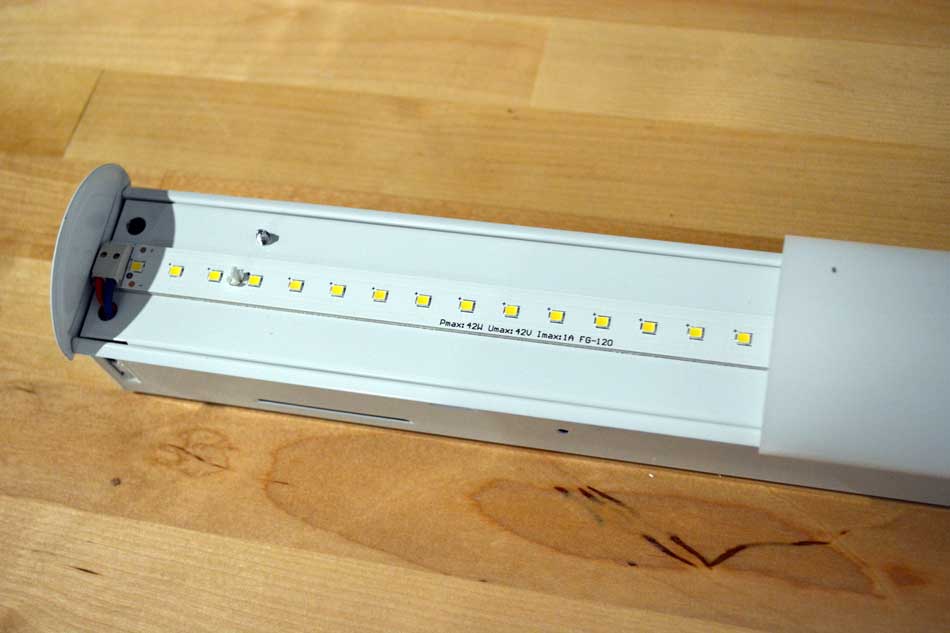 I ran some numbers based on how many lumens I needed to light my garage. I came up with a couple of different possibilities.
I found that I could save about 25% on the total cost just by getting four eight-foot fixtures and changing the layout slightly.
That's a pretty big deal!
Installation
Because they're hardwired, there's a little more to installing these Hykolity LED fixtures than the HY-SP4F-4 fixtures we looked at earlier.
Obviously, the first decision you need to make is whether you want to stick with hardwiring these lights or whether you want to modify them into a plug-in light.
It's relatively simple to turn this fixture into a plug-in light.
Basically, you need to cut off the end of a three-pronged extension cord and splice that to the wires in the fixture.
The next decision is whether you want to hang these fixtures from chains or mount them on the ceiling directly.
My fixture was missing the chains from the packaging, but I wasn't planning on using it anyway.
Things I'd Change
This is really nitpicky, but I'd include an optional plug end, just in case you wanted to use these as a plug-in light fixture. The lights are already slightly pricey, and I don't think that would add much in the way of additional costs.
It would be nice to have additional options for color temperature and a clear lens, but that's also nitpicky.
If Hykolity keeping the options to a minimum helps them to keep the cost down, then that's a trade I'm willing to make every time.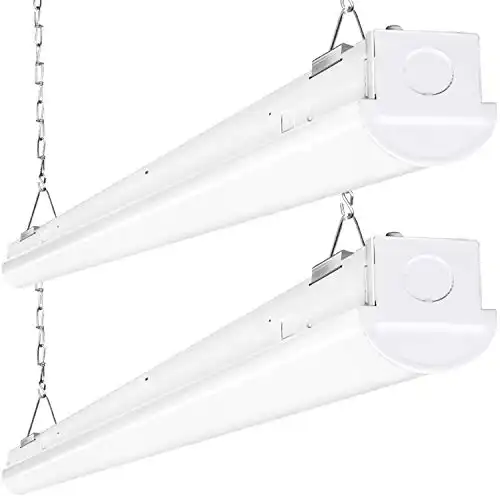 Hykolity 8ft LED Shop Lights, 14300 Lumens, 5000K, [2 Pack]
A rigid yet lightweight aluminum body design and low-profile lighting design make it easy to hang up with the included hardware or flush mount to a ceiling. This fixture packs an impressive 108 Lumen/Watt and is designed to illuminate even the darkest of spaces while using far less energy than its fluorescent counterparts.
Check Latest Price
We earn a commission if you click this link and make a purchase at no additional cost to you.
---
Hykolity LED Shop Lights: Comparing The Two
This comparison isn't as straightforward as the Hyperikon LED comparison that I wrote earlier. Those lights were at least somewhat similar.
These lights really couldn't be more different, both in design and in features.
The Hykolity SL4FT40W5K is dwarfed by the larger HY-SP4F-4.
This next photo says it all.
The smaller, newer SL4FT40W5K fits neatly in between the bulbs of the HY-SP4F-4.
In my opinion, this is a major point in favor of the SL4FT40W5K. Lights shouldn't be any bigger than they absolutely need to be.
If Hykolity can get the same results (actually better results) from a smaller light fixture, then that's a massive plus in my book.
---
Hykolity LED Review: Final Thoughts
These lights are going to appeal to different types of people.
If you're like me and want to hardwire your garage lighting, then the SL4FT40W5K is the obvious choice. If you want an easy plug-in light that you can install in minutes, the HY-SP4F-4 is the better choice.
Buy the Hykolity HY-SP4F-4 if:
You want to link multiple light fixtures together
You want a plug-in light instead of hardwired LED light
Buy the Hykolity SL4FT40W5K if:
You want a single light in either 4′ or 8′ lengths
You prefer to hardwire LED light instead of a plug-in light
I really like the Hykolity SL4FT40W5K fixtures.
They're versatile LED shop lights with several options for fixture lengths. I wish they had some alternatives for color temperature, but that's a minor gripe.
UPDATE: I chose the Hykolity 4′ and 8′ hardwired LED fixtures for my garage. If you want to see how I hardwired my garage lights, including some really cool before and after pictures of my garage, check out my new article here!
Are you wondering what garage lighting to buy? I tested some of the highest-rated shop lights against each other to find the best LED shop lights. Check out my super-detailed guide to garage lighting for more tips!