Few things annoy me more than tire marks on my nice, clean concrete garage floor, driveway or the sidewalk in front of my house.
I live in a neighborhood where many people bike around, especially kids. So it doesn't take long for tire marks to show up.
Even if you don't have kids, leaving your car parked in the same place for extended periods of time can lead to tire marks, as well as flatspotting the tires themselves.
It's common to see tire marks caused by braking at a higher speeds, locking up your wheels. But even if you're moving slowly, tire marks can still happen.
In this article, we're going to cover how to remove those pesky tire marks off concrete driveways, sidewalks and garage floors. If you've got stubborn tire marks that you're struggling to remove, here is everything you need to know.
---
What You'll Need to Get Started:
Rubber gloves
Degreaser
High-pressure washer
Scrub brush
You can rent a high-pressure washer (and other tools) at most hardware stores. While you have it, it's worth cleaning the entire driveway as you remove the tire marks.
Otherwise, you will notice clean spots against dirtier concrete. You can also scrub lighter-colored skid marks with Tri-sodium phosphate. If the marks are dark black, use a pressure washer to clean them thoroughly.
I recently tested several popular concrete cleaners and found Oil Eater Cleaner & Degreaser easily the best at cleaning stubborn stains off my floor. I highly recommend it, but if you want to see the full test, click the link above to go to that article.  
No matter which cleaner you use, there are some basic safety precautions to keep in mind.
Always keep your pressure washer wand in motion so the water stream don't burrow into the concrete. Always wear safety goggles, closed-tied shoes, and rubber gloves.
Also, never use bleach on concrete. It degrades the concrete surface and isn't environmentally friendly.
Let's get started.
---
How to Remove Tire Marks From Concrete
Here are the steps to follow.
Step 1: Prepare the Concrete Floor
You'll have to get off all items from your garage floor/driveway. Ensure you cover anything that might be damaged or wet. Also, ensure that you cover up any delicate plants surrounding the floor to protect them.
Step 2: Apply Degreaser on the Tire Marks
Pour some degreaser, like Oil Eater Cleaner & Degreaser, onto the tire marks. Let it sit for about 40 minutes and ensure it doesn't get dried up. The important thing is not to let the degreaser dry. So, add more as long as you need it.
For smaller areas, you can use vinegar to clean concrete floors, as long as they're not polished or sealed. Bare concrete is fine, however.
During summer, do your work in the cool parts where the sun doesn't reach as often, so that it doesn't dry up quickly.
Top Pick
Oil Eater Cleaner/Degreaser (1 Gallon)
Oil Eater CleanerDegreaser removed a two--year old stain on my concrete garage floor that nothing else could. I highly recommend this, even for stubborn stains.
Buy Now
We earn a commission if you click this link and make a purchase at no additional cost to you.
03/24/2023 12:44 pm GMT
Step 3: Scrub It
Some people argue that they only pour degreaser and allow it to sit for 45 minutes and wash it off. However, scrubbing with a straw brush gets it up better! So, after applying the degreaser, clean the area with a high-quality straw brush. After 45 minutes, scrub the greased area aggressively.
You can also use a floor buffing machine or a floor scrubber.
Step 4: Apply More Degreaser
You should apply more degreaser after some time and scrub more. During this time, there is not much scrubbing needed. However, it is good to use more degreaser and give one last shot.
Step 5: Final Wash With Power Washer
You can use a sprayer nozzle or power washer on your garage floor to rinse away the chemicals. You can also use a mob to wash it off if you are indoors. A hot water pressure washer will help you spray the skid marks for 10 minutes with enough hot water to produce steam.
Pressure washing can remove tire marks quickly, but it comes with various disadvantages. The major ones include:
It might remove mortars on your brick driveways. That is why it is vital to get tire marks up without using a pressure washer since this method can leave the surface in a mess. All the money you spent constructing it might go down the drain.
The pressure cleaning causes body injuries if handled wrongly.
It is costly to buy or rent a pressure washing machine.
You might consider removing tire marks concrete without a pressure washer using household items. This involves using items like baking soda, cornmeal, and cola.
You will only need to apply the items and let them sit for a few hours on the driveway. After that, use a scrub brush to scrub the concrete floor and rinse it thoroughly.
---
How to Prevent Tire Marks on Concrete Driveways
Removing tire marks is usually challenging. It can be a lot of work, and if you're not careful, it could damage your concrete.
The best plan is to prevent tire marks in the first place.
Here are some ideas to help prevent tire marks from forming on your concrete floors and hardscapes.
Let Your Tires Cool Off
Hot rubber tires are more likely to leave marks on your concrete floors, so let them cool off before pulling your car into the garage. As a bonus, this is also a great way to keep your garage cooler in the summer, or keep snow melt off your garage floor in the winter.
Move Parked Cars Regularly
If you're parking your car for extended periods of time, be sure to move it regularly. Better yet, use tire ramps to note only prevent tire marks, but help eliminate flatspotting as well.
I've created a list of the best driveway ramps for cars here.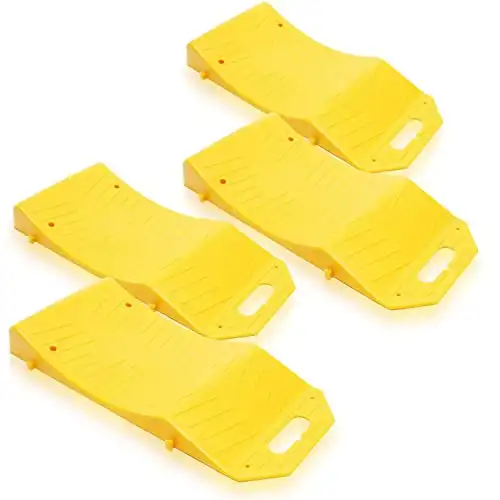 Zone-Tech Tire Saver Ramps
Made from High-density polyethylene plastic in bright yellow for high-visibility

Can be mounted to a surface permanently to prevent sliding

Interlocking to create extra-wide ramps

Easy to store. Hang it up when not in use
Buy Now
We earn a commission if you click this link and make a purchase at no additional cost to you.
03/24/2023 02:49 pm GMT
Slow Down
OK, nobody wants to hear this – especially if you've got a lead-foot like I do. But most tire marks happen from skidding – when the tires lose their grip on the driveway.
The best way to eliminate skidding is to simply slow down.
Seal Your Driveway
Once you have your concrete driveway nice and clean again, you'll need to take steps to keep it that way!
Sealing your driveway not only keeps moisture from damaging it, but it helps prevent tire marks as well.
You can either hire professionals to do it for your or go the DIY way.
Ensure you get a good quality sealer if you want to do it yourself. Don't go for a cheap, low-quality sealer — this is as bad as having no sealer.
Work on small sections by spraying the concrete floor sealer and letting it dry. Take your cleaning broom and remove any puddles on the floor as they might dry in a faint white color.
Let it sit at least for a day before driving on it.
---
Hire a Professional to Remove Tire Marks from a Concrete Driveway
A new concrete driveway is like a new car. It looks nice for the first few years but loses its luster if you don't clean it regularly.
Stubborn tire marks don't have to ruin your driveway, as you can hire a professional to remove them.
Letting your driveway be cleaned by a professional is probably the easiest way to go.
However, before contacting anyone, here are some valuable tips on hiring an experienced pressure washing company.
Get some references
Ensure you see before and after pics. Any experienced pressure washing company must have loads of these.
Make sure they are insured. This is safer for you! Ask them for a copy of their insurance claim and call their insurer to confirm. Any reputable firm will be glad to do this.
Ask how they will clean up your driveway. An experienced pressure washing company will be more elaborate on this.
Ask the kind of degreaser they will use. Some use environmentally unfriendly cleaning agents that can damage or kill your shrubs or grass. If they're using such cleaners, let them protect your plants first.
Inspect your driveway after that to ensure it was cleaned to your expectations.
It's not cheap to have your concrete garage or driveway cleaned by a professional washing company, but it's worth it!