Floor paint is one of the easiest and most popular ways to give your garage a face-lift. It's extremely easy to apply and only costs a fraction of the cost of some of the other flooring solutions you can get.
But despite its popularity, paint is often considered a temporary solution, while you save up the money for epoxy or tiles. Paint isn't as durable as other garage flooring, and often needs to be replaced in a few short years.
To make it harder, there is a wide variety of floor paint you can choose between. Each one offers its own unique set of advantages and disadvantages.
If you're not sure about whether you should paint your garage floor, or if you need help choosing the right floor paint for your garage, then I hope this article is helpful.
Is Your Garage Floor Worth Painting?
There's two common reasons for painting your garage floor instead of going with another type of flooring: Cost and ease of use.
Cost is by far the more common reason.
Let me be honest here, garage floor paint is far from the best treatment you can give your garage floor.
While it helps reduce the amount of dust from your concrete floor, it offers no protection for stains, cracks or impact.
That said, painting your garage floor still manages to rank among the most popular options because it's so much cheaper than anything else. It's also incredibly easy to apply.
With an afternoon's work, you can drastically change the look of your garage. You may have to repaint the floor in 2-3 years, but most people find that a fair trade-off. You can always apply fresh coats over the old wearing ones.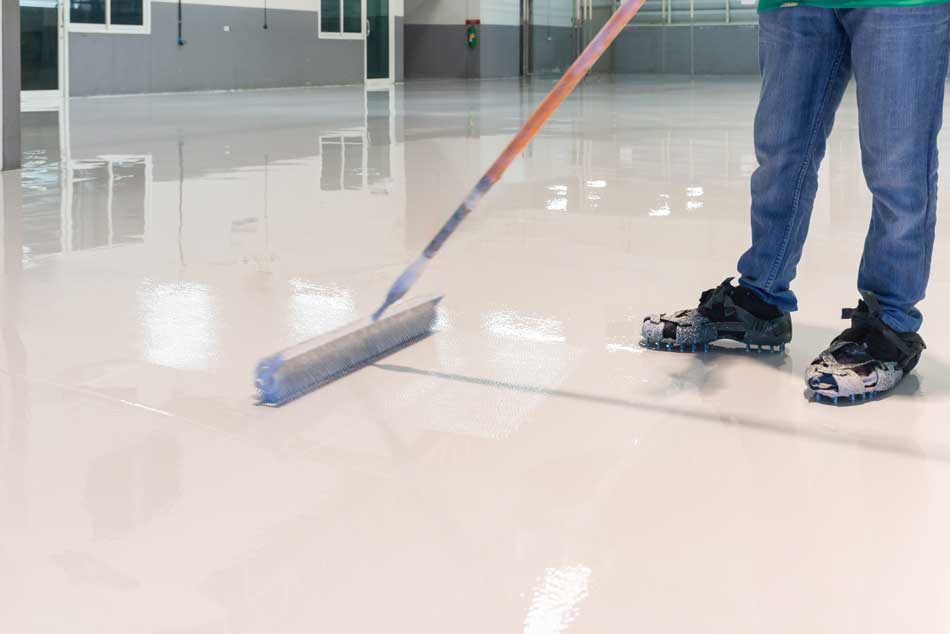 ---
Garage Floor Paint vs Mats or Tiles
Besides floor paint, the two most popular garage flooring options are floor mats and floor tiles.
Both are vastly superior in terms of durability and their ability to resist oil, grease, automotive fluids, salt, snow, etc.
Unless you go for basic black, most people consider floor mats and tiles to look better than floor paint. They're available in several different styles and colors and let you create an infinite number of patterns to really make your garage unique.
That said, it is worth pointing out that both garage floor mats and garage floor tiles are much more expensive than floor paint.
You can usually paint your entire garage floor for under $50. Floor mats can cost up to $1000 for a two car garage. Tiles can often cost $2000 or more.
For more details on whether or not garage floor mats are right for you, I highly recommend checking out our detailed guide. There are a lot of important details about floor mats that many people skip over.
You want to be sure you get the best solution for your garage!
---
Types of Garage Floor Paint
If you've decided to paint your garage floor, you're going to need to know what kind of paint to get, right? Let's look at five different types and what makes them different:
Latex Paint
Latex paint is the simplest and easiest to apply of all garage floor paint.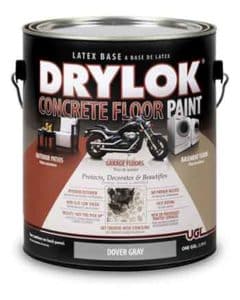 One of the most attractive features of latex paint is that they are perhaps the quickest drying of all the garage floor paint. If you don't have a long window of time that your garage can be out of commission, a latex floor paint may be your best option.
Latex paints don't bond with the surface of the concrete and will need some sort of primer, unless there's one built into the paint itself. It's also critical that you clean the floor extremely well before starting. Any dirt or dust that you paint over can adversely affect the long-term durability of the paint job.
Best Latex Garage Floor Paint
I've had great luck with Drylok paints before. If you're looking at latex paint, I recommend trying their latex-based Concrete Floor Paint. You can usually find it at Home Depot for under $40 a gallon.
Acrylic Paint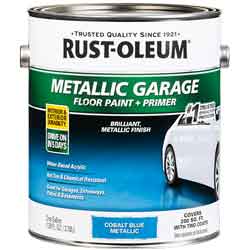 Acrylic paints penetrate into concrete and form a semi-transparent surface. Because of this, you'll need to apply a concrete sealer after the paint dries.
Without that sealer, acrylic paint won't be able to take as much abuse from your car's tires or even a lot of foot traffic. This is because it's common for acrylic paint to peel away under heat.
While acrylic paint does offer some vibrant colors and costs about as much as latex paints, it's not recommended unless you're planning on coating them with a heavy-duty sealant or protective layer.
I've heard a lot of readers have good success with Rust-oleum Metallic Garage floor paints. However, I don't have experience with them personally.
Epoxy Paint Kits
Epoxy paint is probably the garage floor coating you've heard most about. The challenge is that there are several different types of epoxy coatings, which make difficult to know what you're actually getting.
Many DIY epoxy kits are often coupled with other types of paint (latex or acrylic). Even as standalone finishes, can serve as a great garage flooring option.
Usually epoxies are sold as two-part kits. The first part being a primer and the second being the epoxy itself. The two parts are mixed right before application.
Best Epoxy Paint Kit
Many DIY epoxy kits, like Rust-oleum's Epoxy Shield (link to Amazon) are only slightly more expensive than an acrylic or latex paint, running around $80 for a one-car garage or $150 for a two-car garage. However, they're worth it because of the much higher durability and longer life.
Polyurea Paint
Polyurea was developed to be a quick drying paint. Some varieties will dry in as little as 5 seconds and fully set in around 5 minutes. Surprisingly, they're also one of the better adhering paint types and will bond extremely well to a concrete floor.
One drawback to polyurea based paints is that they're less resistant to any automobile fluids or chemicals that may spill. Because of how the paint is made up, it's not as resistant to chemicals or other liquid spills.
While a polyurea based paint is a great choice for most garage floors, it's difficult to find in any one of the major brands or big-box home improvement stores.
Polyurethane Paint
Polyurethane is like an improved version of epoxy paint, but having better flexibility and resistance to chemicals. Not surprisingly, it's also one of the most expensive garage floor paints on the market.
Polyurethane based paint is also really good at resisting heat and humidity changes that affect the durability of regular paints. While it won't bond with the concrete as easily or quickly as some of the other options discussed here, once it does, it makes for a durable garage flooring option.
Polycuramine Paint Kits
Polycuramine is a combination of polyurea, polyeurethane and epoxy that was developed by RockSolid Floors before they were bought out by Rust-oleum.
Compared to epoxy, polycuramine has several advantages. Its up to 20 times stronger than epoxy while offering some of the quick drying advantages of polyurea-based paints.
Similar to epoxy, polycuramine goes on very thick, with an almost molasses -like consistency. While this means it'll take more of this than you would, say an acrylic paint, you'll be able to fill in any small cracks or imperfections in your garage floor.
Best Polycuramine Paint Kit
Available in several different colors, each Rust-oleum RockSolid 2-car garage kit costs about $200 (link to Amazon)
The Short Version: Comparing Garage Floor Paints
While painting your garage floor is the cheapest option to upgrading your garage floor, some options are better than others.
If cost is most important: Go with a latex garage floor paint like Drylok. It'll give you a fresh look while cutting down on the dust in your garage. Some versions also act as a water sealer. Plan on repainting each year, however.
For some cool colors at a reasonable price: Go with an acrylic paint like Rust-oleum Metallic, but be sure to add an additional protective clear coat as well. You'll be able to get a great looking finish and slightly better durability for about half the cost of a polycuramine paint. This should last 2-3 years.
If you need a showroom finish: Go with one of the RockSolid kits. You'll get great durability and that metallic, liquid-metal type of finish that just looks amazing. One word of caution, you're going to need more than they say you will to get that thick, beautiful finish. But it's oh…so worth it.
---
Things to Consider
While the type of paint is going to have the biggest impact on your garage floor, there are other factors to consider as well.
Let us look at them in a bit more detail:
Appearance
Many people see photos of high-gloss garage floors that gleam in the light and are disappointed when their floor doesn't look the same.
Most garage floor paint will have a flat or satin finish, which isn't the most attractive option. If you spend a little more up front and opt for an epoxy or polycuramine floor paint, then you're more likely to get that glossy finish you're looking for.
Adding a glossy, epoxy protective coat can do the same thing, but isn't recommended. If you're taking the additional curing time (and spending the money) for an epoxy layer, you might as well just go with a better paint in the first place.
In general, most people choose to paint their garage floor because it's the least expensive option. If appearance is a major factor for you, consider epoxy paint or floor tiles.
Cost
Speaking of the cost, garage floor paint is popular because it's the cheapest among all garage flooring options. However, there's still a range of options.
In general, and acrylic or latex garage floor paint will cost you less than 15 cents per square foot. For higher-end epoxy paint, it will cost a bit more (anywhere from 20 cents to $1.50 per square foot).
No matter what paint you choose, it will still be about half the cost of a rubber garage floor mat and a fraction of the cost of garage tiles.
Application Time
Application time is another huge factor in which garage floor paint you choose. If you only have a limited amount of time that your garage can be out of commission, then your options are limited.
Some acrylic or latex paints can dry to the touch in a few hours and be ready to drive on within 24 hours. Epoxy coatings can take several days to fully cure.
Curing refers to the process of drying and hardening before the floor is ready to be walked or driven on. In my case, I ruled out painting my garage floor at all because I had no place to safely store my cabinets, workbenches and tools while it dried.
There are things you can do to help speed up the process, like using a fan, but it's recommended to let the paint dry itself out.
Maintenance
No matter what type of garage floor paint you use, there's going to be some general maintenance that goes along with it. It's a good idea to set up a regular cleaning schedule for your garage floor which includes dusting, wet mopping and semi-annual deep cleaning.
For more details on how to properly care for an epoxy garage floor, you should see my article where I detail a regular cleaning schedule. I also tell you what chemicals are safe to use, and which ones could end up destroying your floor's finish.
A well maintained floor will help keep your garage looking its best for the life of the paint.
Durability
Probably the most important factor when selecting a particular brand or type of garage floor paint, it has to be durability. That tells you how long it is going to last without wearing off.
Remember, garage floor paint is the least durable of all the flooring options. So you're looking at a total lifespan of between 2-5 years, on average. However, the harder you treat your floor, the lower it's life will be.
Latex and acrylic paints offer little protection to the four major factors that affect your floor's lifespan: chemical spills, abrasion, heat, and the climate. A protective coating found in epoxy or polycuramine paints adds some protection, but at an additional cost.
Usually you're not going to be able to avoid spills or abrasion in your garage, so that protective coating is extremely important. If you live in a harsh climate with a lot of ice, snow and road salt or somewhere with huge temperature variations, you may need to look at floor paints that are specifically designed for extreme weather.
How to Paint Your Garage Floor
We've talked about pretty much everything there is about garage floor paint. Let's look at how to actually paint your garage floor.
This isn't designed to be a step-by-step guide, but more like an overview to give you a general idea of what's involved. It's not a complicated process. By following some simple steps, anyone can do it without professional help.
Gather Your Tools
Before you start doing anything, you need to make sure you have all the right tools ready to go. A few of the garage floor paint kits I've recommended above have multiple parts that need to be mixed together.
You don't want to waste time and possibly lose mixed paint because you realized you're missing something important halfway through.
At minimum, you"ll need:
Broom
Etcher (may be included in the kit)
Cleaning agent + Mop
Concrete crack sealer
Painting rollers and 2″ brush
Floor Paint
Face mask (for protection)
Preparing the Floor
No matter what paint or coating you choose, it's crucial to make sure the floor is well prepared and ready to receive the paint.
That means removing any existing paint or coating on your garage floor. Most manufacturers don't want you painting over an epoxy coating because the new paint won't adhere as well.
Don't skimp on preparation. Take your time and do it right and you'll thank me for it later.
There are a few things you need to check and do before you can proceed on to the next step:
Use a broom to get rid of all lingering dust and dirt.
Mop the floor with a non-acidic cleaning agent to clean the floor.
If the floor is still stained, you may need a more aggressive cleaner. If that's the case, follow these steps to clean grease stains off concrete.
Once the floor is thoroughly dry, use a concrete filler to fill in any cracks on the surface. You may need to sand down the area to get a smooth finish.
Use an etcher to prep the surface so pant will adhere.
Finally, apply painter's tape to the edges so you can get a nice, crisp line.
Applying the Paint
You are now ready to apply the paint. This is similar to painting a wall, but may need to be done quickly if you use a two-part epoxy solution. You don't want the paint to harden before you're finished.
Simply follow the manufacturer's instructions to mix the paint. Use the 2″ brush to go around the edges of your garage. Once that's done, use the paint roller and apply the paint from one of the back corners to door on the garage floor.
Be sure to wear the face mask before starting.
Waiting for the Paint to Set
Now comes the part you've been waiting for: watching paint dry.
Don't rush to get all your stuff back in your garage before it's had time to fully dry. It will jeopardize all your hard work so far.
The drying/setting time will be different for each type of paint. Make sure you pay attention to determine how long the paint needs to dry and set.
If you're in a hurry, using a fan could definitely help speed up the process. However, it can also spread around any dust particles on your floor. I highly recommend just letting the paint dry itself out and set on its own.
If possible, it is wise to give it at least a few more days before you drive the car back into the garage. This could help the long-term durability of the paint job, especially if you live in a humid climate.
Conclusion
If you're looking for the floor coating with the easiest application, garage floor paint is the way to go.
For less than $50 you can get a basic latex or acrylic coat that will help seal your garage floor. Or, if you want a showroom glossy finish, you can spend several hundred dollars and really get an amazing looking garage.
It all depends on what you're looking for.
All and all, floor paint definitely has its advantages. It's worth considering for your garage floors, especially if you're on a budget.
Check out this article for choosing the best garage floor coating for you!