Choosing the right garage door can help transform your home's look and feel.
From the traditional charm of side-hinged doors to the contemporary look of an aluminum and glass sectional door, this guide will help guide you through the myriad of available types of garage doors.
Let's get started.
Table of Contents
---
Sectional Garage Doors
You're probably most familiar with sectional garage doors, which makes them the perfect place to start.
Sectional garage doors are divided into four sections with a set of rollers on each panel. As the garage door opens, the rollers move up a vertical track. Because the door is divided into sections, it allows it to adjust to the contour of the garage's entrance.
Unlike tilt-up garage doors, which we'll discuss later, a sectional garage door doesn't require additional space to operate in front of the garage.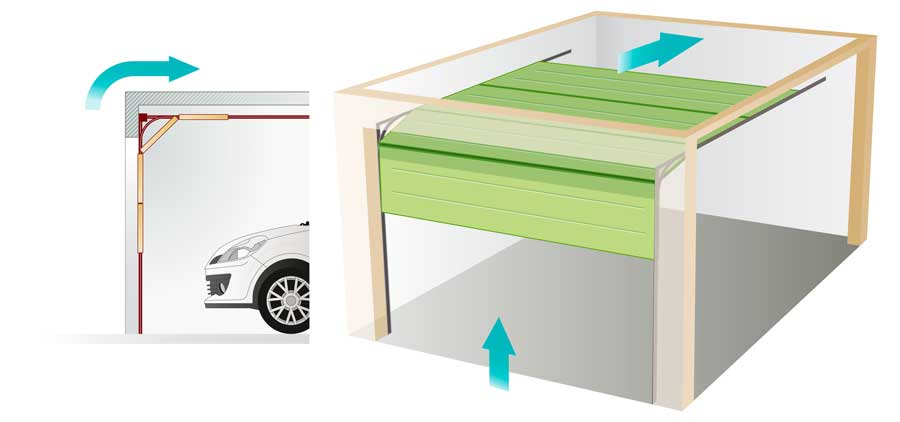 Sectional garage doors are extremely popular in North America because they're reasonably priced and adaptable to fit most garage shapes and sizes.
Homeowners can configure a sectional garage door in the most colors and styles. This includes the option for garage door windows or insulation. Panel designs vary, including raised, recessed, or flush options.
Steel is the most common material for sectional garage doors. However, many garage door brands make sectional doors out of vinyl, fiberglass, or aluminum. For homeowners wanting a more bespoke, custom look, natural wood is also available at a premium price.
One drawback to sectional garage doors is the space requirement. Garages with non-standard ceiling heights or obstructions could have challenges. This could interfere with the door tracks or panels. In such cases, some homeowners might consider modifications to their garage or even look at alternative door options.
Cost: An 8′ x 7′ steel sectional garage door without insulation typically costs anywhere from $300 to $700, with an additional installation fee of $150-$300. A 16′ x 7′ insulated double garage door could range between $1,200 and $4,000, and installation to add an additional $300 to $500.
---
Roll-Up Garage Doors
Roll-up garage doors are most common in commercial applications, but a few companies make residential roll-up garage doors as well.
They comprise interlocking steel slats that wrap around a drum located just above the door's opening. Opening and closing the door is driven by a spring-loaded mechanism or a motorized operator, offering convenience and smooth operation.
Roll-up doors are perfect for garages with limited headroom or side clearance. Unlike many other garage doors, roll-ups don't require tracks or panels within the garage. There's no outward swing, which conserves valuable space in front of the garage.
Typically made from steel or aluminum, roll-up garage doors are designed to resist impact damage, unpredictable weather conditions, and even fires. Since there are minimal gaps between the slats, it provides an effective barrier against dust, pests, and debris.
Roll-up doors tend to be quieter than other types of garage doors.
Unfortunately, roll-up doors do come with a few challenges. They're usually more expensive than other types of garage doors. This is due to the industrial-strength materials used to construct the door and the need for specialized installation and maintenance.
Additionally, a roll-up garage door's design doesn't lend itself to insulation or soundproofing. Although the door is relatively quiet when opening and closing, the thin metal door doesn't absorb sound waves very well. They also have no options for garage door windows, so they limit natural light.
Finally, roll-up garage doors have a simple, industrial design, which might not go with all architectural styles, especially traditional homes.
Cost: An 8′ x 7′ steel roll-up garage door, not insulated, generally ranges from $450 to $900. Installation would typically add another $150 to $300. A 16′ x 8′ aluminum roll-up door can run between $1,200 and $2,500, with installation costs ranging from $300 to $500.
---
Side-Hinged Garage Doors
Side-hinged garage doors are the most traditional type of garage door. The simple, classic design has a traditional charm.
These garage doors have two panels hinged vertically on either side of the door opening. This enables them to swing in or out like conventional doors. Typically, side-hinged garage doors open outward, however.
There's an undeniable aesthetic appeal to side-hinged doors. Their classic and elegant design effortlessly complements traditional home styles while offering a unique charm even to contemporary homes.
They're available in a wide range of styles, colors, and finishes to ensure a good fit for virtually any home exterior.
Side-hinged garage doors can be operated manually or with an automatic gate opener. Since the design doesn't require tracks, springs, or cables, there are very few moving parts to this design.
Side-hinged doors are very flexible. Their design allows each door to swing open independently or together. This is handy for pedestrians or cyclists who need quick access without exposing the entire garage.
The drawback is that side-hinged doors require more space to operate than most other garage door types. They need space inside and outside your garage to open, meaning you won't be able to park right next to the door. This may be problematic for garages located near bustling streets or pedestrian walkways.
Wood is the most common material for side-hinged garage doors. Natural wood brings a warmth and elegance that perfectly matches this classic type of garage door. It allows for many customization options, from colors to grains and finishes.
Side-hinged doors are also available in fiberglass and vinyl if you don't want the added maintenance of a natural wood garage door.
Cost: An 8′ x 7′ steel side-hinged door without insulation typically costs $500 and $1000, with installation adding an extra $150 to $300. On the other end of the spectrum, a 16′ x 7′ wooden insulated door could cost anywhere from $1,200 to $4,000, and installation charges range from $300 to $500.
---
Tilt-Up Garage Doors
The modern garage door was invented in 1921 by the founder of the Overhead Door Company, which still makes garage doors to this day.
These tilt-up garage doors were unique because they opened up and into the garage instead of out like the side-hinged garage doors that were common at the time.
Tilt-up garage doors consist of a single solid panel attached to two arms on either side of the door opening. These arms pull the panel upward and backward, allowing it to smoothly glide along parallel tracks mounted on the garage ceiling.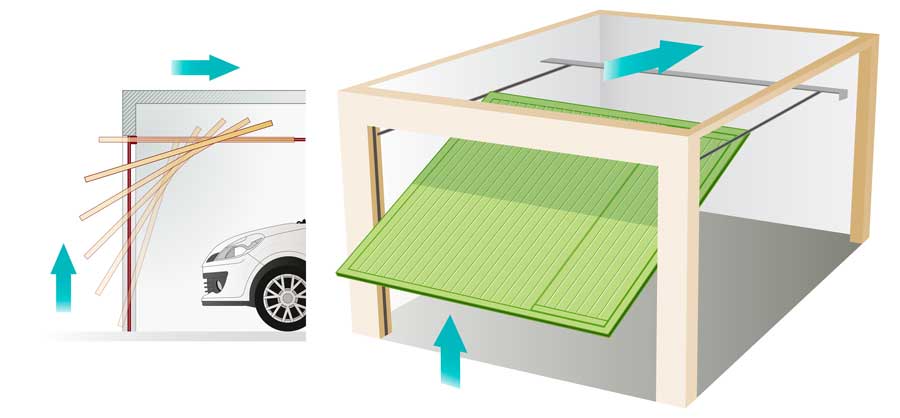 The appeal of tilt-up doors lies in their simplicity. Installation is a straightforward process, making it more cost-effective than other types of garage doors. There's no need for springs, cables, or rollers.
Tilt-up garage doors need less space to operate than side-hinged garage doors but more than the typical sectional door. Because it's made from a single panel, the door extends into your driveway as it opens.
Since tilt-up garage doors have a single locking point, they are vulnerable to warping, sagging, or even potential break-ins. It's worth reinforcing a tilt-up garage door with an additional lock or security system.
Like their sectional door cousins, tilt-up garage doors are available in a variety of materials, styles, and colors.
Wood and steel are the most common materials. Wood's inherent charm and warmth make it a popular choice, but steel offers greater durability and lower initial costs and maintenance. Other materials include fiberglass and aluminum.
Cost: As a general guideline, an 8′ x 7′ non-insulated tilt-up door typically ranges between $500 and $900, with installation costs adding another $150 to $300. In contrast, a double-sized 16′ x 7′ steel insulated door costs $800 to $2,000, with installation charges falling between $300 and $500.
---
Slide-to-Side Garage Doors
Although not very common in the United States or Canada, slide-to-side garage doors are common in the UK and Europe. They offer homeowners a distinctive blend of functionality and aesthetics.
These doors operate similarly to a sectional door flipped on its side. The garage door track extends horizontally along the top of the door opening and down the length of one wall. There's no center rail, meaning homeowners have no headroom limitations with this type of garage door.
Slide-to-side garage doors can be configured to open along either wall, depending on which best suits your garage.
Since they open to the side, there's no outward swing, ensuring driveways remain unobstructed.
Due to their limited popularity, slide-to-side garage doors aren't available in as many colors, styles, or materials as other types of garage doors. You can typically find them made of fiberglass, steel, or aluminum. Wooden slide-to-side garage doors are extremely rare.
Cost: As a general guideline, an 8′ x 7′ steel slide-to-side garage door without insulation might cost homeowners $600 to $1,200, with installation adding another $150 to $300. On the other hand, an insulated metal door of 16′ x 7′ dimensions might range between $900 and $2,000 for the door alone, with installation charges estimated between $300 and $500.
---
Wrapping It Up: Types of Garage Doors
As we've seen, each type of garage door offers a unique blend of style, functionality, and convenience. When shopping for a new garage door, consider factors such as appearance, ease of use, space requirements, and material options.
Whether you choose a standard sectional, roll-up, side-hinged, tilt-up, or slide-to-side garage door, your perfect pick is out there, just waiting to add value and curb appeal to your home.