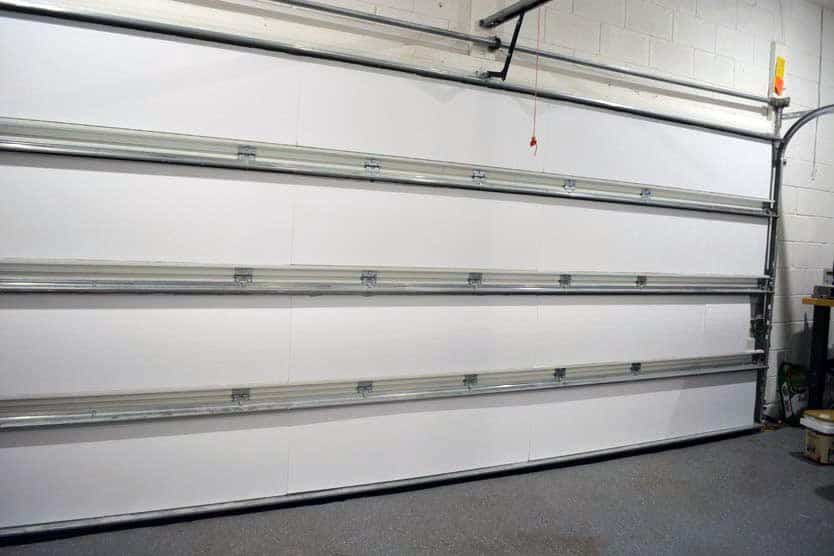 Depending on where you live, the temperature in your garage can be unbearable. In winter, it can easily fall to below freezing, while summers in the south can push the temperatures over 100 degrees.
A good place to start is with the biggest non-insulated surface in your home: your garage door.
By itself, insulation won't make your garage warm and toasty. You'd need a garage heater for that (see our our recommendations for the best garage heater here).
However, adding a garage door insulation kit is one of the most effective (and inexpensive) ways to get a few more months of use out of your garage.
I've compiled a list of the three best garage door insulation kits available today. Plus, you'll also find a quick guide on the different types of insulation and which ones make sense for your garage.
Does insulating a garage door make a difference?
In hot summers and cold winters, adding insulation to your garage door is a huge help! A garage door insulation kit is an easy, inexpensive way to add insulation and has three main benefits:
More Comfortable: Insulating your garage door will generally keep the inside temperature about ten degrees more comfortable than it would be otherwise. In some cases, that ten degrees can be enough to keep the water from freezing in your pipes.
Noise Reduction: Steel garage doors are noisy when they go up and down. If you can reduce the amount of vibrations, all of a sudden, the door becomes much quieter. In many cases, insulation can help reduce noise as well as regulate temperature.
Impact-Resistance: If you've got kids, this is a big deal. You can make your garage door more resistant to dents and damage by adding an additional layer of foam insulation.
Types of garage door insulation
There are three main types of garage door insulation: rigid foam, fiberglass and radiant barriers. I'll go into some high-level basics on each in a minute.
First, to talk about insulation, we need to understand the concept of R-Value. For more details, check out my article here where I discuss what a good R-value for a garage door is. For now, all you need to understand is that higher R-values are more effective at keeping heat where you want it.
Rigid Foam
Most garage door insulation kits will use some type of rigid foam insulation because it's very affordable and easy to install in most garage doors. Not all foam is created equally however.
Expanded Polystyrene (EPS): This is the most common form of insulation that you'll find in garage door insulation kits. EPS has an R-Value of between 3 and 4.
Extruded Polystyrene (XPS): XPS is between 10% and 30% more expensive, but more rigid and won't absorb water as quickly. It has an R-Value of around 5.
Polyisocyanurate (polyiso): This has an R-Value of just under 7, but it's also the most expensive rigid foam insulation.
Fiberglass
Fiberglass insulation is very common in homes, but not in garage door insulation kits. In fact, only the Owens Corning kit is made of fiberglass. It has a slightly higher R-value on average (R-8) and can easily conform around door hardware.
Radiant Barriers
Radiant barriers are the least expensive form of garage door insulation, costing about half that of foam kits. They're great at reflecting heat waves back, but they can't stop temperature increases from the hot (or cold) air all around your garage door.
Usually the best type of insulation is some combination of either foam or fiberglass and a radiant barrier.
Other Insulation Types (That You Won't Find on Garage Doors)
It's worth noting there are some popular types of insulation that you won't see on garage door insulation kits.
Cellulose insulation is made out of completely organic material like plant fibers, cotton or even recycled newspapers. It's very similar to fiberglass insulation in terms of performance. However, its much more costly so it hasn't caught on yet.
Spray foam insulation is used in many residential applications. In fact, my house has spray foam insulation in most of the walls. Spraying the foam allows it to reach into any gaps between wall-studs and eliminate any drafts. However, it's not well suited for garage doors.
The Best Garage Door Insulation Kits
---
Matador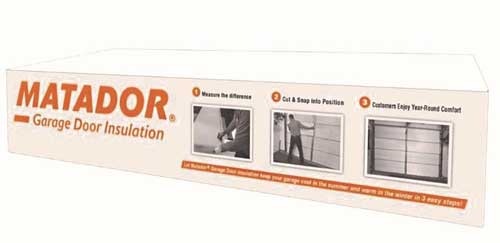 Matador is easily my choice for the best garage door insulation kit and it's the one I have in my own garage. You can see my thoughts and how I installed it here.
It's made of a thick polystyrene foam that fits neatly in between the frame of pan-style garage doors. That's the style of garage doors that that have a thin layer of steel and support rails going along the inside of the door.
Even if you don't have a a pan-style garage door, the Matador kit should still fit. I've got a "sandwich style" garage door, which is a little thicker, and I was able to cut the Matador foam panels to fit and use some foam adhesive to get a nice solid fit.
Overall, I'm thrilled with the Matador kit. That added insulation helps lower the temperature in my garage during the day by around 10 degrees on the hottest days.
R-Value of 4.8
Polystyrene laminate panels for durability and soundproofing
Snap-in installation for many garage door types
Large garage doors need two kits
May need to adjust torsion spring because of the additional weight
---
Owens Corning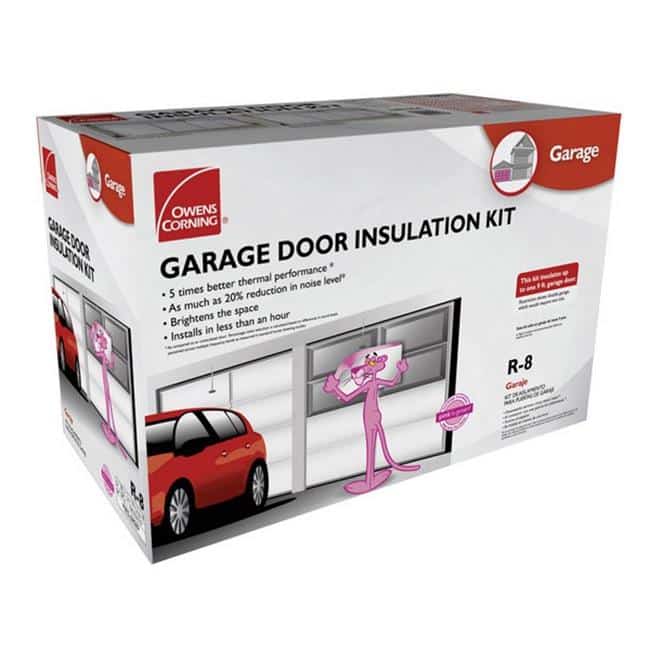 The Owens Corning garage door insulation kit uses actual fiberglass insulation, which gives it the highest R-value that I've found!
The fiberglass panels conform directly to the door itself, which makes them incredibly dent resistant. So if you've got an environment inside your garage where things can bump into your garage door, this adds an extra layer of protection. I was always the kid that shot hockey pucks and tennis balls against the garage door, so my parents definitely could have used this when I was growing up.
In addition to having the best R-value for any garage door insulation kit that I've found, the fiberglass panels are also really noise resistant. Owens Corning estimates that it could reduce noise by up to 20% over an un-insulated door.
Because the panels conform to the door itself, it will only work where there's a frame on the inside of the door. While that's common in pan-style doors, it's not common in other door types. So this may not be the right solution, depending on what type of garage door you have.
Since the insulation snaps onto the door with plastic clips, many homeowners say that they need to use Gorilla Tape or other adhesive to clean up the edges.
R-Value of 8.0
Up to 20% noise reduction
Only need common tools to install
Only works on pan-style doors
Many users recommend Gorilla Tape to seal the edges
---
Reach Barrier 3009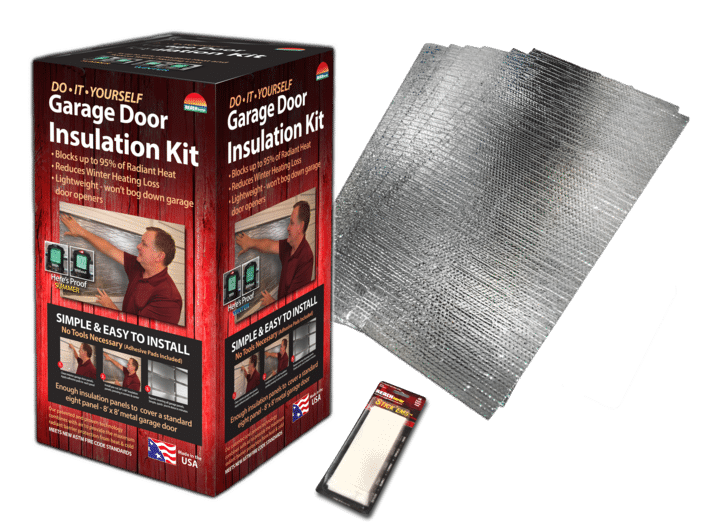 The final entry on this list of the best garage door insulation kits is the Reach Barrier 3009. Unlike the Matador and Owens Corning insulation kits, the Reach Barrier kit is a radiant barrier. As such, it has no R-value, but that doesn't mean that it's not effective!
Unlike standard insulation, a radiant barrier works by reflecting the heat (or cold) back on its source. In a cold climate, the best insulation is a combination of fiberglass or foam panels to absorb the cold from the outside air, and a radiant barrier to reflect the heat from your garage back in on itself to help keep you warmer.
The Reach Barrier insulation kit does just that. The reflective metallic sides sandwich a bubble-wrap type of inner layer that helps reduce noise and provide a little extra durability.
Installation is easy, with double-sided adhesive tape. Simply measure and cut to fit your door.
I look at the Reach Barrier (or any radiant barrier insulation) as an "finishing touch" to insulating your garage. It works best in conjunction with another type of insulation or to reflect the heat from a garage heater back into your garage so it doesn't escape through the door.
Cheapest insulation solution
Very lightweight
Works best in conjunction with other insulation