Your garage is much more than just a place to park your vehicle or store all those Christmas decorations.
Finishing the walls of your garage enables you to use it in multiple different ways and add your own personal style to one of the most used rooms in your home.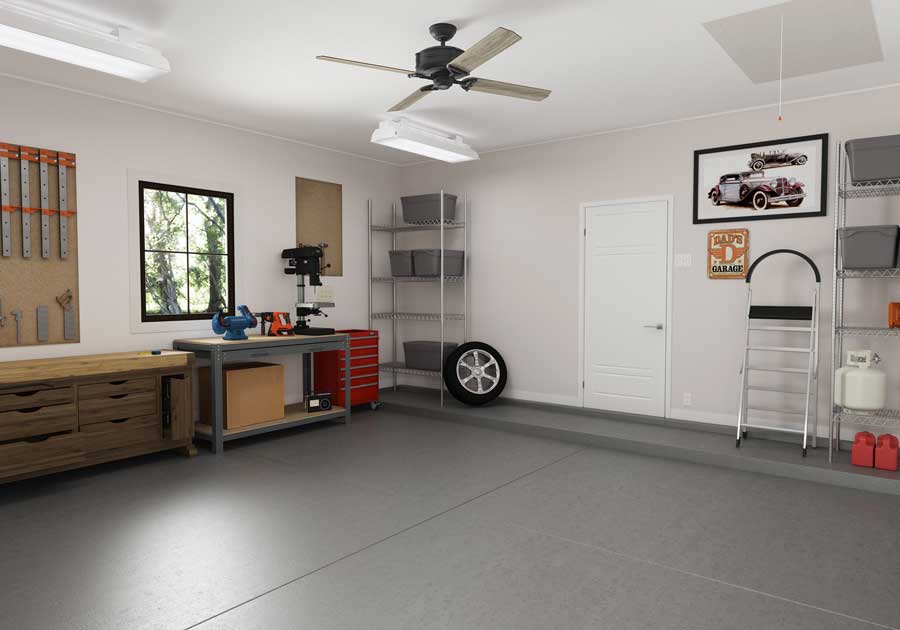 Garage walls have traditionally remained unfinished. Homeowners prefer function over form, often hiding walls with shelving or cabinets. The few who finish their garage walls usually opt for drywall, OSB, or plywood. However, some of the other options include:
Painting
Wood Paneling
Metal Panels
Plastic Or Fiberglass
Storage Panels, Such As Pegboards Or Slat Board
Moisture Resistant Backerboard
The problem is, how do you know what type of finish you should use on your garage walls?
It can be difficult to decide between all of the options. This article will explore more details about each option, including the pros and cons, to help you decide which is right for your garage.
---
Why Cover Garage Walls?
So why cover your garage walls anyway?
Well, there are several reasons actually.
Perhaps you need to add storage to the space, or your garage is too dark and needs to be brightened up. Some homeowners find finished garage walls are easier to keep clean versus bare studs.
Or, you could want to increase the value of your home. While there may be no direct impact on the estimated value of your home, buyers are more drawn to homes that have a garage that is finished.
I wrote an article that goes covers whether a finished garage adds to your home's value. Check it out if you're thinking of selling your home in the next few years but still want the benefit of a finished garage.
Adding a finished look to your garage gives buyers the option of using the garage as additional living space without the expectation (and hassle) of doing the finishing themselves.
---
Options for Garage Wall Coverings
We've covered the why. Now let's talk about the how.
Suppose you're one of those creative, DIY homeowners. In that case, you may be willing to step out of the traditional box and go with something completely different.
However, for those that want some more common options, here's a look at the most popular coverings and garage wall paneling for finished garages.
Painting
Painting is perhaps the most common way homeowners choose to change the look of their garage walls. Paint can be applied to almost every type of existing surface, including cinder blocks, concrete, and even the back of exterior paneling.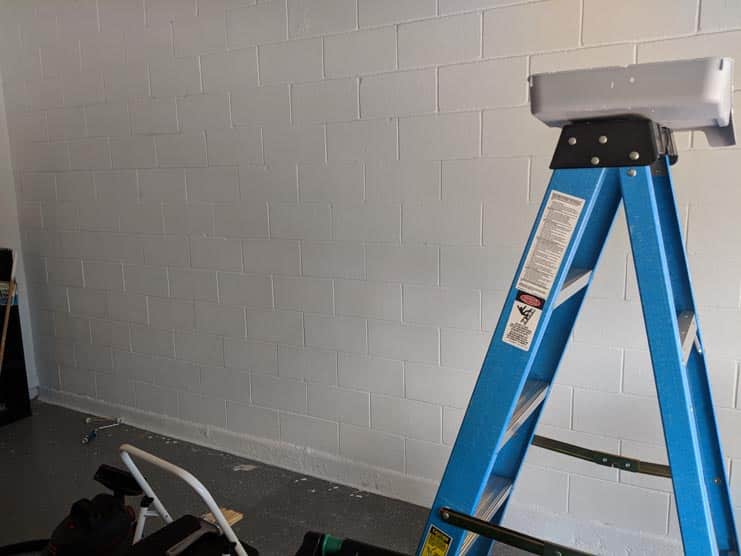 If you're going to go the simple route and just paint your concrete block walls, it's essential to seal your walls so water can't get in.
When I did this with my garage, I wrote about the entire process and how I waterproofed my garage walls. It's a simple process but a critical step that you shouldn't skip.
Pros:
Inexpensive
It can be done by the homeowner
Wide range of colors
Cons:
Not as durable as other wall coverings (unless applied to drywall)
Adds no surface for shelving or other storage solutions
---
Wood Paneling
There are several wood paneling options that you can use to cover the walls of your garage.
You can purchase a wide range of wood panels in large 4 x 8-foot or horizontal lats. This can allow you additional style options but can be painted as well.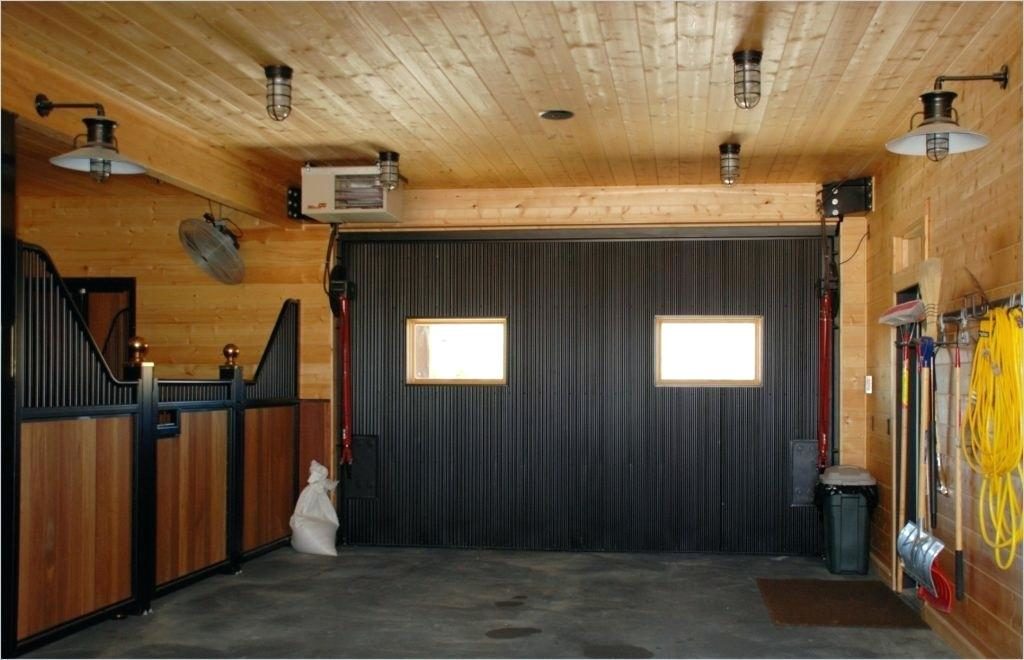 Pros:
Installation can be done easier and faster than drywall
No need for mudding or taping joints
Allows for attaching storage items, such as shelves, hooks, and more.
Cons:
It may end up costing more than other options, depending on material choice
Will require additional support between existing studs in most cases
---
Plywood/OSB
Most garages are either concrete blocks or bare studs. If you've got a bare, wood stud frame, then plywood or OSB will be a popular choice.
Although they may look similar, OSB and plywood are very different. However, both are a great all-around choice for walls, floors, and home improvement projects.
The panels are usually inexpensive and can be finished in several ways, including paint or stain. Some people even torch the surface of panels to draw attention to the unique patterns they have.
Pros:
Inexpensive
Simple to install, even DIY with an extra hand or two
Allows for a wide range of finish options
Cons:
Will not hold up to excessive drilling, mounting, shelving, etc. due to the composition of the boards
May absorb excess moisture if not sealed properly
---
Metal Panels
A big trend in home improvement of all types is using metal instead of drywall or wood. There are several options if you want the look of metal on your garage walls.
Some of the most durable options are diamond plating, corrugated sheet metal, even grates and fencing for some people, and many more.
Pros:
Metal is strong and durable in most cases
It can be used to customize a space
Reclaimed metal sheeting is an option (old tin roofs, metal sheds, and barns)
Cons:
When purchased new, it may be expensive depending on the choice of metal
Requires additional support in many cases
Hanging shelves and other storage options will require specialized metal screws
---
Plastic/Fiberglass
An inexpensive option is to use plastic or fiberglass. These lightweight options require very little maintenance and resist moisture.
They can also be cleaned easily, making them an excellent choice for high-traffic areas or where there will be a lot of dirt and grime.
Pros:
Inexpensive
Easy to install
Mold and mildew resistant
Easy maintenance
Cons:
Usually, need to be installed over drywall
Not as durable as other options
---
Pegboard, Slatwall, or Track Storage
Most people have seen pegboard, slatwall, and even lattice used as a wall covering.
These panels give you immediate built-in storage using specialized hooks that are inexpensive and readily available in most hardware and discount stores.
Storage panels are perfect for garages with a need for a wide range of storage needs due to their flexibility.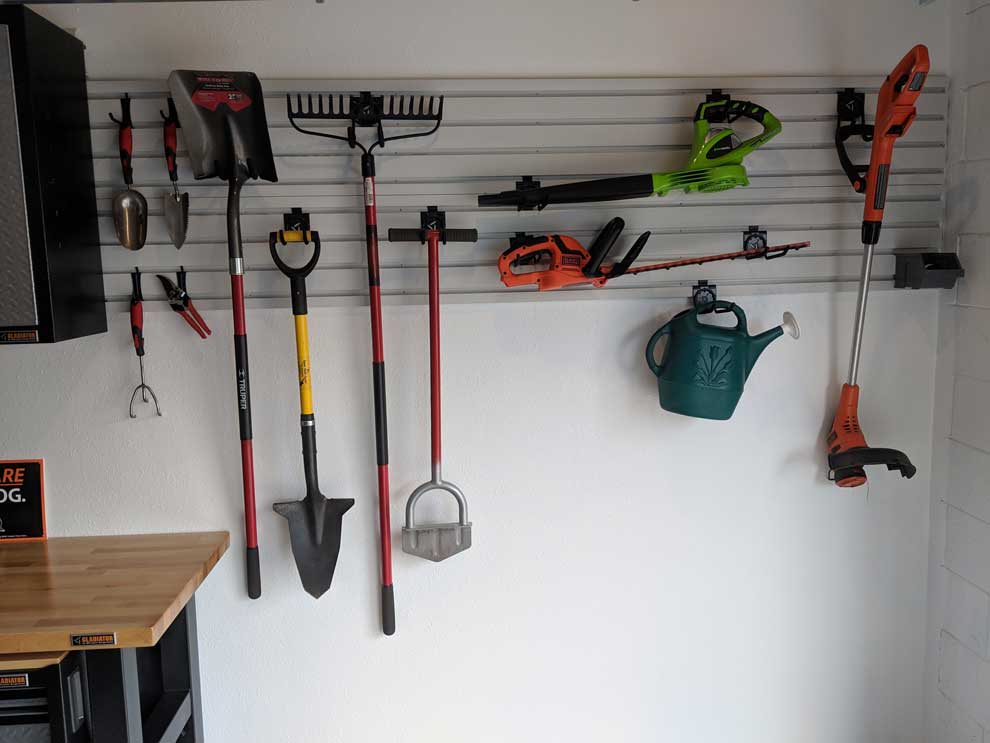 If you're considering adding slatwall to your garage, I recommend checking out my slat wall buyer's guide article.
When considering it for my garage, I spent hours researching the different brands and options and put them in that article. Check it out!
Pros:
Sturdy and flexible storage options
Inexpensive and easy to install
When combined with different accessories, it offers endless possibilities for customization
It can easily be painted
Cons:
Not the most aesthetically appealing
Offers little or no insulation properties
Proslat PROCORE Slatwall Organizer Bundle 8 ft. x 4 ft.
The Mini Bundle is the perfect start to organizing your garage. It features the PROCORE PVC panel, promising twice the strength of a regular slatwall thanks to its aluminum core. This patent pending design uses PVC only as an aesthetic finish and relies on aluminum to support the weight.
Check Latest Price
We earn a commission if you click this link and make a purchase at no additional cost to you.
---
Moisture Resistant Backerboard
Backerboard, which is sometimes referred to as green board, is commonly found in bathrooms and kitchens. Like drywall in function, installation, and appearance, green board is designed for use with tile and other high moisture installations.
Unlike drywall which will crumble and collapse when exposed to high amounts of moisture, the backer board's core resists water. At the same time, the surface is made with a mesh that allows air to circulate better, drying any moisture that does appear.
Pros:
Allows for a strong, drywall-like base for additional coverings such as tile or stone
Resists moisture for less chance of mold and mildew developing
It can be easily painted
Installation is easy for some, the same as drywall
Cons:
It is more expensive than standard drywall
Not recommended for garage walls that are going to have several items mounted on them (screws can impact moisture resistance)
---
What is the Best Material for Garage Walls?
The truth is that the best material for your garage will be different from anyone else.
Before choosing, you will want to check with your local building codes to ensure you are working within the code limitations.
You want to avoid selecting a wall covering for your garage, only to find out it is not allowed in your area.
Drywall is still the most popular wall covering and may still be the choice of many of you. After all, drywall has advantages, such as being readily available and fire-resistant. Therefore, most attached garages will be required to use drywall.
In fact, that's the choice I made when I was finishing my own garage. I installed wood framing and insulation over my concrete block walls. Then I put drywall in my garage to give it the finished look that I wanted.
The best material choice will be a personal one that depends on how you want to use the walls.
Here are a few guidelines:
Painting – Best budget-friendly option. Usually does not require any special knowledge or code issues.
Wood Paneling – The most stylish option (with metal), but it may also be the most expensive.
Plywood or OSB – Creative and affordable, offers a wide range of customization.
Metal Panels – Considered a high-end option in most cases, not best for storage or organization options.
Plastic or Fiberglass – Least durable, may be affordable, but not great if you plan to attach things to your walls.
Storage Panels – Most customizable, perfect for garages with a lot of tools or when organization and storage are the priority.
Moisture Resistant Backerboard – The only option for adding tile, stone brick or plaster. It may be used in place of drywall for higher moisture areas.
---
Final Thoughts
There are many ways you can finish your garage walls if you have the time, energy, and desire. Some will make your garage look more expensive, while others will be more functional.
Most of us choose function over style unless the garage is planned to be used as additional living space.
Remember to check with your local building code requirements no matter which option you choose.
Next, check out some of my favorite alternatives to drywall for your garage walls, ranked by durability, looks, and cost!