Growing up, my dad had a ratty, old pegboard in our garage. It looked like it was ready to fall apart, and didn't really organize his tools well.
Garage pegboards have come a long way since then.
Instead of ugly, brown hardboard, modern pegboards are made from galvanized metal or scratch-resistant plastic. If you're looking for a way to show off your tools while keeping them organized, a garage pegboard may be just what you're looking for.
I've got a pegboard installed right behind one of my workbenches. It's a perfect complement to my tool chest, and its modular nature makes it so convenient.
However, not all garage pegboard is the same.
This buyer's guide will take an in-depth look at the essential features and specs to help you make the right decision. First, we'll start by looking at my favorite garage pegboards.
In a hurry?
If you don't have much time, use the links below to quickly find the Best Garage Pegboard Systems.
-Best Pegboard System \ Best Metal Pegboard: Wall Control Pegboard
-Best Plastic Pegboard: Wallpeg Plastic Pegboard
-Best Pegboard Starter Kit Under $100: Wall Control Utility Tool Storage Kit
---
Best Garage Pegboard Systems
Best Metal Pegboard: Wall Control
As I mentioned, I hated pegboards growing up, so it took me a while to warm up to the idea. That changed when I saw Wall Control's galvanized steel pegboard system.
Wall Control's metal pegboard system comes in eleven powder-coated colors ranging from black or red to hot pink or orange. My favorite is the bare galvanized steel version.
If you like the look of diamond plate in your garage, then it'll look absolutely amazing!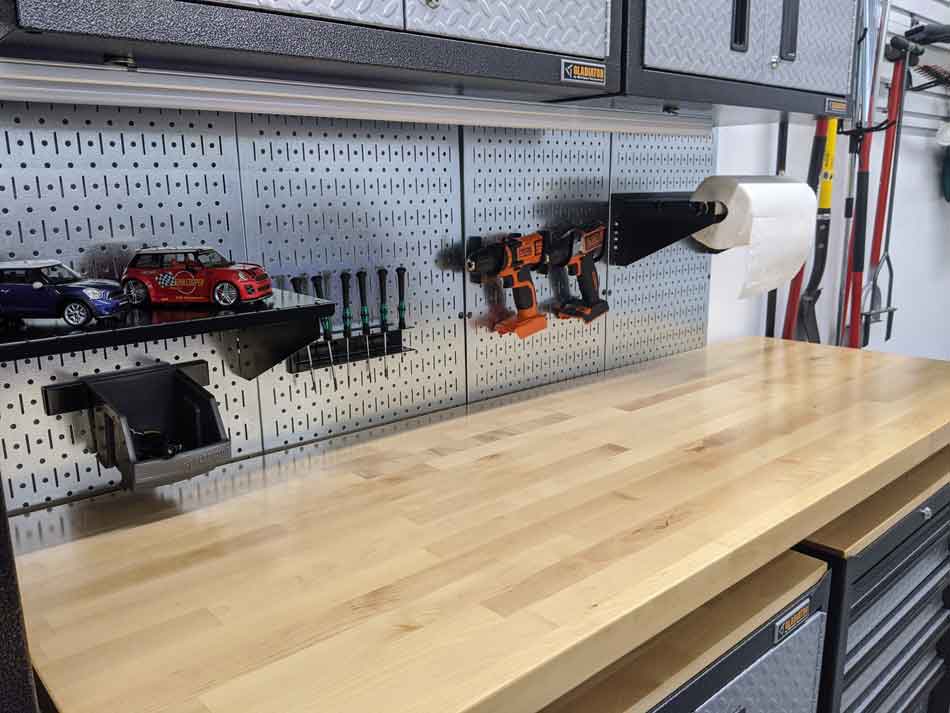 I have four Wall Control pegboard panels mounted vertically behind my garage workbench. I use it to keep the essentials like precision screwdrivers, a pair of cordless drills, some paper towels, and a Gladiator bin with miscellaneous items.
Wall Control has a variety of shelves designed explicitly for their pegboard system. In this picture, you can see two of my die-cast MINI Coopers sitting on it.
While any standard peghooks will work, there's a better option.
Wall Control's proprietary peghooks fit in the slots on the board rather than the peghook holes to securely lock in place and won't come flying off the board when you grab a tool.
With that comes a catch.
Each Wall Control panel is designed to be hung either horizontally or vertically. As I found out the hard way, if you change your mind later, the slots will be going in the wrong direction, and you won't be able to use their hooks.
Except for that minor hiccup, I really like the value of this pegboard system!
You could have a durable metal pegboard in a dozen different styles and colors for only a few dollars more than your dad's dingy brown particleboard.
Whether you're only looking to hang a few select items like me or looking for a large display for your tools, I highly recommend Wall Control's pegboard.
You can see my Wall-Control Pegboard review here.
---
Best Plastic Pegboard: Wallpeg Plastic Pegboard
If you don't want to spend extra money on steel pegboards, I recommend using a PVC plastic pegboard instead. Plastic pegboard will last longer than particleboard, and it'll stay looking good for longer.
WallPeg plastic pegboards are made in the USA from durable, recycled PVC plastic and are available in either black or white.
Their pegboards will fit any standard peghook accessories or their proprietary Flex-Lock series of pegboard hooks & accessories.
Similar to Wall-Control's peghooks, Flex-Lock peghooks lock in place. But what I like about these is that they're so low-profile that they eliminate the need to mount spacers between your pegboard and the wall.
If you want to (inexpensively) install a large section of pegboard, I recommend opting for WallPeg's plastic pegboard. You'll still get great-looking pegboard, locking peghooks, and various accessories, bins, and shelves.
---
Best Pegboard Starter Kit Under $100
There are some excellent pegboard starter kits at the $100 price point. Yet, my favorite is the Wall Control Utility Tool Storage Kit.
It's a two-panel metal pegboard kit that lists for under $100, but I've seen it on sale for around $85 occasionally.
The pegboard comes in galvanized steel (my favorite!), and the accessories are available in red, white, blue, or black.
The Metal Pegboard Utility Tool Storage Organizer Kit Includes:
(2) Galvanized Metal Pegboard Panels 32in x 16in (Covers 32in x 32in when Installed)
(1) 6in Shelf Assembly
(3) Plastic Bins with Bin Hangers
(1) Screwdriver Holder
(1) Hammer Holder
(15) Assorted Hooks and Brackets
---
Garage Pegboard Buyer's Guide
The best pegboard system should have five things going for it: strength, adaptability, appearance, ease of installation, and durability.
Let us look at each of these qualities in brief:
Strength: You'll commonly see this as weight capacity because it determines the number of tools you can hang on it.
Adaptability: Some companies, like Wall Control, have their own pegboard systems. They'll fit most standard peghooks and proprietary designs designed explicitly for their boards. Make sure you choose a panel that supports many options, from traditional hooks and magnetic hangers to support for shelving units.
Appearance: Also known as the "cool factor." Most pegboards will look bland and boring, but some come in different colors and styles. If having a unique-looking garage is important, this is another way to do it.
Ease of installation: Most pegboards will install roughly the same way (we'll look at that in a bit), but some make it easier by providing the necessary hardware.
Durability: How long will your pegboard last. Obviously, a metal pegboard is going to last a lot longer than an MDF board. However, no matter what pegboard you get, it should last many years. Make sure the pegboard promises enough protection against long-term wear and tear.
---
What Material is Pegboard Made From?
Garage pegboards are made of one of three materials: wood, plastic, or metal.
Metal pegboards are the heaviest and can hold the most weight. A nice sturdy metal pegboard can easily hold over 100 pounds (45 kg) of tools.
Let's take a look at each of the three materials pegboards are made of:
Wood: Wooden pegboards are made of plywood, MDF, or solid wood. Solid wood pegboards look great and are the most durable but also the most expensive. Most people end up going with plywood or MDF pegboard instead.
Plastic: Plastic pegboards are the cheapest and the lightest of the three varieties in this list. While they are great for lighter tools, they aren't strong enough to hold large tools.
Metal: Of the three varieties, metal pegboards are by far the heaviest, strongest, and most durable. Most metal pegboards are either made from steel or aluminum.
It's essential to get the appropriate material based on how much weight you're hanging from it and how it will look on your wall.
---
What Size Does Pegboard Come In?
Pegboards come in various sizes, ranging from small 8 x 20-inch boards to massive 48 x 96-inch boards.
Most pegboard walls are made up of several small pieces stacked next to each other. I have four Wall Control pegboards on my wall to create one long section of pegboard.
All pegboard holes are spaced one inch apart, but the holes themselves may be different sizes.
Small-hole pegboards are great for hanging small tools for crafting projects. The holes are 3/16 inches in diameter, and the boards are about an eighth of an inch thick. They can only fit the smaller 1/8-inch peghooks.
Large-hole pegboards are more versatile and better suited for hanging heavier tools or shelves. The holes are 1/4 inch in diameter and can accommodate both the 1/8 inch and 1/4 inch hooks. The boards themselves are a quarter of an inch thick.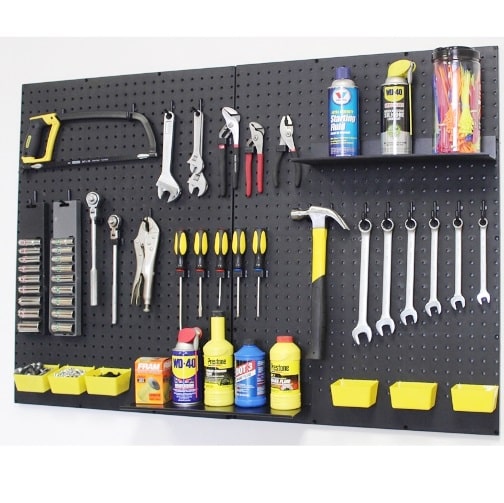 ---
How to Hang Pegboard
Before you install pegboard in your garage, there are a few things to consider:
Choose the right place to hang the pegboard. Typically this is where you can reach your tools quickly. Plan how you'll live with your pegboard before installing it so it's in the correct location.
Consider the size of the pegboard: We almost always have more stuff than we think. It's better to get an additional or bigger pegboard than you need to accommodate any new tools you pick up in the future.
Keep it dry: Water is your enemy here, whether you go with MDF or metal pegboards. To be safe, we recommend applying a protective coating or water seal to the back side of the pegboard before you hang it. You don't want mold to grow if it gets damp.
Let us now look at each of these steps in detail:
Measure the wall where you will hang the pegboard: Choose a wall that is easy to reach and has a good amount of space in front of it.
Decide how big of a pegboard you want on that wall. Based on your measurements, decide how large a pegboard you need. Remember to allow a bit of space to allow for additional tools. You can always buy multiple pegboards and line them up edge to edge.
Paint your pegboard (optional): If you're painting you're pegboard, now is the time to do it. Depending on the paint, you'll need to allow at least 24 hours to dry.
Apply moisture seal to the back of the board: This will help prevent damage from dampness.
Locate the studs on your wall and mark them: If possible, you should always drill into the wall studs. That significantly increases the amount of weight the pegboard can support. This is especially important if you intend to hang heavy tools or shelving units on your pegboard.
Mount the pegboard so you can screw into the studs directly: This step is much easier if you have another person to hold the pegboard while you secure it to the wall.
Screw the pegboard into each stud (or at regular intervals if installed into concrete): This will ensure that the pegboard stays in place regardless of the weight or load it is subjected to.
Pro Tip: Your best bet is to use ¾ inch screws with washers.
Once you've successfully installed pegboard on your garage wall, it's time for the fun part: setting up your peg hooks.
Remember, this will change often! The beauty of peghooks is that you can change your organization quickly and easily as you need to. Make your first attempt at organizing your tools, but know this will probably change a lot.
---
FAQs About Garage Pegboards
How Much Can My Pegboard Hold?
In general, metal pegboards can hold more weight than wooden pegboards, which can hold more weight than plastic pegboards.
Make sure you have an idea of how much weight you'll need it to hold before selecting a specific pegboard.
For example, Wall Control's galvanized steel pegboard can hold up to 200 lbs per board. In comparison, Wallpeg's plastic pegboard only supports up to 100 lbs.
Besides this, other factors determining how much weight your pegboard can carry include the distribution of weight across the board, the load centers, the quality of installation, the hooks and brackets used, etc. These are all organizational techniques.
How Much Space Should You Leave Between the Wall and the Board When Installing a Pegboard?
Leave at least half an inch of space between the wall and the pegboard, so you can adequately install hooks on your pegboard.
While some pegboards come with a frame that has this space built-in, pegboards without frames will require you to install spacers to get this gap.
What Tools Do I Need to Install a Pegboard?
Usually, you'll only need a Phillips-head screwdriver or cordless screwdriver and a stud finder. If you're installing the pegboard into drywall, you could also need drywall anchors.
Should I Worry About Moisture?
Garages tend to be in damp environments. So when installing a pegboard in your garage, you need to be extra careful about the dampness.
If you're getting a wooden pegboard, make sure you apply enough varnish on the surface of the board and the wall where you will be mounting it beforehand.
If you're getting a metal pegboard, make sure it comes with protection against rust.
Does the Orientation of the Pegboard Matter?
All pegboards consist of a flat panel with holes arranged in a grid. There's no such thing as a vertical or horizontal orientation for standard pegboards.
However, certain manufacturers with proprietary peghook systems have pegboards designed to be mounted either vertically or horizontally. If you're purchasing a specialty pegboard, be sure you're buying the right one.
For standard pegboards, you may orient your pegboard in any way that makes it easily accessible.
What Do I Do if the Hooks Keep Falling Off From the Pegboard?
You can securely attach your peghooks to the board with either hot glue or zip ties. Even though it doesn't look as good, I recommend zip ties since you can still move the peghooks around your board without damaging it.
Can You Use a Pegboard on a Concrete Wall?
Yes, you can install pegboard to a concrete wall, but you'll need specialty concrete anchors.
I recommend Tapcon screws which come in many different sizes and depths. They often come in a starter pack that includes a concrete drill bit.
---
Wrapping It Up
Garage pegboards are a great organizational tool for your garage. You can use them to hang all your automobile or general-purpose tools. They can give your garage space that authentic workshop look and feel.
Best of all, you can mix and match a pegboard with other systems. I use a metal pegboard above my workbench to help organize my smaller tools and a slatwall storage system to hold larger tools.
All and all, a pegboard is a must-have accessory in any garage.
For other excellent wall storage solutions, check out my article comparing track systems, pegboard, and slatwall. Then you can see which is best for your garage.