Your garage walls are one of the best places to store your tools or mount cabinets and shelves. Instead of adding different types of shelves bit by bit, the smarter option would be to get a wall storage system that can adapt and grow with you.
That's a massive advantage of each of these wall storage systems. They let you start out as small or as big as you need and then add different pieces as you need to.
Since I bought my house and started accumulating all this stuff, I've had the opportunity to test out each of the top three systems.
I've written reviews on each and buyer's guides on finding the Best Slatwall, Best Pegboard, and Best Track System. This article compares each type of system to find the best overall wall storage system.
First, let's talk about the differences between slatwall, pegboard, and track storage systems.
Table of Contents
---
Slatwall vs. Pegboard vs. Track Systems
At a high level, there are three major types of wall storage systems other than basic shelves: slatwall, pegboards, and track systems.
Each allows you to add hooks, hangers, small shelves, or other customized accessories, depending on your specific needs. These are inserted into a panel and can be moved or removed as you need.
They differ mainly in the size of the panel and how the hooks connect.
A track system is the smallest. Each track, or rail, is usually between 3′ and 4′ long and less than six inches high. Hooks and accessories attach directly to the track, so only a tiny amount of your wall is covered.
Examples include Gladiator GearTrack or Rubbermaid FastTrack.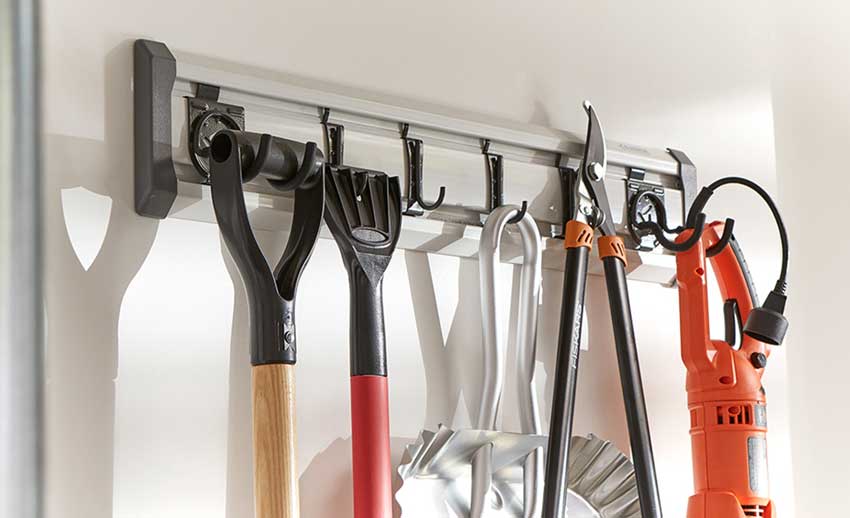 Pegboard usually comes in a 24″ x 48″ panel made of either medium-density fiberboard (MDF), plastic, or metal.
The surface comprises evenly spaced holes that accessory pegs slot into. An example of a well-made pegboard is Wall Control's steel pegboard.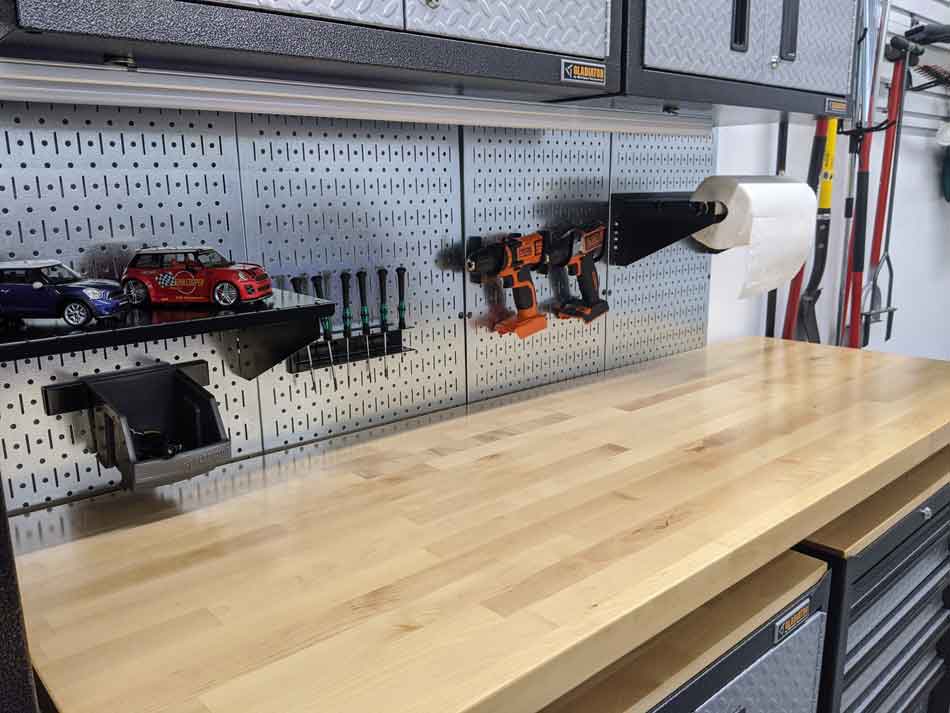 Slatwall is most commonly found in retail locations, but lately, it's also finding a home in residential garages.
It's made up of large panels of wood or PVC with aluminum rails for support.
Examples include ProSlat and Flow Wall.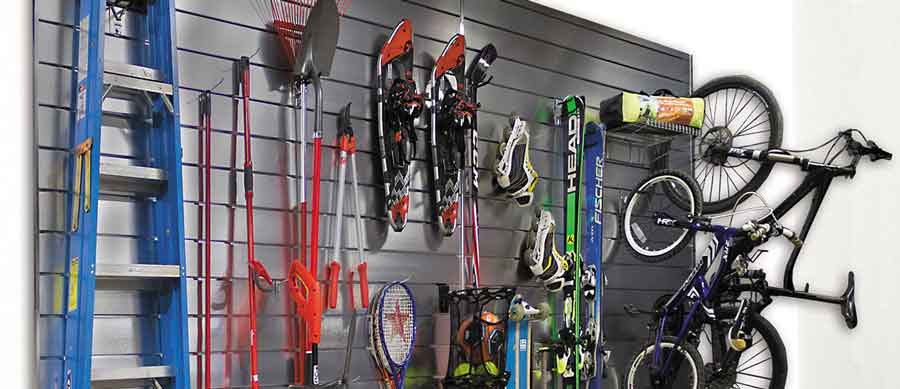 Each system has its uses, and one of each is on this list.
Let's start with the overall winner.
---
Best Wall Storage System Overall: Gladiator GearTrack & GearWall
If you've been following along with some of my other articles, this shouldn't come as a surprise.
I've compared Gladiator GearTrack to all of the other wall storage systems. I've had it in my garage for a few years, and I love it.
At first glance, it may look like all garage track systems are more or less the same. Where they succeed or fail is with their hooks and accessories.
That's where Gladiator shines!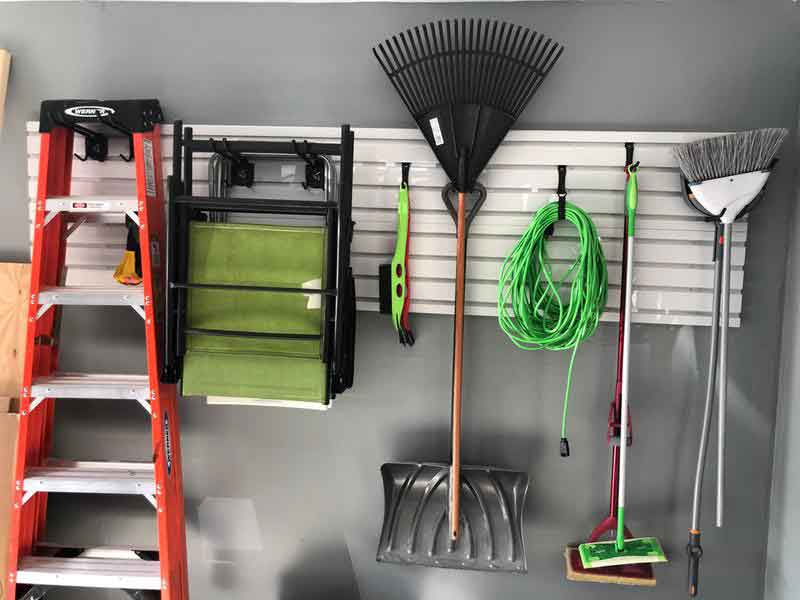 Gladiator makes over two dozen hooks, holders, bins, and accessories that work with their GearTrack and GearWall rails.
Whether you're storing your lawn tools, bike, or golf clubs, Gladiator has a solution specifically designed for it.
Best of all, every accessory is compatible with the GearTrack rail and the GearWall slatwall.
The tracks are made of durable PVC plastic that can take a beating. I've never had one of my GearTrack rails break, no matter what I've stored on them. The worst thing that's happened is the odd minor smudge you can easily clean up with a spray cleaner.
Starter kits offer an easy way to get a small section of GearTrack and a bunch of different hooks and baskets, all at an affordable price point.
There are plenty of wall storage systems, but none give you the flexibility that Gladiator does. That easily earns them the top spot on this list.
If you want to learn more, check out my Gladiator GearTrack review here.
Pros:
⦿ Two dozen different hooks, bins, accessories, bags, claws and holders to hang a variety of things from your wall.
⦿ Accessories work on both GearTrack and GearWall
⦿ Holds 75 lbs. per linear foot
⦿ 10 Year Warranty
Cons:
⦿ Some accessories can be pricey
⦿ Only available in white
Gladiator GearWall Panel (2-Pack) GAWP082PBY
Gladiator's GearWall is a heavy-duty, patented "slat-wall" style panel system designed to complement their GearTrack system. Each panel is one ft. high by four ft. long and attaches easily to wood studs or drywall over wood studs. All Gladiator Wall Accessories, Wall GearBoxes, and GearBox Cabinets can be used with GearWall Panels
Check Latest Price
If you click this link and make a purchase, we earn a commission at no additional cost to you.
---
Best Runner Up: Proslat Slatwall
I fell in love with Proslat slatwall the moment I saw their brushed aluminum finish. It's expensive, but it's a thing of beauty!
They didn't take the top spot on this list because the Gladiator system is a bit more flexible because they have both a track system and a slatwall option.
You can use track systems in small areas if that's all you need. However, slatwall doesn't give you that option.
Typically, people who install slatwall in their garages cover their entire walls.
Proslat has various hooks and shelves that work well with their wall storage system.
They also have several styles of cabinets that can slot in and move around, so you never get stuck in one configuration. They even have a wall-mounted vacuum cleaner specifically designed for their slatwall.
If you like to change up your garage design occasionally, Proslat is perfect for you.
I gushed about the brushed aluminum finish earlier, but that's not your only option. Even though it looks really cool, it is pretty pricey.
So that's where the PVC flat wall comes in. They come in four different colors and are a fraction of the price of the aluminum finish. All the accessories will work the same, so you can mix and match materials to create some great-looking designs.
Pros:
⦿ Holds up to 75 lbs per square foot
⦿ You can literally hit it with a hammer and it won't break!
⦿ PVC or Aluminum cleans up easily
⦿ Made in Canada
⦿ Lifetime warranty
Cons:
⦿ Only works with Proslat accessories
Proslat PROCORE Slatwall Organizer Bundle 8 ft. x 4 ft.
The Mini Bundle is the perfect start to organizing your garage. It features the PROCORE PVC panel, promising twice the strength of a regular slatwall thanks to its aluminum core. This patent pending design uses PVC only as an aesthetic finish and relies on aluminum to support the weight.
Check Latest Price
We earn a commission if you click this link and make a purchase at no additional cost to you.
---
Best Wall Storage System for Tools: Wall Control Pegboard
Do you have nice tools and want to show them off? Or do you want to be able to easily reach the tools you use the most?
If that sounds like you, then Wall Control pegboard may be just what you want.
When I hear the word "pegboard," I think of the ratty old, brown fiberboard junk my father used in our garage growing up. It was easy to crack and dent, and it always fell apart.
It didn't look very good.
Wall Control fixes that.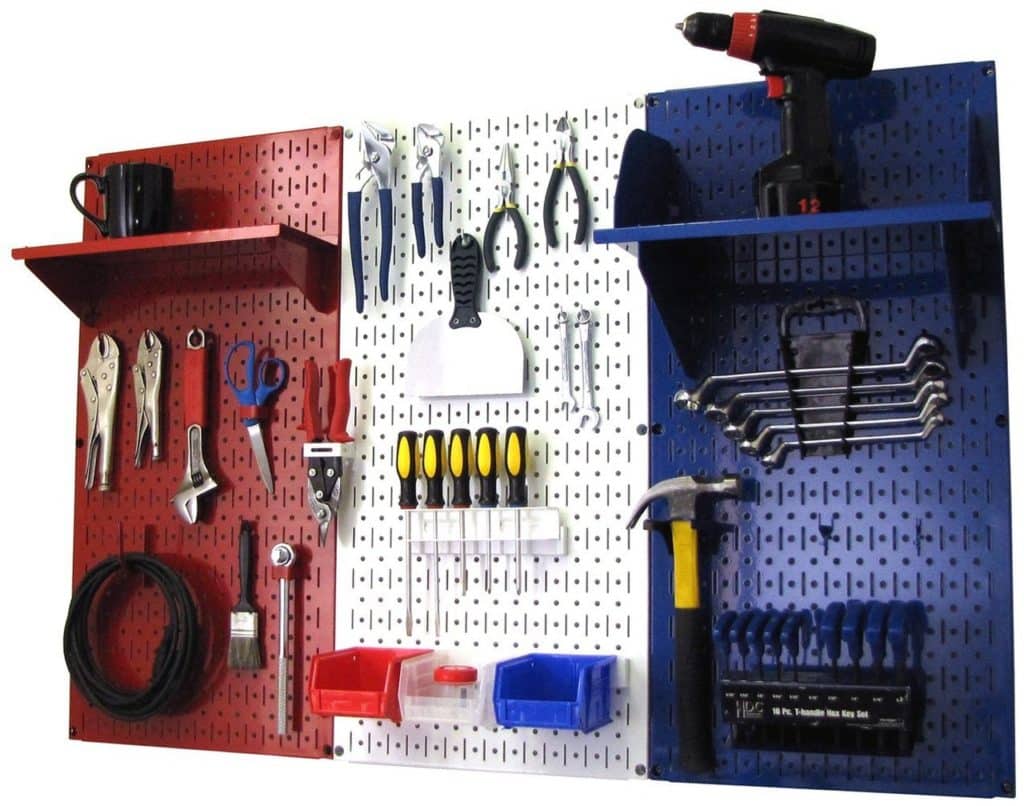 Their steel pegboard comes in eleven bright colors to fit any garage color scheme. But I chose the galvanized steel for my garage, which looks fantastic above my workbench.
Ordinary pegboard needs spacers between the board and the wall, but they're unnecessary here. The way the Wall Control pegboard is designed, the corner folds over, giving you the exact width you need.
The one-piece construction is easy to mount, so you get it right every time.
They also solved my biggest problem with my dad's pegboard: flying peghooks.
What frustrated me most about my dad's old pegboard was when hooks would fly off the board whenever I pulled something off them. But these peghooks have an innovative design that locks the pegs in place.
No more airborne peg hooks!
They have literally dozens of different shapes and sizes of hooks and shelves.
They also make cool pegboard accessories like wrench and screwdriver holders, magnetic strips, and even a paper towel holder.
If you want your tools to be the focal point of your garage, then Wall Control pegboard is for you. Not only is it functional, but it looks really cool as well.
For more information, please check out my Wall Control review, where I talk about my installation process and what hooks I use in my garage.
See my comparison article here to see how Wall Control pegboard matches up against Gladiator GearTrack!
Pros:
⦿ Durable steel pegboard doesn't crack or fray like fiberboard
⦿ Available in a variety of different colors
⦿ Can use standard peghooks or Wall Control accessories
⦿ Super easy to install
⦿ Made in USA
Cons:
⦿ Can be expensive for large installations
---
Best Wall Storage System for Bikes: Steadyrack
What bugs me about most bicycle racks is that they take up a lot of space, even when the bike isn't there.
If you're trying to store multiple bikes in your garage, you could quickly lose as much as eight feet of storage space.
Hooks and claws are a popular solution. But many people, especially children, struggle to lift their bikes up to get them to sit just right on the hook.
Steadyrack created a solution for both problems, earning it a spot on this list.
It's a low-profile, wall-mounted bicycle storage mount that folds up when not in use.
That's cool, but nothing too special, right?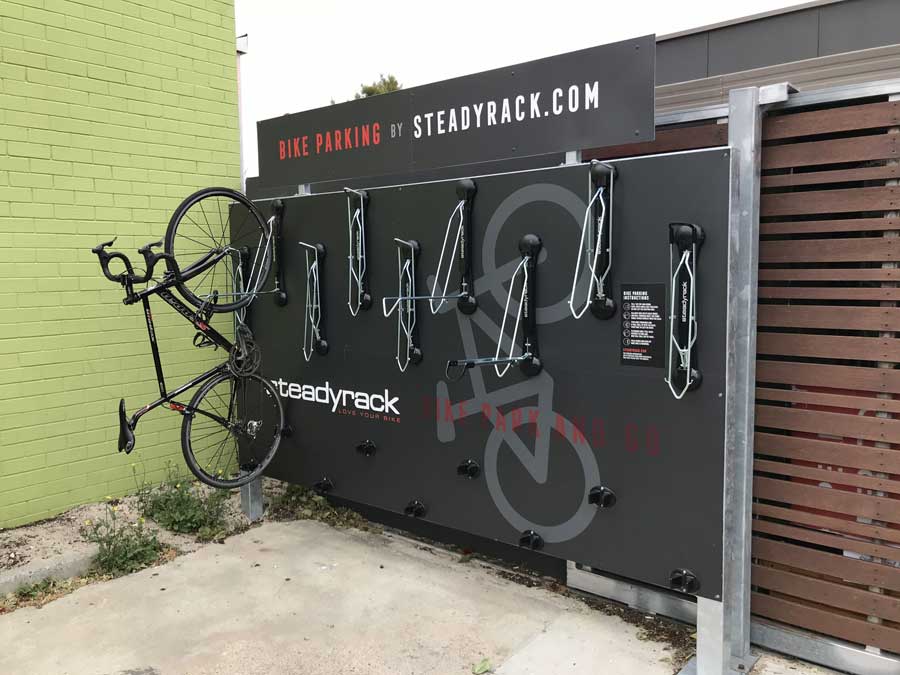 When the bikes are being stored, each one can swing 180 degrees to get out of your way. That way, you can stack the bikes close together and still be able to get to each one.
But what I really love is how easy it is to hang up your bike on it!
If you can pop your bike up on its back wheel, you can store it on a Steadyrack bike rack.
You won't need to try to balance your heavy bike while slipping the wheel over a tiny hook halfway up your wall because no lifting is required.
With the bike on its back wheel, give it a gentle push forward, and the front wheel slides onto the rack and suspends the bike off the ground.
Each Steadyrack accommodates a range of bicycles based on their front wheel size.
While it's not a "one size fits all" solution, it's close.
Pros:
⦿ Super compact bike storage
⦿ No lifting required
⦿ Swivels out of the way
Cons:
⦿ May need a different sized rack depending on how thick your bike's tires are
---
Best Wall Shelves
There's a lot of competition for garage wall shelves, and honestly, not many ways for each one to stand out from the pack.
Fleximounts makes some awesome ceiling storage racks, but they also make really good wall shelves for your garage.
What I like about Fleximount shelves is that they're super easy to install, and you don't need a second person to help.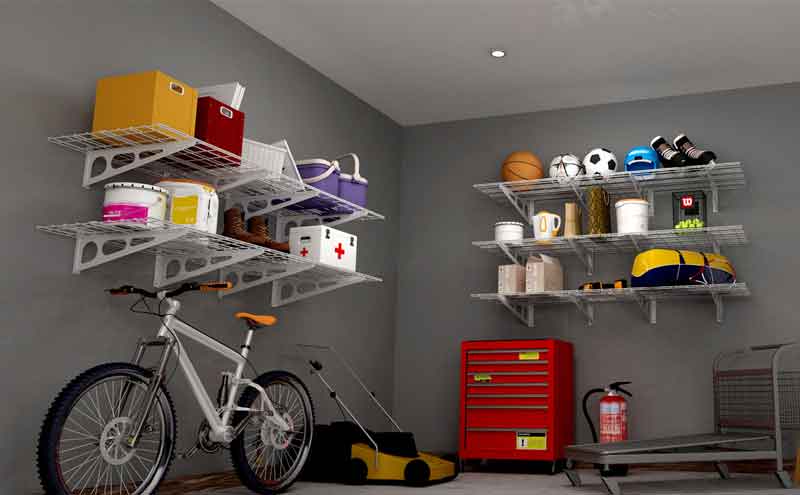 Each shelf is sturdy enough to hold 200 lbs per 4′, making it perfect for storing raw materials in your workshop.
If you go with deeper shelves, they're enough to stack a few totes of winter clothes to get them out of your closet.
They have a couple of hooks designed to fit their shelves and ceiling racks. However, your options here can be fewer than with either Gladiator or Proslat.
I look at wall shelves as an addition to your storage system, not a system by themselves. Fleximount shelves will look great next to any wall storage systems we discussed earlier.
Pros:
⦿ Available in four sizes and two colors
⦿ Shelves can hold up to 200 lbs per 4′
⦿ Includes installation template to easily mark where the shelves go
⦿ One person installation
Cons:
⦿ Wire shelves are secured with Velcro so they can wriggle
Fleximounts 2' x 4' Wall Shelves (2-Pack)
The FLEXIMOUNTS 24 x 48-inch Wall Shelf is made of heavy gauge cold rolled steel and can safely hold up to 440 pounds. It comes with all the necessary hardware for installation.
Available in Black or White.
Find on Amazon
Buy Direct
We earn a commission if you click this link and make a purchase at no additional cost to you.