Growing up, my dad had some old, brown pegboard in our garage. I hated it. If the board got wet it would start to disintegrate. If something would bump up against it, it would crack and chunks would fall off.
After a few years, the pegboard was falling apart and we got rid of it. That experience tainted my view of pegboards for the better part of my life.
When I first heard that Wall Control was doing something different with pegboard, I instantly dismissed it. I didn't like the look for my garage.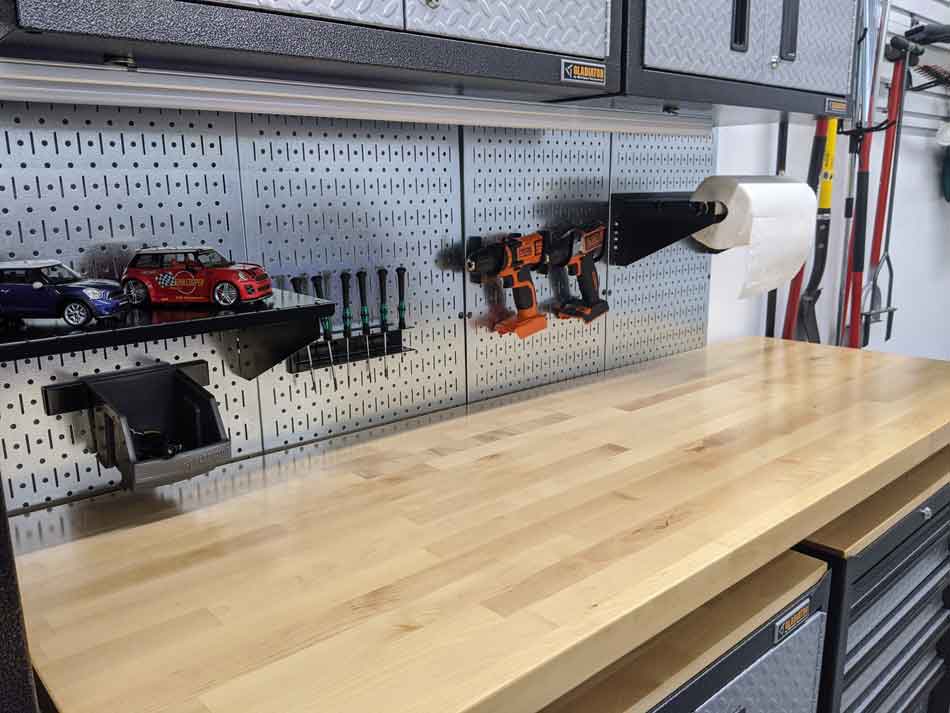 Then I saw these gorgeous, brushed steel pegboards on Evan & Katelyn's YouTube channel and had to give them a try.
I'll be honest here, I'm still not a huge fan of pegboard. I like keeping my tools organized in my tool drawer instead of on display.
But, I think pegboard definitely has a place in my garage – especially if it looks as cool as this. So, I decided to pick up a couple of Wall Control panels and see for myself.
---
Pegboard Sizes and Colors
Let's talk briefly about Wall Control's design before getting into some of the quirks.
The pegboard panels themselves are made of 20-gauge galvanized steel and are resistant to rust and stains. The boards I chose are each 32″ x 16″ and come two to a pack.
The boards come in a few other sizes like 12″ x 16″, 8″ x 32″ or even a 3″ x 32″ pegboard strip if you only want a single row of small tools.
The galvanized steel pegboard look amazing, but that's not the only color they come in.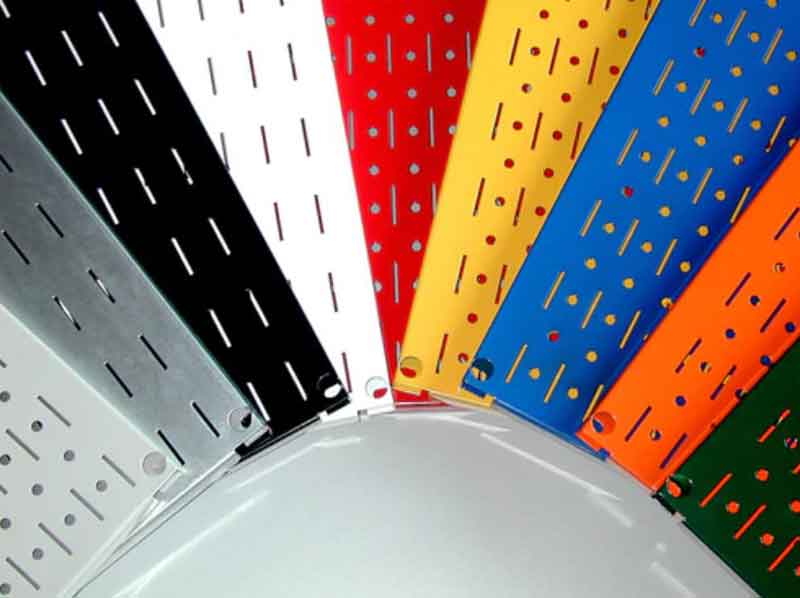 Wall Control pegboards also come in a host of other colors, all in a powder coated finish: black, white, beige, gray, blue, red, orange, yellow, green, pink and purple.
Not every size comes in each color, but that still gives you a lot of options for decorating your garage.
---
Wall Control Pegboard Design & Specs
With most pegboards, you need to install some sort of backing panel or spacer so the hooks have room to slide in and secure. Often this is nothing more than a couple of wooden studs that you screw the MDF pegboard into.
Wall Control makes their metal pegboards from a single piece of 20-gauge galvanized steel. The edges are folded-over and rounded off so there's no sharp edges.
That built-in fold-over creates it's own 3/4″ spacer between the panel and the wall. The mounting screws can attach right to the panel and they're more secure.
There's a little bend and flex built into the metal panels, but feel very solid.
Since I got the bare, unpainted metal, there's no finish on the panels. They're smooth to the touch, and even a bit oily.
Here are some highlights:
10 Times stronger than conventional pegboard
Made from 20 gauge steel
Accepts Wall Control Slotted Accessories
Accepts 1/4 " and 1/8″ peghooks
Magnetic surface
Available in 10 Colors: Red, White, Blue, Black, Gray, Green, Yellow, Orange, Beige, or Galvanized
Made in USA
---
Wall Control: Horizontal vs Vertical
If you've used pegboard before, this next part might take some getting used to.
You see, the Wall Control panels are specifically designed to be installed either vertically or horizontally.
With normal, MDF pegboard, you can install them any way you like. The holes are slotted equal distances apart from each other, no matter which way you mount the board.
That's not the case with the Wall Control pegboards.
Because the use a patented design that locks the peghooks into place (more on that later), the pegboards themselves will only work in one direction.
I found that out the hard way, unfortunately.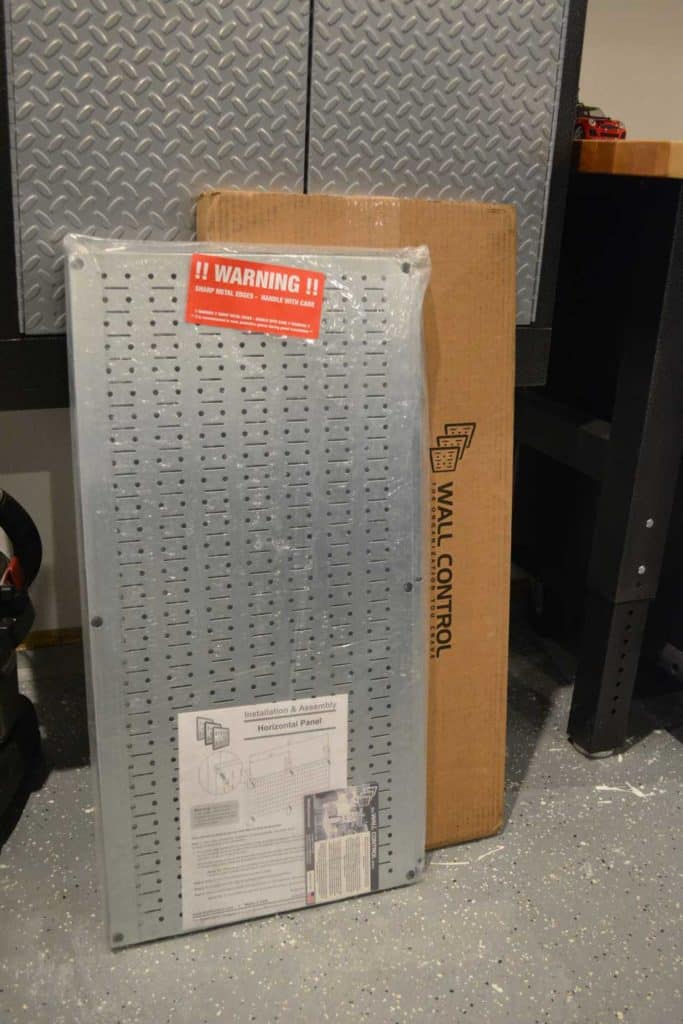 I'd purchased two horizontal Wall Control pegboards to mount behind my Gladiator workbench. However, after living with them for a few days, I realized that vertical panels would have worked much better for that particular space.
I know…measure twice, cut once.
So, if you're wondering why you'll see images of pegboards with slots running in different directions…now you know. Try not to laugh, eh?
Slotted Only
There are two special versions of pegboard that you can get directly from Wall Control's website. The first one is a "slotted only" pegboard.
As I mentioned earlier, the peghooks don't need standard pegboard holes. They lock in place in the slots themselves.
So unless you're planning on using any standard peghooks (and why would you?), you don't need the peghook holes.
You just need the slots.
With that in mind, Wall Control offers a 'slotted only' version of their pegboards that only come with the slots. If you're looking for a slightly cleaner design, but still like the flexibility of pegboard, then this may be the answer.
Signature Series
The Signature Series are variations on a theme. All Wall Control panels come in a variety of colors, and most have a powder-coat finish for durability.
The Signature Series offers heavier duty powder-coat finishes that are even more durable and scratch-resistant. They're a bit more subdued than the regular versions and won't look as shiny under your garage lighting.
---
How Much Weight Can Wall Control Pegboard Hold?
Wall Control pegboards are rated to hold 200 lbs because of their unique design. There are examples of a few users that are using it to store weights and accessories for their garage gym with no problem.
Weight capacity for normal pegboard differs depending on what material it's made from. High Density Fiberboard (HDF) or High Strength Fiberboard (HSF) are the two most common materials, and each has a rated strength of 50lbs\ft.
However, like fiberboard pegboard, it depends on how evenly you distribute the weight and the type of wall anchors you're using.
There was a surprisingly interesting study done back in 2012 (pdf source) . It looks at the failure point of pegboard and hooks. They find that the type of peghook and how much weight you're hanging from the hooks have a bigger impact than the board itself.
Which leads into the thing I love most about Wall Control's pegboard: the hooks.
---
A Different Kind Of Peghook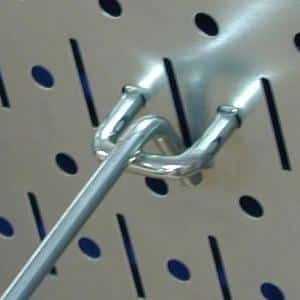 One of the things I hated about my dad's old pegboard wall was that the pegs would fly off the wall if I wasn't careful how I grabbed whatever they were holding.
Each panel has standard sized peghook holes that accept both 1/4″ and 1/8″ peghooks. It's worth noting that 1/8″ hooks will be a bit loose, however.
I'll admit, even though you can technically use standard peghooks on a Wall Control pegboard, I wouldn't want to. They won't be as secure and, frankly, won't look as good as Wall Control's own peghooks and accessories.
Wall Control's peghooks and accessories work with the slots in their board, not the peghook holes themselves. In fact, as I mentioned earlier, they have some pegboard designs that omit the holes completely.
The best part about Wall Control peghooks is their locking peghooks. They lock in place and stop that from happening.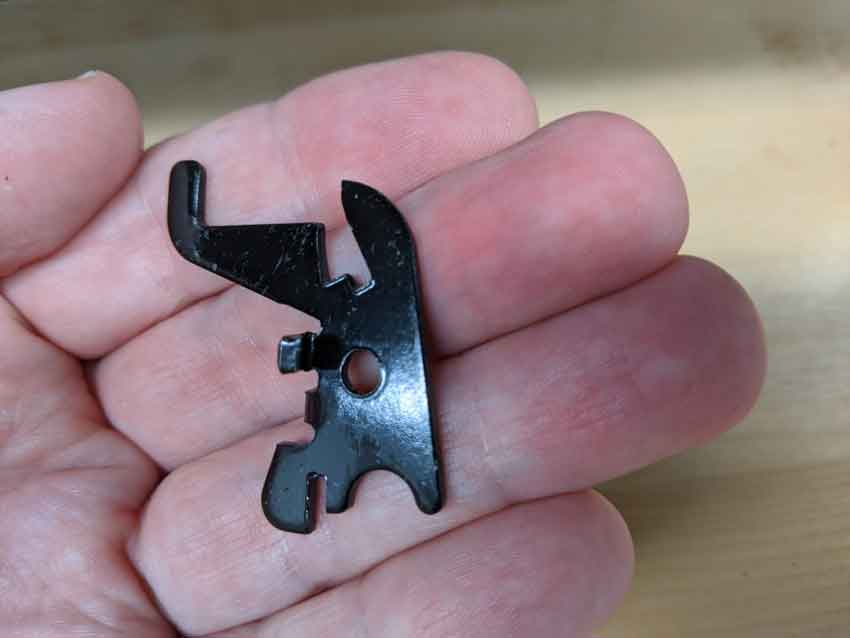 The hooks have notches along the top and bottom edges to let them snap into the pegboard.
In order to pull one of the hooks off, you'll need two distinct motions. First pulling up to unlock and then swinging the bottom of the hook out, away from the board.
There's also small tabs on the front of the hook (underneath the hook itself) that rests against the front of the pegboard so it doesn't move from side to side.
It was difficult at first to remove the hooks, but once I got the motion down, it became a lot easier.
The end result feels very secure, so I'm not at all worried that I'll accidentally pull one of the hooks off the wall when I'm grabbing my tools.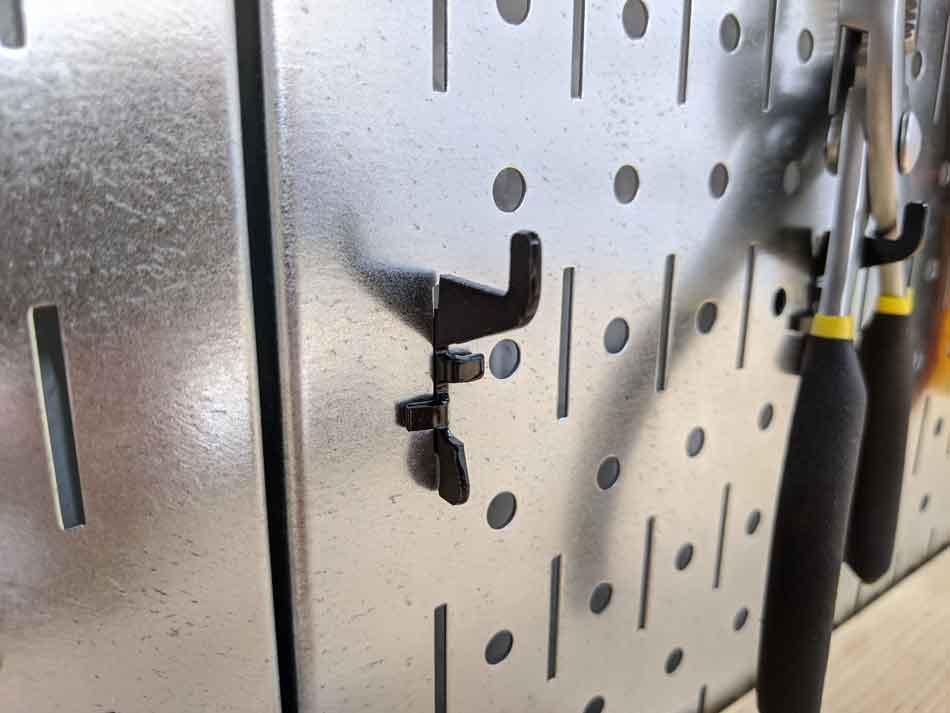 ---
How to Install Wall Control Pegboard
Installation of my Wall Control metal pegboard was really easy. There are a ton of YouTube videos on that already, so I won't go into the entire process here.
If you are looking for a complete video of the process, I actually recommend watching Mother Daughter Projects' video here.
I do want to cover a couple of things that stood out in my installation, however.
First off, I'd highly recommend having someone help you when you're installing your Wall Control pegboard.
It's not like the pegboard is heavy – it's not.
Each 16″ x 32″ panel only weighs about six pounds. However, it does take some wrangling to get the boards in place long enough to screw it into the wall.
I didn't have anyone to help. Well…let's be honest. I chose to do it myself instead of getting help. So there's a small gap in between two of the panels.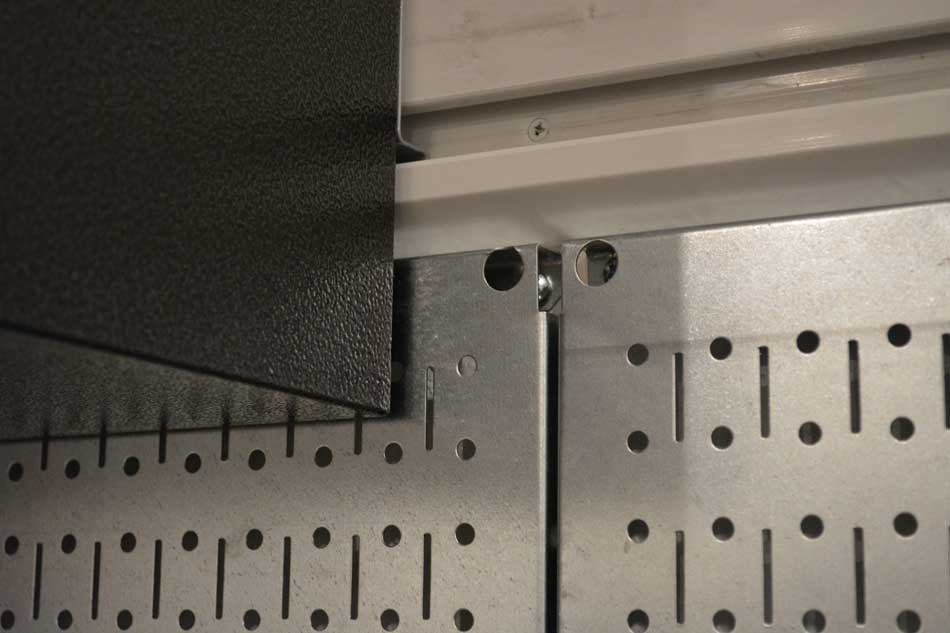 It's not really noticeable, unless you know what you're looking for.
The other challenge I had was that the studs weren't exactly at 16″ in one place in my garage.
The reason for that had to do with how I needed to frame the wall in sections. I've pointed that out in my "Lessons Learned" section in my article describing how I framed my garage wall. If you want more information on the process, I recommend checking it out.
At any rate, I needed a combination of drywall anchors and regular screws to do the installation. They're both included in the box, so you're covered either way.
Finally, I was hoping for a seamless integration with my Gladiator Premier cabinets and my GearWall track.
That meant that I was going to lose a bit of the usable space on the pegboard. But it also meant that I could just mount the pegboard flush against the GearTrack and it would look great.
Above you'll see the initial photo of the horizontal Wall Control panels. At this point I could tell that there would be some gap between the bottom of the panel and my Gladiator Workbench, but I didn't know how much at this point.
After a couple of days, the gap bothered me too much. I swapped out my horizontal panels for vertical ones. I could have added additional horizontal panels underneath, but it wouldn't have worked well with the existing GearTrack rails.
---
Best Wall Control Accessories
From slotted brackets and screwdriver holders to shelves and paper towel holders, Wall Control has some pretty cool accessories for their pegboard.
I picked up a few of them for my own installation and I'll cover them briefly here. There's a lot more available on Wall Control's website or on Amazon. I'm sure you'll find something that works for you.
Deluxe 26-Piece Accessory Pack
The best place to start is the 26 piece Deluxe Slotted Accessory Pack (KT-200 -DLX). It comes in four colors (black, white, red and blue) and includes most of the accessories you're going to be using anyway. So you might as well get them all in one package, right?
I liked being able to see some of the different options and how they fit with my tools. I didn't end up using everything in this accessory pack, but I used enough to make it worthwhile.
Personally, I think it's a perfect start for your pegboard.
---
Metal Screwdriver Holder
In some of my older articles, you may have seen my Wera 2035/6 micro screwdriver set sitting on my workbench. While I love them, I never liked the holder they come with.
Rather than throw them in my tool drawer and mess up the organization system I have, I wanted a holder that I could mount on the pegboard.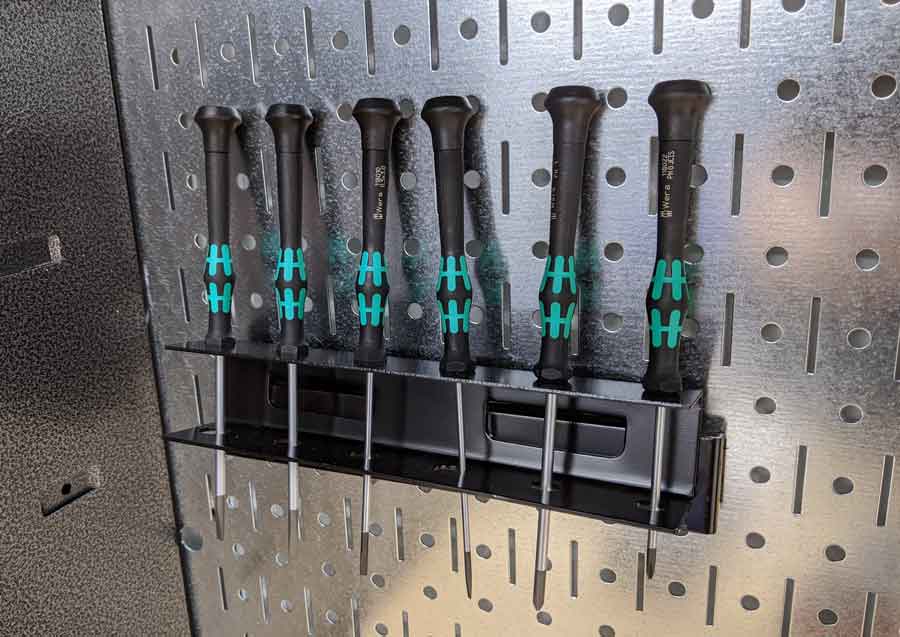 Wall Control offers two different screwdriver holders, the ASM-SD-008 that's pictured here and the ASM-SL-008. The only difference being whether the slots are enclosed or open.
I opted for the enclosed slots because the screwdrivers were so small that I didn't want them to fall out the front.
Each screwdriver holder is available in four colors (black, white, red or blue).
Paper Towel Holder & 4″ Shelf
No matter what you're doing in your garage, you always need to have paper towels handy. None of the other paper towel holders I saw looked good… until this one.
The 4″ Shelf\Paper Towel Holder combination (ASM-HS-1694) is made of the same high-gloss metal as all of the other Wall Control accessories. They're available in the same four colors (white, black, red and blue).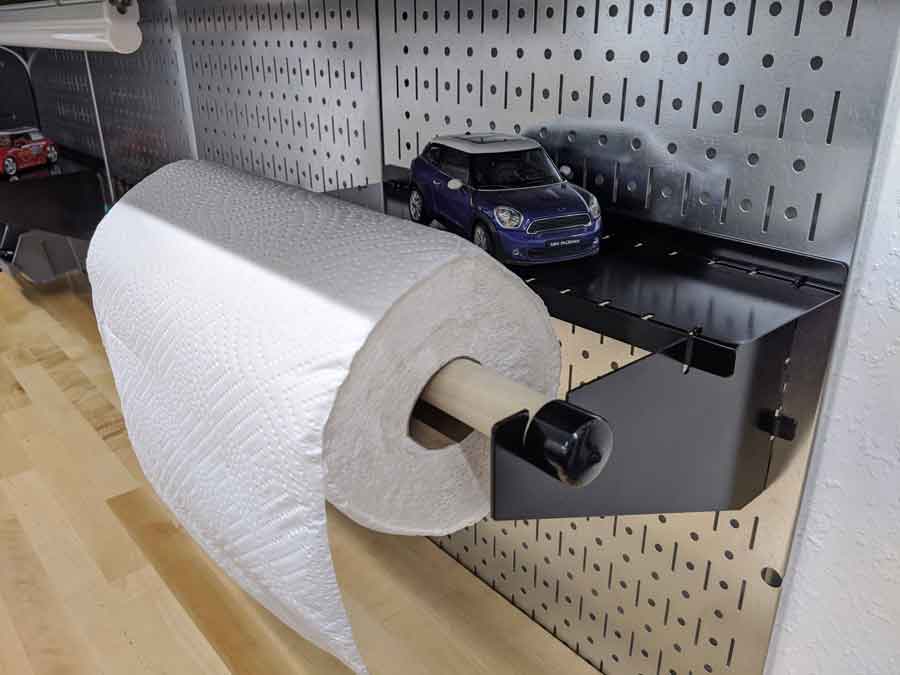 The paper towels fit over a real wooden dowel rod that still leaves plenty of room for a 4-inch shelf. It's also made of a thicker, 14-gauge steel.
Some people may feel it's a little pricey, but it looks great so I'm OK with it.
9″ Metal Shelf
Wall Control has several different shelf widths available, ranging from 4″ all the way up to 12″ depths. I went for the 9″ shelf which is wide enough to display some of my model cars on, but not so large that it takes space away from my workbench.
The 9″ Metal Shelf (ASM-SH-1609) is also made from 14-gauge steel, which makes it feel solid with very little flex. I also liked that the 9″ shelf has available dividers so you can partition it if you want.
The variety of shelves was actually one of the bigger selling points for Wall Control's pegboard system. As I said earlier, I'm not big on displaying my tools, but I do like having the option to display items on small shelves in my garage.
You can find the metal shelf on Amazon in 4″, 6″, 9″ and 12″ depths.